Do you think that making restaurant like or store bought chicken nuggets at home is an arduous affair? By fair means, its not. Chicken nuggets are one such snack or finger food loved by every child and even adults. There was a time when all times, I use to stuff my freezer with store bought ones and my kids are in serious love with Chicken nuggets. I never knew, making them and freezing them at home is such an effortless job. Even you can do it and make your kids happy.
I made them in bulk and froze them as per the serving so that when required, I can just take out one serving, and fry them straight from the freezer. You have your chicken nuggets ready in minutes. Seasonings and flavourings can be added as per your choice. You can use chicken mince if you prefer, but I like better to make them using small chicken chunks and blending it with the seasonings. This way you will get perfect nuggets texture and flavours, even better than any fast food joints. My homemade nuggets batches are happily resting in freezer, so that for the fast break in Ramadan, I only need to fry them. Once you make them at home, you will simply stop spending huge bucks for those few frozen nuggets. Instead, you will surely love making this easy flavourful yummy nuggets at home. You can use blender too instead of chopper for making
chicken
mixture, but personally I prefer chopper.
For healthier option, you can also bake them at 200 degrees in preheated oven for 14-15 minutes or until golden brown and crisp.Flip them once in between while baking. And, yes you can air fry them too. So here is how i made them, let's go through it…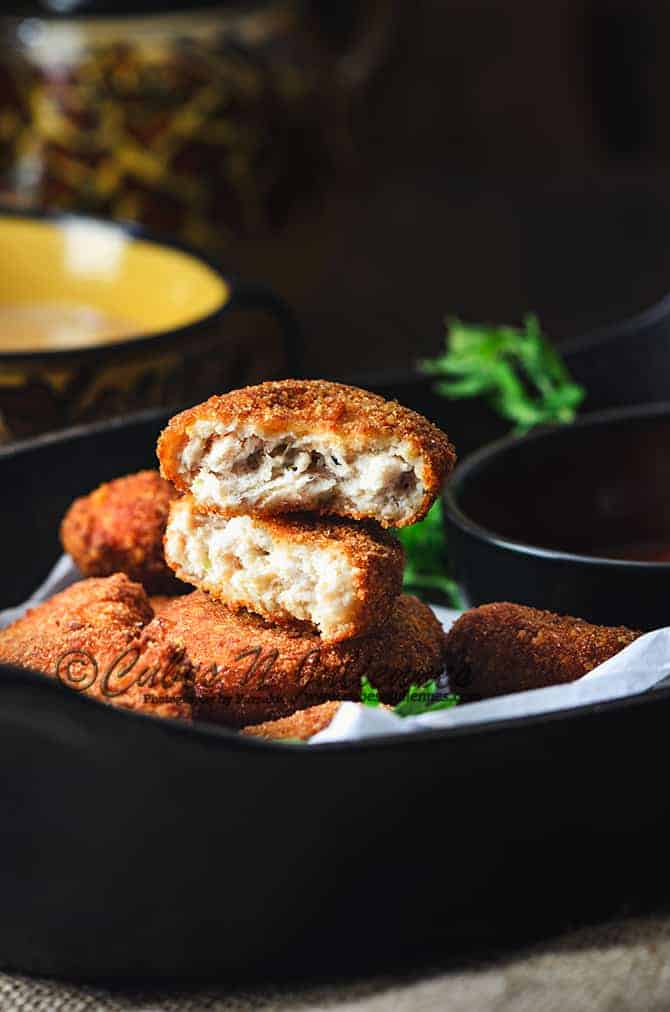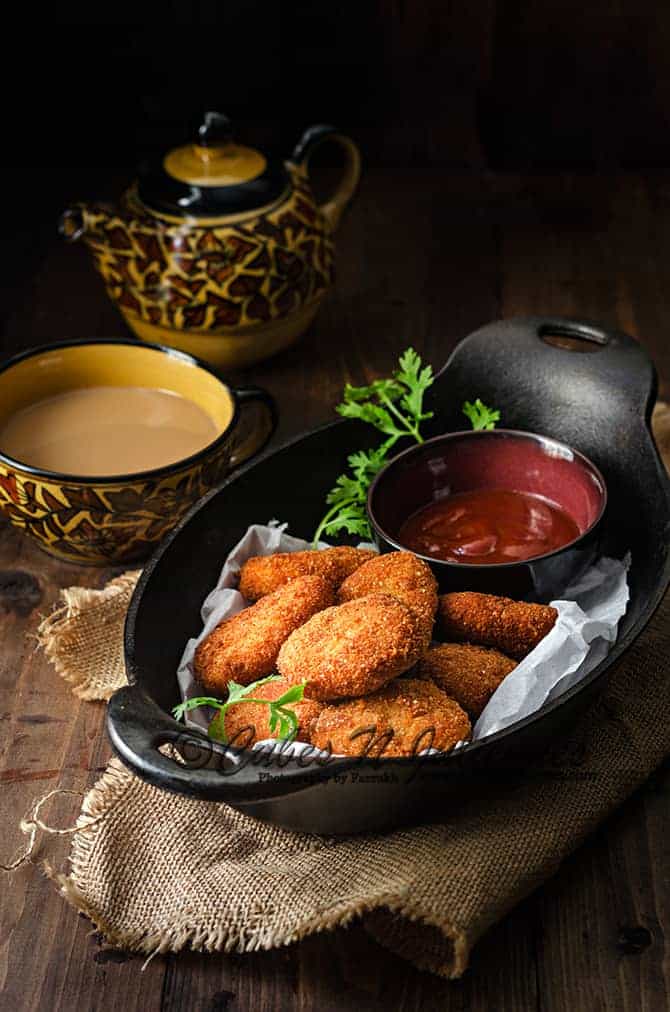 500 grams, chicken, boneless, cut in small bite size pieces
1 tablespoon, Garlic powder
1 teaspoon, green chili, chopped (you may adjust it accordingly)
1 teaspoon, dried oregano, crushed
4 tablespoon, melted butter
salt and crushed black pepper to taste
All-purpose flour (maida) as required (Ihave used half cup of flour)
Egg whites, beaten, as required ( I have used 6egg whites)
In a chopper, Add chicken pieces, garlic powder, green chilies, oregano, salt and pepper. Pulse it 3-4 times or until everything mixed well and it resemble mince. Some might be a little coarse meat mince, thats absolutely fine.
Take it out in a clean bowl and add melted butter, lemon zest and lemon juice. Mix well. Check and adjust seasonings if needed.
Mix flour and salt in a bowl or plate.
Lightly beat the egg whites in another bowl
Take the bread crumbs on another plate
Take a small lemon sized chicken mixture and slightly press it with your fingers to form a nugget. Do not worry about the shape.
Coat the nugget well with flour. Coat it well by dipping it in a beaten egg white and then bread crumbs. Again coat it with egg white and then bread crumbs for second time.. Repeat the same for all the mixture.
Spread it on a plate or tray lined with butter paper or cookie sheet such that they do not stick to each other and freeze them for 3-4 hours. If you intend to store them for later use, then at this stage, once the nuggets are frozen, gather them all and place it in a Zip lock bag and freeze. It can easily be stored up to 4 months. You can do it in batches, as the remaining nuggets can rest in refrigerator for a day until last batches are frozen well.
Heat an oil in a deep heavy bottom pan or Kadhai. Once the oil is hot, fry nuggets on medium high flame. until golden brown and crisp, no need to thaw the nuggets on room temperature. they are fried straight out from freezer. Do not fry them on very high heat as it will burn the nuggets and remain uncooked within. Do not over load the pan, fry them in batches.
Take them out on an absorbent paper towel and proceed with the same for the rest.