Light and refreshing - an all star Onion Cucumber Tomato Salad Recipe! A classic summer salad made with onion, cucumber and juicy tomatoes that are tossed in olive oil with fresh dill, olives and balsamic vinegar.
It's super simple, ultra delicious and so fresh! That sounds yum, right? It's vegan, gluten free and Paleo!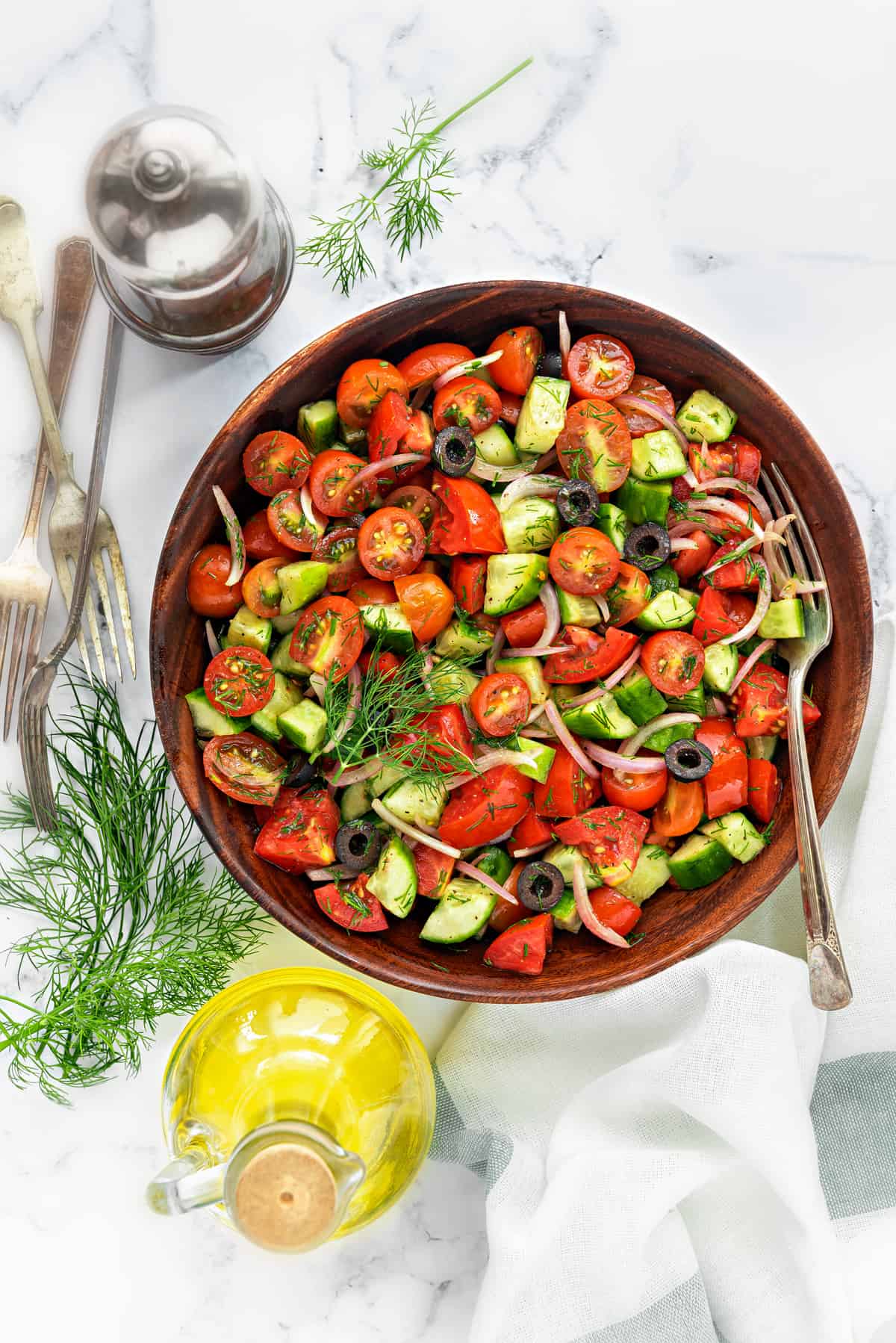 Jump to:
This cucumber tomato salad is so light and fresh - try it!
Come summer and we all look for something fresh, cooling, healthy and tasty! Simple salad recipes are always the top choice during this season.
Salads are the base or you can say a centrepiece to summer parties. They are economical, easy to make, keeps you hydrated and so refreshing on hot days.
I love to eat fresh wholesome salads as they are so nourishing and keeps you full. Out of many, one of my most favorite is this awesome Onion Cucumber and tomato salad recipe.
Tossed in olive oil and vinegar, this amazing salad has all the goodness of cucumber, tomatoes, red onion, olives and dill.
Do you see those plump red tomatoes cubes and fresh dill in that picture above? When you are blessed to have home grown garden fresh ingredients like these, who wouldn't want to indulge in this wholesome goodness! 🙂
Once you eat this simple cucumber tomato onion salad, you will definitely fall in love with it, it's that good! You can eat a lot of it without feeling loaded.
With few simple elements, you can toss this hearty and filling salad meal in less than 5 minutes.
Believe me, you don't even need to whisk the vinaigrette dressing separately. The dressing here is simple drizzle of olive oil and vinegar, that's it!
This is a classic one bowl salad recipe which will take only few minutes of your time. Isn't that easy, quick and super simple? Yes, it is! 🙂
Ingredients
Cucumber : English cucumbers are perfect for this recipe. You really don't need to peel or to deseed them. They are quite tender! Simply cut them either in cubes or in slices and use.
In case if you have no access to English cucumbers, then you can use regular Asian variety. Just peel them, scoop out the tough seeds if any and use. You can also use Persian cucumbers here.
Tomatoes : I have used nice ripe and firm red tomatoes as well as cherry tomatoes here in this salad recipe. But, you can also use any one of them, if you wish to.
Colourful cherry tomatoes also works great here.
Onions : I love the crunch and punch of red onions in this recipe. It pairs perfect with the duo here.
Onions, cucumbers and tomatoes are evergreen allies to each other. Together, they will never disappoint.
Olives : I have added this on my liking and it tastes great. Olives give nice Mediterranean kick to the salad.
Dill leaves : Dill is my favourite herb and I love to pair it with almost every thing. It adds cool fresh hint and aroma.
Be it Indian food or International cuisine, dill adds amazing freshness and flavor to the most food. Especially, grills, stew, curries, salads and soups.
Oils and Vinegars : I always prefer to add extra virgin olive oil for the best taste. I am sure you all agree to this. Therefore, keep in mind to use good quality EVOO only.
Balsamic vinegar adds nice tang here, but you can absolutely use red wine vinegar or apple cider vinegar here as well.
Finally, you will need some salt and pepper to taste.
Step by step instructions
In a large bowl, add diced cucumbers, tomatoes, sliced onions, olives, dill, vinegar, EVOO, salt and pepper.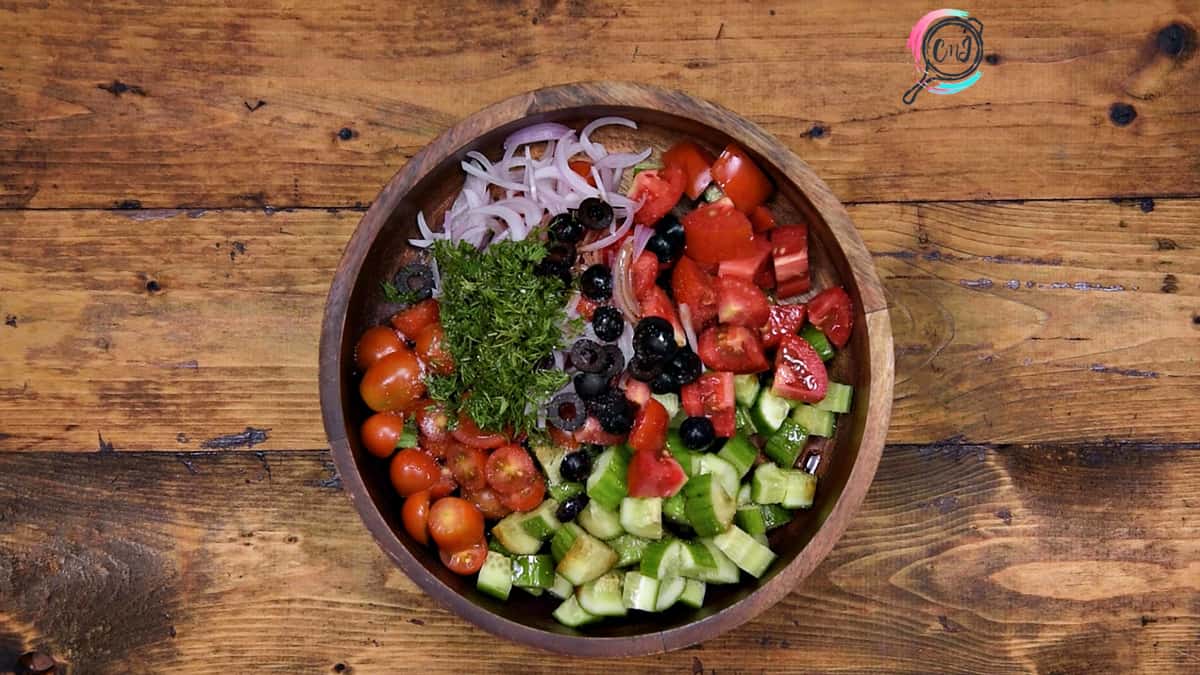 Toss well and refrigerate for 10 minutes before serving.
Serving ideas
Serve this refreshing cucumber tomato onion salad as sides to summer meals or eat it on it's own.
Pair it as side dish to pasta, risotto, burgers and sandwiches. A bowlful of fresh tomato and cucumber salad along the side to fried or baked chicken, kebabs or baked Salmon is awesome.
The salad pairs perfect with Dal Makhani or Chicken Curry or Butter Chicken along with naan breads or rice.
At times, I toast some nice thick slices of sour dough bread drizzled with olive oil and garlic. And, then serve this salad with the toasted bread and boiled or scrambled eggs for breakfast, pure bliss!
Here's some more summers salads which you can include in your meals - Dill Potato Salad, Mango Kale Salad.
Variation ideas
You can transform this base salad into rich one easily using seasonal ingredients. They can be roasted Corn, Baby Spinach, Artichoke hearts, Radish, Edamame, Lettuce. Fruits like Mango, Apple, Strawberry and Pears are great option to go in.
Throw in some avocado chunks and you have nice and healthy cucumber tomato and avocado salad.
Top it with some crumbled feta cheese. Or toss some cubed feta cheese to make delicious Greek Cucumber Tomato Feta Salad.
Combine this salad base with some grilled Halloumi cheese, crisp croutons or leftover crusty sour dough.
You can also use fresh basil, parsley or oregano along with dill or any of them. Toss a bit of garlic, add in some chilled pasta, you have nice and quick tomato salad with Italian flavors.
You can also add some fresh mozzarella balls into it. Or mix in some kidney beans or chickpeas to add more protein into this salad.
All I would say here is do not limit your imagination and experiment to create your own new ideas
Frequently Asked Questions
Is this salad healthy?
Cucumbers and tomatoes indeed are of great benefits whether you eat them on their own or as a salad.

They are rich in Vitamin C, Vitamin K and Potassium. Cucumbers are low in carb, calories as well as in sodium. It's a perfect low fat salad recipe.

Further, as this salad is low in protein, you can increase the protein content by adding some shredded grilled chicken or salmon, chickpeas or low fat feta cheese.
How long does this salad last?
It stays very well unto 3 days in the fridge. Store it in clean airtight box.
Can I make this salad ahead of time?
Indeed yes! Any way we are not making any special dressing here.
So, all you need to do is chop all the ingredients and store it in airtight box.

Before serving, toss them with vinegar, oil, salt and pepper. The salad tastes well when chilled.
Is this salad vegan and gluten free?
Yes! This refreshing salad is vegan, dairy free, gluten free. In fact, it is Keto friendly, Paleo as well as Whole30 friendly.
Just that use Whole30 approved brand of black olives.
How many calories does this salad have?
It has only 100 calories per serving.
💓 We Love to hear back from you and appreciate your success stories !
Have you tried this "Recipe"? Please feed us with your ★ star ratings and comments below.
You can also FOLLOW me on FACEBOOK, INSTAGRAM and PINTEREST for more fabulous recipes and updates.
📖 Recipe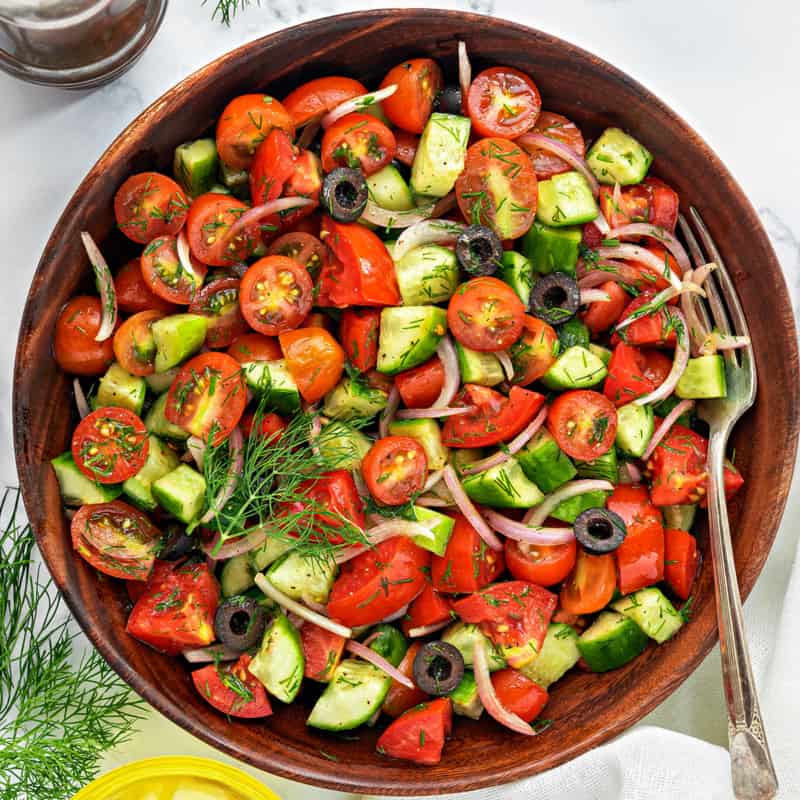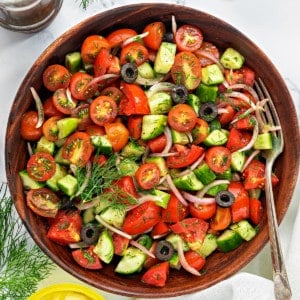 Print
Onion Cucumber Tomato Salad Recipe
A classic summer salad made from onion, cucumber and tomatoes tossed in olive oil, vinegar and fresh dill. It's super easy, ultra delicious and so fresh! A perfect summer side dish to brunch meals or parties.
Ingredients
2

cups

English Cucumber

(diced)

1

cup

Cherry Tomato

(halved)

1

cup

Tomato

(diced)

½

cup

Onion

(thinly sliced)

3

tablespoons

Black Olives

(chopped)

2

tablespoons

Dill

1

tablespoon

Balsamic Vinegar

2

tablespoons

Extra Virgin Olive Oil

Salt and Pepper to Taste
Instructions
Add all the ingredients in a large bowl.

Toss well and refrigerate for 15 minutes before serving.
Nutrition
Calories:
100
kcal
|
Carbohydrates:
7
g
|
Protein:
1
g
|
Fat:
8
g
|
Saturated Fat:
1
g
|
Sodium:
101
mg
|
Potassium:
275
mg
|
Fiber:
2
g
|
Sugar:
4
g
|
Vitamin A:
586
IU
|
Vitamin C:
17
mg
|
Calcium:
24
mg
|
Iron:
1
mg