This raw Shaved Brussel Sprout Salad with tart dried cranberries and apple slices, sweet pomegranate seeds and salty feta cheese is a healthy and delicious salad that is perfect for holidays.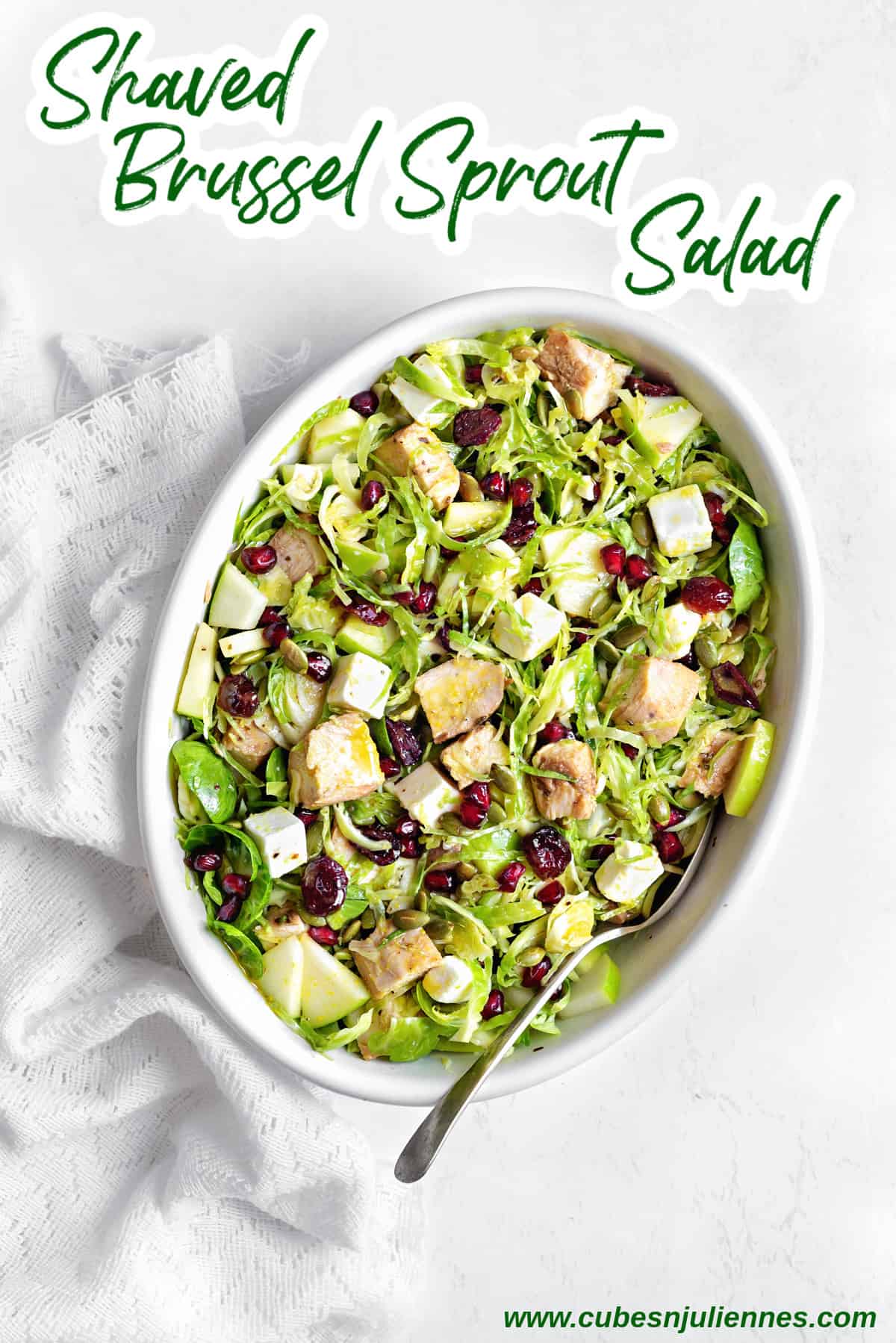 Jump to:
You know the old adage you eat with your eyes first? Well, feast your eyes on this beautiful tossed salad, replete with bright chartreuse from the raw brussel sprouts and pops of red from the pomegranate arils. How pretty is that?
As if that weren't enough, the flavor of the brussels sprout salad is to die for. Brimming with crunchy textural contrasts, and big, bright flavors with a perfect balance of salty-sweet, this salad is sure to make you love brussels sprouts if you don't already.
Why you should make this recipe?
This chicken and shredded brussels sprout salad with apples is made for the fall and winter season. Using in season fruits and veggies that pair together like peas and carrots, it is sure to bring a healthy, festive touch to any table.
I also love how easy this brussel sprout salad recipe is to make. Simply slice your apples and brussels sprouts thinly, chop your chicken, and whip up a simple apple cider vinaigrette. It is equally delicious as a full meal or a side, and it'll be on your table in just 15 minutes.
As an added bonus? My shaved brussels sprouts salad is healthy and gluten free, making it universally pleasing to anyone trying to add more veggies to their cold weather diet.
If you are looking for the perfect salad to serve for Thanksgiving, Christmas, New Year's Eve, other winter holidays or even just your day off, look no further than my raw brussel sprouts salad recipe. You're sure to love it!
Notes on ingredients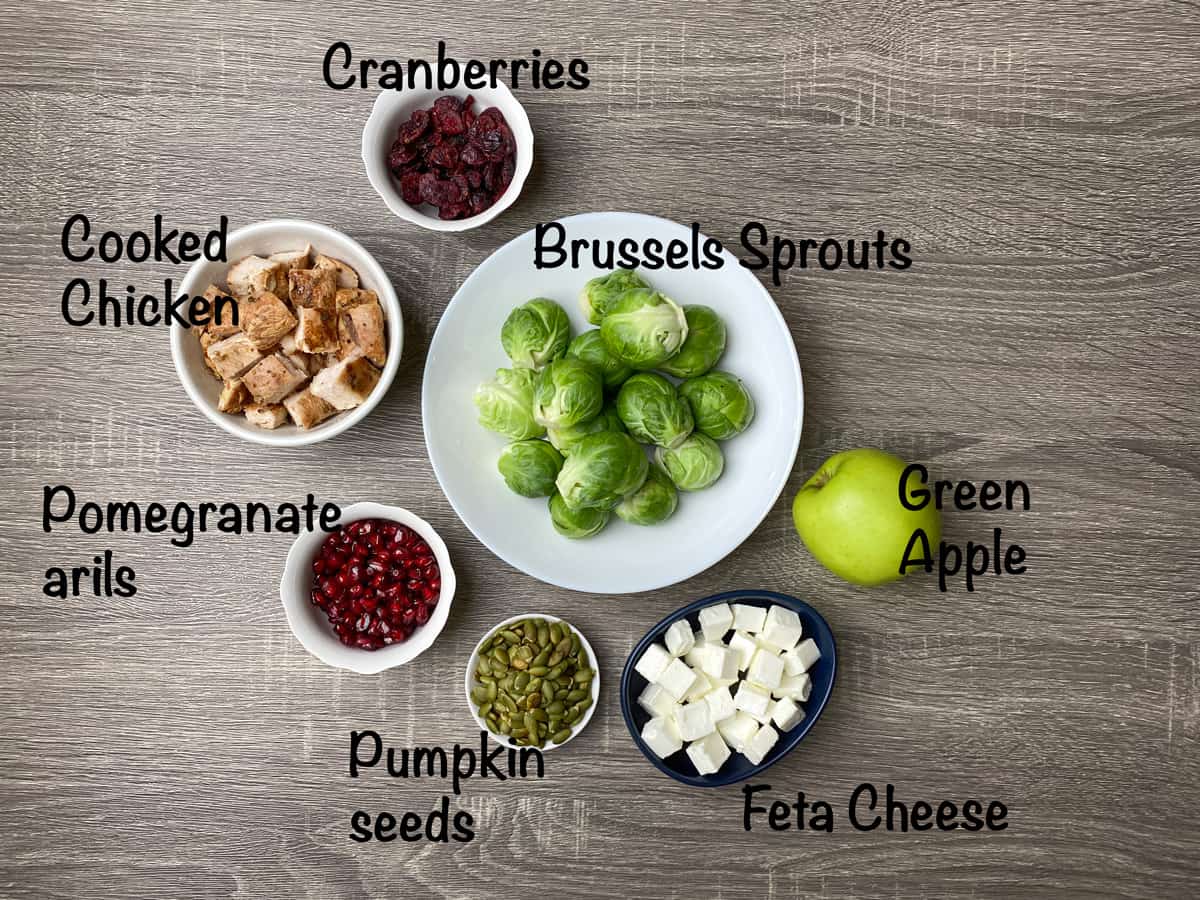 To make this healthy fall and winter salad a little easier (because honestly, who has time to dilly-dally during the holidays?), I have used leftover pre-cooked chicken breasts. That said, you can easily swap in any of the following:
Rotisserie chicken
Leftover holiday Turkey
Leftover roasted chicken
Drained canned chicken
Quick poached chicken breasts
Sheet pan chicken
In terms of apples, I love the bright green tart Granny Smith variety, but you can easily swap in your apple of choice. I recommend that you stick to firm, semi-tart varieties to balance out the nutty flavor of the raw brussels sprouts. Other good varieties include:
Honeycrisp
Pink Lady
Jonathan
Fuji
When picking your brussels sprouts, look for firm, bright green brussels with no evidence of yellowing or damage.
If you can find them, brussels sprouts on the stalk seem to have the best chance of being perfect for eating raw. If not, the bagged variety work just fine.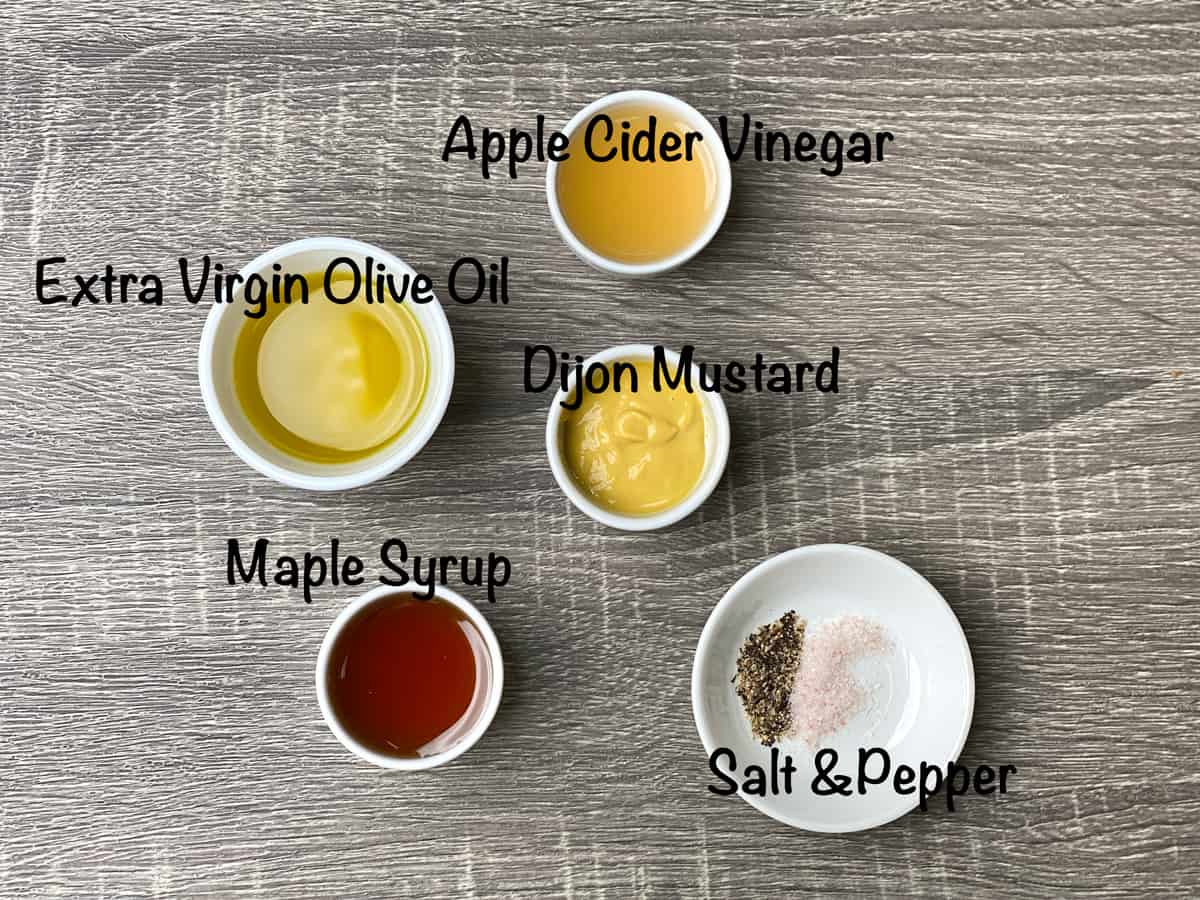 For the fantastic apple cider vinaigrette recipe, you just need a few simple pantry ingredients.
Apple cider vinegar, extra virgin olive oil Dijon mustard, maple syrup, salt and pepper are all you need. You probably already have everything in the cupboard!
Just a few notes here: when possible, get raw apple cider vinegar with "the mother" for the best probiotic benefits. Use real maple syrup rather than opting for a "breakfast syrup" that is actually maple flavored corn syrup.
I also prefer smooth Dijon mustard for this application rather than grainy. Dijon adds a bit of tartness, but its most important role is as an emulsifier. Smooth mustard does a much better job of this.
How to make shaved brussel sprout salad
First things first: let's make a vinaigrette! This Apple Cider Vinegar Salad Dressing is about as simple as can be.
Add all ingredients to a small bowl.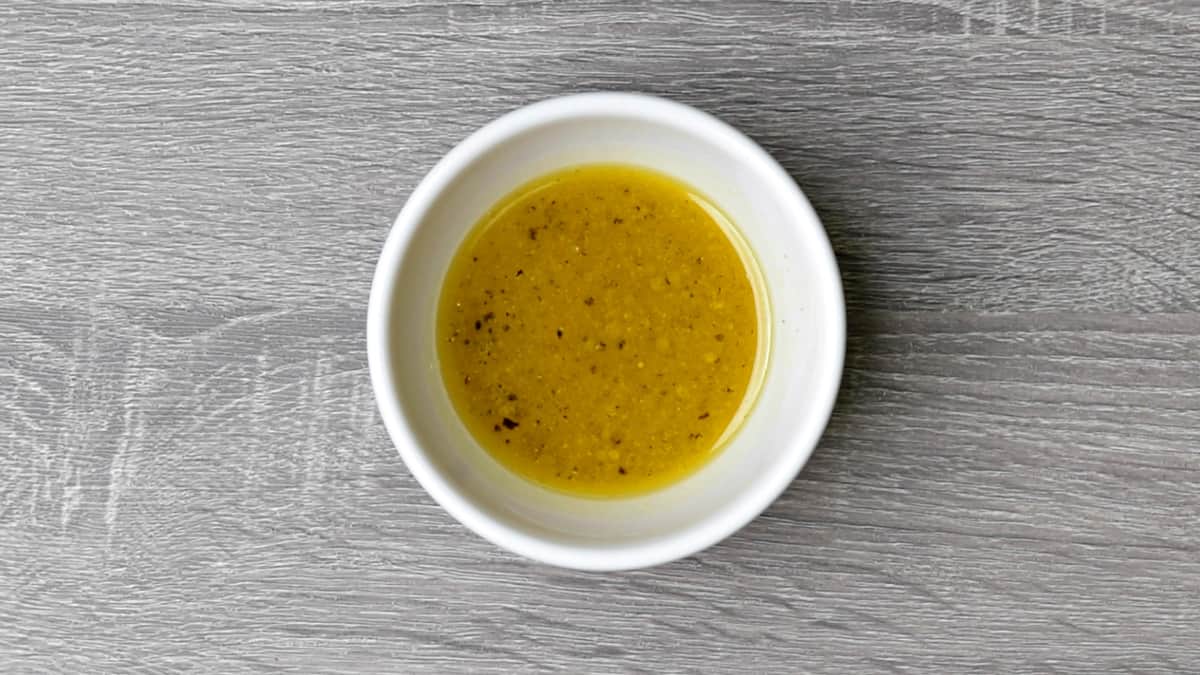 Whisk until fully combined. If possible, use an immersion blender to completely emulsify your dressing with very little effort. It should keep in the refrigerator for up to 10 days without separating!
To assemble the shaved brussels sprouts salad, first layer your brussels sprouts in a serving dish.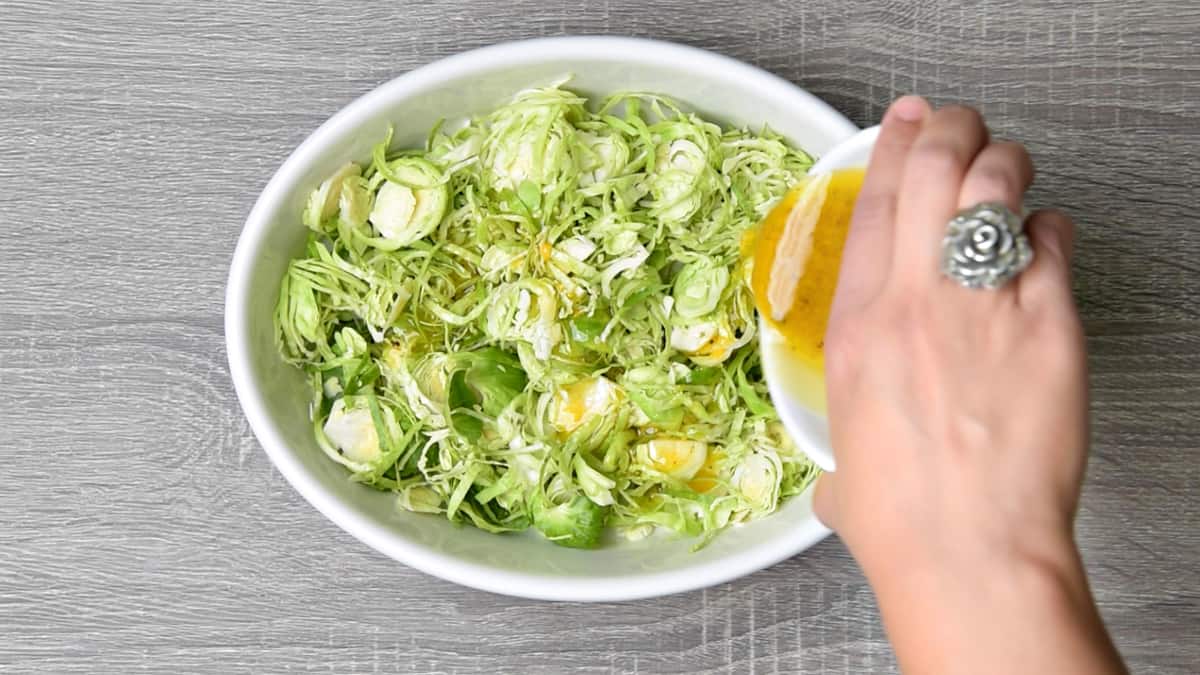 Drizzle with ¾ of your homemade Apple Cider Vinegar Salad Dressing.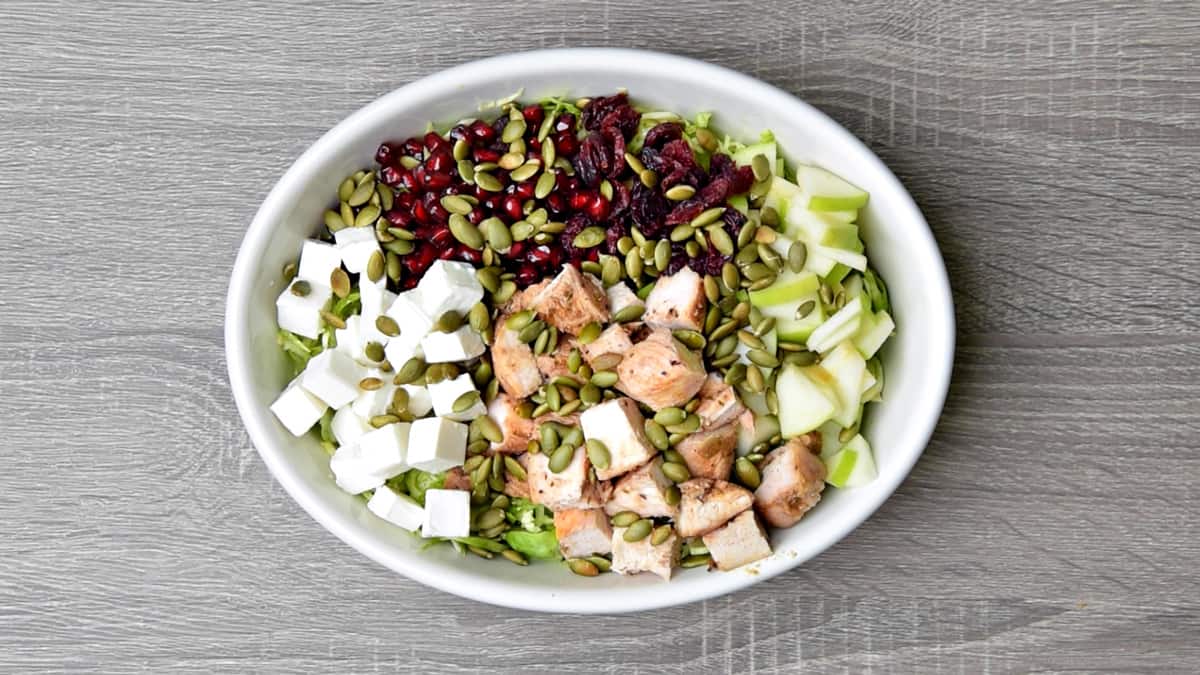 Then, add the remaining ingredients: sliced apples, diced chicken, dried cranberries, pepitas, and feta.
Toss everything together, drizzle with the remaining dressing, allow to sit for 10 minutes and enjoy! How simple was that??
Tips
As stated earlier, there are a few things you can do to ensure the tastiness of your shredded brussel sprout salad. First, choose delicious produce! Brussels sprouts should be firm and bright green. Trim or peel off the outer leaves if they look yellowed or sad.
Pomegranates should also look firm and robust. If the skin shows signs of contracting or wrinkling, you should probably look for a newer one.
Need help figuring out how to get the pomegranate arils out of the pomegranate? Check out my useful tutorial to see how truly easy it is to do.
If you are someone who likes to get ahead, there are a few things you can do to make assembly even easier. First, start with pre-cooked chicken. You can either make your own, use leftovers from previous dinners, or opt for a store bought rotisserie chicken.
Next, feel free to shave the brussels sprouts and de-seed the pomegranate the night before assembly. The vinaigrette can also be made several days in advance!
Finally, for the tastiest shaved brussel sprout salad around, be sure to give it a full 10 minutes to rest before serving your tossed salad. This will ensure that the raw brussels sprouts leaves get a chance to soak in some of the delicious dressing.
Frequently asked questions
Can I eat raw brussel sprouts in salad?
Heck yeah, you can! Much like shredded cabbage in coleslaw, raw brussels sprouts are awesome because they hold their shape, maintain their crispiness once tossed in dressing and are completely delicious.
What is the best way to shred or shave brussels sprout for salads?
Rinse your produce thoroughly, then cut off the root end and peel away discolored or broken leaves. Then, to slice them, you can use any of the following methods:
1. Mandolin slicer - this will result in the most even slices. Just be sure to protect your fingers!
2. Food processor - easily the fastest method! Use the slicing attachment.
3. Slice using sharp knife - while this is low tech, it will certainly get the job done.
Can I shave brussels sprouts for salad in advance?
Absolutely! I usually do it the night before to prevent any oxidation or discoloring. That said, you can shred brussels sprouts in advance and store in a zipper bag for up to a week.
Can I cook shaved brussels sprouts for this salad?
I usually love to eat this salad raw, especially when it is acting as a side dish for all the rich holiday foods.
If you prefer sautéed, steamed or roasted brussels sprouts in this salad, it will still be delicious!
Sauté them in little bit of olive oil for couple of minutes until just wilted, then cool, toss and serve. Just note that the brussels will not maintain their crunchiness.
Can you make this shaved brussels sprout salad vegan?
Yes! Simply omit the feta cheese, or opt for a vegan, plant based version instead.
Is it keto friendly?
The only item in the shaved brussels sprouts salad that might have too many carbs to be considered keto are the apples.
Simply cut back on them or omit them altogether, depending on how strict you're being with your macros.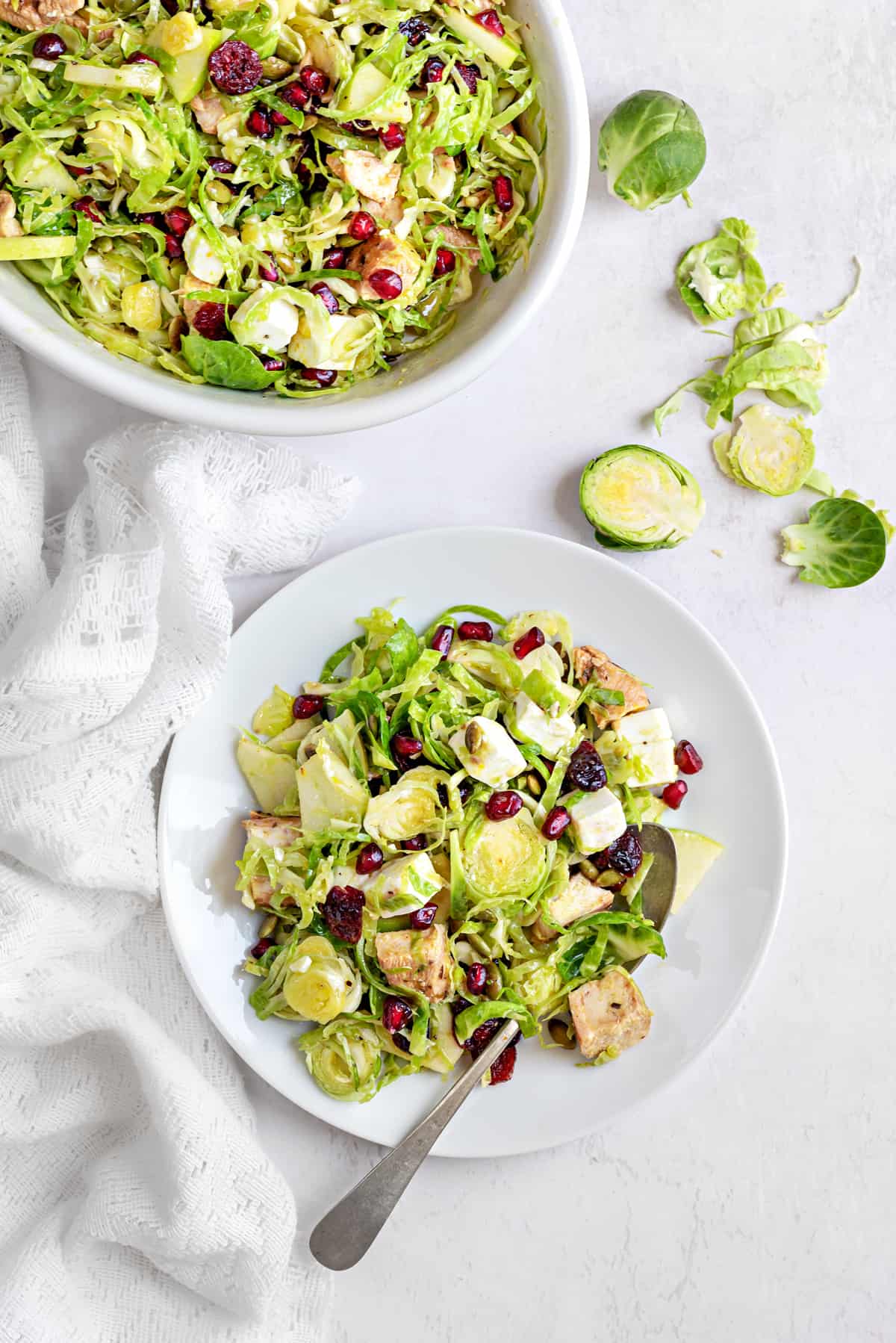 Variations and Serving suggestions
If you're looking to customize your brussel sprout salad recipe, there are a ton of ways to do it! Here are just a few options:
Cheese options - pecorino, Parmesan, blue cheese, goat cheese
Nut options - pecan, walnuts, sunflower seeds, pistachios, pine nuts
Dried fruit options - cherries, raisins
Greens options - kale, spinach, wild rocket, arugula
Vinegar options - red wine vinegar, balsamic, or lemon juice
You can also add a bit more heft to your shaved brussels sprout salad by adding extra veggies (sliced bell peppers or red onions would be delicious!) or adding some grains (quinoa or barley would be great!).
Since this salad recipe will last for up the three days in the refrigerator after tossing, I love to make a batch for my work week and portion out the salads for lunch.
Further, if you'd like to make a full week of salads, try using nifty mason jar salad layering technique to prolong the life past three days!
Storing options
Any leftovers can be stored in the refrigerator in an airtight container for up to 3 days. Just note that this will not be ideal if you opt to use a different, leafy green in place of the brussels sprouts.
I don't recommend storing the tossed salad in the freezer, but you can opt to freeze the sliced sprouts. Just bring them to room temperature, toss them in a little bit of olive oil, and then assemble the salad as instructed.
More delicious salad recipes
💓 We Love to hear back from you and appreciate your success stories !
If you made this delicious Chicken and Shaved Brussel Sprout Salad recipe, please feed me with your reviews and comments below!
If you'd like more yummy recipes delivered straight to your inbox, please sign up for my email newsletter.
You can also follow me on Facebook, Instagram or Pinterest if you prefer to get social. 🙂
📖 Recipe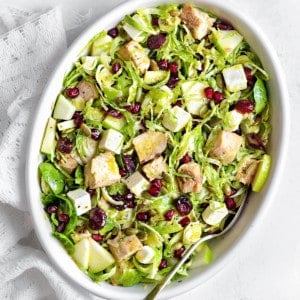 Print
Shaved Brussel Sprout Salad Recipe
This delicious shaved brussels sprouts salad is packed with hearty chicken,apples, feta, pomegranate, toasty pumpkin seeds and a homemade apple cider vinaigrette. Perfect as a side or entrée salad during the fall and winter. Make it to liven up your holiday table!
Ingredients
For Salad Dressing
⅓

cup

Extra Virgin Olive Oil

1

tablespoon

Maple Syrup (or Honey)

2

tablespoons

Apple Cider Vinegar

1

teaspoon

Dijon Mustard

Salt and Pepper to taste
For Salad
1

lb

Brussels Sprouts

1

Apple (Granny Smith or Honeycrisp)

(chopped)

⅓

cup

Dried Cranberries

⅓

cup

Pomegranate Arils

2

cup

Cooked Chicken Breasts

½

cup

Feta Cheese

⅓

cup

Pumpkin Seeds
Instructions
Start with making the salad dressing. In a bowl, combine, extra virgin olive oil, maple syrup, apple cider vinegar, dijon mustard, season with salt and pepper. Whisk well and set it aside. (or refrigerate until in use).

Rinse the brussels sprouts very well. Trim the end and peel off any leaves that are discolored or damaged.

To shred the brussel sprouts, you can either use mandolin slicer or food processor. If you not have any of these gadgets then you can also use sharp knife to thinly slice the brussels sprouts.

Place the shredded brussels sprouts in a large bowl and pour ¾ of the prepared dressing and toss well.

Add chopped apple, dries cranberries, pomegranate arils, cooked chicken, feta Cheese and pumpkin seeds. Toss the salad and let it rest for 5-10 minutes before serving.

Pour the remaining dressing on the top (or serve it along with the salad on side) and serve.
Notes
Brussels sprouts can be shredded up to a week in advance and kept in a zipper top bag.
Dressing can be made up to a week in advance.
Nutrition
Calories:
242
kcal
|
Carbohydrates:
16
g
|
Protein:
15
g
|
Fat:
14
g
|
Saturated Fat:
3
g
|
Cholesterol:
38
mg
|
Sodium:
153
mg
|
Potassium:
384
mg
|
Fiber:
3
g
|
Sugar:
10
g
|
Vitamin A:
487
IU
|
Vitamin C:
50
mg
|
Calcium:
79
mg
|
Iron:
2
mg