The easiest 5 minutes vegan Tomato Corn Avocado Salad Recipe - it's so delicious light and fresh. Makes perfect summer salad to serve as a side dish or on it's own.
A crowd pleasing corn salad tossed with creamy avocado and fresh grape tomatoes in olive oil, lime juice and herbs. It talks summer in a bowl indeed!
A feel good corn salad - try it!
With few handful of ingredients, make this juicy, so creamy and crunchy corn tomato avocado salad now. It is sure to becomes an instant favorite.
This is one of the easiest 5 minutes summer salad recipes. You just can't go wrong with this freshness and deliciousness. In fact, a good salad like this is to die for.
Sweet corn, tomato and avocados - you toss any fresh vegetables of choice to it and it works wonders. This easy summer corn salad recipe with avocados is super good , wholesome and so tasty.
I absolutely love making it more often. Do you know why? Because, the first time I made it as side to sandwiches. Kids loved this salad so much so that now they ask for it more often.
Every bite of it is loaded with irresistible flavor, crunch and creaminess. You know best part of this recipe? Well, it needs only few basic dressing elements to elevate the taste of this salad.
All in all, with only few things you can toss a great corn avocado salad for your summer parties, BBQ cookouts or even for potlucks.
Here's some more easy peasy summer salad recipes great for weekend get togethers and parties - Cucumber Tomato Salad, Dill Potato Salad and Fruit Chaat Salad.
Salad Ingredients
The list is not so long to daunt you. In fact, you can simply count them on finger just like that! Isn't is so easy peasy? 🙂
This salad is loaded with best summer ingredients. And you really need not any thing extra here. So, let's see what all do we need for this sweet corn and avocado salad recipe.
Corn : You can use canned, fresh or frozen corn for this recipe. Or, you can also go boiled corn on the cob to make this salad. Anything of choice would work great here.
I have used frozen ones here. And, I prefer boiling the corn kernels for this recipe. Juicy plump corn kernels are always welcome for us.
Ripe Avocado : The diced avocado gives nice creamy texture and taste to the salad. Plus, full of nutrition! I love big chunks of avocado, you can chop them fine or slice them, it's all up to your liking!
Tomato : I have used grapes tomatoes for they are nice flavorful and juicy. You can use Roma or cherry tomatoes if you like.
Onion : Throw in some diced red onion to add crunch and tonnes of flavor.
Herbs : Finely chopped cilantro and a bit of parsley is what I love to add in here. Both of these herbs are great companion to corn, avocados, onion as well as tomato.
I have a thing for cilantro - the FRESH cilantro! So, I prefer to added it in salads in good amounts. Plus parsley gives nice earthy tone to this tomato avocado corn salad.
Finally, we need Extra Virgin Olive Oil, Lime juice (or lemon juice), Chilli Flakes, Salt and Pepper.
Step by Step Instructions
To begin with, add halved grape tomato, corn kernels, chopped onions, Avocado chunks, finely chopped parsley, cilantro and chilli flakes.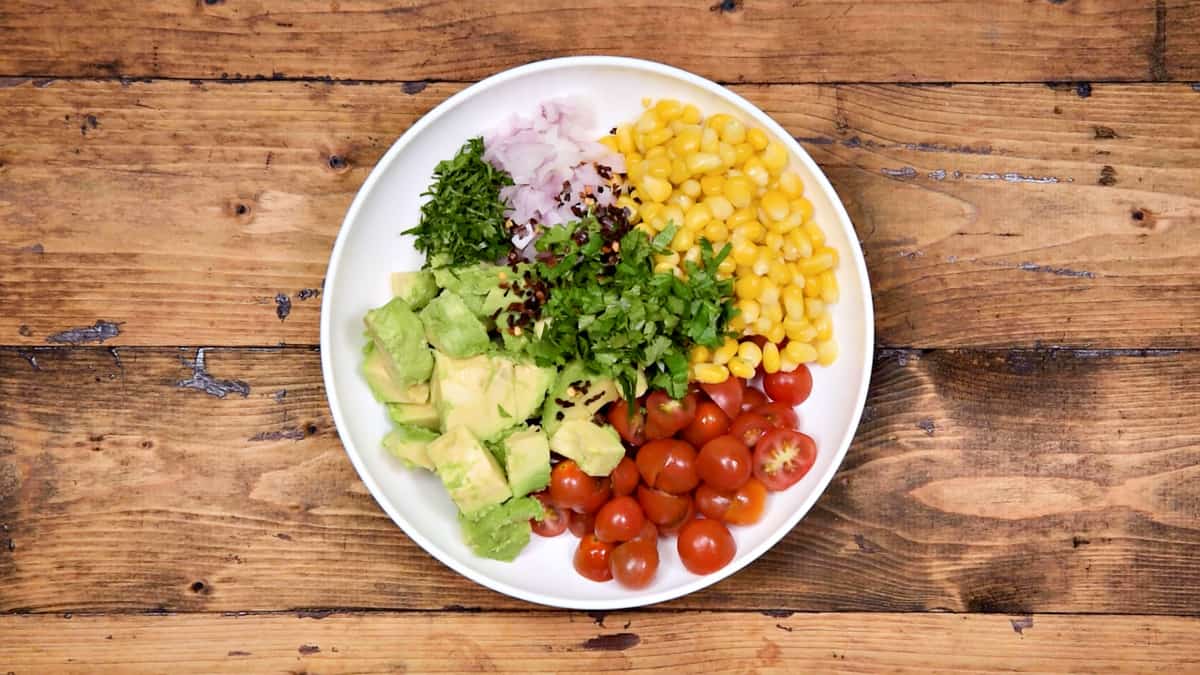 Pour lime juice, freshly crushed pepper, salt and Olive oil. Toss well. Let it rest for 5 minutes. It's ready to serve!
Salad Variations
You can choose to add smoky grilled corn on the cobs here.
Try adding in some grilled or tossed garlic shrimp to chicken for great protein meal option. You can serve this variation as main dish.
Further, add in fresh basil, chives, mint or dill for more flavor variation. Or, toss it with some arugula or wild rocket for more sharp peppery hint.
Use some cucumbers, chickpeas, black beans, beetroot, carrots and much more as you like.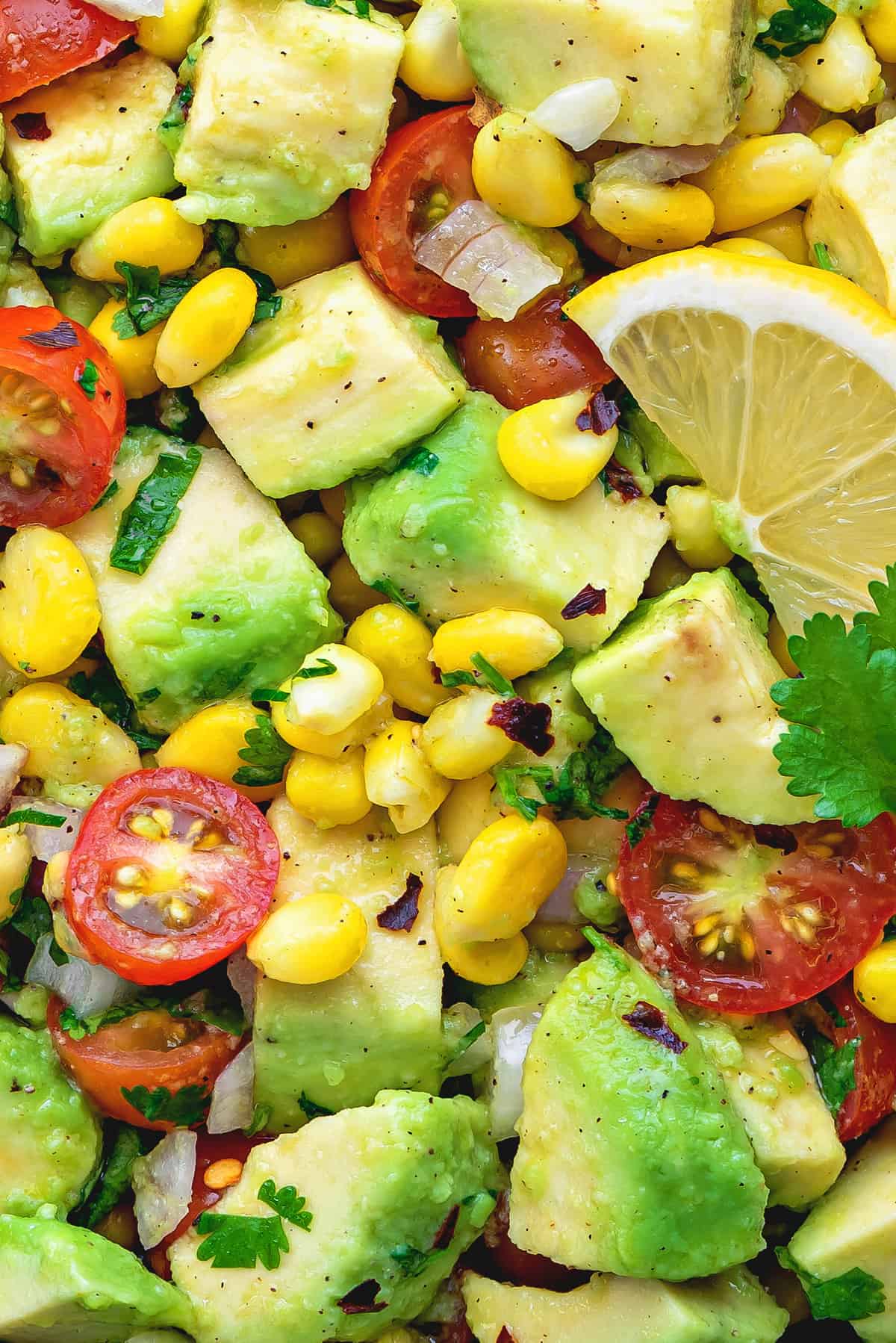 Frequently Asked Questions
How to boil corn on the cob?
First, pour enough water in large pot and bring it to boil.
Then add corn cob and boil it for 4-5 minutes. Drain the water and run cold water over the corn, this stops the cooking process further.
Cool and then cut corn off the cob and use.
What to eat with corn avocado salad?
Serve this corn and avocado salad on it's own as a light meal or for snacking.
It makes a perfect side to grilled meats like shrimp, fish, or chicken. Or pair it with some Mexican rice.
You can also stuff your tacos with this salad.
💓 We Love to hear back from you and appreciate your success stories !
Have you tried this " Recipe"? Please feed us with your ★ star ratings and comments below.
You can also FOLLOW me on FACEBOOK, INSTAGRAM and PINTEREST for more fabulous recipes and updates.
Print
Tomato Corn Avocado Salad Recipe
The easiest vegan Tomato Corn Avocado Salad Recipe - it's so delicious light and fresh. Makes perfect summer salad to serve as a side dish or on it's own. A crowd pleaser!
Ingredients
1

cup

Tomato

(halved)

1

cup

Cooked Corn Kernels or Canned

1

Avocado

(diced)

⅓

cup

Onion

(chopped)

1

tablespoon

Parsley

(finely chopped)

¼

cup

Cilantro

(finely chopped)

½

teaspoon

Chilli Flakes

1

tablespoon

Lime Juice

Salt and Pepper

2

tablespoons

Extra Virgin Olive Oil
Instructions
Add all the ingredients in bowl.

Toss everything well, let it rest for 5 minutes. Serve.
Notes
Use fresh or frozen or canned corn kernels as per your liking.
When corn is in season, I would recommend using fresh corn on the cob to make this salad.
You can use boiled corn or go ahead with grilled corn for smoky flavor.
You can a clove of minced garlic if you like to.
It takes less than 5 minutes to get this together. You can do the preparation before hand and refrigerate it. Add avocados and toss the salad just before serving.
Lime juice or (lemon juice) is a must as it keeps avocados from turning brown.
You can add cucumber, Peppers, choice of nuts for more crunch and taste.
Nutrition
Calories:
189
kcal
|
Carbohydrates:
15
g
|
Protein:
3
g
|
Fat:
15
g
|
Saturated Fat:
2
g
|
Sodium:
88
mg
|
Potassium:
408
mg
|
Fiber:
5
g
|
Sugar:
3
g
|
Vitamin A:
628
IU
|
Vitamin C:
14
mg
|
Calcium:
13
mg
|
Iron:
1
mg