This super easy, and authentic homemade Guacamole recipe is naturally gluten free, vegan, paleo and Whole30, making it a perfect appetizer for anyone. Spend just 10 minutes making this delicious and healthy avocado dip today. You won't regret it!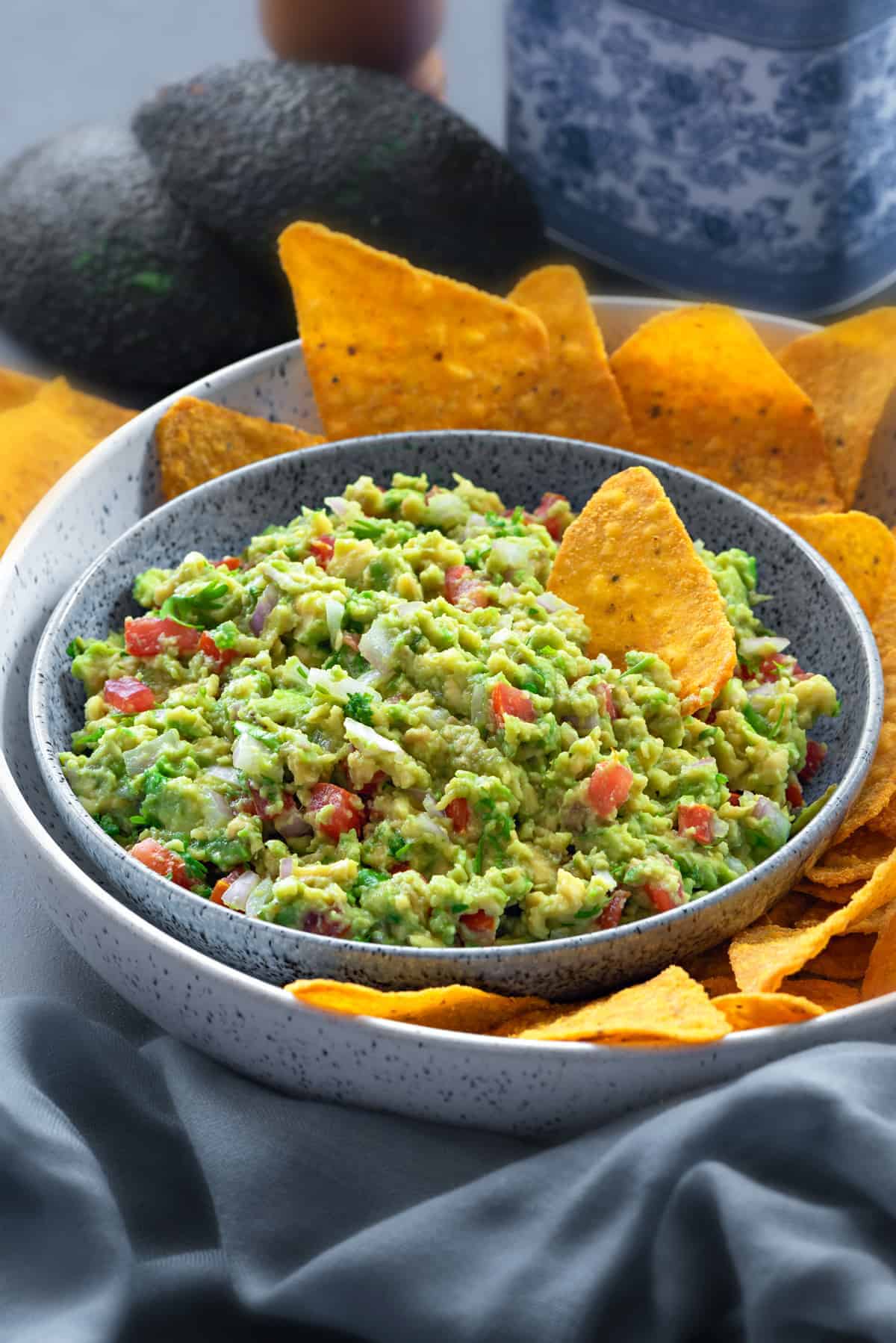 Jump to:
Why You Will Love This Guacamole Recipe
Super simple, easy, use of high quality fresh ingredients and ultimate delicious - that is how guacamole dip is meant to be.
This appetizer recipe is also so easy and quick to prepare. There is no cooking involved whatsoever. With just a few quick chops and mashes with a fork, you'll have a delicious guac dip that will rival your favorite restaurant.
Since this guacamole recipe is made from entirely plant based ingredients, it is also incredibly healthy! No matter what diet you're on, this dip is definitely for you.
Finally, while I often eat this guacamole as a dip with tortilla chips (or with a spoon, if I'm being honest). It also adds a ton of zesty flavors to all kinds of dishes.
Add it as a spread on sandwiches in lieu of mayonnaise, as a topping for chili or burgers, or with any of your favorite Mexican dishes.
Whenever I go to a Mexican restaurant, I feel obligated to order fresh guacamole. Not only is it one of my favorite foods of all time, it also provides me a quick insight into how much I'm going to like the food. 🙂
I personally love guac that is chunky, with tasty little pockets of fresh jalapeño and red onion. My recipe for guacamole from scratch is filled with bright ingredients that transport me somewhere warm and tropical, no matter what time of year it is.
Ingredients & Tips
If you've ever wondered what's in guacamole recipe, the answer is just a handful of fresh ingredients. Here's everything you need to make my homemade guac dip: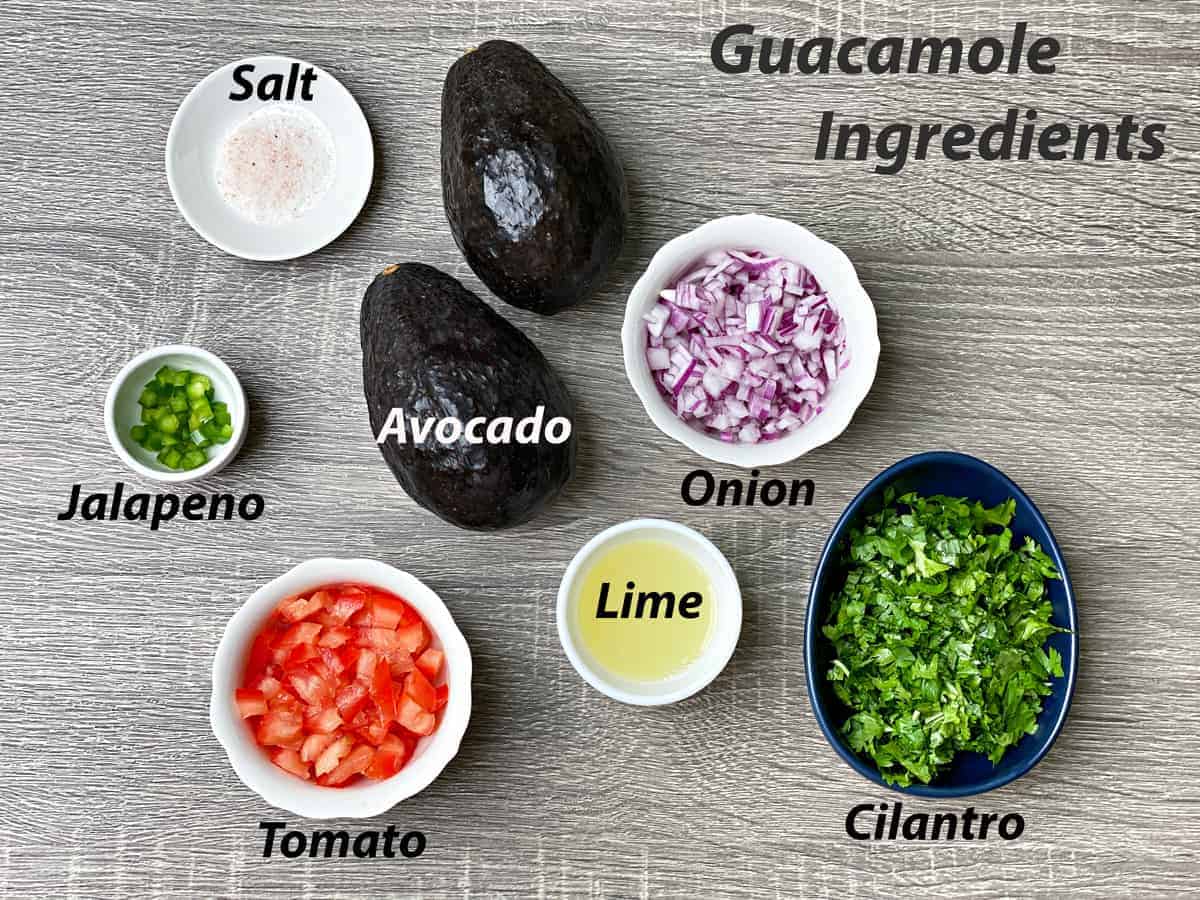 A few notes on the guacamole ingredients:
Avocados: As these are the primary ingredient for this dip, you want to pick the best possible fruit. Avocados should be ripe and firm, with just a bit of give when you squeeze them.
When picking ripe avocados, they should be firm but still give under pressure from your thumb. They should not feel mushy, and you shouldn't feel a gap between the skin and the fruit.
Tomatoes: To avoid a watery guac, be sure to seed your tomatoes prior to chopping them.
Jalapeños: I personally enjoy spicy foods, but I know that not everyone shares my view. If you are sensitive to heat, be sure to carefully remove the ribs and seeds of the jalapeño prior to chopping. Ribs and seeds are the parts that hold the majority of capsaicin (the compound that tastes spicy).
You can also dial back the heat by adding fewer peppers, or swapping in capsicum (green bell peppers) to get the same crunch without the spice.
Cilantro: While this is one of my favorite herbs of all time, I know some people (even celebrity chefs!) dislike cilantro for tasting soapy. If you are one of these unfortunate souls, please feel free to omit it or substitute flat leaf parsley.
Onions: Red onions are my favorite kind of onion for eating raw. They have a bit less bite and tend to be a little sweeter. They also have the added benefit of being beautiful! You can swap sweet yellow onions, Vidalia onions or shallots instead.
Lime Juice: Lime juice adds necessary acid to the guacamole, which not only adds flavor, but also helps to prevent oxidation for a little while. Since this is a fresh dish, I recommend using fresh lime juice for optimal flavor.
How to Make Guacamole Recipe?
This recipe for guacamole is very simple and will only take you a few minutes to make. First, cut your avocados in half lengthwise and carefully remove the pit.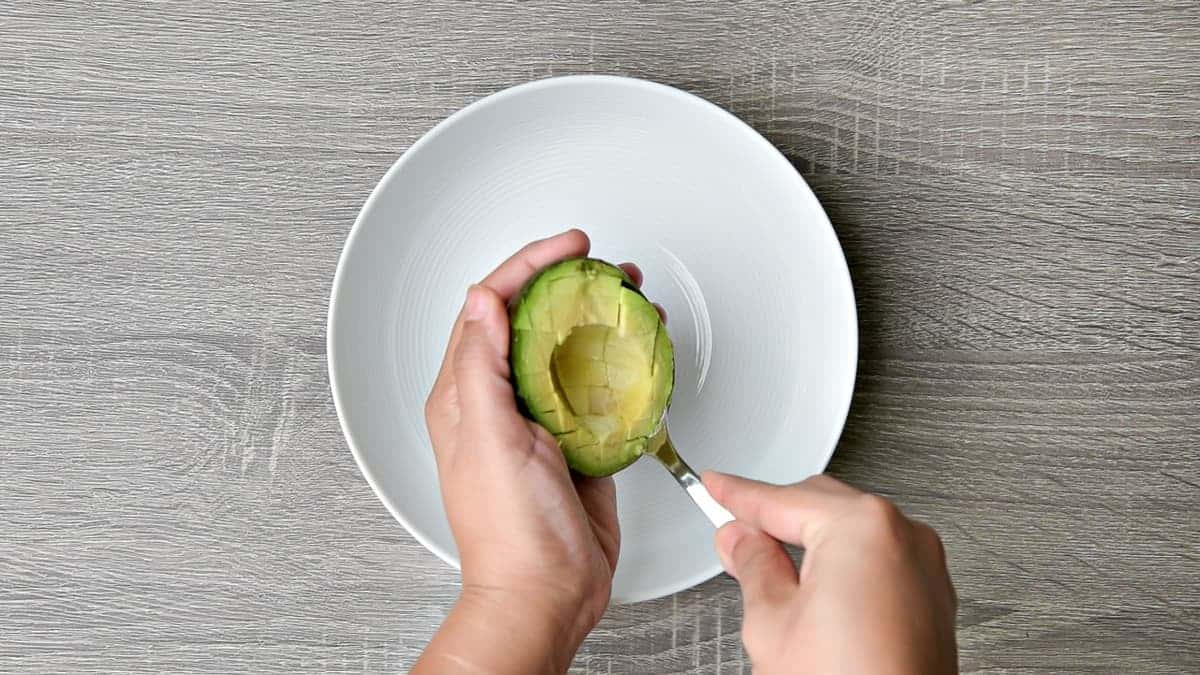 Slice the avocado into chunks while still in the skin. Using a spoon, scoop out the flesh into a medium mixing bowl.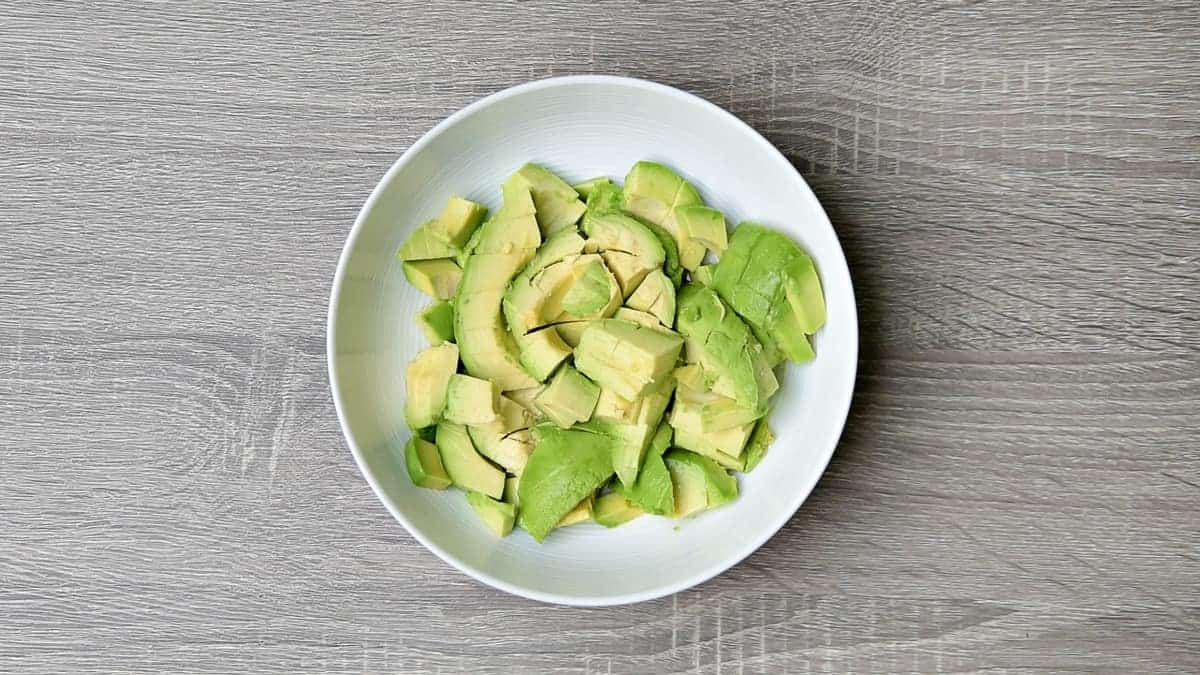 Using a fork, mash the avocado to your desired consistency. As mentioned above, I like to leave a few chunks in mine. You like it creamy and smoother consitsency? Feel free to mash further.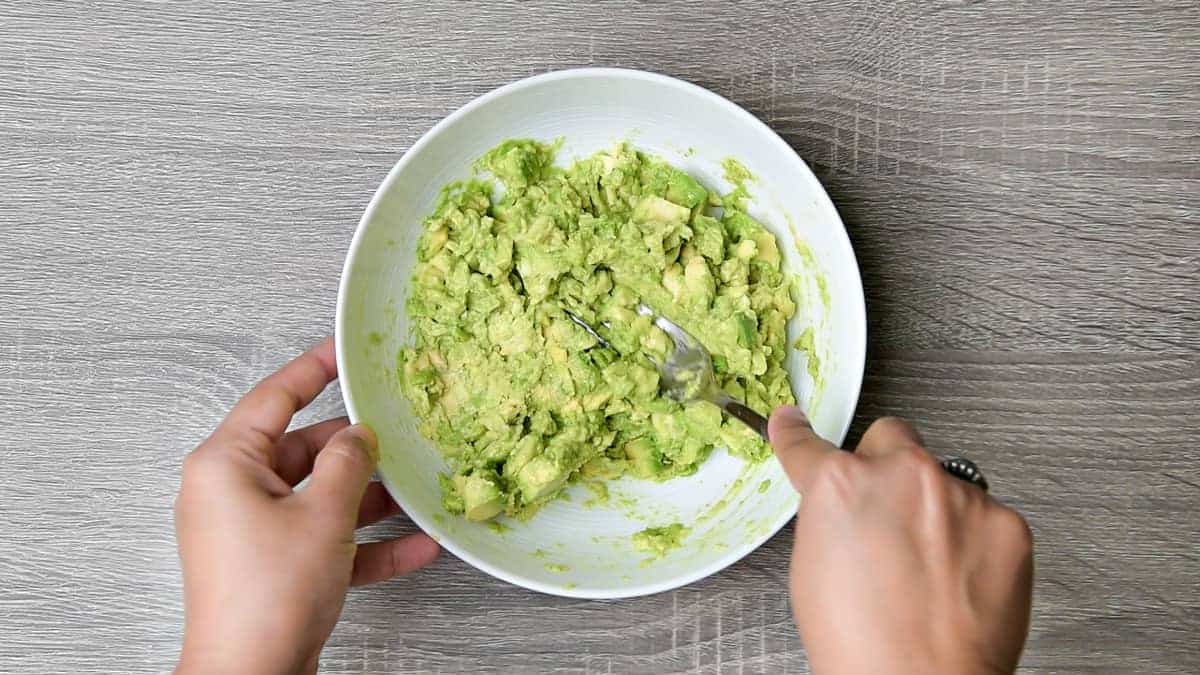 Add the remaining veggies to the bowl with a squeeze of lime juice and a pinch of salt.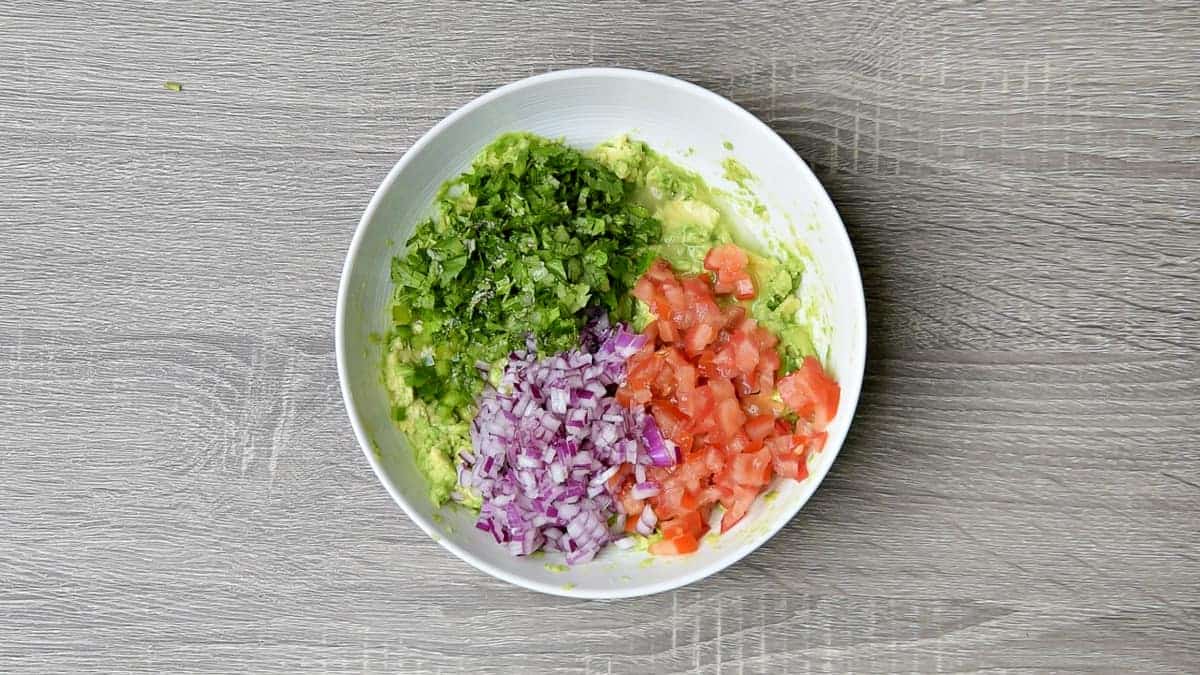 Stir together until well combined. Taste and adjust the seasoning (salt and lime) as necessary. Enjoy!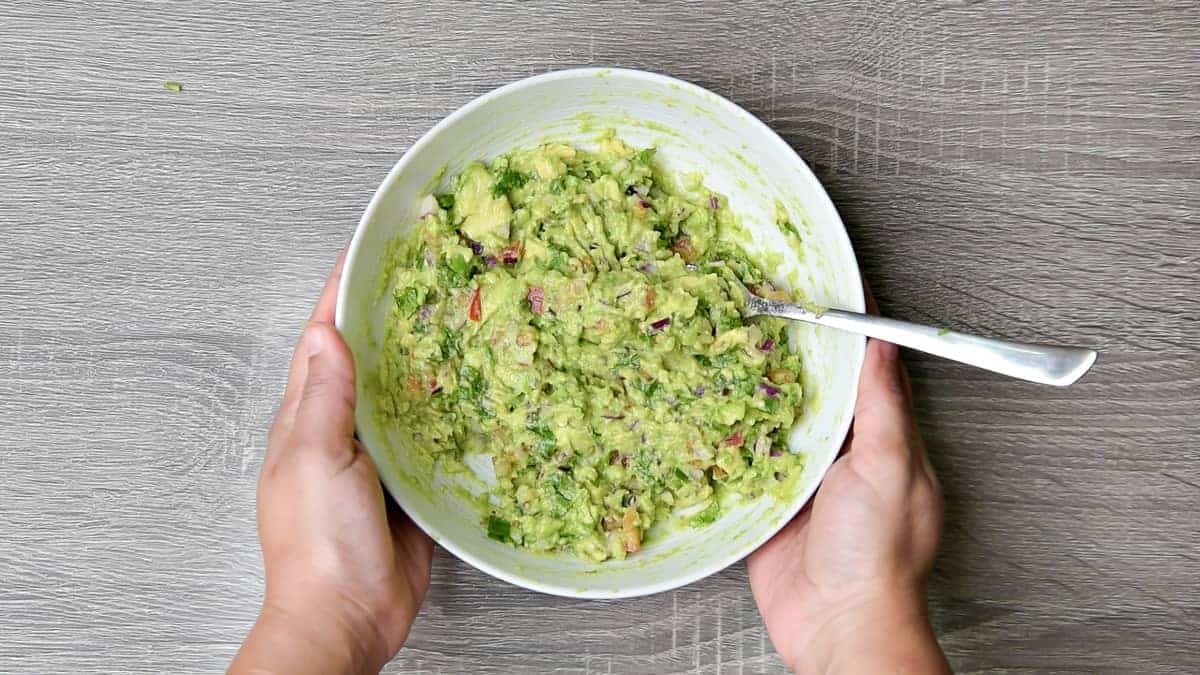 FAQs + Storage and Freezing
Is guacamole healthy?
While I always recommend that you consult with a dietician for any specific diet advice, all signs point to this guacamole being quite healthy.
Not only is it made with exclusively fresh, plant based ingredients, those ingredients are also quite nutritious.

This recipe is packed with fiber, heart healthy fats, and potassium. For a relatively low calorie content, I'd venture to say that this is a food that should be in your diet.
Is guacamole keto friendly?
At only 10 grams of carbs per roughly ½ cup serving, this avocado dip is relatively keto friendly. If you are following a strict keto diet, you can opt to omit the red onions and tomatoes for a lower carb count.
How to keep guacamole from turning brown?
Guacamole turns brown as a result of oxidation, or exposure to air.
While brown avocados aren't necessarily bad for you, they are certainly not pretty to look at and might take on a bitter, mushy taste. As a result, it is best to make this recipe immediately prior to eating.

The best way to keep guacamole from turning brown is to pour thin layer of olive oil (or water, lemon or lime juice) on the top and store.

How to store guacamole?
If you happen to have leftover guac dip, the best way to keep them fresh is to spread the dip into a lidded container, smoothing the top and packing it tight as much as possible to pressure out air bubbles.

Gently pour some water (or olive oil, lemon or lime juice) over the top to cover the dip, preventing air from touching it. When you're ready to dig in, pour off the liquid and enjoy.
How long does guacamole last in refrigerator?
As this guac is homemade, it's delicate and tends to expire fast, unlike the store bought ones. So, if stored correctly, this leftover guacamole should last 2-3 days, consume it within this period for best results.
Can you freeze guacamole dip? For how long?
While technically you *can* freeze homemade guacamole, the flavor and texture of the guac will change after freezing.

If you still want to proceed despite this warning, I recommend using any of the below mentioned method and freeze for no longer than 3 months.
Method 1 : Place the mashed guacamole in freezer zip bag, squeeze out the air completely, close the zip bag, flatten it and freeze.
Method 2 : Place the dip in freezer safe container or jar and smooth out the top, pour thin layer of olive oil, cover with lid and freeze.

Note : If you plan to freeze guacamole, then I recommend please do not add chopped onion, tomato, jalapeño and cilantro prior to freezing. Just mix the mashed avocado with lime juice, salt, and a bit of minced garlic and freeze.
Once you thaw the guac in the refrigerator overnight, add chopped onion, tomato, and cilantro, give it a nice stir and serve.
Will guacamole taste the same when thawed after freezing?
Unfortunately, no. The guac will lose some of the buttery richness I associate with fresh avocados, and the consistency will be a bit separated. You may also need to add a bit more acid in the form of lime juice to make it taste brighter.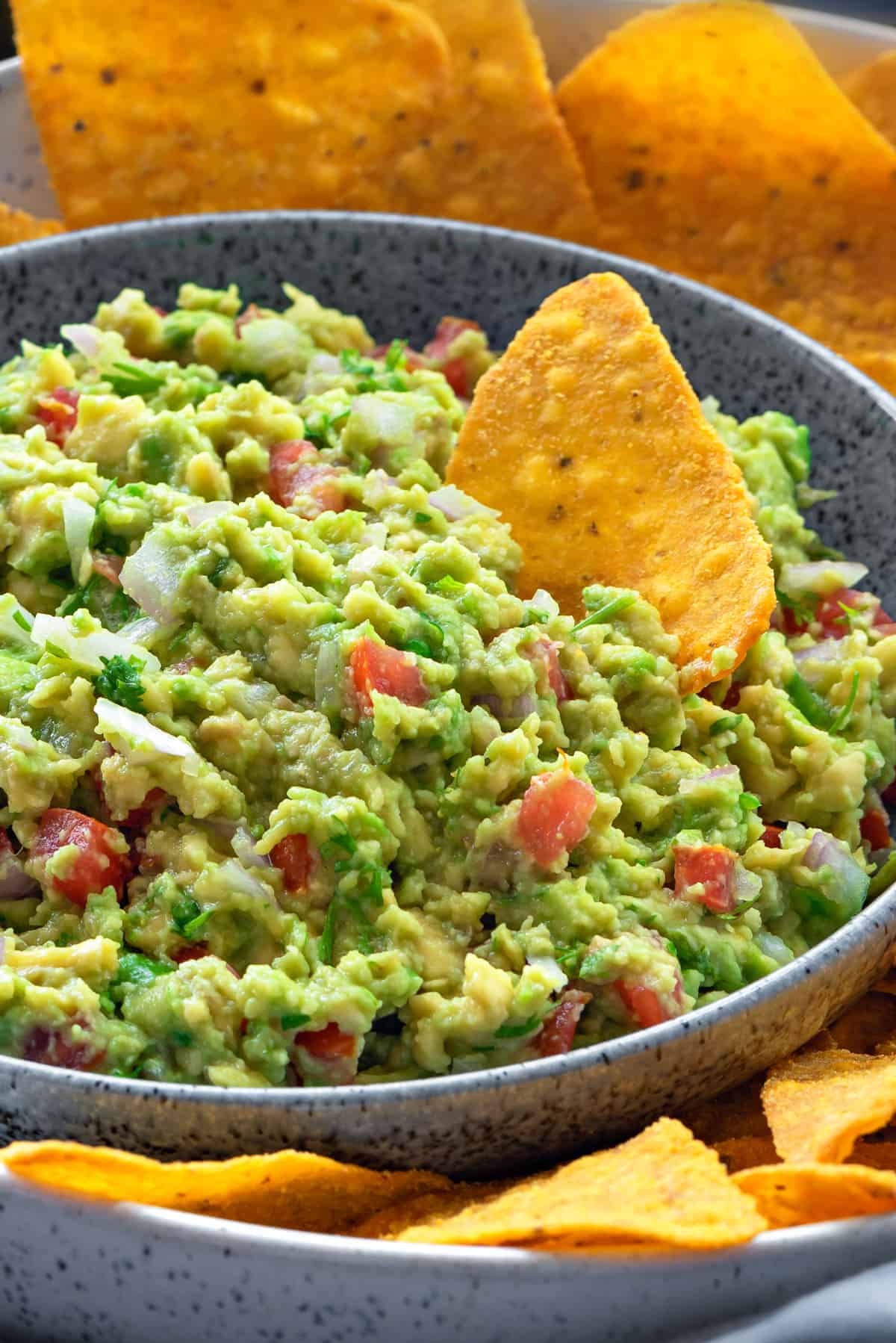 Serving Ideas
While the classic combo of guac and tortilla chips is delicious, don't feel limited by it.
My authentic guacamole is a natural pairing for any of your favorite Mexican foods like fajitas, rice, burritos, tacos, quesadillas or enchiladas.
It also tastes great on sandwiches, toast, burgers or salads. Pair it with grilled meats of any kind or top it on your favorite soups.
If you are doing a low-carb diet, opt for crunchy veggies like bell peppers, carrots or jicama sticks to dip in it. Or, do as I do, and eat it straight from the bowl with a fork. I won't judge! 🙂
Add-Ins (Variations)
While my guacamole is quite authentic, there's nothing keeping you from dressing it up to your liking. Here are a few ideas for add-ins that you can use to personalize your guac:
Fruits : tropical fruit like pineapple or mango pair very well with the flavors in this avocado dip.
Nuts : pistachios, walnuts or pine nuts will all add some extra fat, fiber and crunch to your guac.
Dairy : adding sour cream or greek yogurt to the guacamole adds both richness and a bit of fat to the mix, making it a perfect keto dip. If you're more of a cheese lover, feta, goat or blue cheese would all be delicious.
Spicy guacamole: if you like a lot of heat, keep the ribs and seeds in your jalapeños. You can also swap in hotter peppers if you prefer - habanero, ghost or Carolina reapers are all very spicy.
Chipotle guacamole: chipotles are the dried version of jalapeños and are often sold in cans in a smoky adobo sauce. Feel free to sub in chipotles for a smokier (and more red in color) version of this recipe.
More Tasty Dips for You:
If you made my recipe for easy, authentic Guacamole Dip, please rate and review it below!
IIf you'd like more tasty recipe ideas delivered straight to your inbox, sign up for my email newsletter. You can also follow me on Pinterest, Instagram or Facebook or YouTube to see what I'm up to in the kitchen.
📖 Recipe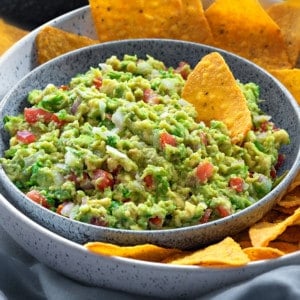 Print
The Best Guacamole Recipe
This simple, easy and authentic recipe for guacamole dip takes just 10 minutes to prepare and will rival your favorite restaurant dip! Make this delicious avocado dip now, you won't regret it!
Ingredients
2

Ripe Avocados

(preferably Haas variety)

¼

cup

Ripe Tomatoes (Plum Tomatoes, or Roma Tomatoes)

(deseeded and chopped)

¼

cup

Red Onion

(finely chopped)

1

teaspoon

Jalapeño Pepper

(chopped)

3

tablespoons

Cilantro

(finely chopped)

1 ½

tablespoon

Lime Juice

¼ - ½

teaspoon

Salt
Instructions
To start with, slice the avocados in half, remove the pit and scoop out the flesh into a large bowl.

Using a fork, mash the avocado chunky or to a smooth texture, as you like.

Now, add the remaining ingredients and mix together. Check for the seasoning like salt and lime juice and add more only if needed.

Serve this delicious guacamole dip with tortilla chips and enjoy.
Notes
Ensure going through great tips and tricks on keeping guacamole fresh and green and how to store the leftovers or freeze it.
Nutrition
Calories:
167
kcal
|
Carbohydrates:
10
g
|
Protein:
2
g
|
Fat:
15
g
|
Saturated Fat:
2
g
|
Sodium:
153
mg
|
Potassium:
527
mg
|
Fiber:
7
g
|
Sugar:
1
g
|
Vitamin A:
245
IU
|
Vitamin C:
13
mg
|
Calcium:
16
mg
|
Iron:
1
mg