Crispy Parsley fish nuggets is one of the most easiest and delicious snack/appetiser to make at home. Flaky fish with the hint of lemon, chili and crusted with parsley flavoured cornflakes is absolutely to die for. Nothing can beat the beauty and taste of these homemade crisp flaky fish nuggets than any fast food joint or chain. oh yes! if you prefer you may use bread crumbs for the crust but my self found this cornflakes to be the best coat to blanket these soft gentle flaky fish. Crisp coat with gentle flaky core is an absolute relish. I have used flat leaf parsley here, but you can use curled parsley or even dried parsley can be thrown in. You can bake them too at 200degrees in preheated oven for around 20 minutes or until done well. These nuggets can easily be frozen for a month and the only thing you need to do is throw them in hot oil straight out from the freezer. Do try this and am absolutely sure you will love it . Let's go through I did it…
Read Also: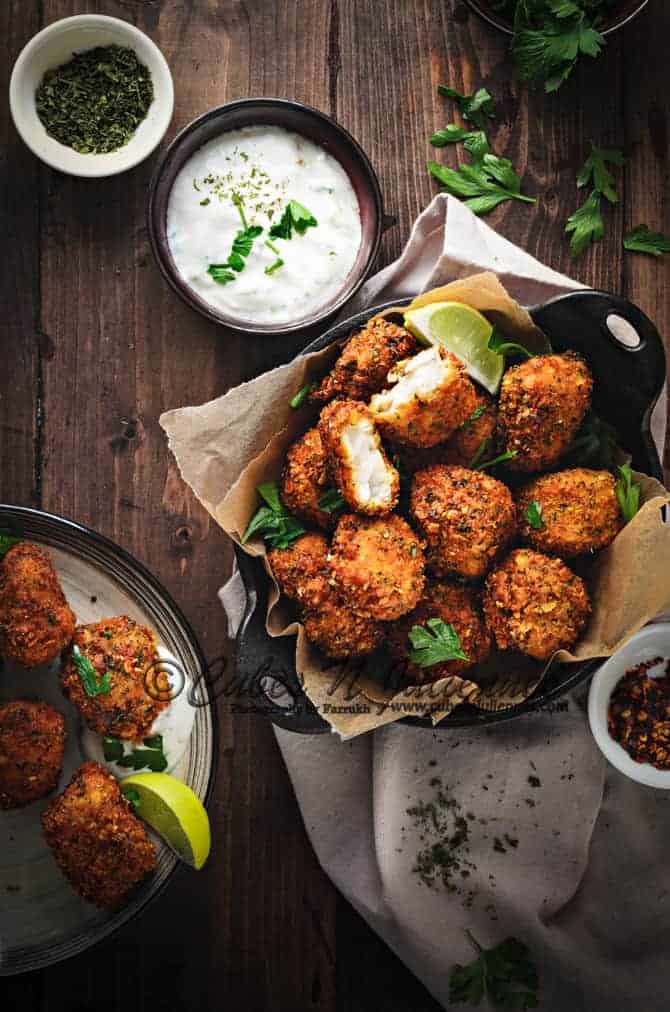 Ingredients:-
400 grams, fish, boneless, cut in 1&½ inch cubes
1 teaspoon garlic powder
1 teaspoon, red chili flakes
Juice of one large lemon
1 tablespoon oil
Salt and pepper to taste
For Coating :
2 cups, cornflakes, crushed
3 tablespoon, flat leaf parsley, finely chopped or 1 tablespoon dried parsley
½ teaspoon dried oregano
½ cup flour seasoned with salt and pepper
2-3 eggs, beaten
Oil for Deep frying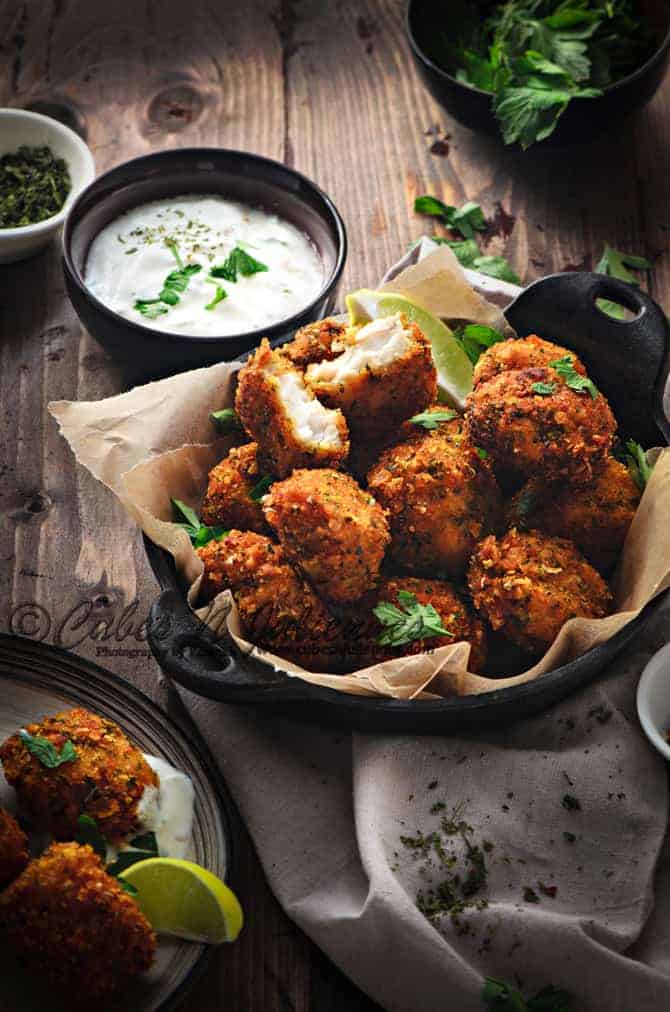 Method:-
In a bowl combine, garlic powder, chili flakes, lemon juice, 1 tablespoon oil, salt and pepper
Marinate the cubes, cover and keep it aside for 15 minutes.
Combine crushed cornflakes parsley oregano and mix well
Now, coat the marinated cubes with flour mixture. Dip the fish in beaten eggs and coat with cornflake mixture.
Dip it again in egg and coat it with cornflakes mixture.
Repeat the same for all.
Place the coated nuggets in the freezer for 30 minutes. At this stage it can be frozen for ahead use.
Now, heat enough oil in Kadhai or deep bottom pan.
Deep fry the nuggets on medium high heat until crisp and golden brown, Do not fry them on high heat or it will burn the nuggets.
Drain the fried nuggets on to absorbent paper
Serve them hot and crisp with Cream cheese parsley dip or any dip of your choice.
To make Cream cheese dip, combine ½ cup of cream cheese, 2 tablespoon of hung or greek yogurt, ½ tablespoon of chopped parsley, chili flakes, lemon juice, salt and pepper.