This authentic Tzatziki Sauce Recipe is a delicious creamy dip made out of Greek yogurt, shredded cucumber, garlic, olive oil and fresh herbs. A refreshing chilled Greek yogurt sauce that makes great recipe for an appetizer spread or mezze. Serve it with grilled meat, veggies or smear it on your bread sandwich or dip your warm pita in it.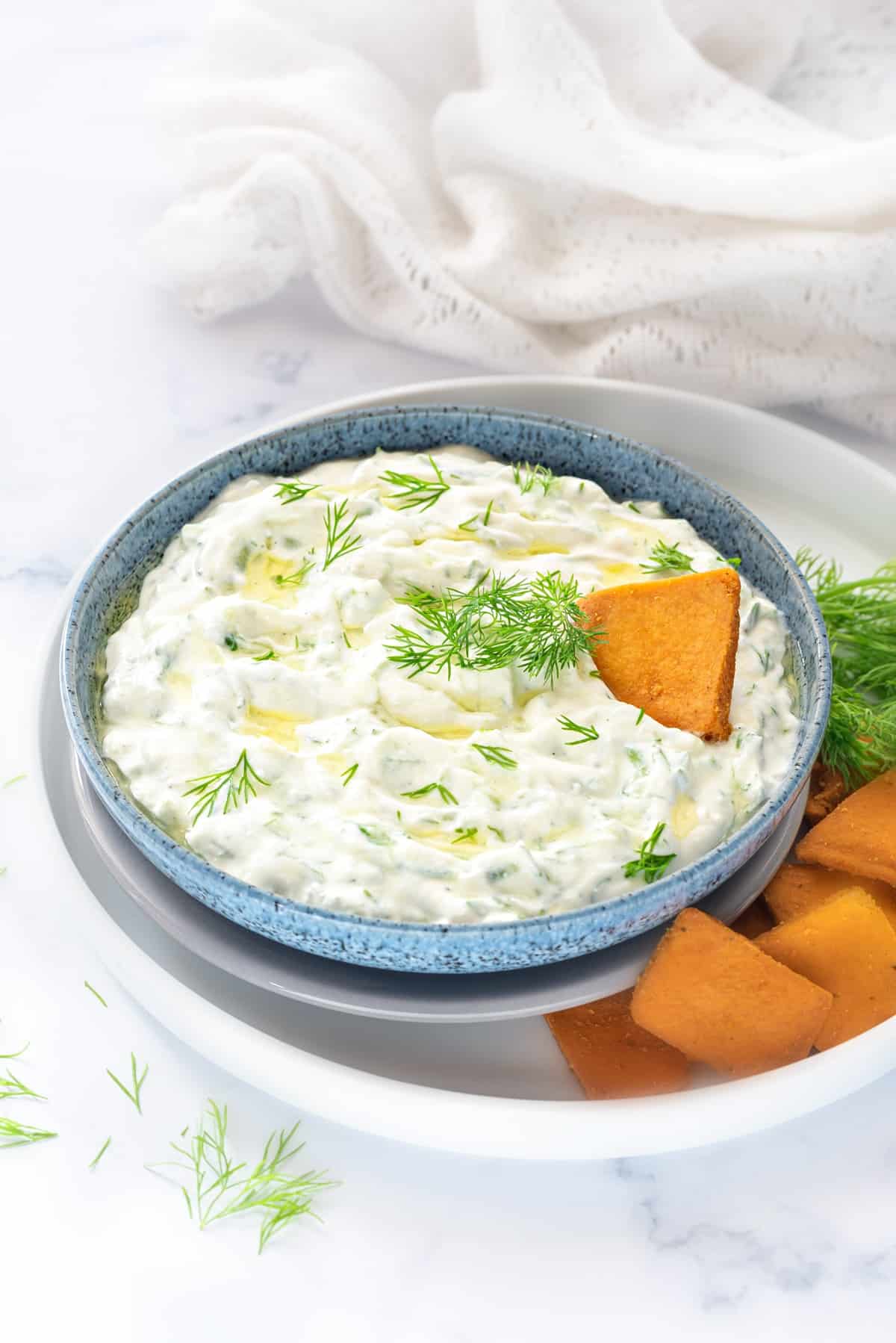 Jump to:
About Tzatziki
You might be thinking what is Tzatziki sauce? Even my little one asked the same question when I made it at home. Yeah, the name sounds so fancy, isn't it? Let me tell you, it's just the name that sounds so tricky to pronounce. In actual it is an easy Greek recipe that you can make with just handful ingredients.
The name and words may daunt you, but this tzatziki recipe is made out of just a simple strained yogurt, grated cucumber, some garlic and fresh dill leaves, thats it!
Its versatile classic Greek dip which goes beautifully with chips, grilled meats, vegetables sticks, pita bread and so much more. This sauce tastes just like the ones served in Greek restaurants.
In the Middle East you may find that tzatziki is served under different name as yogurt and cucumber sauce or with a slight variation. With zero cooking time, you can whip it up in minutes and refrigerate it until you plan to serve this.
Traditional Tzatziki sauce recipe is made using sheep or Goat's yogurt. However, as it is hard to find this elsewhere, so regular yogurt does the job well. If you get access to traditional Greek yogurt easily then that's the best thing to happen.
Ingredients you will need
The elements that goes in this dip are very basic. Let us see what are they:
Yogurt: Traditionally, the Greek yogurt goes in.
If you can't find Greek yogurt, then go on ahead with regular whole milk yogurt. Just line the fine mesh sieve with cheesecloth (or muslin) and pour the yogurt into it. Refrigerate it overnight with the sieve. And you have nice thick and creamy strained yogurt next morning left behind in the cloth.
At times, I even make tzatziki using sour cream, it tastes so good!
Cucumber: Well, this dip asks for English cucumbers. And, I myself prefer using it for the best taste. Only if you can't find the English variety, then use grated fresh cucumber, it works very well. Keep in mind to peel it, remove the seeds and then use it to make the sauce.
Garlic: Garlic is a must use. Freshly minced garlic gives lovely hint to the tzatziki sauce.
Dill Leaves: Fresh dill leaves adds so refreshing taste and aroma here. Some people may not like to use loads of fresh dill in here. So, what you can do is, reduce its amount as per your taste.
You can even throw in some finely chopped fresh mint leaves or parsley. That's fine! However, addition of dill leaves gives the authentic taste and flavor.
Other Ingredients: Lemon juice, Salt and pepper for fresh zing and taste.
How to make Tzatziki Recipe?
A secret technique I have for you here. Let me show you how to make the best and authentic tzatziki sauce at home.
To start with, first, mix in together - yogurt, olive oil, grated garlic, lemon juice, salt and pepper.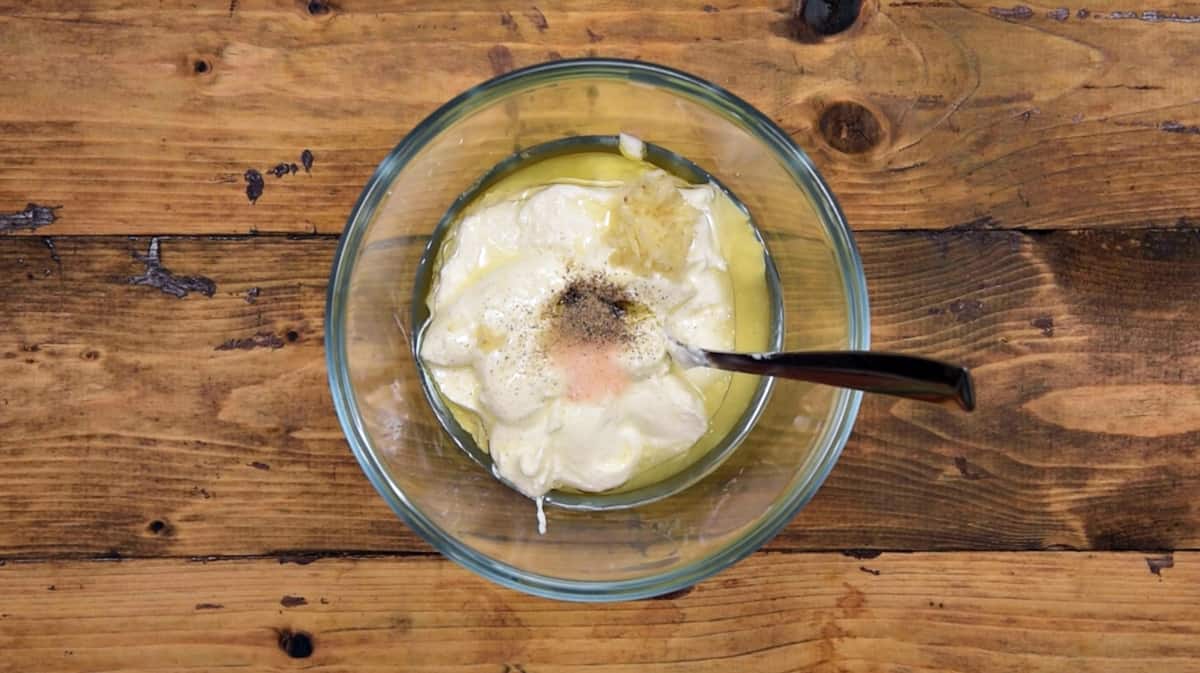 Cover and let the mixture rest in the fridge for at least 4-5 hours. The resting is preferably done overnight.
Yes, this is the secret to make this Greek yogurt cucumber sauce authentic. Resting the yogurt mixture for a while enhances the flavor making the dip more tasty.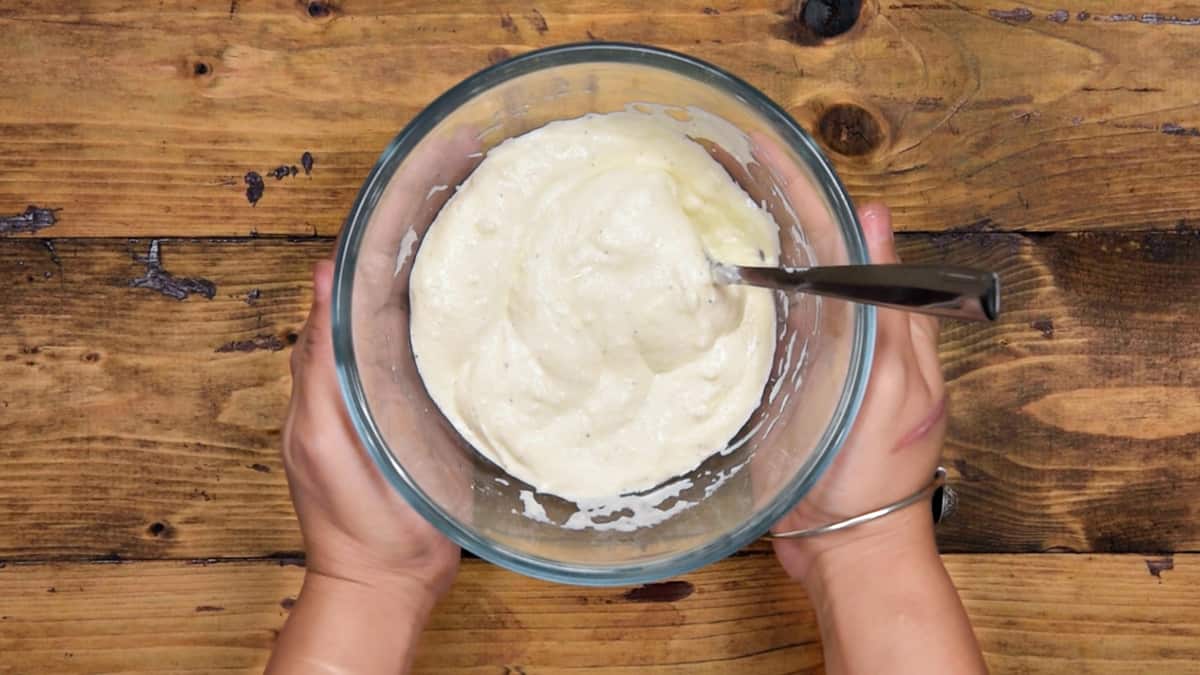 Add grated cucumber in clean muslin or cheesecloth.
Squeeze out all the water from it.
You can also do this squeeze it using your hands. But, keep in mind to drain all the water, this is a key step. Because, we do not want runny, but thick and creamy sauce!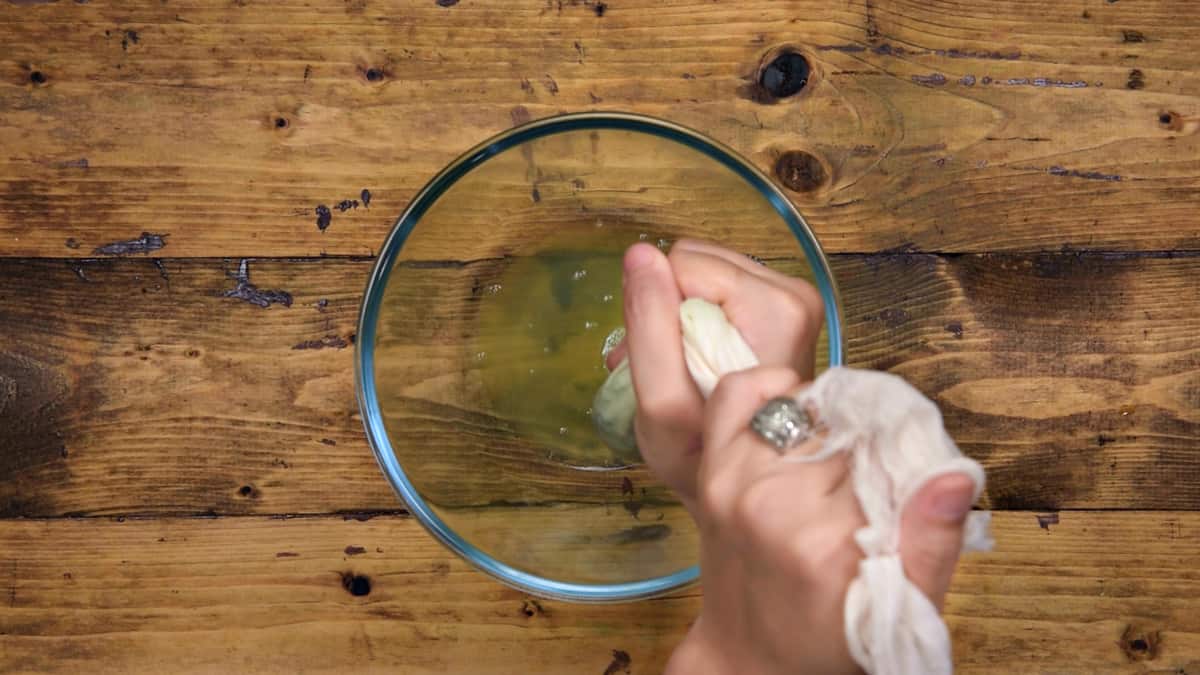 Add the squeezed cucumber and fresh dill into the prepared yogurt mixture and mix.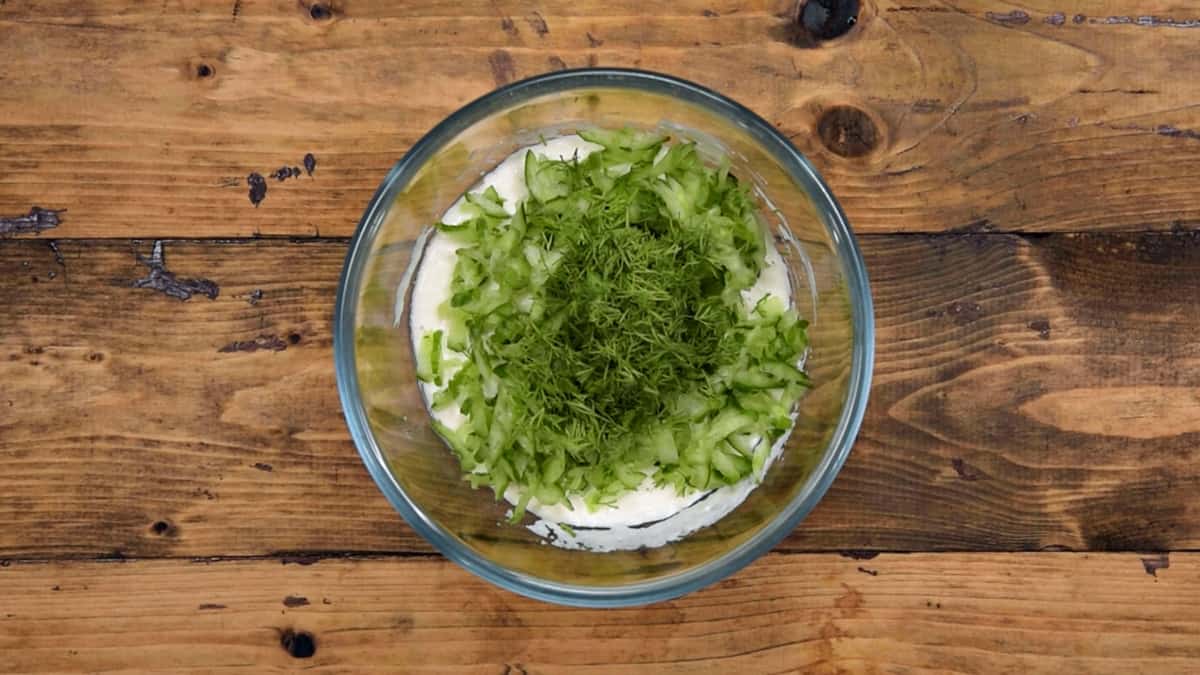 Stir to combine. Serve chilled with veggie sticks, pita or chips.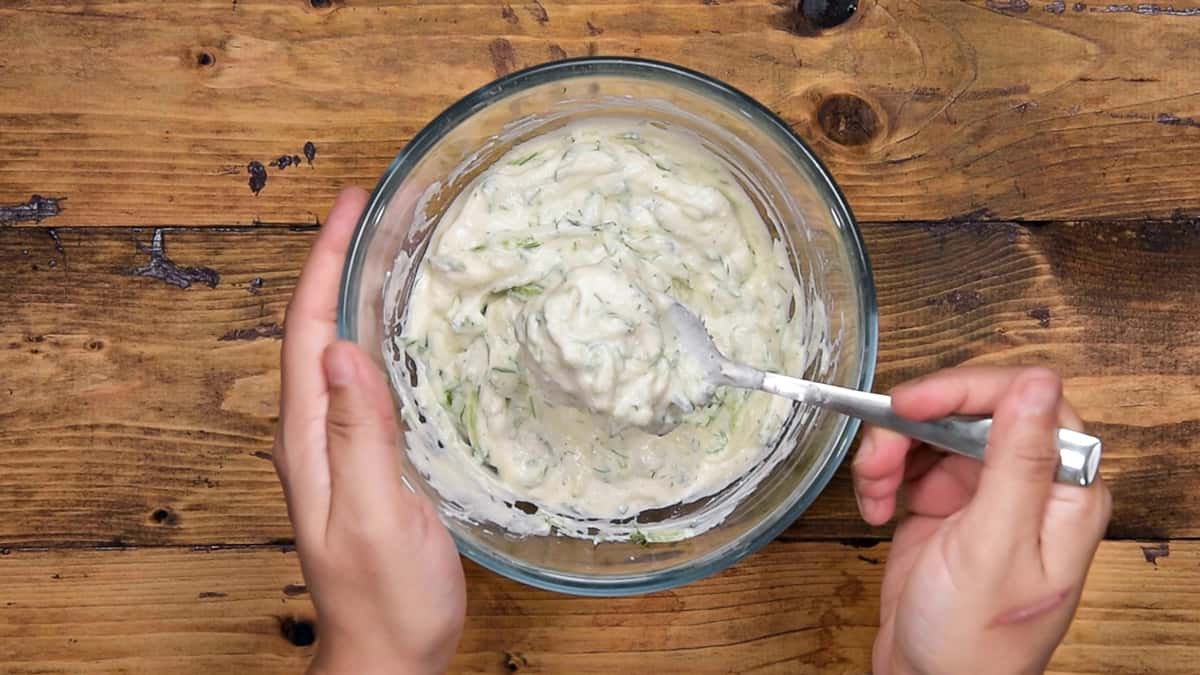 Frequently Asked Questions
How is Tzatziki pronounced?
It commonly pronounced as Tsaht-Zee-ki or Tsah-See-Key.
However, it's origin comes from the Turkish word 'Cacik' (an Ottoman Version).
Can you make it vegan?
Fortunately, yes!
All you need to do is replace Greek yogurt with Cashew sour cream or coconut yogurt. Go for any vegan yogurt to make it dairy free.
Is it healthy?
Yes, this creamy dip is low in calories and high in protein. And if you go for fat free yogurt, then calories is reduced further.
Is tzatziki keto?
Good news is, yes! All the ingredients of this recipe qualify under keto diet. Thus, you can eat it when on keto.
Is tzatziki gluten free?
Yeah, it is gluten free! Most of the dairy products are gluten free, Greek yogurt is indeed one of it.
Can you freeze tzatziki?
The answer is both, Yes and No!
Yes, you can freeze it up to 2 months in clean airtight freeze safe box.
But, No, as it may loose all its flavor and crunch coz cucumbers gets mushy.

Also, yogurt mixed with lemon or vinegar may curdle it when frozen.
So, it depends upon you, freeze it only if you are set to compromise on its texture and flavor profile.
Expert tips
Yogurt: Using thick yogurt is one prime thing to keep in mind. So, either use Greek yogurt or hung curd. You can use whole milk or low fat and even fat free yogurt to make tzatziki.
Resting: Let the yogurt mixture rest for at least few hours in fridge, overnight better. This process reduces the sharp hint of garlic and the flavors grow deep making it taste the best.
Cucumber: Some people peel the cucumber and use and some don't. So, if you are using English cucumber, then you don't need to peel it. But, if your are using regular fresh cucumber, then peel and deseed it before shredding .
Food Processor: If you are in rush, then you can use food processor to shred the cucumbers.
Squeezing: Squeeze out all the water from grated cucumber using either your hands or muslin/cheese cloth. Please keep in mind that squeezing the cucumber is important.
Straining: If time permits, drain the cucumber using fine mesh sieve overnight in fridge. This step gives great result.
Serving ideas
This super good homemade tzatziki dip is a perfect to serve as a side dish with some grilled vegetables as well as salads, it is one of the most popular menu of Greek Mezes.
It pairs perfect with fried Eggplant, Chicken Gyros, Baked potatoes, Shawarma, and Lamb chops and what not.
I love to eat it with some warm bread or crisp Lavash. Tzatziki (just like my Tahini Sauce and Creamy Dill Sauce) makes a great spread for pita sandwiches and falafel.
Dipping raw veggies into the sauce and munching on it is just as delicious and healthy choice of snack. Or dunk your favorite chips in to it and enjoy!
You can use it in marinades as well as in salad dressings. You have endless possibilities to serve this Greek sauce with various dishes of your choice.
Storage and make ahead instructions
I have stored tzatziki in clean glass container with airtight lid upto 4 days, it stays very well.
Honestly, I haven't let it stay in my fridge beyond 2 days. Because, we all keep eating it with loads of cucumber, carrots and chips the whole day. So, before the next day gets over, it is wiped off. 🙂
If you plan to serve this for your upcoming parties, then you can make this Tzatziki a day ahead and refrigerate.
More delicious Side dishes for you
If you tried my recipe for homemade Greek Tzatziki, please comment below to let me know how they turned out!
You can also tag me in your Instagram pictures to show me your creations. If you'd like more recipes of mine delivered straight to your inbox, sign up for my email newsletter. You can also follow my kitchen adventures on Pinterest, Instagram or Facebook if you prefer.
📖 Recipe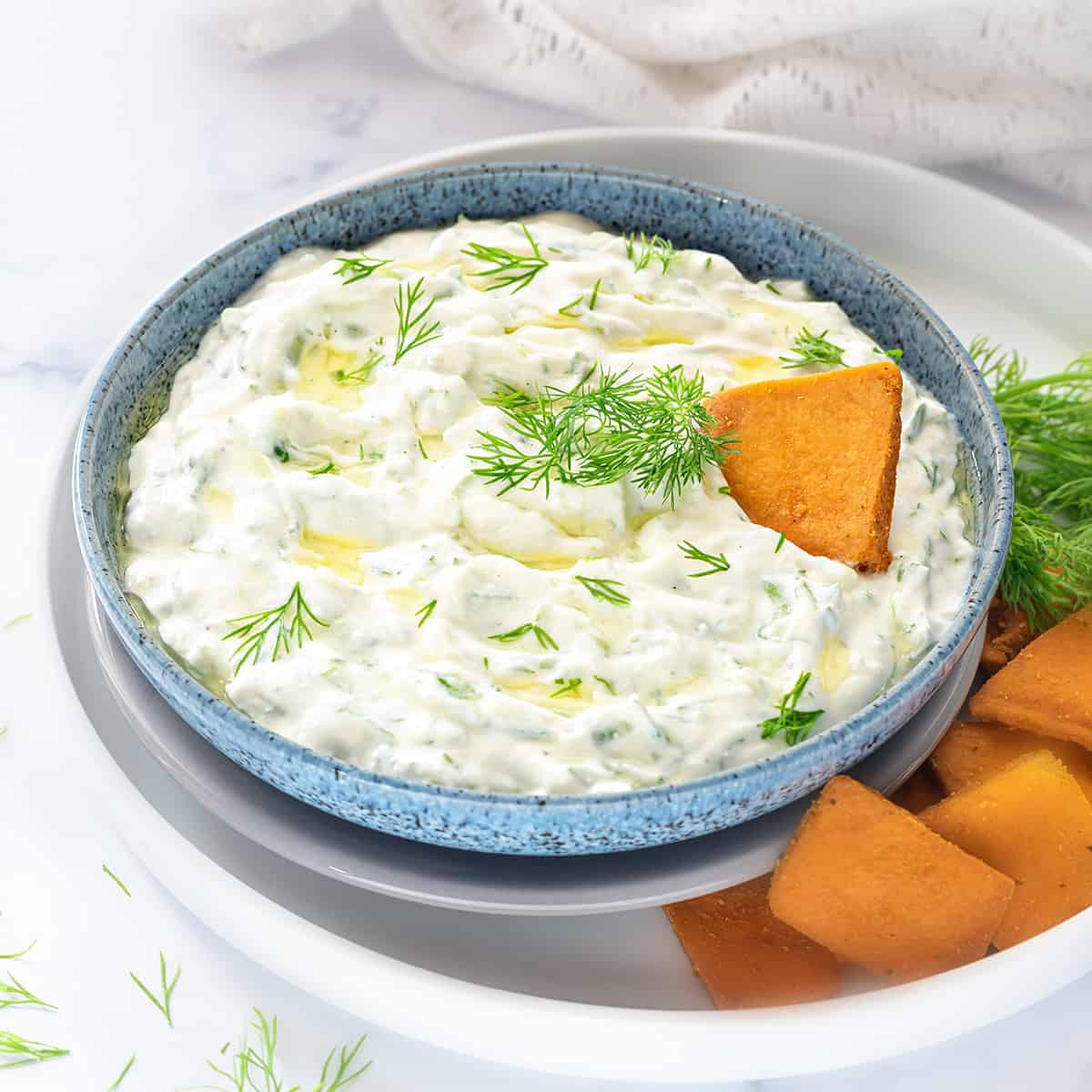 Print
Tzatziki Sauce Recipe
This Tzatziki is the best homemade traditional Greek sauce recipe you will ever have! Serve this tzatziki with your favorite grilled meats, veggies or spread it on sandwiches. Dip you pita bread or chips, and enjoy!
Ingredients
2

cups

Greek Yogurt

2

tablespoons

Olive Oil

(extra virgin)

4-5

cloves

Garlic

(minced)

Salt and Pepper To taste

1-2

tablespoon

Lemon Juice or

1

Cucumber

(grated)

2

tablespoons

Dill

(chopped)
Instructions
To start with, first, mix in together - yogurt, olive oil, grated garlic, lemon juice, salt and pepper.

Let the mixture rest in the fridge for at least 4-5 hours. The resting is preferably done overnight.

Add grated cucumber in a clean muslin or cheesecloth and squeeze out all the water from it.

You can also do this process using your hands. But, keep in mind to drain all the water, this is a key step. Because, we do not want runny sauce, but thick and creamy sauce!

Add shredded cucumber and fresh dill, stir to combine and serve chilled with grilled meat, poultry, fish, veggie sticks, pita or chips.
Notes
If Greek Yogurt is not available in your region, use regular strained yogurt.
Always squeeze the cucumber very well to drain all the water from it.
For vegan tzatziki, replace yogurt with your choice of vegan yogurt. Cashew sour cream works very well.
For better flavor, let the yogurt mixture rest in refrigerator for few hours before adding in the grated cucumber and dill.
Nutrition
Calories:
68
kcal
|
Carbohydrates:
3
g
|
Protein:
5
g
|
Fat:
4
g
|
Saturated Fat:
1
g
|
Cholesterol:
3
mg
|
Sodium:
19
mg
|
Potassium:
128
mg
|
Fiber:
1
g
|
Sugar:
2
g
|
Vitamin A:
35
IU
|
Vitamin C:
2
mg
|
Calcium:
63
mg
|
Iron:
1
mg