This easy Mashed Sweet Potatoes recipe makes a decadent and healthy addition to any dinner table. This yummy and nutritious side dish also makes for a delightful breakfast bowl and is easily adaptable to whatever flavor profile you're looking for! Make a batch today and enjoy them all week long.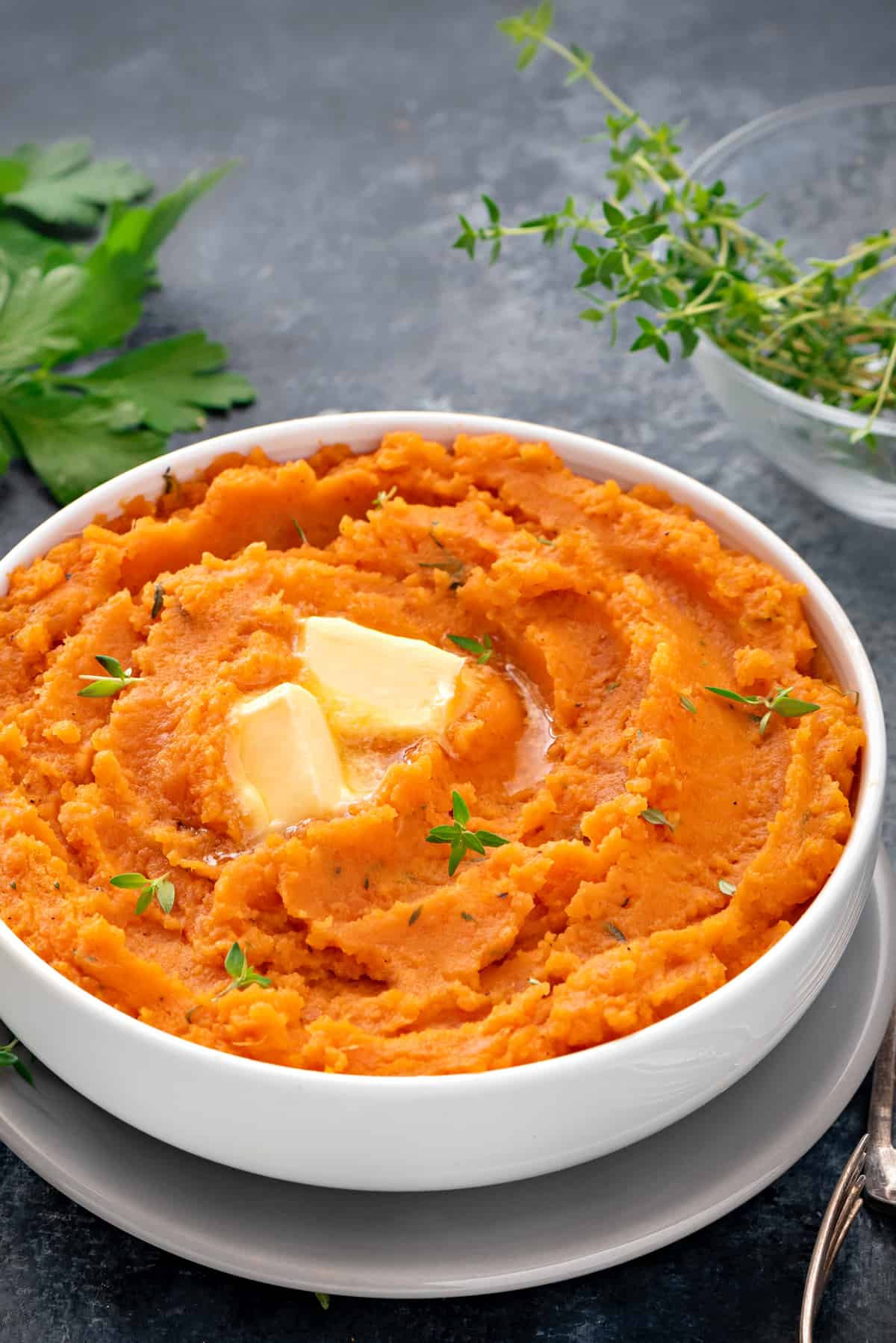 Jump to:
Why you should try this recipe
These healthy mashed sweet potatoes make an easy side dish that pairs well with chicken, turkey and steak.
They also make a delicious base for warm and hearty breakfast bowls. Make yourself a batch today and enjoy them all week long.
Sweet potatoes have long been among my favorite foods. Not only are they inexpensive and easy to store for long periods of time (which is even more important during these strange times!), they are also healthy, delicious and stunningly beautiful.
Ingredients notes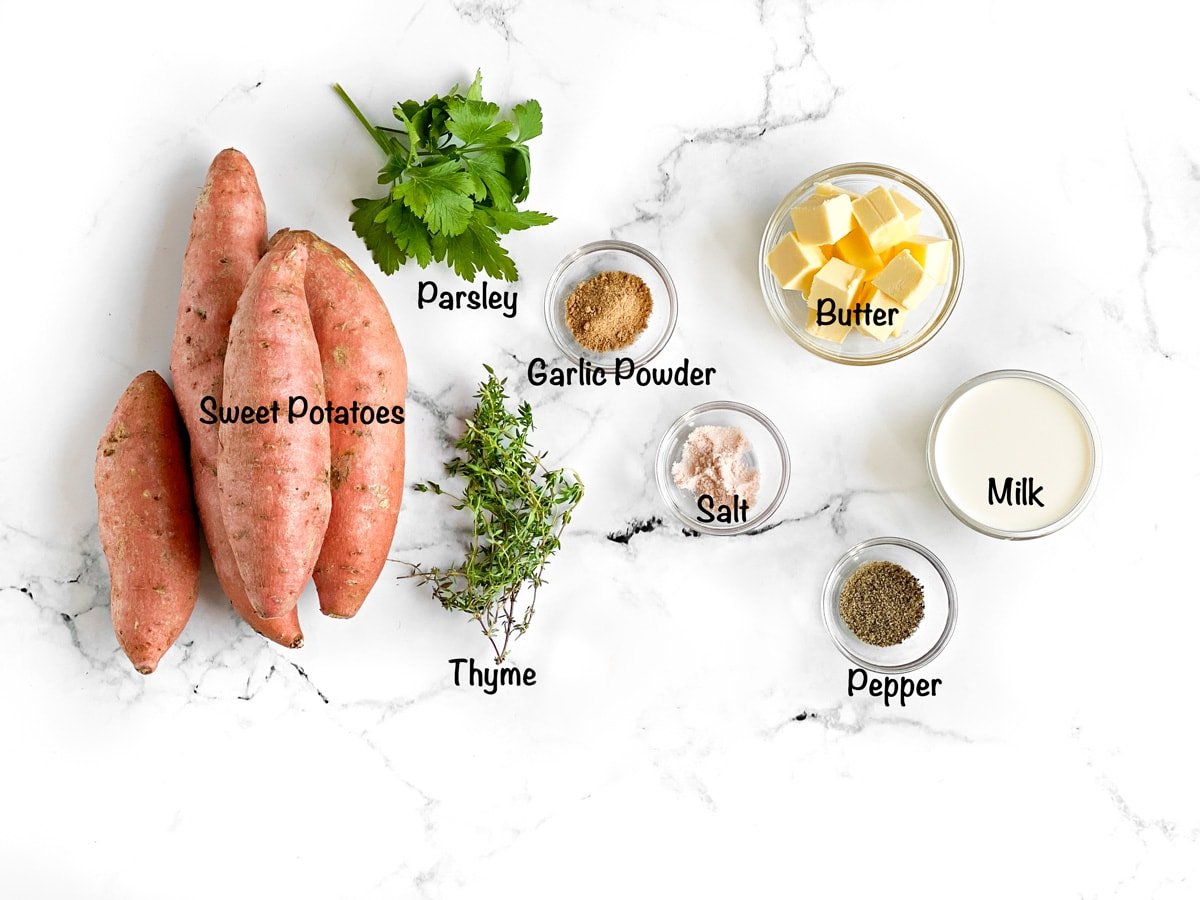 The basic ingredients needed to make this sweet potato mash are quite simple: sweet potatoes, milk, butter and salt.
From there, you can improvise depending whether you prefer a sweet or savory application. In this case, I add herbaceous thyme and parsley, aromatic garlic powder and fresh cracked black pepper.
Read the "Flavor Variations" section below for more winning flavor combinations!
How to make sweet potato mash
Have I told you how much I adore my Instant Pot yet? Because if not, I have been remiss in my duties. The Instant Pot is AWESOME.
Get one (or at least put it on your holiday wish list)! It will help you get dinner (and all the other meals) on the table in a fraction of the time that you're used to, and ALL IN ONE POT!
I have opted to cook my sweet potatoes in the Instant Pot for this tutorial as it is the fastest way to get the potatoes cooked and ready for mashing.
First up, wash, peel and cube your sweet potatoes. Be sure to wash them very thoroughly, as they have a tendency to be quite dirty. They grow in the dirt, so you can't blame them!
Next up, add the steel trivet to the bottom of your Instant Pot. Pour in a cup of water, then place your steaming basket inside.
Tip your cubed sweet potatoes in the basket, secure the lid and switch your IP to Manual/Pressure Cook on high for 10 minutes. Do a quick release. The potatoes are now ready for mashing!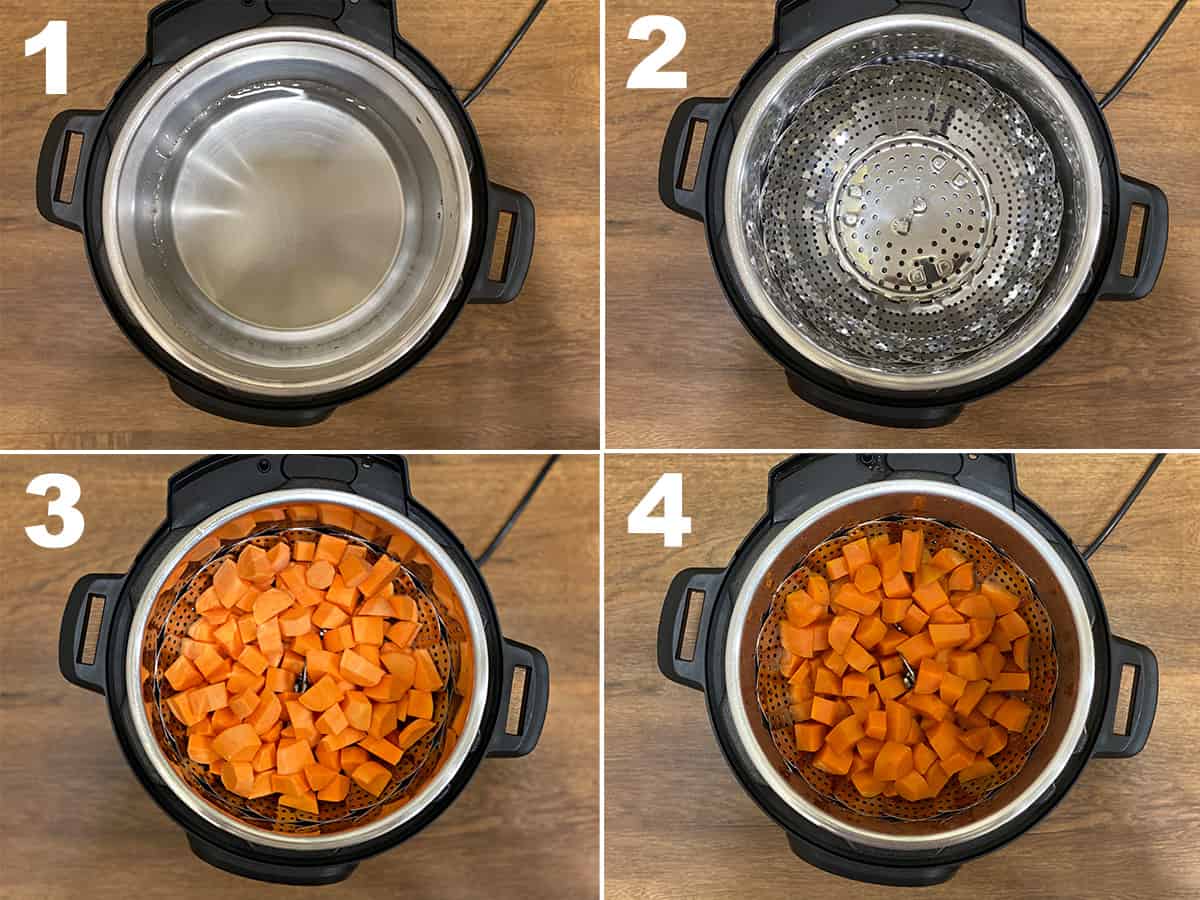 TIP: Since the insert for the Instant Pot already needs a washing, you may as well use it to mash the potatoes in, right? Simply remove the steamer basket and trivet and dump out any remaining water before continuing.
Place your cooked potatoes in a bowl and mash with a fork. You can read about different tools for mashing in the FAQ section below.
Next, add the melted butter and milk. Sprinkle in your seasonings, then mash until they are the consistency you desire!
Tip : If you are adding butter cubes, then, cover for a few minutes to encourage the butter to melt.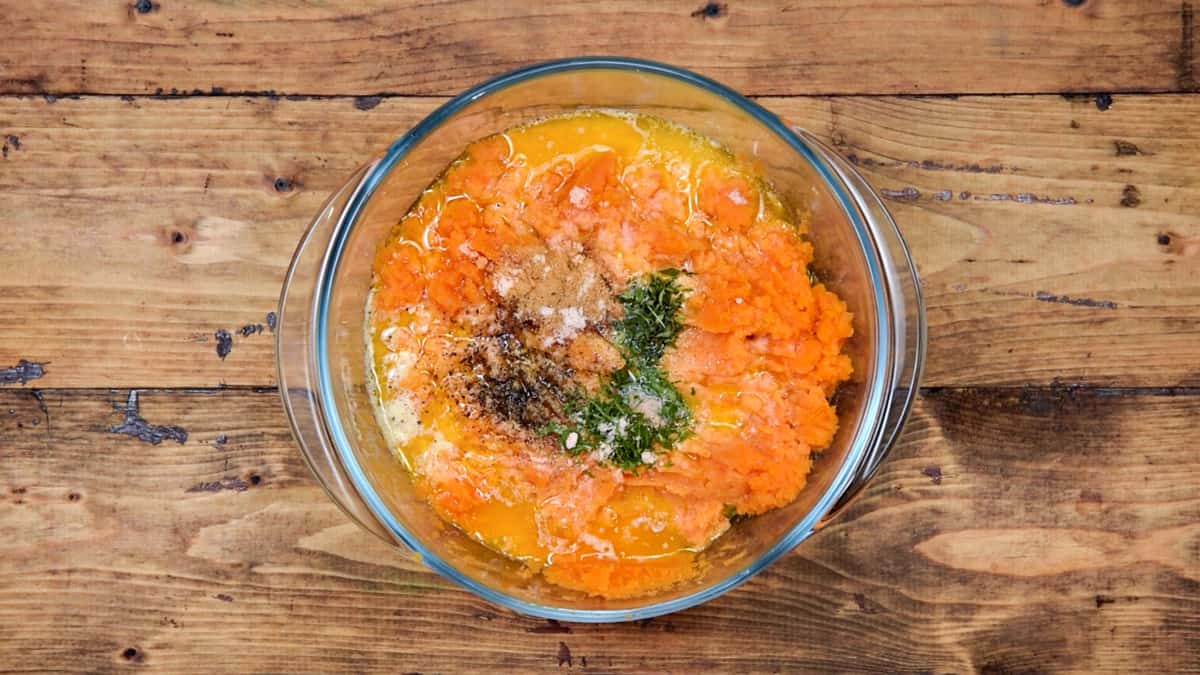 Adjust your seasonings as necessary, top with a few extra pats of butter for richness, sprinkle on some fresh herbs for color and ENJOY!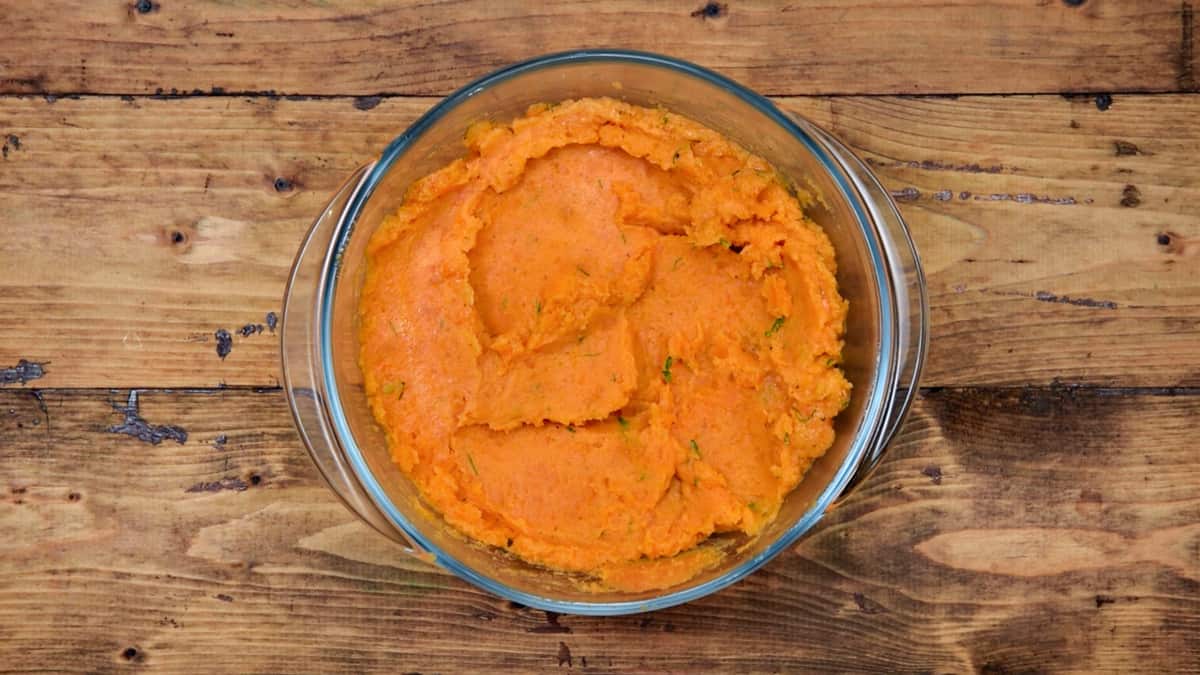 Flavor Variations
Sweet : While these potatoes are naturally sweet, there are a few additions you can make to really amp up their flavor.
Maple syrup and sweet potatoes are a match made in heaven. You can also easily add in a banana or two for some naturally added sweetness.
I also love adding warming spices to mashed sweet potatoes for breakfast bowls. Cinnamon, nutmeg, ginger and even cloves are fun to add to the mix.
Finally, adding in nut butters is a great way to add both flavor and protein to a sweet potato mash. Almond butter and peanut butter are my go-to ingredients, but cashew, macadamia or sunflower seed butter are all great additions as well.
Savory : In this recipe, I use thyme, parsley and garlic to emphasize a more savory flavor profile. Sage is another herb that goes delightfully well with sweet potato.
If you are looking to add some heat, chipotles in adobo make for a fun latin inspired twist on these potato mash.
You can also add a bit of extra flavor by steaming or boiling your sweet potatoes in bone broth or stock.
Vegan : Making vegan mashed sweet potatoes is super easy. Simply swap out vegan butter and a non-dairy (unsweetened) milk of your choice.
Serving Ideas
This sweet potato mash recipe is just about endlessly adaptable to your needs. It's not just for playing the supporting role! Eat them for breakfast, lunch or dinner using these serving ideas:
As a Side: Perhaps the most traditional way to serve mashed sweet potato is as a side to your favorite meals. Whip up a quick batch and serve with chicken, turkey or steak.
Wanting something plant based instead? Top a vegan bowl of sweet potato mash with your favorite sautéed vegetables or vegan chili for a hearty and filling dinner.
Sweet Potato Cakes: If you have leftover sweet potatoes, you can easily turn them into delicious sweet potato cakes. Add an egg and a bit of flour to bind them, then add any flavor additions you'd like.
A bit of shredded cabbage and frozen peas will turn them into a riff on British "Bubble and Squeak." You can also top them with a dollop of sour cream, some smoked salmon and fresh chives for a delicious brunch or light dinner.
Breakfast Bowls: Make a cozy, delicious and absolutely nutritious breakfast bowl using sweet potato mash as a base.
You can go savory by topping the bowl with sautéed kale or spinach, cheese and a fried egg.
You can also go sweet by adding in nut butter and/or a mashed banana. Top with granola, toasted coconut or pecans, sliced bananas or jam!
As a Pasta Sauce: Mashed sweet potatoes are an excellent way to make a vegetarian lasagna. Aim for a mix of savory herbs like thyme with a bit of warmth from nutmeg. Layer between boiled pasta and a cheesy mornay for an autumnal take on the Italian favorite.
Storing and Freezing
One of the most frequent questions I get about this healthy sweet potato recipe is "can I make this ahead of time?"
The answer is absolutely! You can either cook the sweet potatoes ahead of time and refrigerate them un-mashed until you are ready to use them. They will last for up to a week in the refrigerator.
You can also opt to mash your sweet potatoes ahead of time. When reheating, you may want to add a bit of milk, as the heat will evaporate some of the liquid during the reheating process.
Mashed sweet potatoes will keep for up to 5 days in the refrigerator.
Finally, you can also freeze your sweet potatoes after they have been mashed. I recommend freezing them in large silicone ice cube containers so you can easily rewarm them without charring the outside.
Frozen sweet potatoes mash will last up to three months in the freezer.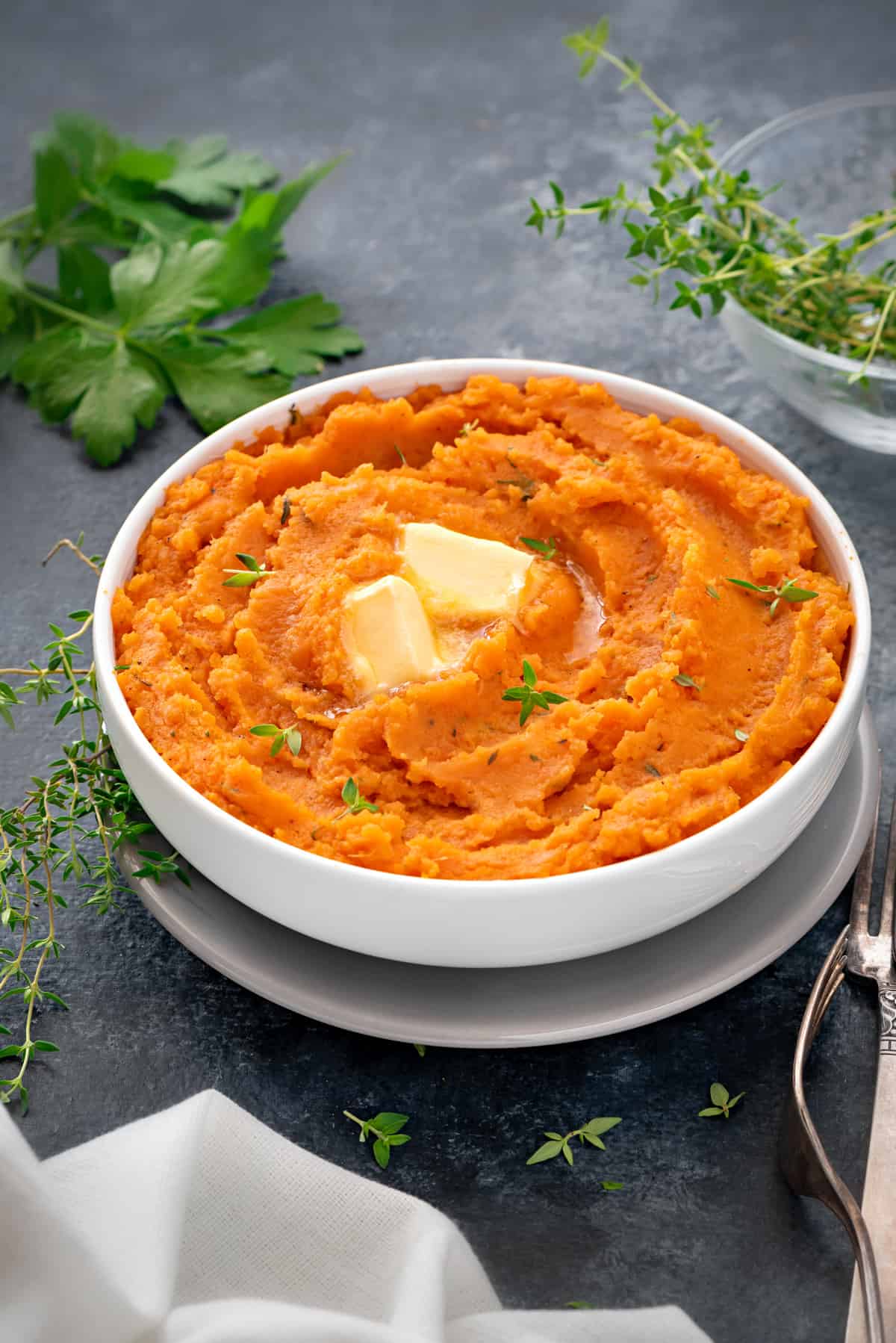 Tips and FAQs
Do I need to peel sweet potatoes before mashing?
The short answer is yes. Sweet potato skins are great if you're baking them like a jacket potato, but the skins are quite coarse and don't stand up well to a mash.

You do NOT have to remove them prior to cooking them, however. Read more below.
how to cook sweet potato for mash?
Boiling : You can boil your sweet potatoes for mashing, either as peeled cubes (which will go faster) or as whole. Follow the link for detailed instructions.

Baking : You can easily bake your sweet potatoes prior to mashing them. Be sure to line your sheet tray with parchment or foil for easy cleanup! Remove the flesh for mashing and discard the skins.

Steaming : While I love steaming my sweet potatoes in my Instant Pot, you can follow the link to see how to use your stovetop instead.

Microwave : If you opt to microwave your sweet potatoes, be sure to wash them thoroughly and prick them multiple times with a fork to allow steam to escape. Scoop out the flesh to mash and discard the skins.
how do you mash sweet potatoes?
Folks, there's more than one way to mash a sweet potato. While I demonstrate using a humble fork above, there are also alternative tools you can use instead.

Potato mashers make quick work of the job and will allow you to decide exactly how creamy you want your potatoes to be. If you prefer your mashies on a bit of the chunkier side, I recommend using either a fork or a potato masher.

Hand mixers also do a great job. Use the beater attachments (like you would to make cookies) and mix until the texture of your liking. Is your bowl spinning while you use the hand mixer? Dampen a kitchen towel and turn it into a ring on your countertop. Next your bowl in the ring, and it'll stay put while you mix. 🙂

If you are looking for an ultra smooth, almost purée texture, food processors are the way to go. Blitz the cooked sweet potatoes with milk and butter until velvety smooth.
Need more potato inspiration? Check out these other yummy recipes:
💓 We Love to hear back from you and appreciate your success stories!
Have you tried this mashed sweet potato recipe? Please feed us with your ★ star ratings and comments below.
If you want more delicious recipes sent directly to your inbox, sign up for my email newsletter.
You can also follow me on Facebook, Instagram or Pinterest if you'd like to brighten up your feed with delicious food ideas.
📖 Recipe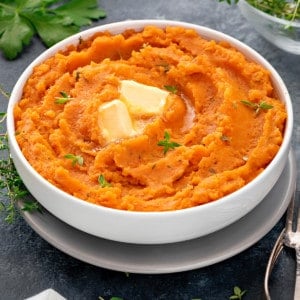 Print
Mashed Sweet Potatoes
Decadent healthy addition to any dinner table, this sweet potato mash makes great side dish to chicken, meat, fish or turn it into delightful breakfast bowl. Sweet or savory, it is easily adaptable to any flavor profile you're looking for!
Ingredients
2.2

lbs

Sweet Potatoes

1

cup

Water

4

tablespoons

Butter

(melted)

¼

cup

Milk

1

teaspoon

Parsley

¾

teaspoon

Garlic

1

teaspoon

Thyme

¾

teaspoon

Salt

½

teaspoon

Pepper
Instructions
Rinse and gently scrub the sweet potatoes under running water. Peel and cut the potatoes into cubes.

Switch on the IP and place the steel insert. Add 1 cup of water and place the steamer basket.

Then, place the sweet potato cubes in the basket. Close the lid and turn the valve to sealing position.

Pressure cook on 'high' for 10 minutes. Once the cycle is complete, quick release the pressure by turning the valve to venting positon.

Open the lid, carefully remove the basket and transfer the cooked potatoes in a large bowl.

Mash the potatoes using potato masher or fork.

Add melted butter, milk, parsley, garlic powder, thyme, salt and pepper.

Combine everything well until you get smooth mash.

Adjust the seassonings if needed. Transfer to a serving bowl and top it with butter cubes.

Sprinkle with fresh herbs as desired and serve.
Notes
You can cook the sweet potatoes by boiling, steaming, baking or microwaving if you don't have an Instant Pot.
Switch up the flavors and make these mashed sweet potato sweet by adding maple syrup, banana, nut butter and warming spices like cinnamon and ginger.
If you want these to be vegan, simply swap vegan butter and non dairy milk.
Nutrition
Calories:
217
kcal
|
Carbohydrates:
34
g
|
Protein:
3
g
|
Fat:
8
g
|
Saturated Fat:
5
g
|
Cholesterol:
21
mg
|
Sodium:
455
mg
|
Potassium:
574
mg
|
Fiber:
5
g
|
Sugar:
7
g
|
Vitamin A:
23861
IU
|
Vitamin C:
5
mg
|
Calcium:
64
mg
|
Iron:
1
mg