Before you start planning for your holiday meal, I want to give you a brand new take on delicious buttery soft sweet potato casserole. Rather than a marshmallow topping, this sweet potato casserole brings a streusel topping to your Thanksgiving dinner table.
And without being too sweet, the crunchy pecan crumble topping lets the natural flavor shine.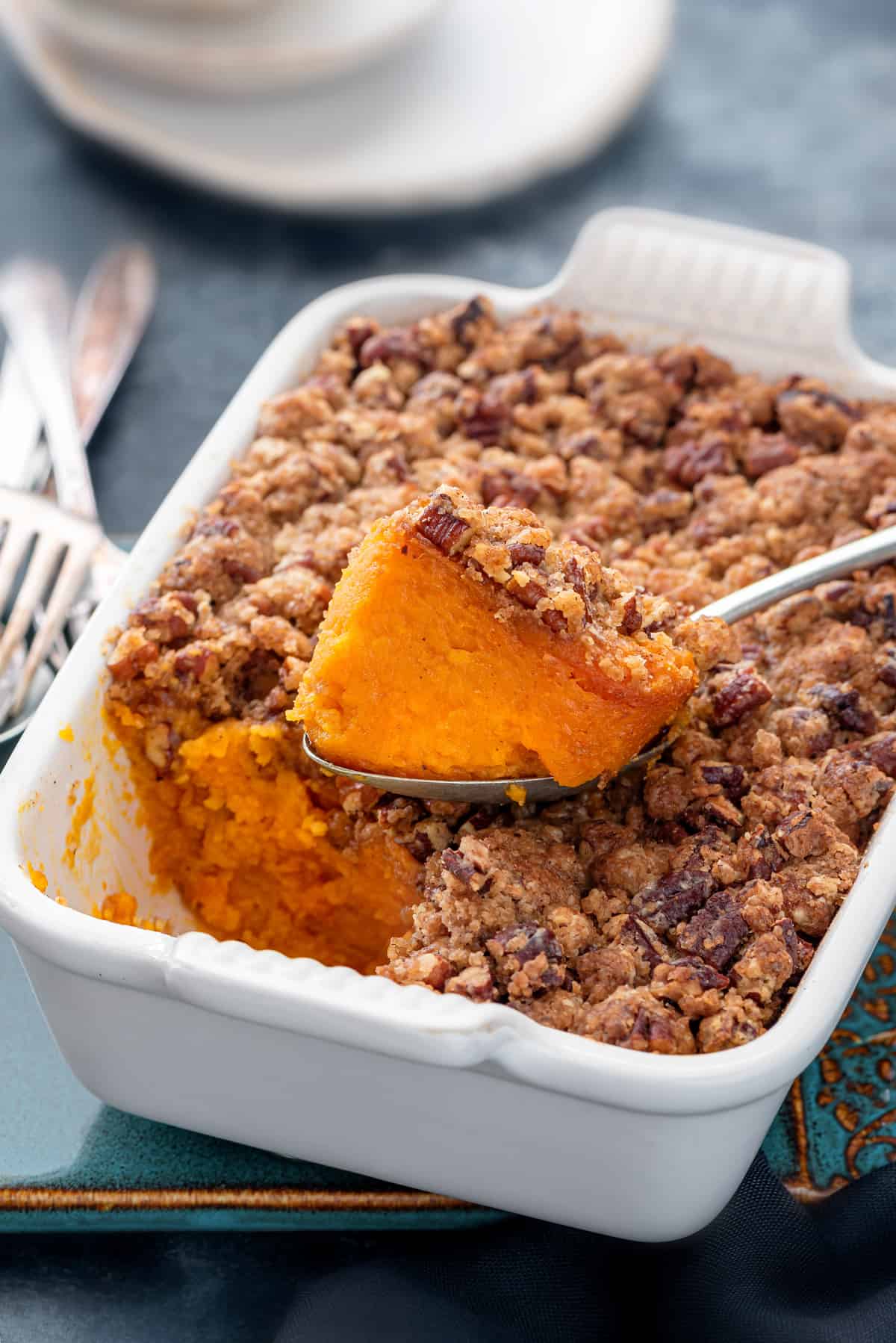 Jump to:
What is sweet potato casserole?
Sweet Potato Casserole is comforting dessert-like side dish made with mashed sweet potatoes, sugar, butter, eggs and warm spices. It's soft, fluffy, buttery and crunchy, all at the same time!
This recipe includes a crumbly pecan streusel that still feels like a fall treat, without being cloyingly sweet.
With less sugar, this sweet potato side dish is the one that you and I can eat again and again.
The natural flavor of the sweet potato shines through, making the leftovers perfect as a side to plenty of other meals!
This recipe is perfect as a side dish at Thanksgiving, Christmas, Easter, and many other gatherings.
Since the early 1900s, U.S. sweet potato casserole recipes have included warm, gooey marshmallows on top.
Though some equate that with the holidays, others (including me!) prefer something simpler, with a crunchier texture.
I also love something that I can eat at multiple events without getting sick of it!
Sweet potatoes
Talking a bit about it, sweet potatoes, native to Central and South America, are a tuber that is easy to grow, and simple to use in lots of recipes!
This incredibly versatile root veggie has a perfectly subtle sweetness that make it the perfect luxurious side dish.
By the 1500s, these amazing tubers had made it to Europe. In fact - British recipe books started to suggest you roast them with things like oil, salt, and prunes!
Certainly, the fact that they are so wallet-friendly makes them a staple year-round! Using them on U.S Thanksgiving tables began in the late 1800s.
(If you are interested in a simple modern one to try out, here is my favorite roasted sweet potato recipe.)
Ingredients notes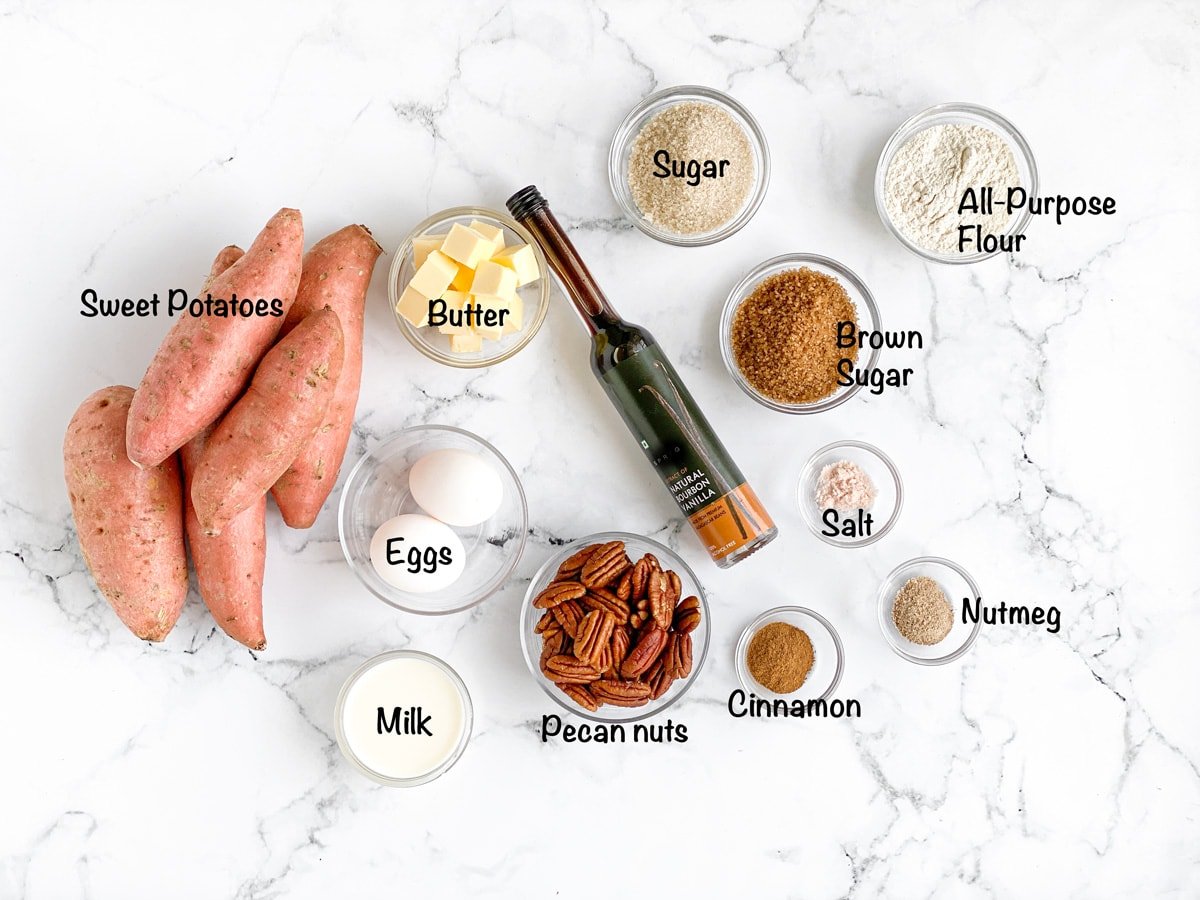 Sweet Potatoes: You are going to be mashing these, but you should still be looking for tight, beige outer skin. Potatoes that are small to medium sized will also have the best flavor!
Dairy: High quality is always recommended, as it gives the dish richness.
Spices: Again, fresher and higher quality will make a difference!
Pecans: Whole works well but you can save a few dollars by buying pecan pieces, as they will be just as perfect in the topping.
Step by Step instructions
Cook and mash two and a quarter pounds of sweet potatoes.
Preheat your oven for at least 15 minutes at 350 degrees F
In a large bowl, whisk butter, eggs, sugar, milk, vanilla, nutmeg, and salt until totally smooth.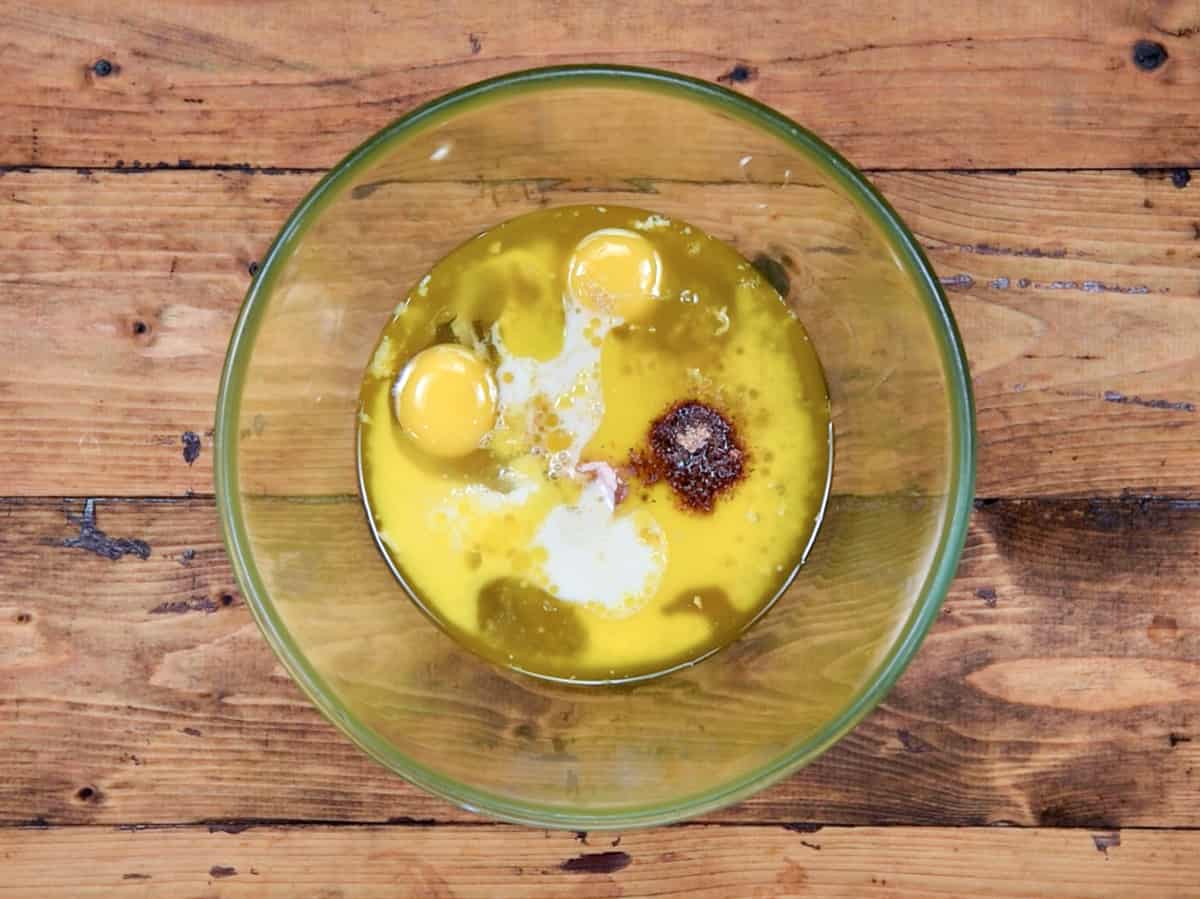 Add mashed sweet potatoes to mixture and combine until smooth.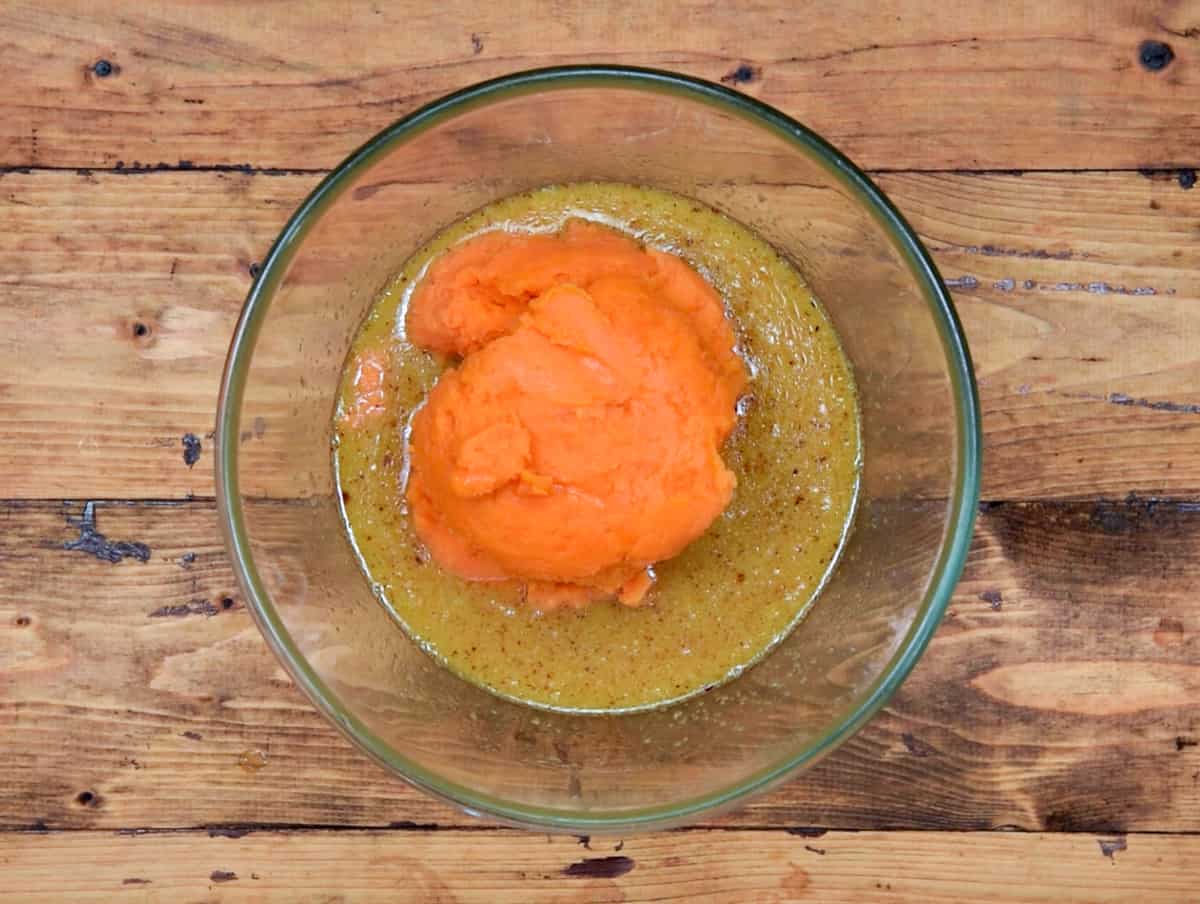 Grease your 9x13 casserole dish and pour sweet potato mixture in the dish. Put it in the oven for 30 minutes.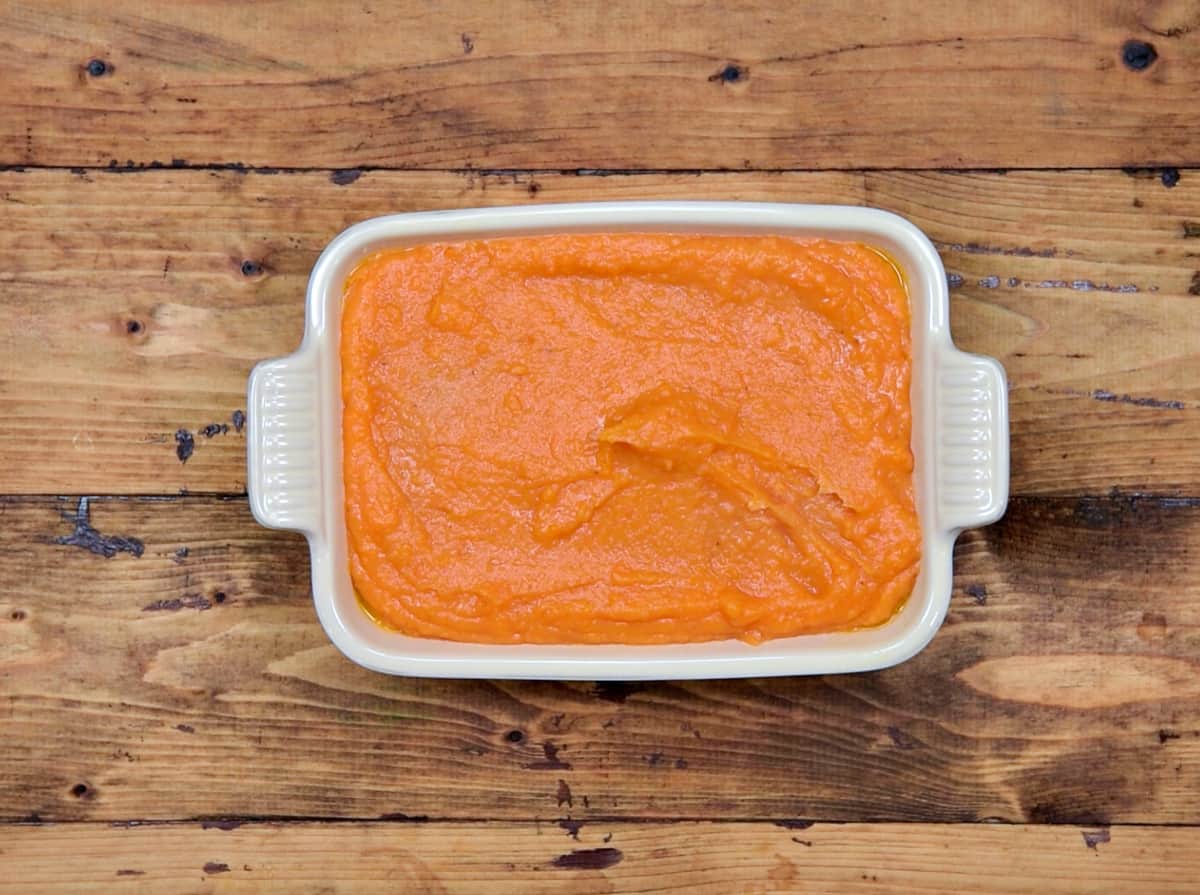 While the casserole is baking, add your streusel ingredients (nuts, flower, sugar, butter, cinnamon powder) together in a bowl until combined but still crumbly.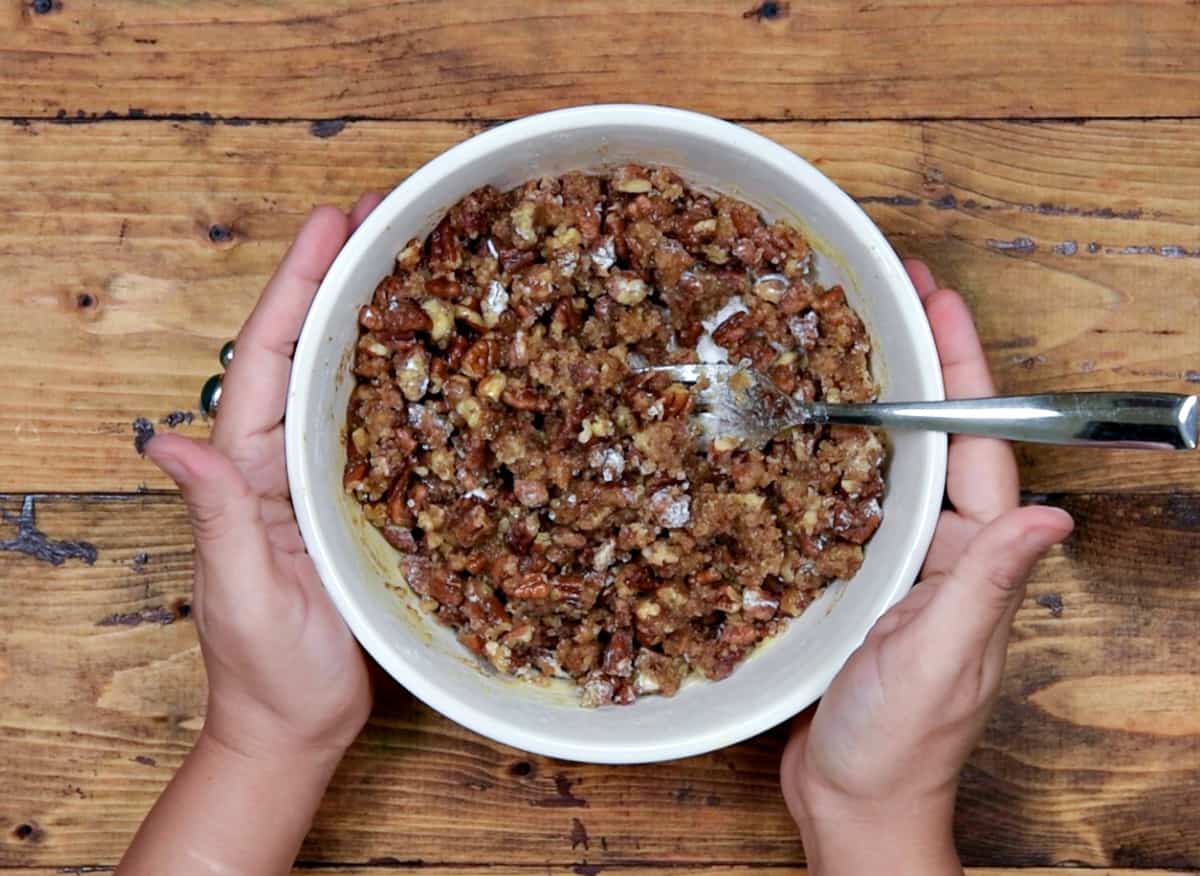 Remove the casserole, and add the pecan topping.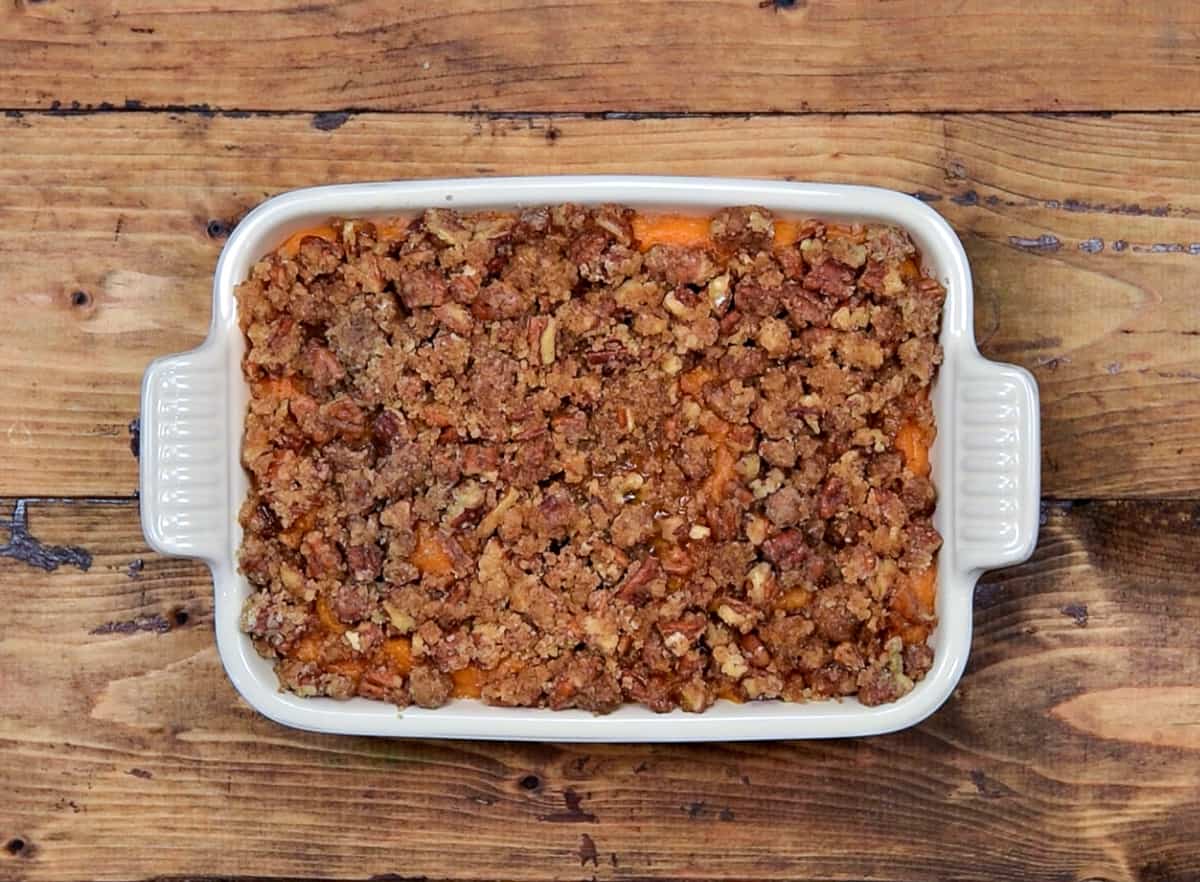 After that, bake for another 20-25 minutes, until the crunchy streusel is slightly browned.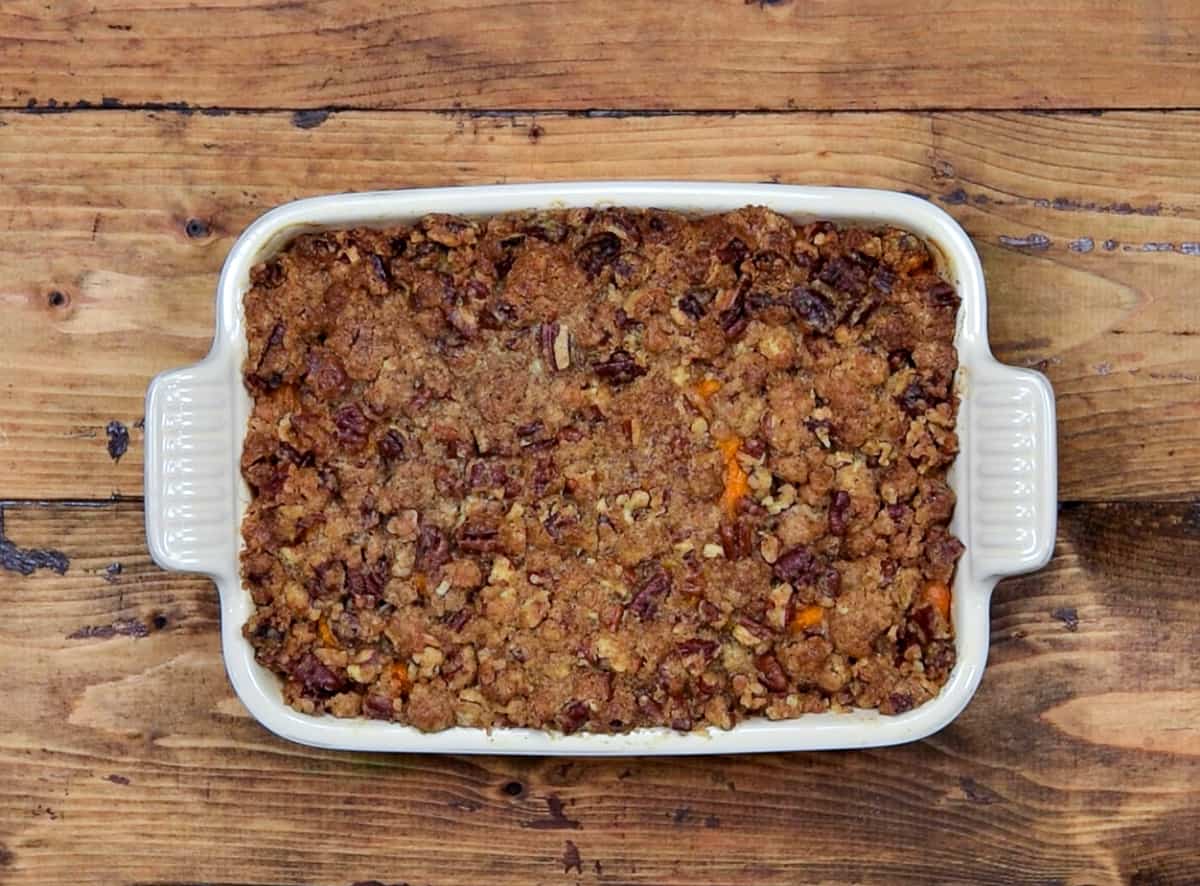 Variations
Butter: This post from SpruceEats has great options for dairy free butter.
Milk: Since oat milk is so creamy, it works well in this recipe. Unsweetened and unflavored is best!
Eggs: Any kind of egg substitute works, but applesauce makes a lovely addition to this sweet potato casserole!
Texture: If you are looking for a smoother texture (more like a pie), you can blend your sweet potato rather than mashing it.
Sweetness: If you have family that wants to keep with tradition, you can include a few marshmallows under the streusel.
For Crunch : You can consider adding some rolled oats to the streusel topping for more crunch and texture.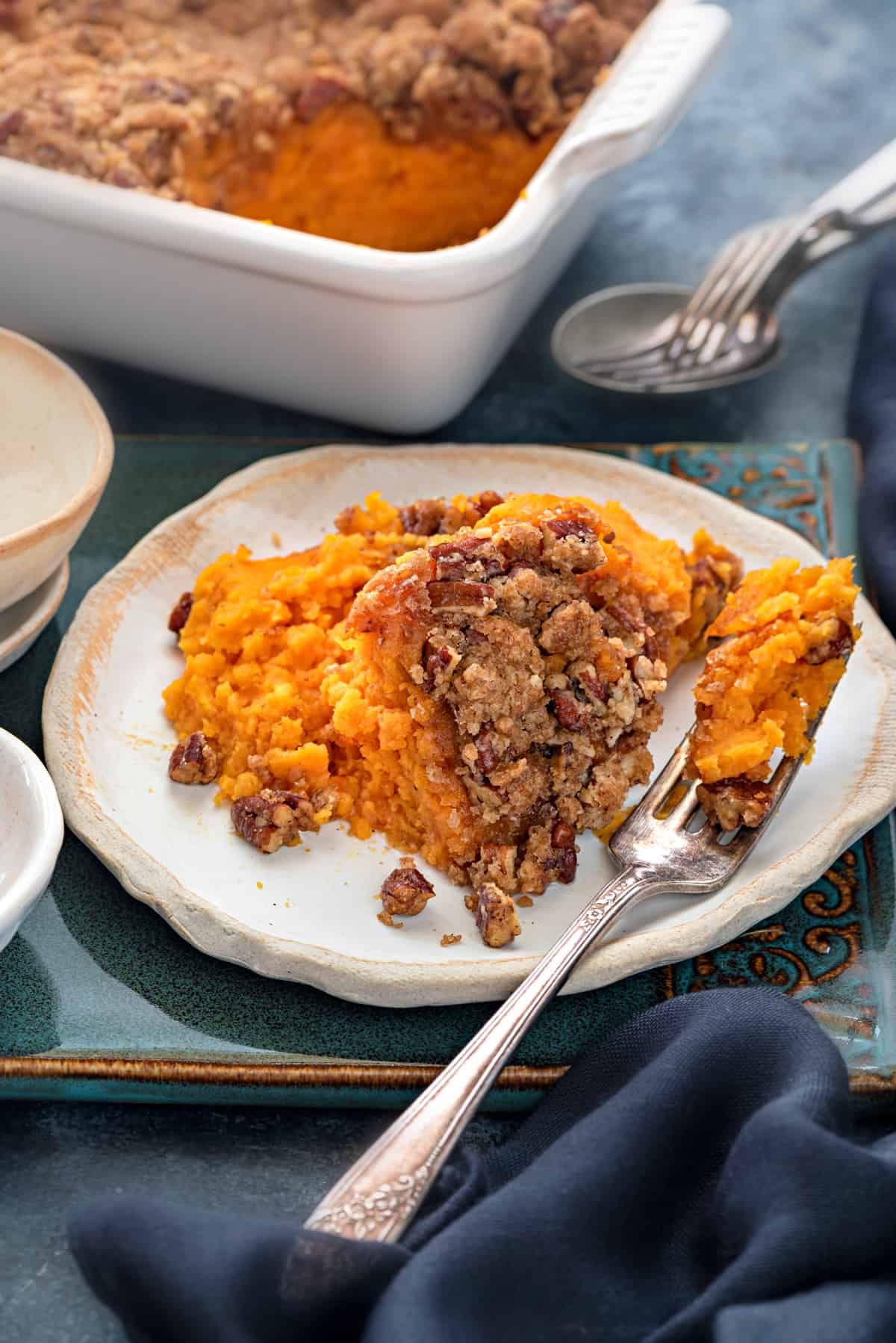 Serving Suggestions
This sweet potatoes casserole goes really well with poultry, but is also really delicious topped with additional roasted veggies! Serving right out of the oven, when most caramelized and warm, is always best.
During the holidays you are bound to end up with some leftovers, and I love finding unique ways to use them!
Blending the casserole with two eggs gives you a totally unique sweet potato pancake or waffle batter.
Adding breadcrumbs and one egg gives you a batter for some dessert tots. Dip in maple syrup for a totally unique treat!
Of course - a thick slice of bread, leftover turkey, and a spoonful of this casserole from the fridge does the trick.
If you have some other ideas for using leftovers of this dish, please let me know!
Storing, Freezing, and Reheating
In an air-tight container, the leftover sweet potatoes casserole will keep in the fridge for up to five days.
To reheat the leftovers in the oven, you can preheat oven to 300 degrees F (100 degrees C) and bake for 15 minutes. If you are looking for a faster reheat - you can put it in the microwave for about 90 seconds, stirring halfway through.
To Freeze : You can definitely assemble the casserole, cover it tightly with the foil or cling film and keep it in freezer upto two months. Thaw it overnight in the fridge before baking.
On the day of serving, place it in preheated oven at 375 degrees and cook until warm through (for about 30 minutes).
Pull out the casserole, top it with pecan crumble and pop it back into the oven for another 20-25 minutes.
After this recipe has been cooked, it will not freeze.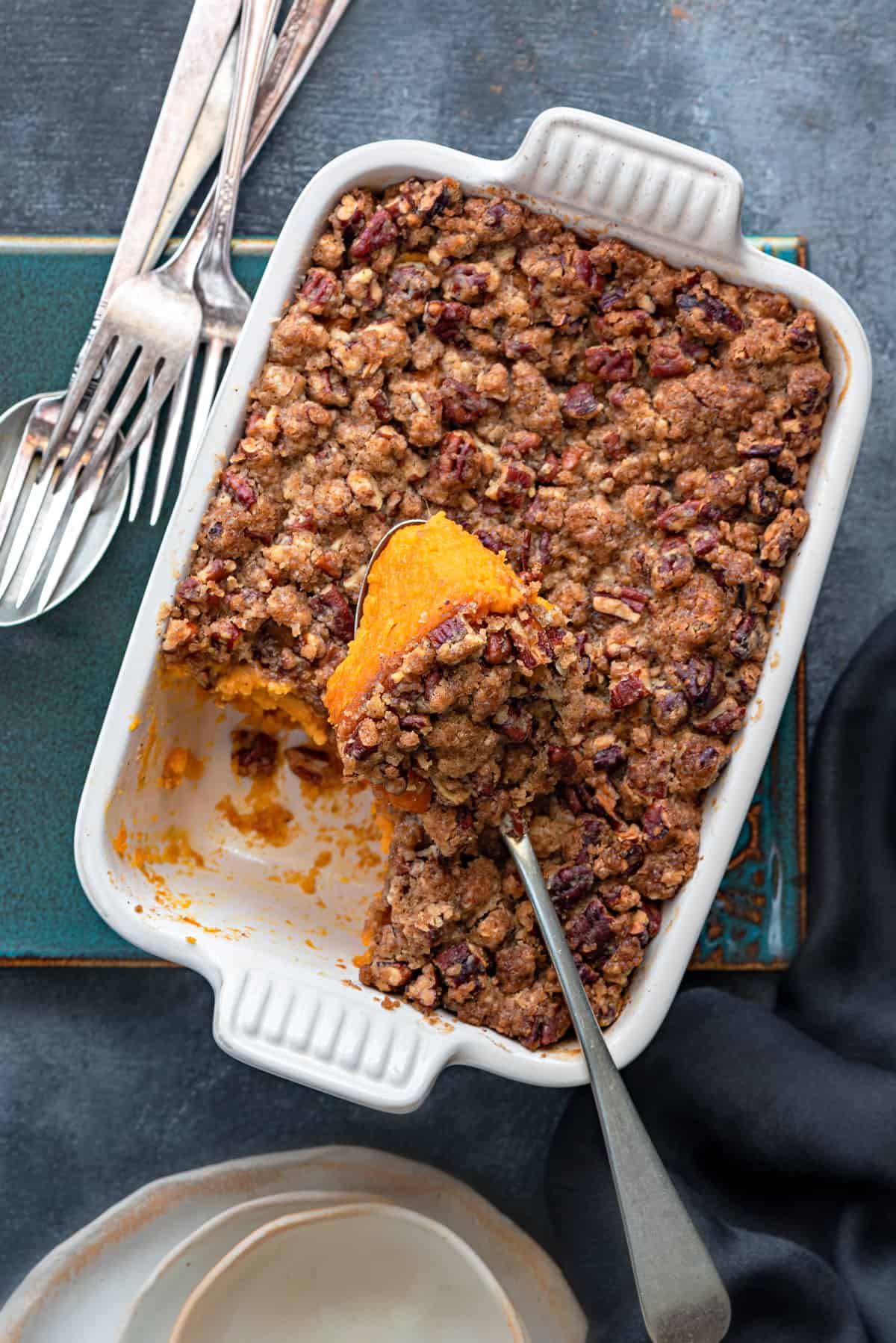 FAQs and Tips
Casserole dish: You can use whatever is available to you, but if you have the option for a glass dish, that will be great for making sure you can check for doneness.
Sweet Potato Casserole Vs Soufflé
A sweet potato soufflé is baked with many eggs, leaving it a lighter, eggier texture. Also, the addition of flour into the soufflé makes it different from the casserole.
Whereas the casserole has less egg, is denser, and slow cooked.
How to cook sweet potatoes for casserole?
Since you are using the mashed sweet potatoes for this recipe, you can do this however you like.

The simplest way is to bake the tuber whole and scoop out the flesh.

You can also skin and boil them on the stove, or microwave them.
Or, you can also steam them whole in the Instant Pot.

Frozen sliced or cubed sweet potatoes can be boiled and used as well.
Can I use Canned Sweet potatoes for this recipe?
Yes! Canned sweet potatoes are find alternatives in this recipe. The potatoes used tend to be a bit smaller, so consider that when looking at options.
Can I make it ahead of time?
Though you can not cook the entire casserole and save it, You can pre-assemble the dish few days in advance, say 3 days and keep in the fridge!

You can also prep the streusel topping a day before and store in separate container. But you will have to re-crumble it, as the butter will stick together a bit.

I won't recommend cooking it in advance as the topping will loose its crunch.

Overall, I recommend baking this casserole day-of, just before serving! Freshly baked is the best!
More delicious side dishes
💓 We Love to hear back from you and appreciate your success stories !
Have you tried this "Recipe"? Please feed us with your ★ star ratings and comments below.
You can also FOLLOW me on FACEBOOK, INSTAGRAM and PINTEREST for more fabulous recipes and updates.
📖 Recipe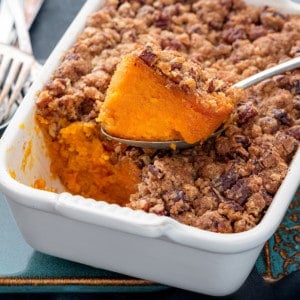 Print
Sweet Potato Casserole Recipe
Easy, delicious and comforting side dish made with buttery mashed sweet potatoes. Topped with cinnamon pecan streusel, this casserole is a perfect dessert like side dish for Thanksgiving, Christmas or Easter.
Ingredients
2.2

lbs

Sweet Potatoes

(cooked and mashed)

½

cup

Butter

2

Eggs

¾

cup

Sugar

¼

cup

Milk

1

teaspoon

Vanilla Extract

1

teaspoon

Nutmeg

½

teaspoon

Salt
For Streusel Topping
¾

cup

Pecan Nuts

½

cup

All Purpose Flour

¾

cup

Brown Sugar

5

tablespoons

Butter

1

teaspoon

Cinnamon Powder
Instructions
Preheat the oven at 350 degrees F for 15 minutes.

Start with whisking the melted butter, eggs, sugar, milk, vanilla, nutmeg, salt in a large bowl. Add mashed sweet potatoes and whisk to combine well.

Prepare 9*13 casserole dish by greasing it with little butter.

Spread the sweet potato mixture into the greased casserole.

Meanwhile, in a bowl, combine all the ingredients for the streusel topping. Set it aside.

Carefully take out the baked sweet potato mixture and sprinkle the prepared pecan streusel on the top.

Return the casserole back to the oven and bake for another 20-25 minutes or until the topping is golden brown.
Notes
You can cook the sweet potatoes the way you like. Either bake them whole in the oven for an hour or microwave them for 15-20 minutes until done.
Or peel, cut and and boil them in pot on stove top for 30 minutes or in the instant pot for 15 minutes. Once done, mash the cook sweet potatoes and proceed.
Nutrition
Calories:
359
kcal
|
Carbohydrates:
48
g
|
Protein:
4
g
|
Fat:
18
g
|
Saturated Fat:
9
g
|
Cholesterol:
61
mg
|
Sodium:
269
mg
|
Potassium:
346
mg
|
Fiber:
3
g
|
Sugar:
30
g
|
Vitamin A:
12228
IU
|
Vitamin C:
2
mg
|
Calcium:
56
mg
|
Iron:
1
mg