This super simple roasted butternut squash is a staple for holiday tables! Tossed with basic spices and herbs, this roasted squash gives you a perfect tender and delicious fall side-dish. Ready within the hour, and easy to make, this recipe offers both sweet and savory variations.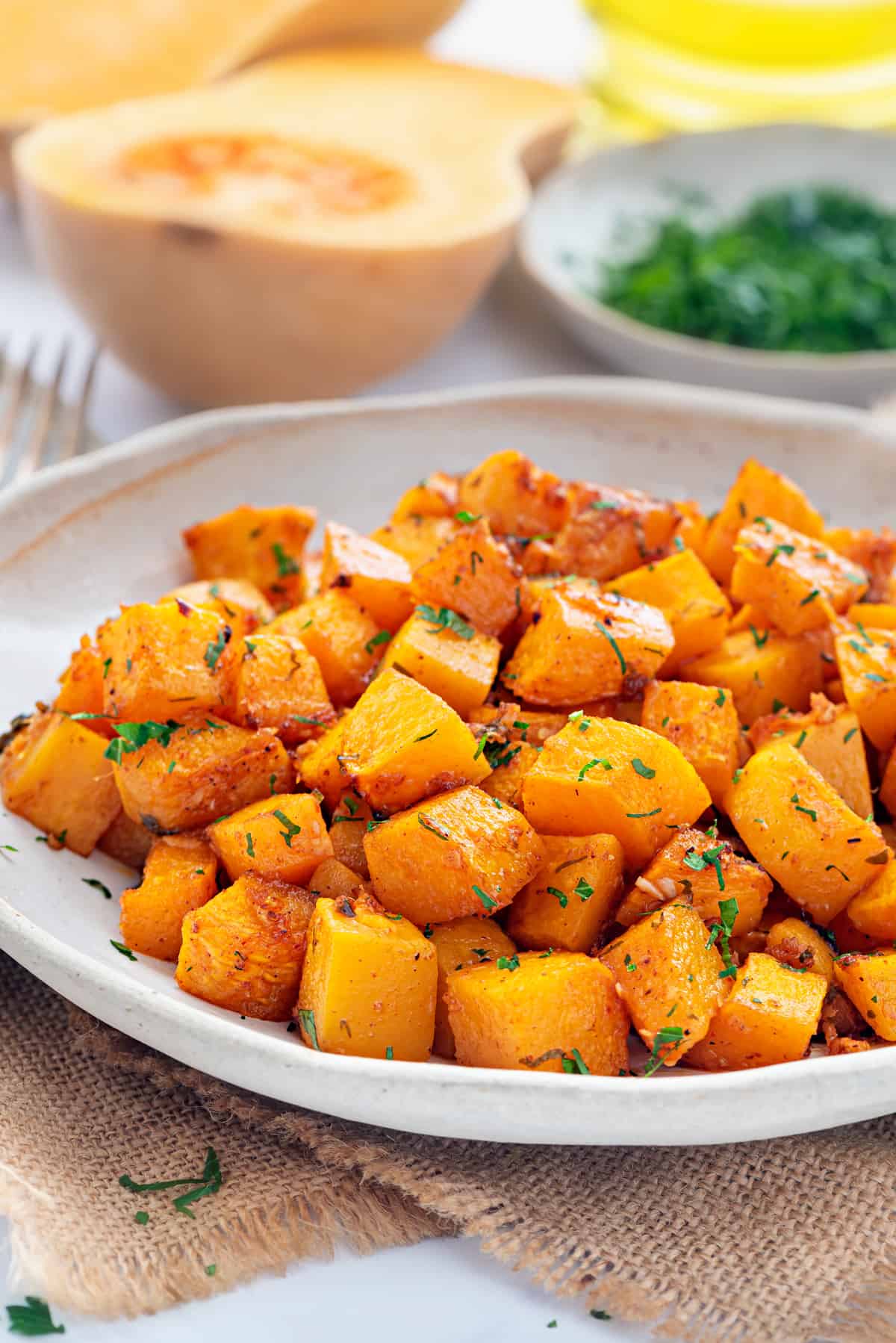 Jump to:
Why you will love this recipe
Since a bowl of roasted butternut squash is perfect for everything from Thanksgiving dinner to an office potluck, I love that this recipe is simple enough for the whole family to prep.
Many people try their first roasted butternut squash at Thanksgiving dinner tables, as the perfect simple family-friendly side dish.
They are easy to store (lasting up to two months on the counter before use) and freeze (once cubed), which also makes them perfect for warm and comforting weeknight dinners. Winter meals are often heavy with creams, cheeses, or sugars, but not these!
Though they come out of the oven with that natural sweetness, this recipe can easily be turned even sweeter, or turned savory.
This recipe can be adjusted to be keto and paleo-friendly, and is naturally vegan and gluten-free. Of course it's Whole30 compliant too, you just need to skip maple or sugars and butter in sweet version. Use olive oil and ground dates instead.
Butternut squash lives beautifully on its own as a side dish, but adds some exciting texture and fall flavor to things like salads, sandwiches, and bowls.
a bit about butternut squash
A winter squash that grows on a vine, butternut squash (also called a butternut pumpkin) have a very special buttery, sweet flavor when roasted.
These squash are staples of many healthy fall recipes, as they are packed with fiber, Vitamin C, and Vitamin A. I think this is one of the most delicious ways to get your nutrients!
Beyond the health benefits of butternut squash, it is incredibly dynamic when cooked!
Moreover, the beauty of this butternut squash is that you can create various sweet and savory recipes using it.
Though they were traditionally eaten raw by indigenous peoples of North America, once roasted they become perfectly caramelized, creamy, and decadent. Are you getting hungry yet?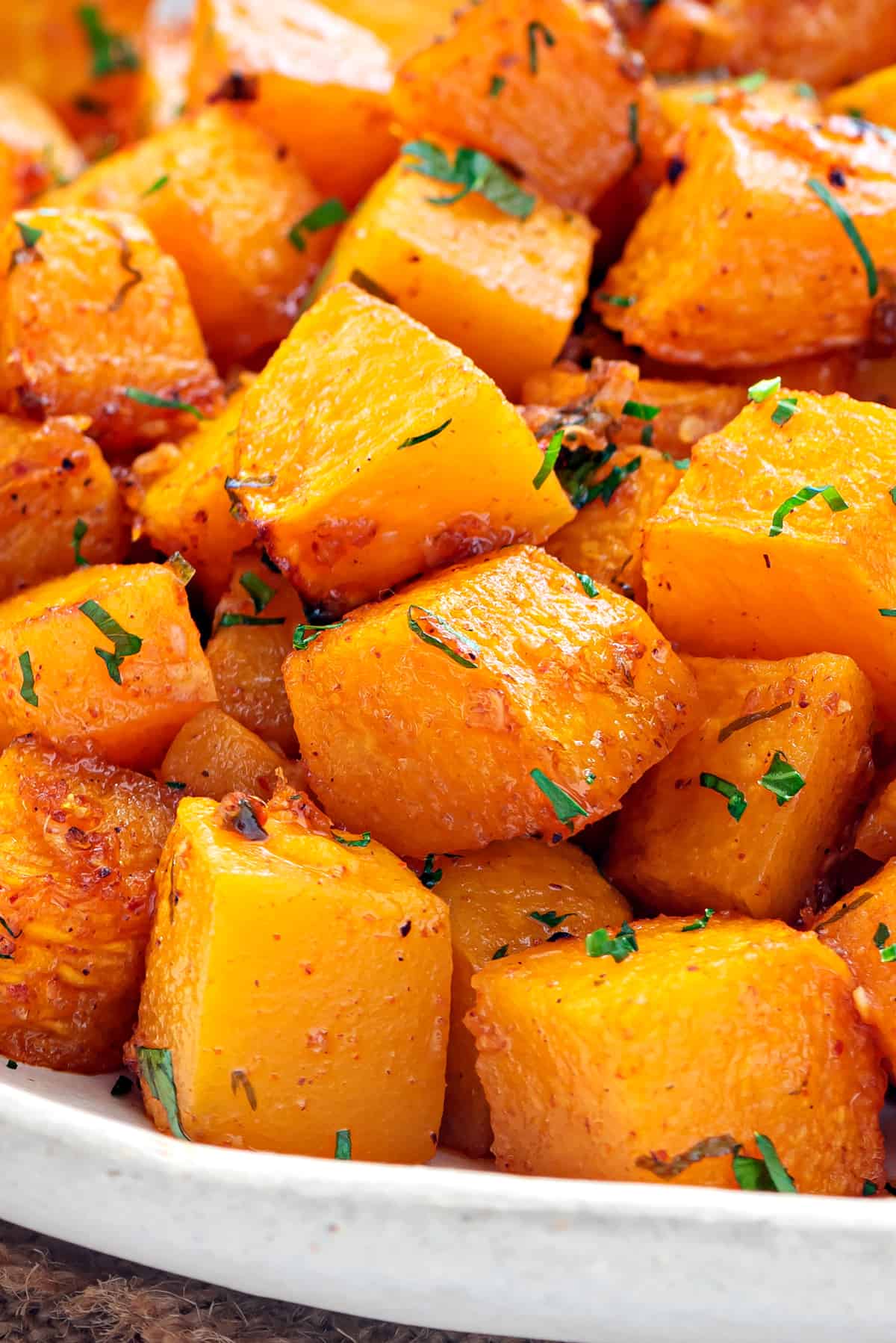 Ingredients notes
Butternut Squash: Look for one with a smooth, solid beige exterior.
When ripe, it should be hard and heavy in your hand. The stem should be unbroken, and hard to the touch; this assures your squash will keep longer.
The old fashioned "knocking" tactic works great as well; if it sounds hollow, it's ready to take home! Avoid any that have bruises, cracks, or brown patches.
Savory Seasonings: You will need some pantry staples for this recipe. Ginger, garlic, pepper, parsley, and olive oil make our base.
I include paprika, cayenne, and cinnamon for the dynamic spice. Finally, lime juice and maple syrup give us some brightness and sweetness that doesn't overpower.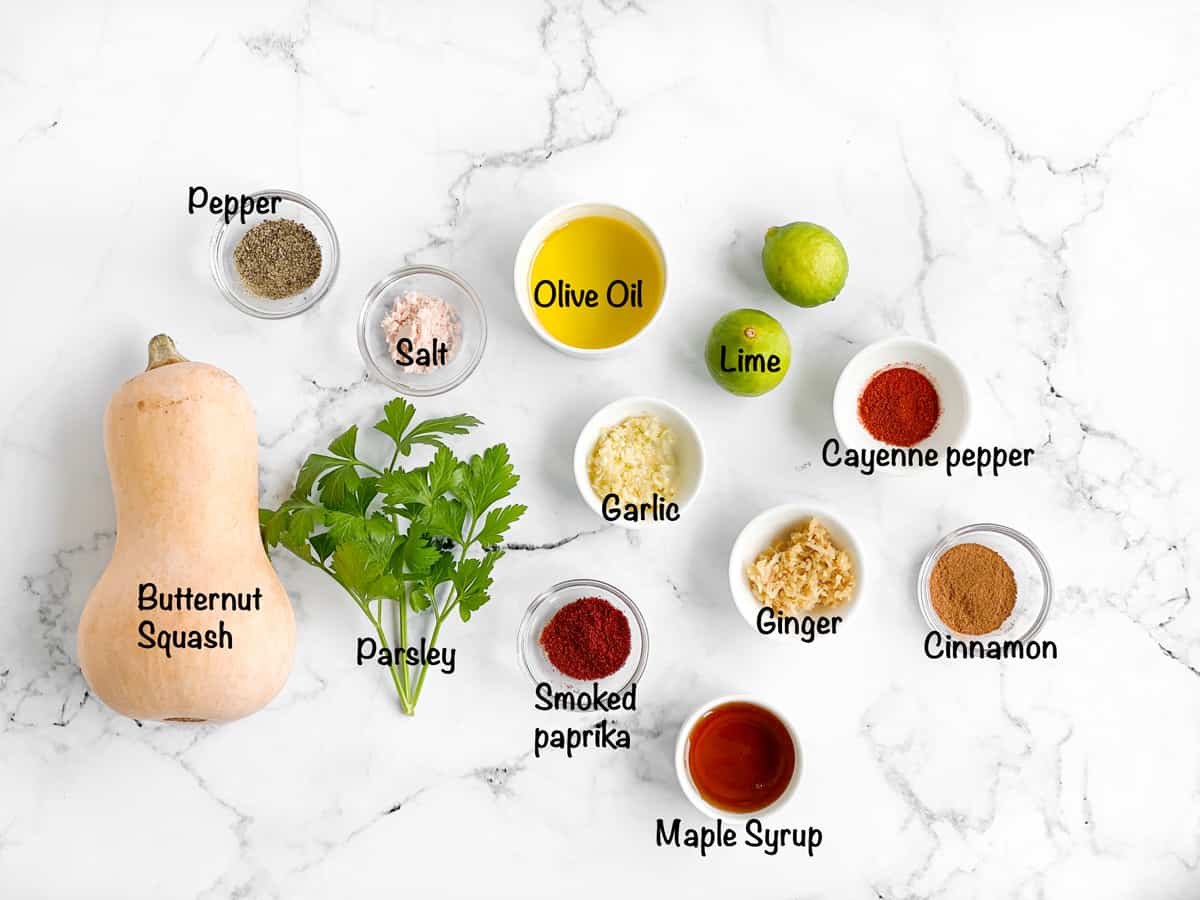 Sweet Seasonings: With its natural sugars, this whole baked butternut squash can quickly become a fantastic dessert base.
Brown sugar, butter, cinnamon, and nutmeg bring the seasonal spices. Salt brings the perfect balance (sea salt is great for this), and crushed pecans on top bring a fantastic texture.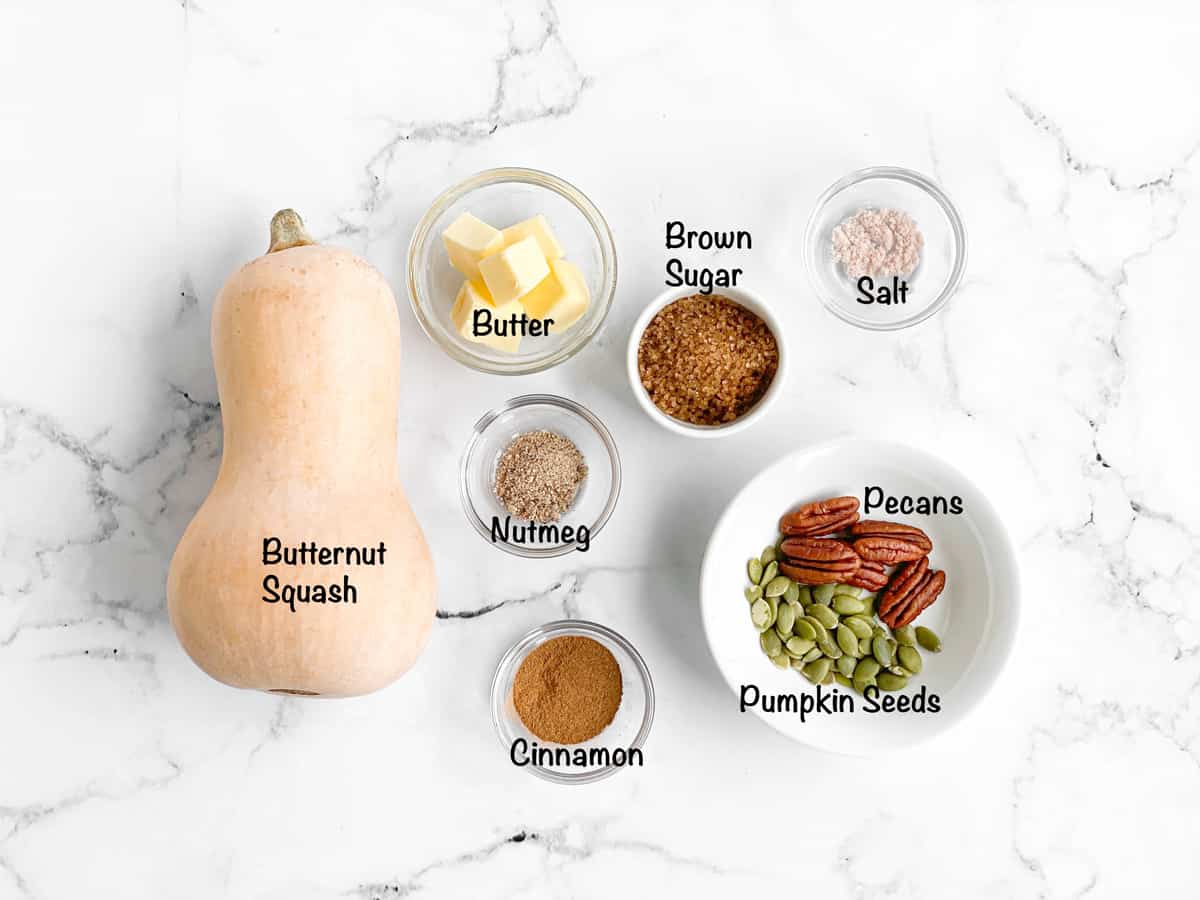 How to roast butternut squash two ways (step-by-step)
The savory squash roast steps:
Preheat your oven for 400 degrees F (200 degrees C). (Note: that this is a different temperature than the sweet version).
Peel and scoop the butternut, before dicing into one-inch cubes.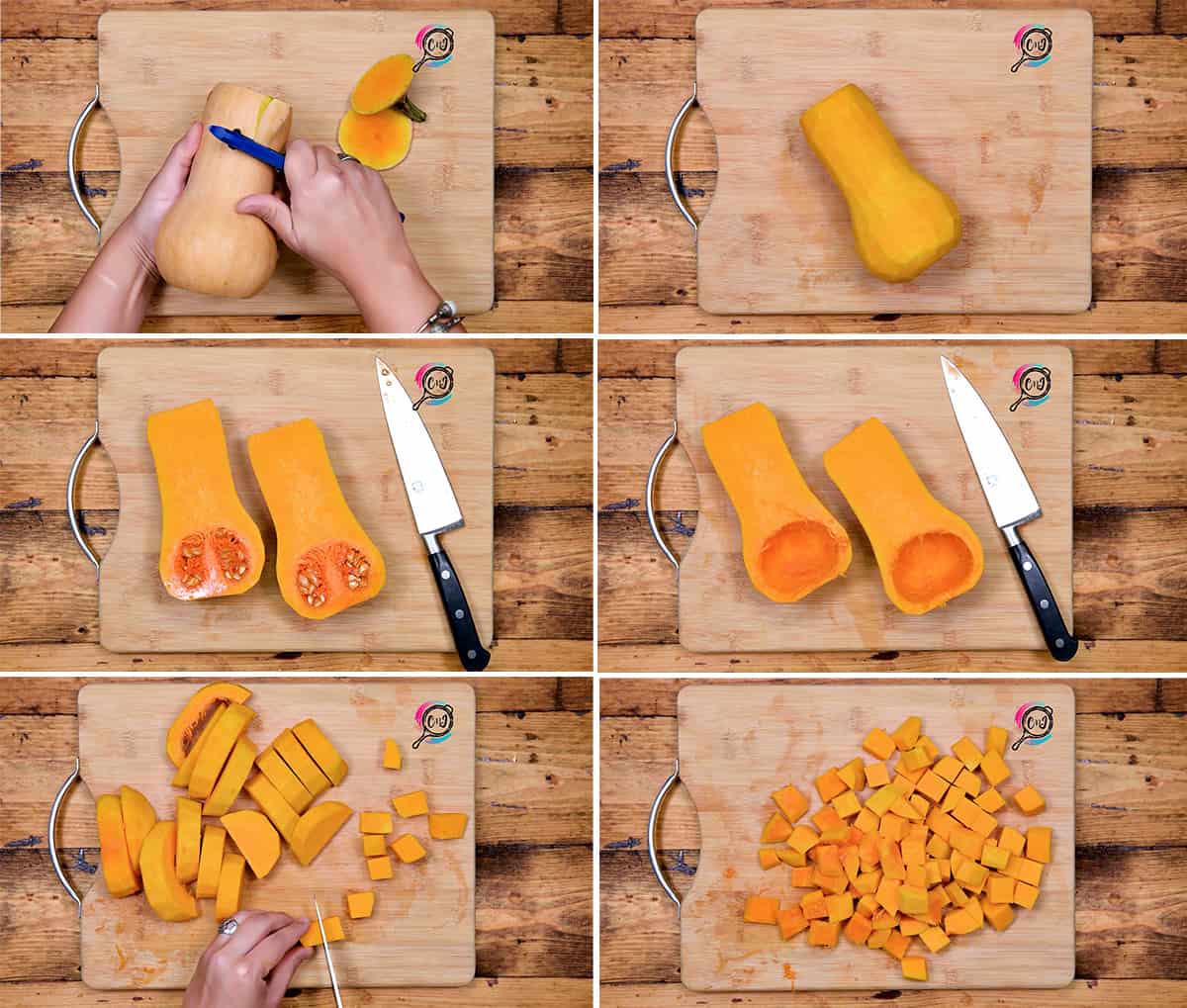 Place the cut squash cubes in large bowl. Pour all the savory ingredients over the cubes.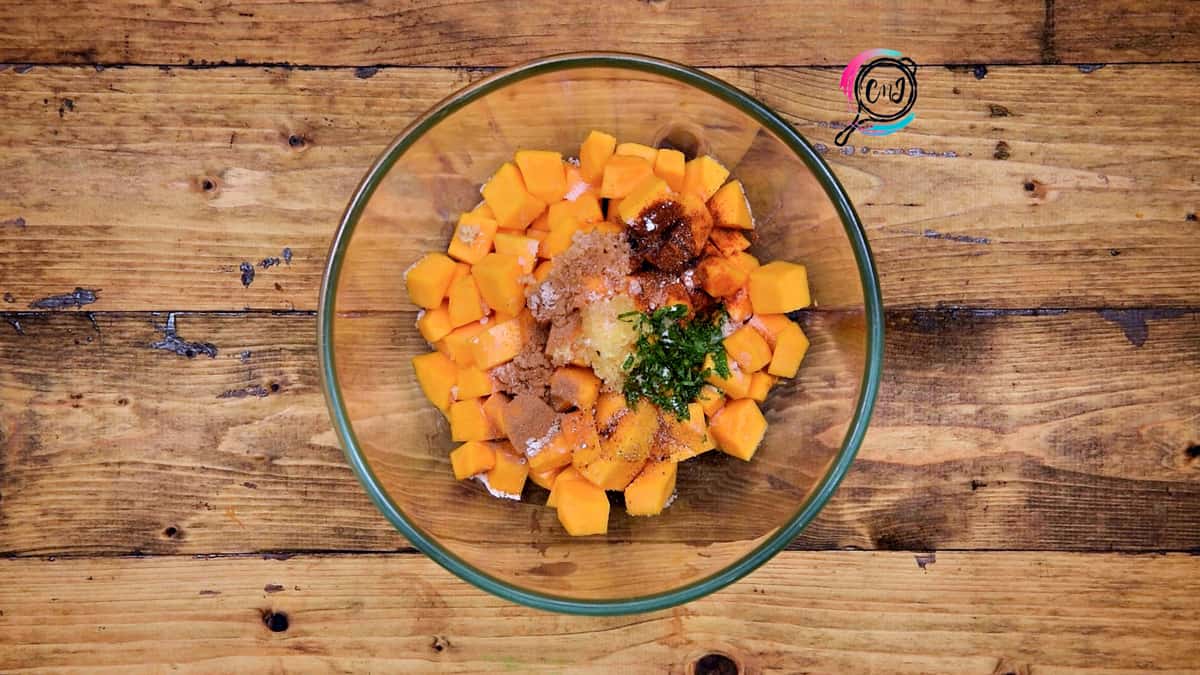 Toss well until fully coated.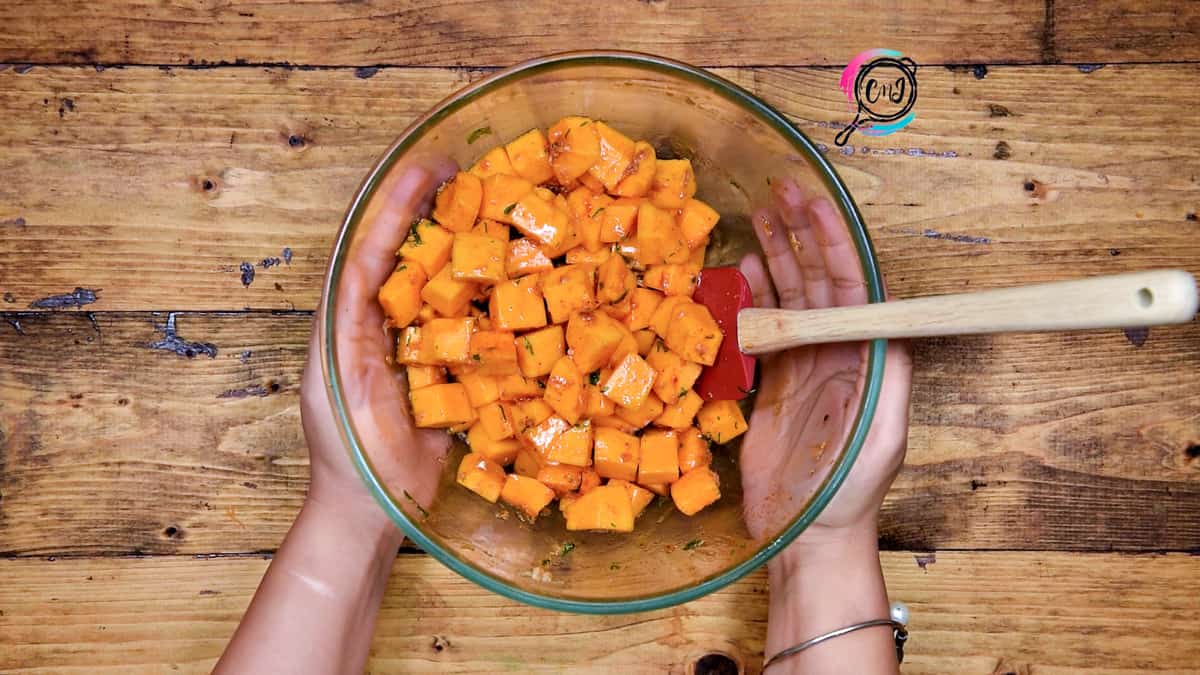 Lay the cubes in a single layer and put them in the oven for 30 minutes. (Toss once in 15 minutes).
Pull the roasted squash out when fork tender, and add chopped parsley before serving.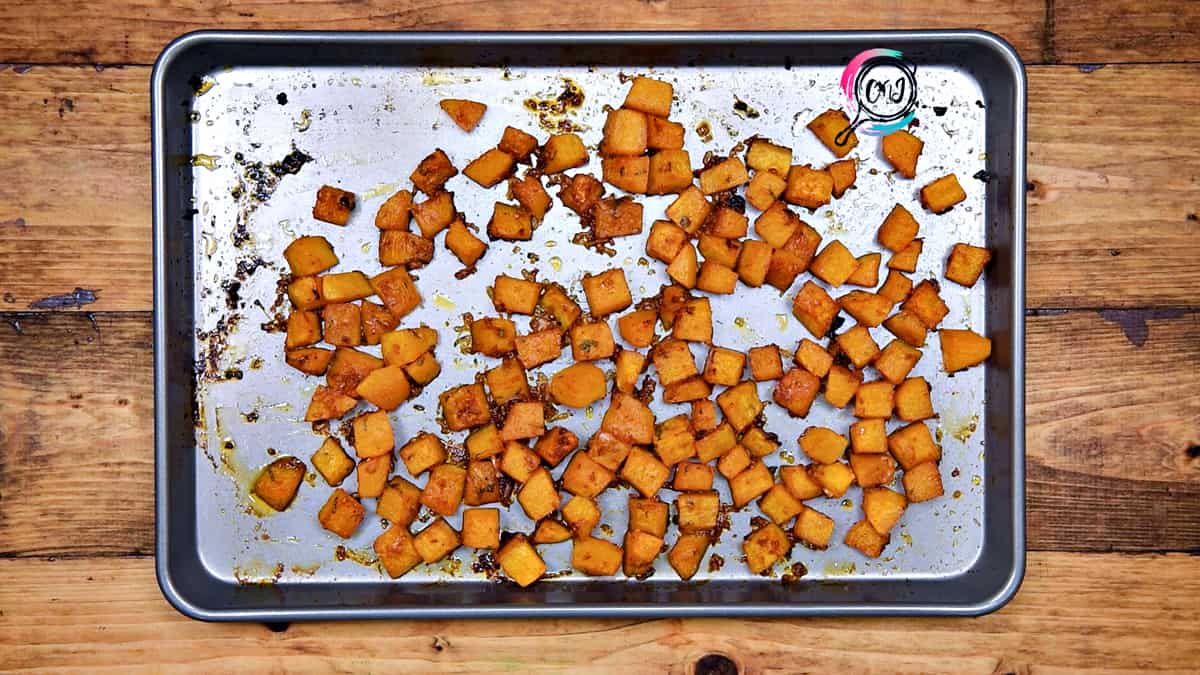 The sweet squash roast steps:
Preheat your oven to 375 degrees F (175 degrees C). (Note that this is a different temperature than the savory version.)
Cut the whole butternut squash into halves lengthwise, and scoop out the seeds
Place both halves on a roasting sheet pan, with the cut side up.
Coat the top of the squash with melted butter, and then lay on the sugar, nutmeg and cinnamon. Before you pop it in the oven, sprinkle the salt on top.
Place the squash halves in the oven for 50-60 minutes. When done, it's ready to be scooped up, or saved and stored for future dishes!
Tips
I usually microwave the butternut squash for 1 minute before peeling. This helps in easy peeling!
Use sharp peeler and knife to peel and cut the squash.
Use large baking sheet to roast the squash cubes for even roasting and caramelization.
Frequently asked questions
Is butternut squash healthy?
Yes! It is full of fiber, vitamin A, vitamin C, magnesium, and potassium. It is naturally sweet, but also naturally low-carb.
How to pick ripe ones?
Look for a tight, beige skin. The stem should be in tact and strong. And if you knock on it, you should hear a hollow noise. Any with breaks, punctures, or bruises should be avoided.
How to peel it?
The key to peeling butternut squash is a high quality sharp knife, a strong vegetable peeler, and a sturdy cutting board.
How to cut butternut squash for roasting?
When cutting into halves, stabilize the squash on a sturdy cutting board. These can be tough, and we want to keep your fingers safe!

I recommend a seven to eight inch chefs knife, that is nice and heavy. Here is a list of great knife options from Food & Wine!

Start out by cutting the top ½ inch of the squash off (including the stem). Do the same with the bottom ½ inch of the squash. From here, you peel the squash, and cut down the center, lengthwise so it is halved. This is where you stop for the sweet recipe.

For savory, you do the same cut down each half, leaving you four total pieces of squash.
Scoop out the seeds from the core of those pieces, and place them flat side down on the cutting board.
From here you can dice them into one-inch cubes.
Do I need to use parchment paper?
Though not required, parchment paper is a great kitchen tool. This helps assure we get crispy and caramelized squash, and saves us from accidental burning!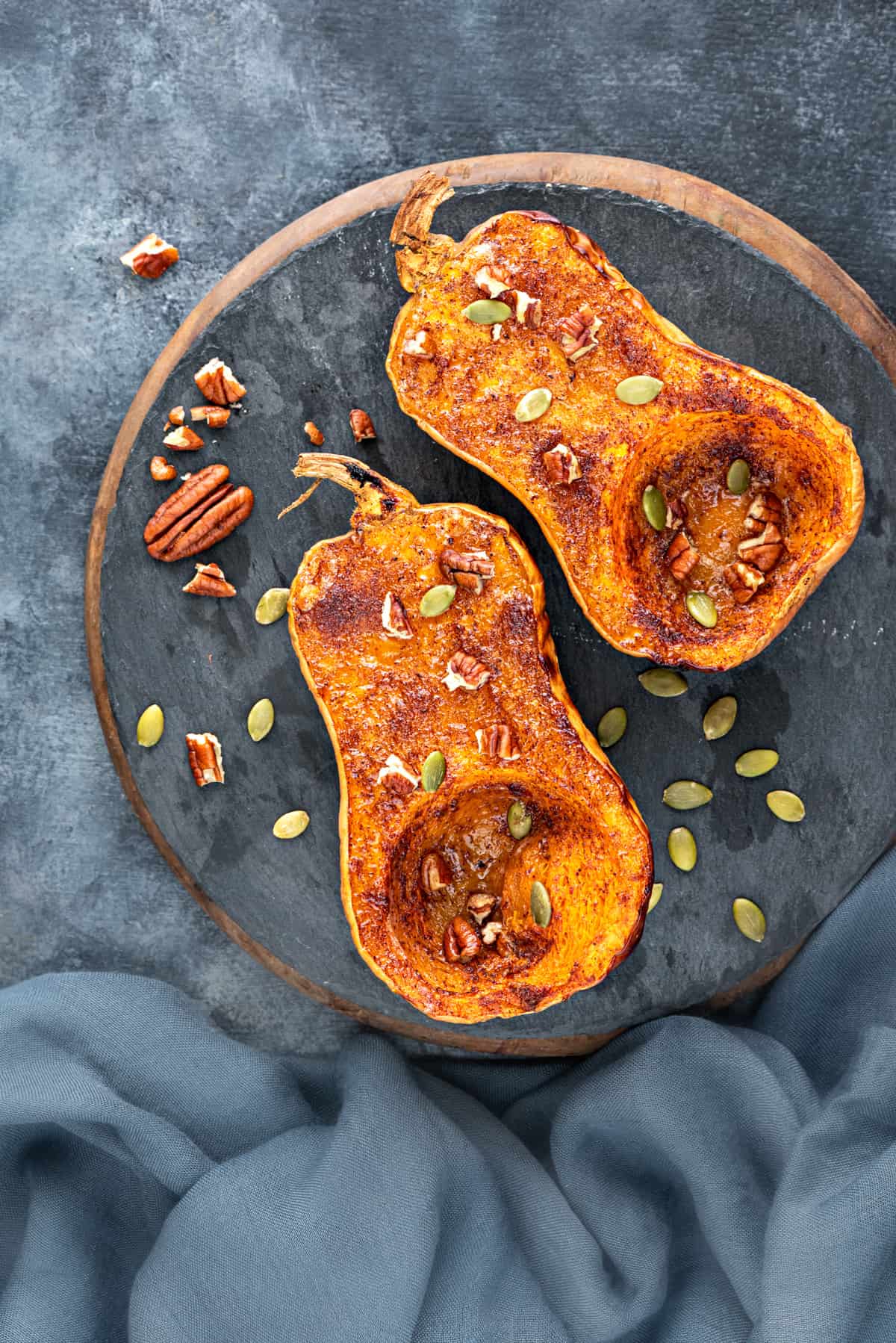 Serving ideas
There are so many ways to use butternut squash, the sky really is the limit. No wonder it is so widely beloved around the world!
The savory version of this roasted butternut squash recipe is perfect as a side to chicken and turkey.
Right out of the oven it is also great in enchiladas, burritos, and rice bowls (this Mexican rice recipe is a delicious pairing).
With goat cheese, pumpkin seeds, and some crusty bread, it makes a fall bruschetta that folks will talk about year round!
Leftovers can easily be pulled from the refrigerator and used in a wrap or salad.
My favorite variation pairs with kale, quinoa (I love this instant pot quinoa!), ferro, arugula, apples, and feta.
Using it on pizza, in soup, and even in a variation of hummus, are even more creative ways to use this incredible food.
You can easily replace the spices and sweeteners in this recipe with a keto, paleo alternative. Monkfruit works really well.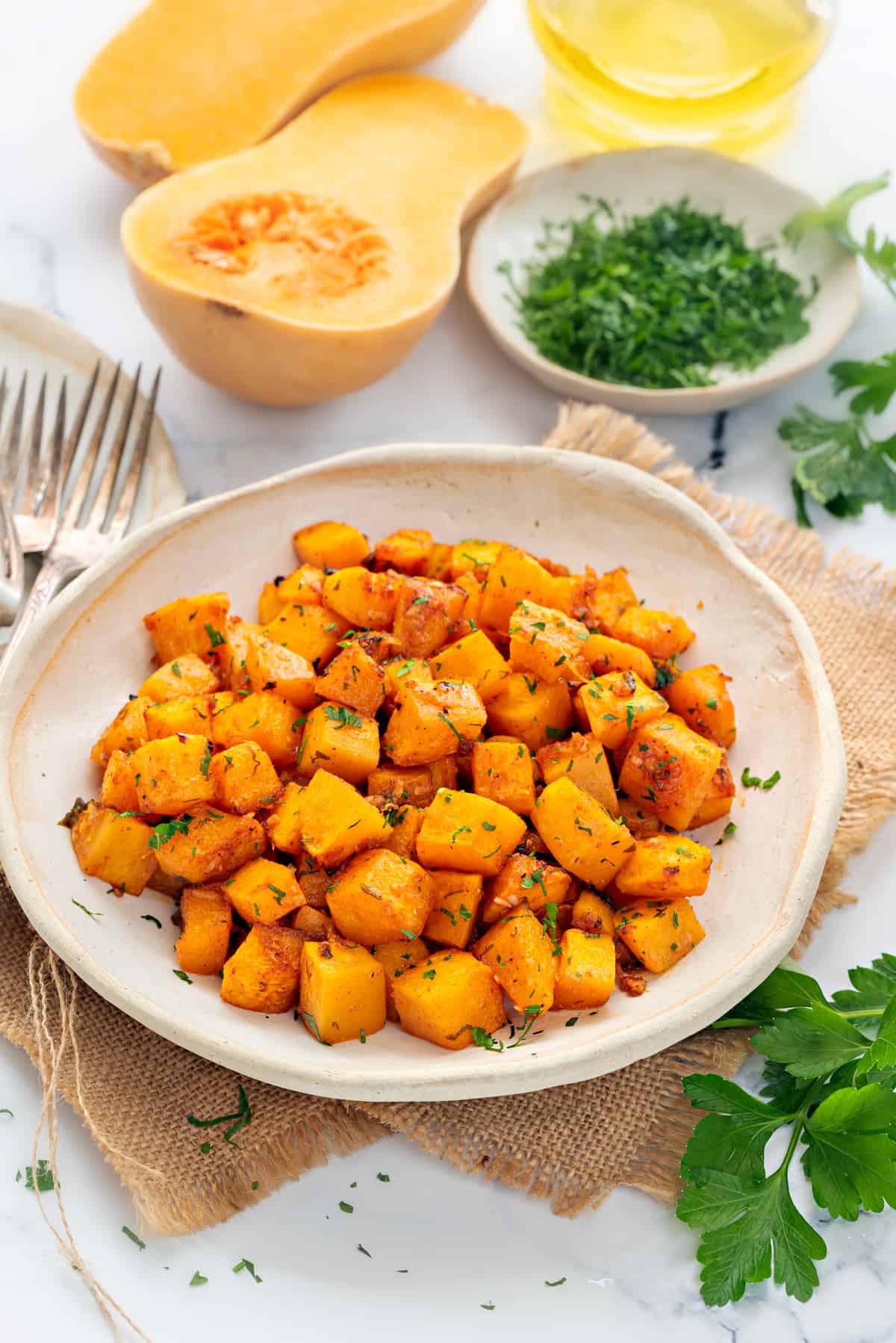 Storing, freezing and reheat
As you can see from above, leftover cooked butternut squash is really simple to store!
Refrigerate : Whether you are putting away the cubes or halves, make sure you let the squash get close to room temperature. We don't want to add more moisture to the squash, so this will help us avoid that.
When putting away halved, cooked butternut squash, you will want to tightly wrap it in plastic. Cubes can be stored in an airtight container. Both versions will store for up to five days in the refrigerator.
Freeze : If you are hoping to freeze these squash, you should be doing that prior to roasting, as the cubes can become really squishy when frozen after cooking.
You will take the raw cubes and line them on a roasting sheet pan, covering them tightly in a few layers of plastic wrap. You need to separate, leaving room for them to expand so they don't stick to one another. They can be stored in the freezer for up to three months.
Re-heat : Thaw the frozen squash by putting it in the fridge for a few hours. Once you have refrigerator-temperature squash you can use it cold or reheat for a new recipe!
A quick partial re-heat at 300 degrees F (100 degrees C), for 12-15 minutes will bring the cold squash back to life. Pull them out, coat with some more olive oil or butter, and they're good to go!
If you made this recipe for my Roasted Butternut Squash, then please be sure to rate and review it below!
If you'd like more deliciously easy recipe inspiration, follow me on Instagram, Pinterest, Facebook or YouTube. You can also get all of my newest content delivered straight to your inbox by signing up for my email newsletter.
📖 Recipe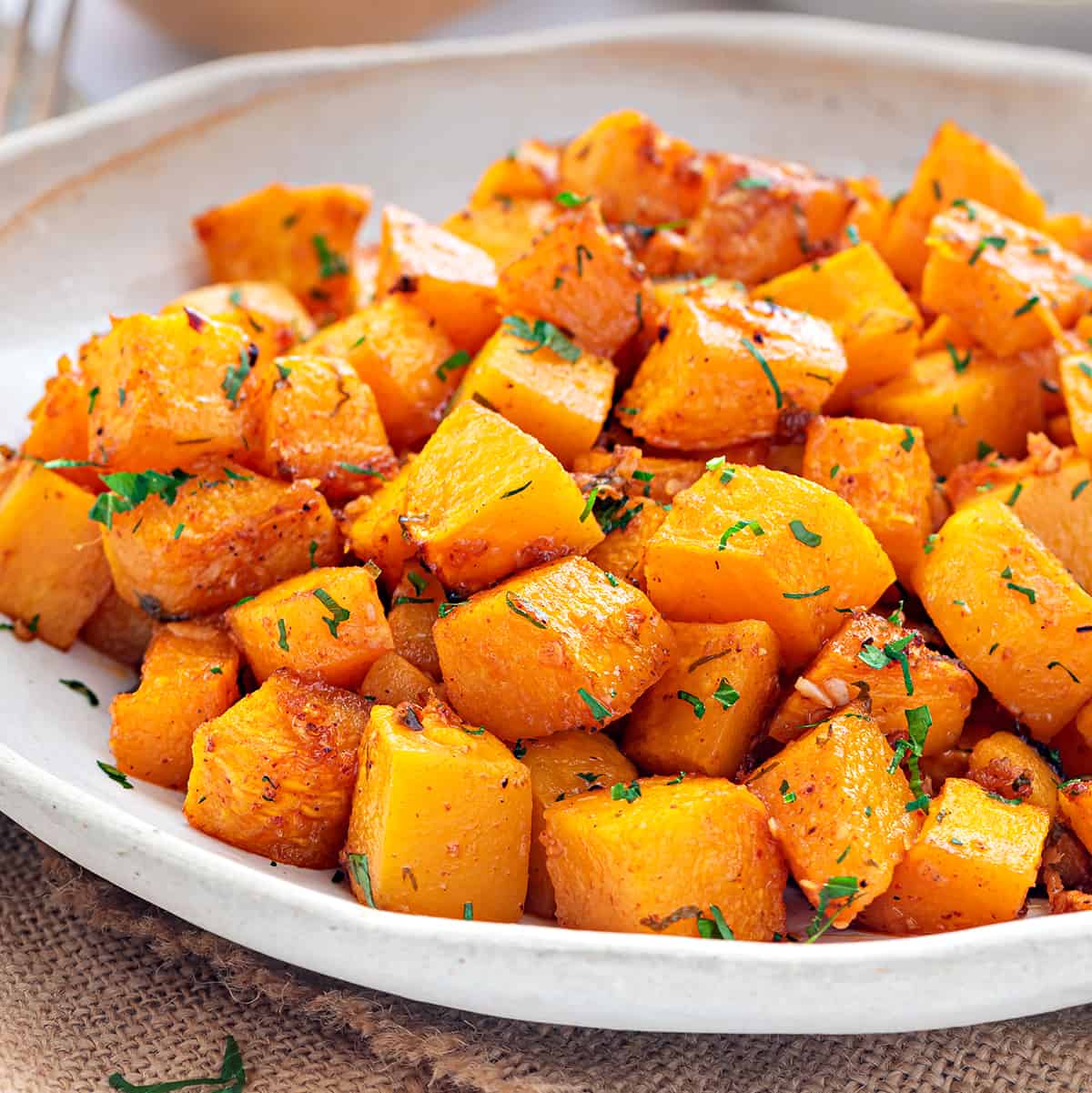 Print
Roasted Butternut Squash
Super simple and easy to make, this roasted squash gives you a perfect tender and delicious fall side-dish for Thanksgiving or holiday tables. This recipes offers both savory and sweet versions.
Ingredients
For making savory version
1

teaspoon

Garlic

1

teaspoon

Ginger

2

teaspoons

Parsley

½

teaspoon

Paprika

¼

teaspoon

Cayenne Pepper

2

teaspoons

Lime Juice

1½

tablespoons

Maple Syrup

½

teaspoon

Cinnamon

Salt and Pepper

2

tablespoons

Olive Oil

Chopped Parsley for Garnish
For making sweet version
2

tablespoons

Melted Butter or Olive Oil

2

tablespoons

Brown Sugar

½

teaspoon

Nutmeg

1

teaspoon

Cinnamon

Sprinkle of Salt

Pumpkin Seeds and Pecans for serving
Instructions
Savory version
Start with preheating the oven at 400 degrees F (200 degrees C).

Peel, scoop out the seeds and cut the squash into 1 inch size cubes.

In a bowl, combine all the ingredients mentioned under savory roast. Toss well.

Arrange the tossed squash in single layer on large baking sheet pan.

Roast butternut squash for about 30-35 minutes until fork tender (flip once in between after 15 minutes of cooking).

Sprinkle chopped parsley and serve warm.
Baked sweet version
Preheat the oven at 375 degrees F (175 degrees C)

Cut the squash in half lengthwise and scoop out the seeds.

Transfer the butternut squash halves on baking sheet pan with cut side up.

Brush it with melted butter coating the entire top. Sprinkle sugar, nutmeg, cinnamon, and season with salt.

Bake the butternut squash for about 50-60 minutes or until the squash is tender.

Cool, scoop out the flesh, enjoy as it or add it to your other favorite recipes.
Notes
Tips :
I usually microwave the butternut squash for 1 minute before peeling. This helps in easy peeling.
Always use sharp peeler and knife to peel and cut the squash.
Use large baking sheet to roast the squash cubes for even roasting and caramelization.
Nutrition
Calories:
152
kcal
|
Carbohydrates:
26
g
|
Protein:
2
g
|
Fat:
6
g
|
Saturated Fat:
1
g
|
Sodium:
8
mg
|
Potassium:
652
mg
|
Fiber:
4
g
|
Sugar:
8
g
|
Vitamin A:
19344
IU
|
Vitamin C:
40
mg
|
Calcium:
98
mg
|
Iron:
1
mg