Chili Paste is an essential condiment to make any Indian, Mexican, Asian and Chinese Recipes spicy, flavourful and delightful. Made from dried red chilies, with or without garlic and seasonings, this paste is indeed adaptable as per the heat preference. So, note down the recipe now and make it at home, this is much better than the store-bought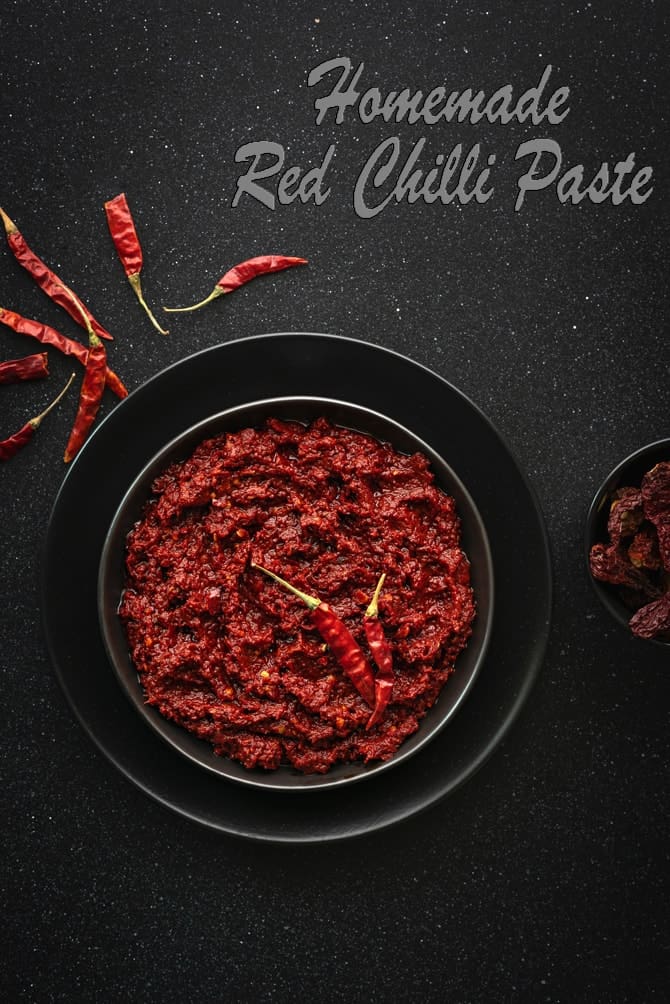 For the love of the spicy food and intense flavour, this red chilli paste should be a must have in every pantry. What a beautiful blend of taste and colour it adds to the any dish.
Chili garlic paste is a staple spice blend, that is seen in most of the Asian abodes. Be it a Chinese, Korean, Indonesian, Malaysian or spicy Thai preparations, chilli paste makes an integral part to the dish.
I am absolutely sure, if you love Asian recipes, then you would be having store-bought chili paste in your pantry. Wouldn't it be great to make your own chili paste at home, which will be economic too? Of course, it will be 🙂
Most chili pastes, certainly, are made using dried red chilies while some recipes requires fresh ones too. However, paste made from the fresh red chilies won't last longer and you may have to finish it in 5-6 days. Whereas, paste made from dried red chilli stays for longer, gives intense flavour and colour.
What is chilli paste?
Chili Paste is a spicy, fiery red condiment paste made using fresh or dried red chilies. Unlike chili sauce, it is dense in texture with intense taste and colour.
Moreover, it may or may not be seasoned with other ingredients like garlic, ginger, vinegar, sesame or any seeds. Particularly, being an essential part of Indo-Asian cuisine, chilli garlic paste over all elevates the essence of any dish.

How can we use red chilli paste?
From soups to noodles, stir fries, fried rice recipes
And from marinades (to barbecue meats or roast veggies) to curries and stews
Add it into your favourite dips or sauces for sandwiches and rolls
Whisk it into omlettes, savoury pies n tarts, pizzas or pastas
Whip it up into salad dressings
Kashmiri red chilli paste are mostly added in kababs and Indian curries like tikka masalas, butter chicken, kormas, and kadhai recipes for deep colour.
Chili garlic paste that I have made below, can also be eaten as a chutney to momos, pakodas, tikkis, kababs, fritters and so on.
How to store chilli paste?
It stays really well for a month under refrigeration and for 5-6 months in freezer. Be sure to store it in a clean air tight container for longer shelf life. Either store it in one single container in refrigerator or alternatively freeze it in an ice tray in portions for individual use.

What chilies are used to make red chili paste?
By modifying the types of regional chilies based on their hotness, you can go on ahead in making cuisines from any part of the world. For example, Ancho Chile or/and Guajillo variety are used to make Mexican Chili paste. So, paste can be either a combination of different types or just one type of dried chilies.
We Indians use various combinations of regional chilies to make the paste. Like here, I have used only Kashmiri chilies to make plain red chili paste for curries, tikkas and marinades for kababs or roasts.
Furthermore, I have also used the combination of Kashmiri (mild heat) and Bedgi chilies (medium heat) for chili garlic paste to go in Asian and Indo Chinese Recipes. Sometimes I also use Guntur chilies (Hot) along with Kashmiri ones to make hot chilli paste.
Tip: For mild heat and colour ONLY, do not forget to take out all the seeds from Kashmiri chillies before making a paste. For medium heat, grind them with bedgi variety with seeds.
Let's head on to see how to make them in two different ways below.
1. How to make red chili paste recipe - step by step
Firstly, add Kashmiri chilies in bowl. Then, pour hot water over it and set it side to soak for 30 minutes (photo 1)
Once the chilies are reconstituted well, strain and transfer them into a blender along with 1 teaspoon of vinegar and 2-3 tablespoons of water from the soaked chilies (photo 2)
Blend it into a paste (photo 3)
Heat oil well in a pan (photo 4)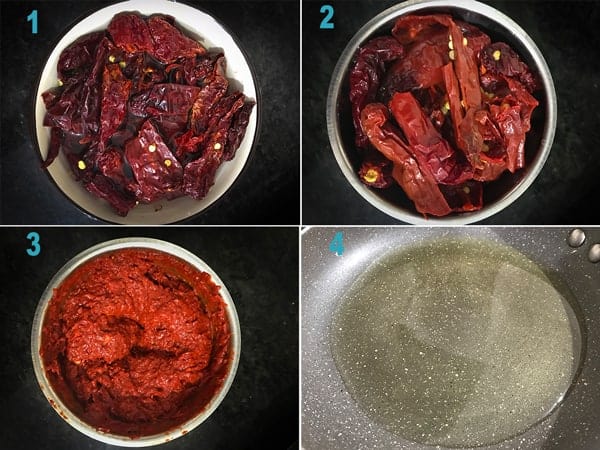 Then, pour the hot oil over chilli paste and mix well. Finally, transfer in a clean air tight jar or container and refrigerate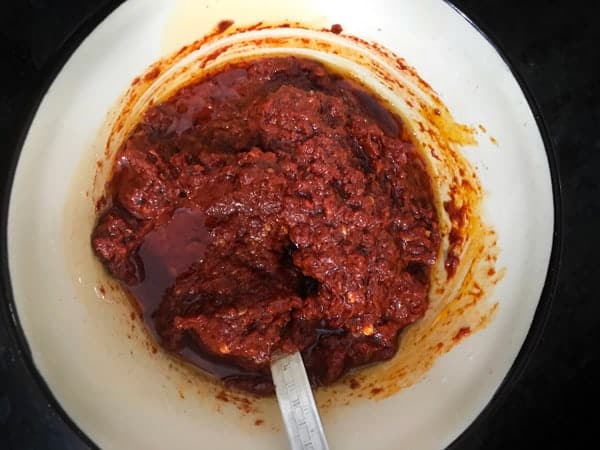 2. How make chili paste recipe - step by step
To begin with, first, add Kashmiri and bedgi chilies in a bowl. Then, pour hot water over them and set it aside to soak for 30 minutes (photo 1 and 2)
Once the chillies are reconstituted well, strain and transfer them into a blender along with garlic, 3 tablespoons of rice vinegar (photo 3)
Then, add 3 tablespoons of water from the soaked chilies. Blend the chili garlic mixture to a paste (photo 4)
Heat oil well in a pan and then add the blended paste into it (photo 5)
Add sugar, salt and mix. Cook for 5-6 minutes low heat until fragrant, stir in between. Take it off the heat and cool completely (photo 6)
Finally, transfer the chili garlic paste in a clean air tight jar or container and refrigerate



You may also like:
💓 We Love to hear back from you and appreciate your success stories !
Have you tried this "chili paste Recipe"? Please feed us with your ★ star ratings and comments below.
You can also FOLLOW me on FACEBOOK, INSTAGRAM and PINTEREST for more fabulous recipes and updates
Red chili paste recipe card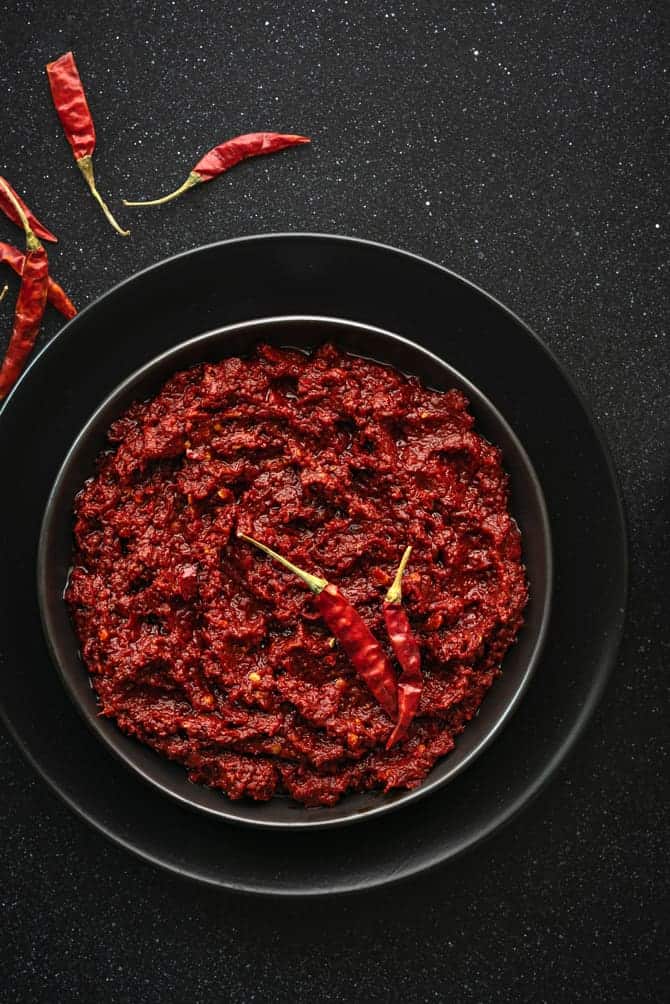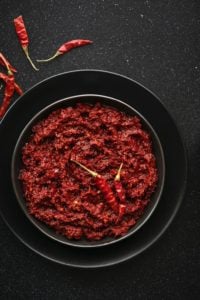 Print
Homemade Chilli Paste
Chili Paste is an essential condiment made from dried red chilies, used in most Indo Chinese, Indian, Mexican and Asian recipes.This red chilli paste recipe is indeed easy to make and much better than the store-bought
Ingredients
to prepare red chilli paste recipe (method 1)
40

red chilies

2

teaspoons

vinegar

4

tablespoons

oil

Water as needed
to prepare red chili paste (method 2)
20

red chilies or any mild chili

20

bedgi chilies or any medium spicy to hot chilies variety

13-14

cloves

garlic

2

tablespoons

rice vinegar

or white vinegar

1/2

teaspoon

salt

1

teaspoon

sugar

4

tablespoons

oil

Water as needed
Instructions
How to make chili paste from dried red chilies
Method 1
Add Kashmiri chilies in bowl. Now, pour hot water over it and set it side to soak for 30 minutes.

Transfer them in a blender along with 1 teaspoon of vinegar and 2 tablespoons of water from the soaked chilies

Blend it into a paste

Heat oil in a pan

Pour the hot oil over chilli paste and mix well.

Transfer in a clean air tight jar or container and refrigerate upto a month
Method 2
Add Kashmiri chilies and bedgi chilies in a bowl. Pour hot water over the chilies and set it aside to soak for 30 minutes.

Strain and transfer them into a blender along with garlic, 3 tablespoons of rice vinegar

Blend the mixture into a paste. Add 3 tablespoons of water from the soaked chilies

Heat oil well in a pan and then chili garlic paste into it.

Add sugar, salt and mix. Cook for 5-6 minutes low heat until fragrant, stir in between

Take it off the heat and cool completely

Transfer into a clean jar or container and refrigerate upto a month
Notes
If you are sensitive to hot chilies, then be sure to use pair of gloves while handling them
Nutrition
Calories:
167
kcal
|
Carbohydrates:
22
g
|
Protein:
4
g
|
Fat:
8
g
|
Sodium:
99
mg
|
Potassium:
783
mg
|
Fiber:
3
g
|
Sugar:
13
g
|
Vitamin A:
2285
IU
|
Vitamin C:
345.7
mg
|
Calcium:
38
mg
|
Iron:
2.5
mg