This creamy Roasted Butternut Squash Soup recipe is made with smooth coconut milk for the tastiest vegan winter soup recipe you'll ever have the pleasure of eating. Fresh garlic, celery, and onion encompass this easy recipe!
Jump to:
Why You Should Try This Soup?
This easy butternut squash soup recipe is gluten-free, dairy-free, paleo-friendly, vegan, and a delicious option for whenever you are wanting a nurturing soup for lunch or dinner. The recipe is made with whole veggies and dairy-free cream and is the perfect choice for whenever you want to keep your meals light but filling.
This soup is great for meal prep! Just make this recipe whenever you are wanting to make sure dinner is covered for at least a few nights or when you need easy lunch ideas. I usually always have a bag or container of the blended veggies in my freezer ready to be warmed with coconut milk.
The warm notes of nutmeg and smoked paprika create the perfect flavor combinations that are delicious and enhance the fresh and subtly sweet flavors of roasted butternut squash. This vegan soup recipe is the perfect balance of sweet and savory.
There is nothing better than a homemade soup that is creamy and comforting all at the same time. Relish in the smooth and fragrant flavors of garlic, onion, salt, and pepper in this vegan butternut squash soup recipe whenever you are craving home in a bowl.
This recipe contains very little ingredients and is such a breeze to make. Just roast the veggies until they are tender and blend with everything else in one pot. Soup is a great option for whenever you are wanting dinner ready in minutes or have some leftover vegetables to use up.
Warm and cozy, this bright vegan soup is a great option for chilly days and nights! A serving of this soup will keep you warm and full which makes it the ideal fall or winter meal.
Get creative with this versatile recipe by using up different types of vegetables and even fruit! We love this soup with sweet apple added to it.
Serve this delicious soup during the holidays and other celebrations when you need to serve family or friends. This soup is a crowd-pleaser!
*Here's more delicious butternut squash recipes for you to try this fall:
Ingredients
Butternut Squash – Make sure you have one large butternut squash that has been peeled and cubed before starting the recipe! Save time by cubing the squash a day or so beforehand.
Onion – One small white onion is diced and adds pungent a pungent flavor and fragrance to this soup. You can use any kind of onion such as yellow or red. Using red onion would give this soup flavors that are extra rich.
Celery – Fresh celery is a great addition to any vegetable soup! Celery is robust and slightly bitter and rounds out all the other ingredients.
Garlic – Fresh cloves of garlic give the best flavors for this soup. I like to use fresh garlic while cooking because it really makes a recipe tastier. You can use ground garlic powder if you cannot locate fresh garlic.
Oil – Smooth olive oil is a great neutral plant oil that works with almost any kind of recipe!
Seasoning – You will need a blend of salt, pepper, smoked paprika, and grated nutmeg for aromatic notes. These really make the soup taste amazing!
Coconut Milk – Be sure to used canned coconut milk to make sure the flavors are neutral and not too sweet. You can also use coconut cream.
Broth – Use homemade vegetable stock or storebought veggie broth as a base for this soup. I like to make my broth in bulk and freeze the rest for later.
For Garnishment
Parsley – Fresh parsley is a great addition to this soup as it is a vibrant herb that adds brightness to the soup. Further, the colors of orange and green look great together for serving, too!
Pumpkin Seeds – Toasted pumpkin seeds, or pepitas, give this soup a slight nuttiness and crunch that pair well with the smooth and creamy flavors of the butternut squash. You can also use toasted nuts or omit them all together.
How To Make Roasted Butternut Squash Soup?
This soup is a wonderful option for the entire family whenever you are wanting to eat a veggie-rich meal alongside your favorite salads or main courses!
In the beginning, prep the celery, onion, garlic, and butternut squash by dicing, chopping, and peeling as needed. Learning how to peel and cube the squash has never been easier!
Next, preheat the oven to 400 degrees Fahrenheit. Spread the prepared vegetables on a baking sheet lined with parchment paper.
Drizzle the vegetables with oil, salt, pepper, and smoked paprika, then toss them to coat.
Next, roast the veggies for at least forty minutes or until they can be pierced easily with a fork or knife. Carefully, remove the vegetables from the oven and allow them to cool.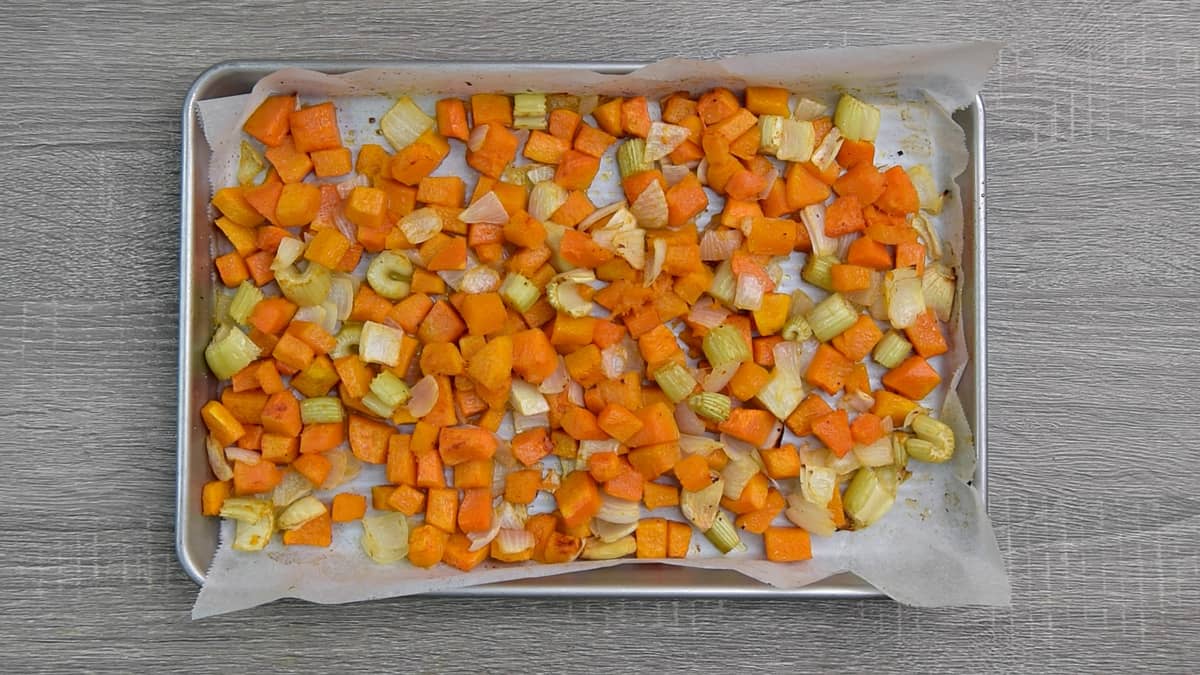 Transfer the cooled roasted vegetables to a strong blender alongside 1 ½ cup of veggie stock or broth and the coconut milk. Purée the mixture until creamy and smooth.
Next, pour the blended veggie mixture into a large pot or Dutch oven. Add the rest of the stock in addition to the grated nutmeg, more salt, and cracked black pepper.
Simmer the soup over the stovetop on low heat for four to five minutes until warm.
Serve the soup in individual servings with a spoon or serving dish and top with freshly chopped parsley and toasted pumpkin seeds.
FAQs
Can I make it ahead of time?
Absolutely! Blend the roasted veggies without the coconut milk and refrigerate. Just before serving, reheat the veggie mixture and add the coconut milk, nutmeg, and simmer to it and simmer for a few minutes. Garnish and serve the soup right away!
How to store this soup?
Store the leftover soup in a clean airtight container for up to five days in the refrigerator.
Can I freeze butternut squash soup?
Yes, this soup is great for meal prep. First, blend the roasted veggies without the coconut milk and freeze the mixture in a clean airtight container in portions for up to three months. Thaw the soup overnight in the refrigerator or for a few hours on the counter at room temperature. Reheat puréed mixture and add coconut milk, and nutmeg. Allow the soup to simmer, then garnish, serve, and enjoy.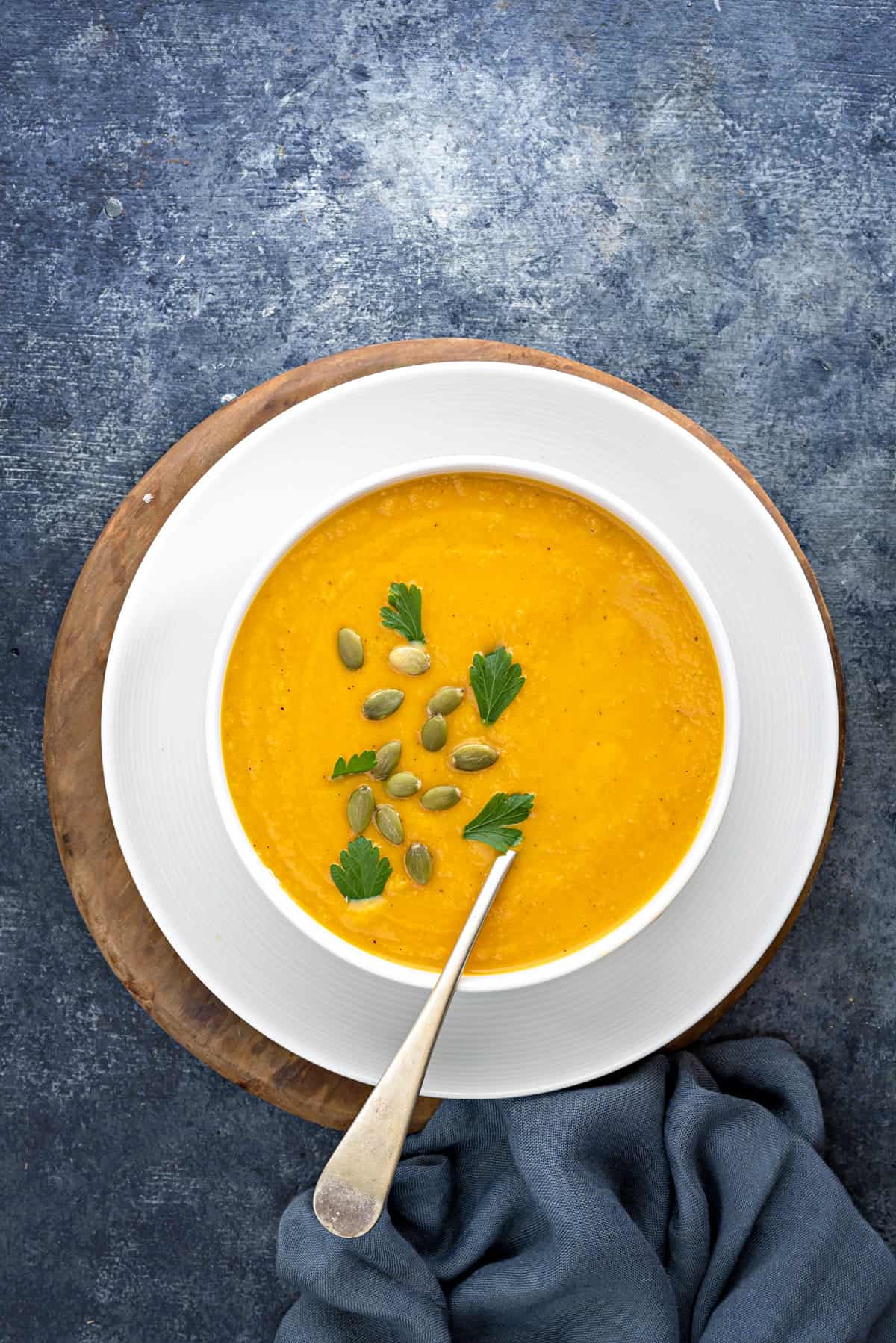 Variations And Add-Ins
Add extra produce like carrots, apples with butternut squash, sweet potatoes, golden or russet potatoes, red or green peppers, pumpkin, and cauliflower.
Incorporate different fresh herbs that are succulent and aromatic such as thyme, sage, and rosemary. Herbs are a great way to really elevate a dish!
You can use other types of creams rather than coconut milk such as dairy milk, heavy cream, almond, or soy milk.
Serving ideas
Enjoy this roasted butternut squash soup recipe as the main course for whenever you are wanting a light meal or serve it as a side dish alongside cooked proteins, sandwiches, and more.
Top this soup with store-bought or homemade crispy croutons for extra textures and comfort. Pair this soup with steamed and roasted veggies for a full spread of plant-based foods.
Other Easy Soup Recipes You Will Enjoy
If you made this recipe for my Roasted Butternut Squash Soup, then please be sure to rate and review it below!
If you'd like more deliciously easy recipe inspiration, follow me on Instagram, Pinterest, Facebook or YouTube. You can also get all of my newest content delivered straight to your inbox by signing up for my email newsletter.
📖 Recipe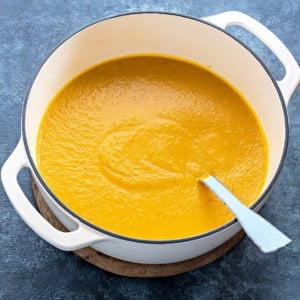 Print
Roasted Butternut Squash Soup Recipe
This creamy Roasted Butternut Squash Soup recipe is made with smooth coconut milk for the tastiest vegan winter soup recipe you'll ever have the pleasure of eating. Fresh garlic, celery, and onion encompass this easy recipe!
Ingredients
1

large

Butternut Squash

(peeled and cubed)

1

small

White Onion

(diced)

2

Celery Stalks

(chopped)

3

cloves

Garlic

2

tablespoons

Olive oil

Salt & Pepper to taste

¼

teaspoon

Smoked Paprika

⅓

cup

Coconut Milk

2-3

cups

Vegetable Stock

(or Vegetable Broth)

¼

teaspoon

Nutmeg

(grated)
For garnish and serving
Fresh Parsley

Toasted Pumpkin Seeds
Instructions
Pre-heat the oven at 400°F.

Place the cubed butternut squash, diced onion, celery, garlic cloves on a large parhcment lined baking sheet pan.

Drizzle olive oil and season with salt, pepper, smoked paprika, and toss to coat.

Roast the vegtables for 40-45 minutes or until tender. Let it rest for few minutes.

Transfer the roasted vegetables to a high-speed blender jar along with 1½ cup vegetable stock/broth and coconut milk and puree to creamy smooth until smooth and creamy.

Pour the soup puree to a pot or dutch oven, add the remaining stock, season with grated nutmeg, some more salt, cracked black pepper and mix. Simmer on low heat for 4-5 minutes.

Dish out, garnish with toasted pumpkin seeds and fresh parsley, serve hot!
Notes
Immersion Blender : transfer the roasted vegetables to a dutch oven or pot, add coconut milk, broth/stock, use an immersion blender and blend to smooth and creamy puree.
Serve the leftovers in an airtight container in the refrigerator for five days.
Nutrition
Calories:
134
kcal
|
Carbohydrates:
18
g
|
Protein:
2
g
|
Fat:
8
g
|
Saturated Fat:
3
g
|
Polyunsaturated Fat:
1
g
|
Monounsaturated Fat:
4
g
|
Sodium:
322
mg
|
Potassium:
496
mg
|
Fiber:
3
g
|
Sugar:
4
g
|
Vitamin A:
13502
IU
|
Vitamin C:
28
mg
|
Calcium:
69
mg
|
Iron:
1
mg