This quick and easy homemade tomato soup recipe is the best and completely made from scratch with fresh ripened tomatoes, leafy green basil, garlic and onion, vegetable stock, and more healthy ingredients. A super good creamy tomato soup to serve for only two or the whole family for an easy dinner recipe!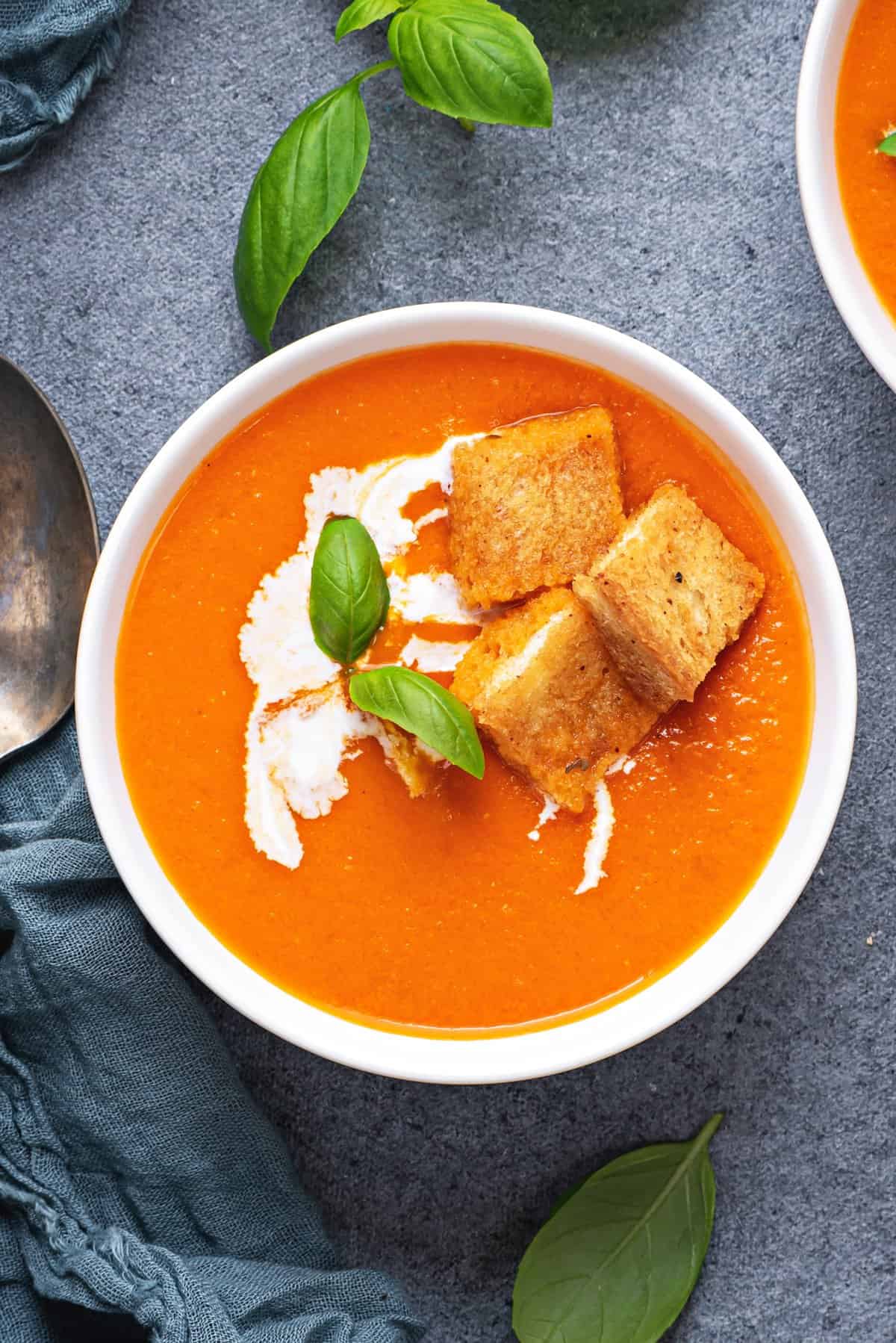 Jump to:
Why This Homemade Tomato Soup Is The Best?
Rich and aromatic, this tomato soup is healthy recipe made using both fresh and canned juicy tomatoes. A tasty carrot tomato soup recipe that tastes just like what you would find in a restaurant.
This is surely a good tomato soup approved by all ages including kids. It is loaded with so much flavor and deliciousness!
You will find notes of herbal fresh basil mixed with robust garlic and crunchy carrots in this quick and easy tomato soup from scratch. You will have a deliciously easy soup ready in less than 30 minutes with this simple recipe.
Easily prepare this soup with basic ingredients that are handy to most including fresh tomatoes, store-bought canned tomatoes, and other easy additions. You don't need fancy ingredients to make this soup stand out with bold rich flavors.
Homemade tomato soup is a great dish to enjoy for weeknight meals because you can serve it as either an appetizer of the main course for just yourself or fun dinner parties. This is the best tomato soup recipe because it is easily customizable with pretty much what you have on hand.
Warm tomato soup (and this Creamy Mushroom Soup) is comforting and easy to enjoy all year round, especially those cold winter nights that are drizzly and wet or maybe you want to enjoy this on a hot summer day.
Ingredients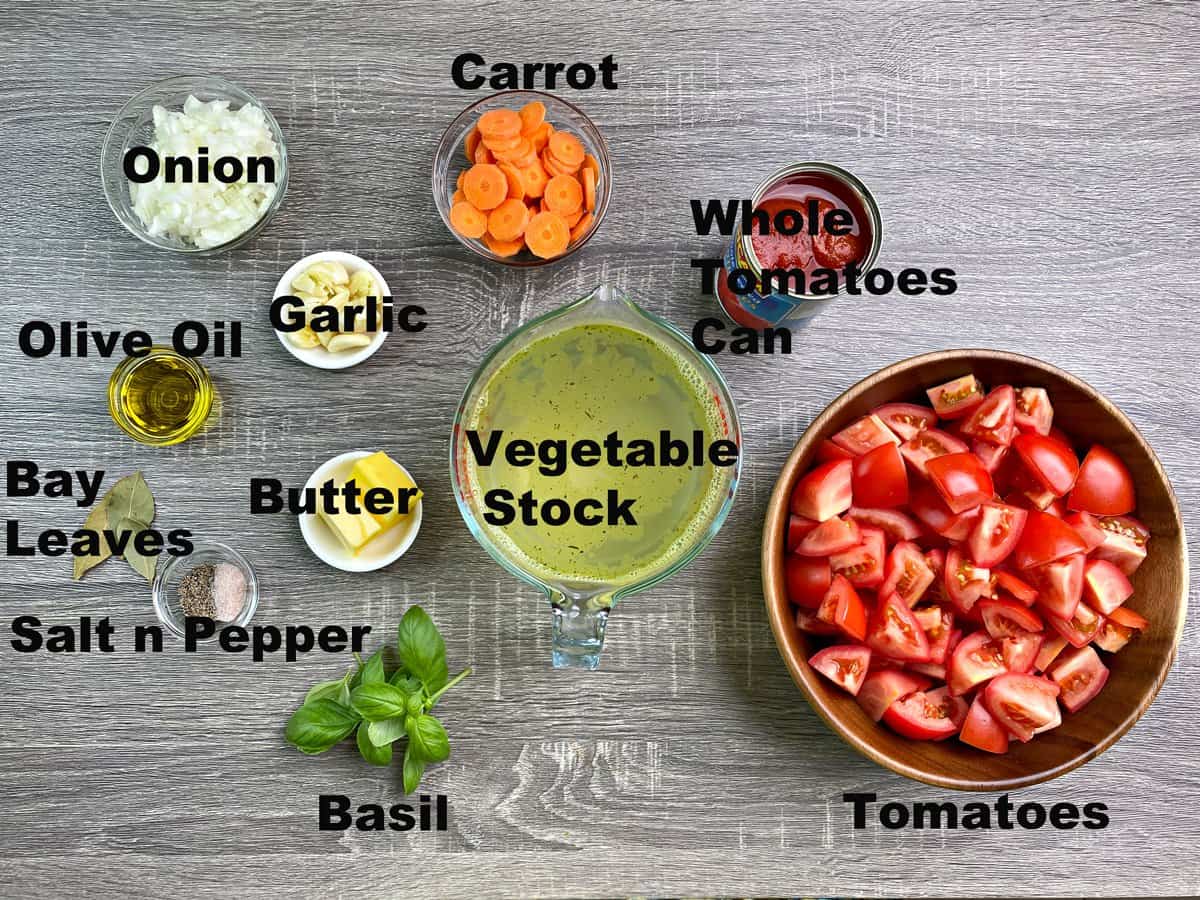 Vegetables
Tomatoes

: I like to use a mixture of both fresh and canned tomatoes. The variety of the two creates yummy unqiue flavors and textures that are classic and rich. Feel free to use only fresh or canned tomatoes.

Onion

: One medium yellow onion is finely chopped for this homemade tomato soup. Feel free to use a red or white onion if you cannot find a yellow type.

Garlic

: Six cloves of garlic are peeled and mashed to create aromatic rich flavors. Pre-minced garlic will save you time if you are needing to make this recipe even quicker.

Carrot

: One carrot provides creamy textures to this soup.
Everything Else
Butter

: Rich unsalted butter is a good creamy base for this soup recipe. The butter mixes well with the onion and garlic to create bold savory fragrances and flavors.

Olive oil

: A good quality olive oil is the best in its flavor and tastes delicious with the tomatoes and fresh basil. I like to use a nice organic olive oil due to its unique flavors. Feel free to use any kind of vegetable cooking oil such as grapeseed or avocado oil.

Salt and pepper

: A classic blend of sea salt and freshly cracked pepper provide additional tasty flavors to this soup. Season to your soup with preference to make it as good as it can be.

Vegetable stock

: I use my Homemade veggie stock for this easy soup, but, feel free to use a good store-bought vegetable or chicken broth.

Seasoning

: You will need a combination of spicy red pepper flakes and bay leaves to give this soup extra delicious qualities.

Basil

: Fresh basil is aromatic and a great Italian herb to use for this recipe. Feel free to use ½ teaspoon dried basil instead of fresh.

Sugar

: A little bit of sweet granulated sugar balances all of the savory flavors. Only a little bit is needed!
For Garnish
Cream

: Dairy cream like heavy cream or milk give this soup extra creamy smooth flavors. For, nondairy options, feel free to use unsweetened canned coconut milk.

Herbs

: Top the soup with additional fresh herbs like basil and parsley. Other delicious options include aromatic thyme and rosemary.
How To Make Tomato Soup From Scratch?
Prep ingredients: First, prepare and measure all of the vegetables and additional ingredients like the onion, carrot, garlic, butter, etc.
In a large Dutch oven or pot, heat the butter and oil over medium heat. Add the onion and garlic and cook until translucent and aromatic.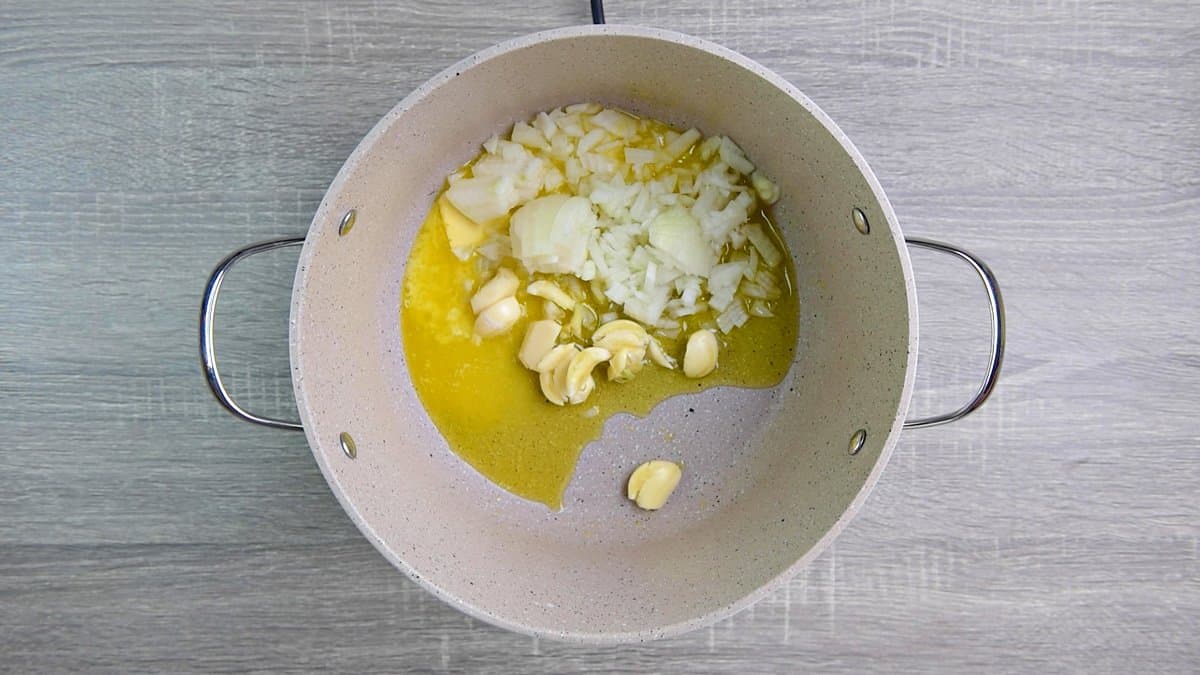 Next, add the sliced carrots and cook for a couple more minutes until they soften a bit.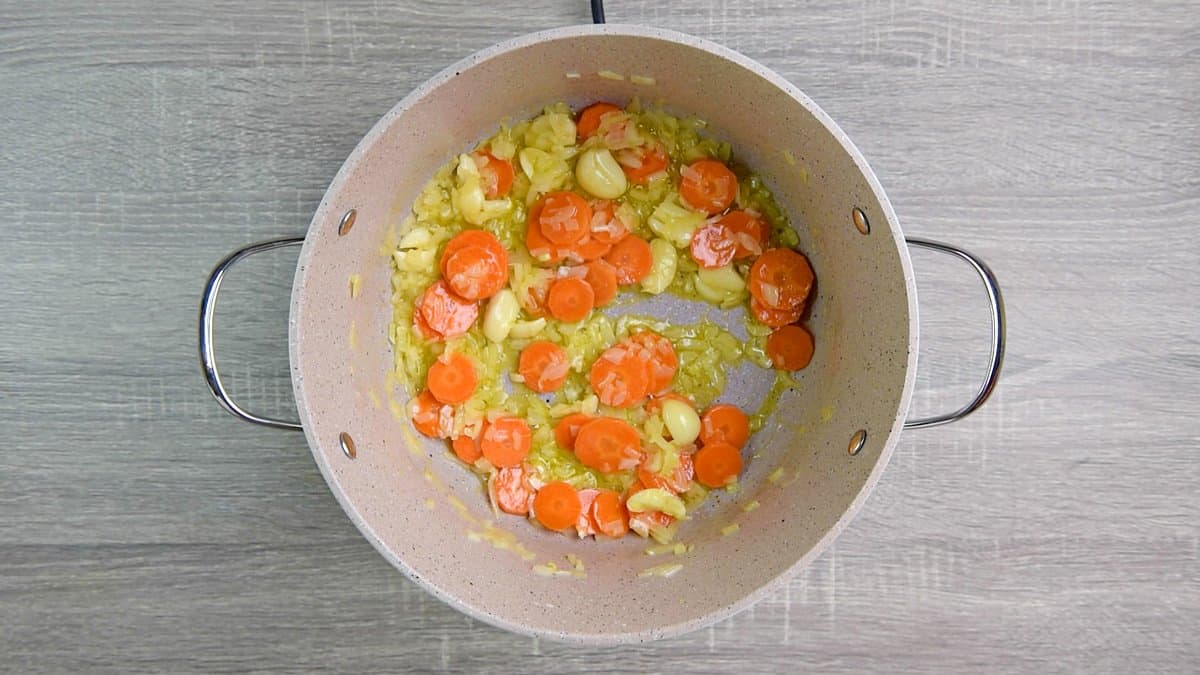 Add the fresh tomatoes, salt, and pepper and mix until everything combines fully.
Next, add the can of peeled tomatoes along with their juices and mix again with a wooden spoon.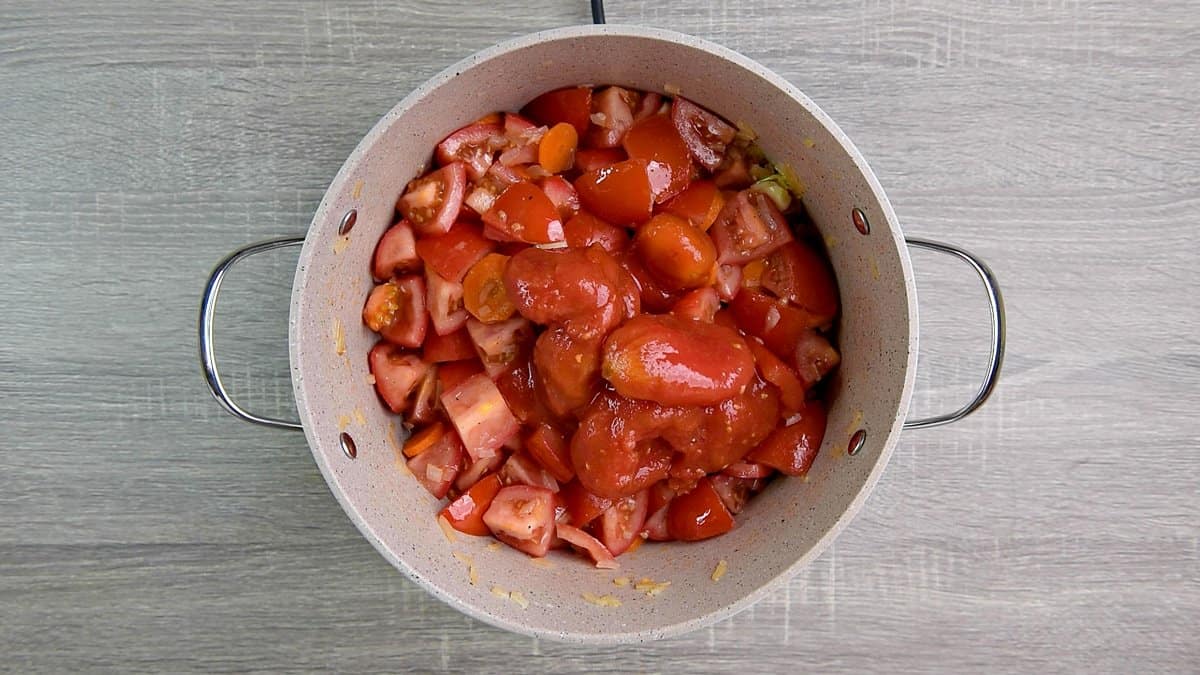 Add the vegetable stock, red pepper flakes, and fresh basil. Stir everything together until combined, then add the two bay leaves to the soup.
Cover and simmer the soup for at least ten minutes until the tomatoes have softened to a rolling boil. Stir occasionally with a spoon.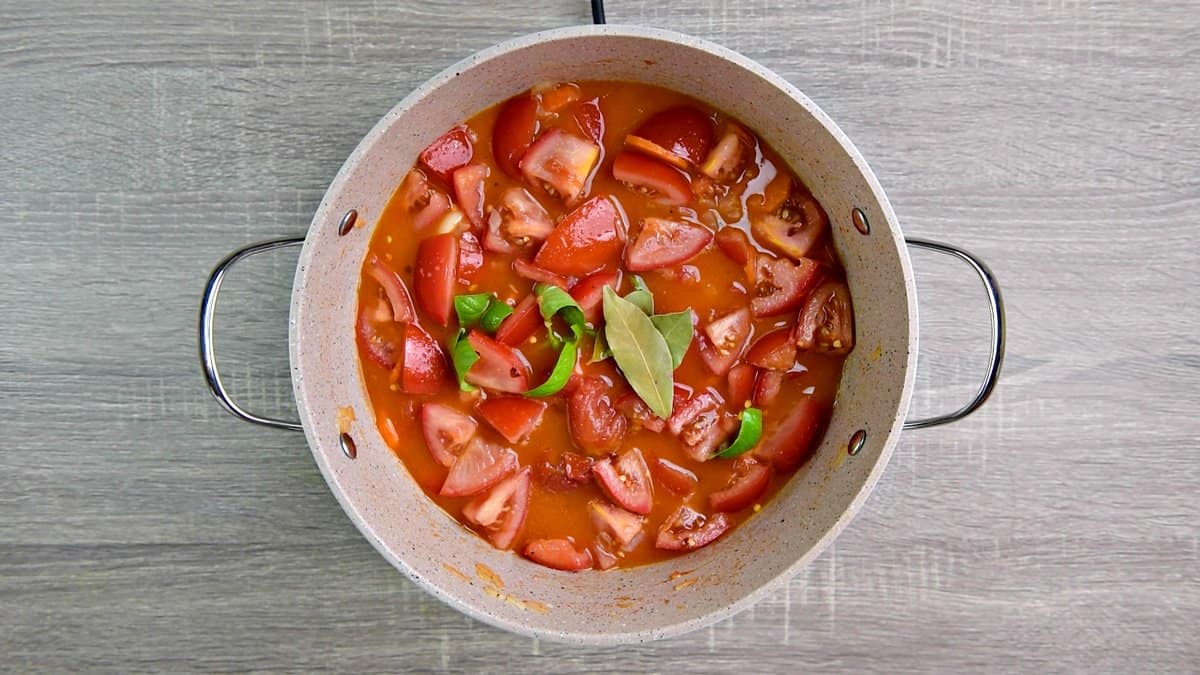 Discard the bay leaves, then allow the tomato mixture to rest for a few minutes prior to transferring to the blender.
Blend the Soup
Carefully, pour the tomato mixture into a blender and blend until it turned into a smooth purée.
NOTE: Be careful while blending hot liquids as it can be very dangerous if the liquid splatters. You can also use an immersion blender if you would like your soup a little chunkier.
Pour the puréed soup into a mesh strainer placed over the pot.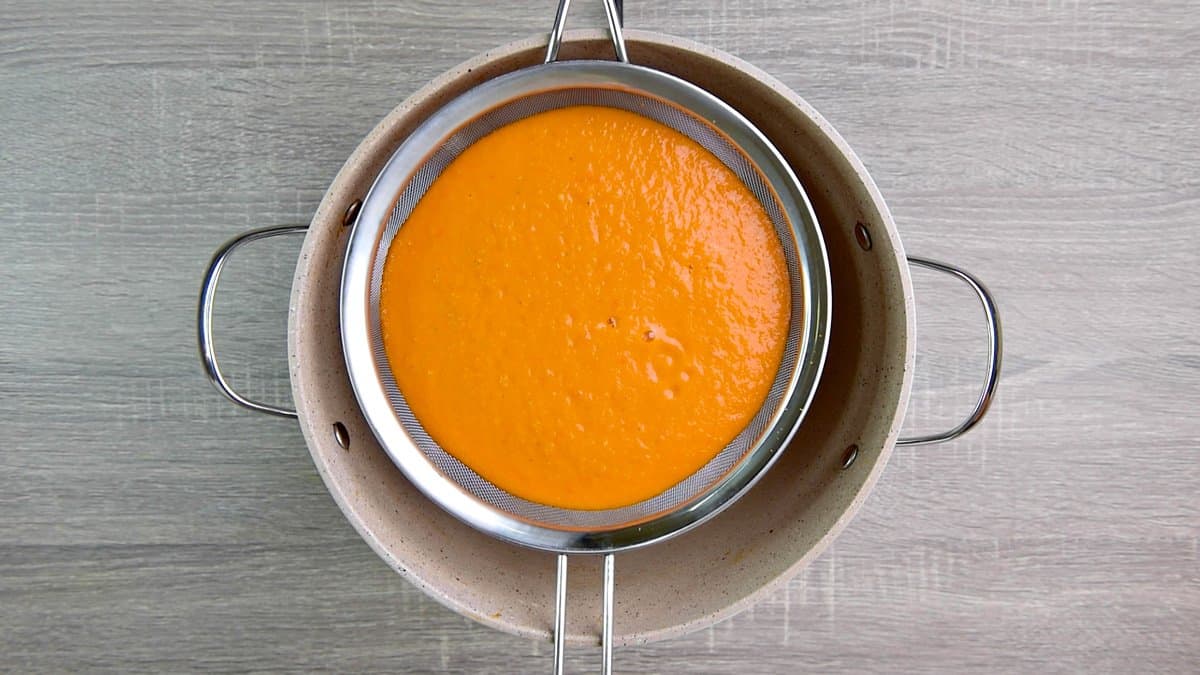 Be sure to mash the soup with a spoon while it is straining to get all of the tomato flavors.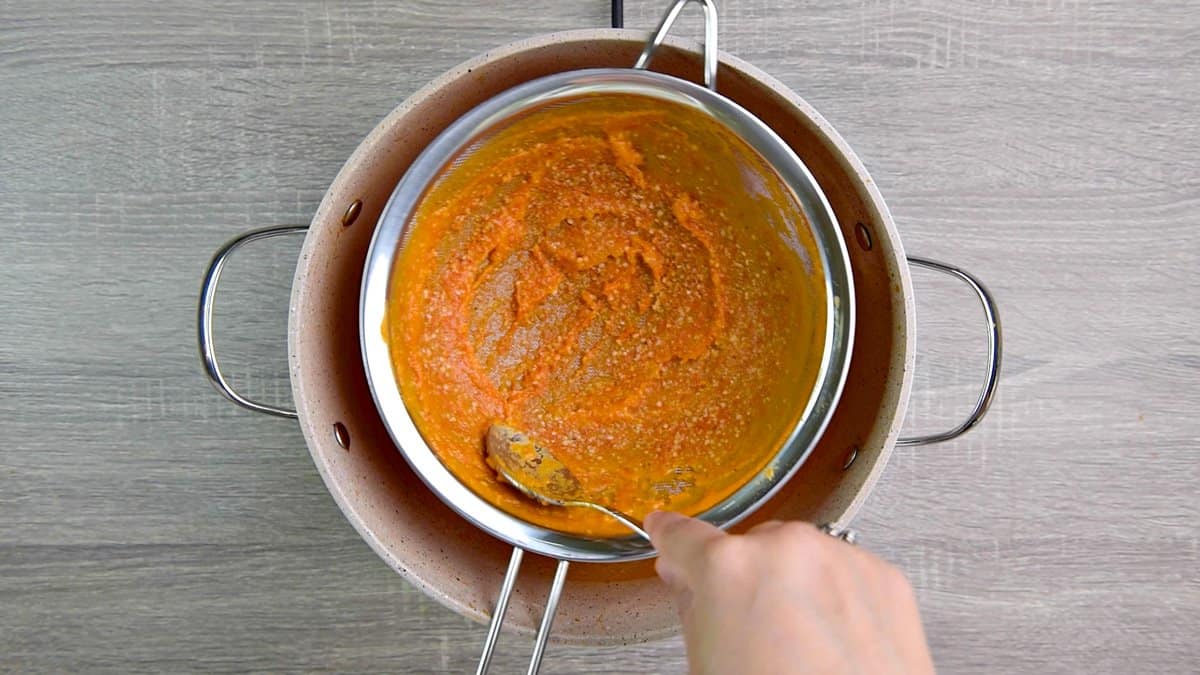 Add more salt and pepper if needed, then add the sugar to the soup. Mix with a spoon again and simmer on low heat so the soup becomes fully warm but not boiling.
Finally, turn off the heat, then pour the ladleful tomato soup into individual serving bowls, garnish the soup with cream, herbs, and croutons.
Enjoy!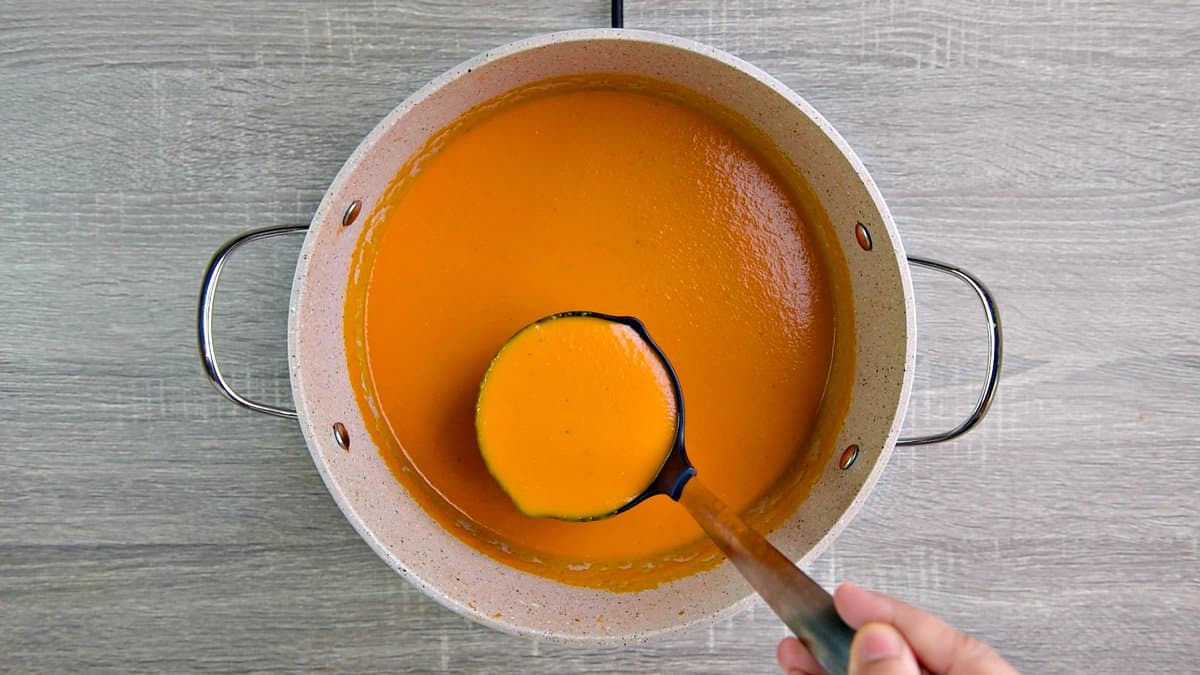 FAQs
Can I use only canned tomatoes instead of fresh tomatoes?
You can! If you do not have fresh tomatoes, then canned tomatoes are perfectly okay. I like to use ripened fresh tomatoes because they are rich in flavor.
Can I use beets in this soup recipe?
Beets can be used in this soup recipe and would provide more natural iron, fiber, and other micronutrients.
Is this soup gluten-free?
This tomato soup is gluten-free and perfectly wholesome without artificial ingredients!
Can I make this soup vegan?
To make a vegan soup, skip the butter and proceed with oil and dairy-free cream like unsweetened coconut cream.
Expert Tips
Ripe Tomatoes: Be sure to use very ripe red tomatoes for the best rich flavors. Unripe hard tomatoes are a big no as they have a sour taste and are without juicy textures.
Metal Pots: Do not use reactive metal like aluminum, copper, or cast iron pots to make this soup. Reactive metal pots make the soup acidic and bitter in flavor.
Broth: Chicken broth can be used instead of vegetable broth if you would like a richer flavor.
Blender: An immersion blender can easily be used in place of a high-speed blender.
Straining the soup: Strain the soup purée with a strainer if you would like a super creamy soup. However, you can skip this step if you would like a soup with little texture.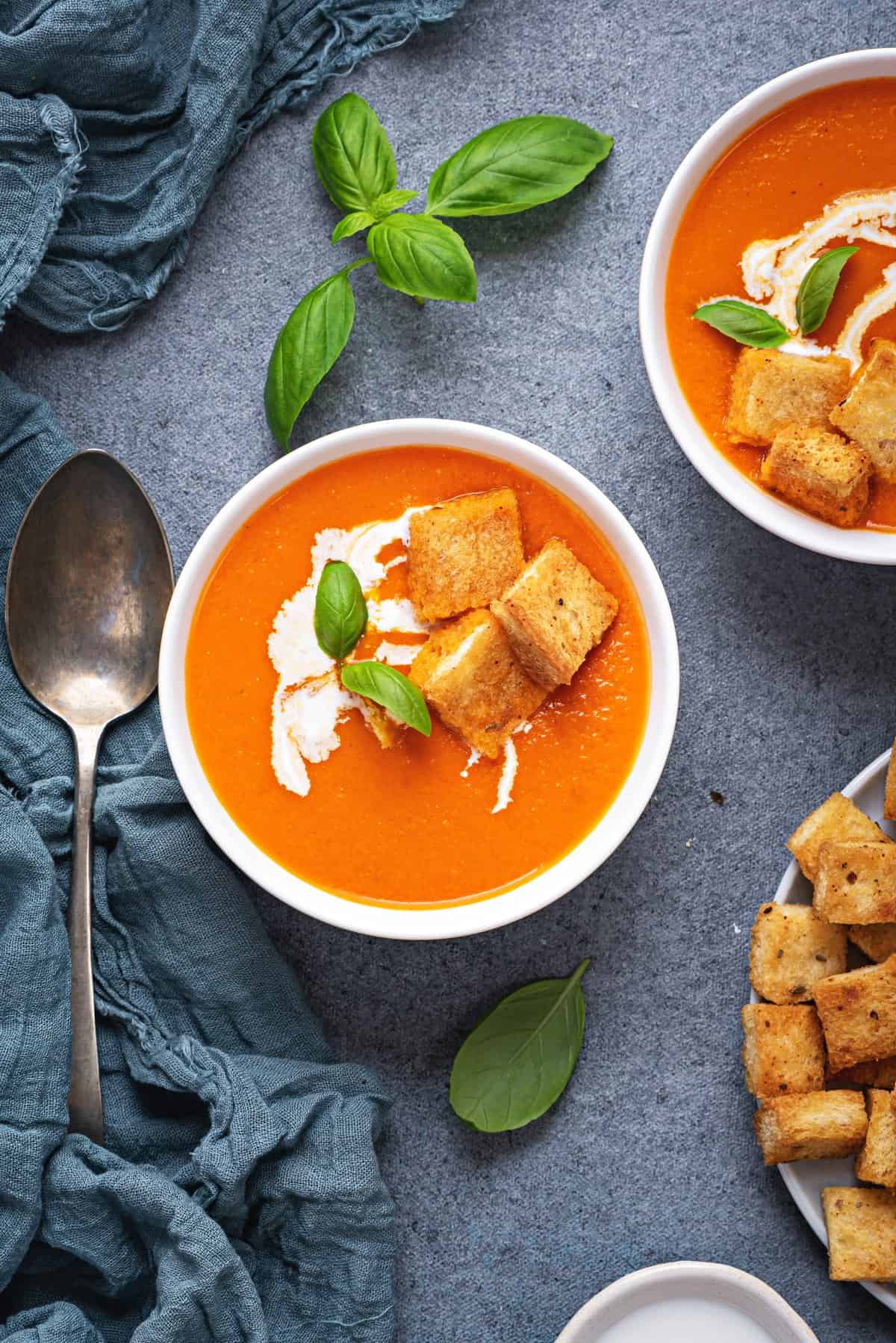 Serving ideas
Grilled cheese: A nice toasted grilled cheese or other sandwiches is fitting for this hot tomato soup. Use any kind of cheese that melts well like American, Fontina, Swiss, cheddar, white cheddar, etc.
Croutons: Homemade or storebought crispy croutons are perfect to serve with homemade soups. I like to use garlic croutons for this soup.
Toasted bread: Keep things simple and serve this soup with a piece of homemade toasted bread. Any kind of toasted bread will taste good with this soup like sourdough, whole grain, seeded breads, Italian breads, and more.
This soup is super delicious with these amazing serving options - Lavash crackers, Avocado Toast, sandwiches, buttery grissini sticks, Vegetable cheese fingers, Corn cheese balls or Chicken cheese balls, light bruschetta, veggies, salads, and more.
Storage Suggestions
To Refrigerate: The leftover soup will last in the refrigerator for up to four days. Be sure to store it in a clean airtight container for the best results.
To Freeze: This tomato soup can be frozen in the freezer in airtight containers or bags for three months.
More Homemade Soup Recipes for you
If you made this recipe for Tomato Soup that is honestly so easy to make and the best, then please be sure to rate and review this soup below!
If you'd like more deliciously easy recipe inspirations, follow me on Instagram, Pinterest, Facebook, or YouTube. You can also get all of my newest content delivered straight to your inbox by signing up for my email newsletter.
📖 Recipe
Print
Best Homemade Tomato Soup Recipe
This quick and easy tomato soup is the best and completely made from scratch with fresh ripened tomatoes, leafy green basil, vegetable stock, and more aromatic healthy ingredients. A good soup to serve for only two or the whole family for an easy dinner recipe!
Ingredients
2

tablespoons

Unsalted Butter

2

tablespoons

Olive Oil

1

medium

Yellow Onion

(finely chopped)

6

Garlic

(peeled and smashed)

1

large

Carrot

(sliced)

2

pounds

Ripe Tomatoes

Salt and Freshly Crushed Pepper to taste

1

(14 oz)

Canned Whole Peeled Tomatoes

2.5

cups

Vegetable Stock

(or chicken stock)

¾

teaspoon

Red Pepper Flakes

8-10

Fresh Basil

(plus for serving)

2

Bay Leaves

1

teaspoon

Sugar

Heavy Cream

(for serving - optional)

Croutons

(for serving - optional)
Instructions
Heat butter and olive oil in pot or dutch oven over medium heat. Add chopped onion, smashed garlic and cook for 2 minutes.

Add sliced carrots and cook for 2 minutes.

Now, add diced ripe tomatoes, salt, freshly crushed pepper and mix. Add can of whole peeled tomatoes with their juices and mix.

Add vegetable stock, red pepper flakes, fresh basil, stir. Add bay leaves, cover and simmer for 10 minutes on medium-low heat until the tomatoes softens. Stir occasionally.

Discard bay leaves. Allow it to rest for 3-4 minutes and then transfer the tomato mixture to a blender jar and blend until smooth puree. Note: you can use immersion blender here if your prefer chunky soup.

Now, pour the soup puree in a mesh strainer placed over the same pot to get lovely smooth consistency. Press the puree using spoon to strain the soup well so that only the seeds remain in the strainer.

Check for salt and add more if needed. Add sugar, mix and simmer on low heat for few minutes such that soup becomes hot and not boiling.

Turn off the heat, pour the ladleful soup in serving bowls, garnish with cream, fresh basil (or parsley) and serve hot with croutons, grilled cheese or crusty toasted bread on side.
Notes
Be sure to use very ripe red tomatoes for the best rich flavors. Unripe hard tomatoes are a big no as they have a sour taste and are without juicy textures.
Do not reactive metal like aluminum, copper, or cast iron pots to make this soup. Reactive metal pots make the soup acidic and bitter in flavor.
Chicken broth can be used instead of vegetable broth if you would like a richer flavor.
An immersion blender can easily be used in place of a high-speed blender.
Strain the soup for smooth and creamy textures.
This soup stays well up-to 4 days in the fridge and can be frozen into freezer for 3 months
Nutrition
Calories:
138
kcal
|
Carbohydrates:
14
g
|
Protein:
2
g
|
Fat:
9
g
|
Saturated Fat:
3
g
|
Polyunsaturated Fat:
1
g
|
Monounsaturated Fat:
4
g
|
Trans Fat:
1
g
|
Cholesterol:
10
mg
|
Sodium:
504
mg
|
Potassium:
563
mg
|
Fiber:
3
g
|
Sugar:
8
g
|
Vitamin A:
3698
IU
|
Vitamin C:
30
mg
|
Calcium:
52
mg
|
Iron:
1
mg