If you have yet to try the wonder that is Avocado Toast, I'm here to sing it's many praises. Creamy avocado mash is spread on crisp toasted sourdough and topped with whatever strikes you for a fast, healthy and filling breakfast or midday snack. If you're working towards eating more healthfully for the new year and breakfast has you in a rut, my simple avocado toast recipe has you covered.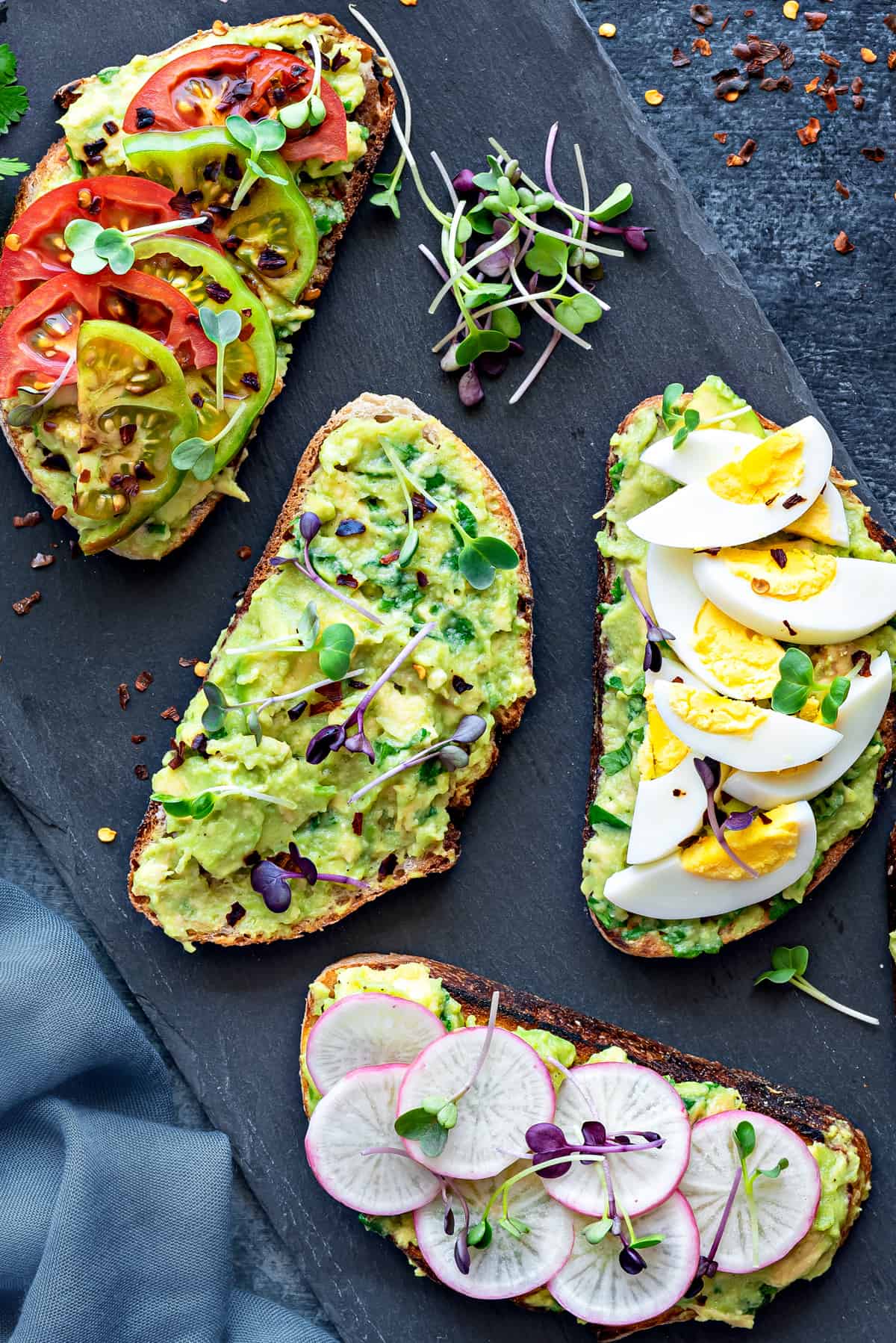 Jump to:
What makes this recipe so good?
Avocado toast, oh how I love thee. Let me count the ways...
It is stunningly beautiful (dare I say Instagrammable?!?) to look at and is filled with vitamins, minerals, fiber and healthy fats to keep you full until your next meal.
Making the avocado mash is as simple as mashing together avocado with lime juice, cilantro and chili flakes, which takes less time than it takes your bread to toast.
It is endlessly adaptable to whatever you have on hand, meaning there are endless variations so you never get bored. You can go as simple as flaky sea salt and a drizzle of olive oil, or as fancy as adding smoked salmon and caviar. The options are nearly infinite!
It can be eaten for breakfast, brunch, lunch or just as a snack.
It is vegan (depending on your toppings), flavorful and downright yummy.
Seriously, people. If you haven't tried mashing some avocado up on your favorite toast, you are missing out big time. Go make yourself one now!
How to Make Avocado Toast
While you certainly have the option of simply slicing your avocado and placing it on your toast, I stand firmly in Camp Mashed Avocado for my recipe.
Just think about it for a moment... Would you rather eat a bite of plain avocado, or a big spoonful of flavorful guacamole? That's what I thought.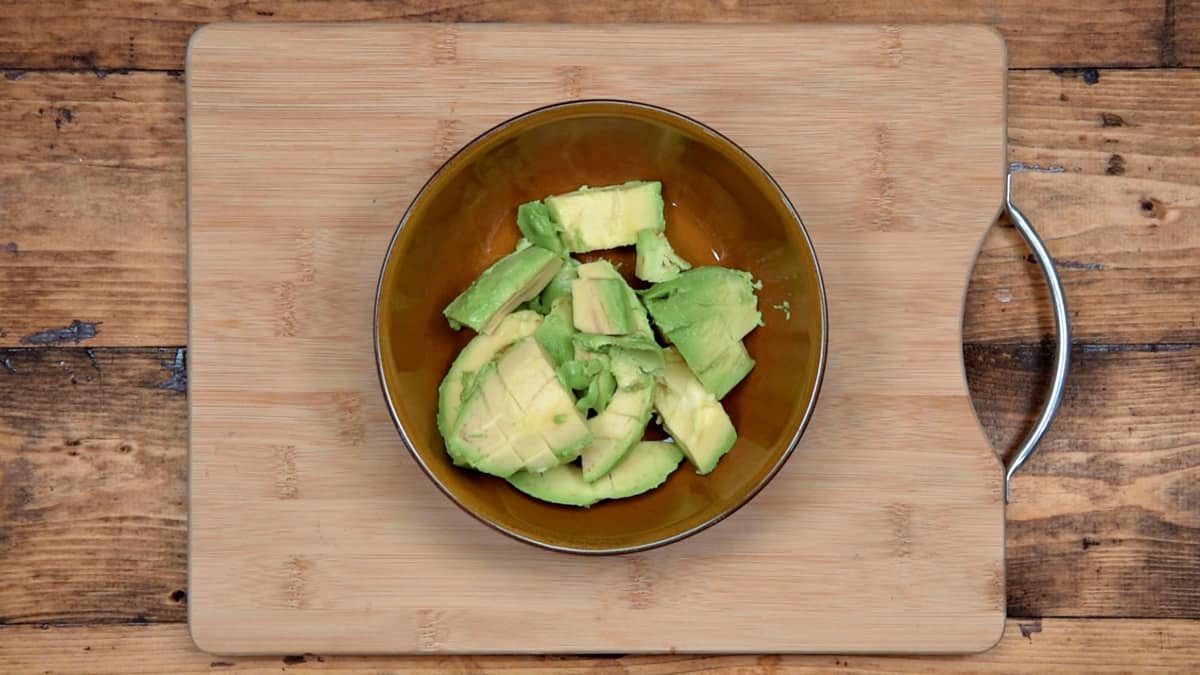 First up, don't make the mistake of attempting to mash your avocado directly on top of the toast. Make the small extra effort of dirtying a single dish and prevent your bread from getting smashed down and gummy.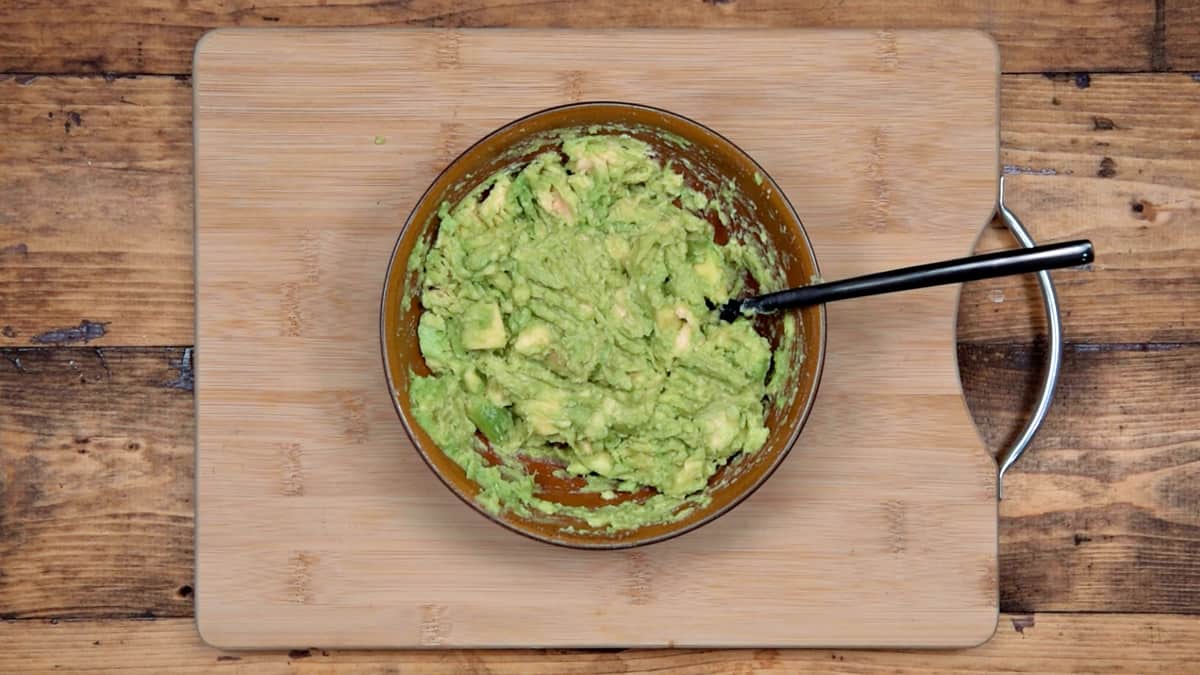 Using a simple dinner fork, mash the avocado until some large chunks remain. That textural contrast will serve your final result very well.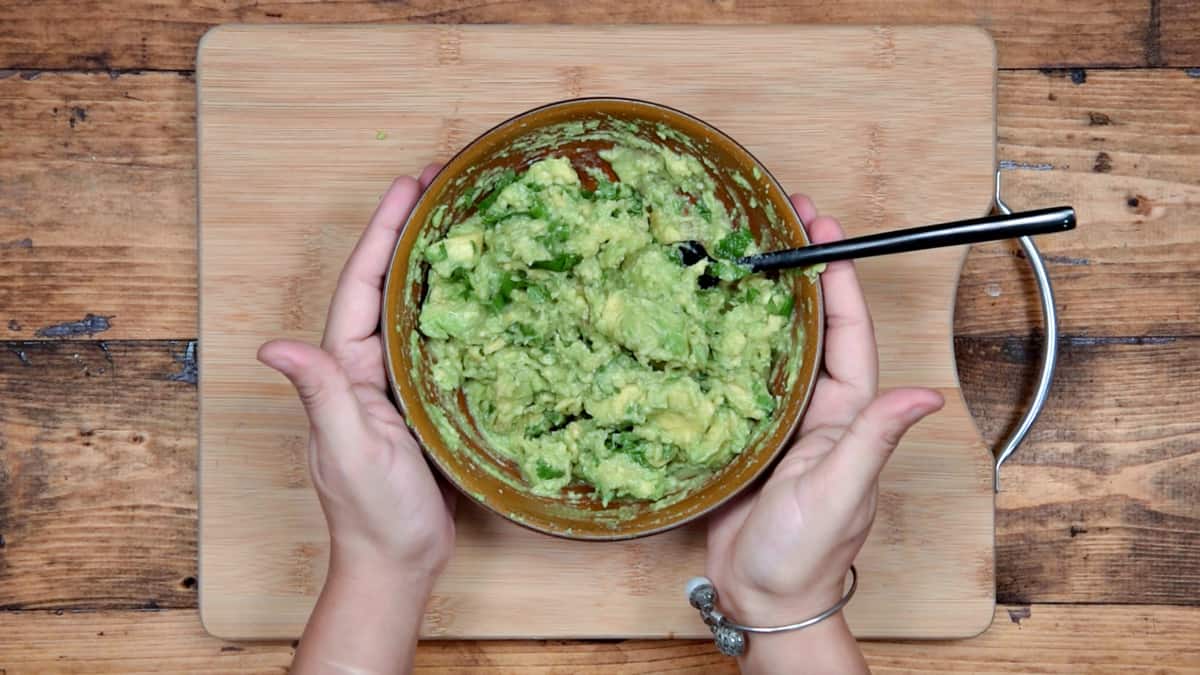 Now, add in your flavorings. My personal favorite combo - which is simple to remember - is just lime, cilantro and chili flakes. Stir everything together, then taste and adjust seasonings as necessary.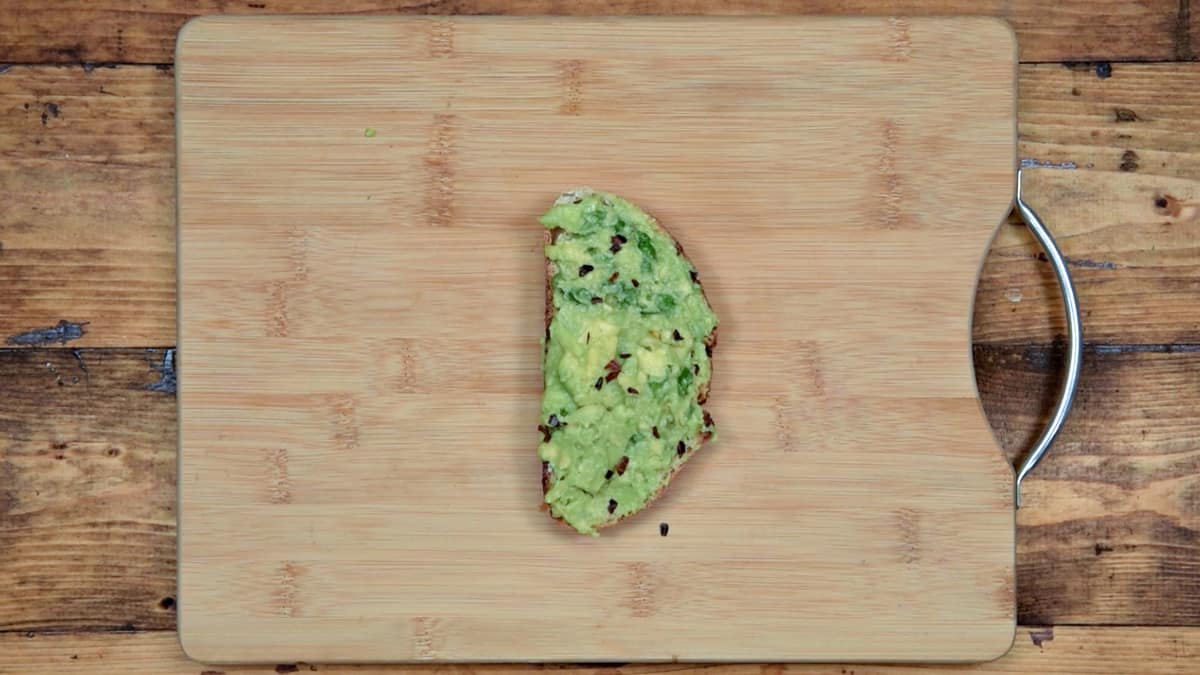 Spread a generous layer of the avocado mash over your perfectly toasted sourdough. Either top with anything that sounds yummy, or dig right in!
Frequently Asked Questions + Expert Tips
How do I select the best avocado for this recipe?
In my opinion, Haas variety avocados are the best option available.

When picking avocados, they should be somewhat firm but still give under pressure from your thumb. They should not feel mushy, and you shouldn't feel a gap between the skin and the fruit.

If you'd like a deeper guide to help you choose the perfect avocado, check out this instructive article.
Is avocado toast healthy?
By many counts of the definition, yes. The nutritional content will obviously change depending on your topping choices, but avocado and sourdough or whole grain toasts are generally considered healthy.
Which is the best bread for avocado on toast?
Hearty breads that tend to have a harder crust such as whole grain, sourdough, Italian or French breads are better vehicles for standing up to the heft of toppings.
Softer breads like brioche or challah will offer less textural contrast and will likely require (rather than request) a fork and knife to eat.
Can I make avocado toast that is gluten free and keto friendly?
Yes! Nowadays, there are lots of gluten free options out there for bread. Feel free to substitute any brand that you like.

For keto breads, I have started to see a few on the market, but they are still somewhat fewer and further between. Your best bet, if you can't find store bought keto bread, is to make your own cloud bread.

Stick to toppings that are keto friendly like smoked salmon, eggs, and cheese.
Variations and Topping Ideas
I'm here to tell you, there is no ONE right way to make an avocado toast. Feel free to play fast and loose with the ingredients, using this recipe as more of a basic template.
In terms of bread, you can opt for whatever your favorite is. I personally love the sharp, tart flavor of sourdough, plus I appreciate its health benefits, but don't feel limited to just one flavor! Some other delicious options include: Multigrain, Rye, Italian, or English Muffins.
If you want to add a bit of extra protein - which health experts agree can keep you feeling fuller for longer - feel free to consider the following:
Legumes - chickpeas (or hummus!), edamame, peas or beans
Eggs - boiled, fried, poached or scrambled
Beef or turkey bacon
Fish - smoked salmon, smoked trout, tuna salad
If you want to play with flavors, consider adding:
Spicy things - jalapeño (fresh or pickled), giardineira, chipotles in adobo
Crunchy things - radish slices, pickles, green beans, red onions, pico de gallo, pomegranate arils, nuts and seeds (like toasted pepitas, or sesame seeds)
More veggies - marinated or roasted tomatoes or (with balsamic and mozzarella?!?), microgreens, marinated artichoke hearts, roasted peppers and red onions
Cheese - feta, cotija, goat, queso fresco
Think of my avocado toast as your canvas and paint whatever creations tickle your fancy.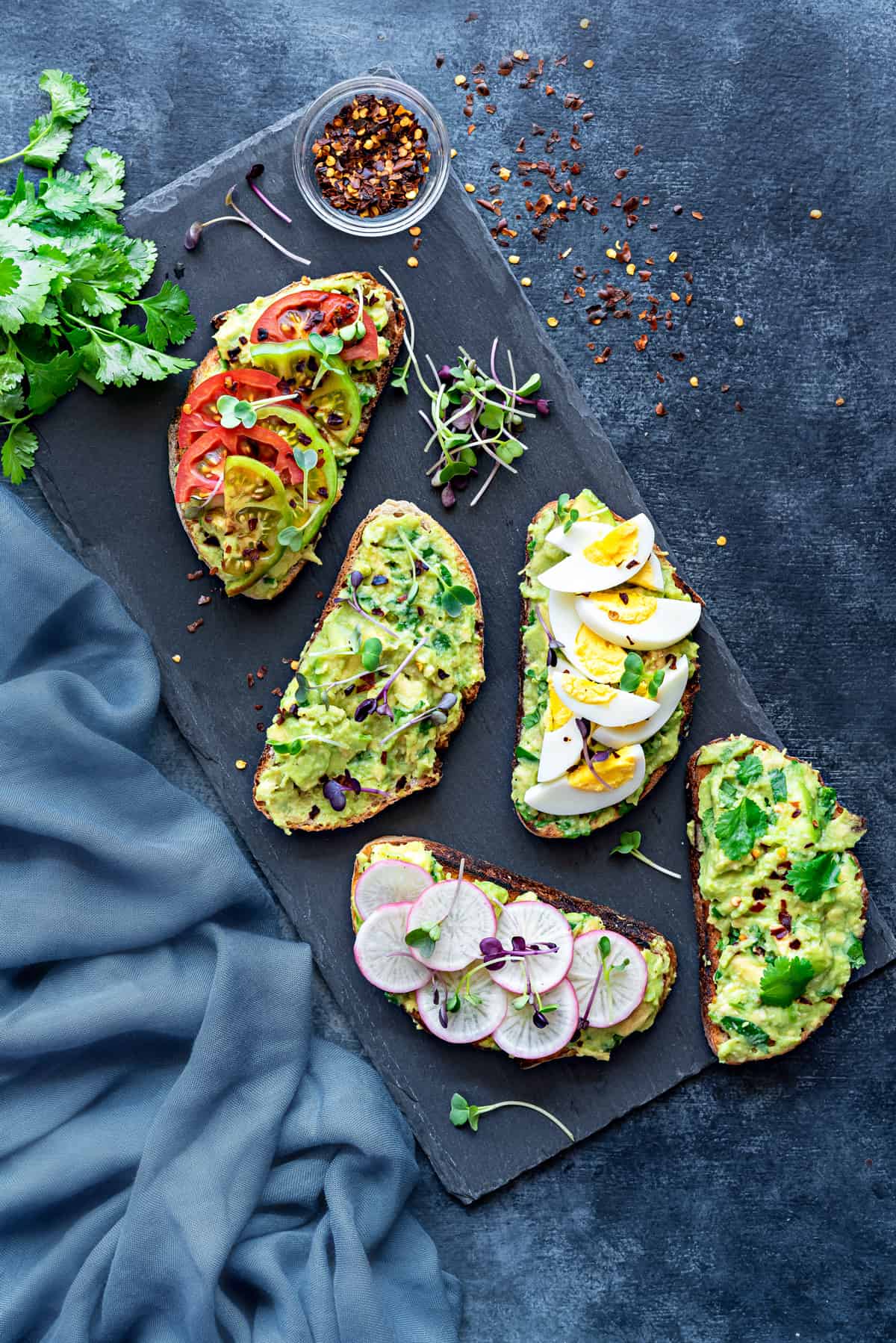 Avocado Toast Nutrition
Many people will ask what the calorie count is for avocado on toast, and honestly, it depends on several factors. First, it depends upon the bread you use. I have used sourdough bread that has around 185 calories in each 65 gram slice.
It also depends on the size of your avocado. One large Haas avocado has approx 325 calories. From there, it's all about your add on's.
Regardless of the calorie count, though, this meal at its basest form is a virtuous one. Avocados are high in protein, have more potassium than a banana and are loaded with vitamins and nutrients.
Sourdough and whole grain breads are also quite healthful, boasting fiber, vitamins and minerals.
Here's some more delicious breakfast ideas for you :
If you made my Avocado on Toast recipe, please let me know how it turned out for you! I'd love to hear through your comments and ratings below.
If you are looking for more delicious and easy recipes delivered straight to your inbox, you can sign up for my email newsletter. You can also follow me on Pinterest, Instagram or Facebook to see more of my kitchen creations.
📖 Recipe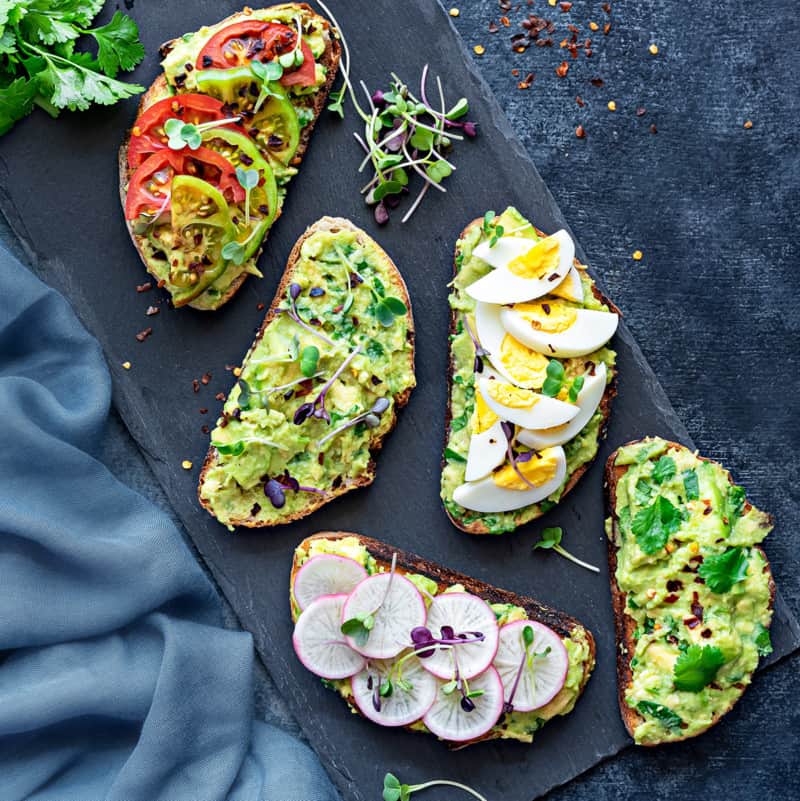 Print
Avocado Toast Recipe
My recipe for healthy and delicious avocado on toast is easy enough to memorize and takes just 5 minutes to get on a plate. With tonnes of topping ideas, make this simple and filling dish for breakfast, brunch, lunch or just a snack.
Ingredients
1

Ripe Avocado

2

slices

Sourdough Bread

Salt and Pepper to taste

1.5

teaspoon

Lime juice or Lemon Juice

1

tablespoon

Cilantro

(chopped)

Red Pepper Flakes
Instructions
To start with, toast the bread slices until golden and crisp.

Cut the avocado in half, remove the pit and use a spoon to scoop out the flesh into a bowl.

Lightly mash the avocado using fork.

Add salt, black pepper, lime juice, cilantro and mix to make chunky avocado mash.

Smear the toasted bread with the prepared mash and sprinkle chili flakes. Serve immediately.
Notes
Nutrition is calculated for each toast without any topping.
Add your favorite toppings to this toast and jazz up your breakfast table. The topping ideas have been listed above in the post.
Nutrition
Calories:
346
kcal
|
Carbohydrates:
45
g
|
Protein:
10
g
|
Fat:
16
g
|
Saturated Fat:
2
g
|
Sodium:
335
mg
|
Potassium:
569
mg
|
Fiber:
8
g
|
Sugar:
2
g
|
Vitamin A:
147
IU
|
Vitamin C:
10
mg
|
Calcium:
40
mg
|
Iron:
3
mg