My Brioche French Toast is a family favorite. Flavored with cinnamon and vanilla then pan fried in butter, this easy and classic French toast recipe is perfect for a lazy weekend breakfast any time of year.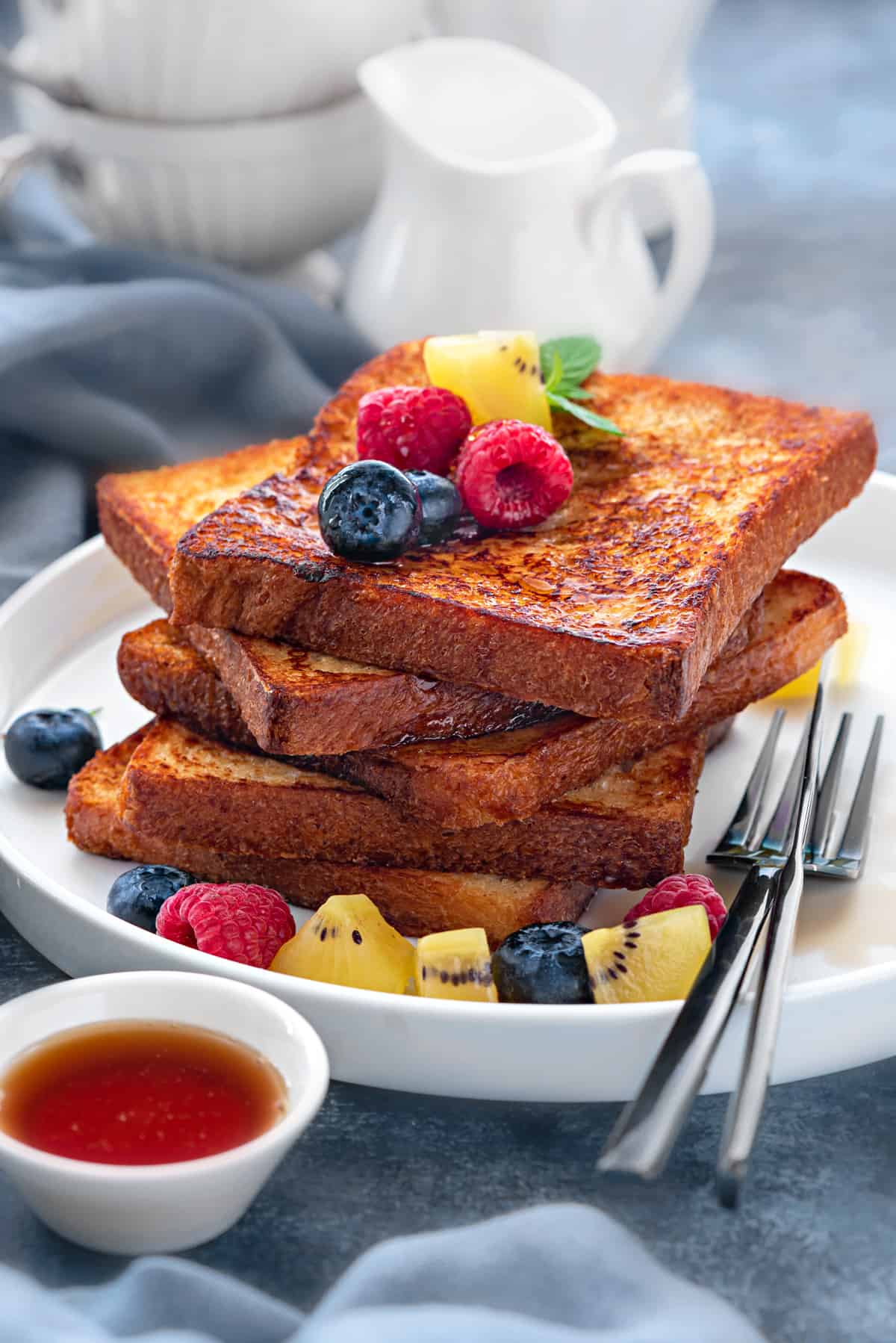 Jump to:
Why you will love this Recipe
There is something magical about classic French Toast. Perfectly fluffy on the inside and crispy golden on the outside, this is a breakfast recipe the whole family can get behind.
If you haven't yet tried making homemade French Toast from scratch, now is the time to try. My recipe uses brioche, an enriched French bread that has a tender crumb and soft crust meant for soaking in custard and frying to perfection.
I also love how simple this recipe for brioche French Toast is. Requiring just a handful of simple ingredients, it is one of the thriftiest high-end breakfast dishes I can think of!
While this recipe is decadent enough for a holiday gathering, it requires just two (!!!) dishes - one for mixing the custard and dipping the bread, and one pan for frying.
That means that while your family will feel like they're dining in a top-notch restaurant, you will have very little clean up to do when they're done. Indeed, this recipe is ideal for the whole family to enjoy a lazy weekend morning together.
As an added bonus, my French Toast has a decent amount of protein - 9 grams per serving. This will help to keep tummies feeling full well into the day.
Ingredients and Substitutions
Bread : For the absolute best French Toast, I always turn to brioche. It is lightly sweetened with honey, making it ideal for this application.
Brioche is part of the enriched bread family, meaning it is made with eggs and fat. This results in a shorter gluten chain, meaning the crumb is more tender and fine.
If you are unable to find brioche, I recommend sticking to other enriched breads. Challah, white bread slices or even hot dog/hamburger buns all fit into this category.
You can also opt to use sweetened breads like cinnamon swirl or raisin bread for a bit of extra flavor and texture.
Milk : In terms of milk, you can opt to go richer by subbing in half n half or heavy cream.
You can also opt for dairy free options if you are allergic to lactose. Just be aware that your bread *may* have been made with butter and/or milk, so proceed with caution.
Oat milk and coconut milk both have a natural sweetness that lend themselves to custard, but any alternative milk should work.
Flavorings : I opted for a very traditional flavor profile for my brioche French Toast recipe, using just vanilla extract and cinnamon. You can certainly fiddle with the seasonings to fit your preference. The sky is honestly the limit!
Nutmeg or cardamom would add a lovely bit of warmth. Almond extract gives the custard a flavor more akin to marzipan.
Some citrus zest would add a nice brightness that would play well with fruit compotes. Feel free to play!
How to make Perfect French Toast
The first step to making French Toast is making a custard mixture. While this might sound complicated, I promise it isn't! A custard is simply eggs and milk that have been whisked together with seasonings.
TIP: To cut down on the number of dishes, I recommend choosing a mixing bowl that you will easily be able to fit your bread slices into for soaking.
Since French Toast is a sweet dish, we will add some sugar, cinnamon and vanilla to the mix. Once you add all of the ingredients for the custard to the bowl, whisk vigorously for 2-3 minutes to really incorporate all ingredients and to aerate the mixture.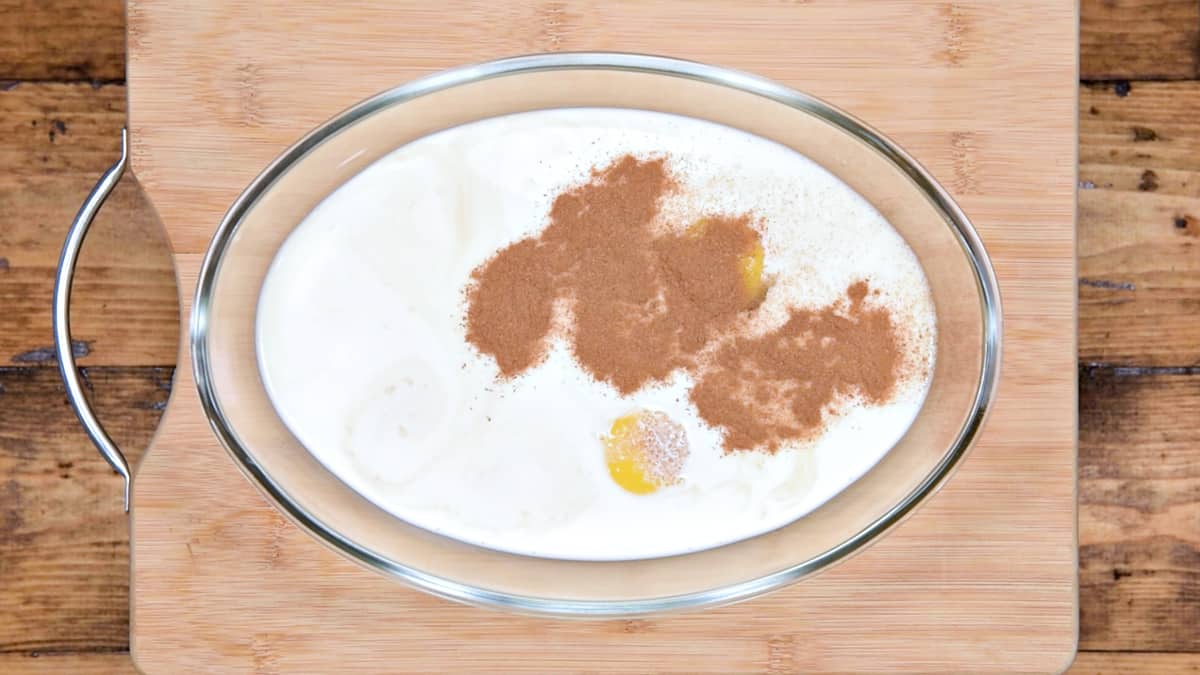 Now that the custard base is made, it's time to get frying! Set your sauté pan up over medium heat and add a bit of butter to melt.
TIP: Wait for the butter to melt and begin to bubble before testing the pan. To know when the pan is ready for your toast, dribble a tiny bit of the custard mix into the pan with a fork. It should begin to cook immediately when it hits the pan.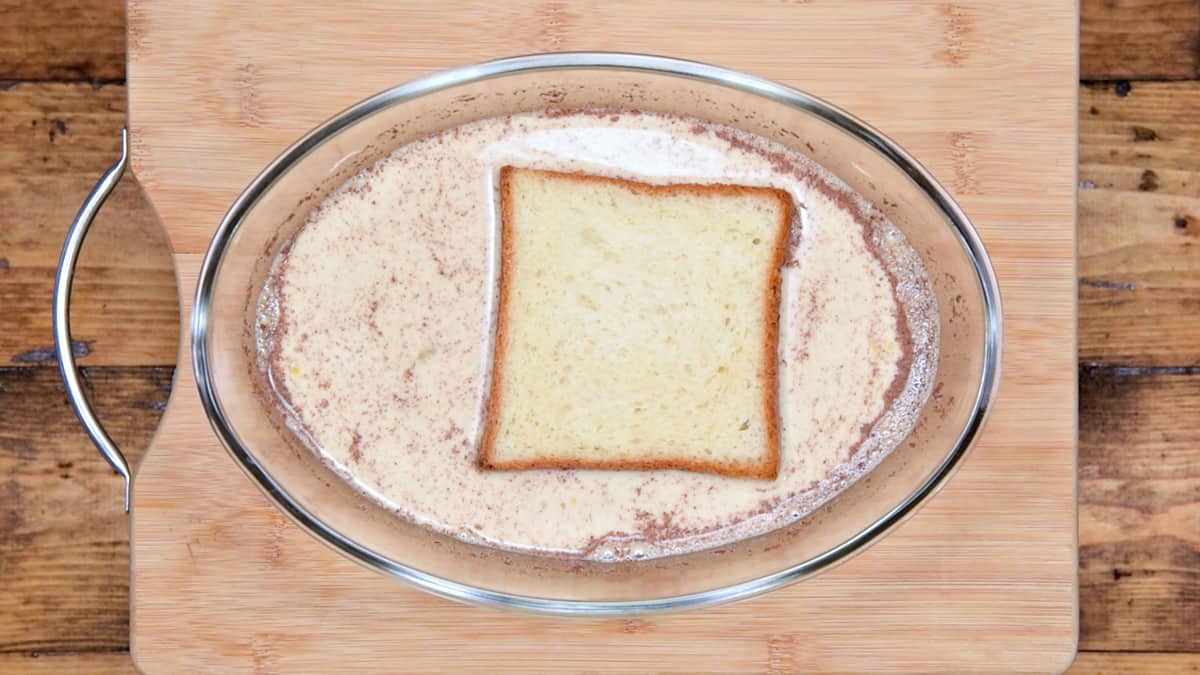 Once the pan is ready for your first slice, it is time to dip the bread into the custard mixture. It is important that you work quickly here, or the bread will begin to disintegrate.
Dip your first slice in, let it soak for about 2 seconds, then flip. Soak for another two seconds, then remove it from the custard mix, allowing any excess batter to drip back into the mix.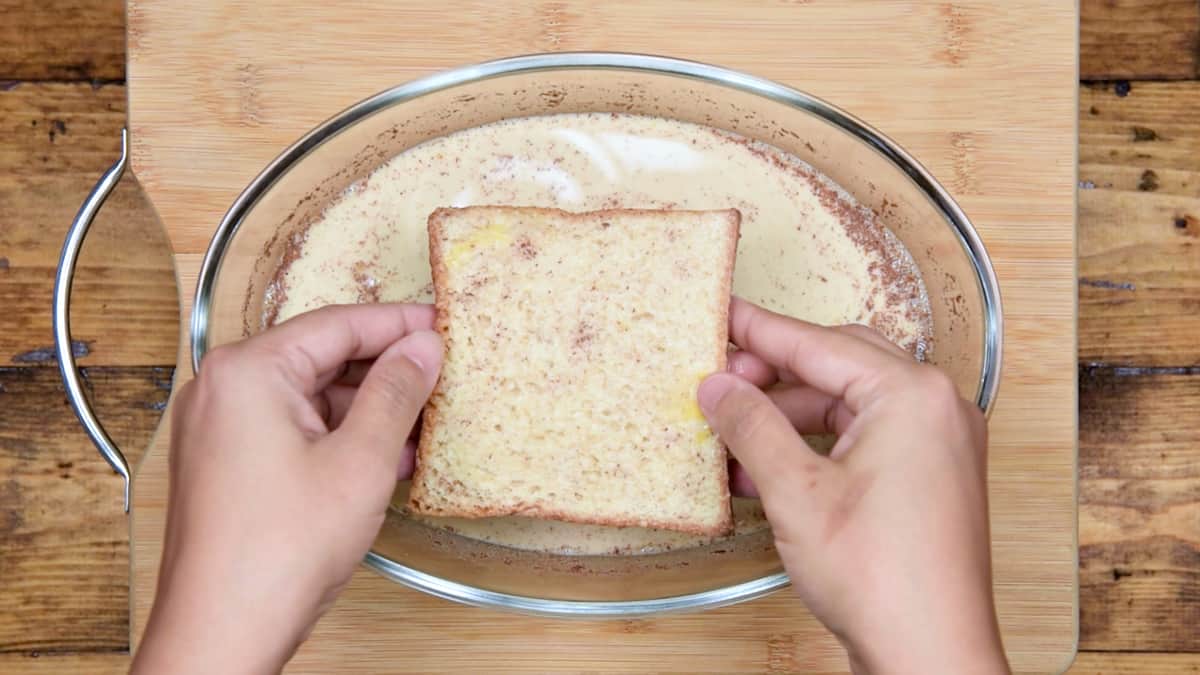 Place the soaked bread slice into the prepared skillet. Leave it untouched for 2-3 minutes before flipping. You want it to be golden brown and lightly crispy on all sides.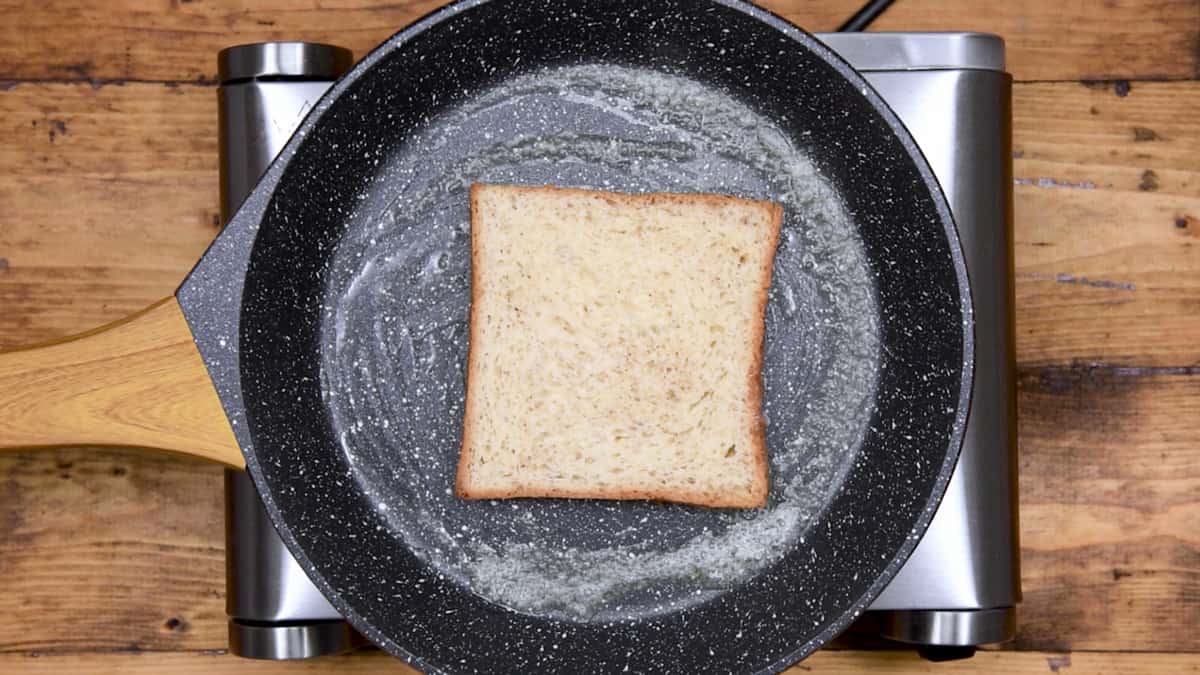 When the toast has been flipped, it should take another 2-3 minutes to cook fully on the other side.
TIP: You should double check that the custard mixture has cooked through before removing the slice from the pan. Using your spatula, lightly press down on the slice. If any custard seeps out, it still needs time to cook.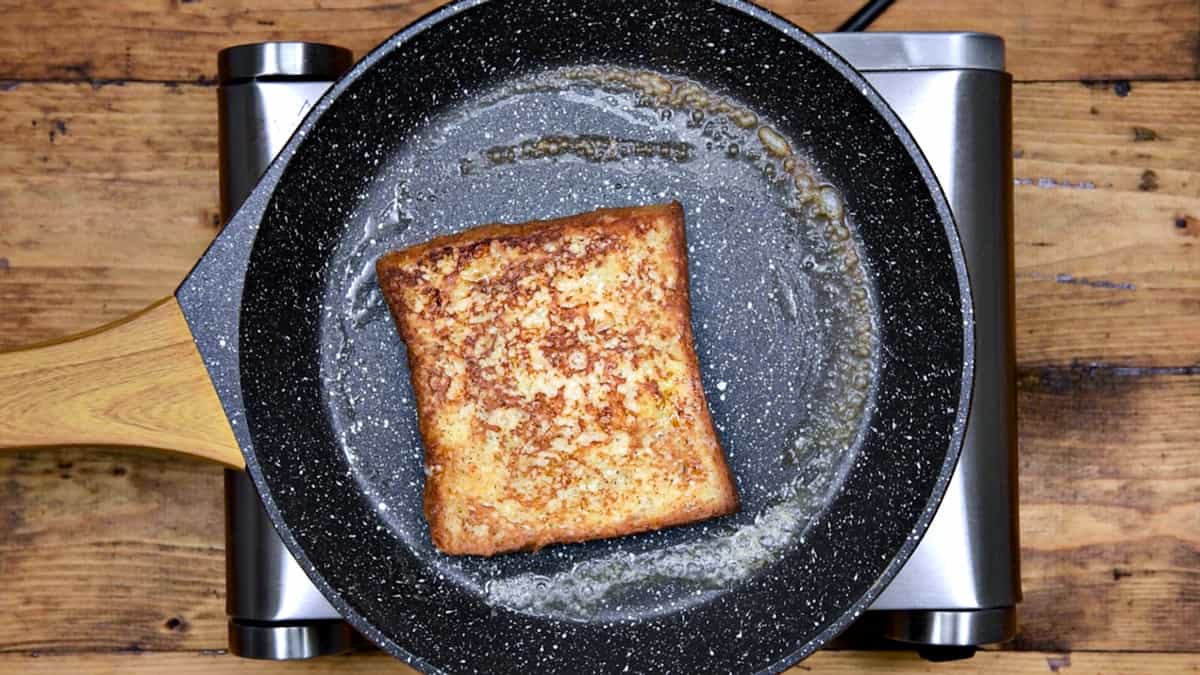 Once the toast slice is cooked through, remove it from the pan. I like to keep mine on a sheet pan in the oven set to 200F until all the slices are cooked. That way, the whole family can eat together!
Expert Tips
Bread : When making this brioche French Toast, remember that stale bread is best for the job. While this might seem counterintuitive, stale bread will soak up more of the custard mixture without falling apart. In fact, the French call this recipe pain perdu, which literally translates to "forgotten bread!"
Egg Mixture : It is also quite important to whisk the egg mixture well. This will help to both distribute the spices as well as fully incorporate the yolk and whites.
Heat : Be sure to venture no higher than a medium heat. The custard mixture is quite delicate, and you don't want to scorch the bread or the eggs.
You can test the pan for readiness by dropping a drip or two of custard mixture into the pan - it should immediately begin to cook through and become opaque. When the pan is ready, only cook for 2-3 minutes on each side.
Over crowding the pan : Finally, don't try to overload the pan. Depending on the size of your skillet and the size of the brioche, you may be able to fit up to two slices at a time.
Each slice should get its own time to bask in the warmth of the pan, and crowding the pan will result in uneven heat distribution and soggy slices.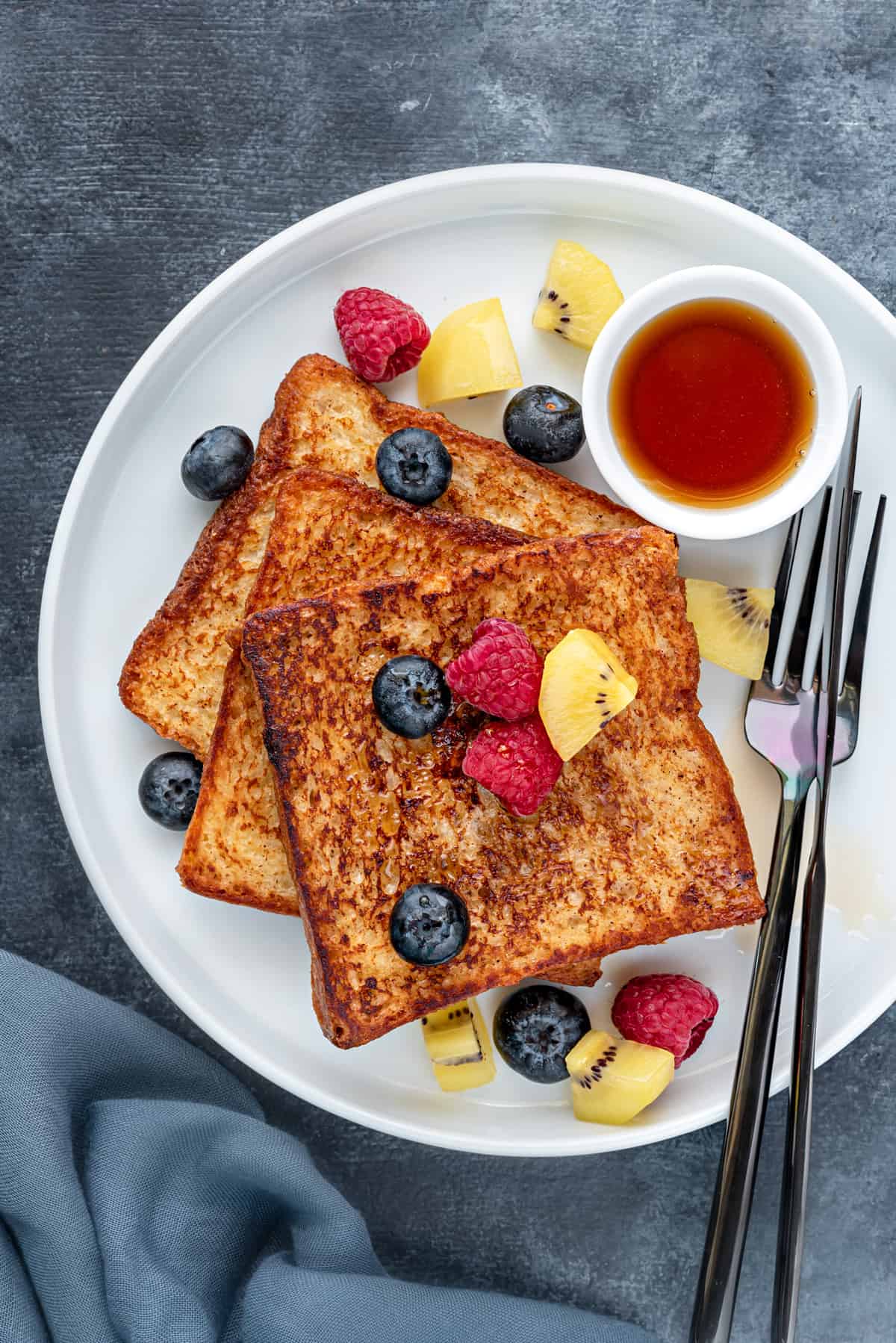 FAQs, Storing and Freezing
Which is the best bread to make French Toast?
In my humble opinion, brioche bread is superlative. That said, any enriched (meaning soft crusted and tender crumbed) bread will do the trick.
Can I bake it in the oven?
Classic French Toast is usually fried in a pan with some butter.
If I'm just feeding my immediate family, I keep a plate or sheet pan in the oven set to 200F. After each slice is fried, I put it on the sheet pan to keep warm until the entire batch is ready to serve.
However, if you are serving a crowd, baking the French Toast might be a better option for you.
Pre heat the oven at 350 F. Place the dipped brioche on to the baking sheet in even layer and bake for 10 minutes. Then, flip and bake it further for another 5-6 minutes.
How should I store the leftovers?
This recipe is so delicious that I doubt you'll have any! That said, you can save cooked French Toast in the refrigerator for up to three days.

You can also opt to freeze it by using pieces of parchment to separate the slices. When you're ready for a slice, simply pop it in the toaster oven or microwave to warm it through!
Can I freeze the French toast?
Absolutely! Once the toast has been pan fried, allow it to cool to room temperature.
Separate the slices (to prevent sticking once frozen) using pieces of wax paper or parchment. Place in a freezer bag, removing as much air as possible.
It will last for up to a month in the freezer.
Serving Ideas (topping options)
Brioche French Toast is as amenable to toppings as waffles. The "classic" French Toast should get a hefty drizzle of maple syrup, but there are so many more options. Feel free to get crazy with it!
Here are some ideas to mix and match:
Lightly sweetened cream cheese, mascarpone or whipped cream
Browned butter
Whipped, sweetened compound butter (e.g. strawberry, cinnamon)
Fresh berries or banana slices
Fruit curd, compote, jelly or jam
Nutella, peanut butter, other nut butters or even cookie butter
Maple syrup, golden syrup or honey
Powdered sugar or cinnamon sugar
Toasted coconut or toasted nuts (e.g. pecans, walnuts, pistachios, cashews)
TIP: If you are serving French Toast to a crowd, you can set up a bar of assorted toppings and condiments so everyone can make their own delicious breakfast plate!
More delicious breakfast/brunch recipes
If you made my Brioche French Toast recipe, please let me know how it turned out for you! I'd love to hear through your comments and ratings below.
If you are looking for more delicious and easy recipes delivered straight to your inbox, you can sign up for my email newsletter.
You can also follow me on Pinterest, Instagram or Facebook to see more of my kitchen creations.
📖 Recipe
Print
Classic Brioche French Toast Recipe
A simple breakfast using humble ingredients, this deliciously inexpensive recipe is fancy enough for company.
Ingredients
⅔

cup

Milk

2

Large Eggs

1

teaspoon

Vanilla Extract

1.5

tablespoons

Sugar

1

teaspoon

Ground Cinnamon

8

slices

Brioche Bread, Challah Bread or White Bread

2-3

tablespoons

Butter

Maple syrup, Honey or Jam and Fruits or Berries to serve
Instructions
In a shallow dish, add milk, eggs, vanilla extract, sugar and ground cinnamon, whisk very well.

Pre heat a non stick skillet over medium heat and grease it with little butter.

Now you need to work quickly here. Dip bread slice into the egg mixture and let it soak for 2-3 seconds, flip and dip the other side and soak for another 2 seconds.

Immediately place the dipped bread onto skillet and cook on medium heat for about 2-3 minutes on each side until golden brown. Transfer to serving plates.

Grease the skillet with butter each time and repeat the same for remaining brioche slices.

Serve hot with fresh berries or fruits, and lots of maple syrup or honey. You can also sprinkle some powdered sugar over the toast and serve.
Notes
Brioche is the preferred bread for this recipe, but any other enriched white bread will do. Feel free to use challah, dinner rolls, sliced white bread or even leftover buns.
Works best with stale bread. That's why the French call this dish pain perdu!
Feel free to freeze leftovers by separating slices with parchment and sealing in a freezer bag. Reheat slices in the toaster oven or microwave for breakfast on demand!
Nutrition
Calories:
273
kcal
|
Carbohydrates:
32
g
|
Protein:
9
g
|
Fat:
12
g
|
Saturated Fat:
6
g
|
Cholesterol:
105
mg
|
Sodium:
357
mg
|
Potassium:
142
mg
|
Fiber:
2
g
|
Sugar:
9
g
|
Vitamin A:
403
IU
|
Calcium:
193
mg
|
Iron:
2
mg