With just 6 ingredients and a few minutes of prep, you can have fresh Mexican-style Pico de Gallo ready for dipping. This easy to make chunky salsa is the perfect way to celebrate ripe summer tomatoes. Eat it with chips or serve it over your favorite Mexican dishes for a bright punch of flavor!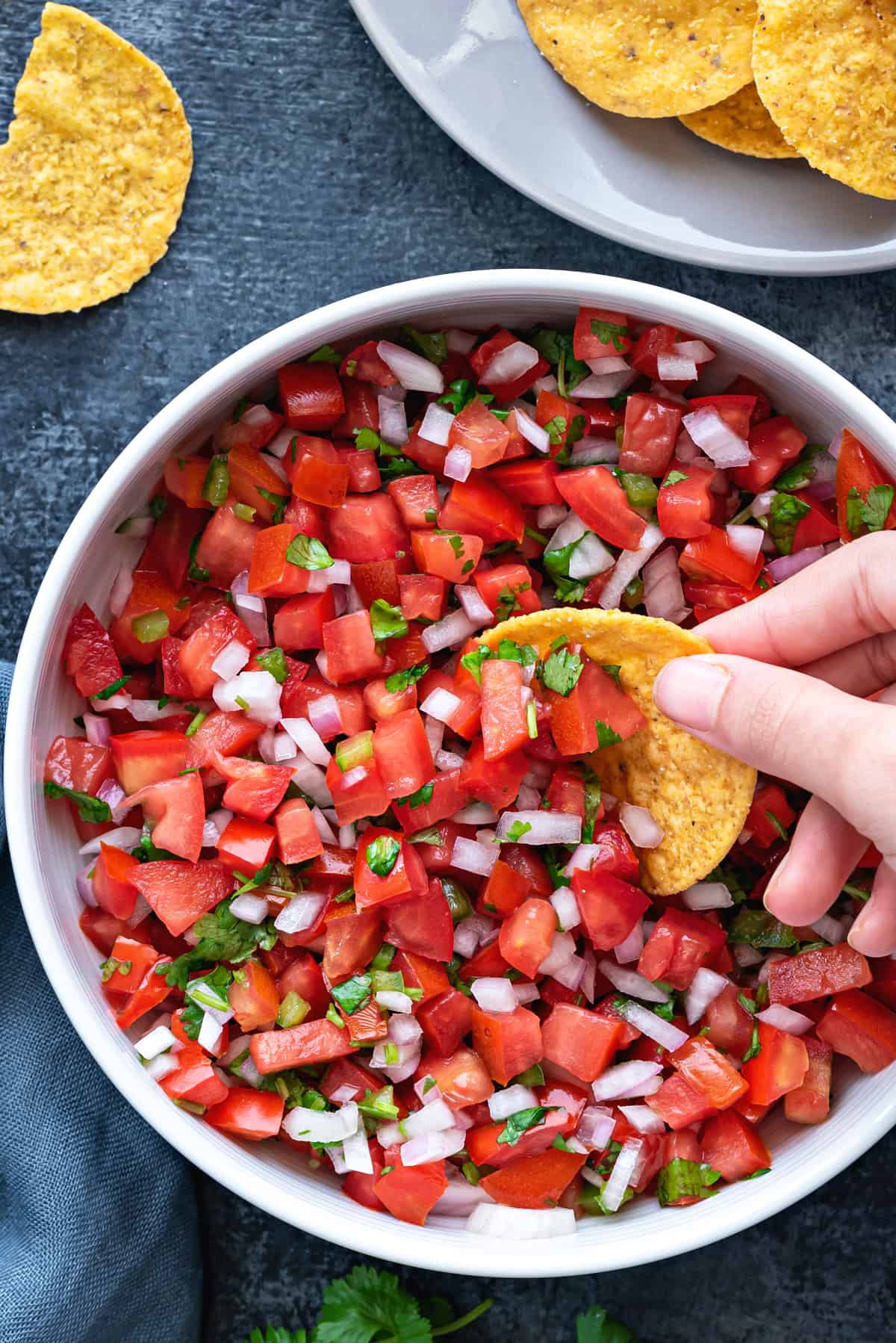 Jump to:
What is Pico de Gallo?
Pico de Gallo (pronounced "PEE-koh day GUY-yo") is a traditional Mexican salsa fresca made with just ripe tomatoes, red onions, cilantro, serrano peppers/jalapeño, lime juice and salt. Always chopped rather than mashed or blended, this beloved condiment is a true celebration of peak summer tomatoes.
Literally translated, it mean's "rooster's beak." The etymology of this fresh salsa's name is debated: some believe that the name comes from the shape of serrano peppers (the traditional pepper for this recipe), while others believe that it has to do with the texture of the salsa resembling bird feed.
Whatever the true origin of the name, one thing is certain - pico de gallo is a thing of beauty. Bright, sweet tomatoes meet tangy lime juice, herbaceous cilantro and piquant peppers and onions for a mild raw salsa that is equally good with tortilla chips or spooned over your favorite Mexican entrée.
Why you should try this Tomato Salsa?
As a member of the salsa fresca family, this tomato salsa is super fresh. The veggies are uncooked, letting their true flavors shine through magnificently. As a result, pico de gallo should only be made with perfectly ripe summer tomatoes.
Whether you use it as a dip or condiment, this healthy, vegan and low-calorie salsa (just like my Homemade Salsa) happens to be gluten free.
It is also incredibly easy to put together, with just a handful of ingredients required.
Since it is quite mild, it is also great for even kid palates. In my opinion, it is the ultimate salsa for potlucks.
Unlike other salsas that are cooked and puréed, pico maintains tiny chunks of vegetables that makes it particularly delightful on tacos and burritos.
I love the texture that it gives to anything it touches! Since it is less watery than other salsas, it is also one of my favorites for piling high onto chips.
As much a salad as a salsa, I have definitely been known to crush an entire bowl of this yummy dip and call it dinner. I simply can't get enough of the fresh, bright taste and I have a feeling you'll feel the same. So let's get to it, shall we?
Ingredients + Notes
One of the best parts about this recipe is how short the ingredient list is. All you need are 6 ingredients (one of which is salt!). Here's everything on your shopping list: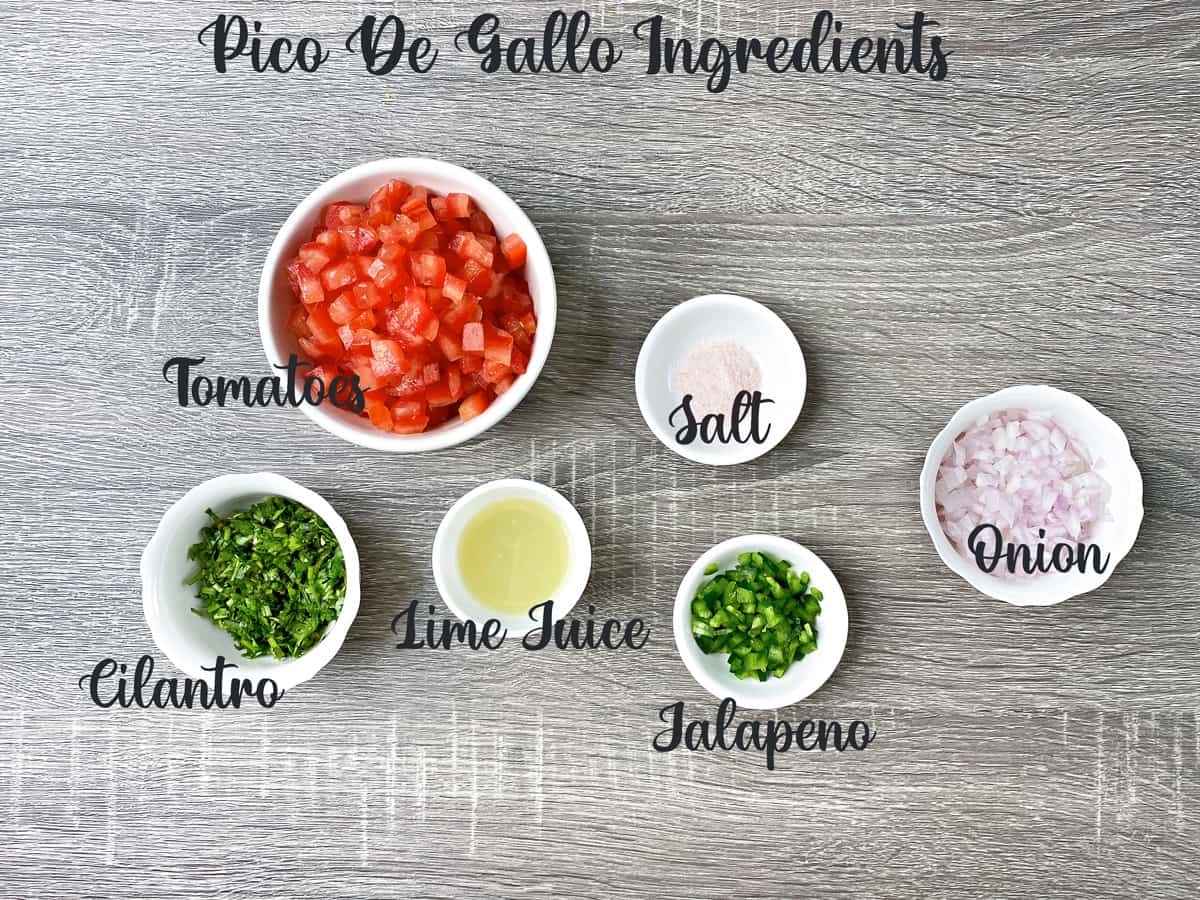 Tomatoes - as the primary ingredient of this salsa cruda, it is very important to get fresh, ripe tomatoes. In other words, don't bother making this in the midst of winter. The tomatoes should be fragrant, potent and dripping with the flavors of summer.
Cilantro - a traditional component of many Mexican salsas, cilantro is an essential part of this recipe. Don't toss those stems, either! They add even more flavor and a bit of crunch. Just be sure to chop them finely before adding to the mix.
Onion - I love the flavor and vibrancy of red onions in this recipe. If you prefer, you can swap in yellow onions instead. I don't recommend using white onions, as their pungency can overtake the other flavors.
Jalapeño - in a traditional pico de gallo salsa, you would actually use serrano peppers. I opted for jalapeños because they are easier to find where I live. Feel free to use either. If you are sensitive to spicy foods, I recommend removing the seeds and white membranes before chopping - this is where the majority of the "heat" lives.
Lime Juice - do yourself a favor and get real, fresh limes. The bottled stuff just can't hold a candle to fresh! To get the most juice from your citrus, give it a firm roll on the countertop for about 10-15 seconds prior to cutting.
Salt - it should go without saying, but just in case: don't forget to season your salsa! Salt can make or break any dish. I prefer to use Himalayan pink salt to get all those beautiful minerals, but you can easily swap in kosher salt instead.
How to Make Pico de Gallo
This recipe is about as simple as it gets. In a bowl, combine chopped tomatoes, onion, cilantro, jalapeño pepper, lime juice and salt.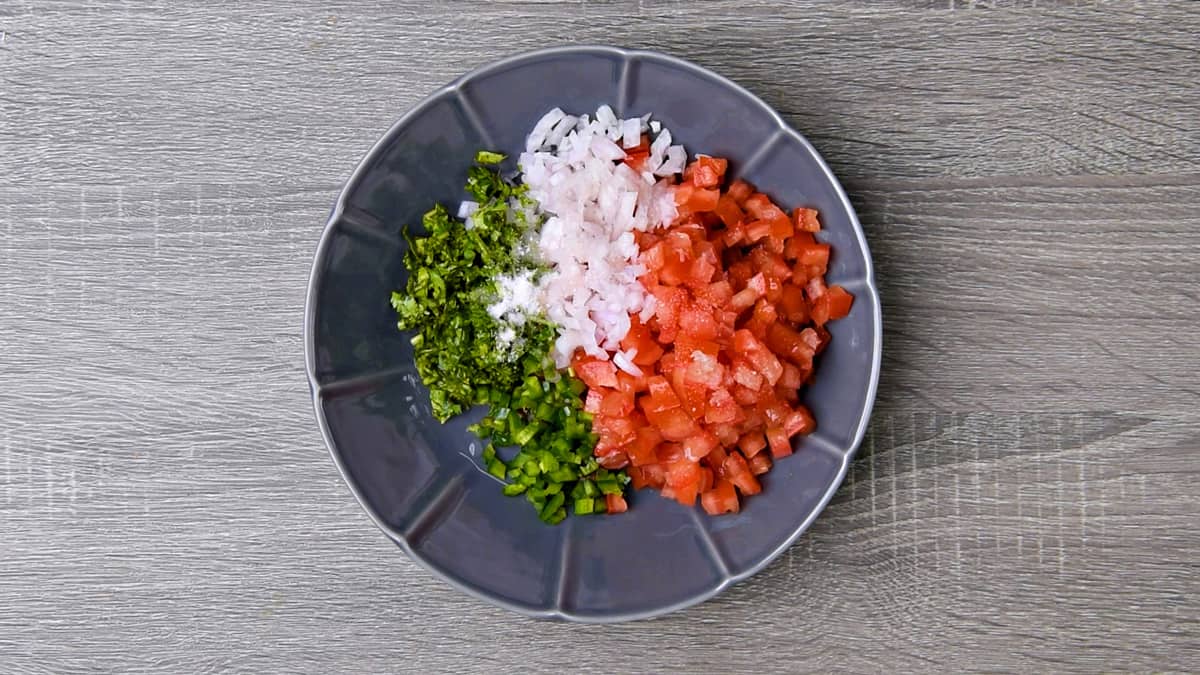 Toss to combine and taste - add more salt, lime juice or jalapeño as desired. Eat with wild abandon and enjoy!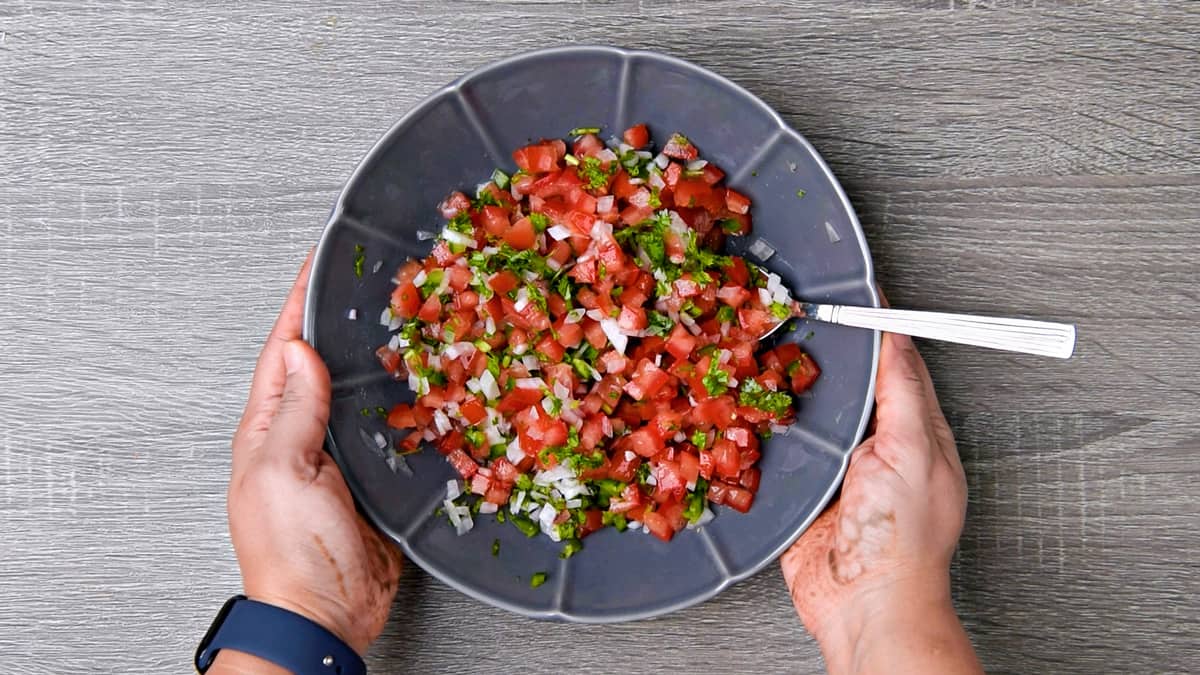 FAQs + Storage
How long does it last?
This fresh tomato salsa will keep for 3 days in a clean, airtight container in the fridge.
Can you freeze it?
Technically, yes, you can freeze pico. However, please note that both tomatoes and onions will change texture in the freezer and once you defrost it, the consistency will be rather mushy. Your best bet is to eat it while still fresh.
Is it keto friendly?
It depends on how strict you are with your carbohydrates. At just about 6 grams of carbs per serving, I'd say you could fit this chunky tomato salsa into a keto lifestyle from time to time.
What can I substitute cilantro with?
Cilantro is an essential herb in Mexican cuisine and is an important element for making traditional pico. If you have it, I highly recommend using it. BUT if you are allergic or can't stand it, then some fresh parsley plus a bit of ground cumin will work in its place.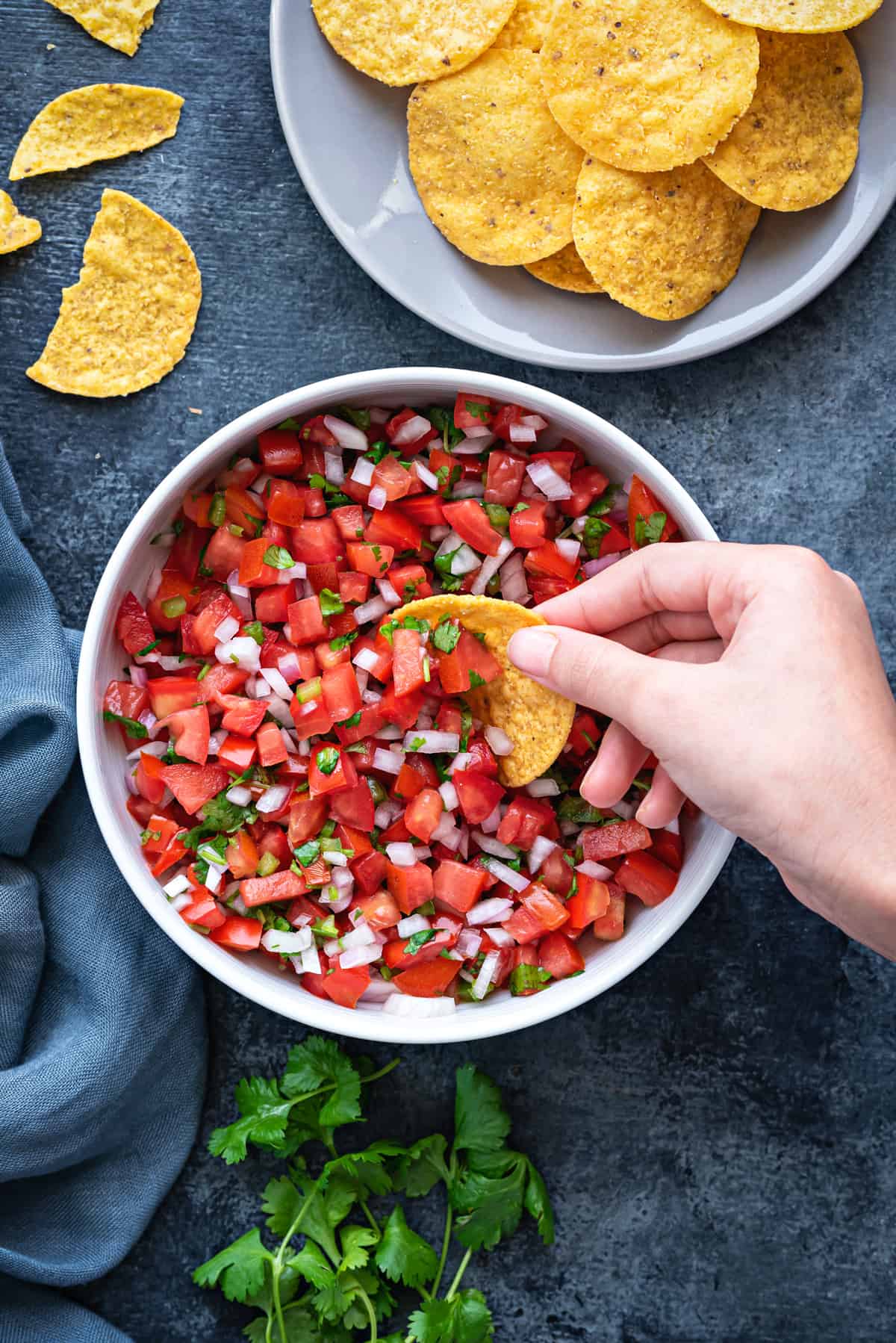 Variations
While I'm of the opinion that this simple salsa fresca is perfect as is, you have every opportunity to bulk it up with more produce. Feel free to add chopped:
mangoes
pineapple
peaches
cucumber
strawberries
avocados
sweet corn (kernels)
The addition of any of these ingredients will taste yummy, but please note that it will no longer be a traditional version of this popular Mexican salsa.
If you are looking for some amazing salsa recipes to make for game day or movie night, try these favorites - Strawberry Salsa, Corn Salsa, Peach Salsa, Pineapple Salsa, and Mango Salsa.
Serving Ideas
As one of the most popular and well known salsas in the Mexican food world, pico has about a gazillion different applications. Here are just a few ideas to get you started:
as a dip with tortilla chips or quesadillas.
spooned atop tostadas or huevos rancheros.
as a side with tamales, enchiladas or chimichangas.
to add veggie heft to tacos, burritos or burrito bowls.
as a complement to any grilled meal including chicken, fish, steaks, sandwiches or burgers.
While I'll happily eat pico straight from the bowl, I also love to eat it with cilantro lime rice or Mexican rice, guacamole and baked chicken breast - yum! No matter how you serve it, you are sure to love it.
More yummy recipes for summer:
If you tried this quick and easy recipe for making homemade Pico de Gallo, please be sure to rate and review it below! For more yummy meal ideas, sign up for my email newsletter! You can also follow me on Pinterest, Instagram or Facebook or YouTube to see what I'm up to in the kitchen.
📖 Recipe
Print
Pico de Gallo Recipe
With just 6 ingredients and a few minutes of prep, you can have fresh Mexican-style tomato salsa ready for dipping. This easy to make chunky salsa is the perfect way to celebrate ripe summer tomatoes. Eat it with chips or serve it over your favorite dishes for a bright punch of flavor!
Ingredients
3

cups

Ripe Red Tomatoes

(preferably seeds removed and chopped)

¾

cup

Onion

(chopped)

½

cup

Cilantro

(chopped)

1

Jalapeño or Serrano Pepper

(ribs removed and chopped)

¼

cup

Lime Juice

½

teaspoon

Salt
Instructions
In a bowl, combine chopped tomatoes, onion, cilantro, jalapeno pepper, lime juice and salt.

Toss to combine and do the taste test - add more salt or lime juice or jalapeno only if desired.
Notes
Pico will keep for up to three days in the refrigerator. Freezing is not recommended.
As one of the most popular and well known salsas in the Mexican food world, pico has about a gazillion different applications. Here are just a few ideas to get you started:
as a dip with tortilla chips or quesadillas
spooned atop tostadas or huevos rancheros
as a side with tamales, enchiladas or chimichangas
to add veggie heft to tacos, burritos or burrito bowls
as a complement to any grilled meal including chicken, fish, steaks, sandwiches or burgers
Nutrition
Calories:
25
kcal
|
Carbohydrates:
6
g
|
Protein:
1
g
|
Fat:
1
g
|
Saturated Fat:
1
g
|
Polyunsaturated Fat:
1
g
|
Monounsaturated Fat:
1
g
|
Sodium:
199
mg
|
Potassium:
230
mg
|
Fiber:
1
g
|
Sugar:
3
g
|
Vitamin A:
741
IU
|
Vitamin C:
18
mg
|
Calcium:
15
mg
|
Iron:
1
mg