This Homemade Apple Pie recipe is a classic for good reason. It's packed with a flaky buttery crust, warm spices, and a thick and sweet homemade apple filling. And, the crunchy lattice top is a delicious tradition of its own!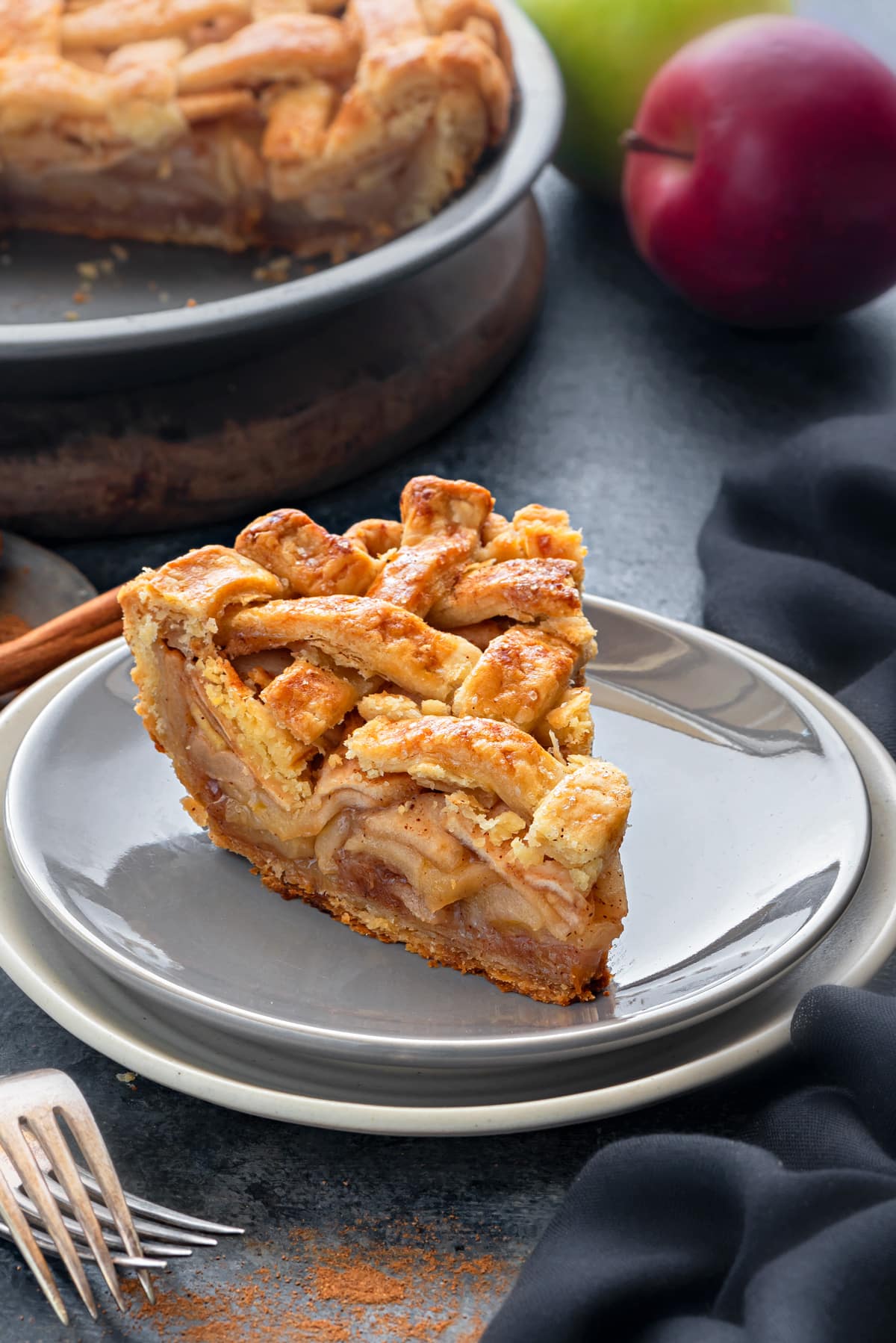 Jump to:
Why you will love this pie?
A good Homemade Apple Pie has been a comfort food for millions all over the world. In the early 1900s, apples became more easily available across North America and this perfectly buttery dessert became a star.
Whether you're baking it for a Thanksgiving table (which should definitely feature these - apple oats crumble, peach cobbler, roasted sweet potatoes in the menu), or prepping for a Fourth of July picnic, this pie is the perfect end to a meal.
Rather than having an overly-sweet apple pie, this recipe calls to combine a few varieties to give the pie a perfect balance of tart and sweet.
Any baker loves to see a beautifully baked golden crust, a bubbly sweet filling, and the smell of apples and spices that can feel like home!
I love this crust recipe and find that it gives me the perfect flaky layers and light crunch I want in my pies.
Any and all local apples are easy to swap in, leaving you with an incredibly fresh pie whether in the summer or winter!
*Some more delicious recipes for you to try for your holiday table: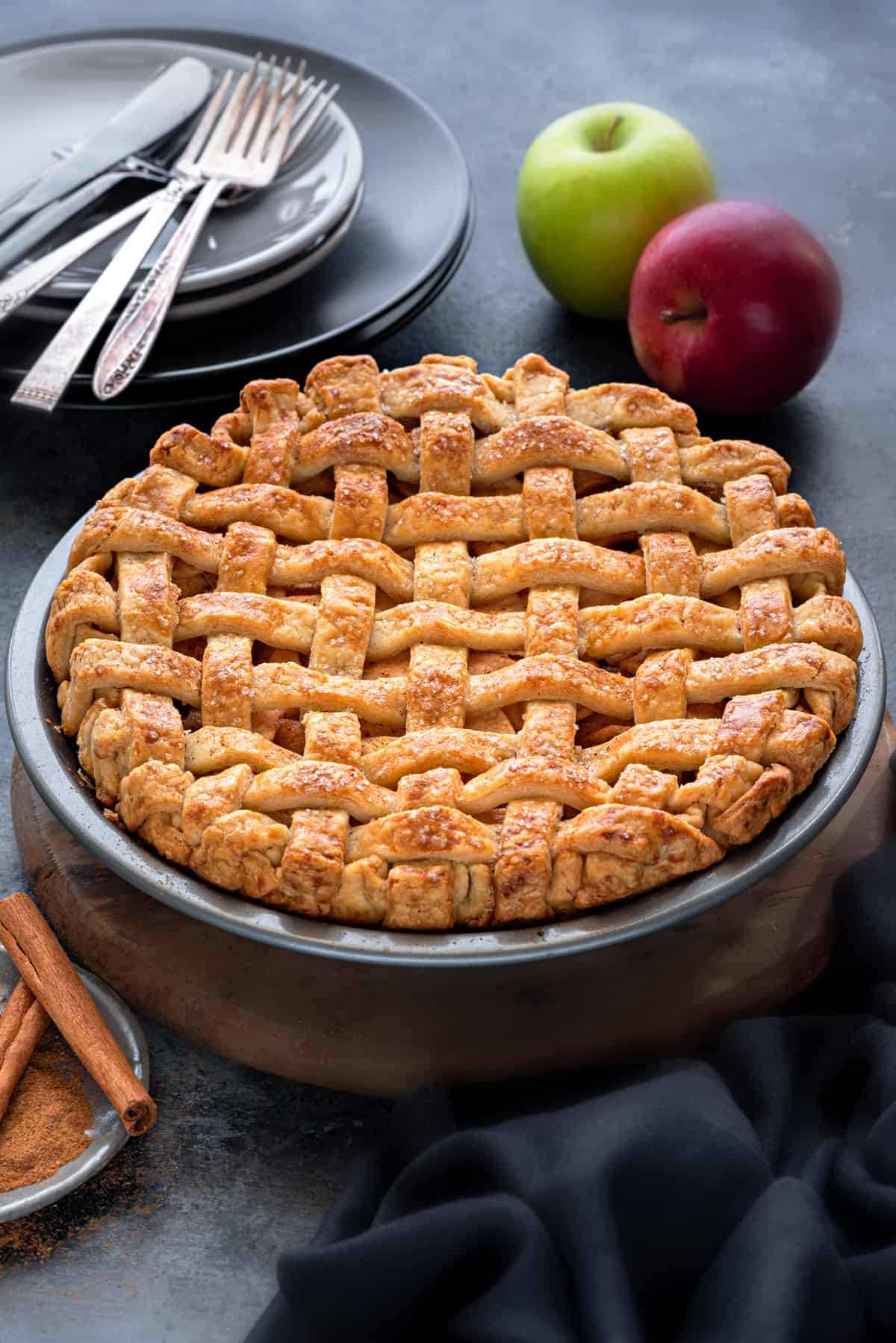 Ingredients notes
Some pie recipes can feel intimidating for a novice baker. What I love here are the simple ingredients. This pie does not require any specialty grocery store trips (yay!). Whether you have a stocked kitchen or a small kitchen with some basics - this homemade apple pie recipe will come out perfectly!
As I mentioned, the apples here should be a balance of both sweet and tart. Granny Smith is a classic apple for pie - and they're ready for picking in November, making them perfect for a Thanksgiving dinner.
Their sour notes pair perfectly with a sweeter apple like a gala, which are readily available almost year round. Of course, if you have local apples that are in season - use those! Finding new flavor and texture combinations is one of the best part of fruit pies.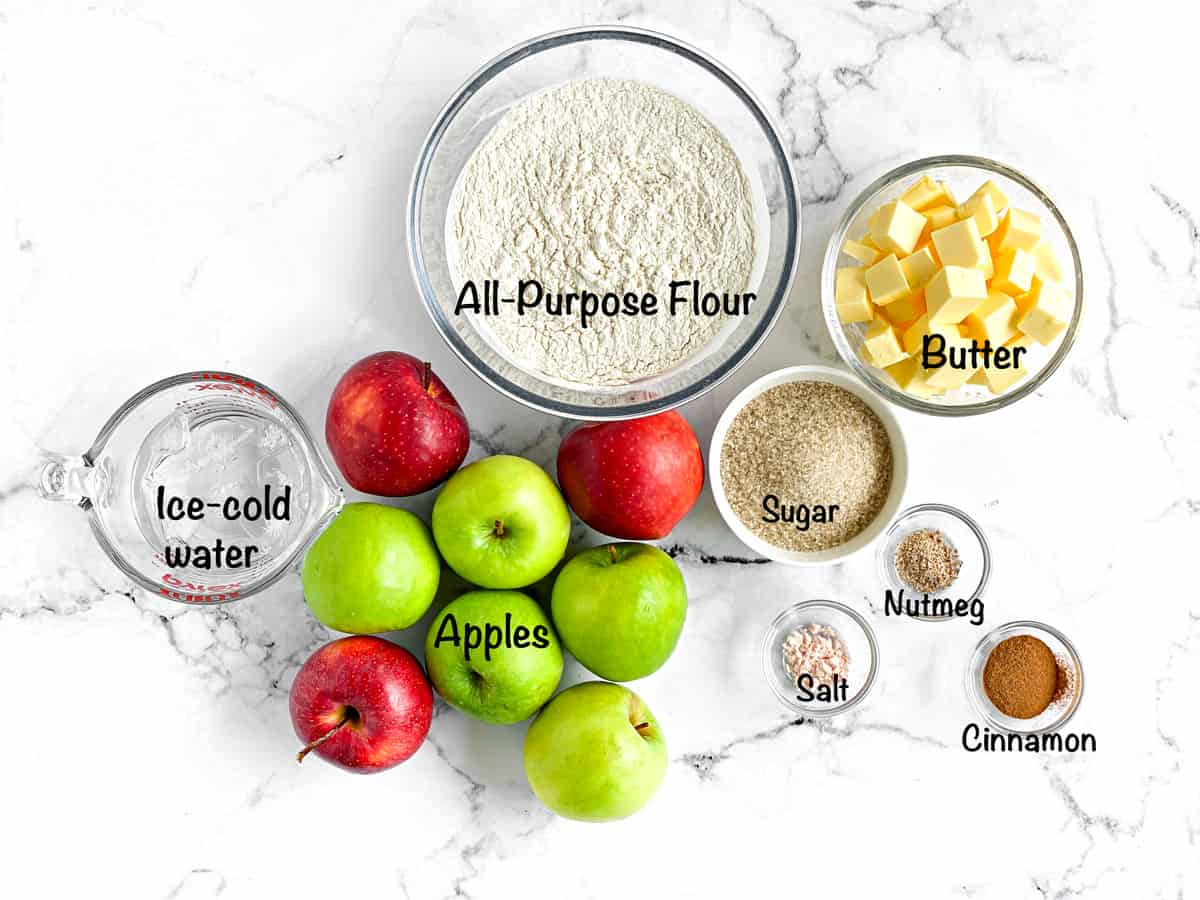 How to make the perfect homemade apple pie?
Step One - Making the best homemade pie dough
Add flour, salt, and sugar to a food processor. Pulse two to three times.
Add your chilled, and cubed, butter. Pulse until the mixture is crumbly.
Pour in 10-12 tablespoons of ice cold water. Start with 10 tablespoons and pulse until the mixture is evenly moist but still crumbly. Add up to two more tablespoons until you get that texture.
Pour crumbled flour onto a flat surface and begin rolling to create dough. Note: You don't need it perfectly smooth. We don't want overworked dough, so stop once you have rolled into a ball.
Cut dough in half. Roll each half into a thick, round disc. Wrap each half in plastic wrap. Refrigerate for at least 45 minutes.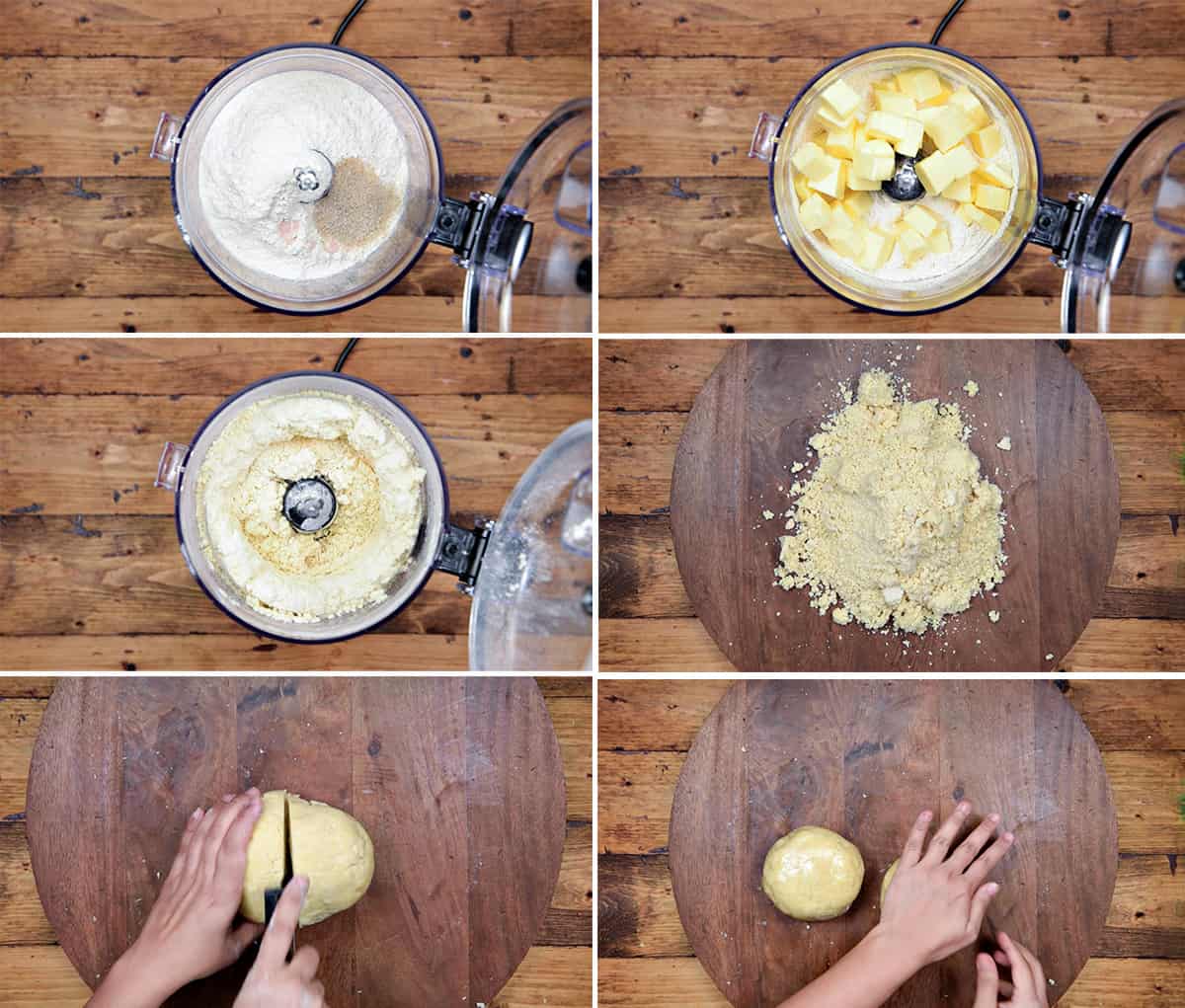 Two: Making your apple pie filling
Peel and cut six large (or eight medium) apples, and put them into a large bowl.
Add sugar, cinnamon and nutmeg to the bowl. Gently toss apples in the spices to avoid bruising (using your hands is the best method for this, though wooden spoons work as well).
Cover the bowl with plastic wrap and set aside for 45 minutes. During this phase, the juice from the apples blends with spices to make that signature pie filling!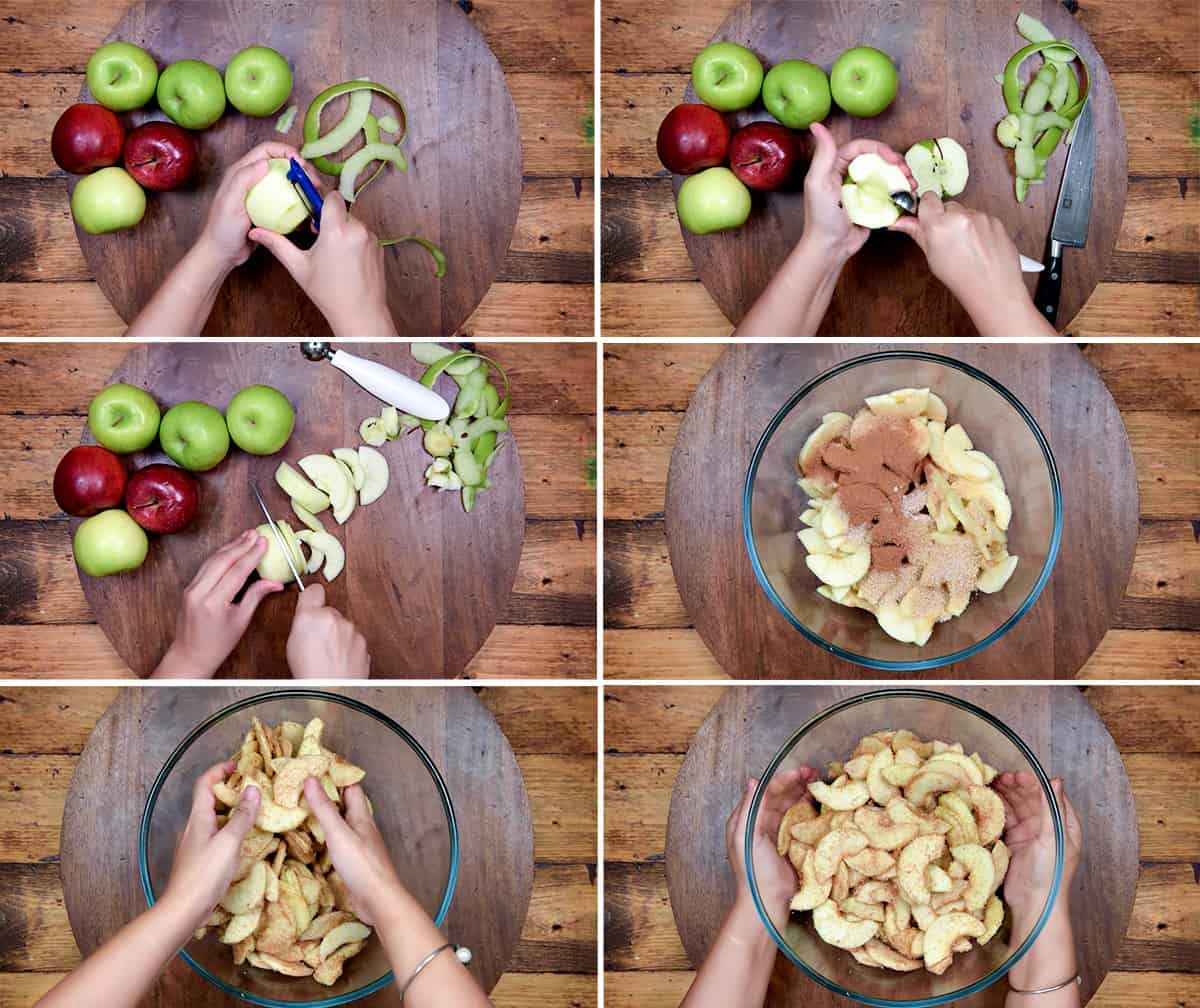 Three: To prepare crust
Unwrap one chilled half of the pie dough, and place it onto a lightly floured surface.
With a rolling pin, begin smoothing the dough from the center. You want to be sure you are working outward. After each roll, you will lift and rotate the dough. This helps keep an even surface and ensure there aren't any weak spots in your crust!
Roll until the dough is about 11 inches in diameter. Lay it into your 9-inch pie pan. Avoid stretching the dough. Trim the extra dough that is hanging out of the pie dish.
Refrigerate until you are ready to fill it (at least ten minutes to get it chilled after you've been handliing it).
This is a great time to pre-heat your oven to 400 degrees F!
Four: Assembling your pie
Add a flour, and lightly toss the apples until they are coated.
Pull out the chilled pie crust and pour in your apple mixture.
Move the apples around until they sit as an even layer. (This is why coating them in flour is so helpful.) Pour in any extra juices from the bowl.
I have not added though, you can add a few small cubes of butter and add the pan back into the fridge. Now, we prepare the lattice top!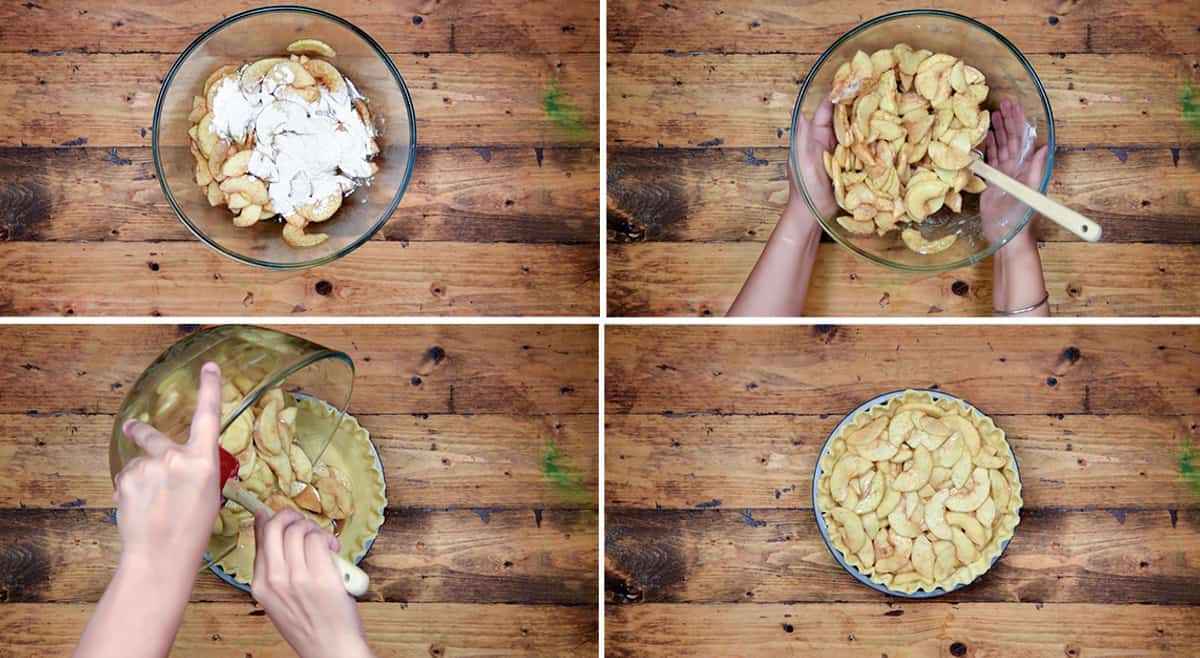 Five: Making your lattice pie top
Take your other half of dough out from the refrigerator. Unwrap and place it onto a lightly floured surface.
Roll this dough out to a thick 11-inch disc as well.
With a dough (or pizza) cutter, cut one-inch strips of dough, lengthwise. When you are done, these should be to be thick enough to lay down without breaking.
Remove the pie from the fridge, and lay the strips of dough into a lattice pattern. Of course, you can use a traditional quilted style here.
With some leftover dough, you can also create small shapes like stars, leaves, or turkeys. These make a really fun surprise on holiday!
Create a quick egg wash. One egg and a bit of water will do the trick! Whisk them just a bit.
Though pastry brushes are perfect for this, you can use a spoon, or even your fingers, to be sure you have a nice wash on the crust. This will help your pie come out perfectly golden!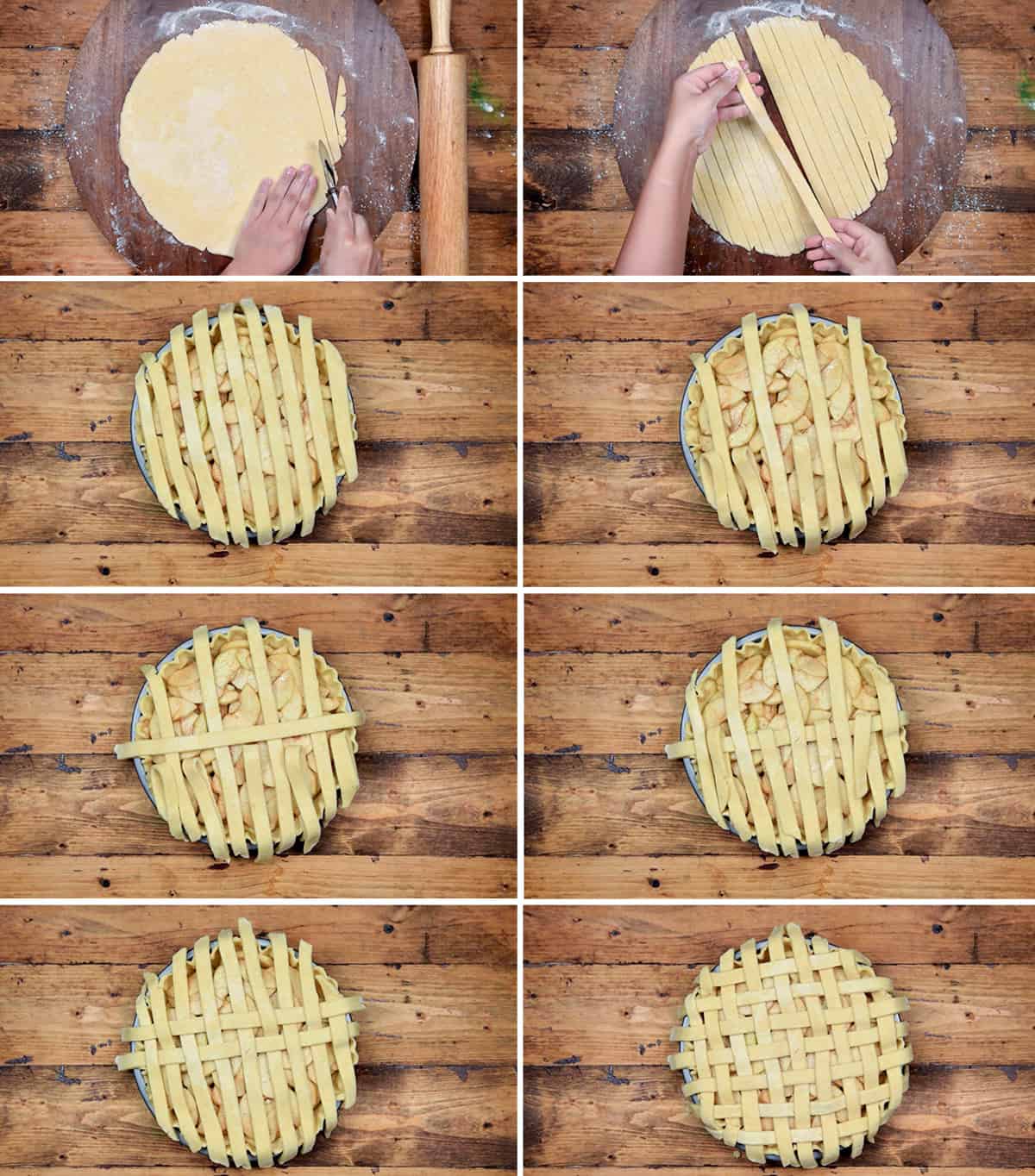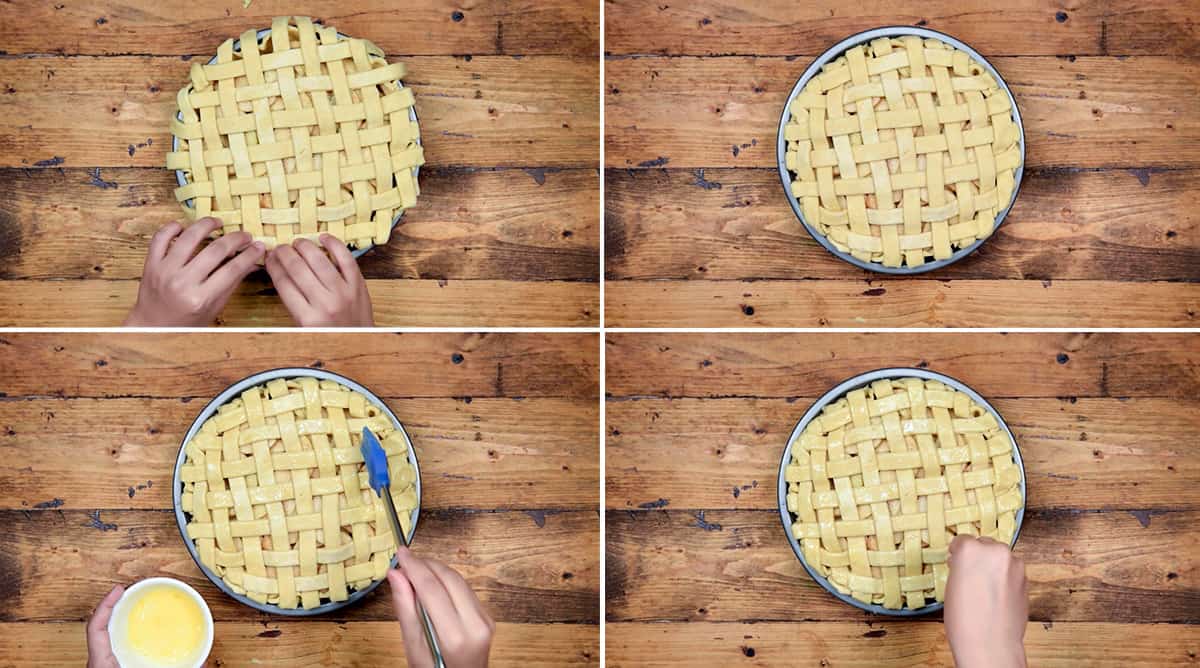 Six: Baking your pie
After the egg wash, and once your oven is preheated, put your pie in the oven! Bake it for 20 minutes.
At the 20 minutes mark, reduce the oven temperature to 350 degrees F. You will want to bake it for at least 40 minutes. Once you see a golden, crisp top, and a bubbling filling, it is ready to come out of the oven!
Make sure you cool the pie for at least an hour. I know it's hard to do - but this helps the flavors set up and I promise it's worth it!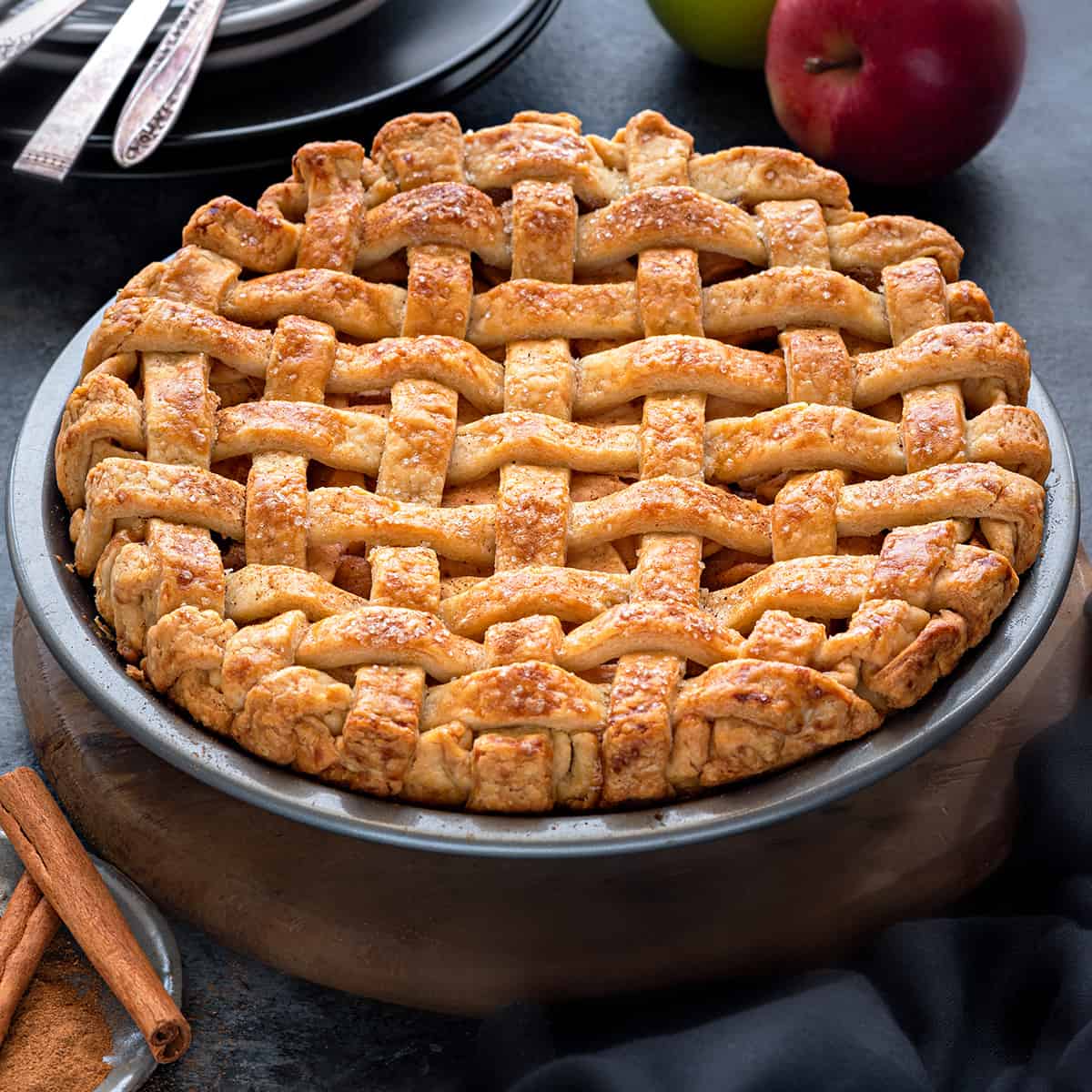 Expert Tips
Pie Crust:
The key to a fabulous pie crust is cold ingredients! That's right- just the temperature of your water or your butter makes a world of difference. The colder the butter - the flakier your layers!
Pie Filling:
Avoid over-mixing your apples and spices, so that the apples keep their texture. This helps keep the filling from becoming too liquidy.
It is also crucial to cut the apples evenly, so that they cook at the same time. About a quarter inch thick is perfect for this recipe.
Avoiding apple browning:
If apple slices get browned or bruised - your pie filling is destined to be soggy! If you are cutting them in advance, or maybe got some pre-cut, you can save them with a salt brine. It sounds wild, but it works!
Mix a half teaspoon of salt (kosher preffered) into 1 cup chilled water until dissolved. Add your sliced apples and soak for about 10 minutes. Drain the apples and store in an airtight container for up to a week.
Note : You can also use ½ teaspoon lemon juice instead of salt.
FAQs
Can I make the pie crust ahead?
Yes! When you're done with the first mixing of dough, and split it in half, put those two discs into the fridge for two days or the freezer for up to four months.
What are the best apples to use for apple pie?
In this recipe I recommend a mix of gala and granny smith, to get a nice balance of sweet and tart.
Any local varieties you have may be swapped, and you can decide on the number of each based on how sweet you like your pie!
Should this pie be refrigerated before baking?
You will want to refrigerate the dough at three points before baking.
First, you will chill it after you make it, so it sets a bit. You will then chill the crust in the pie pan.
Finally, you will chill the filled pie crust before baking.
How long do you bake the pie?
You will start out by baking it for 20 minutes at 400 degrees F. After that, you will reduce the temperature to 350 degrees F for another 40 minutes.
How do we know if the pie is done?
The crust on your pie will be golden brown and crispy when done. The filling will be bubbly, and it should smell strongly of warm apple.
Can I use apple pie spice in the filling instead?
Yes! It can be used instead, but can also be added for something a little different!
What is in apple pie spice?
Though you can purchase it at many store, it is very easy to make yourself.
I make it using a combination of 4 tbsp cinnamon, 2 tsp nutmeg, ¾ tsp all spice, 1 tsp ginger and ½ tsp cardamom.

Can I make the apple filling ahead and store it?
Yes! This filling holds well, but does require some different preparation.

So you can keep the apples crisp but ready to bake, you will cook the filling, along with a tablespoon of butter, for about 8-10 minutes. Cool the filling and freeze in an air tight container!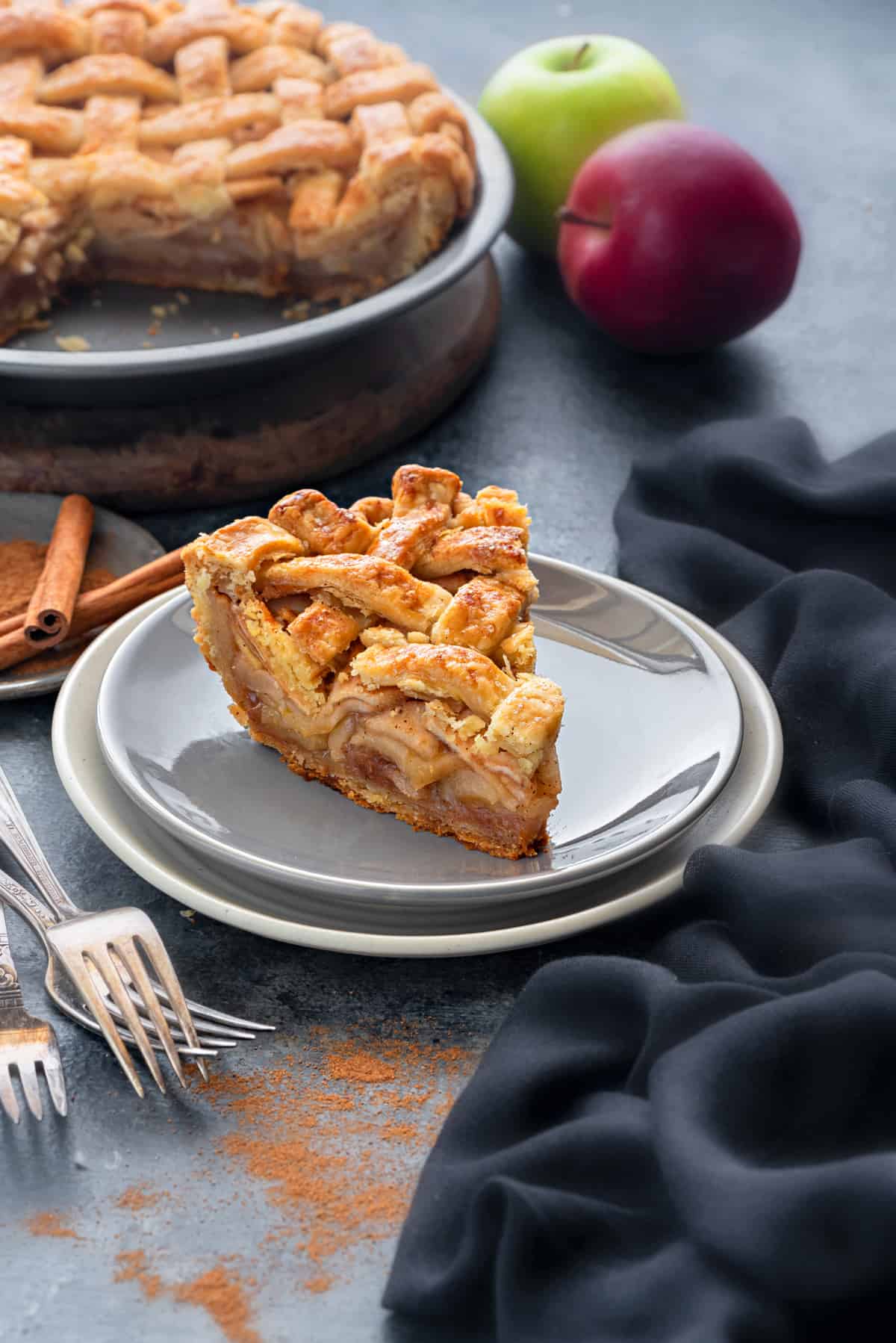 Mix-ins for your pie
There are so many apple pie recipes out in the world, it can be hard to pick one! Having a go-to recipe like this is great, because they are so easily switched up with some new flavors! Here are a few of my favorites!
If you don't like cinnamon, cardamom and apple pie spice can be swaped. Without much work, these changes give your family a totally new flavor profile!
A half cup of toasted nuts works beautifully mixed into the fiilling. One of these caramelized and candied nuts would be incredible in this pie.
One cup of cranberries is a great tart alternative. Once washed, add them (along with an additional quarter cup of sugar) into the filling.
Dried fruits like dates and currants can be added (about ½ cup works with these measurementts). When adding dried fruit, you may want to use more tarte apples than sweet. That change will keep the pie from being too sugary once baked.
Just one tablespoon of fresh ginger or lemon zest added to this filling is a game-changer. In fact, it almost tastes like a new dessert!
Best toppings for your apple pie
There is much debate about the best way to top your apple pie. Some say it's best totally on its own - but I love trying out new combinations!
Ice cream is the accompaniment of choice for many U.S. bakers and eaters alike! Vanilla is the most traditional choice, but something like salted caramel, or brown sugar, would be incredible alternatives.
Speaking of which, salted caramel is a fantastic addition. There are plenty of recipes, as well as store-bought versions that don't break the bank!
Whipped cream is a regular choice for this pie. But have you ever spiced it up? Cinnamon, apple pie spice, or ginger, can be folded into fresh whipped cream for a special something.
Just a drizzle of honey also makes a lovely addition to this pie. In fact, during the summer months, this is a great way to eat chilled or room temperature pie!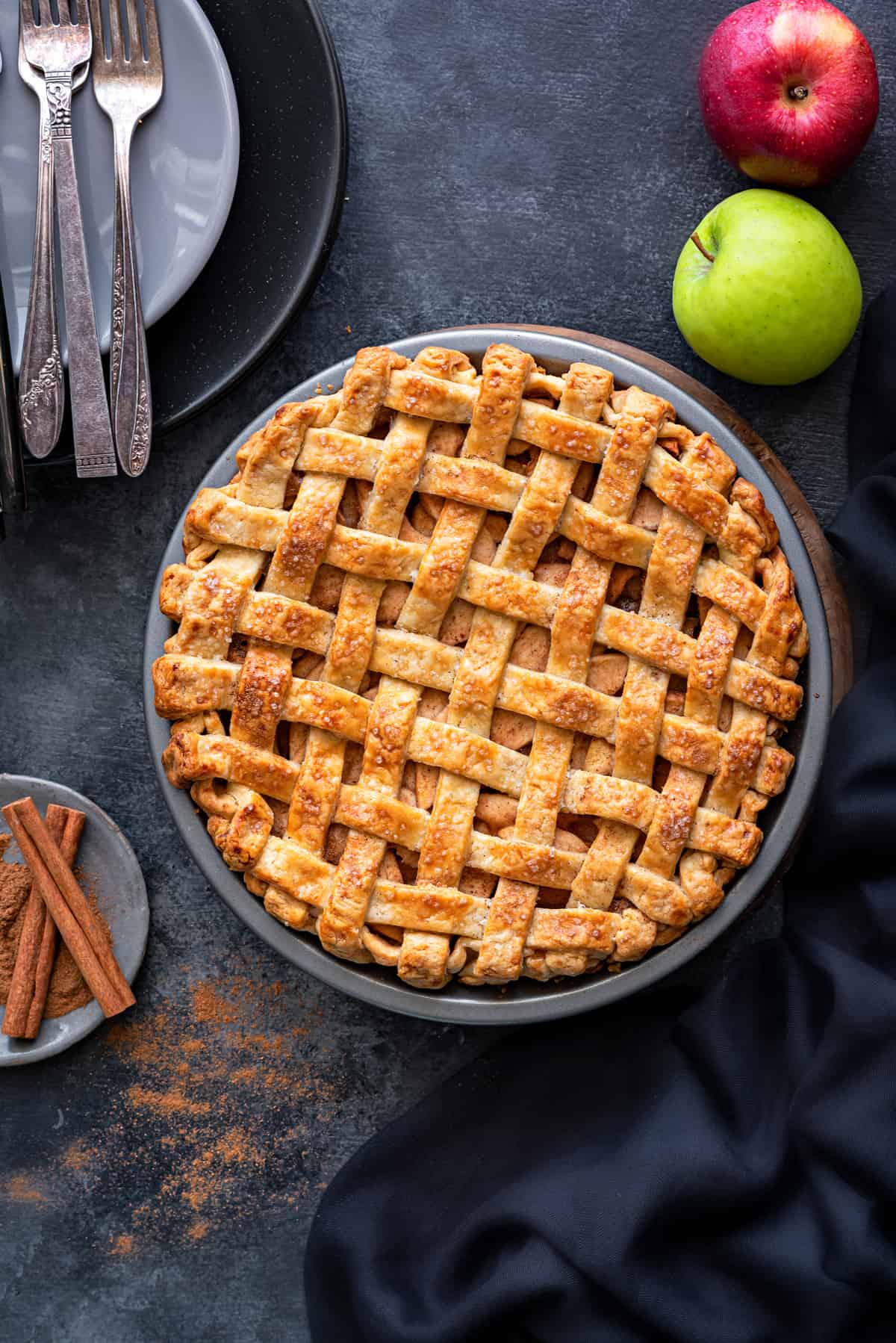 Storing, freezing and reheating
Saving leftovers: Apple pie saves well, and when wrapped tightly with plastic wrap it can stay in the refrigerator for about four days. Though some pre-made pies can sit on the counter due to preservatives, any home made pies should be refrigerated.
Freezing an unbaked pie: To get the best in two parts! First, you will cook the pie filling down with butter for about 8-10 minutes. Once cooked and cooled, seal the filling in an air-tight container. It will be alright in the fridge for a few months.
After you make and split the pie dough in half, you can freeze the wrapped dough for months. Assemble after that (thawing the filling and doughh in the fridge) and bake as usual.
Freezing a baked pie: If you know you will be freezing this apple pie, you will need to prep the ingredients before you bake! You will add ½ teaspoon of cornstarch to the flour mixture you toss the apples in. This coats them further.
Once baked and cooled, you will want to put the pie pan on a baking sheet. Put the sheet in the freezer until the pie is firm. Once frozen (at least two hours) take the pie out and wrap it tightly in plastic wrap, as well as a layer of aluminum foil. Frozen pies should be eaten within four months! (If you can make it that long!)
Reheating apple pie: The best way to do this without getting a soggy crust is to warm your slice in the oven! That's right - at 200 degrees F, for just 15 to 25 minutes (depending on your preference) is all you need to get warm apple pie!
You might also like
If you tried my delightfully easy Apple Pie recipe, please be sure to star-rate it and review it below! For more A+ recipe ideas delivered straight to your inbox, sign up for my email newsletter. You can also follow me and my recipes on social platforms like Pinterest, Instagram or Facebook or YouTube.
📖 Recipe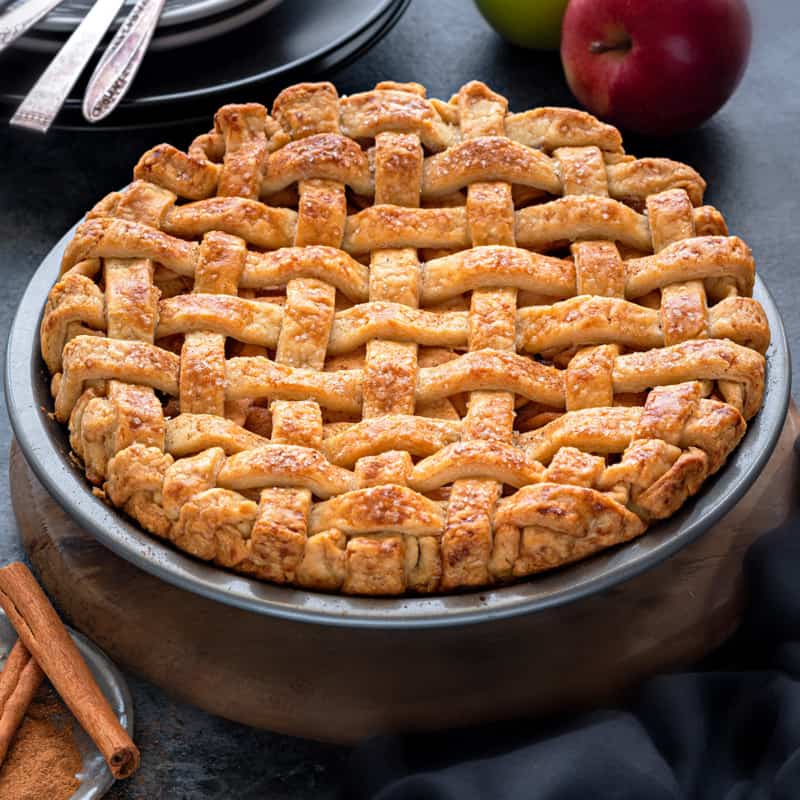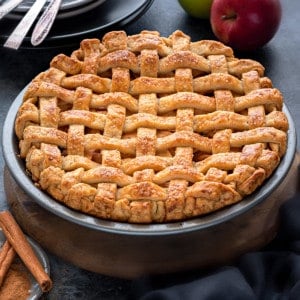 Print
Homemade Apple Pie Recipe
This easy Homemade Apple Pie recipe is a classic for good reason. It's packed with a flaky buttery crust, warm spices, and a thick and sweet homemade apple filling. And, the crunchy lattice top is a delicious tradition of its own!
Ingredients
For pie crust (makes two crust)
3

cups

All Purpose Flour

½

teaspoon

Salt

1

tablespoon

Granulated Sugar

1

cup

Unsalted Butter

(cut in 1 inch cubes)

10-12

tablespoons

Ice Cold Water
For apple filling
7-8

Apples (Granny Smith + Fuji or Gala)

1

cup

Granulated Sugar

2

teaspoons

Cinnamon

½

teaspoon

Nutmeg

4

tablespoons

All Purpose Flour or Cornflour

Egg Wash
Instructions
Make pie crust dough
Start with adding the flour, salt and sugar into the bowl of food processor fitted with metal blade. Pulse 2-3 times to combine well.

Now, add chilled butter cubes into the flour and pulse few times until the flour mixture is crumbly.

Add 10-12 tablespoons of ice cold water and pulse again few times until the mixture is just moistened evenly and still crumbly.

Transfer the crumbled flour mixture on to working surface. Bring the mixture together to form dough. Please do not work too much on dough, we do not need very smooth dough.

Divide the dough in two parts, pat each dough into a thick disc and wrap them separately with the plastic wrap.

Refrigerate the pie crust dough for atleast 45 minutes.
Make apple filling
Peel and cut the apples into halves. Then, scoop out the cores and slice the halves into ¼ inch slices.

Transfer the sliced apples to a large bowl. Add sugar, cinnamon and nutmeg and toss them gently using hands. Ensure the apples slices coats well with spices and suger.

Cover and set it aside for 45 minutes.
Prepare pie crust
Place one half of the pie dough on lightly floured working surface.

Start rolling from the centre of the dough, keep lifting and turning the dough while rolling. This ensures even rolling and avoids dough sticking from the bottom.

Roll into 11 inches diameter disc for 9 inches pie dish.

Carefully, place the rolled dough into pie dish, avoid stretching it. Trim the extra dough that is hanging out of the dish. Refrigerate it until needed.
Assemble pie
Now, toss the apples with flour. Take out the prepared bottom crust from the fridge and fill it with the tossed apples.

Pack the apples tightly such that they are same height as that of pie crust edge. Pour the juices over the apples.

At this stage, you can top the apples with few butter cubes, if you wish to. Now refrigerate it again. I usually freeze it for few minutes until I prepare the lattice top.

Preheat the oven at 400 degrees F (200 C) for 15 minutes.

Take out the second half of the pie dough, lightly flour the surface and roll it out the same way as the earlier one.

Cut the roll dough into ¾ - 1 inch strips. Now take the pie out and arrange the strips on the on the top making woven lattice design.

Brush the top gently with egg wash.
Bake pie
Bake the pie at 400 degrees F for 20 minutes.

Reduce the temperature to 350 degrees F and bake for another 45 minutes or until golden brown and filling is bubbling though lattice vents.

Cool the pie for an hour or two before serving.
Notes
Flour, Butter and Water: Ensure they are very chilled. I usually chill the measured amount of flour as well for the pie crust recipe, it gives the best result.
Apple: I have used combination of apples, you can use any one variety for this pie recipe. Remember to use the ones that will be tender and hold the shape well after cooked like - Granny Smith, Fuji, Gala, Mutsu, Honeycrisp, Jonagold, Pink Lady.
Cutting apples: Slice the apples of even thickness, avoid too thin or too thick slices -

¼ inch thickness should be good.
Egg Wash: Beat one egg with one tablespoon of water and use.
Crust Browning: If the crust is getting browned too fast, place a piece of foil sheet loosely with dull side down on the top of the pie.
Nutrition
Calories:
561
kcal
|
Carbohydrates:
85
g
|
Protein:
6
g
|
Fat:
24
g
|
Saturated Fat:
15
g
|
Cholesterol:
61
mg
|
Sodium:
151
mg
|
Potassium:
227
mg
|
Fiber:
5
g
|
Sugar:
43
g
|
Vitamin A:
795
IU
|
Vitamin C:
7
mg
|
Calcium:
28
mg
|
Iron:
2
mg