If you are in the market for an easy and delicious holiday dessert, look no further than my delicious Gluten Free Pumpkin Cheesecake with Oatmeal Crumble. It's velvety and delicious, filled with warming fall spices and topped with a buttery, crunchy topping. This is THE dessert recipe you need for pumpkin spice season!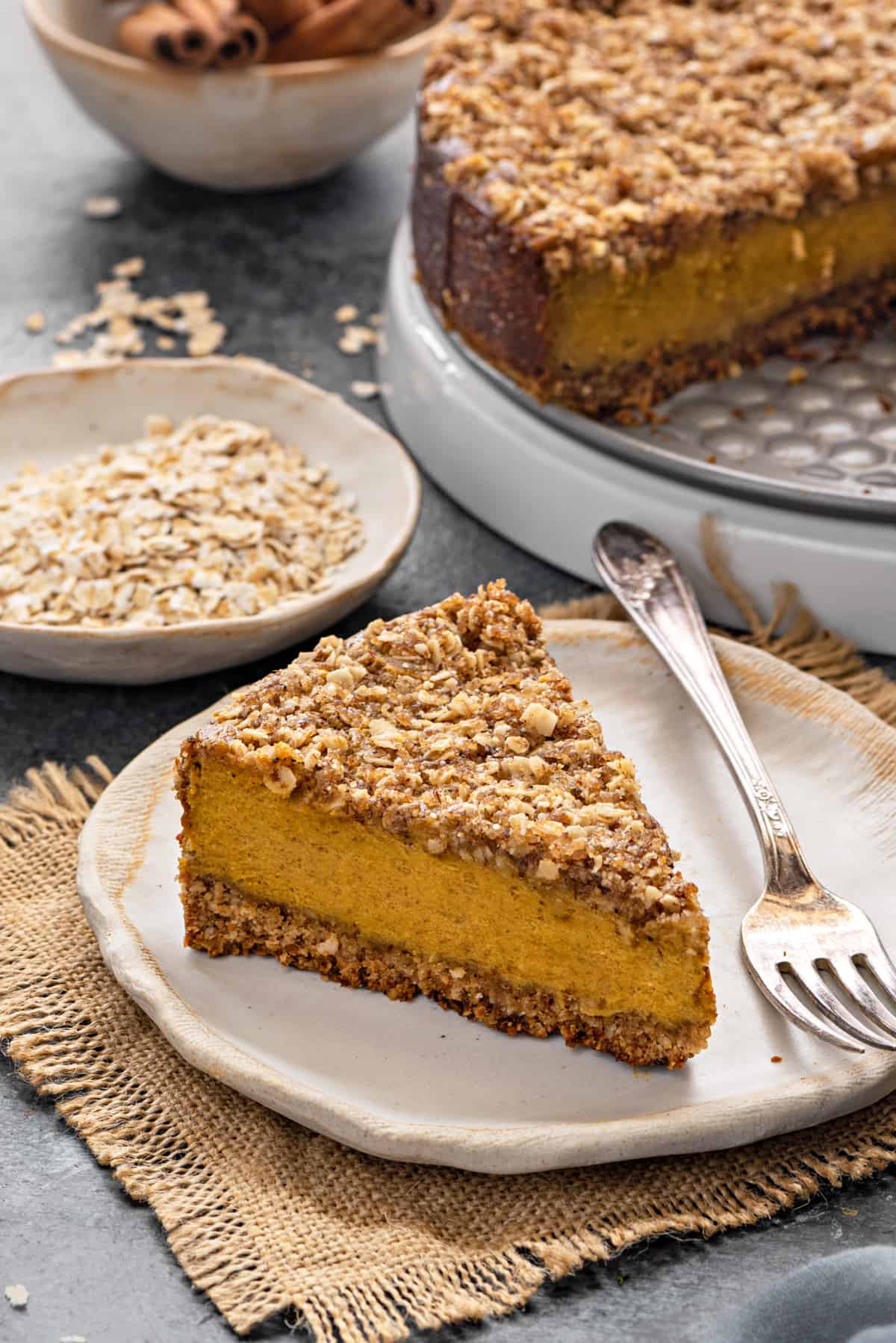 Jump to:
What is so good about this cheesecake?
This decadent pumpkin cheesecake recipe is rich and creamy and gluten free to boot, making it perfect for the whole family to enjoy. With a buttery crust and crumble made from toasty oat flour and nutty almonds, I can promise you won't even miss the graham crackers.
I also love how simple this recipe is. With just a handful of easy-to-find ingredients, this pumpkin cheesecake is a snap to whip up.
You don't even have to use a water bath. Just assemble the cheesecake and pop it in the oven. No muss, no fuss!
Since cheesecake also needs time to set up in the fridge, this yummy pumpkin treat is also a perfect make-ahead dessert.
If you're someone who likes checking items off your to-do list ahead of time, this recipe is for you!
If you don't have a springform pan, there's no reason to worry! You can turn this yummy dessert into gluten free pumpkin cheesecake bars by using a 9 x 13 instead.
Honestly, this is one of the best pumpkin desserts that I've ever had, and it just screams fall comfort. Whip this up for your Thanksgiving, Christmas or holiday celebration and watch your family go nuts for it!
Ingredients notes
As this is a pumpkin dessert, you're going to need some pumpkin purée. I used my own homemade pumpkin purée, but canned will do just fine. Just be sure you buy "pumpkin purée" and NOT "pumpkin pie filling."
Cream Cheese : For all of you cheesecake aficionados out there, I'm sure you already know that Philadelphia Cream Cheese is considered the best of the best for baking. It's widely available, relatively inexpensive, and is perfectly creamy, tangy and salty.
If you are unable to get Philadelphia brand cream cheese, be sure to opt for a full fat option.
Low-fat cream cheese and Neufchatel cheese are both higher in water content, which will negatively impact your final product.
Oat and Almond flour : The crust and topping require two somewhat specialty ingredients - almond flour and oat flour.
While these flours used to be more difficult to find, gluten free living is so widespread now that they are generally found at any grocery store.
In a pinch, you can whizz up your own oat flour by using a food processor and regular rolled oats.
Other ingredients : The remaining ingredients are likely already in your pantry - eggs, butter, brown sugar, vanilla extract and ground spices like nutmeg, cinnamon, ginger and cloves.
Now that you have your ingredients assembled, let's get down to baking!
How to make gluten free cheesecake?
This simple gluten free pumpkin cheesecake requires three steps. Preheat your oven to 175C (350F), then make the crust.
To make the gluten free cheesecake crust, all you need to do is combine all ingredients in a mixing bowl.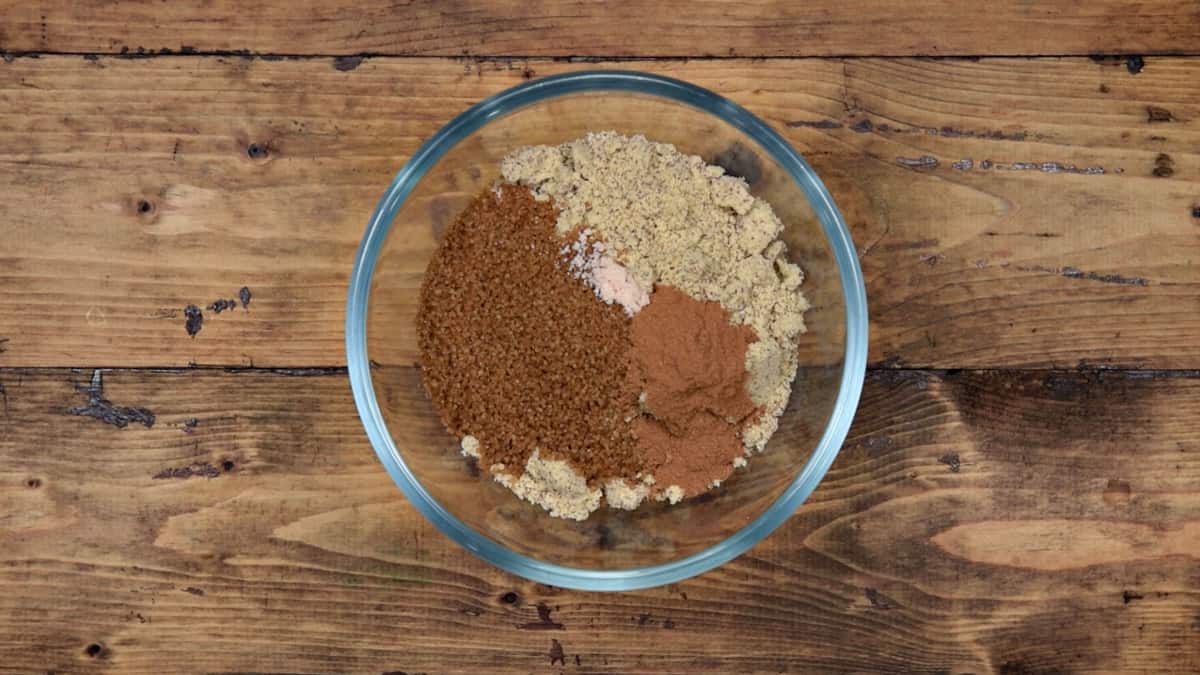 Stir well to combine.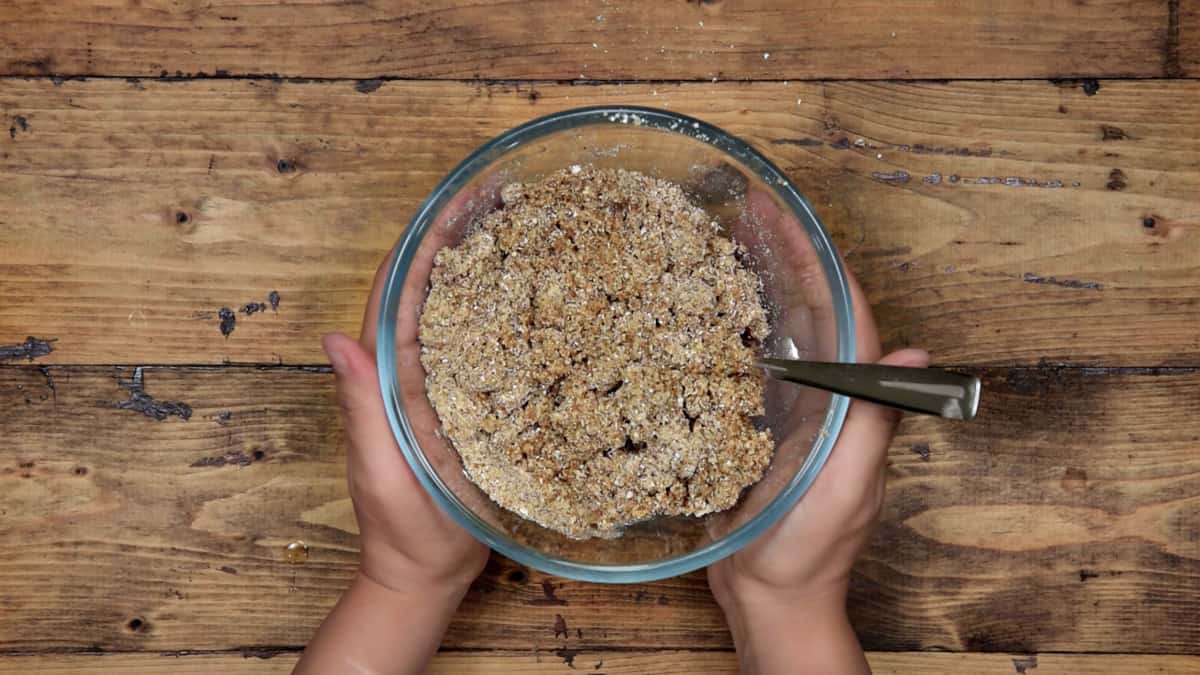 Place the mix into your springform pan (or 9 x 13), being sure to press it in firmly and evenly. Pop it in your preheated oven and bake for 5-7 minutes.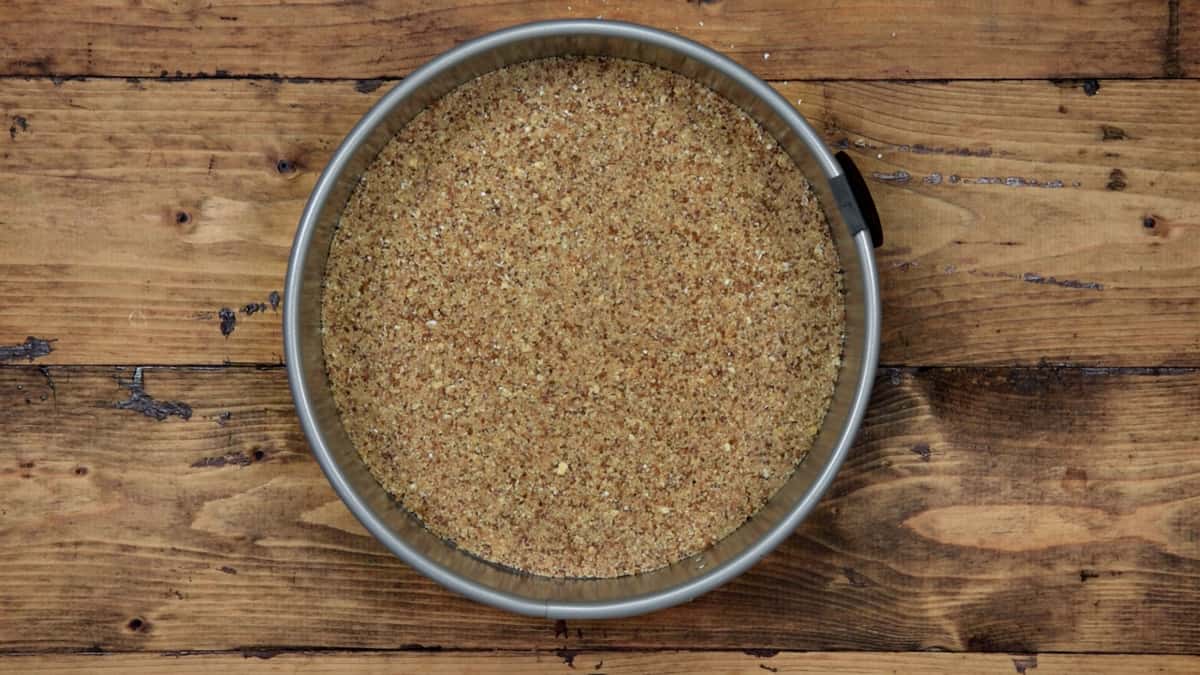 While the crust is in the oven, assemble your crumble topping. Mix all the ingredients together in a mixing bowl and set it aside.
TIP: Want fewer dishes? Re-use the mixing bowl from your crust mixture.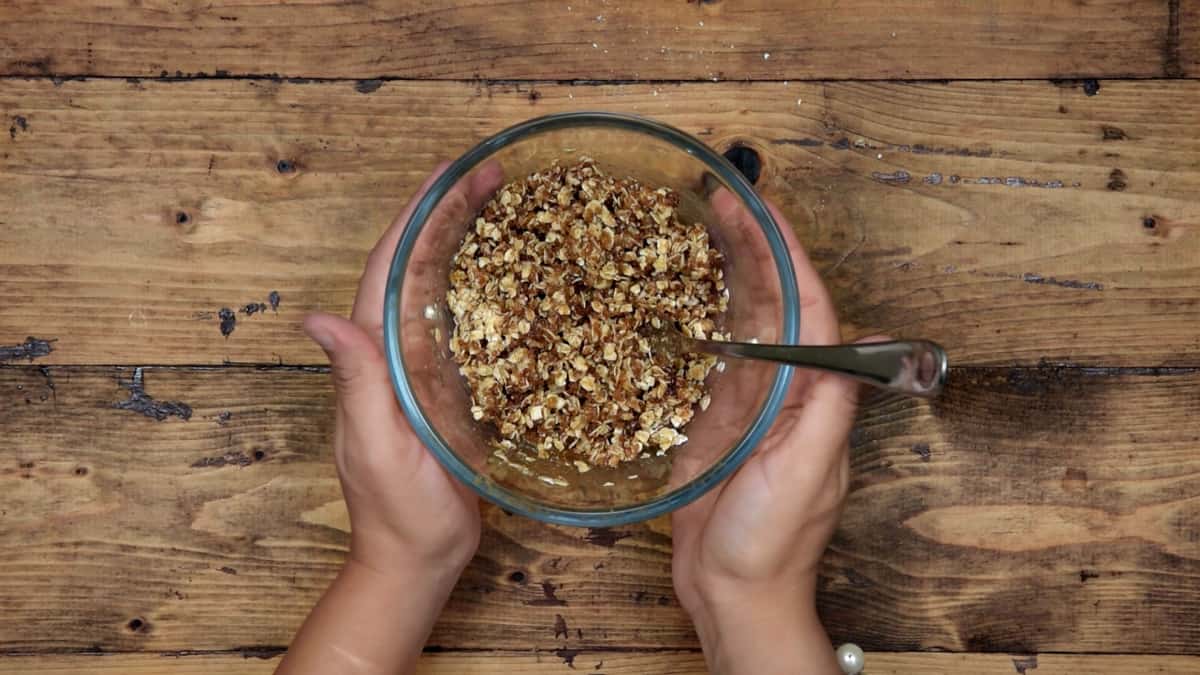 Finally, make the cheesecake filling. Place all of the ingredients in a large mixing bowl.
Now mix together until well combined using a whisk or hand mixer. Be sure to scrape down the sides to incorporate all of the cream cheese, and stop mixing once uniform.
TIP: Be sure to use room temperature ingredients for the filling. This will ensure a deliciously creamy and uniform mixture. Cold ingredients will result in a curdled or separated filling.
How to assemble and bake pumpkin cheesecake
Pour the filling mixture over the baked gluten free crust. Smooth with the back of a spoon or an offset spatula. Tap on the countertop a few times to release any air bubbles.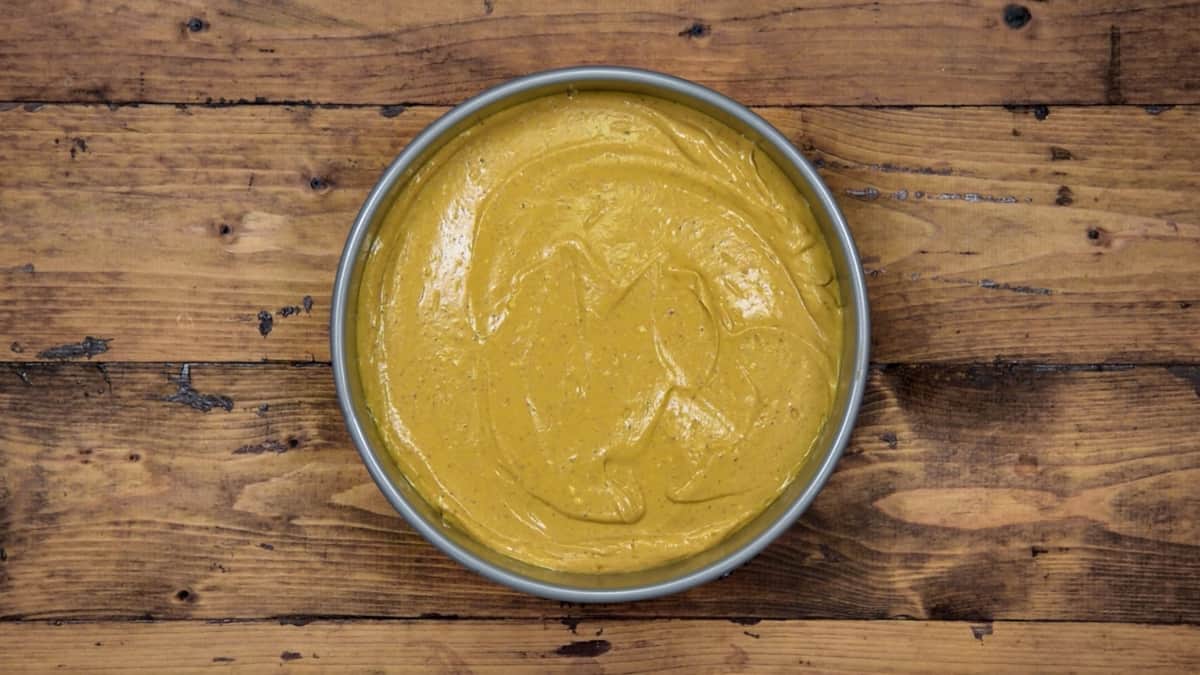 Evenly distribute the crumble filling on top using your hands to break up any large pieces.
Bake at 175C (350F) for 30-35 minutes, until the top of the cheesecake is puffed and the center still has a bit of jiggle when you shake it.
Remove from the oven and cool on a cooling rack for about an hour, then pop into the refrigerator for at least 4-5 hours, but preferably overnight.
When chilled through, remove from the refrigerator. Use a knife to loosen the edges of the pumpkin cheesecake from the pan before removing the sleeve.
Use a sharp knife to cut the cheesecake into slices. Wipe off the knife each time you slice the cheesecake or to loose the crust form the springform pan to keep your slices pretty and even.
TIP: Don't have a knife large enough to cut across the cheesecake? Try using unflavored dental floss instead!
Enjoy!
FAQs and Storage
Can I use canned pumpkin purée for this recipe?
Absolutely! Just be sure to buy 100% pumpkin purée, NOT pumpkin pie filling.
Is there an easier substitute for the ground spices?
Sure thing! Feel free to use a tablespoon of pumpkin pie spice instead.
How do I know when the cheesecake is done?
A perfectly cooked cheesecake will have a jiggly center when gently shaken and the top will be slightly puffed. Do not bake until firm and set or it will be overcooked!
Can I freeze this pumpkin cheesecake?
Yes and no! If you are going to freeze the cheesecake, bake it without the crumble topping to avoid a soggy top. It will stay well in the freezer for up to 3 months.

When you plan to serve the cheesecake, allow it to defrost overnight in the refrigerator.
Make the crumble separately by mixing the ingredients and baking them on a sheet pan at 175C (350F) for about 15 minutes until golden brown and yummy. Allow to cool, then sprinkle over the cheesecake for serving.

This cheesecake stays well in the refrigerator up to 5 days.
Serving suggestion
While you can certainly eat this pumpkin cheesecake solo, I'm all for making it feel extra special. Serve alongside a mug of hot apple cider, hot tea or coffee.
Feel free to dress things up with a dollop of whipped cream, a scoop of ice cream or a drizzle of salted caramel. Enjoy!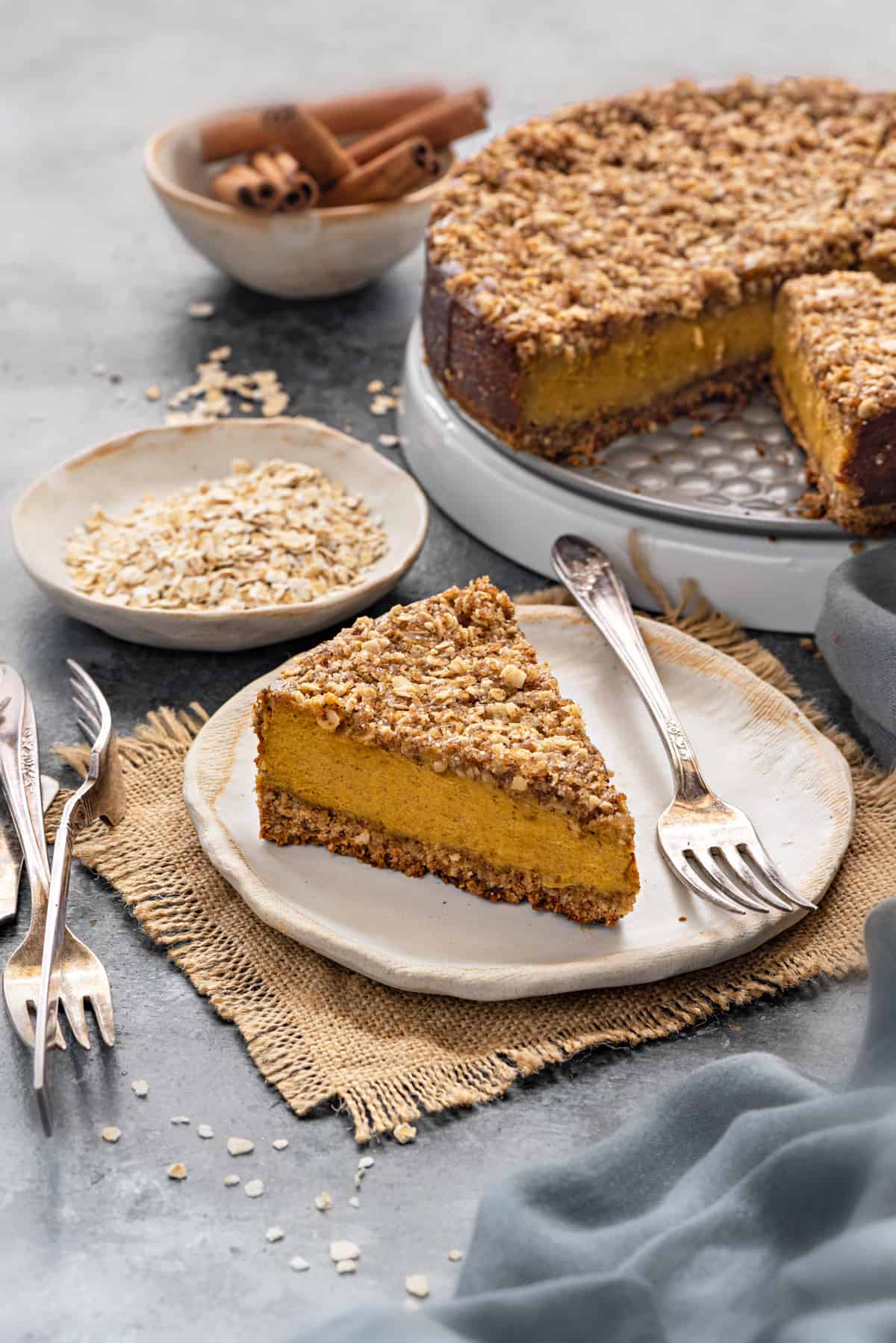 Need more delicious dessert inspiration? Here they are:
💓 We Love to hear back from you and appreciate your success stories!
Have you tried this "Gluten Free Pumpkin Cheesecake with Oat Crumble"? Please feed us with your ★ star ratings and comments below.
You can also follow me on Facebook, Instagram or Pinterest if you'd like to brighten up your feed with delicious food ideas.
📖 Recipe
Print
Gluten Free Pumpkin Cheesecake Recipe
This pumpkin cheesecake is velvety and delicious, filled with warming fall spices and topped with a buttery, crunchy topping. This is THE gluten free dessert recipe you need for pumpkin spice season!
Ingredients
For crust
1

cup

Oat Flour

1

cup

Almond Flour

2-3

tablespoons

Brown Sugar or Granulated Sugar

¼

teaspoon

Salt

1

teaspoon

Cinnamon Powder

5

tablespoons

Melted Butter
For Filling
450

gms

Cream Cheese (2 tubs of 8 oz. each)

¾

cup

Pumpkin Puree

½

cup

Brown Sugar

2

Eggs

1.5

teaspoons

Vanilla Extract

1

teaspoon

Ground Nutmeg

¾

teaspoon

Ground Cloves

½

teaspoon

Ginger Powder

1

teaspoon

Cinnamon Powder
For crumble topping
¼

cup

Rolled Oats

¼

cup

Almond Flour

¼

cup

Brown Sugar

2

teaspoons

Cinnamon

3

tablespoons

Melted Butter
Instructions
Start with pre heating the oven at 175 degrees celsius.

In a bowl, combine the crust ingredients.

Add the crust mixture to the 8 inch spring form and press it well to make even crust layer.

Pop it in the oven and bake for 5 minutes. Once baked take it and let it sit for 5-7 minutes.

In another bowl, combine the ingredients for crumble and set it aside.

In another large bowl add all the ingredients mentioned for the filling.

Whisk it until combined well ( do not over mix it).

Now, spread the filling evenly over the crust and sprinkle the crumble topping on the filling.

Bake for 30-35 minutes or until the centre is puffed and still jiggly.

Once baked, place the pan on the counter or cooling rack and allow it to cool at room temperature for sometime.

Carefully loosen the sides by running the knife around the edge.

Now, refrigerate the cheesecake for at least 4-5 hours. Overnight is always the best.

Slice and serve as you like.
Notes
Be sure to refrigerate the cheesecake for at least 4-5 hours, preferably overnight for best results.

This cheesecake stays well in the refrigerator up to 5 days.

Serve with whipped cream, salted caramel or pralines for a little extra crunch.
Nutrition
Calories:
451
kcal
|
Carbohydrates:
34
g
|
Protein:
9
g
|
Fat:
33
g
|
Saturated Fat:
15
g
|
Cholesterol:
106
mg
|
Sodium:
304
mg
|
Potassium:
178
mg
|
Fiber:
3
g
|
Sugar:
21
g
|
Vitamin A:
3791
IU
|
Vitamin C:
1
mg
|
Calcium:
114
mg
|
Iron:
2
mg