There is a reason people say that sweet potatoes are nature's candy! These oven roasted sweet potatoes are the perfect side dish for everyone at your table.
They come out tender and perfectly caramelized, while the leftovers are perfect for other dishes. What's not to love?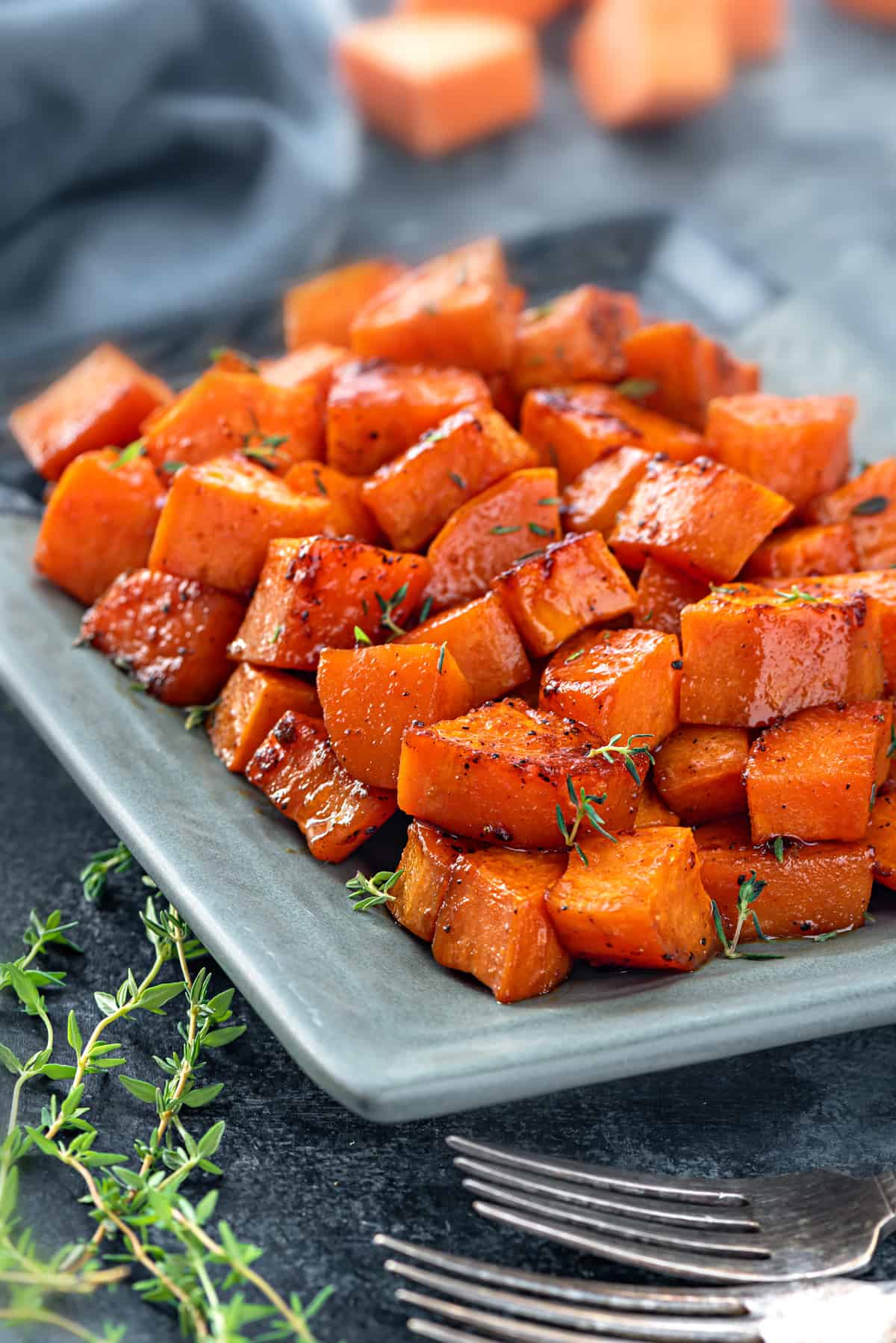 Jump to:
What makes this recipe so good?
These oven roasted sweet potatoes are so easy to make, and so versatile, they need to be a staple in your recipe book!
Since they are naturally vegan and gluten-free, anyone at your table can enjoy them.
Though this is a go-to for holiday or Thanksgiving tables, they also make a perfect picnic or BBQ side dish.
Ingredients you will need
Sweet Potatoes : Two pounds (small to medium sized potatoes, with tight skin is preferred) to be cubed.
Smoked Paprika : Any will do, but making sure it is fresh will be key.
Garlic Powder : Any brand is fine, but make sure not to miss out on this, since the garlic powder is a great balance to the sweetness in these roasted potatoes.
Maple Syrup : Pure maple syrup will always be the best choice, as it gives us the perfect natural sugars for roasting.
Olive Oil : As always, a great olive oil makes a difference - so make sure you have one that is fresh!
Salt and Pepper: Sea salt and fresh ground pepper will have the best punch to the roasted sweet potatoes, though standard table salt does the trick!
Fresh Thyme: This is my preferred garnish for this recipe, but oregano or marjoram make delicious alternatives.
How to roast sweet potatoes (step-by-step)
Start by preheating the oven at 425 degrees F (200 degrees C).
Peel the sweet potatoes and cut them into one-inch chunks.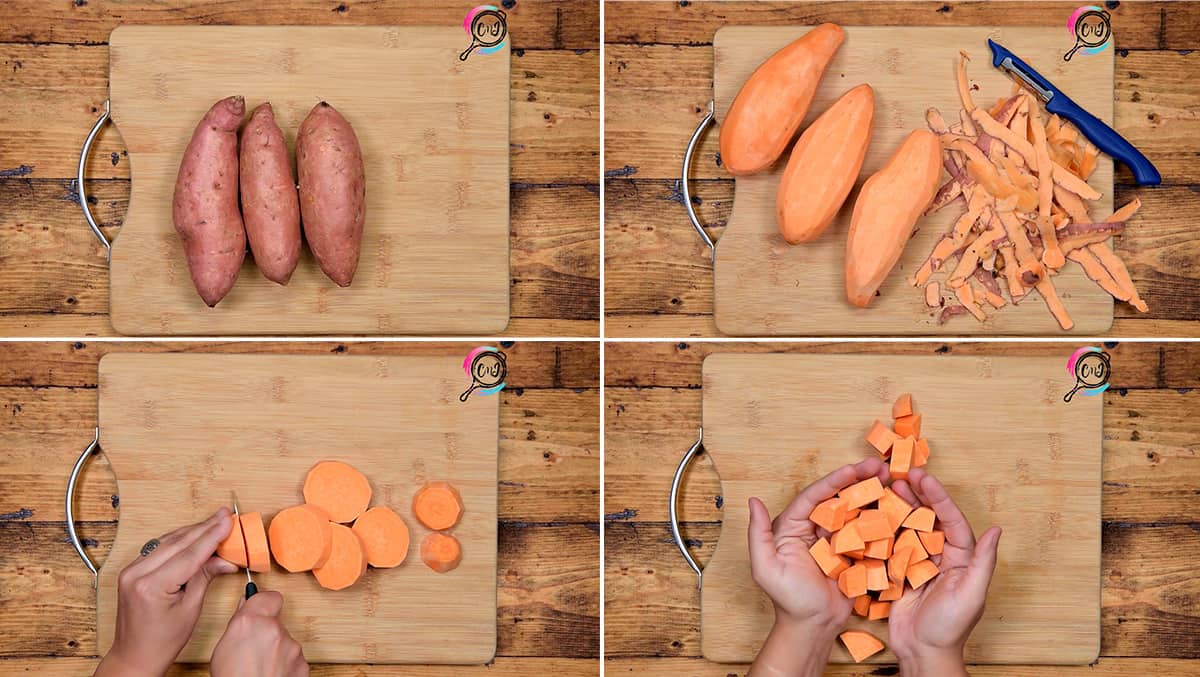 Toss in the spices and maple syrup, coating the potato completely .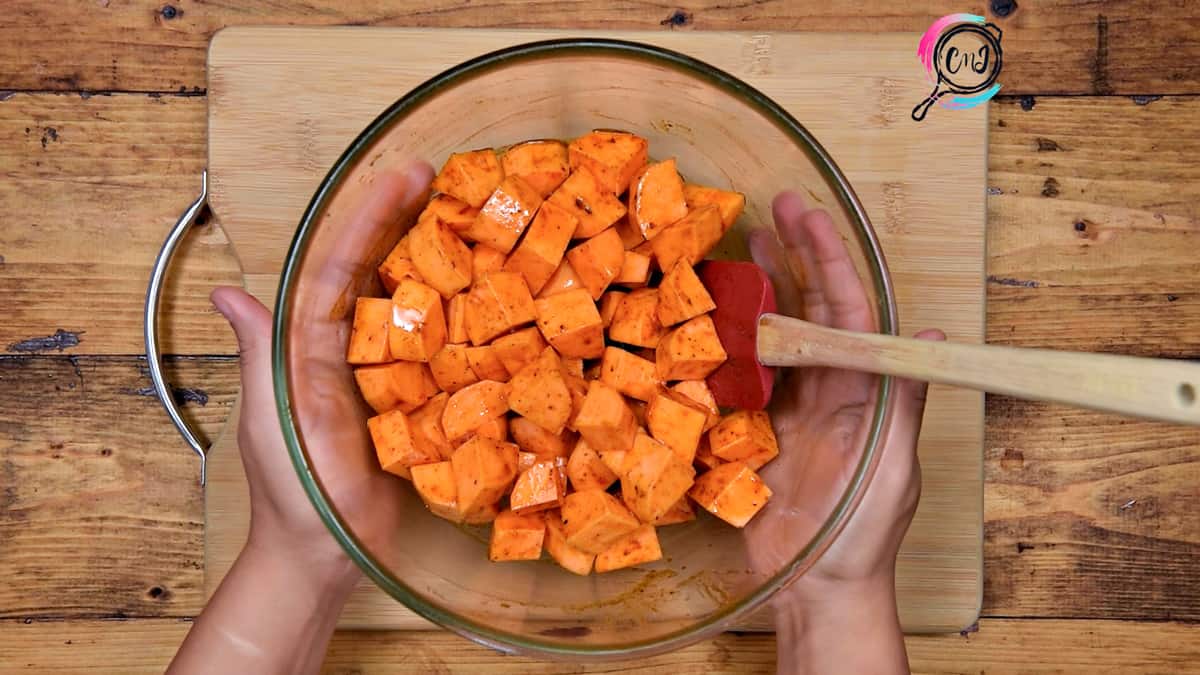 Spread the tossed sweet potato chunks on baking sheet pan in a single layer.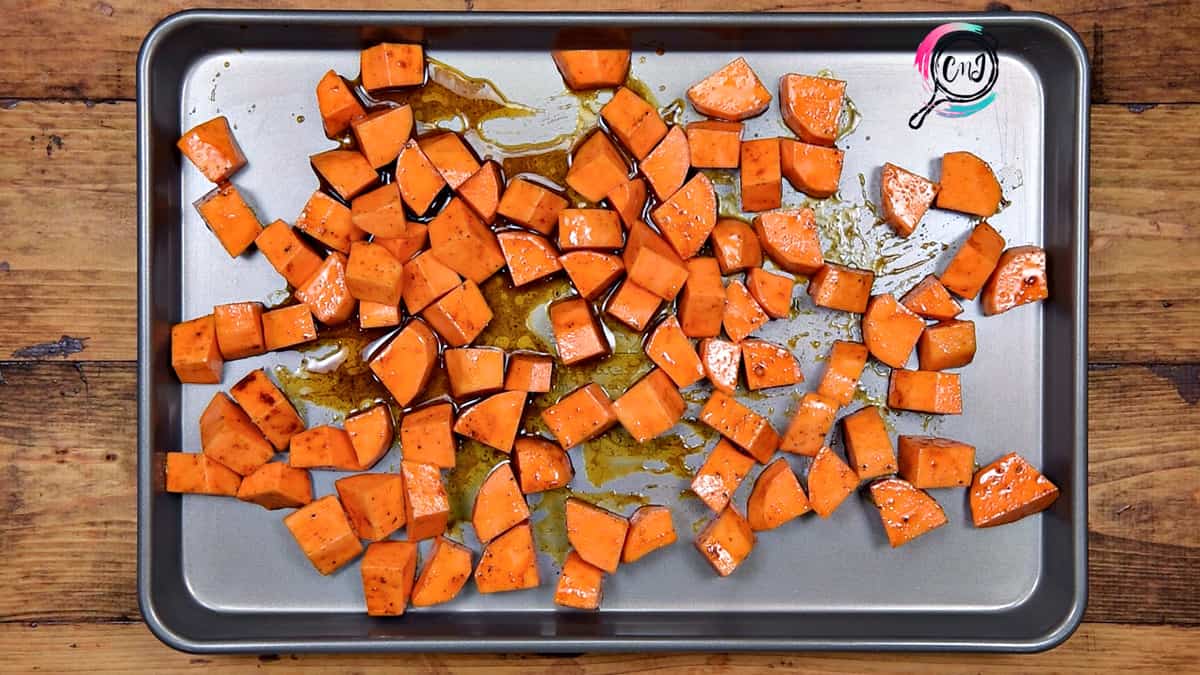 Roast them in the preheated oven for 30 minutes until fork tender (flipping at every 10 minutes).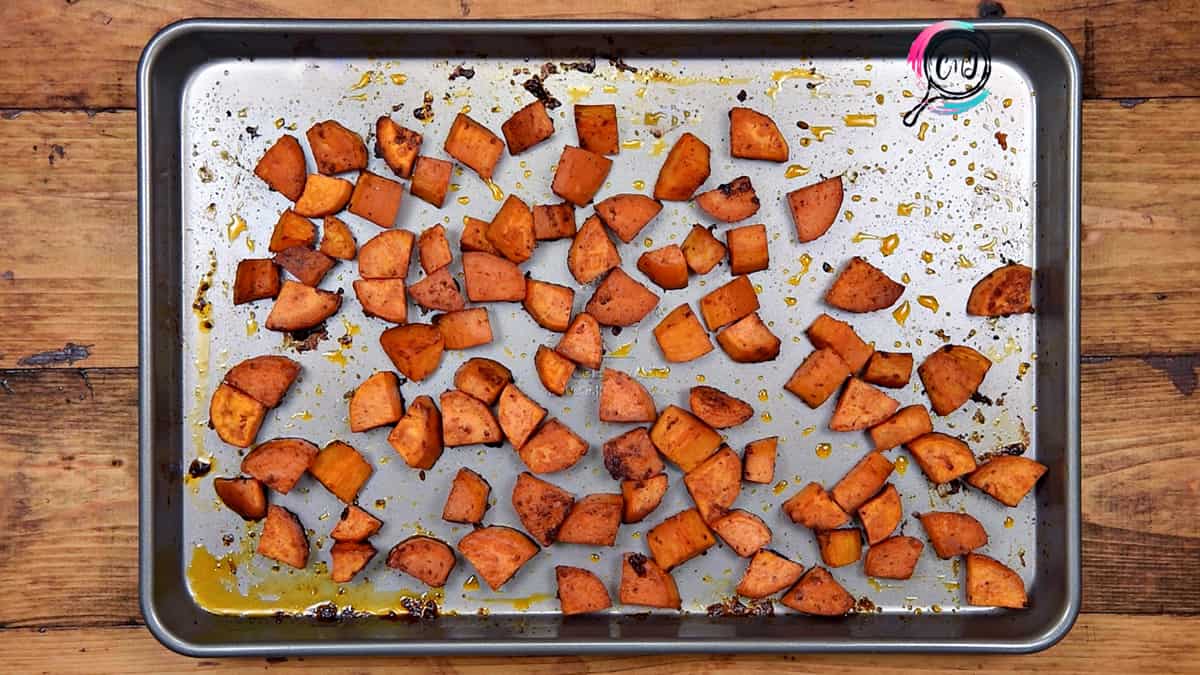 Once they're ready, drizzle the cooked sweet potatoes with remaining syrup and thyme. Serve immediately for the best flavor.
Serving ideas
They may be a staple for Thanksgiving dinner tables, but these roasted sweet potatoes can be added to other incredible dishes!
For instance, these can come out of the refrigerator cold for a fall salad with cranberries and spinach or kale.
They also love to be wrapped up with veggies in a sandwich, or packed into a warm tortilla with black beans and quinoa for burritos!
(They also go really well with these vegetarian enchiladas from WellPlated!)
Storing and freezing
In an airtight container, they can be kept in the refrigerator for three to four days.
Fully roasted vegetables do not freeze well, so using leftovers in other recipes is a great way to enjoy their caramelized goodness.
If you are looking to save some preparation time, you can partially roast and freeze sweet potato wedges, fries, or slices.
This post from SpruceEats has a step by step for that process, and I would love to hear from anyone who tries this out!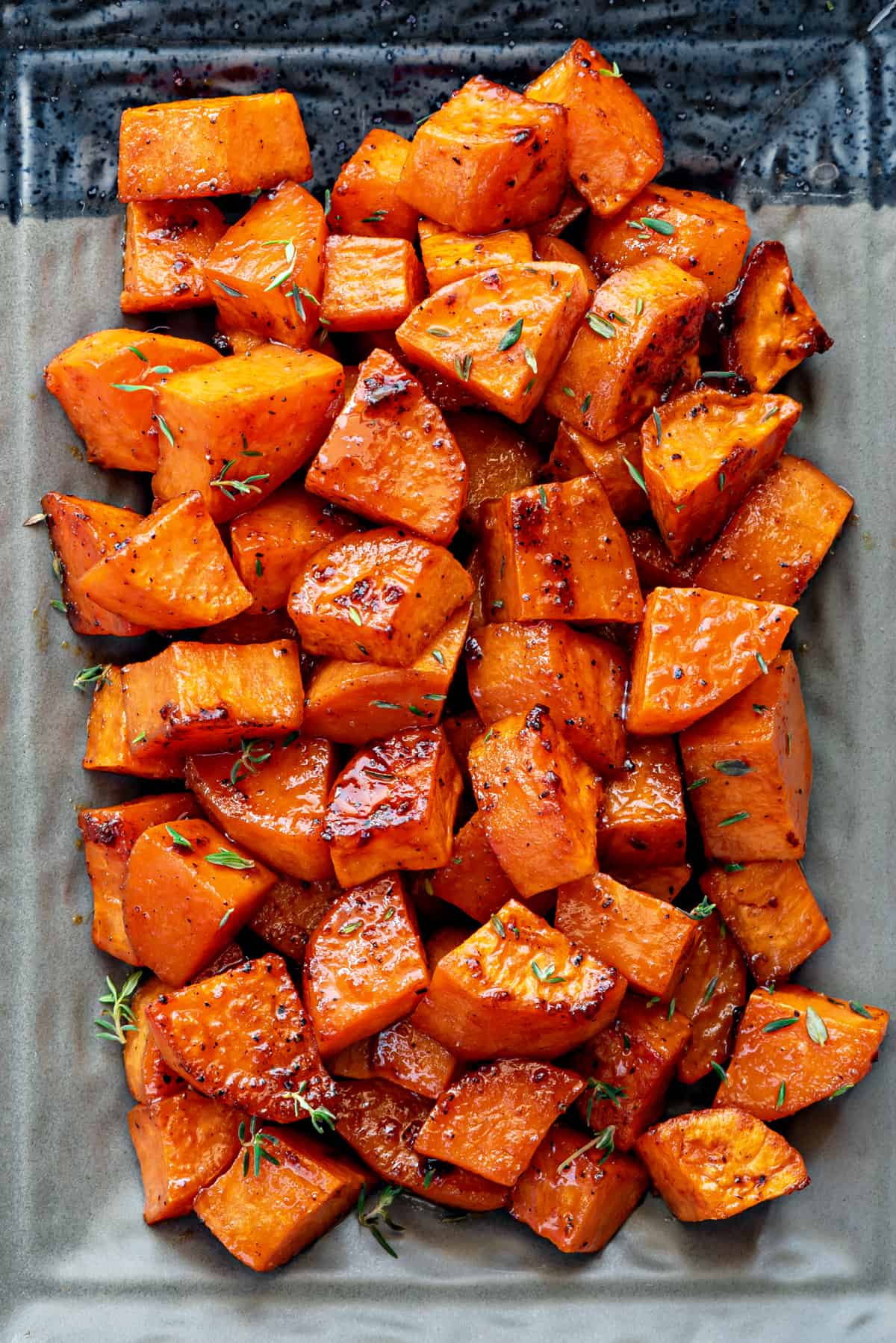 Tips and Variations
Use larger baking sheet pan to avoid over crowding of the vegetables. This will also help in better roasting giving the desired texture to the potato.
Flip the potatoes in between after every 10 minutes to ensure even cooking.
Variations on a basic sweet potato
This roasted sweet potato recipe seamlessly moves from sweet to savory with just a few simple swaps!
Replace savory elements with things like cinnamon and honey to create a dessert that goes great with ice cream, peanut butter, coconut, and chocolate!
Use extra spices like chili powder, all-spice, or poultry seasoning to give this winning side an extra pop!
If you end up with a larger, starchier sweet potato, use it in a recipe that calls for a russet. My instant pot potato soup recipe would work well for this.
When hunger pangs hit, you can quickly cook sweet potatoes in the Instant Pot to snack on it with little butter, salt, pepper and a dash of thyme. It tastes delicious!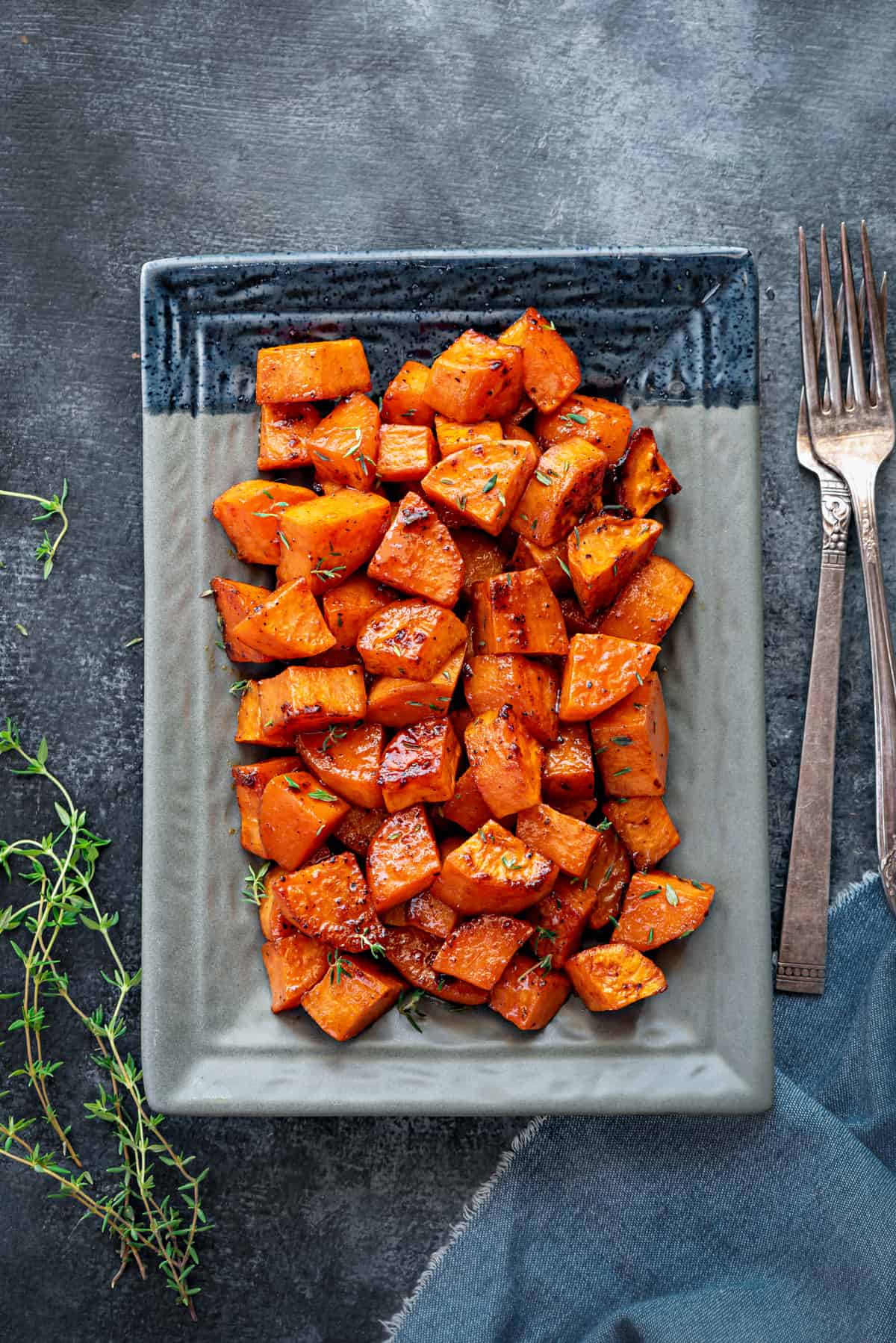 Frequently Asked Questions
How do I pick the right sweet potato?
When shopping, make sure you pick one with a tight skin and it will stay tender and sweet. Small to medium sized sweet potatoes will also work best, as the large ones are very starchy.
Do I need to peel it?
You don't have to, but we do suggest you do in this recipe. These skins are safe to eat raw or cooked.
If you do want to keep the skins on, they need to be thoroughly washed. Since they grow in the soil, we want to remove any pesticides, or debris.
To wash your sweet potato, place it under running water and scrub it with a vegetable brush.
How do I cut them?
There are various options and with this recipe, most people choose to cube! However, you could easily slice these into fries or wedges, and even roast the potato whole.
Can I make roasted sweet potatoes ahead of time?
Absolutely! These can be made ahead of time and stored in the refrigerator for thee to four days. Throw them into a salad, burrito, or wrap for added sweetness and protein!
💓 We Love to hear back from you and appreciate your success stories !
Have you tried this "Recipe"? Please feed us with your ★ star ratings and comments below.
You can also FOLLOW me on FACEBOOK, INSTAGRAM and PINTEREST for more fabulous recipes and updates.
📖 Recipe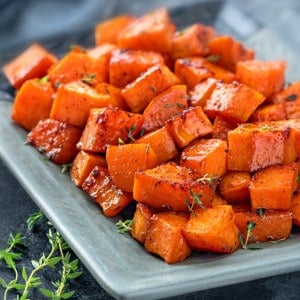 Print
Roasted Sweet Potatoes
Perfectly caramalized and tender, this delicious oven roasted sweet potato with maple is perfect vegan side dish for holiday or Thanksgiving tables.
Ingredients
2

lbs

Sweet Potatoes

1

teaspoon

Smoked Paprika

1

teaspoon

Garlic Powder

¾

teaspoon

Black Pepper

¾

teaspoon

Salt

3

tablespoons

Maple Syrup

(divided)

2

tablespoons

Olive Oil

Fresh Thyme for garnish
Instructions
Preheat the oven at 425 degress F (200 degrees C).

Peel and cut sweet potato into one-inch chunks.

Toss them with smoked paprika, garlic powder, salt, pepper, 1 tablespoon maple syrup and olive oil.

Spread the tossed chunks on baking sheet pan in a single layer.

Roast them in the preheated oven for 30 minutes until fork tender (flipping at every 10 minutes).

Once done, take them out, drizzle the remaining maple syrup and toss. Sprinkle fresh thyme and serve immediately.
Notes
Use larger baking sheet pan to avoid over crowding of the vegetables.
Nutrition
Calories:
151
kcal
|
Carbohydrates:
28
g
|
Protein:
2
g
|
Fat:
4
g
|
Saturated Fat:
1
g
|
Sodium:
281
mg
|
Potassium:
405
mg
|
Fiber:
3
g
|
Sugar:
9
g
|
Vitamin A:
16211
IU
|
Vitamin C:
3
mg
|
Calcium:
42
mg
|
Iron:
1
mg