This deliciously vibrant fall salad is replete with sweet and tart seasonal fruits like apples, pears and pomegranates. Whether served as a side dish or entrée, this harvest salad is sure to delight your tastebuds. Perfect pack of major nutritional punch during the colder weather months!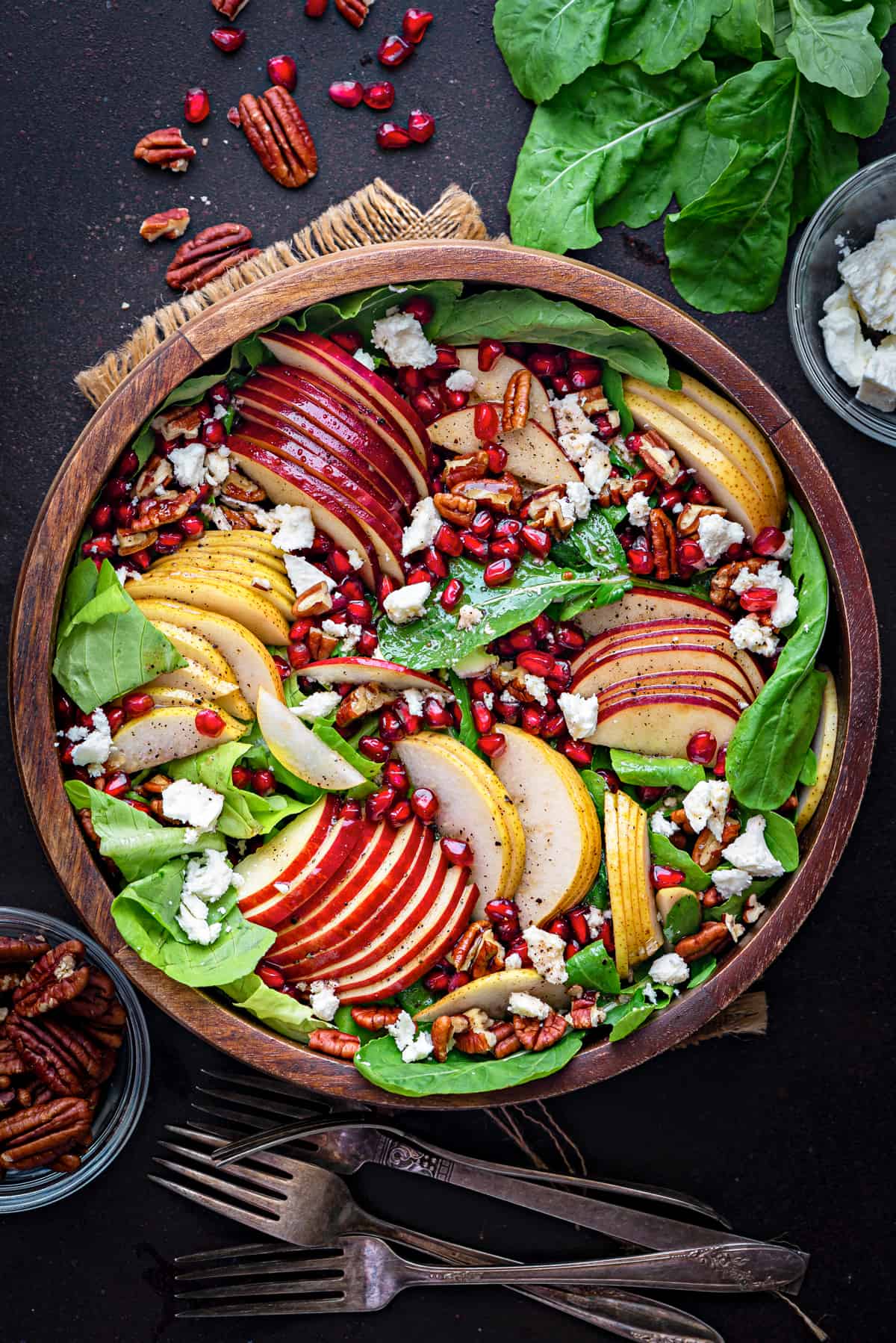 Jump to:
Why you should make this feel-good salad
This fall salad is everything you could want out of a cold weather dish; it is comforting, fresh and healthy. Sweet fruits pair well with tangy, melt in your mouth cheese and a toasty nut crunch, all mixed together with a bit of spicy arugula. It is the epitome of a true autumn harvest salad.
If you needed another reason to make this beautiful fall salad, it requires exactly zero complicated preparations. Simply slice your apples and pears, de-seed your pomegranate, whisk together a dressing and you're ready to go!
The beautiful flavors and colors make this Arugula Apple Pear Salad a perfect addition to either your Thanksgiving or Christmas table. Bright red pomegranate, deep green peppery arugula, sweet pears, bright white salty feta, and gold, green or red apples couldn't be prettier for the season!
This harvest salad is also easily customizable. Everything from the vinegar to the cheese, the nuts to the greens can be altered to fit your favorite flavor profile. And there are tons of add on options to make this fall salad into a hearty entrée without much work!
Harvest salad ingredients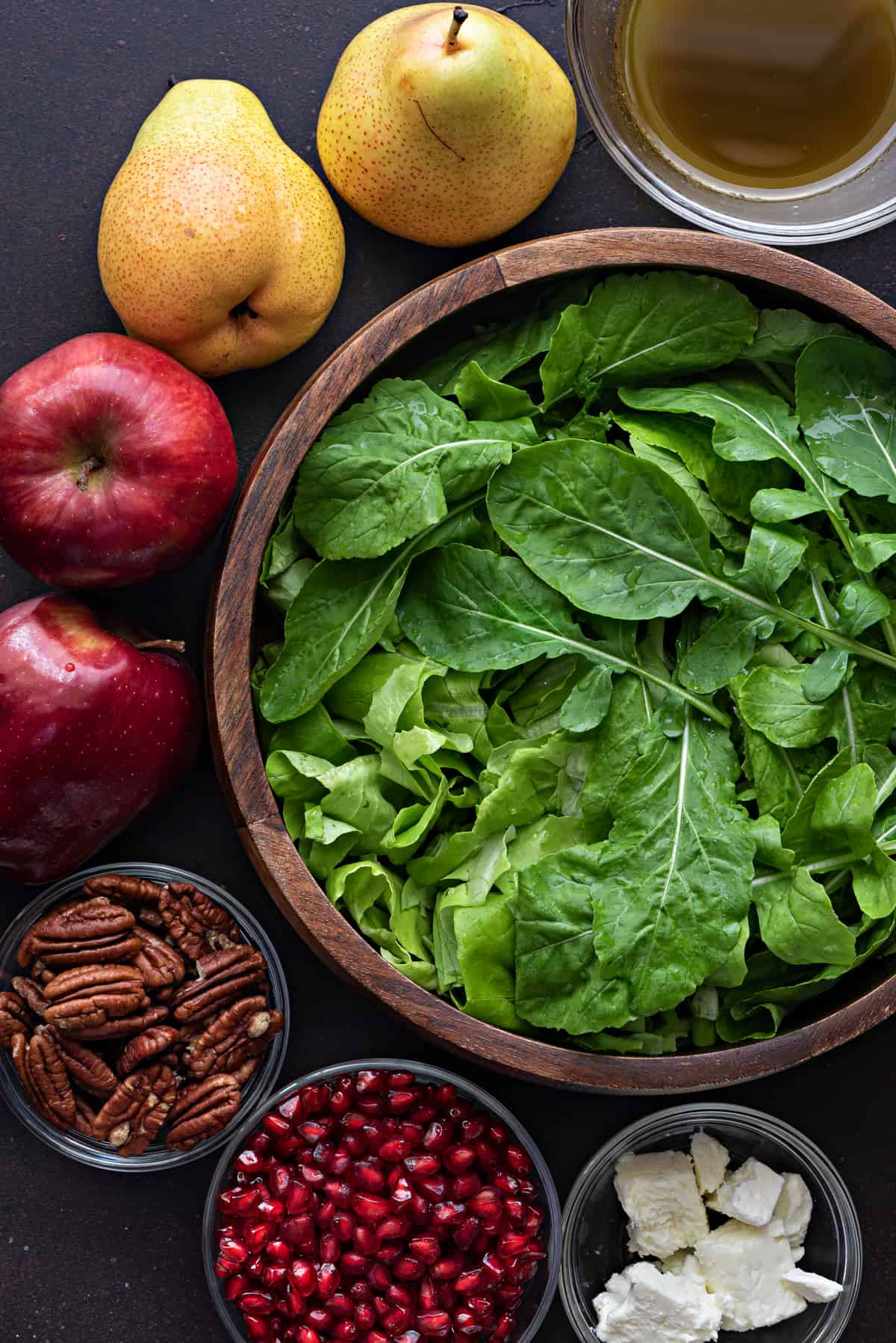 One thing I love about this salad is that it is composed of straight-forward ingredients that should be easy to find at any grocery store.
Arugula : My favorite greens for this particular recipe have to be arugula. The peppery quality of rocket makes is a lovely foil for the sweetness of the fruit and maple dressing.
Apples and Pears : Both are a perfect cold weather fruit. Not only will they last in storage for long periods of time if treated properly, they are also bastions of colder weather produce.
The apples are best if they are a more tart and firm variety such as Pink Lady, Cortland, Empire or Jonathan apples. This way, they provide a textural contrast to softer, sweeter and creamier pears.
Pomegranate seeds : Also known as "arils" provide a lovely and literal pop of sweet-tart flavor. While some stores carry the arils already removed from the fruit, it is far more economical to purchase a whole fruit and remove them yourself. Check out the FAQ section below to learn how!
Feta Cheese : I personally prefer the saltiness of feta in this fall salad recipe, but you can easily substitute it for your own favorite cheese. My runner up choice would be creamy and tangy goat cheese. You could certainly get away with some grilled halloumi as well.
How to make maple vinaigrette
My Maple Vinaigrette recipe is super simple and easy. With just five ingredients - red wine vinegar, maple syrup, olive oil, salt and pepper - you can have a bright, fresh and sweet salad dressing in no time.
In a small mixing bowl, simply whisk together your ingredients to combine.
While the vinaigrette will have a tendency to separate over time, I love to store mine in a squirt bottle in the fridge, so I can easily shake it up and use it whenever I'm in the mood for a fall flavored salad.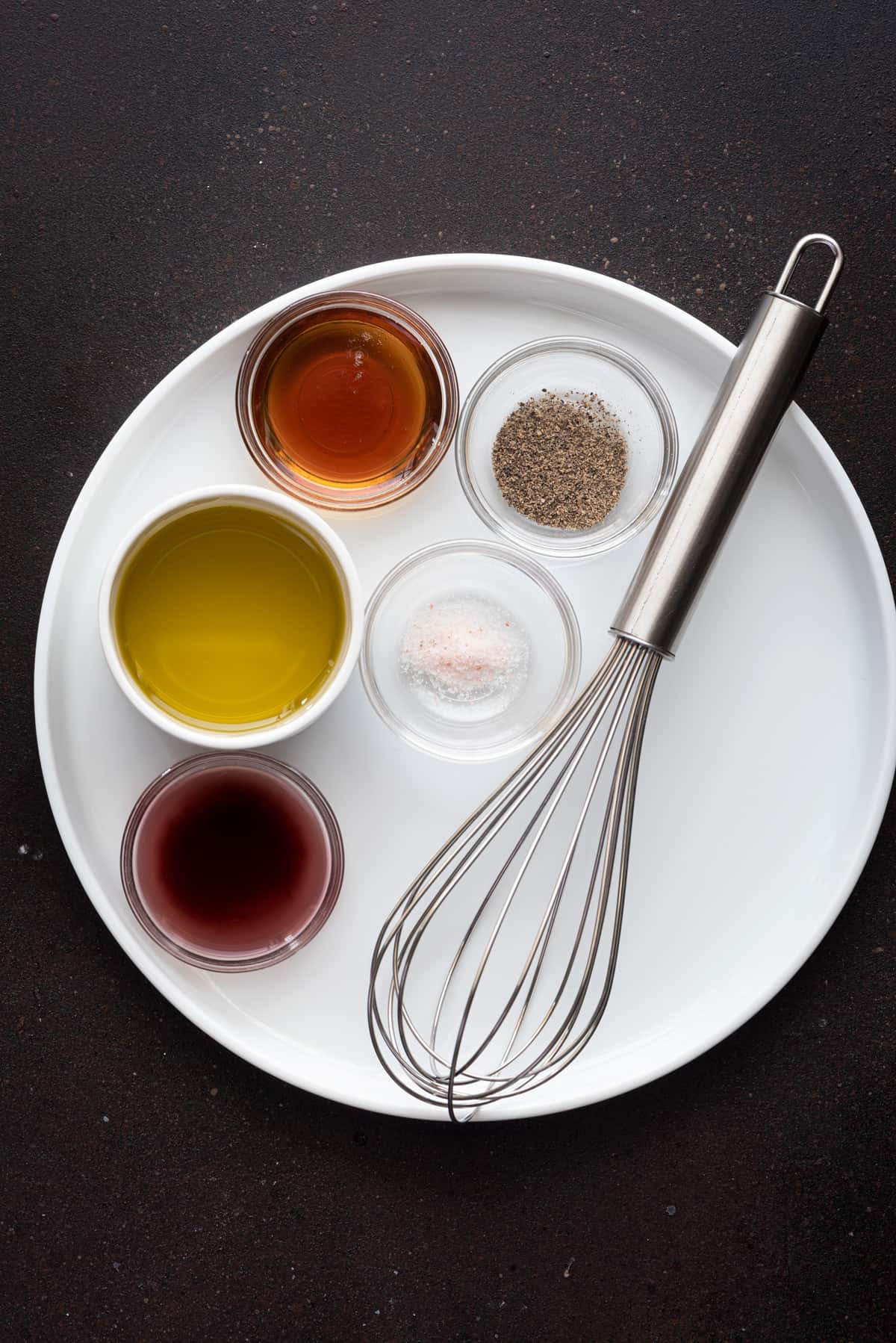 How to assemble this arugula apple & pear salad
This autumnal salad makes a beautiful platter, so I usually like to serve it family style.
First up, create a pillowy bed of arugula on the bottom of the dish. Next, sprinkle on your toasted pecan pieces.
Arrange your apples and pears in a visually interesting way. Now sprinkle on your feta and pomegranate arils for contrasting color.
Finally, use a spoon to drizzle on as much dressing as you like right before you serve the salad.
TIP: If you are not planning on eating the salad right away, or you think it may not get finished in one serving, serve the dressing in a gravy boat to the side with a spoon. That way, your guests can dress their salads to order.
Tips and FAQs
How can I keep apples and pears from browning?
Because apples and pears both oxidize when exposed to air for too long, I recommend slicing them just prior to using them and then soaking them to prevent browning.

The best solution to keep the unsightly browning from happening after tossing your salad is to first bathe the fruit slices in a solution of either water and citric acid (or lemon juice) or in plain seltzer water.

To make an acid solution, use 1 Tablespoon of either lemon juice or citric acid powder for each cup of water. Drop your slices in the water solution and allow to sit for 3-5 minutes.

Drain the water and lightly dab the fruit or place it in a salad spinner to remove excess liquid before tossing in the salad.

Alternatively, if you are pre-slicing your fruit, you can put the pieces back together in the shape of the fruit. Use a rubber band to hold it in place so the sliced edges don't touch air, thus preventing the oxidation process.

You can also double up and use both the solution and the rubber band trick to keep the fruit in tact for up to 48 hours.

Bonus: this also works for packed lunches!
Can I make the dressing ahead of time?
Absolutely! The salad dressing should keep in an airtight container in the refrigerator for up to two weeks.

Just be sure to keep it separate from the greens until you are ready to eat to prevent wilting.
Can I make this salad ahead of time?
I don't recommend that you toss the salad until you are ready to eat it. The greens will begin to wilt once they come in contact with the salad dressing.

That said, you can follow this awesome method for making mason jar salads if you want to pack this autumn harvest salad for your lunch.
What is a good red wine vinegar substitute for the dressing?
Since this is a fall/winter salad, I love substituting apple cider vinegar instead of the red wine vinegar.

Rice wine vinegar will also make a lovely, albeit lighter, salad dressing.

Finally, if you have access to specialty vinegars, pear, apple or pomegranate flavored vinegars would all make wonderful substitutes.
Can I make this fall salad vegan?
Of course! You can either opt to omit the feta cheese or decide to sub a vegan option instead.
How to remove pomegranate seeds for this salad?
Pomegranates are beautiful and delicious! But, if you have never dealt with a fresh one before, the process of removing the arils can seem intimidating.
Check out my blog post to see how it's done! Deseeding pomegranate tutorial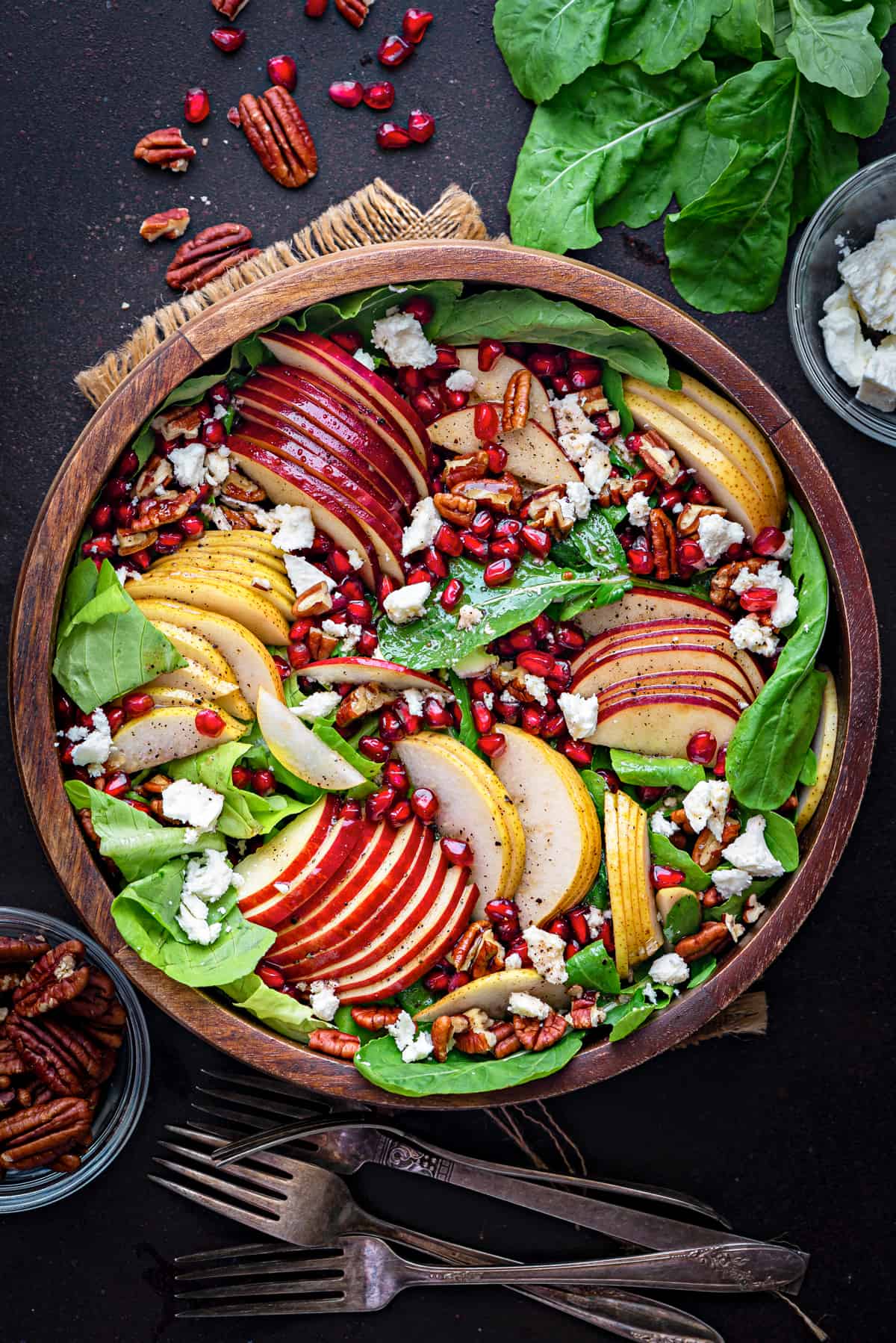 Variations + Additions
Perhaps the best thing about harvest salads is that they are endlessly adaptable to whatever you like that is also in season.
Salad Greens : While peppery arugula is my favorite for this harvest salad, spinach, hearty kale (just like this kale apple salad that also goes great with pomegranates, mango), or mixed greens would also be delicious.
TIP: If you opt to use curly kale and not tuscan kale, be sure to massage the dressing into the greens first. This will not only help to reduce the toughness factor of raw kale, but will also help it to hold onto the maple vinaigrette.
If you are eating this salad as an entrée, I highly recommend adding some more yumminess to the mix:
Veggies:
Roasted butternut, acorn or delicata squash would be perfectly seasonally appropriate.
Oh, and there's nothing squash loves as company in a salad than dried cranberries!
Roasted sweet potatoes would also do the trick.
Proteins :
If you want more protein, add some grilled chicken or use up your leftover Thanksgiving turkey.
Prefer vegan protein? Add in some hefty grains like quinoa, farro, barley or wheat berries to up the nutritional factor.
Nuts:
If you're not a fan of pecans, I highly recommend experimenting with other toasted nuts.
Walnuts, pistachios (like I have added in this strawberry salad), sliced or slivered almonds would all be delicious in this fall salad.
If you're feeling especially adventurous, glazed or spiced nuts would also be divine.
Cheese :
To me, cheese is the cherry on top of a salad sundae, but this is a choose-your-own-adventure meal, so go with your gut!
If you're not a fan of feta, goat or grilled halloumi make wonderful substitutes.
You can also omit the cheese entirely or opt for a plant based version instead.
Serving Suggestions
This harvest inspired fall salad is a delight to your tastebuds no matter how you serve it. I love serving this salad as an appetizer for fall and winter dinner parties.
I also love having it as a side dish for any chilly weather meal, as a way to incorporate more vegetables in our diets during "comfort food" months.
The colors and incredible flavor of this harvest salad also make it perfect for a spot on your Thanksgiving or Christmas table. There's nothing like a bit of fresh veg to help break up the decadence of holiday feasts.
Finally, this salad also makes an excellent entrée, especially with a few additions. Read on below for ideas to make this fall salad hearty enough to eat for dinner.
More Delicious Salad Recipes
If you made this recipe for my Fall Harvest Salad, then please be sure to rate and review it below!
If you'd like more deliciously easy recipe inspiration, follow me on Instagram, Pinterest, Facebook or YouTube. You can also get all of my newest content delivered straight to your inbox by signing up for my email newsletter.
📖 Recipe
Print
Arugula Apple Pear Fall Salad
This cozy autumn salad showcases the best cold weather fruits. Whether served as a side or entrée, you're sure to enjoy this salad with arugula, pecans and salty feta crumbles.
Ingredients
7

oz

Arugula

3

oz

Lettuce

(roughly torn)

½

cup

Pecan Nuts

(halves or chopped)

2

Apples

(thinly sliced)

2

Pears

(thinly sliced)

3

oz

Feta Cheese

(crumbled)

¾

cup

Pomegranate Arils
Maple Vinaigrette
4

tablespoons

Extra Virgin Olive Oil

1

tablespoon

Maple Syrup

2

tablespoons

Red Wine Vinegar

Salt and Pepper as needed
Instructions
For vinaigrette dressing
In a small mixing bowl, simply whisk together your ingredients to combine.

Store in refrigerator until ready to use.
Assemble salad
Arrange arugula and lettuce in a serving platter.

Sprinkle pecan nuts over the salad greens.

Layer the sliced apples, pears and then top it with crumbled feta and arils.

Just before serving, dress the salad with prepared dressing and serve immediately.
Nutrition
Calories:
280
kcal
|
Carbohydrates:
27
g
|
Protein:
4
g
|
Fat:
19
g
|
Saturated Fat:
4
g
|
Cholesterol:
13
mg
|
Sodium:
171
mg
|
Potassium:
374
mg
|
Fiber:
6
g
|
Sugar:
19
g
|
Vitamin A:
963
IU
|
Vitamin C:
13
mg
|
Calcium:
146
mg
|
Iron:
1
mg