Butter Garlic Naan is an utterly delicious flat bread flavoured with garlic and other seasonings. This is an absolutely easy recipe of garlic naan that requires no oven/tandoor. Garlic butter naan goes perfect with Dal Makhani, Kali Masoor Ki dal. We can serve Garlic butter naan with curries like Paneer Makhanwala, Shahi Paneer,Kadhai Paneer, Dum ka Murgh, Hariyali Korma , Butter chicken, Murgh Saagwala, or Matar Paneer and so on. Do make this at home, I am sure you will love it. The best garlic naan recipe you will ever need.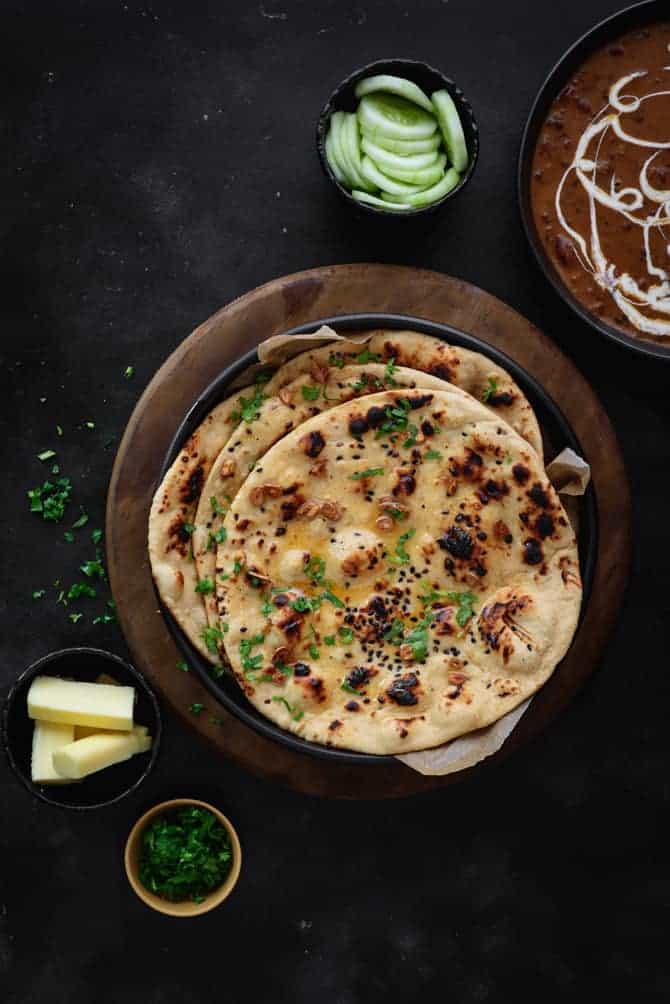 Finally, I am here with the best recipe of Butter Garlic Naan. This home-made Naan, I served with an extremely amazing Dal Makhni. However, not specifically just the Dal Makhni, we can serve Garlic Butter Naan with any Punjabi or Mughlai delicacy.
Difference between butter Naan and Roti or chapati
Often people have been asking me about the difference between a Naan and a Roti or Chapati. Chapati which we eat on regular basis is basically a whole wheat flour healthy bread. And, Naan which we usually eat at a restaurant on the other side is made from the maida along with yeast or soda/baking powder. Naan is made using leavened dough, that chefs, bhatiaras or even we make in tandoor or bake in oven. It is like-wise healthy but high on calories.
Naan is influenced from the Middle-East and is very popular in Central Asia. Indian sub-continent consists of large variety of Naan's/Roti in the world. As there are various languages and cultures, so there are different variety of cuisines and breads too.
Can we make Butter Garlic Naan using Whole Wheat flour?
Yes, the Butter Garlic Naan, we can easily make using whole wheat flour. The recipe here makes a use of normal gehun ka atta. For this recipe, you can use also, use the mix of the atta and maida as well.
Can we make Butter Garlic Naan Recipe without oven or tandoor?
Without a doubt, yes, we can make naan without oven or tandoor. In this recipe, I have cooked naan using regular griddle which we call it as tawa.
I cannot tell you the super taste of this home-made garlic naan. My family could not believe that I have made the Butter Naan. As they were looking like the restaurant ones, kiddos were claiming that it is a Naan from the restaurant. I felt really nice when they told me that it is not at all looking like a home-made Naan.
Well, here I'll agree that it was actually not looking like a home-made Naan. And, it was perfect and tasted delicious when we had in dinner along with Dal Makhni. What a pure bliss it was!!
Basic Ingredients that goes in making of Butter Garlic Naan Recipe
Now, we will list down the ingredients we will use to make Garlic butter naan. We need the whole wheat flour, Yogurt, Luke Warm Milk, Baking Powder, Baking Soda, Sugar, Salt, Ajwain, Garlic cloves, Butter, Oil, Water, Black Sesame seeds. Now that we have the list of ingredients, note them quickly.
If you see, all are all easily available in the general store. The flavor of every component gives an impact on the Butter Garlic Naan making it tastier and tempting, be it Ajwain, Garlic or the Black Sesame seed.
Indeed, Garlic Naan recipe is not as complicated as it looks. If all the ingredients from the list above are ready on the platform, then the very next step is simply kneading the dough.
So, add the ingredients one by one which I will be mentioning below. If you follow the recipe to the 'T', then you have your best ever garlic naan recipe ready at home. Without any futher delay, let us quickly take a look at how make delicious butter garlic naan at home.
💓 We Love to hear back from you and appreciate your success stories !
Have you tried this "Tawa Garlic Naan Recipe"? Please feed us with your ★ star ratings and comments below.
You can also FOLLOW Me on FACEBOOK, INSTAGRAM and PINTEREST for more fabulous recipes and updates.
Tawa Garlic Naan Recipe Card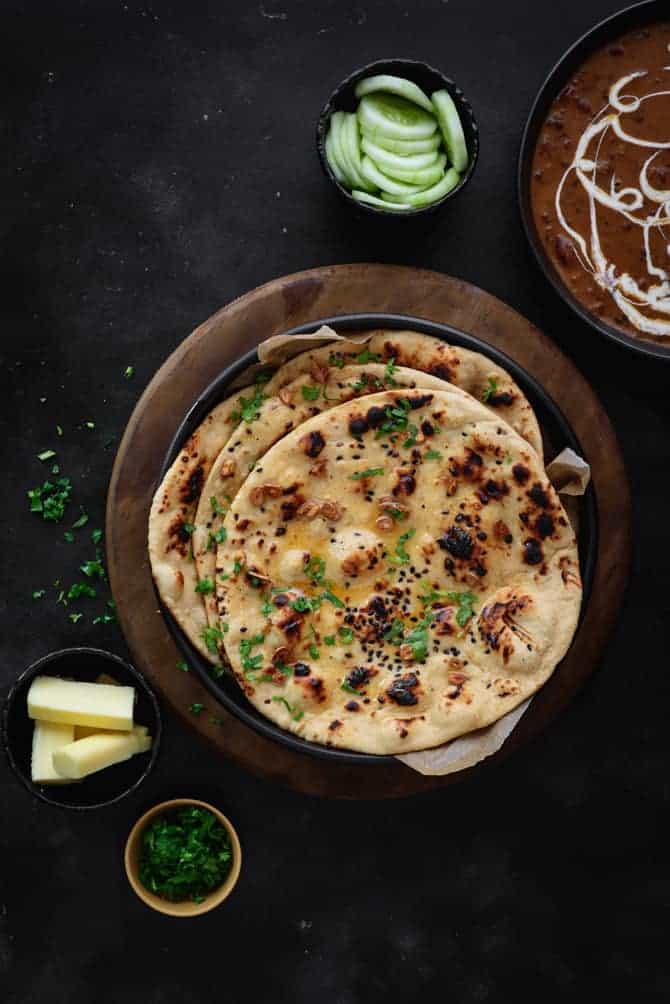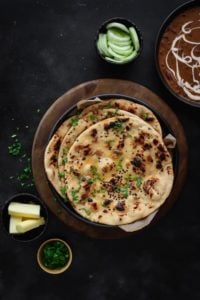 Print
Tawa Garlic Naan
The best tawa garlic naan recipe you will ever need. Made with whole wheat flour, this is an absolutely easy restaurant style recipe of garlic naan that requires no oven/tandoor.
Ingredients
3 .5

cups

Whole Wheat Flour (Atta)

¾

cup

Yogurt

¾

cup

Milk

Luke warm

1

tsp

Baking Powder

½

tsp

Baking Soda

1

tsp

Sugar

Salt to taste

1

tsp

Carom seeds

(Ajwain)

1 ½

tbsp

Garlic

garlic cloves finely chopped

1/3

cup

Butter

butter

2

tbsp

Oil

oil

Water

only if needed

Black sesame seeds

(black til) as needed for sprinkling on top
Instructions
To Knead The Dough for Garlic Butter Naan
First of all, melt the butter in small pan. Add garlic and allow it to simmer for 3 – 4 minutes on a very low flame to infuse the garlic flavor into butter.

Take it off the heat and allow it to cool to room temperature or just luke warm.

In a large bowl, add flour, baking powder, baking soda, sugar, Ajwain and mix.

Now add, yogurt, oil and 2 tablespoons melted garlic butter, to flour mixture.

Gradually, add little warm milk and start kneading the dough.

If the dough is not soft and you feel the need of water, then add warm water to it. Do not add too much water at once, tablespoon at a time.

Then, knead the dough for good 4-5 minutes. Dough should be soft and smooth

Cover the dough with damp cotton and keep it in a warm for place for at least an hour.
To Cook the Garlic Butter Naan on Tawa
Once the dough is leavened and ready to roll, heat the griddle and divide the dough into equal parts depending upon the size of the naan you prefer to make.

Grease the platform.Take one ball, sprinkle the sesame seeds on the ball. Start pressing the ball with your fingers to make it in an oval shape or any shape you prefer. The thickness of the naan should be around 6-7 mm. You may use the rolling pin to roll the naan.

Carefully flip the naan and brush it with water.

Now, place the naan on the hot griddle with the watered side on the griddle. This will ensure that naan sticks well on the griddle

Cover the naan with a lid and let it cook for 1/2 a minute

Take off the lid and turn the griddle upside down such that the top side of the naan is on direct flame. Allow it to get a charred appearance which will also help the naan to get cooked well.

Take it off the griddle. Brush it with the remaining garlic butter on the top and sprinkle some chopped coriander leaves. Serve
Nutrition Facts
Tawa Garlic Naan
Amount Per Serving
Calories 250
Calories from Fat 99
% Daily Value*
Fat 11g17%
Cholesterol 20mg7%
Sodium 134mg6%
Potassium 260mg7%
Carbohydrates 33g11%
Protein 6g12%
Vitamin A 235IU5%
Vitamin C 0.5mg1%
Calcium 83mg8%
Iron 1.6mg9%
* Percent Daily Values are based on a 2000 calorie diet.