Ragda Pattice or Ragda Patties – is a lip smacking popular Indian street food of potato patties topped with cooked white peas known as ragada, chutneys and spices. Its is an extremly popular bombay chaat recipe loved by all. An absolutely easy chaat recipe which is now a no fuss evening snack to make at home. Do not forget to add this ragda pattice recipe to you evening snacks recipe list. Here is how to make best ragda patties recipe at home.
Street food recipes like Sev Puri, Pani Puri, Dahi Puri, Ragda Puri, Ragada Pattice and those varieties of Bhel are just something one cannot resist. This is what makes it fall under 'Indian street food ever' list. So giving it a thought about it, we do not get everything everywhere, but you could yourself make them if you know what right ingredients you need and what is available around you. To be honest, it is easy and very handy to make it all at home ourselves.
Easy Ragda Patties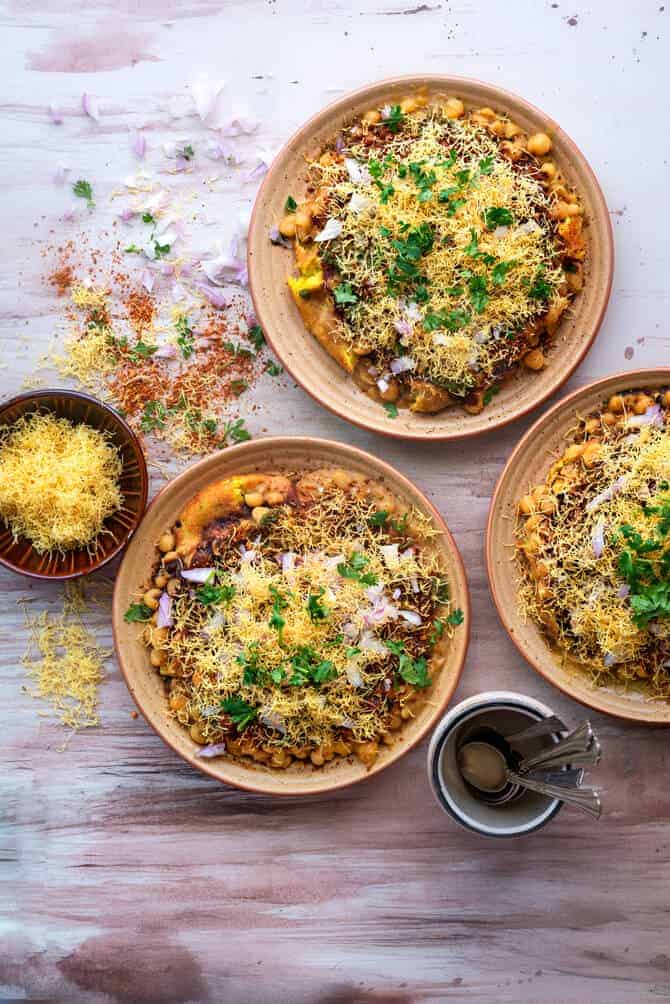 We all crave for the street side delights at times. And without making it a point I must say it is the most wonderful craving one could ever have. Often when we pass through the stalls of the street foods, that aroma just touches my soul and then I really miss Bombay. Every city has its taste, and the one we get there in Bombay is total blessing. I have also heard a lot about the famous chaat recipes from Delhi, and I will be looking forward to it the next time I visit Delhi.
Ragada pattice was amongst my favorite mumbai street food forever. Ragda pattice recipe is the crispy potato patties topped with amazing ragada, few tangy masalas and seasoning is just a bliss. And you can just not miss it in any case. Although, when I was in my school and college days, we used to go out to oldest outlet of my area and have all these munchies. The best part after every item used to be the sukhi puri, what a blessing it used to be.
Always make the ragda patties recipe, according to the number of people, making extra might lead to that extra plate to be a left over. And honestly speaking, the left over one does not taste as good as the immediately made plate. Also, if separately you have the topping left, you can refrigerate them in a container for good 2 days.
Ragda Pattice Recipe Ingredients:
Talking about the ingredients for ragda patties recipe, for ragada we have to take white peas, turmeric powder, tamarind pup, salt and water. However, if you are short of white peas or safed vatana, then you can proceed with dried green peas as well. But, white peas ragda will always be a win win recipe to make authentic bombay ragda pattice recipe at home.
For Patties, we need to go ahead with boiled potatoes. So, its mashed potatoes, ginger, green chili, turmeric powder, rice flour or cornflour and  oil for shallow fry. Sometimes, I do add only rice flour or only corflour or a mix of both. So you can go ahead with whatever binding ingredient is handy to you.
Let me share one small secret to you. Sometimes, instead of roasted cumin powder and red chilli powder, i prefer to sprinkle loads of dahi vada masala over ragda pattice recipe or any other chaat recipes. Mark my words, do try this recipe and see the wonders it makes to our popular Indian Chaat recipes.
Topping for ragada pattice:
Coming to the chutneys, recently I posted green chutney for chaat recipes, So that goes in along with sweet chutney(meethi chutney). Other must have spices for this recipe is roasted cumin powder, red chili powder, crushed roasted coriander seeds, onion, tomato, green chillies, lemon juice and chaat masala.  Lastly for garnishing, coriander leaves, nylon sev. Enjoy it immediately. let's go ahead to see, how to make easy ragda pattice recipe at home
 Some of the best Chaat Recipes you might want to try:
 Mumbai Ragda Pattice Recipe Below: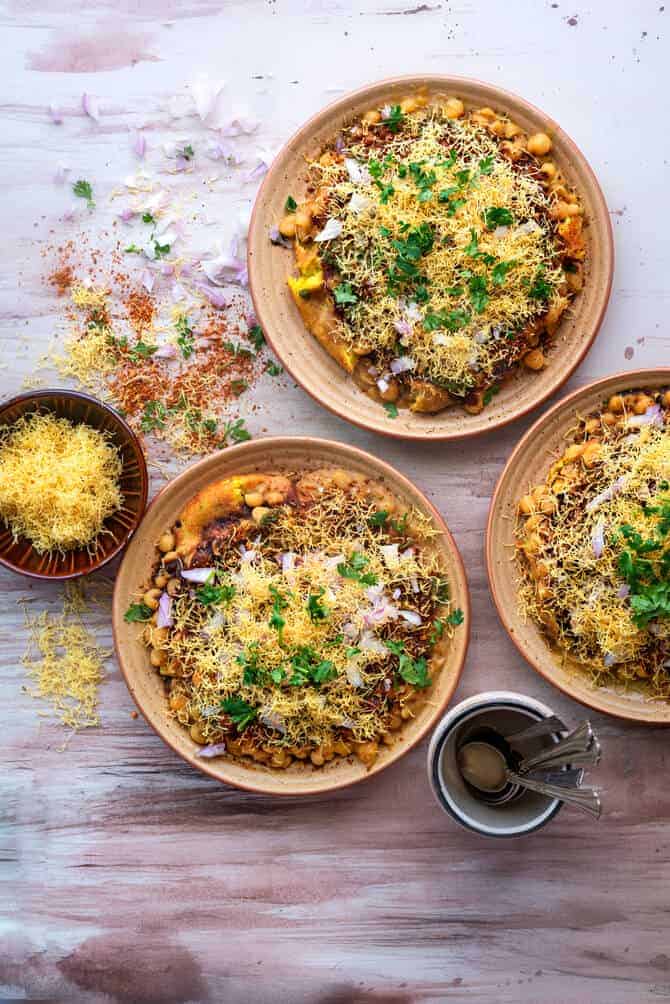 Print
Ragda Pattice (Ragda Patties)
Ragda Pattice is a lip smacking popular Indian street food of potato patties topped with cooked white peas known as ragada, chutneys and spices. Ragada patties is an extremly popular bombay chaat recipe loved by all. An absolutely easy chaat recipe which is now a no fuss evening snack to make at home. Here is how to make best ragda pattice recipe at home
Ingredients
to make Ragada:
2

cups

White Peas

(Safed Vatana)

½

tsp

Turmeric powder

1 -2

green chilies

slit or finely chopped

1.5

tbsp

Tamarind pulp

Salt to taste

Water as required 
For aloo or potato patties:
8

Potato

boiled and grated/mashed

1.5

tsp

Ginger

grated

1

tsp

Green chili

finley chopped or crushed (You may add more if preferred)

1/2

tsp

Turmeric powder

4

tbsp

Cornflour

or rice flour or both ( i have added 2 tablespoons rice flour and 2 tablespoons cornflour)

Salt to taste

Oil for shallow frying
To make ragda patties recipe
Roasted cumin powder

as needed

Red chili powder to sprinkle

as needed

Roasted coriander seeds

crushed as required

Onions

finely chopped, as needed

Tomatoes

finely chopped, as needed

Chaat masala as needed

Meethi chutney as needed
Green chutney as needed

Coriander leaves

finely chopped as needed

1

nos

green chili, finely chopped (you may add more if preferred more spicy)

Nylon sev as needed

Lemon juice as needed
Instructions
How to make ragda pattice recipe
Clean, wash and soak the white peas overnight. Now, drain the water completely. Then add saoked matar in a pressure cooker the soaked peas along with green chilies, and enough water.

Cook till the peas are done but not very mushy.  I prefer ragda to be of medium consistency so have used  about 6 cups of water. You may adjust the consistency of the ragda by increasing or decreasing the water quantity.

Now, add the tamarind pulp and mix well.

First, mix together all the ingredients mentioned under the section "For Pattice".

Now, grease your palms with oil and divide the mixture into equal medium sized balls.  Roll and flatten them to form pattice.

You may choose to make a bigger or smaller ball from the mixture based on the preferred size of the pattice.

Heat the oil in a pan and fry the pattices till they are golden brown and crisp.

Firtsly, place the pattice in a bowl or a plate and pound it with your thumb lightly.  Do not mash it too much.

Then, pour the prepared ragda over the pattice.

Next, top the ragda pattice with the sweet chutney , green chutney and lemon juice as required.

Now, sprinkle the roasted coriander seeds, roasted cumin seeds powder, chaat masala and red chilli powder.

Then, sprinkle the finely chopped onions, tomatoes and green chili.

Lastly, garnish with coriander leaves and top with Nylon sev.

Enjoy the yummm chatpata Ragda Pattice.
Notes
  The garnishes mentioned under assembly section can be adjusted as per your taste palate.
Nutrition Facts
Ragda Pattice (Ragda Patties)
Amount Per Serving
Calories 239
% Daily Value*
Sodium 38mg2%
Potassium 1350mg39%
Carbohydrates 51g17%
Protein 10g20%
Vitamin A 445IU9%
Vitamin C 68mg82%
Calcium 102mg10%
Iron 10.2mg57%
* Percent Daily Values are based on a 2000 calorie diet.