What better you could ask for…when you have your favorite fruit in a drink to refresh yourself in this scorching summer heat. Yes!!! I am talking about mangoes. Yesterday I bought another big batch of mangoes from my fruit vendor on my daughter's request, as she is in love with them. Half of them I kept for my kids to enjoy, remaining half of the batch went into the blender to become a pulp. Now, I can enjoy mango dessert, cakes, drinks, sweets and so on……throughout the year until next mango season.
After Mango-Vanilla Yoghurt Panna Cotta, now it is a time for some refreshing chilling drink. Every sip of this drink will trigger your palate with dash of lemon, freshness of mint, goodness of honey and ginger and last but not least...the natural flavor and sweetness of our main hero of the drink 'MANGO'. So, here is recipe of Mango-Ginger Virgin Mojito for you all….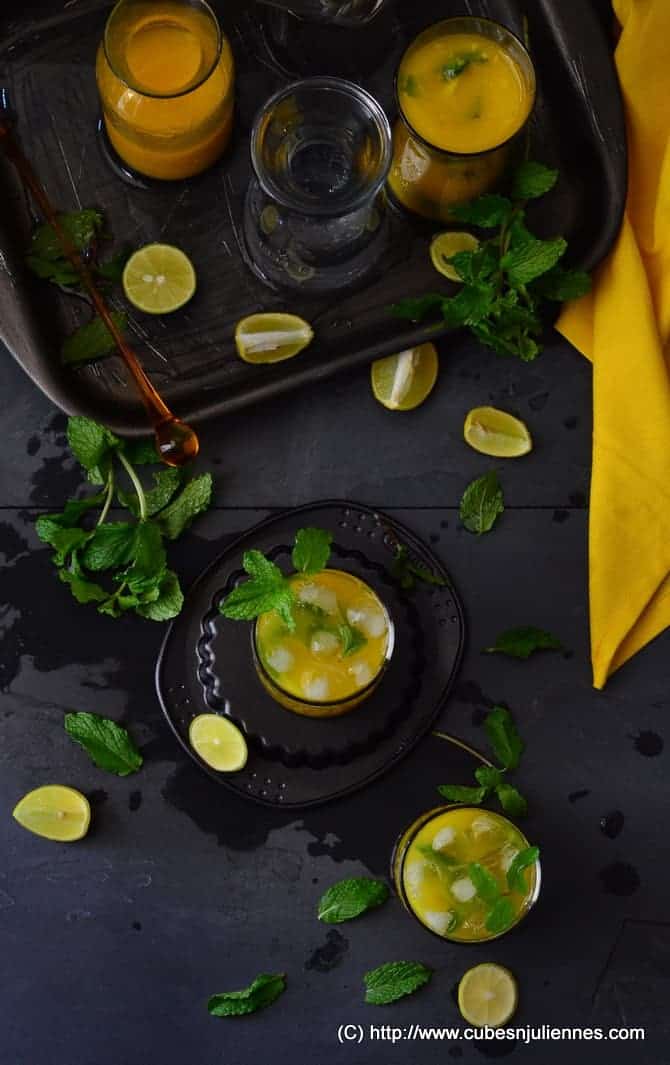 2 cups, mango juice (I have used fresh, you can used canned one)
1 inch ginger piece, grated
2 tbsp, honey (you may add sugar, if you prefer)
Ice cubes (you can crush them if you prefer)
In bowl or a jug, muddle together lemon juice, mint leaves and ginger such that mint leaves are bit bruised
Add honey, mango juice and mix well. At this stage you can refrigerate the prepared mixture if you prefer to serve this later.
Add ice cubes, lemon slices, mint leaves in glasses to be served
Fill half of each serving glass with mango-ginger mixture