Rose Almond Lassi
Hey there all..!! I believe you all are definitely doing good. It's been a while, a long while, I haven't done justness to my baby CnJ, for good long 5 months. But, it's better to be late than never, right! No, it will never ever happen, I will keep updating this beautiful space of mine from time to time 🙂
We are already in last week of Ramadan, Alhumdulillah! Up here today I've come with irresistible form of a Lassi. For some unknown reason, I wanted to make a Lassi with the glorious touch of Rose and Almond. I'm absolutely clueless, but there's a thing about Rose which is beautiful, indulgent and soul mesmerizing.
This Sumptuous Rose Almond Lassi is a desired delight that can be taken both in Suhoor and Iftar. Quickly add it in your Ramadan "What-To-Make-in-Iftar/Suhoor-List ". I know I am too late to share the list but as I said, it's better to be late than never and still we have good 8 days to go. The blissful move of the lassi, full of richness and refinement will refresh you. The soothe of the Dried Rose Petals and the Rose Syrup is exactly what you need after the long hectic working day. It's super easy make and break ingredients will surely make you worry less about the stuffs you need to turn it into a soothing drink.
Oh yes.. you'll undeniably need to be patient until it's finally done. It's a must-try recipe.
My Son when done with having the Rose Almond Lassi, Comes up to me saying, " Mummmaaa…. Look I've got a Pink Mustache..!!! ". Hahahaha…. like seriously Kids these days..!! It looks so funny though, my inner soul gets much happy to see my family enjoying the grandeur. Are You Calorie Conscious?? You can simply compensate Sugar with Honey. Did I forget to mention it requires curd/yoghurt Lol… It surely does. Jokes apart…. The lassi needs a good churning of couple of minutes. The Froth after churning, Mmmm. Tongue tangling and tempting. It's healthy as well, because the yogurt and milk contains Calcium, Potassium, Proteins etc. much beneficial for kids.
Almonds are highly nutritious, having a handful of 'em every morning is what a healthy diet should actually look like. They lower "Bad" Cholesterol. They lower the rise in blood sugar and insulin after meals. Must have heard that high school toppers must be having almonds every morning. J
Yes, you've heard it all right. Almonds help provide good brain function and nourishes the nervous system. Almonds are actually stone fruits related to cherries, plums and peaches. I'm sure this information was new to you…
Almonds are 13 percent protein. One ounce (or about 23 almonds) is an excellent source of Vitamin E, Magnesium, Fiber and Protein. Also filled with Minerals such as Copper, Potassium, Calcium, Phosphorus and Iron, and also B - Vitamins. A one-ounce serving of almonds contains about the same amount of antioxidants as a serving of broccoli. It's one of the best whole food sources of vitamin E, with about one third of the daily value per ounce. Heart-healthy with Monounsaturated Fat, they are also cholesterol-free. Quarter cup of almonds contains about 18 grams of fat, of which 11 grams are heart-healthy Monounsaturated Fats.
Uff……. Just regained all the science class lessons, LOL!
I Guess that's enough of knowledge for the day… Let's rush up to the Ingredients and Method.
Here's some more delicious healthy drinks for you
Ingredients:
3 tablespoons, almonds, roughly chopped
1 tablespoons, edible rose, dried/fresh
3 tablespoons, rose syrup
1&½ cups, yogurt, chilled
1 cup, milk, chilled
Honey/sugar to taste
Almond slivers for garnish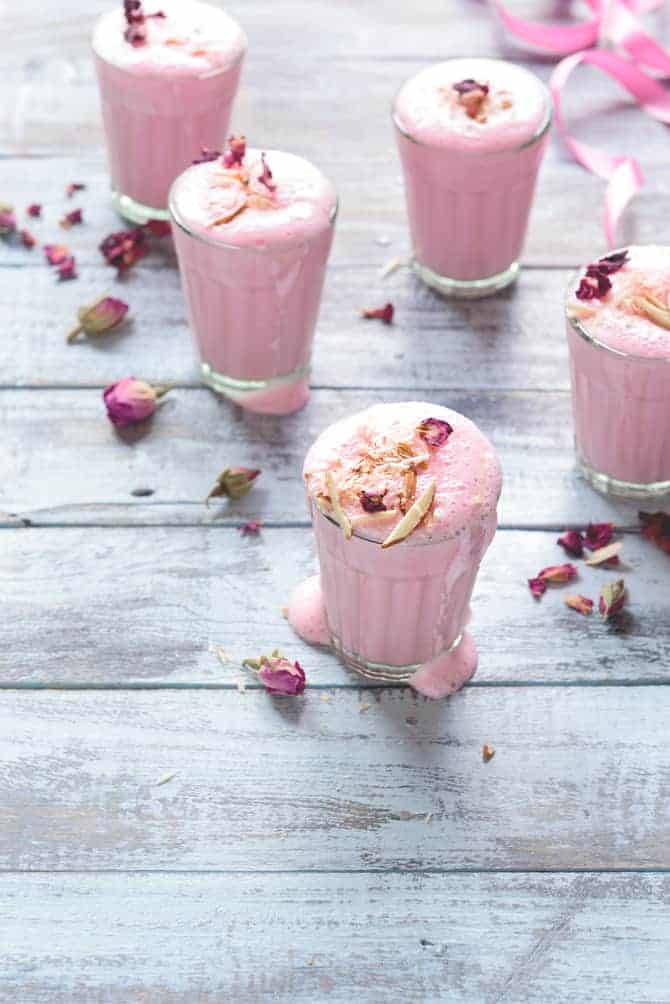 Method:
Add almonds to the blender and blend it to pulse couple of times to powder almonds
Add rose petals and blend for 30 seconds
Add rose syrup, honey/sugar, ½ cup milk and blend for 30 secs
Add yogurt and remaining milk and blend it for a minute to get frothy yummy lassi
Pour in Servning glasses and serve.