Easy Aloo Chaat recipe | How to make Aloo Chaat| Potato chaat recipe. The spicy aloo chaat recipe is an absolutely delicious chaat recipe of boiled Aloo tossed with lip-smacking chutneys and seasonings. Indeed, it is one of the most popular Indian chaat. And ofcourse, super easy savoury snack to make at home. And, the best part of this chaat recipe is, we can keep ingredients ready before hand in refrigerator. All we need to do is, just fry the boiled potatoes and assemble the potato chaat just before serving. Enjoy this easy boiled Aloo Chaat anytime with your family and friends.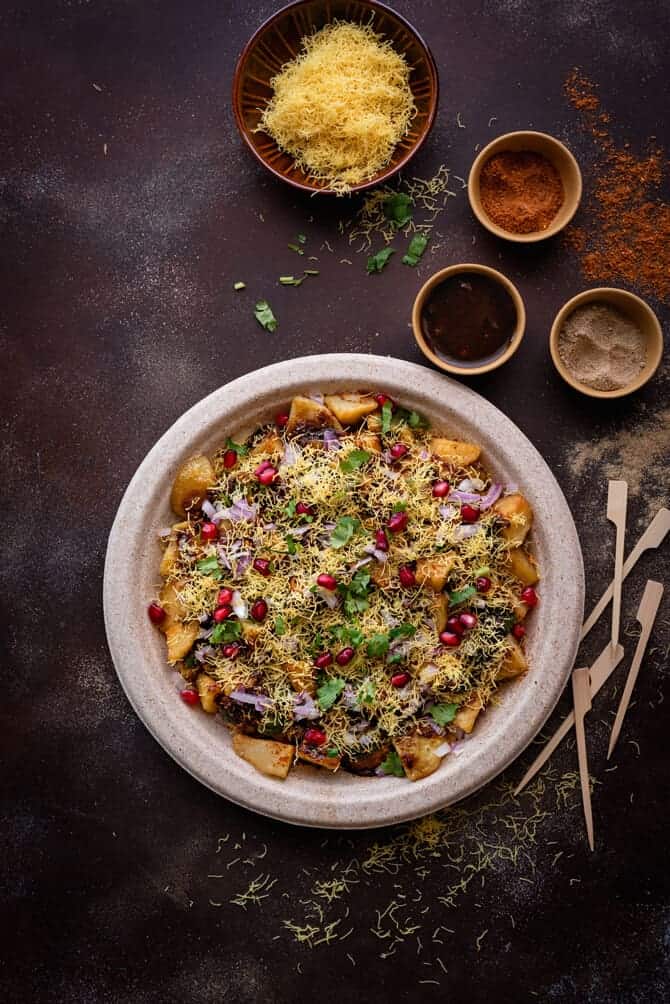 So, even now when I am done, shooting and eating the delicious chatpati aloo chaat, I am yet craving for it like I have not had it in ages. This simple aloo chaat recipe is indeed amongst the most favorite chaat after pani puri and bhel puri. We Indians love, not only potato chaat, but many more famous street foods. i.e mumbai street food, street food of Delhi and so on.
Significantly, potato is one such tuber root which we all love, be it a potato sabji, chilli potato, potato chaat, aloo methi, or aloo tamatar sabji. And, to be sure, our very famous potato, goes in almost all the chaat of Mumbai street food or favourite Delhi street food recipes. To name a few, aloo tikki, samosa chaat, ragda pattice, puchka, sev puri, dahi puri et al.
We in India get it easily on chaat stalls especially set up for only these items and trust me, people of all ages surrounds the stall. mumai chaats and Delhi style chaats are very famous and aloo ki chaat specifically is the most popular Indian snack.
I remember during my college days, after lectures all of us would specially go sometime to enjoy these chaats also at weekend with family. We had a fixed shop in our locality where we used to visit in the evening and nosh on every item they had in their menu. Not just budget friendly but it was taste friendly as well. And trust me, still when I visit that place, it has the same taste, same cleanliness and even the owner did not change.
Now, when I shifted here in Bangalore, we hardly get that taste here anymore and I really miss it. So why not get that taste at your home itself. I love this aloo chaat and the chunks of potato well mixed in chutneys and seasoned with the nylon Sev tastes purely heaven.
How to make dahi aloo chaat recipe:
Undoubtedly, aloo ki chaat is best and quick chaat recipe, we all love. At the same time, we also try to give twist to the recipe, dahi aloo chaat is one such twist. The recipe that is mentioned below remains the same, the only thing we want is addtion of dahi(curd).  Yes, nice chilled whisked curd or dahi is what you need. Just pour few spoons of dahi over the aloo and then sprinkle chutneys and powders. Isn't that so eay? Indeed! 🙂
Furthermore, be sure to check that curd is not sour. Another interesting thing that we can add to make chaat interesting is, crushed papdi. Oh! the crushed papdi on the top of aloo ki chaat is just irresistible. This potato chaat topped with crushed papdi is a win-win recipe always.
Can we do the preparation of aloo chaat (potato chaat) beforehand?
Yes, You can do all the preparation for the chaat before hand and refrigerate it. In fact, a day before is absolutely fine. Sometimes, I do that even couple of days before. One important point to remember here is, it always best to fry potatoes just before assembling the chaat. Rest all the ingredients can be kept ready before hand. At the time of arrival of guest or friends, for get together or party, you can assemble aloo ki chaat quickly on serving platter within minutes. Now, isn't that easy?
Also, if you making this chaat for kids, you can decrease the spiciness as per their taste. And, if you want it to be more spicy, increase it accordingly.
Basic ingredients required to make spicy aloo chaat recipe :
Ingredients are very easy and convenient to assemble, so as it is a quick aloo chaat recipe. For this potato chaat recipe, we are using boiled potatoes, onion, coriander leaves, green chilies. Chutneys like (dhaniya pudina ki chutney) Green chutney,(imli ki meethi chutney) meethi chutney . Spice powders like cumin powder, crushed coriander seeds, chili flakes or you may also use red chili powder and chaat masala. Other ingredients includes lemon juice, fine sev, pomegranate seeds, oil to fry potatoes and black salt.
If you have restriction in diet, you may skip fried potatoes and simply just use the boiled aloo to make this chaat recipe (boiled aloo chaat recipe). However, you may also use the fried ones but consume less. Well, that is surely never happening especially if there is aloo ki chaat in the house. It is absolutely fine to be indulgent once in a while, or rather we should say on a cheat day 🙂
You may have this alu chaat with chai in the evening which is probably the best time to have it. And, since it has aloo i.e. potato no one is either disliking or leaving it that is the best part about it. Every bite is a punch full of tangy, spicy, meetha and chatpata flavor.
Without wasting much time, lets' head on to learn how to make best aloo chaat at home.
Some Of the Best Chaat Recipes you might want to try:
Not only this spicy aloo chaat, but I am a crazy fan of Ragda Pattice, Sev Puri, Pani Puri, Samosa Matar Chaat and Dahi pakodi Chaat. These all are frequent in our home. Do check it out.
Spicy Aloo Chaat Recipe | How to Make Easy Aloo Chaat Recipe below:
Print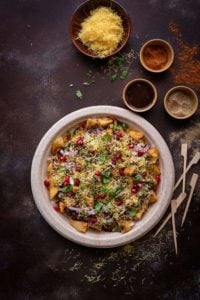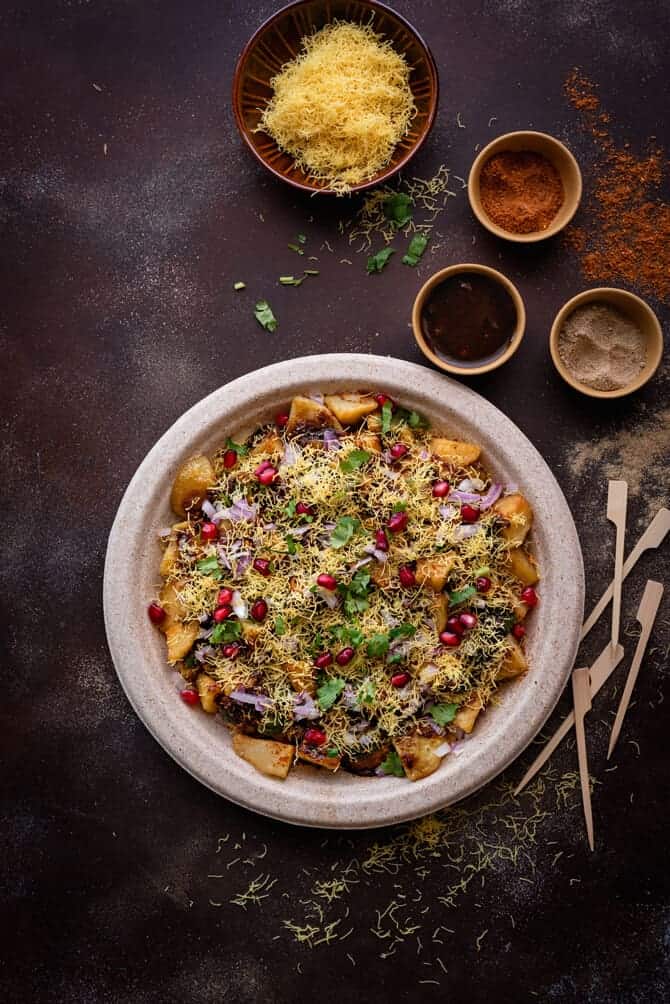 Easy Aloo Chaat Recipe | How to Make Aloo Chaat | Potato Chaat Recipe
Author:

Prep Time:

10 minutes

Cook Time:

20 minutes

Total Time:

30 minutes

Yield:

3-4

Category:

Snacks, Chaat

Cuisine:

Indian
---
Description
Aloo Chaat recipe (potato chaat) is an absolutely delicious chaat recipe of boiled Aloo(potato) cubes which are fried. Crisp fried potatoes are then tossed with spicy and sweet chutneys, chaat masala and spice powders. It is one of the most popular Indian chaat. Here is how to make best aloo chaat at home.
---
Ingredients
For the preparation of aloo chaat:
4 medium potatoes, boiled, peeled and cubed
2 tablespoon, onion, finely chopped
1 tablespoon, coriander leaves, finely chopped
1 small, green chili, finely chopped
 Hari Chutney as required
Meethi chutney as required
½ teaspoon, roasted cumin powder
½ teaspoon, roasted and coarsely crushed coriander seeds
Chili flakes or red chili powder as required
Chaat masala for sprinkling
Lemon juice as needed
Pomegranate seeds as needed
1-2 tablespoon, oil to fry potatoes
Black salt to taste
Fine Sev as needed
---
Instructions
How to make aloo chaat:
In a pan, heat oil, add potatoes and shallow fry until they are golden and crisp. You can also deep fry them if needed.
In a bowl, add fried potatoes, black salt, cumin powder, coriander powder, red chili powder, green chilies and lemon juice. Toss them well.
Dish out the tossed potatoes in serving bowls or plate.
Top it with green chutney and meethi chutney.
Sprinkle onions and chaat masala.
Top the spicy aloo chaat with sev, pomegranate seeds and coriander leaves.
Serve immediately