Sweet tamarind chutney or meethi imli ki chutney - it's super delicious! A lusciously flavoursome sweet sauce made using tamarind pulp, jaggery, and dry ginger powder. This imli chutney is an essential condiment to Indian chaats like bhel puri, pani puri or aloo tikki chaat and many more. Here is how to make easy tamarind chutney recipe or sonth step by step.
Hey guys, trust you all are doing very well. I had been on a month long vacation to my brother's home in Dubai. The day I reached back home, that was the first day of Ramadan. I could hardly get any time to do Ramadan pre preparations.
Preparations like, making green chutney, coconut chutney, mint chutney, mango chutney, meethi imli chutney, birista, dry fruit powder (for Suhoor = pre dawn meal) and many more. Usually we make them in bulk and freeze them in portions, so that they are handy whenever needed.
Omg! over night journey, then reaching back home, unpacking, grocery shopping and the preparations, ufff, pile of work awaits at home! Somehow managed to do few Ramadan preparations. But, still the unpacked suitcases are staring at me to get emptied. Well, will gradually do them one by one.
A little late in posting the recipe but I have to tell you are gonna love this lovely tamarind jaggery chutney for sure. It is utterly delicious and so versatile that can never say 'No' to it. Let's see below to know more about it.
Tamarind Chutney (Imli Chutney)
We Indians use ample amount and variety of chutneys or sauces in preparations, cooking and serving. So, todays's post is about one of the most popular sweet and sour Indian sauce recipe.
A quintessential sauce of tamarind and jaggery is no alien to Indian homes. Also known as Imli chutney or sonth, the recipe is very basic, easy and extremely delicious.
Every drop of this chutney is loaded with sweetness, spiciness and sourness. Doesn't that sound irresistibly delicious? The tamarind sauce has all the flavours of each ingredient that trickles down making it stunningly delish.
Plus, the delicate hint of dry ginger powder is absolutely fresh and amazing. Do you want to make your end dishes taste great? Then, this homemade sweet tamarind sauce has to be in your pantry.
Furthermore, sonth or saunth is the another name for this sauce due to to the use of dry ginger. Dry ginger or its powder is also known as sonth in hindi
I know, you will find too many variety of imli chutney readily available in market. But, homemade ones are always the best. Why? Because, you know the ingredients that you are using in the recipe. Commercially available imli ki chutney packs has giant amount of sugar added into it.
Jaggery (Gur) is best source of sugar with great health benefits. And, of course the taste and consistency of the chutney is perfect. Even though you can swap jaggery with sugar, I would still highly recommend you to use jaggery only for this sweet tamarind chutney recipe.
This Tamarind Chutney Recipe
Is Vegan
Is Gluten free
Stays very well for long period
Is tasty
Sweetness, sourness as well as its spiciness can be adjusted as per the preference
Is best for Indian chaats, snacks, wraps
Imli Chutney Uses
Chaats - Indeed a great sweet tamarind chutney for chaats like pani puri, bhel puri, samosa chaat, dahi puri, sev puri, dahi vada, aloo chaat, sweet and spicy chana chaat, papdi chaat, pakodi chaat.
Samosa and Pakoras - Serve this tamarind chutney with your favourite samosa or kachoris. Similarly, serve it with, paneer pakora, palak pakoras, aloo pakoras or bread pakoras and even with mathris.
Wraps - The chutney tastes equally great when you add it to tikka wraps or Kathi rolls
Storage of the tamarind chutney
The most amazing part of this imli chutney is that it stays very well for long long period. Place the chutney in clean air tight glass jar and refrigerate it for good 6 months. Or, freeze it in freezer either in portions or in clean container for good 1 year. It won't get spoilt at all, mark my words.
How to make Tamarind Chutney - Step by Step
To begin with, heat 1 tbsp oil in pan. Add punch phoran (a mix of fenugreek seeds, cumin seeds, nigella seeds, mustard seeds and fennel seeds) and allow it to crackle.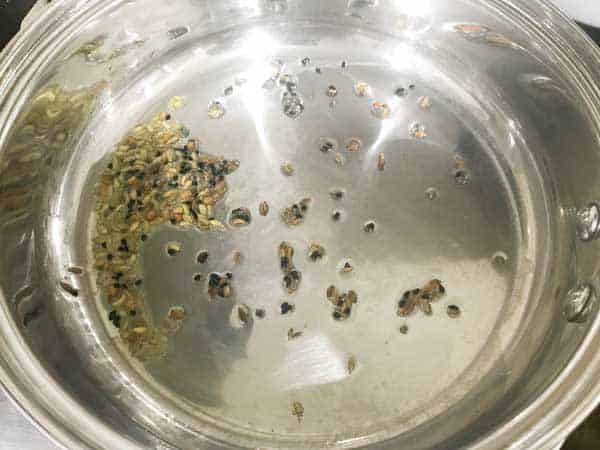 Then, add 1 cup of water and bring it to a boil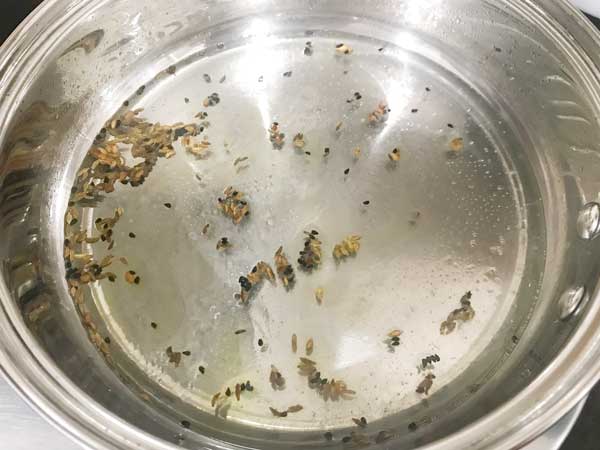 Now, add jaggery and boil until it dissolves well. Stir occasionally.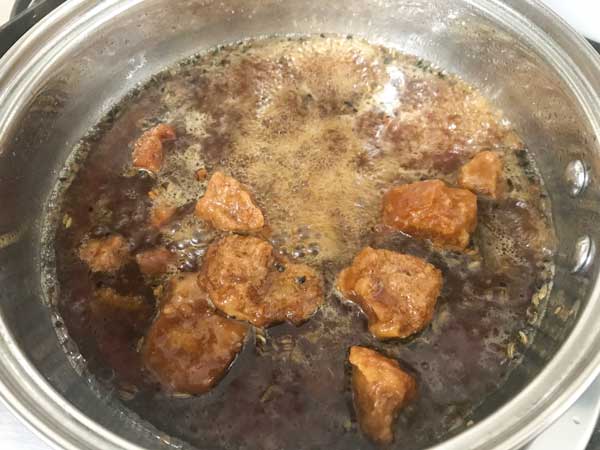 Then, add tamarind pulp and simmer for 2-3 minutes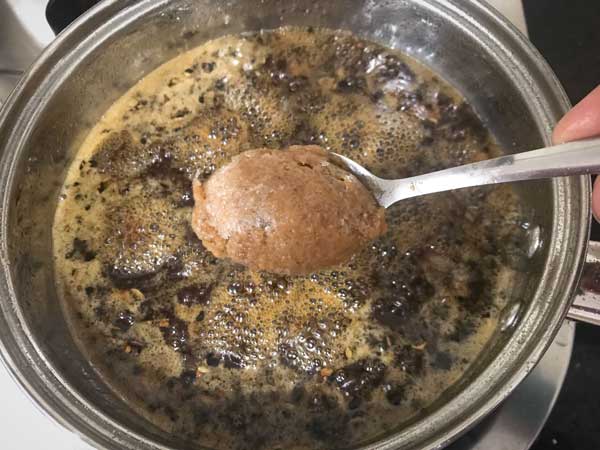 Now, add dry ginger powder, black salt, red chilli flakes and simmer until the sauce thickens. Add vinegar and mix, simmer for another 30 seconds
Sweet tamarind chutney is ready. Cool completely and store it in clean straight jar and refrigerate
💓 We Love to hear back from you and appreciate your success stories !
Have you tried this "Tamarind Chutney Recipe"? Please feed us with your ★ star ratings and comments below.
You can also FOLLOW Me on FACEBOOK, INSTAGRAM and PINTEREST for more fabulous recipes and updates
Tamarind Chutney Recipe Card
📖 Recipe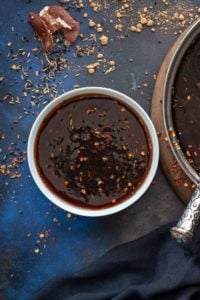 Print
Tamarind Chutney
Sweet and sour tamarind chutney or imli ki chutney is lusciously flavoursome sauce made using tamarind pulp, jaggery, spices and dry ginger powder. Best sweet chutney for Indian chaats like bhel puri, sev puri, pani puri and more.
Ingredients
1

cup

Jaggery

½

cup

Tamarind pulp

(( I have used homemade tamarind pulp))

1

tsp

Panch Phoran

((A mix of cumin, fenugreek, nigella, fennel and mustard seeds))

1

tsp

Black Salt

¾

tsp

Red chilli flakes or Red chilli powder

1¼

tsp

Dry Ginger Powder

1

tbsp

Oil

2

tsp

White vinegar or Apple Cider Vinegar

1

cup

Water
Instructions
In a pan, heat oil, add panch phoran and allow it to crackle.

Add 1 cup of water and bring it to a boil

Now, add jaggery and boil until jaggery dissolves well. Stir occasionally

Add tamarind pulp and mix, allow it to simmer for 2-3 minutes.

Add dry ginger powder along with black salt, red chilli flakes and simmer until the sauce thickens.

Add Vinegar and mix, simmer for another 30 seconds.

Sweet tamarind sauce is ready, cool it completely.

Store in clean airtight jar and regrigerate or freeze them in portions.
Notes
The amount of jaggery and tamarind pulp can adjusted as per your preference. If you want the tamarind sauce to be sour or sweet or little more spicy, adjust the ingredients in the recipe accordingly.
You can choose to strain the chutney while it is still hot and then, cool it completely and store it in clean jar for further use.
To make ½ cup of tamarind pulp, take ⅓ cup of packed seedless tamarind and soak it in ½ cup of hot water and allow it to rest for 20-30 minutes. Add the tamarind along with water in blender and blend until smooth. Strain and use it for the recipe.
Nutrition
Calories:
106
kcal
|
Carbohydrates:
23
g
|
Protein:
1
g
|
Fat:
1
g
|
Saturated Fat:
1
g
|
Sodium:
235
mg
|
Potassium:
25
mg
|
Fiber:
1
g
|
Sugar:
23
g
|
Vitamin C:
0.2
mg
|
Calcium:
10
mg
|
Iron:
0.3
mg