Sabudana Vada is a crispy, spicy fantasy!! This mouth-watering, crispy and delightful Maharashtrian snack (also known as sabudana tikki or cutlet) is made with sago, mashed potatoes, roasted peanuts and basic spices. Here is how to make it at home.
What is Sabudana Vada?
Sabudana otherwise is known as Tapioca or Sago in English. It is basically a starch that is extracted from the roots of Cassava (Tapioca). While in other Indian languages, we call it as sabakki, javvarisi or sagubiyyam. Therefore, the name Sago vada, saggubiyyam vadalu, sabakki vada or javvarisi vadai in other languages.
Our country being a boiling pot of various faiths, people follow a custom of fasting on special occasions like Navratri, Shivratri, Janmashtami and even Ramadan.
Sabudana vada also known as Sago Vada has captured the most coveted place in the list of Indian vegetarian snacks. Serve it as an appetizers or breakfast or as an evening snacks, you will surely be lost into its crunchy and melt in mouth within texture.
As we prepare this sabudana recipe using gluten free and vegan ingredients, it easily falls under the category of gluten free and vegan recipes. Hence it can easily be served during Indian fasting days or vrats.
During the period of vrat while preparing this snack, usually they add black salt or sendha namak instead of the regular salt. While In Ramadan, we usually make it with regular salt.
Sabudana Vada looks simply inviting with pearly sago embedded in light yellow mashed potatoes, with green chillies and coriander in the company of crushed crunchy peanuts. Lemon juice added to the mixture provides a tangy taste.
Recently I had made these for Iftar during Ramadan. Needless to say it won accolades after it was tasted by one and all. The ingredient in this dish has been calculated to give the eater the necessary benefits.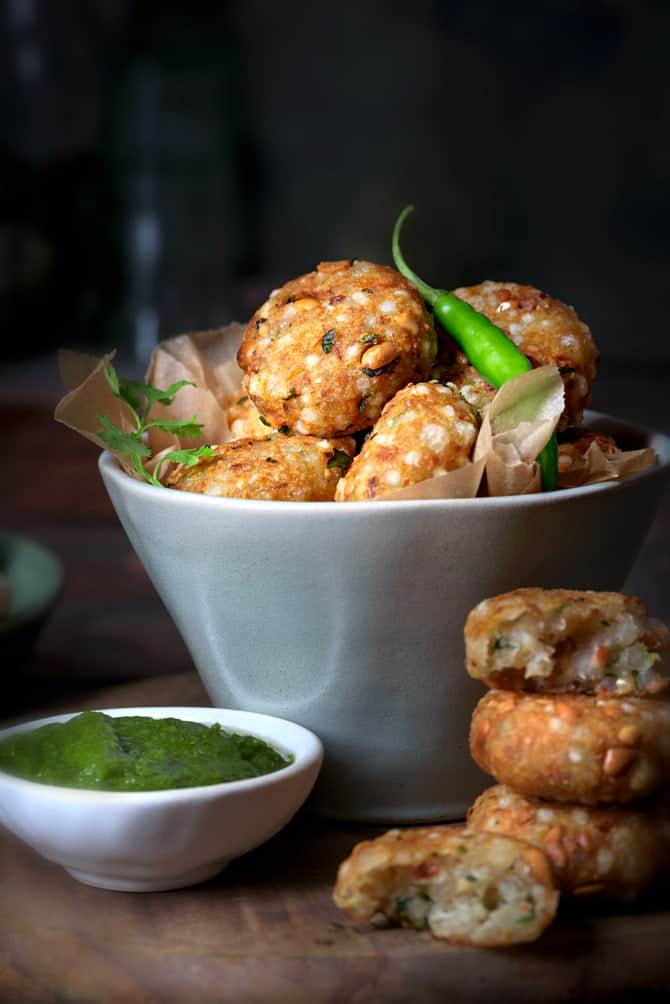 Benefits of Sabudana or Sago pearls
We all know, sabudana is one such ingredient that is light on the stomach and extremely tasty when eaten.
Particularly, we Indians often serve sabudana vada/kheer or khichdi for breakfast or dinner as it is easily digestable. It is an excellent source of carbs, hence keeping fatigue during fasts at the bay
Rich in calcium, sago if had in regular dose helps in maintaining bone health and prevents osteoporosis and other bone conditions.
A bowl of soaked Sago, dash of chilli and salt along with crushed peanuts when consumed can help fight fatigue after a hectic day. It helps keep blood pressure levels under control and is abundant in folic acid and Vitamin B.
It is also an enticing vegetarian snack for the most finicky eater. Mothers indeed pack these crisp sabudana vada with immense relief and can be sure of empty tiffin boxes after school.
How to freeze Sabudana Vada?
The sabudana vada can be made in bulk and kept in the freezer.
Make vadas, spread them on the tray (each an inch apart ) and freeze it for 3 hours. Once done, store them in a clean zip pouch for easily upto 2 months.
When needed, take the required batch out. Then, keep it out for 15 minutes on the counter and then proceed for frying in hot oil.
One can fry sabudana vada in batches and serve them hot with matching sauces or chutneys. It is extremely handy when it comes to serving unexpected visitors, on a rainy day or simply a lazy day.
Let's see how we can prepare this delectable sabudana vada recipe, shall we? How one can acquire the crispy texture on the outside yet soft and succulent inside
You Might also like :
How to Make Sabudana Vada Step by Step
To begin with, clean and wash sabudana well. Then, add ¾ cup water and soak it overnight, preferably.
Now, drain the water ( if any)completely using colander or strainer.
Then, In a bowl, add the soaked sabudana, mashed potatoes, roasted peanuts, chopped green chillies , grated ginger, lemon juice, sugar, coriander leaves and salt.
Mix well until it looks like a dough.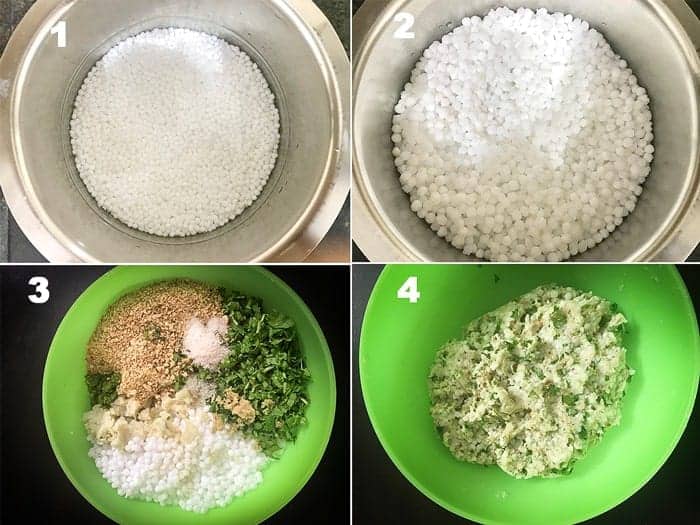 Then, take a spoonful of mixture in your palm and make patties dependng upon the size you prefer. If the mixture is sticky, grease your palms and then proceed. Repeat the same for all the mixture.

Tip: At this stage you can freeze the sabudana vada. Once the sago vadas are ready, spread them on the tray (each an inch apart ) and freeze it for 3-4 hours. After 3 hours, gather and store them in a clean zip pouch for easily up-to 2 months.
To fry the sabudana vadas, heat oil in a heavy bottomed kadai or pan. When the oil is hot add the vadas and deep fry them.
Once brown and crisp, take them out and drain onto absorbent towel/paper. Repeat the same for all. Serve crisp golden sabudana vada hot with Green chutney.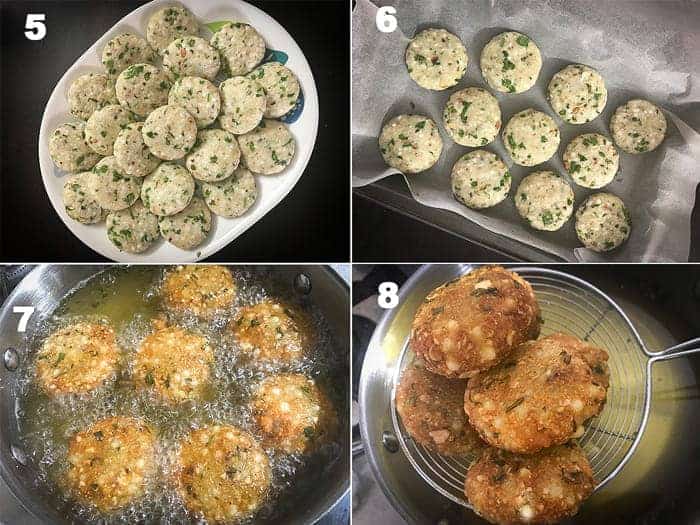 💓 We Love to hear back from you and appreciate your success stories !
Have you tried this "Sabudana Vada Recipe"? Please feed us with your ★ star ratings and comments below.
You can also FOLLOW Me on FACEBOOK, INSTAGRAM and PINTEREST for more fabulous recipes and updates
Maharashtrian Sabudana Vada Recipe
📖 Recipe
Print
Sabudana Vada
Sabudana vada is a crispy and delightful Maharashtrian sabudana vada recipe is made with sago, mashed potatoes, roasted peanuts and seasonings. It is also known as sago vada, sabudana tikki or sabudana cutlet. Serve it as an appetizer, evening snacks or for breakfast with hari chutney and chai.
Ingredients
1 ¼

cup

Sago Pearls

(sabudana)

¾

cup

Water

(to soak sabudana)

5

Potatoes

(medium sized, boiled (mashed/grated))

¾

cup

Peanuts

( roasted and crushed coarsely.)

3-4

Green Chilies

(finely chopped or crushed)

1

teaspoon

Ginger

(grated)

2

teaspoons

Lemon Juice

¼

cup

Coriander Leaves

½

teaspoon

Sugar

Salt to taste

(Sendha Namak during Vrats)

Vegetable Oil

( for frying)
Instructions
To begin with, clean and wash sabudana well. Then, add ¾ cup water and soak it 6-7 hours, preferably. Drain the water completely ( if any) using colander or strainer.

In a bowl, add the soaked sabudana, mashed potatoes, roasted peanuts, chopped green chillies, grated ginger, lemon juice, sugar, coriander leaves and salt.

Mix well until it looks like a dough.

Then, take a spoonful of mixture in your palm and make patties dependng upon the size you prefer. If the mixture is sticky, grease your palms and then proceed. Repeat the same for all the mixture.

To fry the sabudana vadas, heat oil in a heavy bottomed kadai or pan. When the oil is hot add the vadas and deep fry them.

Once brown and crisp, take them out and drain onto absorbent towel/paper. Repeat the same for all. Serve crisp golden sabudana vada hot with hari chutney
Notes
Be sure, to check if oil is hot enough to fry them, or sabudana vadas will break and scatter while frying
Nutrition
Calories:
202
kcal
|
Carbohydrates:
33
g
|
Protein:
6
g
|
Fat:
5
g
|
Sodium:
85
mg
|
Potassium:
609
mg
|
Fiber:
5
g
|
Vitamin C:
16.9
mg
|
Calcium:
50
mg
|
Iron:
4.6
mg