This delightfully refreshing and nutritious Mango Peach Smoothie recipe is my current summer obsession. Creamy, cool and super easy to make, this 5-minute protein packed drinkable meal is perfect for breakfast on the go.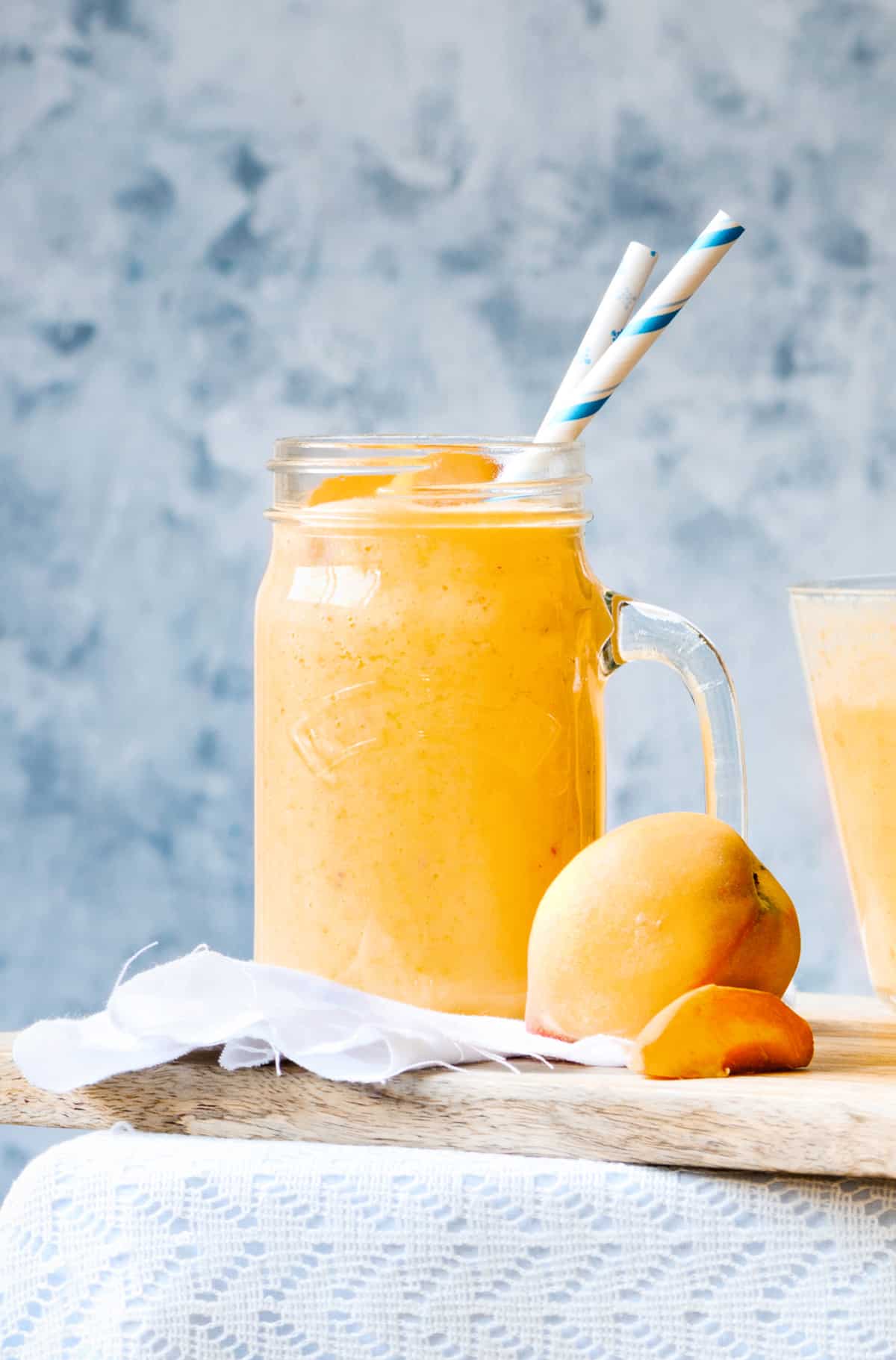 Jump to:
Why you will love this smoothie?
Summer is in full bloom where I live, and with the season comes two of my favorite fruits: peaches and mangoes. If you have been looking for a way to beat the heat using seasonal ingredients, look no further than this easy peach smoothie.
Unlike other smoothies, this simple recipe doesn't use any artificially flavored ingredients or refined sugars. The fresh flavors of mango and peach are highlighted by the cozy flavors of cinnamon and vanilla for a nutritious smoothie that tastes more like a milkshake.
Made with just greek yogurt, milk, peaches & mangoes and flavored with cinnamon, maple and vanilla, this healthy, gluten-free breakfast or post-workout snack is naturally delicious. With 9 grams of protein per serving, this simple recipe is sure to keep you satisfied until mealtime.
And since my mango peach smoothie recipe calls for chilled ingredients and frozen fruit, there's no need to add any ice to the mix. This keeps the texture extra smooth and creamy, making this yummy concoction perfect for a healthy, peachy dessert.
P.S: I love to share my favorite smoothie recipes with you guys, because they are so easy, yummy, nutritious and great way to sneak fruit and veggie servings into your diet. Try these fantastic smoothies this summer and you are sure to love them all:
Ingredients and Substitutions
The grocery list for this easy peach fruit smoothie recipe is short and sweet. Please note that for the best consistency, you should use chilled ingredients.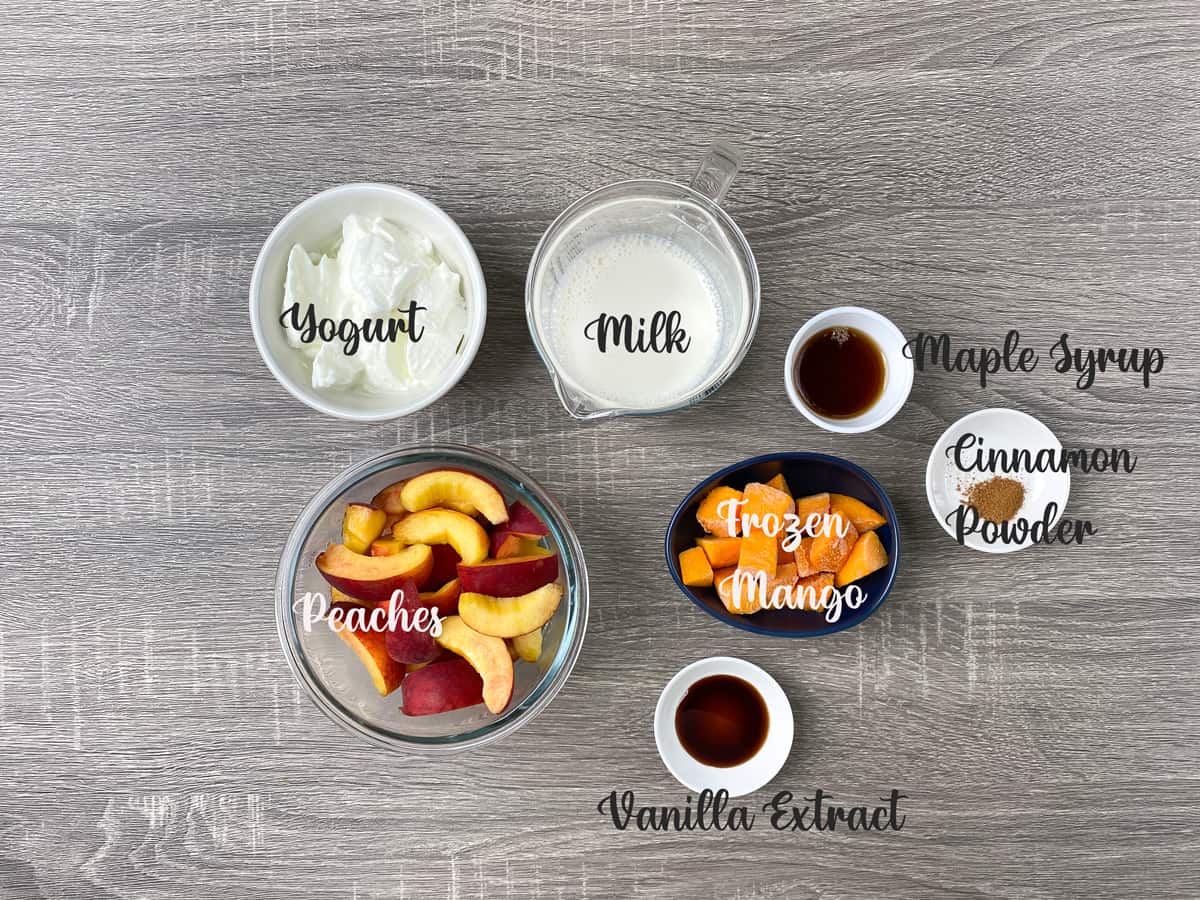 Greek Yogurt - I love how thick, creamy and protein-rich greek yogurt is. Feel free to swap in a non-dairy version if you prefer, or use another thick yogurt product like labneh or skyr. If you use dairy, you can use skim, low-fat or whole milk yogurt per your liking.
Peaches - I opted to use fresh sliced peaches for this smoothie recipe, as they are being sold in abundance at the moment. Don't feel like you have to peel them, either! If peaches aren't in season, or if you prefer a thicker smoothie, you can easily swap in frozen peach slices instead.
Frozen Mango - I chose to use frozen mango cubes for this smoothie for two reasons. First, I love the texture that this frozen fruit has when blended! Frozen mango becomes creamy all on its own when blended, giving this peach smoothie a lovely consistency. Second, convenience! There's no need to peel or chop a mango if you're using frozen.
Milk - I used dairy milk for this smoothie. Feel free to use anything from skim to whole milk here. You can also easily opt to use your favorite dairy free milk; just note that the nutritional facts will change depending on what type you choose.
Vanilla Extract - This is an optional ingredient, but I love the depth of flavor it gives to this frozen beverage. The added depth of flavor is worth it, if you have vanilla on hand.
Cinnamon - Cinnamon is a friend of peaches. Using cinnamon in this smoothie recipe gives the flavor an air reminiscent of a peach pie or peach crumble. It also happens to have a whole host of nutritional benefits, so just go ahead and add it, okay?
Maple Syrup - Adding just a tablespoon of this liquid sweetener does enough to bring the flavor of this smoothie into dessert territory. You can opt to omit it if you prefer, or swap in honey or agave syrup instead.
TIP: you can freeze peach slices and use "frozen peaches" in this smoothie recipe. "Frozen fruit" gives nice and thick smoothie especially if you are willing to turn it into smoothie bowl. Also, freezing in bulk helps you enjoy this smoothie when they are not in season.
How to make My Peach Smoothie
Smoothies are one of my favorite ways to sneak in some nutrition very quickly. Once you see how easy this peach smoothie recipe is, you'll know why!
Combine all the ingredients on a high powered blender in the order they are listed. If you are using frozen peaches instead of fresh, you may need to adjust the amount of liquid added to help the blender process the fruit.
NOTE: In my many years of smoothie making, I have learned that adding the liquid ingredients to the blender first helps the blades pull the frozen fruit pieces in.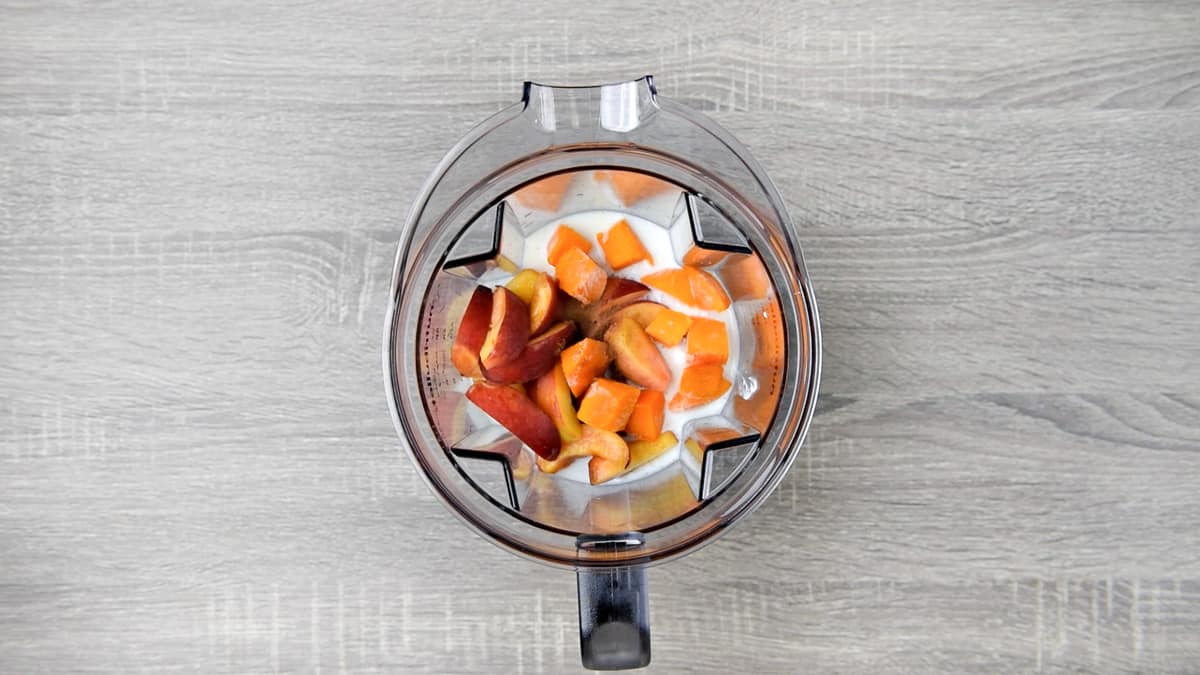 Blend everything well until smooth and uniform. Taste and adjust to your liking - add a bit extra sweetener for more of a peach shake vibe; add more frozen fruit to thicken it up (or turn it into a smoothie bowl!); add more liquid to loosen it.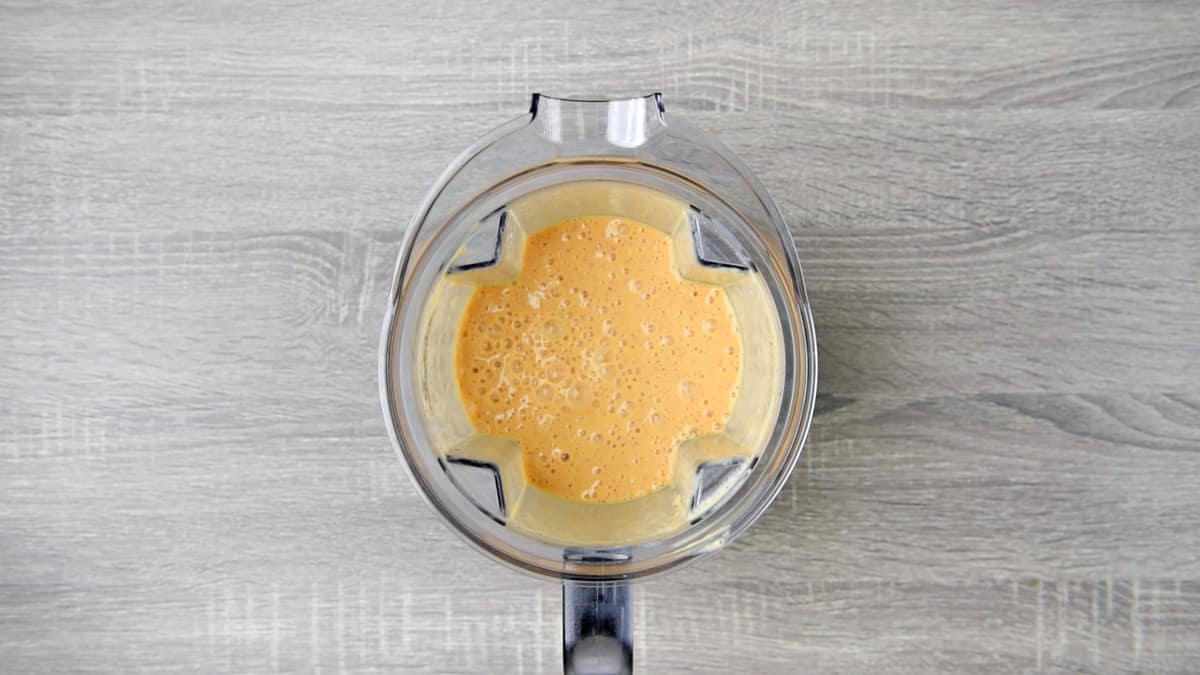 Pour in serving glasses and enjoy!
FAQs
how to make peach fruit smoothie vegan?
If you're vegan, you can easily make a few substitutions to make this peach mango smoothie fit your lifestyle. Simply swap in your favorite non-dairy milk and non-dairy yogurt. Just be sure to opt for unsweetened to preserve the nutritional integrity!
Can I use canned peaches to make smoothies?
Absolutely! Just be sure to opt for peaches packed in juice rather than peaches packed in syrup. They syrup is code for LOTS of added sugar. As a bonus of picking juice-packed fruit, you can also swap in the juice for part or all of the milk in the recipe!
Can I make it without yogurt?
Technically, sure. You will still end up with a frozen smoothie without the addition of yogurt, but you'll also skip out on a lot of probiotic and protein packed goodness. If you don't have any yogurt on hand, you can substitute cottage cheese or silken tofu to replace some of the creamy consistency and nutrition from the yogurt.
how to make peach smoothie bowl?
If you'd rather eat your peach fruit smoothie with a spoon, more power to you! Simply reduce the amount of liquid added and opt to use frozen peaches to help thicken the consistency. After blending, pour the smoothie into a bowl and top with your favorite fresh fruit, crunchy granola and/or toasted nuts and seeds. YUM!
How to store it?
As with most frozen drinks, this peach mango smoothie is best served immediately after blending. I recommend investing in an insulated cup with a straw to preserve the life of the drink over a few hours.
You can also pop any leftovers into the fridge for up to a day. Just note that the frozen element (if using frozen peaches) of the smoothie will defrost over time and will affect the overall consistency.
Can I freeze it?
You sure can! Any leftovers can also be poured into popsicle molds and frozen for a cooling, healthy dessert on another day.
Variations and Add-ins
While my Mango Peach Smoothie recipe is pretty perfect as is, you should feel free to customize it to your heart's content. Here are a few ways to make it your own:
Add (or substitute) different fruits : Try using your favorite berry, frozen avocado, pineapple, or banana in addition to the mango and peach, or swap the mango out for whatever frozen fruit you have on hand. You can also try pear, kiwi, or apple!
Healthy add-ins : Amp up the nutrition by adding in a tablespoon of your favorite protein powder or supplement. You can also easily sneak in some veggies by adding a handful of spinach to the mix. You can also bulk up this smoothie by adding in whole grains, nuts or seeds. Try oatmeal, chia, hemp hearts, or flaxseed.
Liquid swaps: Don't have milk on hand? Try using kefir for an added dose of probiotics and a touch more tang. You can also use fruit juice in place of milk; try mango juice, orange juice or peach nectar.
Flavor boosters: Add a splash of lemon or lime juice for more acidity; add fresh grated or ground dried ginger to make it spicier; swap in coconut milk for a more tropical vibe.
However you make your mango peach smoothie, it's bound to be delicious!
More healthy & refreshing recipes:
If you tried my recipe for a Mango Peach Smoothie, please be sure to rate and review it below! For more delicious recipe ideas delivered straight to your inbox, sign up for my email newsletter. You can also follow me and my recipes on social platforms like Pinterest, Instagram or Facebook or YouTube.
📖 Recipe
Print
Peach Smoothie Recipe
This delightfully refreshing and nutritious Mango Peach Smoothie recipe is my current summer obsession. Creamy, cool and super easy to make, this 5-minute protein packed drinkable meal is perfect for breakfast on the go.
Servings
4
medium glasses
Ingredients
1

cup

Low Fat Milk

(chilled)

1

cup

Low Fat Greek Yogurt

(chilled)

3

cups

Peaches

(fresh - pitted, sliced, and chilled or frozen)

1

cup

Mango

(frozen)

1

tablespoon

Maple Syrup or Honey

1

teaspoon

Vanilla Extract

½

teaspoon

Ground Cinnamon
Instructions
Combine all the ingredients on a high powered blender (in the order mentioned above).

Blend everything well until smooth. Do the taste test and adjust the sweetneed only if desired.

Pour in serving glasses and enjoy!
Notes
No yogurt? You can substitute cottage cheese or silken tofu to replace some of the creamy consistency and nutrition from the yogurt.
Any leftovers can also be poured into popsicle molds and frozen for a cooling, healthy dessert on another day.
Vegan? Simply swap in your favorite non-dairy milk and non-dairy yogurt. Just be sure to opt for unsweetened
Nutrition
Calories:
159
kcal
|
Carbohydrates:
27
g
|
Protein:
9
g
|
Fat:
2
g
|
Saturated Fat:
1
g
|
Polyunsaturated Fat:
0.2
g
|
Monounsaturated Fat:
0.3
g
|
Cholesterol:
6
mg
|
Sodium:
62
mg
|
Potassium:
318
mg
|
Fiber:
3
g
|
Sugar:
24
g
|
Vitamin A:
972
IU
|
Vitamin C:
20
mg
|
Calcium:
158
mg
|
Iron:
0.5
mg