Make this scrumptious creamy peach frozen yogurt recipe at home from scratch. Refresh yourself and your family with this inexpensive, healthier and a perfect homemade frozen summer dessert.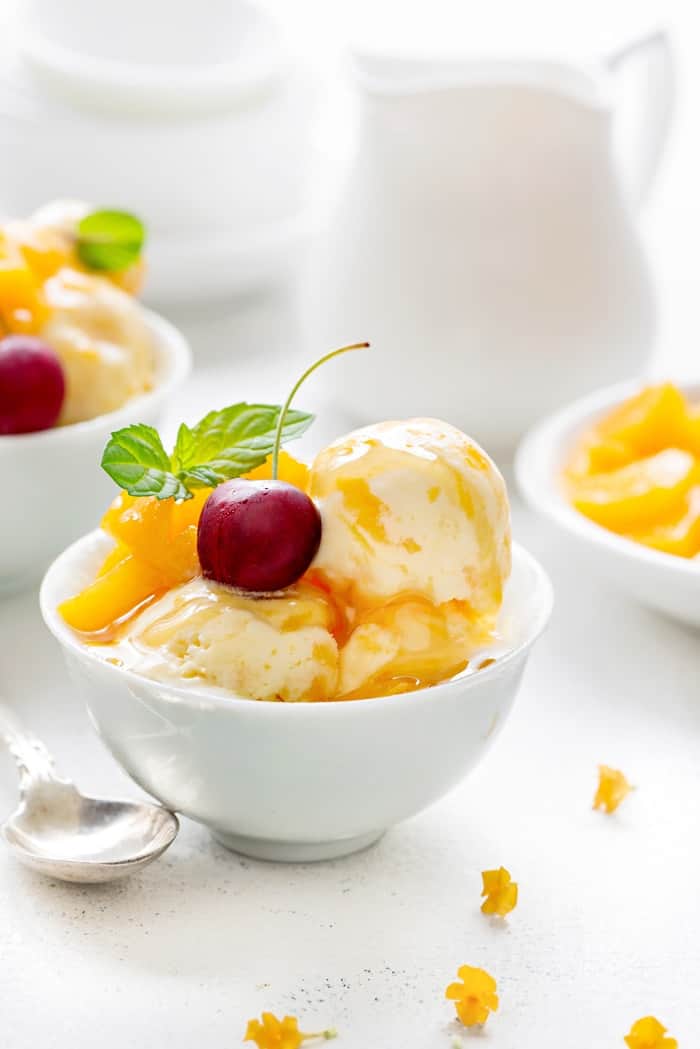 Hello to All, Wish you all a great start for the day... 🙂
We have all been eating yogurt for over years. The consumption of yogurt is very common in most part of the world.
Globally, people bring it into regular use as a healthy food item. But you know that we consume nothing with the same flavours or taste for years.
The human tongue is very choosy and looks for new flavours every now and then. Those cravings and mood swings are very hard to handle at times.
Innovation is all that a tongue needs when it gets bored of the same regular taste.
Say it a miracle or an innovation! So, they launched various flavours of yogurt into the market.
The demand bloomed and the usage of it flourished the markets. Just like Flavoured Yoghurt, there's a novel swing of Frozen Yoghurt which is also called as froyo.
I had some fresh peaches stored in my fridge and what better would to quickly whip up this fresh fruit frozen yogurt.
My family loves it, and it's so mesmerizing and delicious that one can't anyway miss it for anything.
This Peach Froyo is a frozen dessert made with Yoghurt and sometimes with other dairy products.
It is indeed more sharp in taste than the Ice-Cream.
But it is completely different from light Ice-Cream and you can call it as traditional soft serve.
Also the Ingredients used are very easily available. I took quite a while to mention them.. didn't I?
The peach frozen yogurt includes hung curd (Yoghurt) and fresh Peaches.
I prefer using fresh ones but you can use canned peaches. if you want to.
Next is lemon juice, honey followed by the lovely and refreshing Lemon Zest. The combination of all these ingredients is a glory.
Though we need to freeze this fruit froyo overnight but that wait to have it immediately the very next day is worth it.
As soon as you take the very first bite of the heavenly frozen yogurt may realise the blast it does. Every bit of the bite that I take makes me say, " Wow... This is scrumptious."
No wonder why the best part about it is kids loving it. Because it is 100% natural, home-made and delicious and you just cannot miss this for anything.
I strongly recommend you all to try this amazing Peach Frozen Yogurt. You can serve this as a dessert post dinner or as a welcome soft-serve for the guests.
Let us now quickly lead our way towards the quantity of the Ingredients and the Method.
Some dessert recipes you may want try:
💓 We Love to hear back from you and appreciate your success stories !
Have you tried this "Peach Frozen Yoghurt"? Please feed us with your ★ star ratings and comments below.
You can also FOLLOW me on FACEBOOK, INSTAGRAM and PINTEREST for more fabulous recipes and updates
Peach Frozen Yogurt Recipe
📖 Recipe
Print
Peach Frozen Yogurt
Make this scrumptious creamy peach frozen yogurt recipe at home from scratch. Refresh yourself and your family with this perfect inexpensive, healthier homemade frozen summer dessert.
Ingredients
2½

cups

Frozen Peaches

(deseeded)

1

cup

Greek Yogurt / Hung Curd

¼

cup

Honey

½

teaspoon

Lemon Juice

½

teaspoon

Lemon Zest

Raw Honey for drizzling
Instructions
Add frozen peaches, yogurt, honey, lemon juice into food processor.

Process until blended well and creamy, for about 3 minutes.

Scrape and transfer the yogurt mixture into freezable contaioner and freeze it for 6-7 hours, preferabley overnight.

Scoop out the frozen yogurt and place it in serving bow. Drizzle raw honey over it and serve along some more cut peaches.
Nutrition
Calories:
132
kcal
|
Carbohydrates:
29
g
|
Protein:
6
g
|
Fat:
1
g
|
Saturated Fat:
1
g
|
Cholesterol:
3
mg
|
Sodium:
19
mg
|
Potassium:
264
mg
|
Fiber:
1
g
|
Sugar:
27
g
|
Vitamin A:
314
IU
|
Vitamin C:
7
mg
|
Calcium:
61
mg
|
Iron:
1
mg