This beautiful Oven Roasted Cauliflower Parmesan is as pretty as it is delicious. Serve this multicolored vegetable side dish with any meal to brighten your plate and your palate.
This vibrant orange and purple cauliflower recipe is tossed with garlic, olive oil, and bright lemon and then finished with nutty parmesan, crunchy walnuts and fresh parsley.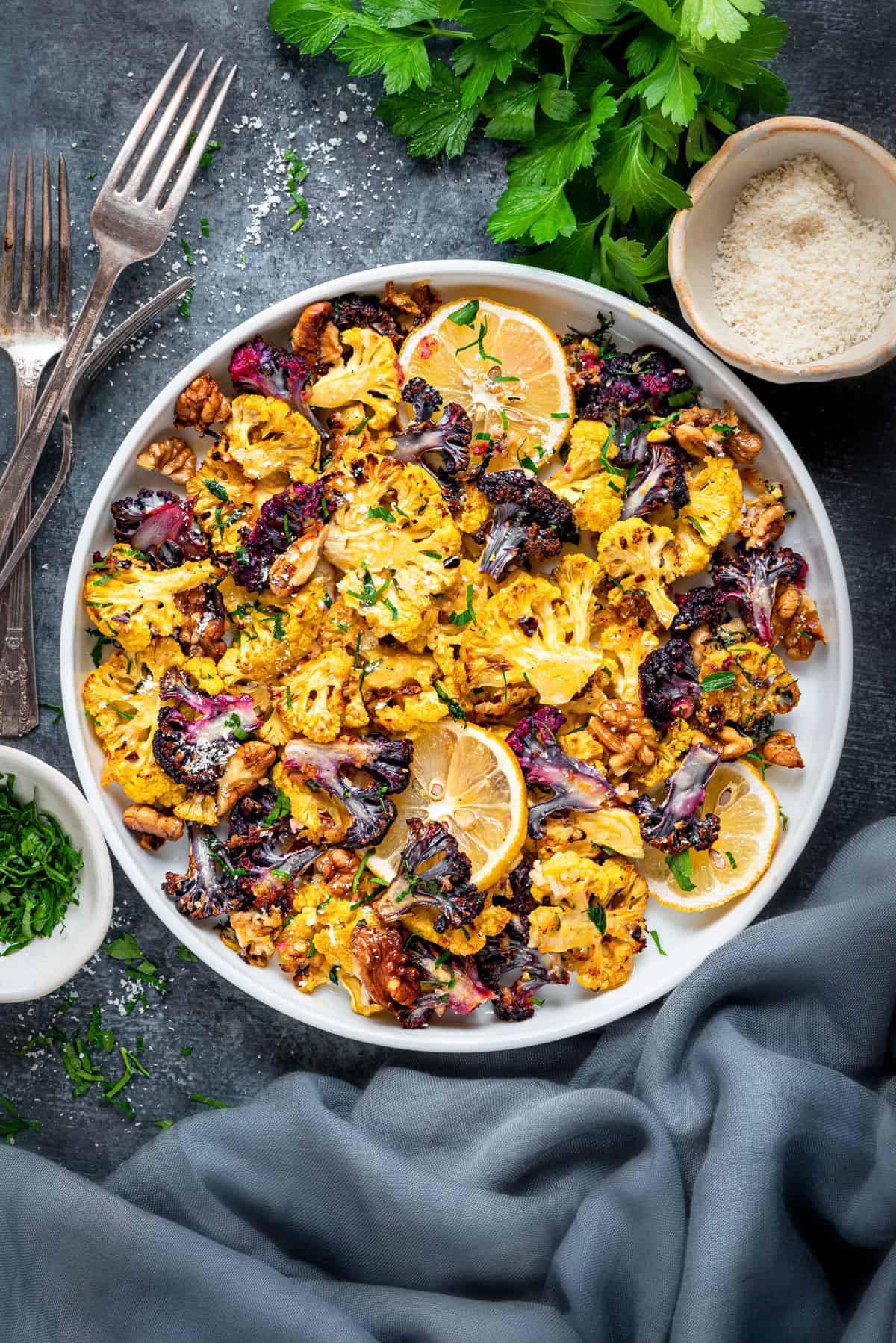 Jump to:
If you weren't yet aware, cauliflower comes in multiple hues. While the flavor profile of these colored cauliflower varieties is the same nutty, starchy taste you are used to, the colors themselves are nearly magical.
Purple cauliflower gets its vibrant color from a type of compound called anthocyanin which is naturally occurring in purple cabbage. This compound has been said to be associated with lower risk of diabetes and heart disease, as well as improved eye and brain function.
Orange cauliflower gets its sunshine inspired color from an extra dose of beta-carotene, which also boosts the vitamin A content to more than 125% of white cauliflower. Talk about nutritious!
Why You Will Love This Recipe
Aside from the added health benefits we mentioned above, this lip-smacking oven roasted cauliflower recipe is striking on a plate. If it is true that we eat with our eyes first, this orange and purple cauliflower parmesan is extra fulfilling.
Just be honest - have you ever seen such a pretty cauliflower dish? I didn't think so!
As an added bonus, this oven roasted cauliflower recipe is easy to make and just as easy to adapt. If you are unable to find vibrantly colored cauliflower, you can just as easily swap in regular cauliflower or romanesco (a.k.a. broccoflower) too.
As if you needed more reasons to make this yummy veg side, it also happens to be low carb, keto friendly AND gluten free. The bright, sharp flavors of garlic, lemon and parmesan are perfectly suited to cauliflower's natural flavors and are healthy to boot.
Once you try this delicious cauliflower parmesan recipe, you'll be finding any excuse possible to make it. Serve it as a salad, side or snack on any day of the year!
This rainbow colored dish will be right at home on any celebration table, but is easy enough to make on a random Tuesday.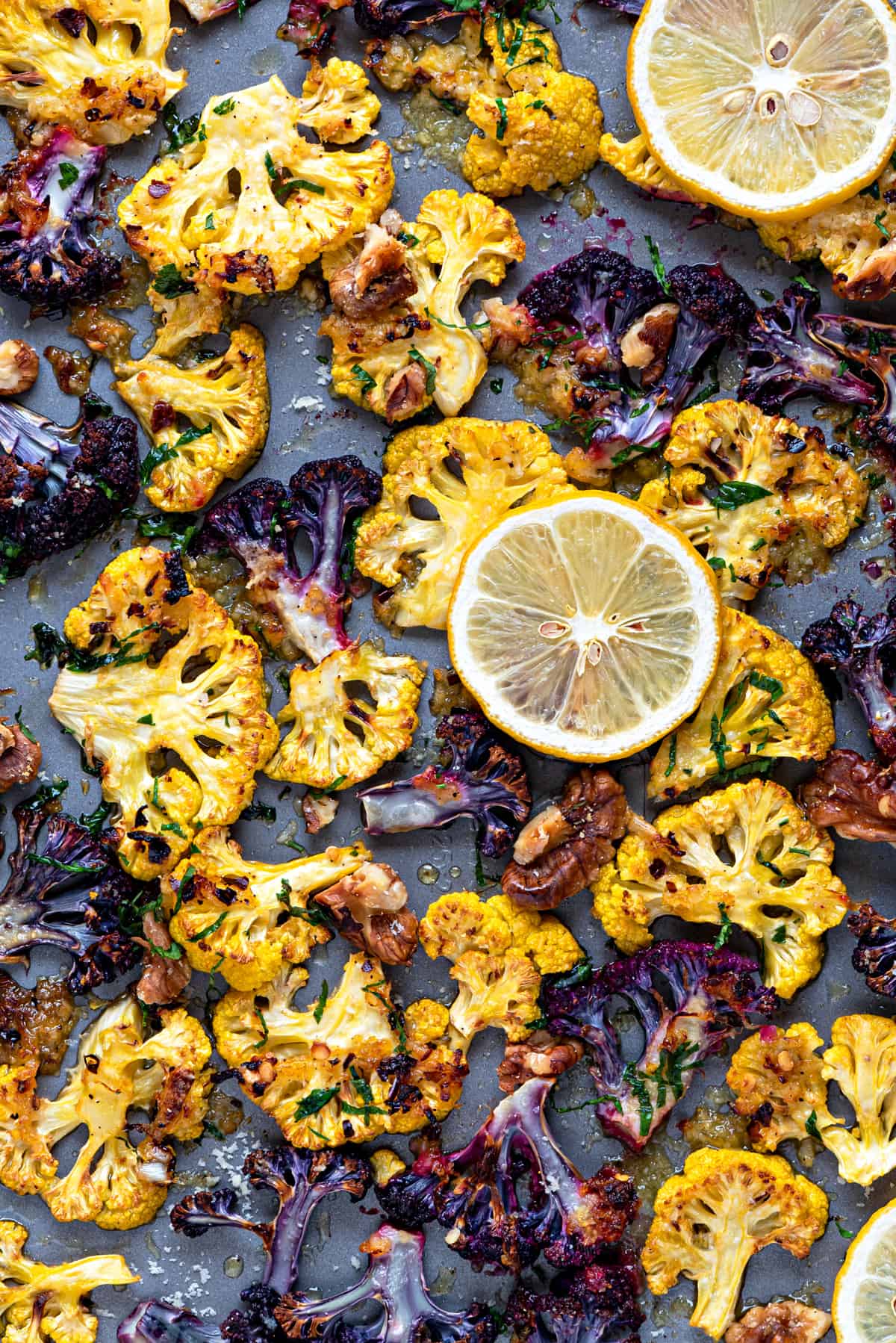 Ingredients and Substitutions
Cauliflower : The star of this vegetable dish is obviously cauliflower. While I love using both orange and purple cauliflower for a stunning visual presentation, you can feel free to substitute whatever type of cauliflower you have available. I promise it will still be yummy!!
Parmesan Cheese : Parmesan is another key component of this dish, as the name "cauliflower parmesan" implies. The hard cheese imparts a bit of salty-creamy-umami deliciousness to the dish that plays beautifully against the flavors of the cauliflower.
If you are a practicing vegetarian, be sure to opt for vegetarian parmesan. There are also vegan Parmesan options on the market now in the event that you are following Paleo, Whole30 or plant-based diets.
Flavorings : The remaining ingredients for this colored cauliflower recipe are quite simple. Olive oil, salt and pepper are pretty much a given for any kind of roasted veggies.
Garlic, lemon juice, lemon zest, parsley and red pepper flakes give this dish a Mediterranean flavor that is zippy enough to stand up to just about any meal.
How to make Roasted Cauliflower Parmesan
This orange and purple cauliflower recipe may look gorgeous, but I assure you it is quite simple to make. First, prepare your cauliflower. Using a sharp knife, cut it into thin slices.
TIP: To get the most caramelization possible, make your slices even and flat. The more surface area that is touching the roasting pan, the more golden deliciousness will happen!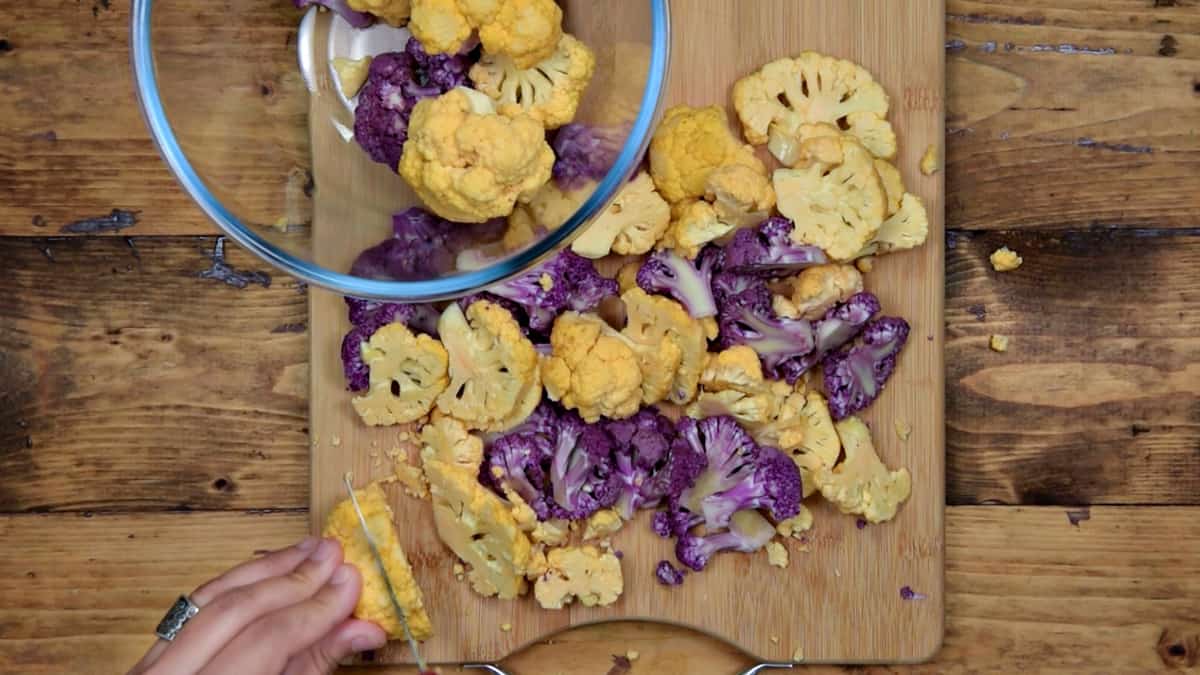 Next, prepare your dressing. Simply stir together the olive oil, lemon juice and zest, red pepper flakes, salt and pepper in a small bowl. You're almost done!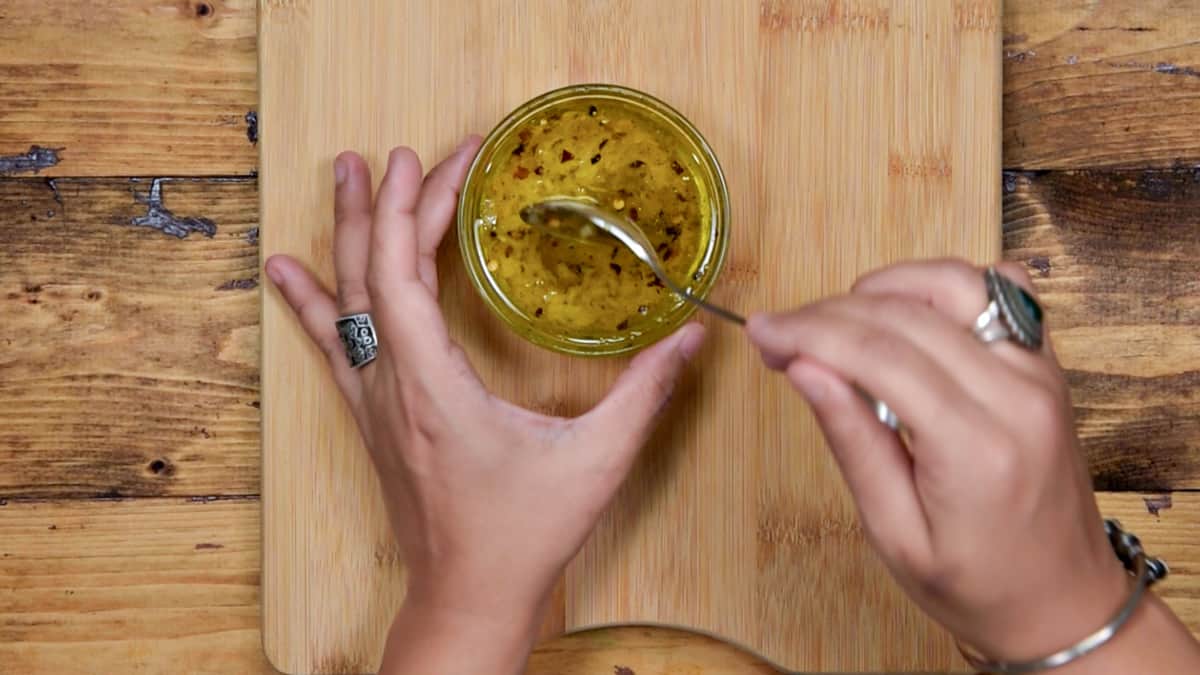 Spread the cauliflower out on a sheet pan in a single layer. Toss together your cauliflower and prepared dressing.
TIP: Want to make life even easier? Line your sheet pan with parchment to make clean up a snap!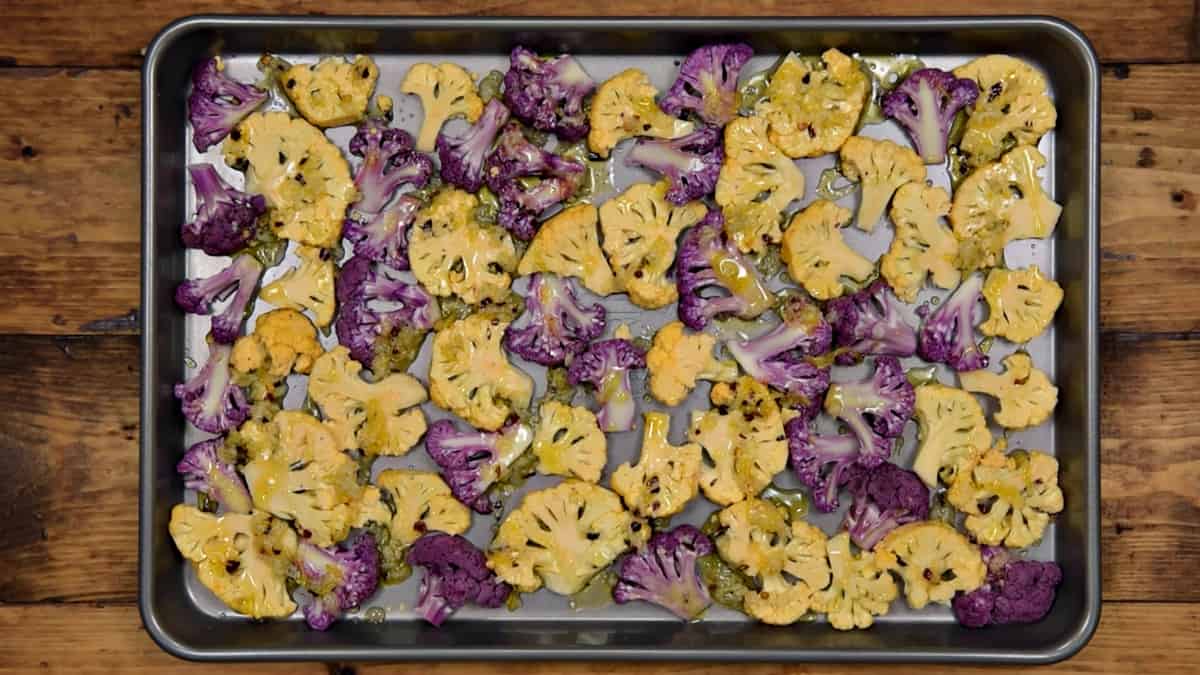 Pop the sheet tray into a preheated 425F oven. Roast for 15 minutes.
TIP: For best results, let your oven preheat for 10 minutes past the beep. This will ensure a nice, toasty place for your sheet pan to get hot quickly.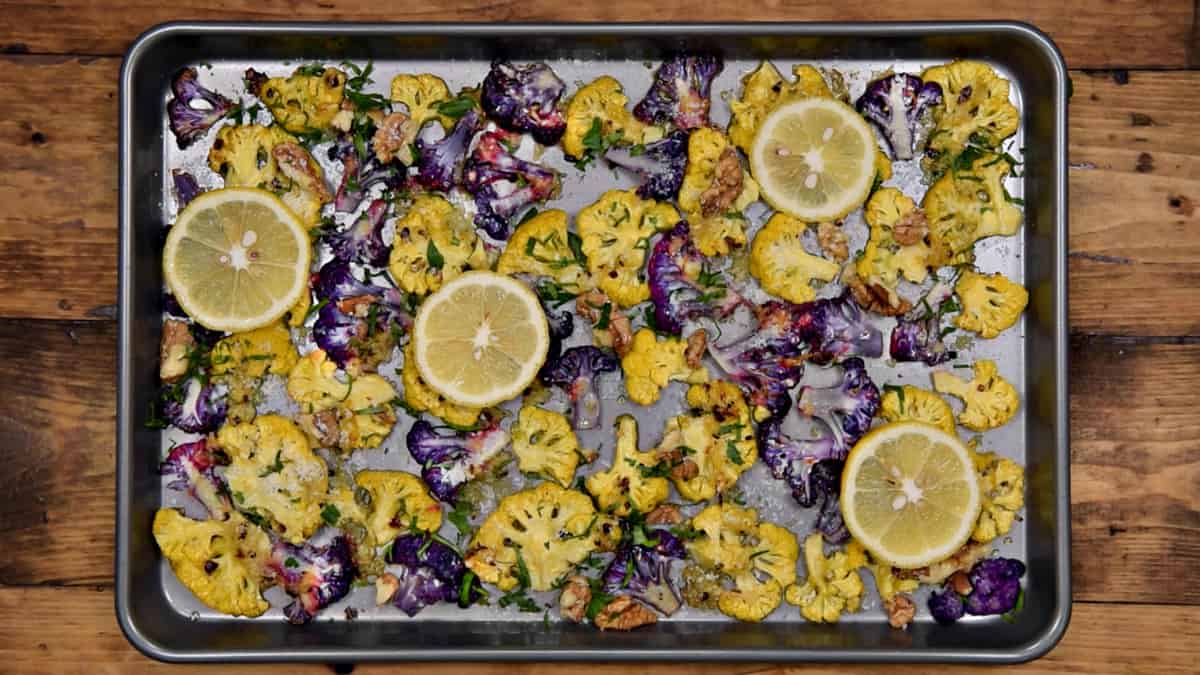 Remove the sheet pan from the oven. Flip the cauliflower pieces over to allow the opposite side to caramelize. Sprinkle with the walnuts, parmesan and parsley. Scatter thin slices of lemon across the top.
Return to the oven for another 10 minutes, until the edges of the cauliflower are golden and crispy. Serve immediately. Enjoy!
Frequently Asked Questions
Is purple cauliflower safe to eat?
Absolutely! While the color is extremely vibrant and may appear dyed, it is completely natural.
The bright color comes from the same type of compound that gives red cabbage its hue, and has been linked to some pretty incredible health benefits.
Where can I buy colored cauliflower from?
I was able to find the orange and purple cauliflower from my local grocer. You may also find luck at the farmer's market.
If you are unable to find orange or purple cauliflower, white cauliflower or green "broccoflower" will also work.
Can I make this recipe using white cauliflower?
You certainly can. While I love the flourish of color that orange and purple cauliflower offer, this recipe will taste just as yummy using plain white cauliflower instead.
Can I make it vegan, paleo and Whole30 compliant?
Of course! Simply use vegan parmesan cheese instead of dairy parmesan.

Can I prepare this dish ahead of time?
This cauliflower parmesan recipe honestly tastes best straight from the oven.
If you are wanting to make life easier on yourself, you can absolutely prepare the dressing and the cauliflower ahead of time. That way, you can toss everything together on the pan in a flash!

That said, the leftovers for this dish are still tasty. They should last in the refrigerator for up to three days or in the freezer for up to three months.
I have a nut allergy. Do you have any suggestions?
The easiest solution would be to simply omit the walnuts from the final dish. You can also opt to substitute some toasted pumpkin seeds if you prefer. I also happen to love this seed crunch recipe as well.
Storing and Freezing
While this orange and purple cauliflower recipe tastes best fresh from the oven, you can refrigerate the leftovers for up to 3 days. It will also last for up to three months in the freezer if properly sealed.
To reheat, simply thaw overnight in the refrigerator. When you are ready to eat, reheat in the oven for 10-15 minutes and then serve.
Serving Ideas
I love the versatility of this oven roasted colored cauliflower parmesan. Some days, I'll serve it as a big salad all by itself. Sometimes I make it as a snack.
It is also a delightful side that goes well with just about everything. Try it with chicken, lamb, fish or tofu!
Here's more vegetable inspiration for you
If you tried this delicious, multicolored Oven Roasted Cauliflower Parmesan recipe, please let me know how it turned out! I love seeing your ratings and reading your reviews.
If you'd like more tasty recipes delivered straight to your inbox, you can sign up for my email newsletter, I promise to never spam you! You can also see what I'm up to in the kitchen by following me on Pinterest, Instagram or Facebook.
📖 Recipe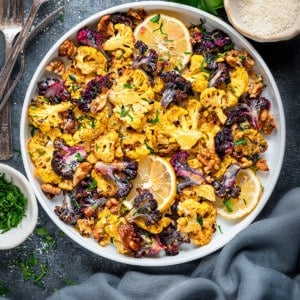 Print
Oven Roasted Cauliflower with Parmesan
This beautiful roasted orange and purple cauliflower with parmesan is as pretty as it is delicious. Serve this multicolored vegetable side dish with any meal to brighten your plate and your palate.
Ingredients
1

Large Cauliflower (Purple Orange or White)

(cut into florets)

¼

cup

Olive Oil

¾

teaspoon

Red Chili Flakes (optional)

5

Garlic

(minced)

1.5

teaspoon

Lemon Zest

1

tablespoon

Lemon Juice

Salt and Pepper to taste

¼

cup

Walnut

(roughly chopped)

¼

cup

Parmesan Cheese

Chopped Parsley

4-5

Lemon Slices
Instructions
To start with, pre heat the oven at 425° F (220° C) / 400° F (200° C) fan.

Using sharp knife, cut the florets into ½ inch slices with maximum flat edges. Set it aside.

In a bowl, combine olive oil, pepper flakes, garlic, lemon zest and juice and salt and pepper.

Place the cut cauliflower florets on baking sheet in a single layer and drizzle the prepared dressing.

Bake it in the oven for 15 minutes.

You can flip the florets here. Sprinkle chopped walnuts, grated parmesan cheese, chopped parsley and top the lemon slices.

Pop it back in the oven and bake for another 10 minutes until crisp golden edges.
Notes
Feel free to use white cauliflower instead of orange and purple cauliflower here.
Go for vegan parmesan to make this recipe vegan, paleo and Whole30 compliant.
Store the leftovers (if any) in a clean airtight box for up to 3 days in the refrigerator. The frozen will last in the freezer up to 3 months.
Nutrition
Calories:
235
kcal
|
Carbohydrates:
10
g
|
Protein:
6
g
|
Fat:
20
g
|
Saturated Fat:
3
g
|
Cholesterol:
4
mg
|
Sodium:
144
mg
|
Potassium:
477
mg
|
Fiber:
4
g
|
Sugar:
3
g
|
Vitamin A:
49
IU
|
Vitamin C:
75
mg
|
Calcium:
123
mg
|
Iron:
1
mg