If the colder weather has you in the doldrums, I have just the thing for you. This refreshing, healthy and easy Winter Fruit Salad is loaded with bright citrus flavor, like a bowl full of sunshine.
When the weather outside is frightful, look to all the delightful fruits that fall and winter season offer to lighten your mood.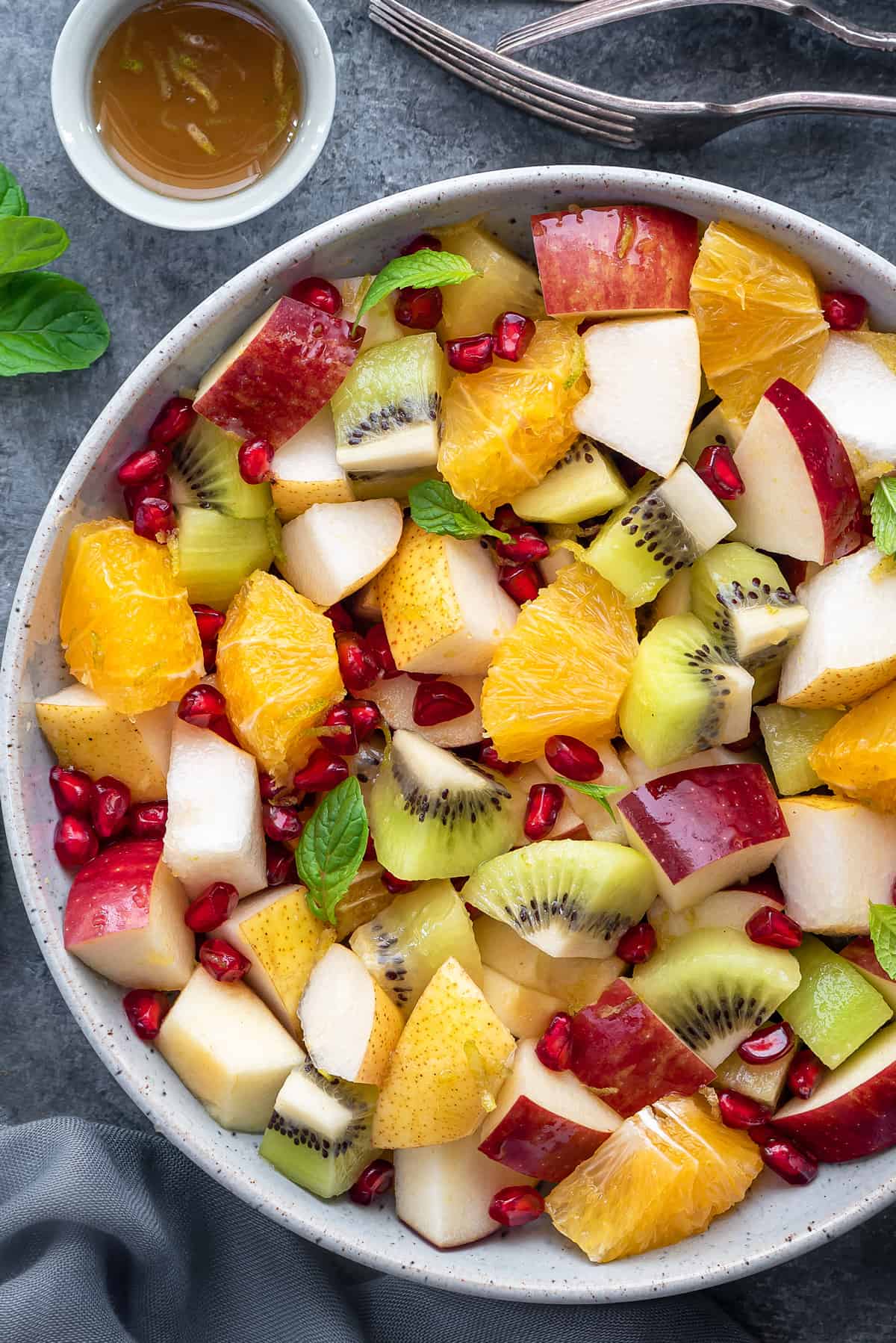 Jump to:
Why You Will Love This Salad
This delicious salad plays host to all of the best seasonal fruits. Crunchy pomegranates and crisp apples, sweet pears, tart citrus, and tropical kiwi are all tossed in a sweet-tart mix of maple and lime.
Perhaps best of all, this fresh, easy and light salad takes just 10 minutes from start to finish! It also just so happens to be vegan, too. Perfect for serving alongside everything from pancakes to barbecue or Thanksgiving, this stunning side fruit salad will please the whole family.
Treat yourself with this naturally sweet and terrifically healthy winter fruit salad for brunch. If it isn't the weekend yet, pack some in a mason jar to immediately beautify your workday lunch.
Ingredients
My recipe for the perfect fall fruit salad requires just five fruits that are abundant this time of year: apples, pears, kiwi, orange and pomegranate. Feel free to choose any varieties you like best!
The Maple Lime Dressing is equally simple. Mix 3 tablespoons of high quality, pure maple syrup with the zest and juice from a lime. It really couldn't be simpler!
How to Make a Good Winter Fruit Salad
The trick to making a delicious mixed fruit salad is all about balance. The maple lime dressing is a perfect example! Sweet (and seasonal!) maple syrup is blended with bright, tart lime for a perfect winter mashup.
To make the dressing, simply whisk together your lime juice, lime zest and maple syrup. Set aside.
TIP: Can't find maple? Feel free to substitute honey, agave or date syrup instead.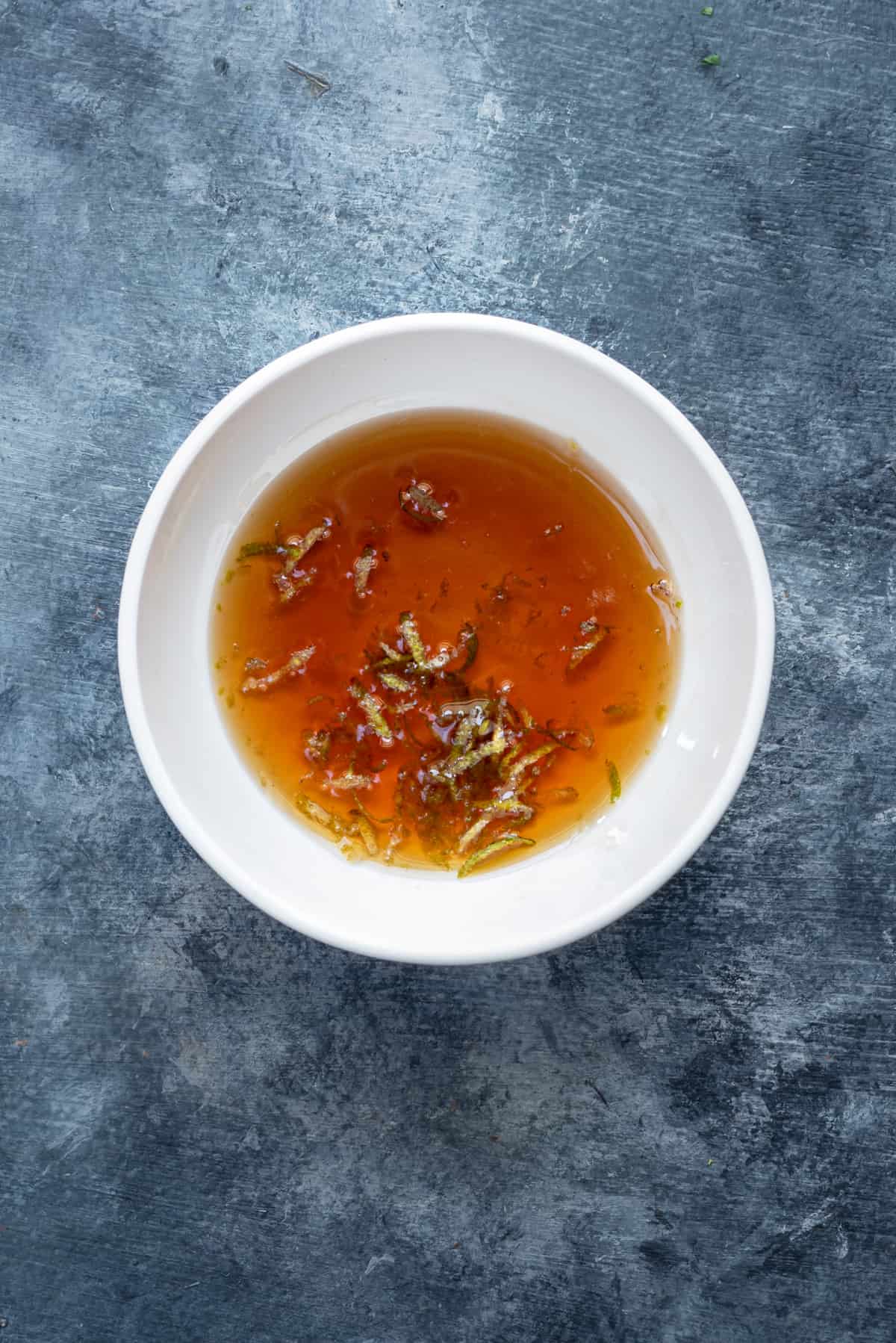 Next, prepare all of your fruit. Peel and cube the kiwi. Remove the pomegranate arils from the fruit. Core and cube the apple and pear. Cut your oranges into supremes, then into bite sized pieces.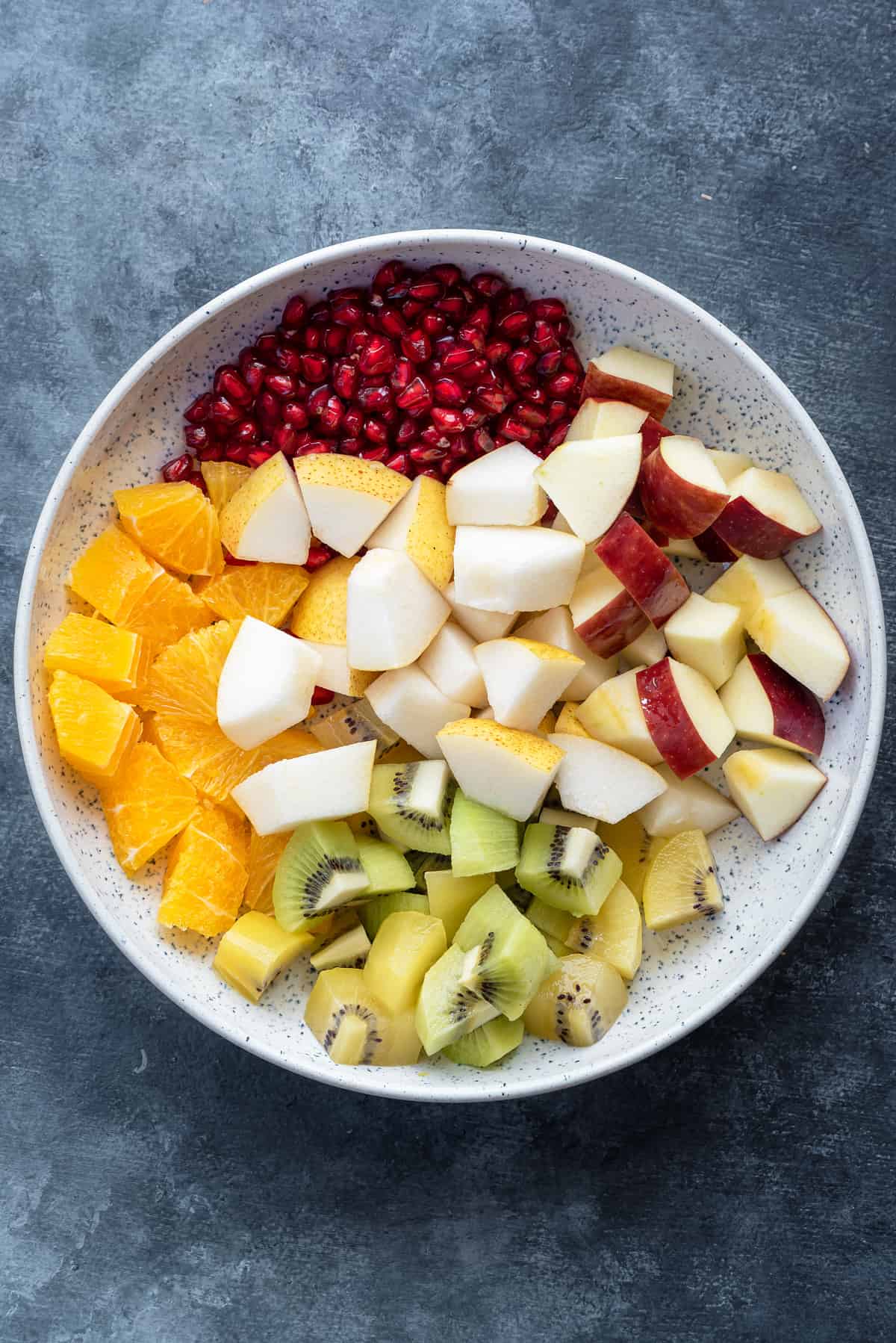 Place all of your fruit into a large mixing bowl, then drizzle with the salad dressing and toss to combine. Enjoy!
Salad Dressing Ideas
While the Maple Lime Dressing is simply divine, you can certainly play with your ingredients.
Feel free to swap in date syrup, pomegranate syrup, jaggery syrup, or agave syrup to remain vegan. If you eat honey, it also makes a lovely substitution.
I happen to love eating my fruit with just a touch of vegetal freshness - adding some fresh mint, basil or Thai basil to the mix can take this winter fruit salad from nearly dessert to squarely savory. Some fresh ginger would also be very tasty!
Add-Ins
One of the things I love best about cooking is adapting things as I go. This yummy winter salad ( just like my fresh fruit salad) is perfectly simple, but you can feel free to dress it up with any add-ins of your choice. Some of my favorites include:
Nuts - pecans, walnuts, pistachios or cashews
Seeds - flax, hemp, chia, pepitas or sesame seeds
Cheese - goat cheese or feta
Creaminess - cream, coconut cream, yogurt, avocado or nut butters could also be added to the dressing.
Herbs - basil or Thai basil
Vegetable or fruit - shaved fennel root, pear, bananas.
Spice - little bit of cayenne, sriracha or gochujang can all be added to the dressing for a touch of heat
Marshmallows
If you can think of anything else to put in this fruit salad, please add it in the comments below! I love hearing about all of your ideas. 🙂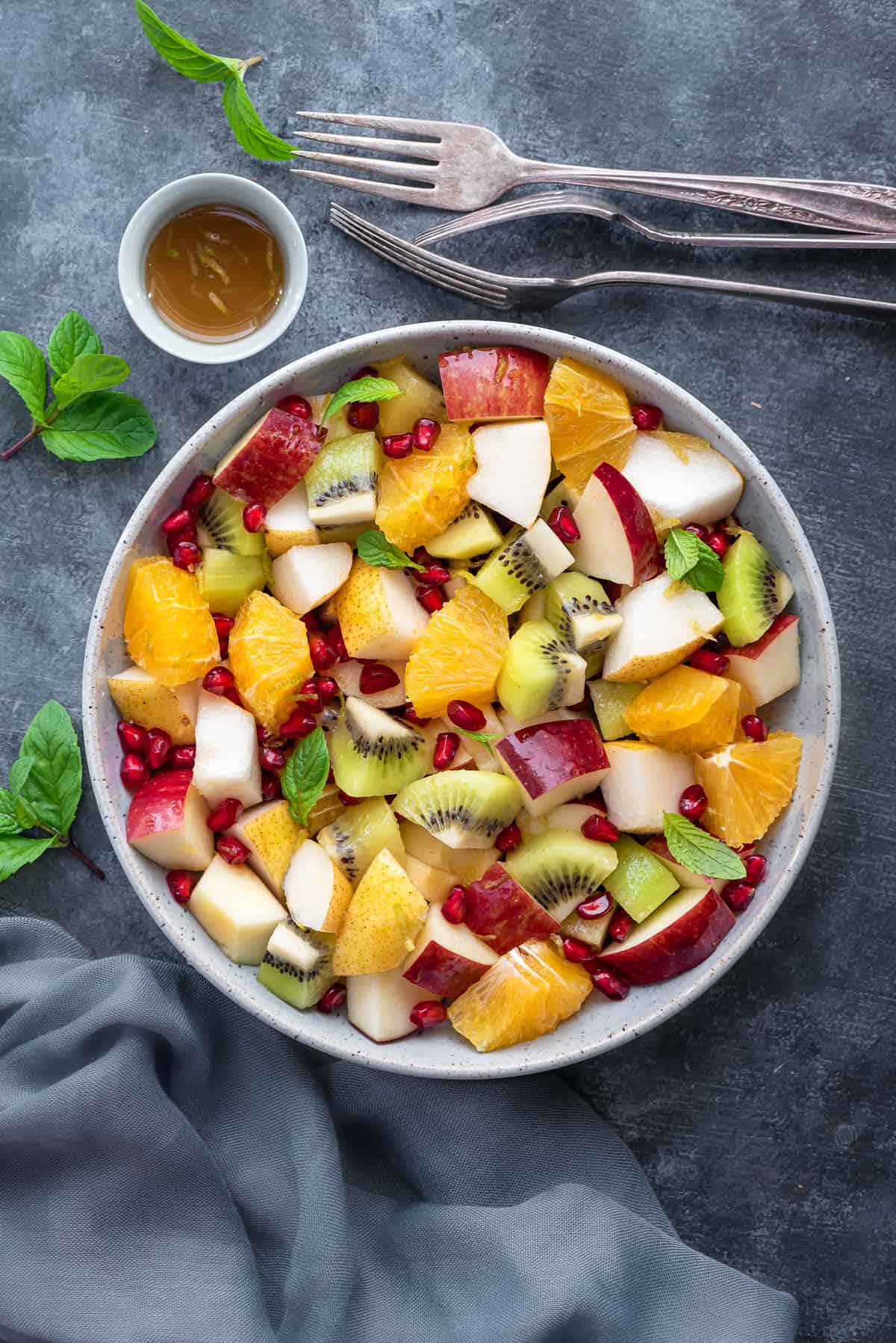 Tips and FAQs
What other fruits can be added to winter fruit salad?
Feel free to make this fruit salad your own. Don't like kiwis? Leave them out! Want to switch up the fruit? Try adding cranberries, banana, grapes, persimmon, pineapple, grapefruit, clementine, or mandarin.
Can I make it ahead?
The biggest problem with making this salad ahead of time is that of oxidation. Pears and apples don't like being exposed to air and will eventually turn a less than appealing shade of brown.

While the citrus in the salad will certainly help prevent that from happening for awhile, it will end up happening eventually.

If you plan on making this salad for your food prep day, try any of these methods for keeping your fruits looking fresh.
What is the best way to keep this salad fresh for a long time?
Read the question and answer above to learn more about oxidation and what it will do to your fruit.
The best way to keep this salad fresh is to minimize contact with air, so opt for an airtight container when storing leftovers.
Do I have to peel my fruit?
Nope! While I opted to peel my kiwi and supreme my oranges, this was more of an aesthetic decision.
Feel free to leave the skin on any thin skinned fruits to make your prep time even faster.
More delicious salads for you
If you tried this simple and easy recipe for my Winter Fruit Salad, please let me know how it turned out! Rate and review it below, or leave me a comment. I love hearing from you!
If you'd like more recipes of mine delivered straight to your inbox, sign up for my email newsletter.
You can also follow my kitchen adventures on Pinterest, Instagram or Facebook if you prefer.
📖 Recipe
Print
Winter Fruit Salad
When the weather outside is frightful, make this refreshing, healthy and easy fruit salad with these delightful fruits that fall and winter offer to lighten your mood. Delicious salad loaded with bright citrus flavor, like a bowl full of sunshine!
Ingredients
2

Apples

(cubed or sliced)

2

Pears

(cubed or sliced)

1

cup

Pomegranate Arils

4

Kiwis

(cubed or sliced)

2

Oranges or Clementines

(peeled and cubed or sliced)

Few Mint Leaves
Maple Lime Dressing
3

tablespoons

Maple Syrup

2

tablespoons

Lime Juice

1

teaspoon

Lime Zest
Instructions
In a small bowl, whisk together maple syrup, lime juice and zest and set it aside.

In a large mixing bowl, place all the fruits - apple, pear, pomegranate, kiwi and oranges.

Pour the prepared dressing over the fruits and gently give it a toss.

Garnish with fresh mint leaves and serve immediately. You can also cover with plastic wrap and refrigerate if not serving right away.
Notes
Serving and Storing:
This salad is best served immediately, as oxidation can cause some unsightly discoloration on the pears and apples. To keep your salad looking as fresh as possible for as long as possible, use any of these methods to prevent browning and store your leftovers in an airtight container in the refrigerator.
Optional Add-Ins:
Nuts - pecans, walnuts, pistachios or cashews
Seeds - flax, hemp, chia, pepitas or sesame seeds
Cheese - goat cheese or feta
Creaminess - cream, coconut cream, yogurt, avocado or nut butters could also be added to the dressing.
Herbs - fresh mint, basil or Thai basil
Vegetable - shaved fennel root
Spice - cayenne, sriracha or gochujang can all be added to the dressing for a touch of heat
Marshmallows
Nutrition
Calories:
174
kcal
|
Carbohydrates:
44
g
|
Protein:
2
g
|
Fat:
1
g
|
Saturated Fat:
1
g
|
Sodium:
5
mg
|
Potassium:
489
mg
|
Fiber:
7
g
|
Sugar:
31
g
|
Vitamin A:
199
IU
|
Vitamin C:
89
mg
|
Calcium:
61
mg
|
Iron:
1
mg