This is a quick and easy homemade Italian Seasoning recipe with a perfect blend of herbs and spices for your favorite chicken, beef, pasta, pizzas, sauces, marinades, and more! Make this better than store-bought Italian seasoning substitute from whatever dried herbs you have on hand. A versatile classic Italian herb mix for your meals, you are going to love it!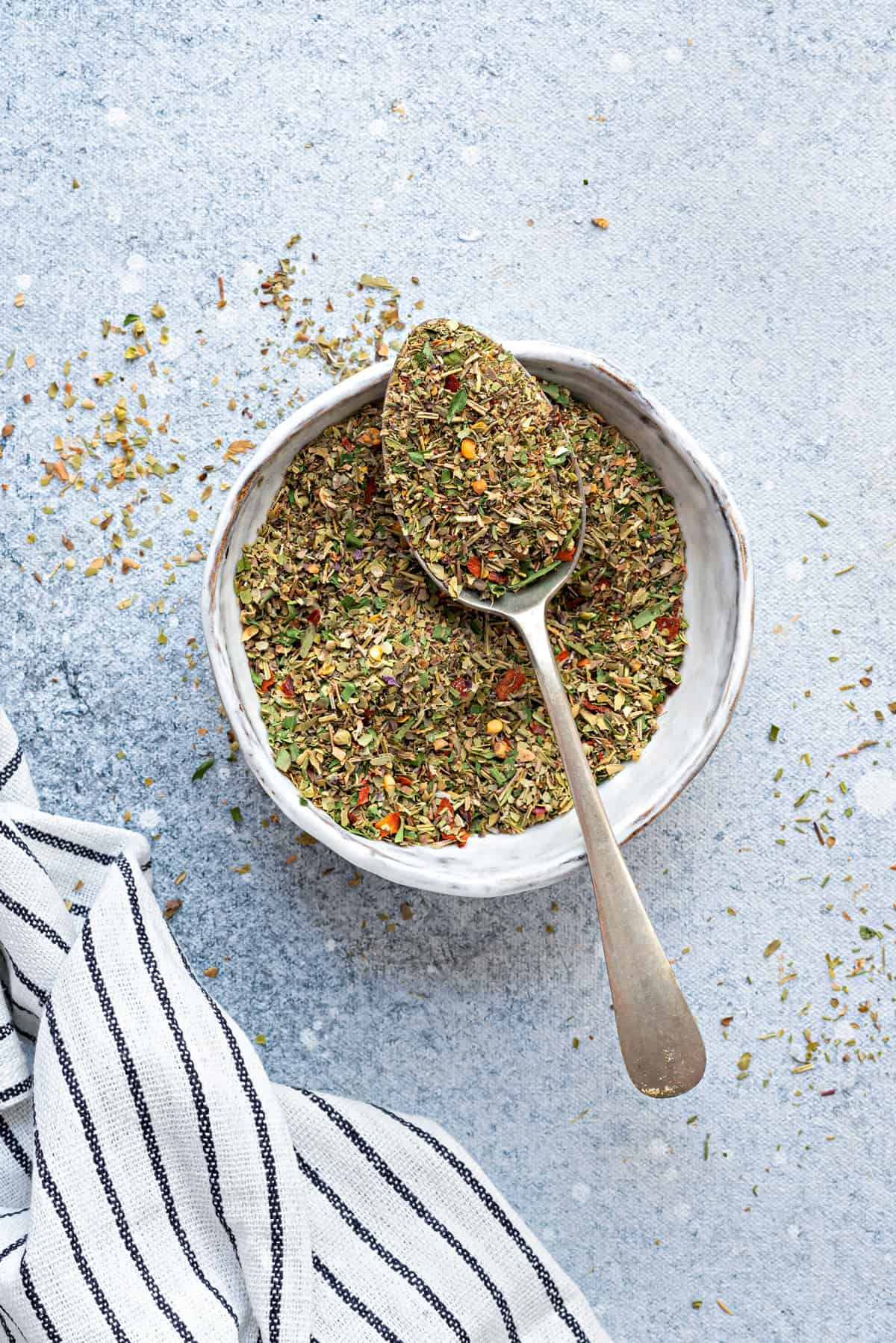 Jump to:
About this Italian Seasoning
Italian seasoning mix is a classic blend of dried herbs and spices with a perfect balance of sweet and savory flavors. This is one of the best seasoning recipe out there that is just great for your classic Italian savory dishes.
This classic seasoning is a straight blend of dried Italian herbs, commonly Oregano, Basil, Thyme, Rosemary, Marjoram. l also add dried parsley to the mix for more flavor. Do not have dried parsley or marjoram on hand? Don't fret, leave it out, and use the rest!
I have this perfectly balanced seasoning mix for you with right amount of herbs, garlic powder and red pepper flakes. Well, you can skip garlic powder and pepper flakes, but a little bit doesn't hurt at all! In fact, they both add so much zing to your food.
Italian herb Seasoning comes under common seasoning blend category. However, the seasoning mix is not found in traditional Italian Cuisine, hence you won't find it in the stores in Italy but worldwide.
This gluten-free Italian Seasoning recipe is a beautiful mix of herbs that has only pluses:
Quick and super easy to make.
Adds delicious flavor and aroma to so many recipes
Easily customizable as per your taste preference.
Comes together in less than 3 minutes.
Perfect to use in the recipes in place of any dried herb.
Keeps for long time when stored properly.
What is in Italian Seasoning?
Though you will find this seasoning in most grocery stores, making your own spices and herbs mix at home is always the best idea. Why? Because, we know what is in the mixes! Plus, it's budget-friendly and we have full control over the choice and the amount of ingredients we want to add in it. Isn't it?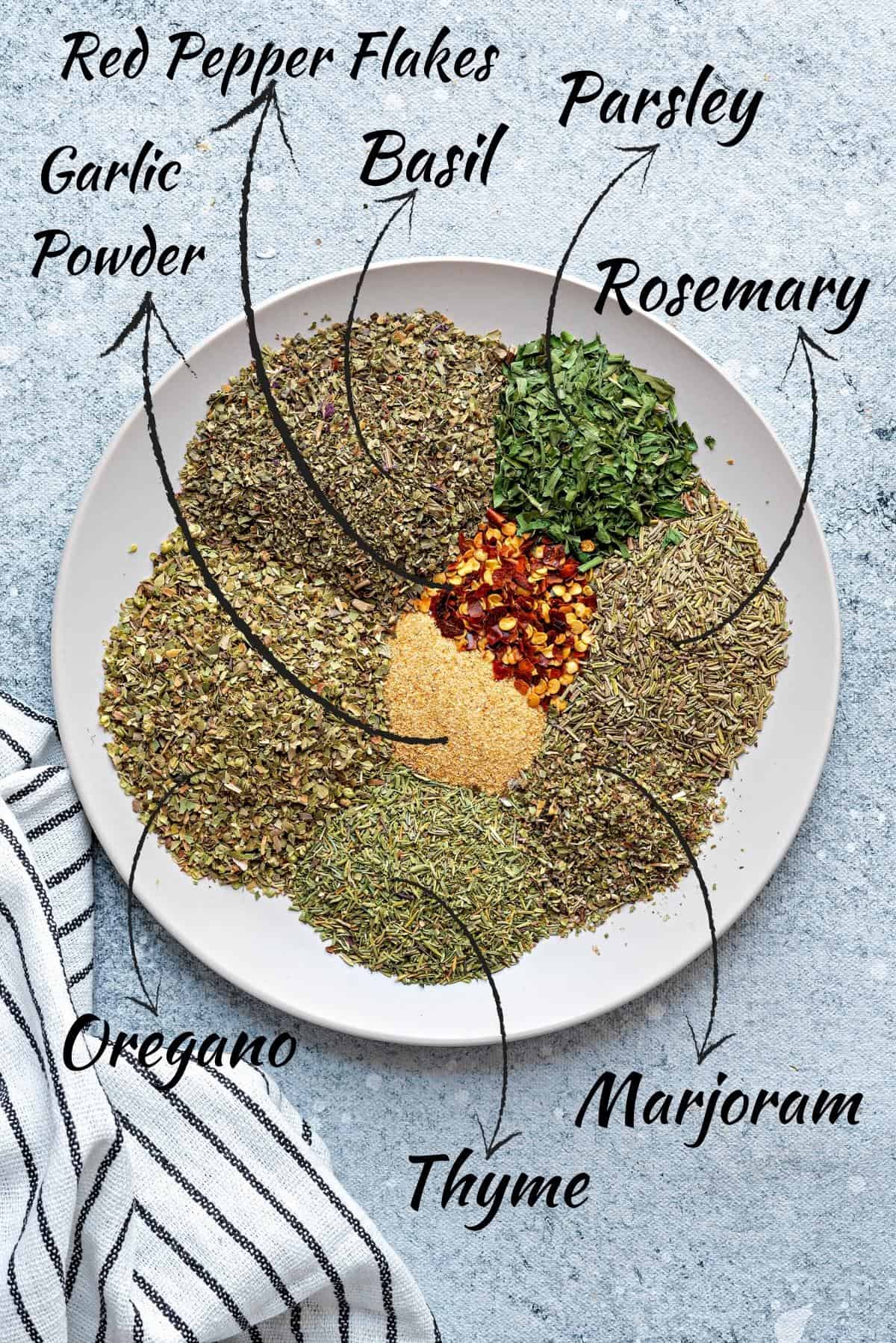 Here's the list of dried Italian herbs and spices you need, you just can't go wrong with this simple yet tasty homemade seasoning recipe:
Basil: A must have herb in this blend for its sweet aroma and flavor.
Oregano: Do not leave oregano out as it is an essential herb with strong aroma.
Thyme: I always prefer to add this nutty with sweet and savory flavored thyme to my herb mix.
Rosemary: It has a slight minty, sage-like peppery taste.
Marjoram: Earthy, sweet in flavor and milder than oregano. If not handy, add a little extra oregano instead, half tablespoon of the mentioned measure.
Parsley: I like to add dried parsley for more aroma and flavor.
Garlic Powder and Red Pepper Flakes : Though optional, adds an extra zing to the dishes.
How to make Italian Seasoning?
Making this Italian herb mix at home is as easy as counting 1-2-3.
Measure the ingredients.
Mix.
Transfer to a jar and store.
That's it! This is all you need to do.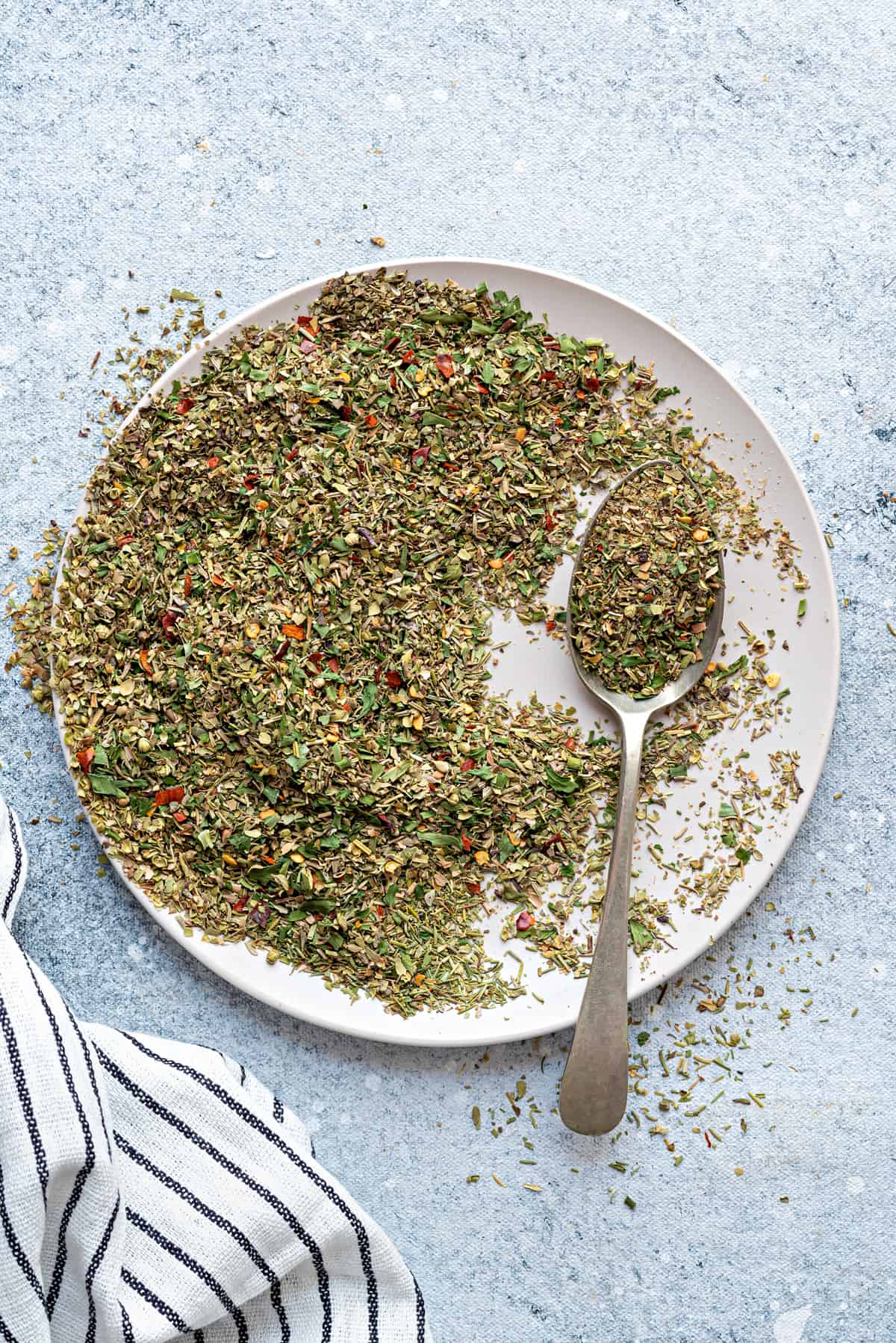 Frequently Asked Questions
How to store this seasoning?
Store this homemade seasoning in a clean and dry tightly sealed glass jar ( or tin jars). Always keep your spice blends in dry, dark and cool place in a pantry away from direct light, heat and moisture or they will loose their flavor and aroma. You can also refrigerate the seasoning, they do not need freezing.
How long does homemade Italian seasonings last?
This seasoning will stay perfect for at least 6 months to a year. Dried herbs do not grow molds, they can keep for a really long time like even 2 years, if stored correctly.
How to know if the herbs and seasonings are fresh or need replacement?
The best way to know the freshness of dried herbs, spices and seasonings is to smell them, they are flavorful and strong. If they are no longer fragrant, that's the time you replace them.
Uses
From cooking chicken to beef or fish for your dinner, roasting potatoes, tomatoes, veggies, or sausages, adding extra flavor to pizza, pasta, soup, breads, or a quick salad dressing, this homemade Italian seasoning mix adds just the right flavor to all your recipes!
Sprinkle this seasoning over the top on your vegetables or in cheese sandwiches, or combine with melted butter to toast garlic bread or bread sticks.
Mix with melted butter to make flavorful herbed croutons to serve with your favorite soups.
Add it to your marinades and rubs for BBQ, steaks, grilled salmon, baked chicken or shrimps.
Sprinkle the Italian herb mix over sliced French baguette, Sourdough or Whole grain bread with drizzle of olive oil, and toast it in the pre-heated oven or in pan on stovetop. Serve with your soups, or top with this delicious caprese salad, or tomatoes, avocado, or eggs to make the most delicious Avocado Toast.
Simply reach out to this Italian herb seasoning to flavor almost everything, because possibilities are endless! It should be a must have blend in your spice rack! You will never want to go for pre-made store-bought seasoning mix again!
More Homemade Mix Recipes for you
If you made this zesty Italian Seasoning Recipe, that is honestly so easy to make and the best, then please be sure to rate and review this blend below!
If you'd like more deliciously easy recipe inspiration, follow me on Instagram, Pinterest, Facebook or YouTube. You can also get all of my newest content delivered straight to your inbox by signing up for my email newsletter.
📖 Recipe
Print
Italian Seasoning Recipe
This quick and easy homemade Italian Herb Seasoning Recipe is a perfect blend for your favorite chicken, beef, pasta, pizzas, sauces, marinades and more! Use this versatile Italian herb mix on anything and everything, you are going to love it!
Ingredients
2

tablespoons

Dried Basil

2

tablespoons

Dried Oregano

1

tablespoon

Dried Thyme

1

tablespoon

Dried Rosemary

1

tablespoon

Dried Marjoram

1

tablespoon

Dried Parsley

1

teaspoon

Garlic Powder

1

teaspoon

Red Pepper Flakes
Instructions
In a small bowl, combine all the ingredients.

Transfer to a clean and dry glass jar and store in a cool, dark place for 6 months.
Notes
Always keep your blend in dry, dark, cool place in a pantry, away from direct light and heat or they will loose their flavor and aroma.
Nutrition
Serving:
1
Tablespoon
|
Calories:
10
kcal
|
Carbohydrates:
2
g
|
Protein:
1
g
|
Fat:
1
g
|
Saturated Fat:
1
g
|
Polyunsaturated Fat:
1
g
|
Monounsaturated Fat:
1
g
|
Sodium:
6
mg
|
Potassium:
61
mg
|
Fiber:
1
g
|
Sugar:
1
g
|
Vitamin A:
137
IU
|
Vitamin C:
1
mg
|
Calcium:
57
mg
|
Iron:
2
mg