Authentic and flavourful Chinese Five Spice powder in 5 minutes! It's a versatile spice seasoning used in most of the Chinese recipes.
This seasoning is quite easy and much cheaper than the ones you buy from the stores. So, make your own 5 spice mix and use it in diverse Chinese cooking at home.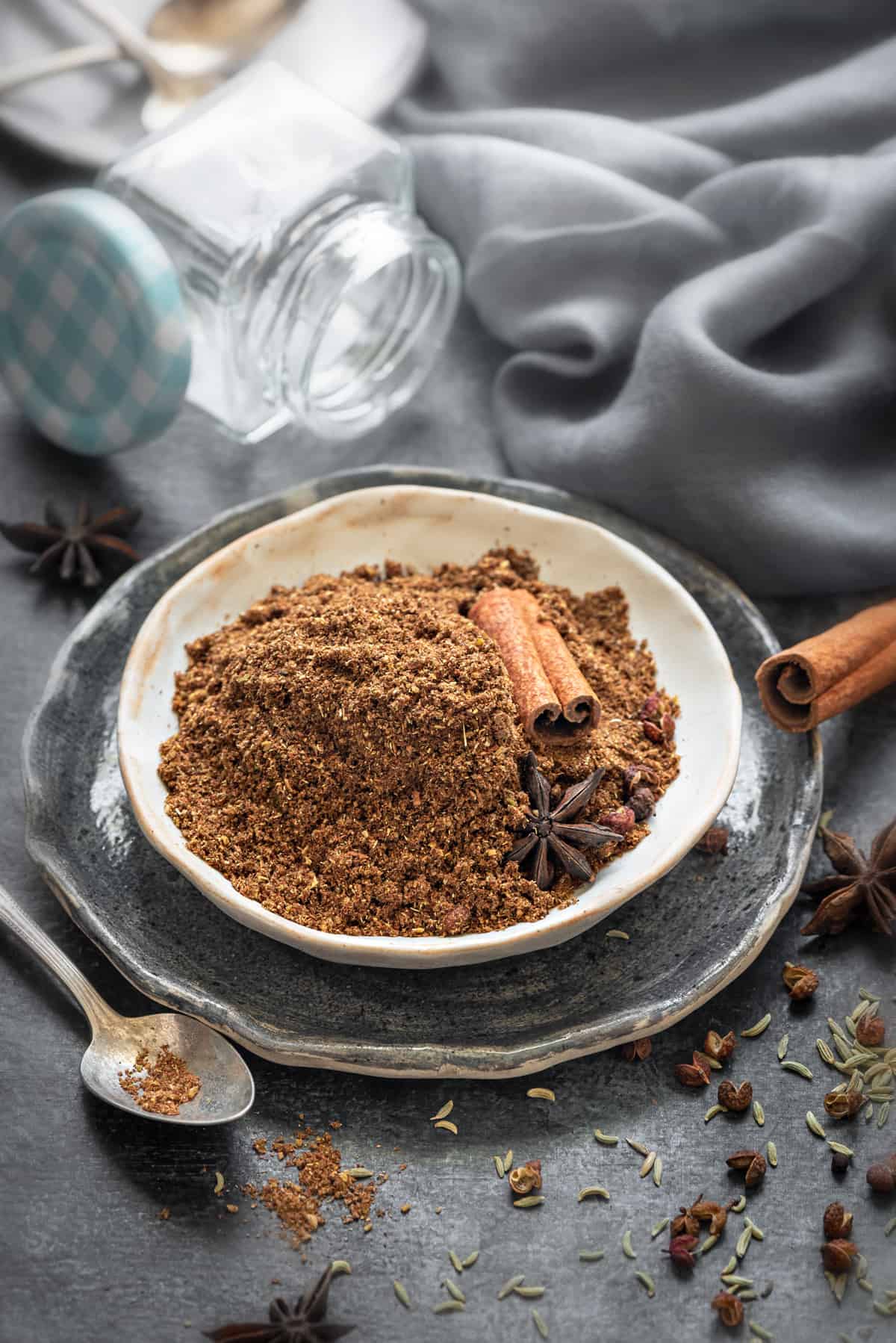 Jump to:
About the recipe
Five spice powder is a unique seasoning mix of spices that is mostly used in Chinese cuisine.
This traditional Chinese seasoning is an original 5 spice blend that has been in use since thousands of years.
It consists of combination of specific spices that's gives the perfect balance of main five flavors. Sweet, sour, spicy, salty and bitter!
Though the ratio of these spices may differ from region to region. But, what makes this blend authentic is the use of 5 spices only.
Apart from Chinese cuisine, the Vietnamese and Taiwanese cuisine also has the hint of this seasoning mix. As they also use it in their cooking.
Though this five spice mix is available in stores, I prefer to make my own at home. Because, the authentic homemade spice powders are the best.
What a lovely aroma and true flavor it adds to the dishes!
Ingredients
Have you ever wondered what 5 spice is actually made of?
Here's the Chinese five spice ingredients - Sichuan Peppercorns (Szechuan pepper), Cinnamon, Cloves, Fennel Seeds and Star Anise.
You may find different recipes that may consist of anise seeds, turmeric, ginger powder, orange peel, nutmeg, cardamom and even galangal.
What I have read at various sources is that in Southern China, mandarin orange peel is the substitute for cloves. It gives distinct flavor profile to southern 5 spice powder.
Well, for me the combination that works the best for 5 spice powder is the one I am sharing with you all here.
Further, you don't need to do spice roasting for this recipe. Just gather the ingredients and blend it to a powder, isn't that great? 🙂
Step by Step Instructions
Gather the ingredients.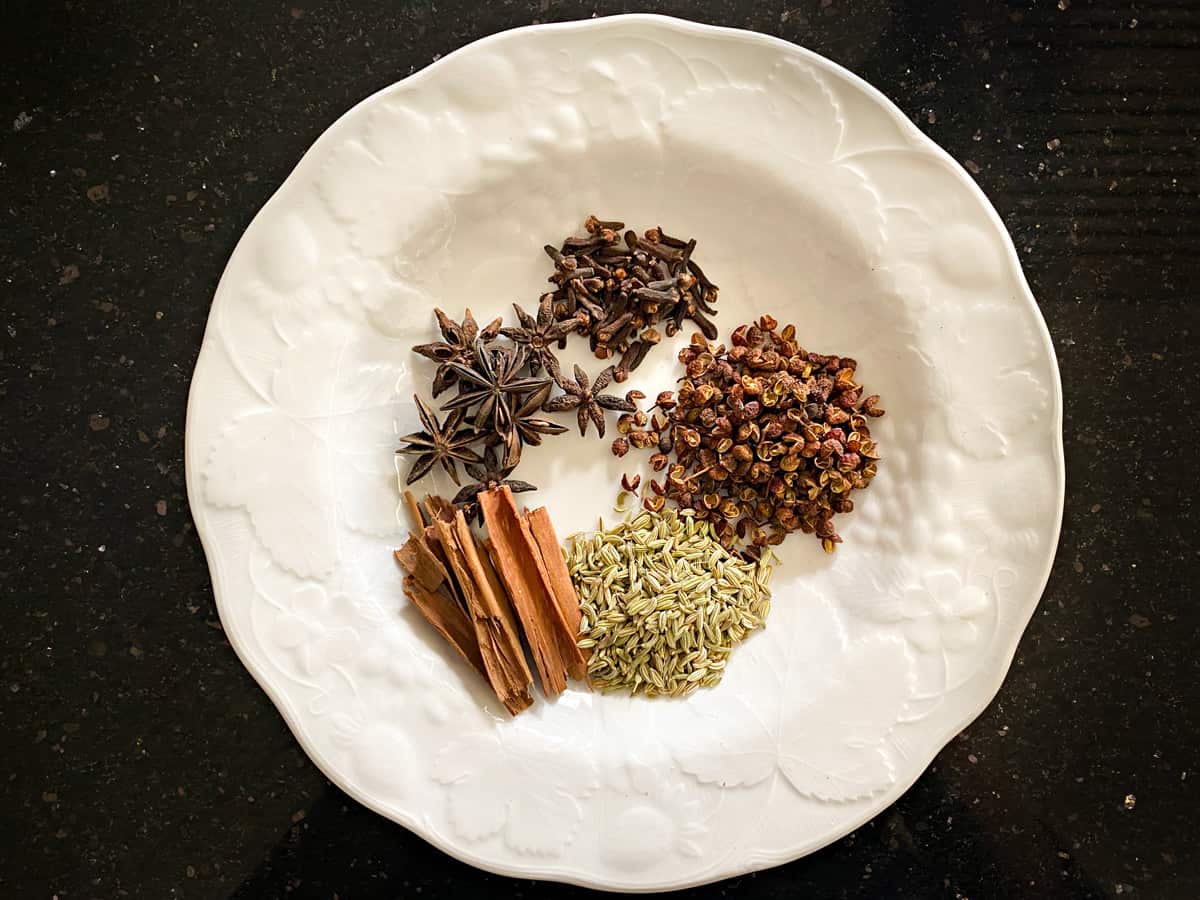 Add them into a blender jar or in a spice grinder.
Blend them to a fine powder.
Storage
Transfer the seasoning into a clean glass jar and store in cool dry place.
It stays well upto 2 months. You can even store in the fridge for longer shelf life.
How to use it?
Chinese 5 spice mixture has a unique flavor that take the dishes to another level.
Use it for meat rubs like lamb, beef, chicken, turkey or duck. Or use it as a seasoning for pot roast.
It gives a perfect blend of flavors to fried rice, chicken wings, dumplings, soups and so much more. Add it to stews, grill marinades as well as glaze.
It's a must for me to add to homemade Hoisin sauce, as I love to use this sauce for noodles, tofu, chicken and vegetable stir fries.
Explore the ideas here.
Frequently Asked Questions
What is Sichuan peppercorns?
Sichuan peppercorns (szechuan pepper) is a small dried berry from prickly Ash tree and not peppercorns.
It has unique floral aroma with citrus flavor and it doesn't have spicy heat. Rather, Sichuan peppers has numbing heat.
What is the substitute of Sichuan peppercorns?
You may find that most of the store bought Chinese five spice powder do not contain Sichuan pepper.
Instead, what goes in are black peppercorns and dry ginger. So, you can use it, but flavor won't be the same.
Honestly, the above two substitute do not impart traditional flavors that we get from Sichuan peppercorn.
So, if you are looking for authentic flavor, then please do not substitute it to any other ingredients.
Where do we buy Sichuan peppercorns from?
These are available at most of the Asian grocery stores. You can buy it online too.
💓 We Love to hear back from you and appreciate your success stories !
Have you tried this Recipe"? Please feed us with your ★ star ratings and comments below.
You can also FOLLOW me on FACEBOOK, INSTAGRAM and PINTEREST for more fabulous recipes and updates.
📖 Recipe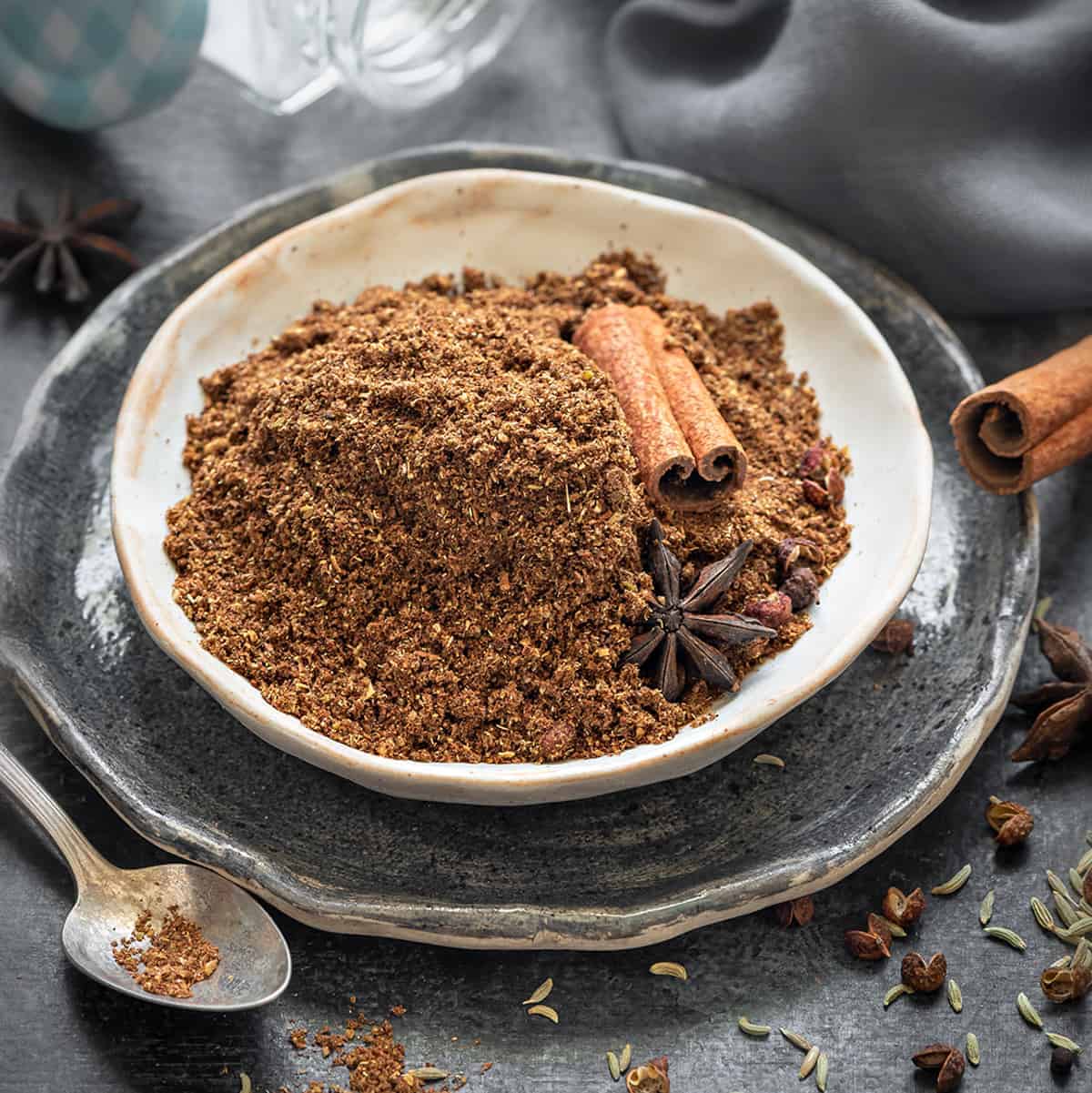 Print
Chinese Five Spice Recipe
Make this authentic and flavourful 5 Spice powder in less than 5 minutes!
Ingredients
10

Star Anise

2

tablespoons

Sichuan Pepper

2

tablespoons

Fennel Seeds

1½

teaspoons

Cloves

2

Cinnamons sticks (3 inches each)
Instructions
Gather the ingredients and add them into a blender jar or in a spice grinder.

Transfer into a clean glass jar and store in cool dry place.
Notes
Store the powder in clean glass jar upto 2 months in cool dry place or refrigerate it upto 6 months.
Nutrition
Calories:
16
kcal
|
Carbohydrates:
3
g
|
Protein:
1
g
|
Fat:
1
g
|
Saturated Fat:
1
g
|
Sodium:
2
mg
|
Potassium:
61
mg
|
Fiber:
1
g
|
Sugar:
1
g
|
Vitamin A:
8
IU
|
Vitamin C:
1
mg
|
Calcium:
43
mg
|
Iron:
1
mg