The best DIY Hoisin Sauce Recipe that takes less than 5 minutes to whip up. This thick and flavorful Chinese sauce gets done with the ingredients that you have in your pantry.
Learn here how to make hoisin sauce easily at home, it is indeed thousand times better than the store bought!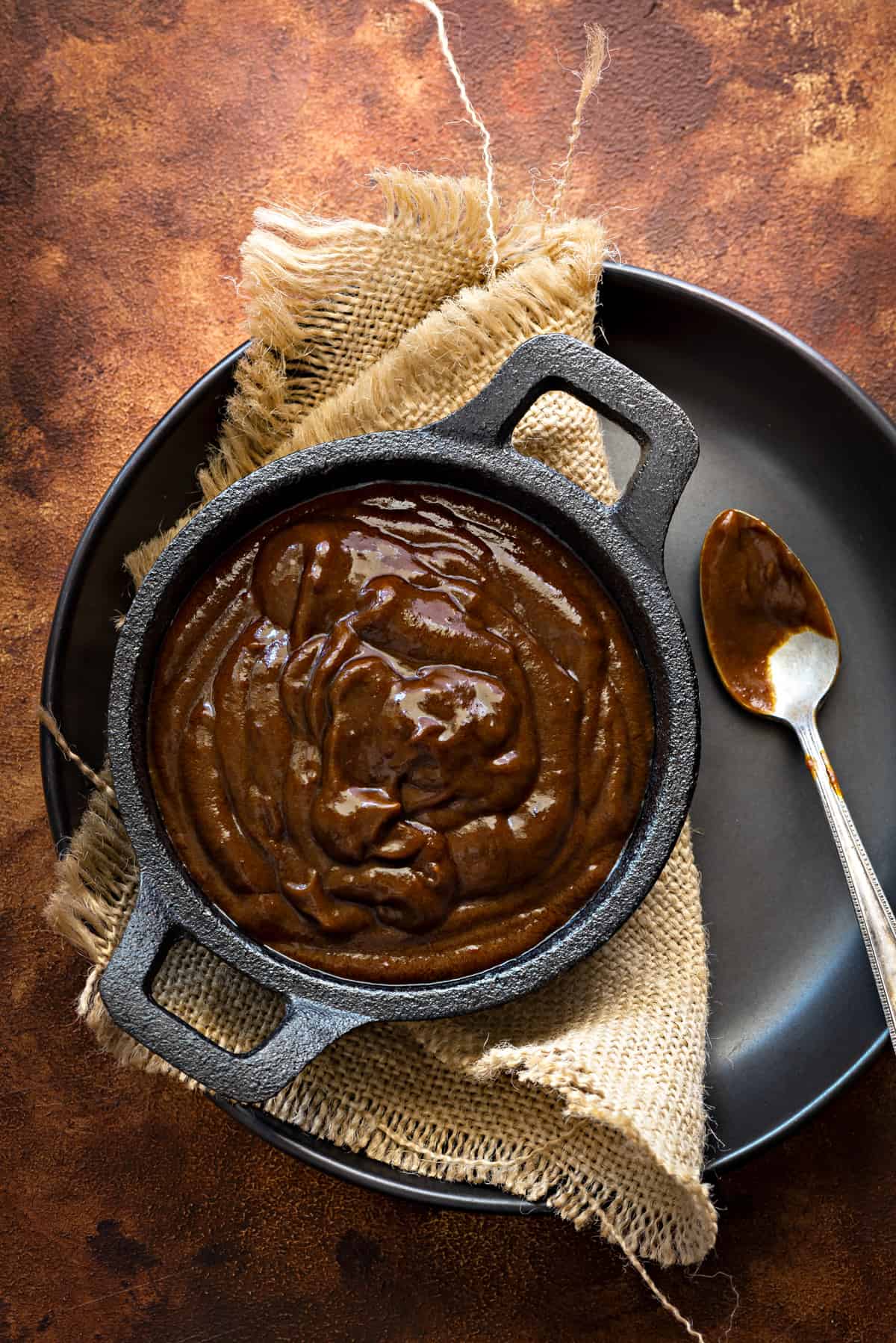 Jump to:
OMG! I can't tell you how much my little ones love Asian food. They are especially fond of noodles and stir fries from Thai and Chinese cuisine.
That's the reason why I have to cook stir fry, noodles and fried rice for them often. And when you plan to do some Chinese cooking for family, then you need to have basic sauces at home.
Right? I know am! 🙂
About the recipe
Now, coming to the question, what is hoisin sauce actually? The sauce is essentially made with the key ingredient - fermented soy bean paste (black bean sauce).
Whisking the Soybean paste along with soy sauce, Chinese five spice powder, and seasonings gives nice dark and thick sauce. It has a balance of sweet, salty and tangy taste giving a deep umami hint to the Chinese dishes.
This sauce is used in most of the Chinese cooking like stir fries, a glaze for grilling meats, vegetables, noodles and rice. Or as a dipping sauce for grilled veggies or rolls.
Having consistency similar to Barbecue sauce, this Hoisin Sauce tastes sweet as well tangy but much dark in color. Hence, the other name, 'Chinese Barbecue Sauce'.
This quick and easy homemade sauce recipe is so good that you can season anything using it. The possibilities are endless.
Though this sauce is handy in the aisle of the grocery stores, nothing is better than making it as home from scratch. 🙂
Ingredients + Notes
With few handy ingredients you can whisk the sauce in as quick as 5 minutes from start to finish.
Traditionally, the mashed soy beans are fermented for a period of time after the process of roasting. But, now a days, black bean paste is at the hand in Asian stores as well as supermarkets.
So, getting the store bought black bean sauce and using it saves so much of time. The only work you need to do here is just combine all the ingredients and whisk them - and this takes only 2 minutes!
Let's go through now to know what's in the hoisin sauce.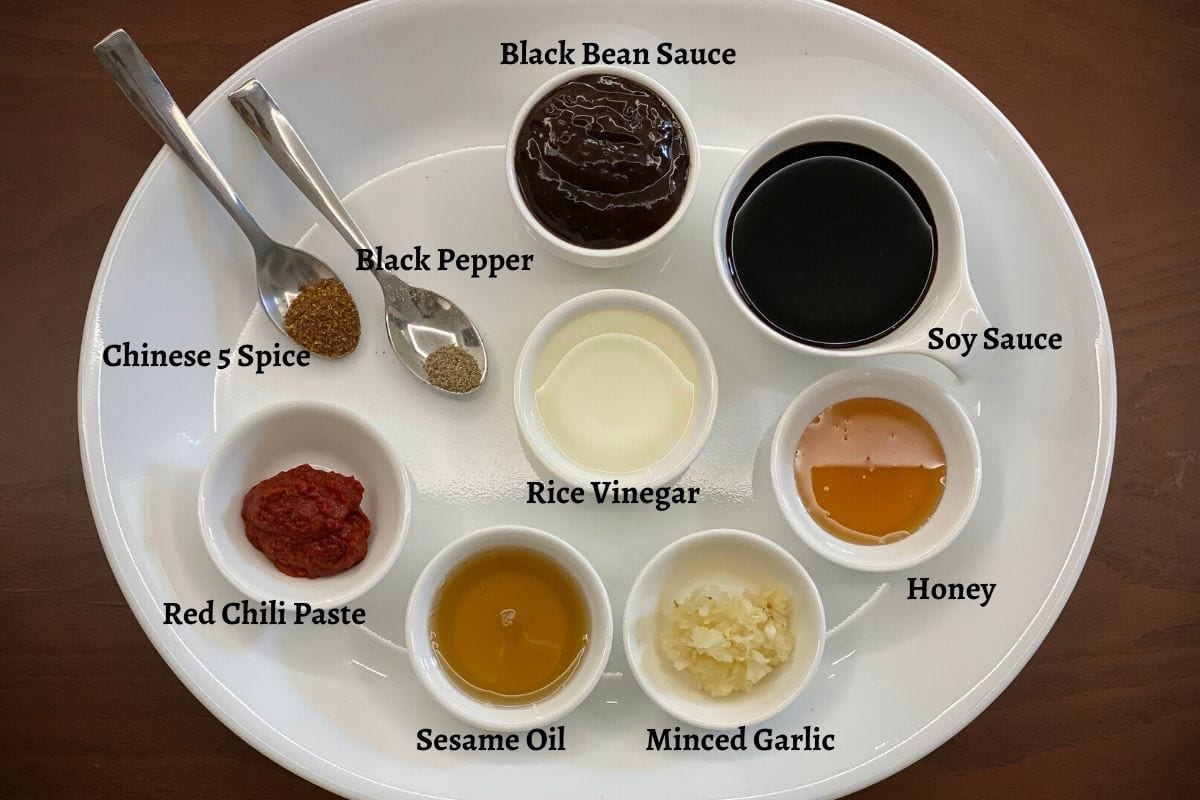 As I said above, the main element is of course black bean sauce.
The other things that goes in are soy sauce, garlic, rice vinegar, honey or brown sugar, sesame oil, 5 spice powder, black pepper powder and Chinese hot sauce or chili paste.
Note : If you do not have chilli paste with you, then you can add sriracha instead.
Using Peanut Butter : The one key point I would like to highlight here! You will find number of recipes on the net that says to use peanut butter to make this sauce. Please know that if you want to make authentic hoisin sauce recipe, then you have to use black bean paste only and not the peanut butter!
I don't mind you guys using peanut butter as a substitute for black bean paste. However, then it won't be a traditional Chinese sauce, but, yeah, it will taste equally good.
I understand, at times things are not easy to find, and you need to make the dishes that calls for the use of this sauce. So, in this case, if black bean paste is not convenient at your nearby stores or online, ONLY then go ahead with creamy peanut butter.
Storage and Freezing
I ensure making batch of this sauce every 2-3 weeks, but, it stays good up to a month under refrigeration. Transfer it into clean air tight jar and store it in the fridge.
You can make a big batch and freeze it in portions of couple of tablespoons in an ice cube tray for 5-6 months.
Do not store the sauce in huge chunk as it will be difficult to scoop when frozen. Also, you have to thaw the whole chunk for just few spoons. So, freeze in small portions.
Ways to use it
Use it as marinade or as a glaze for meats and vegetables.
Makes a great dipping sauce for fries, nuggets and spring rolls.
Use it as a condiment for soups and salads.
Add it to your favorite stir fried veggies, tofu, noodles, rice, lamb, beef, duck and chicken.
I love to add it to my favorite Asian Chicken lettuce wrap.
Frequently Asked Questions
Does the sauce contain seafood in it?
The answer is No!
Though the word Hoisin has it's meaning for the Chinese word 'seafood'. Yet, it doesn't not have seafood into it.
The sauce is purely made out of black bean paste and seasonings.
Is Hoisin sauce vegan and gluten free?
As the sauce does not contain dairy or animal products, hence it is fit for vegans.
Further, to make it gluten-free, please use gluten free soy sauce - Tamari.
What is a substitute for Hoisin sauce?
You can substitute it for plum sauce or barbecue sauce. However, keep in mind that both the above condiments are in contrast to Hoisin as they have slightly different flavor profile.
Having said that, you can use both them as a substitute with a bit of tweak.

You can whisk-in the thick barbecue sauce with little soy sauce, honey or sugar and Chinese 5 spice powder.

Or you can also, whisk in some five spice powder and a teaspoon of sesame oil into the plum sauce and use it as Hoisin Sauce substitute.
If you made my Chinese Hoisin Sauce recipe, please let me know how it turned out for you! I'd love to hear through your comments and ratings below.
If you are looking for more delicious and easy recipes delivered straight to your inbox, you can sign up for my email newsletter.
You can also follow me on Pinterest, Instagram or Facebook to see more of my kitchen creations.
📖 Recipe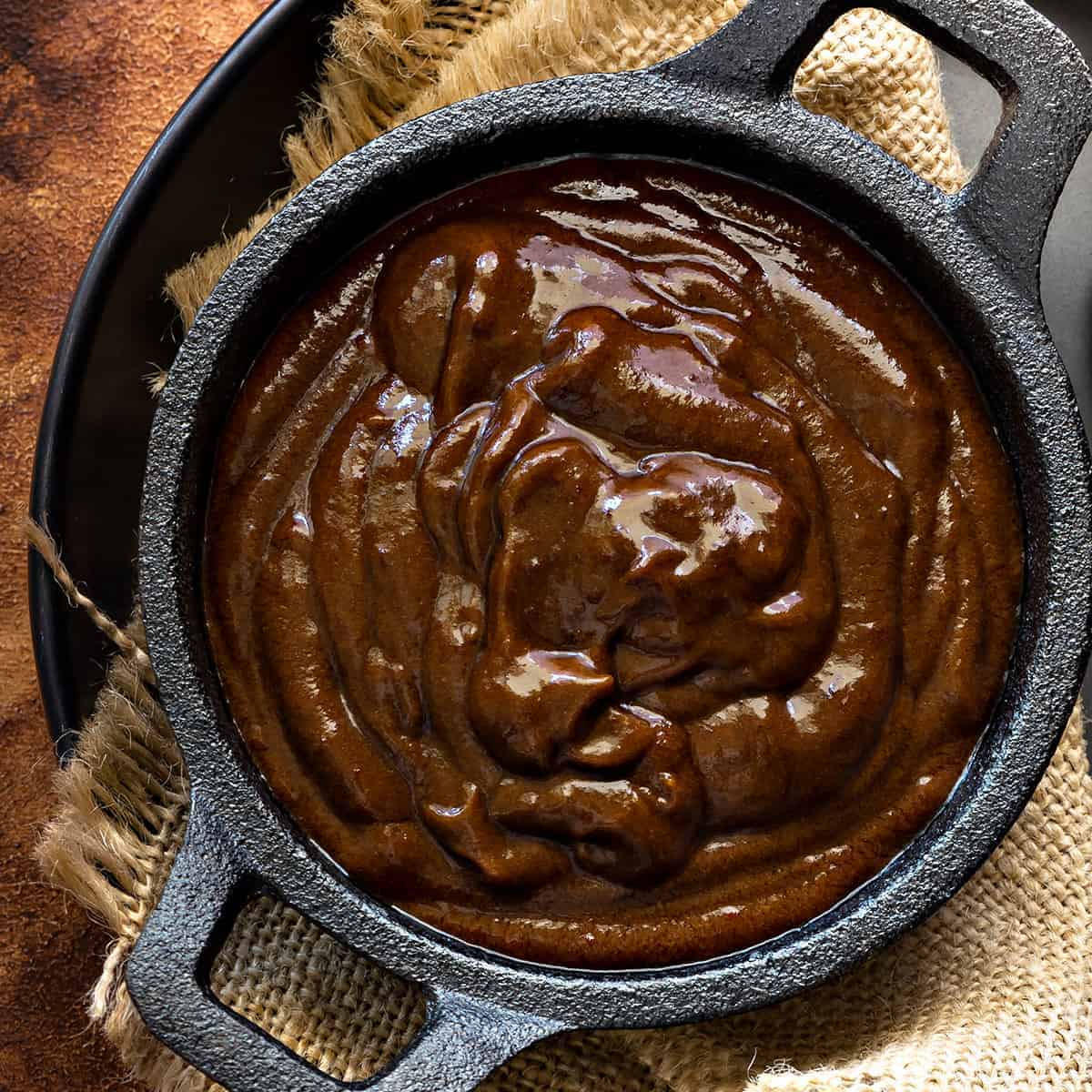 Print
Homemade Hoisin Sauce Recipe
This Chinese sauce takes only minutes to get done at home. It's authentic easy and the best, you will never have to look back. No more store bought ones now.
Ingredients
5

tablespoons

Black Bean Sauce

4

tablespoons

Tamari or Soy Sauce

1

tablespoon

Rice Vinegar

½

teaspoon

Garlic

½

tablespoon

Sesame Oil

1

tablespoon

Honey (maple syrup or brown sugar for vegans)

¼

teaspoon

Chinese Five Spice Powder

Pepper To Taste

1

teaspoon

Chili Paste or Chinese Hot Sauce or Sriracha
Instructions
Combine all the ingredients into a bowl and whisk it well.

Transfer the sauce in a clean airtight jar and store in the fridge upto a month.
Notes
I have used Tamari here for gluten free version, you can use soy sauce instead.
Only if you do not have access to black bean sauce then use 2 tablespoons of creamy peanut butter for the above measure to make the sauce.
Nutrition
Calories:
40
kcal
|
Carbohydrates:
4
g
|
Protein:
2
g
|
Fat:
2
g
|
Saturated Fat:
1
g
|
Sodium:
776
mg
|
Potassium:
19
mg
|
Fiber:
1
g
|
Sugar:
3
g
|
Calcium:
2
mg
|
Iron:
1
mg