Gajar Ka Halwa or Carrot halwa - is an ultimate delicious traditional Indian sweet recipe of grated red carrots slow cooked in ghee, milk, khoya (mawa) and sugar. It is a winter delicacy that needs no introduction! An Indian dessert loved by one and loved by all.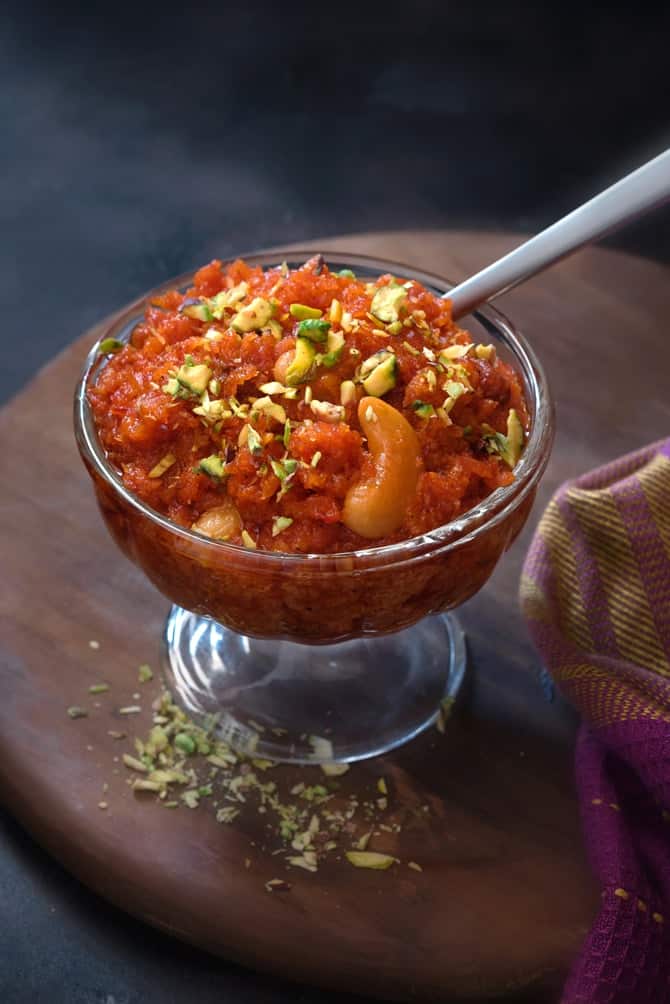 What is Carrot Halwa?
Carrot halwa is the most popular Indian dessert or sweet pudding loved by all. It is made in pure ghee, milk, sugar and then seasoned with dried fruits.
I believe, this north Indian carrot pudding which is also known as Gajar ka halwa or Gajrela does not need a great explanation.
Because, it's taste is well enough to express the emotion of every bite taken in. The natural color of Delhi red carrots and sparks of Khoya (Khowa) in this traditional sweet is Heaven!
The dessert is nutritious as well as healthy during winters, as it keeps your body warm. Tasting absolutely perfect in every bite with a little warmer tendency.
Some people love to have this sweet with a spoonful of milk or malai. And some like to enjoy it with a scoop of vanilla ice cream into it.
Our festivals are absolutely dry without these mouth watering Indian desserts. NOT restricted to festivals only, when you have guests over your place, this dessert works like a charm. Or simply you wish to carry a dessert to potlucks or to your work place for parties, here's your way.
Stepping into a wedding or a family dinner and finding out there's gajar halwa is next level happiness.
Top Tips to make best Gajar Halwa
Be sure, to select fresh and tender red carrots to make this dessert.
Sometimes I use a hand grater and sometimes a food processor to grate the carrots. So both the appliances will work well. You can use any of the two methods to shred them.
Significantly, use full fat milk only to get the best taste.
Before adding milk, do fry the shredded carrots in ghee for some time stirring at intervals. This step gives the rich taste to this sweet pudding.
Do not leave the halwa on the flame unattended for longer time while cooking. Keep stirring it at intervals to avoid burning.
You can fry the cashew nuts and raisins in little ghee first. Then, add it later along with khowa.
Addition of saffron gives richer taste and aroma to the carrot halwa.
Do you want make this gajar halwa without Khowa? Then, double the amount of full fat milk. Follow the method as is, simmer the shredded carrots in milk and skip using khoya.
You can also add some homemade malai along with the milk.
Or instead of khowa, you can add condensed milk also. But, keep a CHECK on the amount of sugar, in this case, you may have to reduce it.
You can also serve it warm with fresh malai and dry fruits topped on it.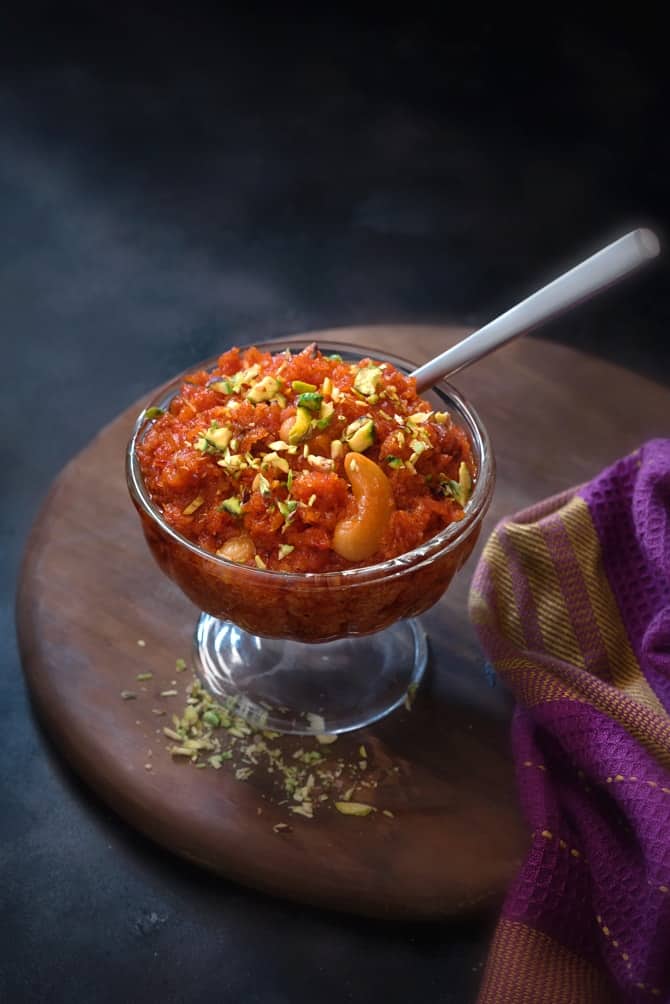 How to make Carrot Halwa In a Pressure Cooker?
Slow-cooked gajar ka halwa is the way to get the authentic taste of the dish. A true labour of love!
However, you can make it in pressure cooker as well only if you have a crunch of time.
Here is the link in detail to make gajar halwa in pressure cooker but with milkmaid or condensed milk.
Follow the same pressure cooker method to make it with khoya also. You just need to substitute the condensed milk with khoya and add sugar as per taste.
What Ingredients goes in traditional carrot halwa?
Elaborating about the origin of this dessert, it was first introduced by the Mughals here. The word halwa comes from the Arabic origin which actually means "sweet".
It originally contained only carrots, milk, Sugar and Pure Ghee.
But later on it was advanced with Mawa/Khowa (evaporated milk) or condensed milk, cardamom powder and saffron.
This delicious carrot pudding is not just a well - known sweet winter delicacy in India. Even globally it is one amongst the most demanding dessert.
Now, let's quickly note down the requirements and method without taking any prior time.
Some Commonly Asked Question For Carrot Halwa
Which carrot is good to make halwa?
Generally, Delhi red carrots is used to make this dessert as they are available in abundance in winters. However, in other days, you can opt to make it using orange carrots also.
As the black carrots are available in some parts of India, you can replace the red or the orange ones with the black carrots.
How to serve halwa, hot or cold?
As the carrot halwa is a winter dessert, during cold weather it is usually served either hot or warm. Yet, you can eat it chilled or at room temperature, if you want to
So, it is all about the personal choice. Serve it and enjoy the way you like it.
How long can we store the halwa in refrigerator?
You can easily store this carrot halwa for good 20 days (3 weeks) in refrigerator. Ensure to store it in a clean air tight container.
Do not keep it out at room temperature for more than 1 day.
Can we freeze the halwa?
A good news is, carrot halwa freezes very well in a freezer safe container upto 3 months. You can either store it in bulk or in portions. I always freeze it in portions.
Whenever you want to serve it, simply thaw it at room temperature for couple of hours. Then, either microwave it or re heat in a pan on stove top.
Can we make this gajar halwa using jaggery?
You can replace the sugar with jaggery. It may differ in taste a bit, but will be the healthier version of this dessert.
How to make Gajar Ka halwa recipe with khoya - Step by Step
To begin with, first, clean, wash, peel and grate the red carrots in a bowl.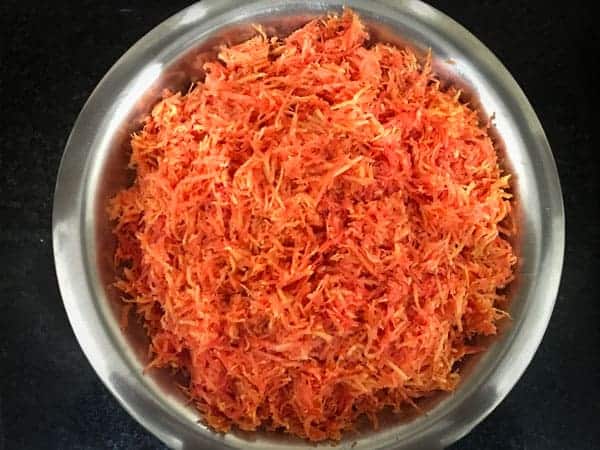 Then, in a heavy bottom pan, heat ghee.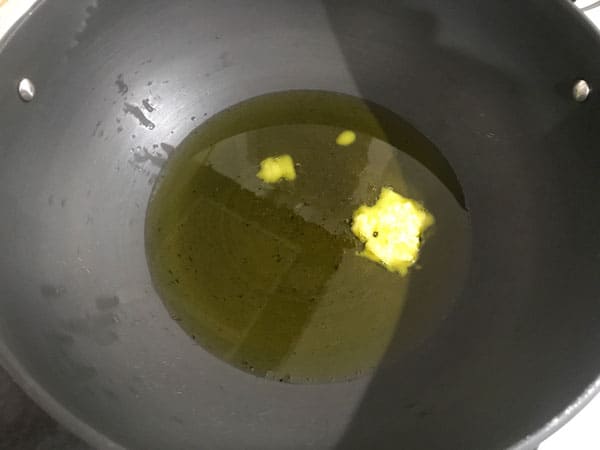 Add grated carrot, increase the heat and sauté well on high for 6-7 minutes stirring well. Let it cook in ghee on medium heat for another 5 minutes.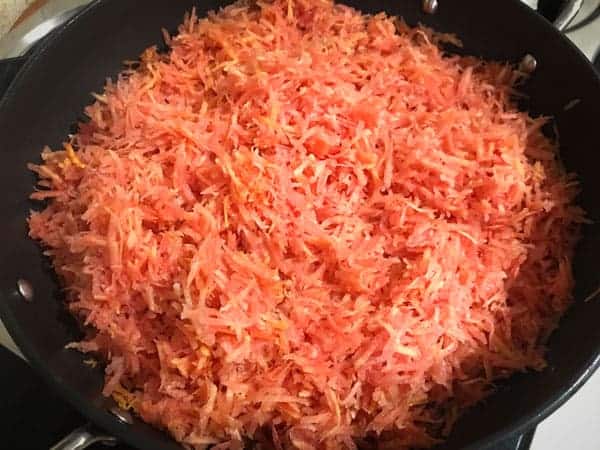 Add milk, mix and simmer on low until milk reduces and is absorbed well.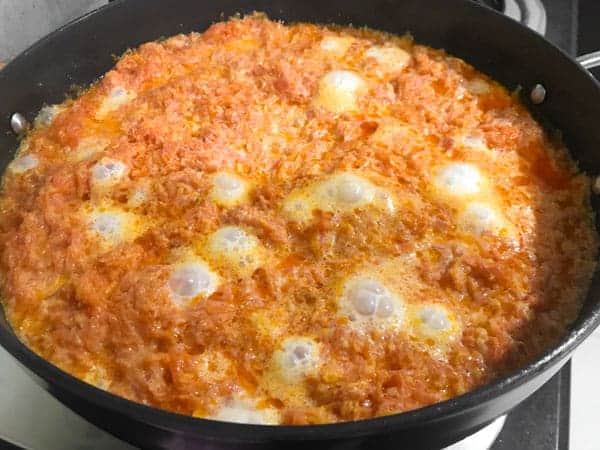 Then, add khowa/mawa, raisins and cashews, mix until khowa combines well.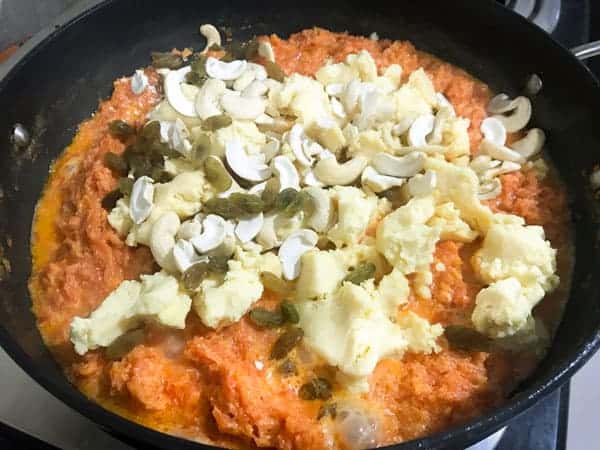 Add saffron soaked milk, cardamom powder, sugar. Stir and cook until sugar dissolves completely.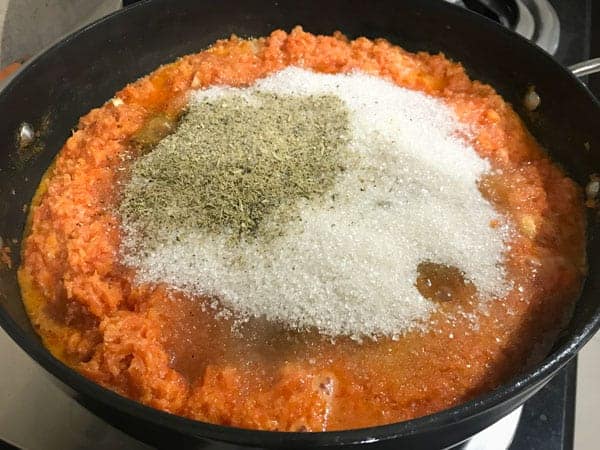 Now, increase the heat and sauté for another 6-8 minutes stirring continuously. Delicious rich halwa is ready to serve.
You May Also Like
Sheer Khurma
Lauki Halwa
Balu Shahi
Rice Kheer
💓 We Love to hear back from you and appreciate your success stories !
Have you tried this "Gajar Ka Halwa Recipe"? Please feed us with your ★ star ratings and comments below.
You can also FOLLOW me on FACEBOOK, INSTAGRAM and PINTEREST for more fabulous recipes and updates.
📖 Recipe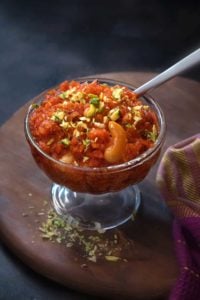 Print
Gajar Ka Halwa
Gajar Ka Halwa or Carrot Halwa is an utterly delicious traditional Indian sweet recipe made from grated red carrots that is slow cooked with ghee, milk, cardamom, sugar, and khoya, garnished with dry fruits.
Ingredients
1

kg

Carrot (red or orange)

(grated)

120

grams

Ghee

350

ml

Full Fat Milk

150

gram

Khoya/Mawa

¼

cup

Raisins

¼

cup

Cashew Nuts

A very generous big pinch of saffron soaked in 1 tablespoon of milk

(optional)

2

teaspoons

Cardamom Powder

1

cup

Sugar

((you may increase/decrease as preferred))

Slivered pistachios or almond or mixed dry fruits for garnish
Instructions
Clean, wash, peel and grate the red carrots in a bowl.

In a heavy bottom pan, heat ghee.

Add grated carrot, increase the heat and sauté well on high for 6-7 minutes stirring well.

Let it cook in ghee on a medium heat for another 5 minutes.

Add milk, mix and simmer on low until milk reduces and is absorbed well.

Add khowa/mawa, raisins and cashews, mix until khowa combines well.

Add saffron milk, cardamom powder, sugar and mix well till it dissolves completely.

Increase the heat and sauté for another 5 minutes stirring continuously.

Dish out, garnish and serve.
Notes
Always use thick bottom pan or kadhai (wok) to make carrot halwa.
Keep stirring the halwa at intervals to avoid burning.
Use full fat milk to make the halwa.
To make this recipe, you can also use orange carrots instead of red delhi carrots.
Nutrition
Calories:
290
kcal
|
Carbohydrates:
34
g
|
Protein:
5
g
|
Fat:
15
g
|
Saturated Fat:
9
g
|
Cholesterol:
40
mg
|
Sodium:
118
mg
|
Potassium:
517
mg
|
Fiber:
2
g
|
Sugar:
27
g
|
Vitamin A:
14085
IU
|
Vitamin C:
6.2
mg
|
Calcium:
178
mg
|
Iron:
0.6
mg