Besan Ladoo or Besan Ke Laddu- a popular north Indian sweets recipe, made during festivals or auspicious occasions. These gorgeous Besan ladoos are made using chickpea flour also known as besan flour, sugar, ghee, cardamom and nuts. If you follow the below mentioned measures and the steps perfectly, then you can make best ladoo recipe at home. Here is how to make besan ladoo recipe step by step.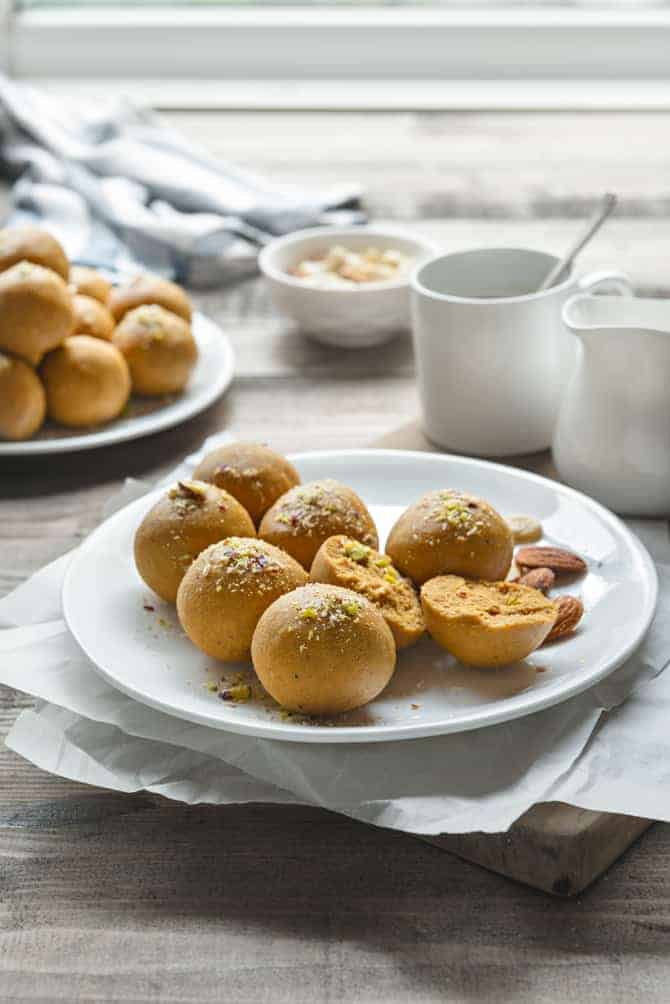 Mithai play an essential role in an Indian culture. It marks the essence of joy and cordiality in the form of greetings, celebrations, party, wedding ceremony and festivals.
You will see a vast array of sweets to be like ladoos, rasmalai, kala jamun, gulab jamun, balushahi, mawa malpua, gajar ka halwa, moong dal halwa and many more served and shared.
I have made many sweets and keep continuing making them from time to time. Because, my kids love them so much.
And I feel extremely happy and blessed when my little ones request me for making sweets for them. This time it was Besan ladoo turn. Now, how this ladoos came into picture to make them at home.
Besan Ke Laddu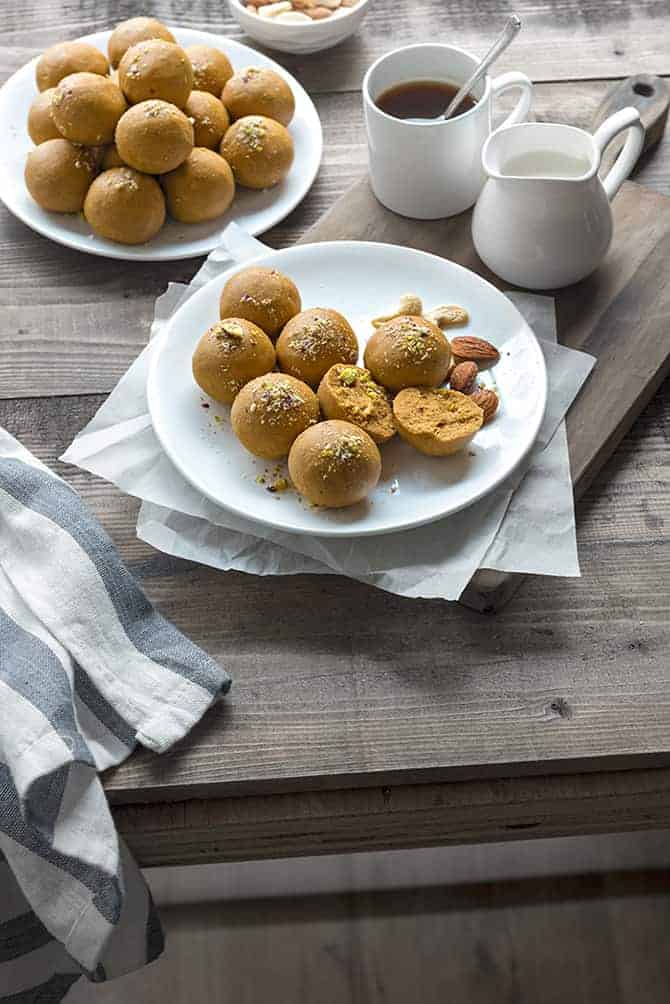 Couple of weeks back my mother and grandmother visited me with loads of eating stuffs. There were some of the finest desi ghee loaded besan laddu, mewe ke ladoo and motichoor ke ladoo from my hometown UP.
Out of them, my personal favorite were Mewe ke laddoo, I found it to best one I have ever eaten. And, my son got his personal favorite with Besan ke ladoo. No doubt, they all were gulped in no time
Couple of days back he was reminding of those ladoos how much he loved them. And, immediately he asked, "Mamma, if you can make some yummy besan ke Ladoos for me".
That's where his words with lots of love and happiness in his eyes, which geared me up to make ladoos for them, even though I was badly down with flue, body pain and fever.
Mamma (me) got up from the bed with great enthusiasm and energy. She headed on to the kitchen to make the delicious desi ghee ke besan ke ladoo for my angel.
And, here I am, bestowing delicious aromatic Besan ladoo for my family as well as for you all my dear readers and followers.
Important Tips to make best besan ladoo recipe
I have mentioned each step in detail along with tips to get best ladoo recipe at home.
Saffron is optional, but yes, addition of saffron enhances the richness and flavor of laddoo.
I was unfortunate to find a little coarse variety besan, as they are the best for making laddus. But, the fine besan makes the best laddoos when every step mentioned in the recipe is followed to the 'T'.
Always, roast the besan on a very low flame to get that earthy flavour.
NEVER leave besan ladoo mixture un attended on stove top while cooking, in order to avoid them burn
It is always best to add sugar when mixture cools down to just warm.
If the ladoo mixture is too dry, then add few spoons of melted ghee. Do not add too much at a time.
And, keep it in refrigerator for sometime, if the ladoo mixture is too soft. Or add some more roasted besan too it.
I feel real glad to see my kids munching on these laddoos and saying, "mamma, it's too good", with every bite they take in. Do I need say anything after this about the recipe and ladoos?? I guess, not!
How to make besan ladoo recipe step by step:
to roast besan for ladoo
Firstly, In a large heavy bottom pan, heat ghee well. (photo 1)
When ghee is hot, reduce the flame to very low, add besan, start stirring and roasting on a very low flame (photo 2)
Stir well continuously and cook. Do not burn. You may increase the heat to medium and roast besan, but to get the best roasted flavor and golden color, it is always best to roast it in ghee on a very low flame (photo 3)
After 6-7 minutes of roasting, add crushed saffron and mix well (photo 4)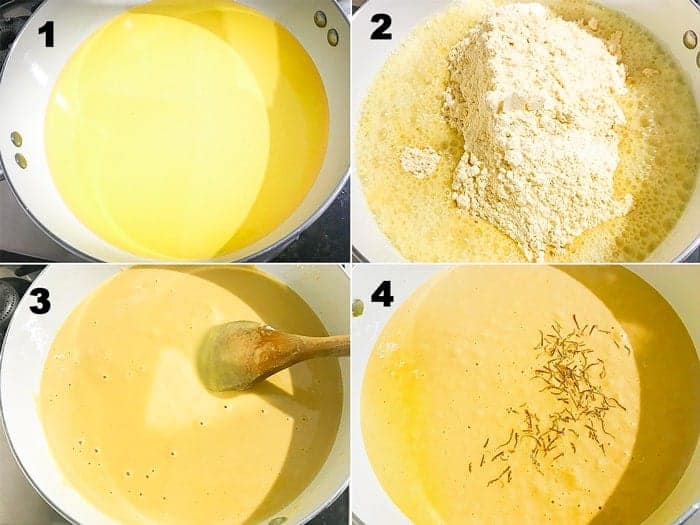 Then again after 8-10 minutes, add crushed cashew nuts, and crushed almonds, mix well. Keep stirring or it might stick to the bottom and burn. You will see lot of foam bubbling up, but that will settle down (photo 5)
Roast well on low for another 5-6 minutes until aromatic. At this point you will see, it turns out to beautiful dark golden aromatic besan ladoo mixture (photo 6)
Immediately take the pan off the heat, and pour the ladoo mixture in a wide plate or tray (photo 7)
After 15-20 minutes, this is how it looks when scrapped with spoon (photo 8)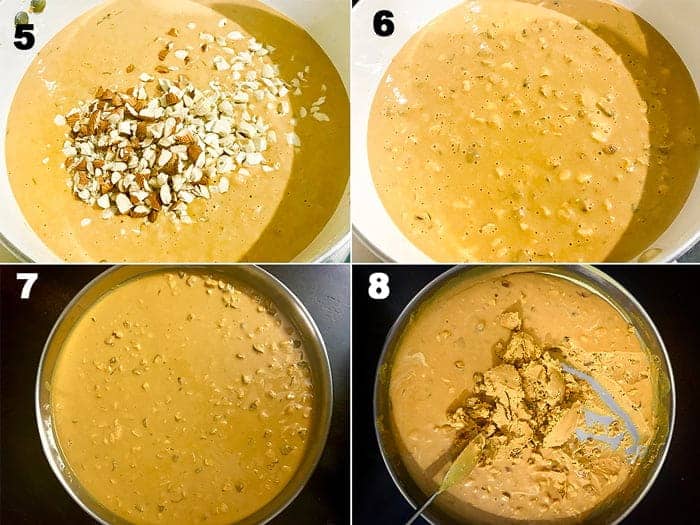 to make ladoo
Cool the mixture to a temperature that is just easy to handle and make laddoos. Then add powdered sugar, cardamom powder and mix (photo 9)
Take small amount of mixture and shape them into laddus. Similarly, shape the all the mixture into ladoo (photo 10)
You can keep it plain or put some nuts like almonds pctachios or cashew nuts (photo 11)
I have used pistachio to garnish besan ke laddu. Cool and store in an airtight conatiner. Besan ke Laddu is ready to enjoy. You can store besan ladoo in a clean container under refrigeration upto 2-3 months (tried and tested storage tip) (photo 12)
Sweets Recipes that you might love to try:
💓 We Love to hear back from you and appreciate your success stories !
Have you tried this "Besan Ladoo Recipe"? Please feed us with your ★ star ratings and comments below.
You can also FOLLOW me on FACEBOOK, INSTAGRAM and PINTEREST for more fabulous recipes and updates
Besan Ladoo Recipe (Besan Ke Laddu)
📖 Recipe
Print
Besan Ladoo
Besan Ladoo is a delicious Indian sweet, a popular ladoo made using gramflour, sugar, ghee, cardamom and nuts.
Ingredients
4

cups

Besan

( (approx 400 grams of chickpea flour), preferably a little coarse besan)

1

cup

ghee

( (210 gms))

1 ¾

cup

sugar

(around 350 grams, powdered (you may adjust as per your liking))

¼

cup

cashew nuts

(coarsely crushed)

A pinch of saffron

(lightly roasted and crushed (optional))

¼

cup

almonds

(coarsely crushed)

1.5

teaspoon

cardamom powder
Instructions
Firstly, In a large heavy bottom pan, heat ghee well.

When ghee is hot, reduce the flame to very low, add besan, start stirring and roasting on a very low flame.

Stir well continuously and cook. Do not burn. You may increase the heat to medium and roast besan, but to get the best roasted flavor and golden color, it is always best to roast it in ghee on a very low flame.

After 6-7 minutes of roasting, add crushed saffron and mix well,

Then again after 8-10 minutes, add crushed cashew nuts, and crushed almonds, mix well, keep stirring or else it might stick to the bottom and burn. You will see a lot of foam bubbling up, but it will settle down.

Roast well on low for another 6-7 minutes. At this point you will see, it turns out to beautiful dark golden aromatic besan ladoo mixture

Immediately take the pan off the heat, and pour the ladoo mixture in wide plate or tray.

After 15 minutes, this is how it looks when scrapped with spoon.

Cool the mixture to a temperature just easy to handle and make laddoos. Then add powdered sugar, cardamom powder and mix

Take small amount of mixture and shape them into laddus. Similarly, shape the all the mixture into ladoo

You can keep it plain or put some nuts like almonds pistachios or cashew nuts. I have used pistachio to garlich besan ke laddu. Cool and store in an airtight conatiner. Besan ke Ladoo is ready to enjoy. You can store besan ladoo in a clean container under refrigeration upto 2-3 months (tried and tested storage tip)
Notes
At any point, please do not leave the mixture unattented, and keep stirring, or the it will burn.
If the ladoo mixture is too dry, you may add few spoons of ghee and proceed
Also, if the ladoo mixture is too soft then you an keep the mixture into refrigerator for few minutes. Even after refrigeration if it is still soft, then add some roasted besan and proceed
Nutrition
Calories:
207
kcal
|
Carbohydrates:
25
g
|
Protein:
4
g
|
Fat:
9
g
|
Saturated Fat:
4
g
|
Cholesterol:
18
mg
|
Sodium:
12
mg
|
Potassium:
181
mg
|
Fiber:
2
g
|
Sugar:
16
g
|
Vitamin A:
10
IU
|
Calcium:
13
mg
|
Iron:
1.1
mg