Aamras is basically a plain pulp of ripened mango generally extracted by using hands. Aamras is traditional Gujrati dessert, but also popular in Rajasthan and Maharashtra. It is very commonly relished along with pooris or even chapati and boiled rice. It is highly recommended to use good variety of ripened Alphonsos or kesar mango or even Pairi. Adding sweeteners like sugar jaggery or honey is optional, if Mangoes are very sweet, no sweeteners are required to be added. Traditionally, the pulp is extracted by using hands but you can chop them and blend it in a blender. Personally, I prefer to go for traditional method using hands to squeeze out the pulp completely  and enjoy them with hot and crisp pooris. Addition of cardamom powder is optional, but flavouring the aamras with saffron takes it a notch higher making it more  rich and kingly. This is how I do Aamras…..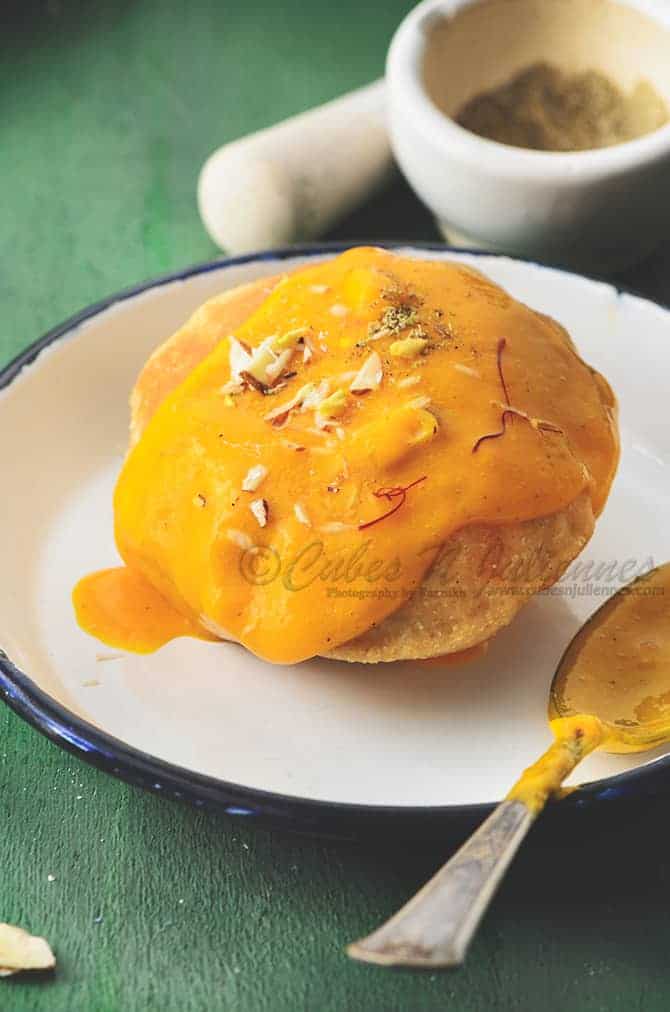 2 cups, Fresh mango pulp ( I have used good variety of ripened alphonso mango)
Sugar or honey or jaggery as required depending upon the sweetness of the mango
Chopped almonds, pistachios and few strands of saffron for garnish
Soak saffron in milk and keep it aside
Take good variety of 4 large ripened sweet alphonso or Kesar mango, Dip them in water for 2-3 hours.
With the help of finger press gently to loosen the pulp. 
Take off the tip and squeeze out the pulp in a bowl, discard the seed
Transfer the pulp in a blender ,add sugar or jaggery or honey if required. Add saffron milk, cardamom powder and blend it to a pulse.
Take it out in a bowl and chill it for few hours
Before serving, garnish with chopped almonds, pistachios and saffron strands
Serve chilled with hot crisp 
pooris