Summers fading gingerly and so the king of fruits 'Mango'. How amazing it would be, if we could enjoy raw mango or ripened mango slices and delicacies, panna, shakes, chutney, lassis,cheese cakes, mousse, phirni, ice-creams, sorbets or any desserts for the whole year and not just in summers!! Whenever we yearn for such mango delicacies we hunt for them in restaurants, market, snack corners, ice cream corners and so on. We do get those mango syrups, tinned mangoes in the market but they are loaded more with sugar than the fruit.
But now, we can….yes you read it right! we can have the pleasure to eat mangoes or its chutney, shakes, beverages, sweets, curries, dals for the whole year. What I do is, I always stuff my freezer with those seasonal fruits and veggies which we do not get apart from when they are in season. These includes mostly berries and stone fruits. In-fact, you will find my freezer stuffed with pulps, purees, birista, spices, Lime zests, Makrut lime and many more things which are not easily available at time when you are in desperate need of it. These things stay easily in a freezer in an airtight container or zip pouch for 12 months
Today, it was mangoes turn to get chopped, pulped, sliced and get stored in freezer not only for me but for my kids also as my kids are die hard mango fan.
This is really not a big deal or heavy work to do …simply just get them in bulk and process them as per your need and dump them in freezer…they will lie happily in it for the whole year unless you finish them off hurriedly. This is how and what I did to mangoes….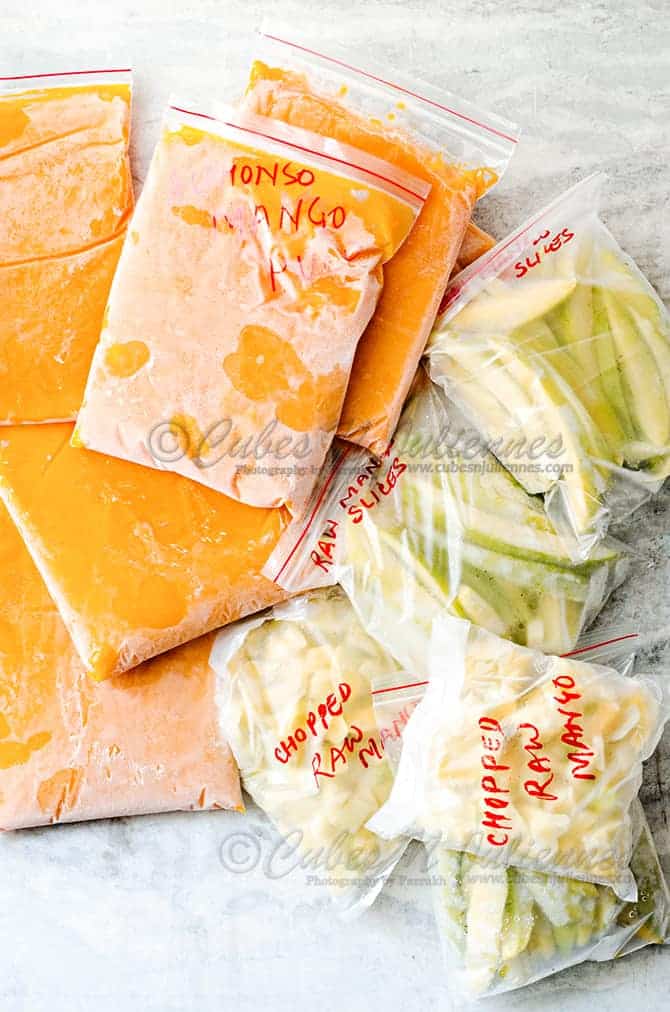 Raw Mangoes Storage:-
I got 4 kgs of good raw mangoes, the tangiest one (don't know the name of it though :P)
Washed and wiped them well. Snipped off the upper tip and peeled them.
Sliced ⅔ of the total raw mangoes.You can slice them as per your need..it really doesn't matter what's the size of the slices. I/3 mango was chopped. Discard the stone.If you prefer , you can slice all of them or chop all of them, choice is all yours. Now, spread the slices and chopped mangoes, both separately on a tray and keep it as it is at room temperature for an hour or so to get rid of any moisture left. Place them in zip pouch in batches..do not dump all in one. Place it horizontally straight in a freezer to freeze. Once frozen.. keep them happily lying in an ice until you need them. Do not worry if few of them stick together when frozen, gently tap them once or twice on kitchen counter..they will separate, take out as much as you need and immediately freeze the left ones. Thaw them for few minutes at room temperature and then proceed with the process of recipe.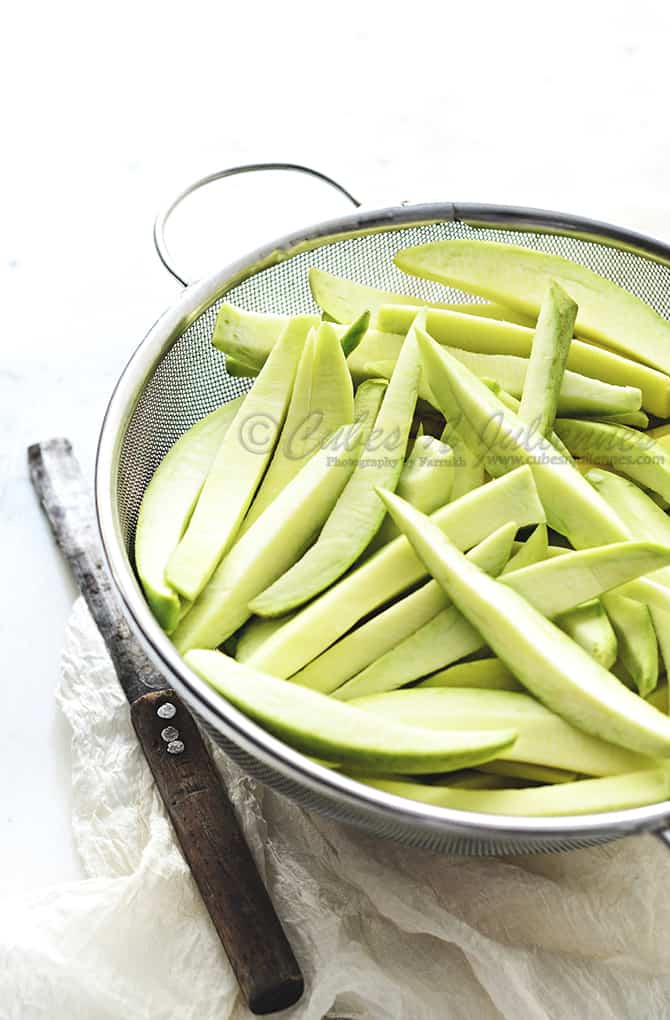 For Mango Pulp:-
I have used fresh juicy 5kgs of alphonso mangoes to make pulp. Wash and wipe them well. Peel and chop them, discard the stone(seed). Blend them in a blender until smooth, do not add any water. Do this in batches. Make a pack as per the required amount you need. I have used zip pouches to freeze them. Since I have stored them in batches ..I did not add sugar but in case if you store it in big airtight container do not forget to add 2-3 tbsp of sugar per mango while blending it to pulp.This will help you to scoop out required amount from them easily. Since I mostly put them in zip pouches of required amount, I do not add sugar. But I do add sugar when I store them in big air tight container.
Take one batch or required amount when needed, thaw at room temperature for some time and proceed with the recipe in making. Once thawed, you can refrigerate the pulp for 10-12 hours. Do not re-freeze it.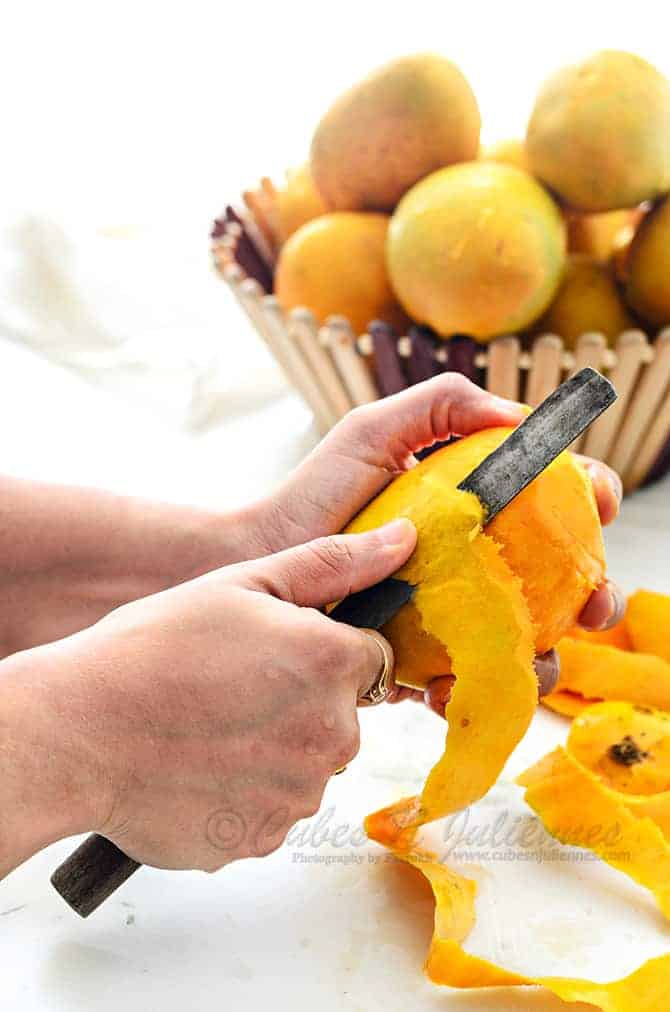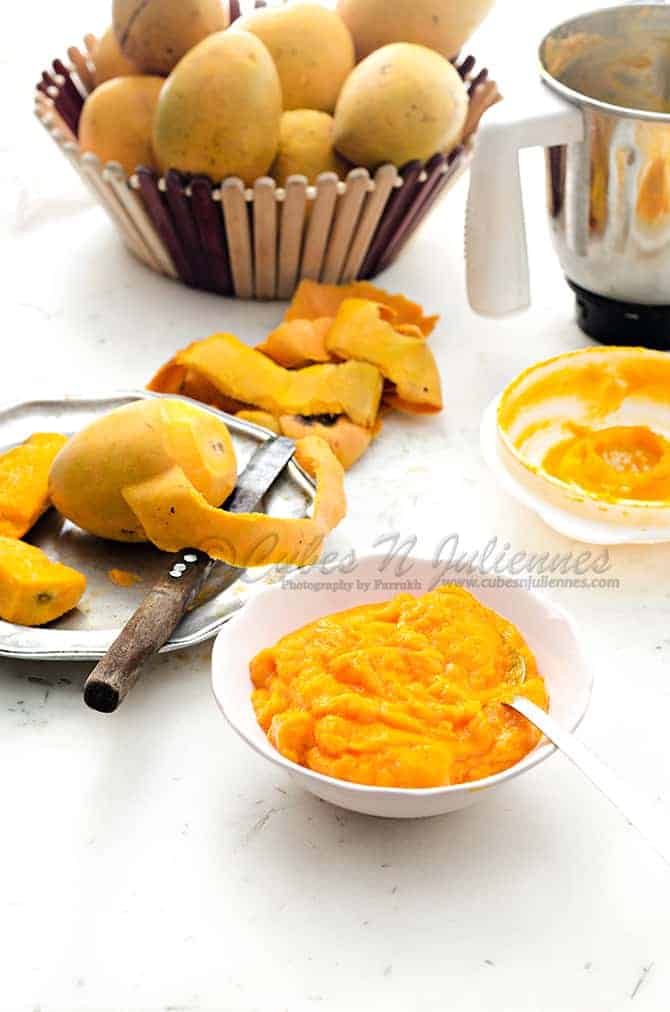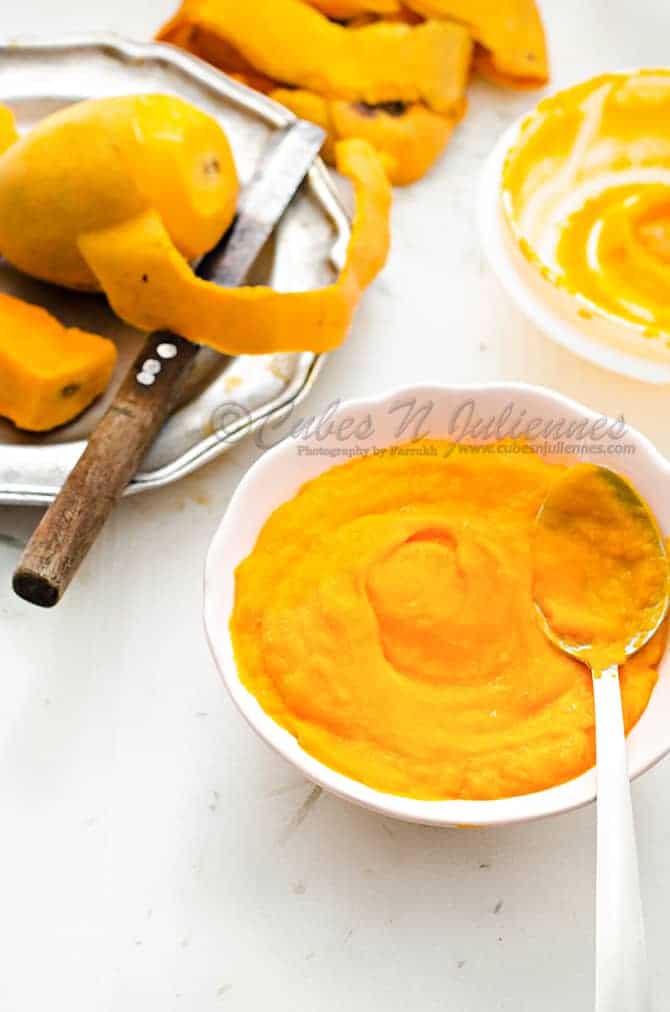 For Mango Cubes:-
Wash, wipe and peel mangoes. Cut them in cubes of required size. Spread them on tray such that no 2 cubes stick to each other. Place the tray in freezer and allow it to freeze for 3-4 hours. Once frozen, gather them all and gently place frozen mango cubes in a zip pouch of required size and keep it back in freezer. Do not throw all of them in one pouch.. Place them horizontally straight in freezer. Let them enjoy the icy weather in a freezer until you eat them with glee 🙂
Will post the image of frozen cubes soon as they under the process of getting frozen.
Happy

Whole

Year Mango Season 🙂
Note:-
Do not re-freeze any of them once thawed at room temperature. Take out the required amount and immediately freeze the remaining