Here I go with my fusion experiment of Indian Chaat with Fruits and Tart. Once you put this in your mouth, you will be experiencing and getting lost in the gamut of flavors.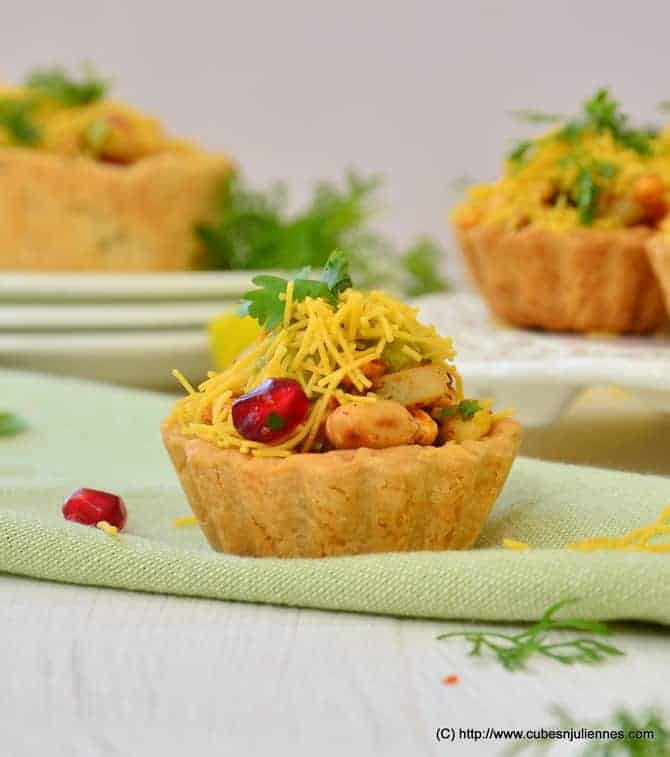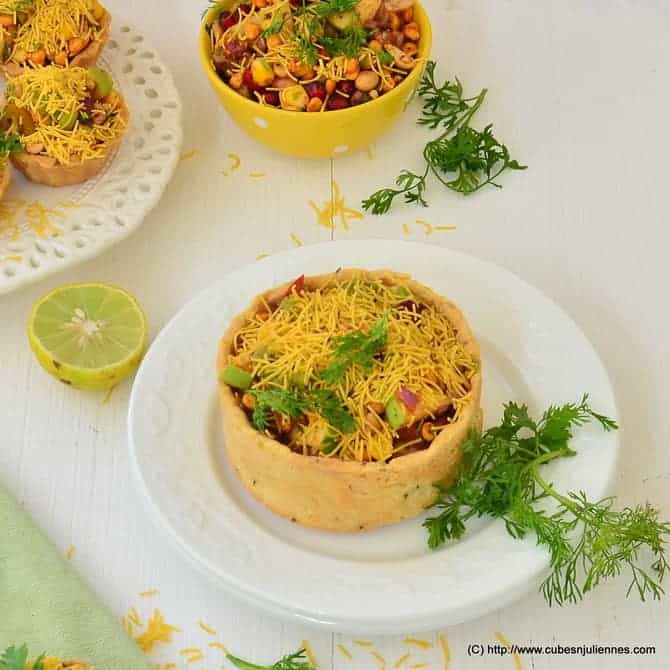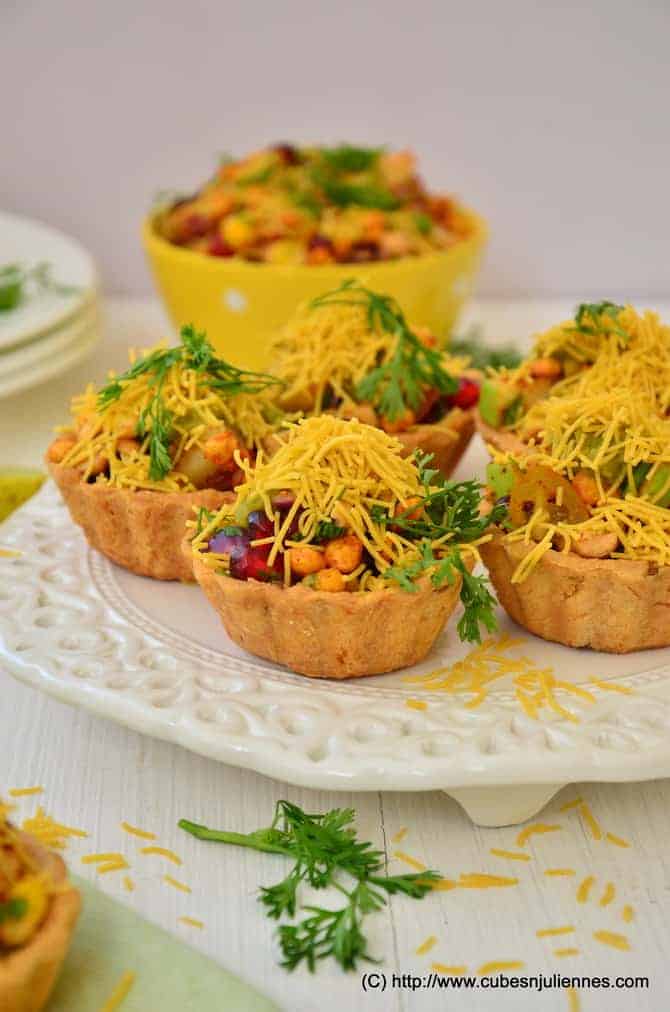 INGREDIENTS:-
For tart shell:
200 gms, all-purpose flour
110 gms, butter
½ tsp, carom seeds (ajwain)
½ tsp, cumin seeds
Few tablespoons of cold water.
For Chaat:
½ of green apple, finely cubed
½ cup, pomegranate
5 tbsp, corn, boiled
¼ cup, cherry tomatoes, chopped
1 large,potato, boiled and finely cubed
1 nos, medium onion, chopped
½ cup, roasted peanut
¼ cup, fried chana dal
2 tbsp, lemon juice
2 tbsp, coriander leaves, chopped
1 nos, green chili, chopped finely (you can add more or less asr prefered)
½ tsp, red chili flakes
¼ tsp, black salt (rock salt)
1 tsp, chaat masala
Salt, as required
 ¼ cup, nylon sev.
METHOD:-
For Tart shells:
Mix the butter, carom seeds, cumin seeds and all-purpose flour with the fingers until mixture resembles bread crumbs.
Then transfer mixture on work surface. Add 2-3 tbsp of cold water and knead very gently to bring them together to form a ball (Don't knead it too much with your palm)
Wrap the tart dough in plastic wrap and refrigerate it for 30 mins.  Divide the dough into equal small balls.
Pre heat the oven at 170 degrees centrigade.
Grease the mini tart pan.
Place the tart dough in the center of the mini tart pan, press the dough with your thumb to form a shape and size of the mini tart pan.  Pierce the bottom of the crust with a fork. This will help the prevent the puffing up while baking.
Fill the tarts with pie weight or kidney beans
Bake it for 15-20mins or till golden brown
Cool it for few mins and remove the pie weight or kidney beans.
Once done, allow them to cool completely.
For Chaat:
In a bowl, mix all the ingredients except nylon sev.
Assembly:
Fill the tart shells with the prepared Chaat.
Top with some more green chutney and sweet chutney if preferred.
Garnish with nylon sev and some more green coriander leaves.
Enjoy them anytime of the day !!
NOTE:-
I have used salted butter for making tarts..so I have not added any addintional salt. If using unsalted butter please add 1/2 tsp of salt to the flour.