Fresh Fruit Chaat Recipe or Fruit chat (An Indian style fruit salad). Imagine all juicy, crunchy, fresh fruits in a bowl of pleasure with freshness of mint and hint of micro greens. Squeezed lime juice, sugar or honey drizzle and chaat masala sprinkle. Here is the 10 minutes best fruit chaat salad bowl in North Indian style for you all to enjoy !
In the world full of foodies and fitness freaks, I am jolted on both the sides. It is like chicken for dinner but fruit salad for lunch or vice versa. Microgreens on top of that is absolutely the cherry on cake. We Indians on the other part prefer a rather chatpata version of fruits too.
A delicious healthy bowl of fresh fruit chat and topped greens are not just appealing to tongue, but also relishes or blood cells. You can pick any fruits you want. Make sure they are good and not rotten. Washed very cleanly, so that if coated with wax, it gets clear.
Choice of fruits I that have used In my fruit chaat Recipe:
Banana
Grapes
Guava
Pomegranate
Kiwi
Pineapple
You can surely choose to add any of your favourite fresh seasonal fruits.
Also, in my fruit chaat recipe, you will see I have added arugula micro greens. They are totally optional, you can absolutely skip it. But, if you have the access to micro greens (home grown or store bought ) then do add it for nice a peppery flavour and nutritional boost.
In country like Pakistan and North Indian region (especially Delhi), they add boiled sweet potato and boiled or fried potato cubes as well. However, on the streets of Mumbai, fruit chaat is called as a fresh fruit salad bowl. It is usually a mix of papaya, banana, watermelon, pineapple, musk melon with little sprinkle of chaat masala or salt and pepper.
What is in chaat masala?
Chaat masala is a spicy tangy blend of spices like cumin seeds, coriander seeds, black salt, asafoetida, black pepper, dried mango powder. It is an essential spice mix you will find in every Indian homes. Because, this Indian fruit salad has the spicy tangy flavour from the sprinkle of the chaat masala, hence the name fruit chat.

Spices and seasonings that goes in fruit chat
Chaat Masala
Black salt (you may use regular table salt as well)
Lemon Juice (prevents discolouration of fruits and gives balanced taste to the chaat)
Red chilies powder (it's optional and I have not added, personally I don't prefer it)
Sugar or honey to taste
Roasted cumin powder (optional, I have not added)
Fresh mint leaves
Pepper powder
Fruit Chaat Varieties
Banana Chaat
Apple Chaat
Pineapple Chaat
Guava Chaat
Pomegranate Chaat
There are times when you just wish to eat nothing but sweet, delicious bowl of fruits. Especially when fasting or out in sun for a long time, we need energy supplements for our body to retain.
In Ramadan, I never miss an iftar without fruits or mixed fruit chaat masala. And not just fruits but adding sprouted pulses and veggies give it a great kick as well.
Fruits are one of the healthiest things to start the day. My kids they ask me to serve sliced and diced fruits in a bowl. They say it feels as if the soul is refreshing and everything is on point inside them. Just kiddies things.
Also I never miss stuffing my kids snack box with fruits, especially banana. Out of all the meals, fruits balances everything in life, be it skin or organs inside.
How to make fruit chaat recipe (Indian style fruit salad) - step by step
To make fruit chaat, gather choice of fresh fruit cubes on a plate ( I have used guava, banana, kiwi, pomegranate, pineapple and grapes)
Then, add everything in a large bowl (you can cover it with cling film and chill for an hour or two, before serving)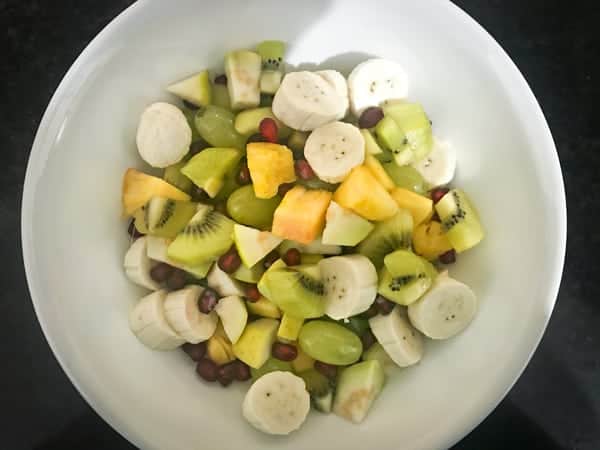 Now, add chaat masala, lemon juice, sugar or honey, black salt to taste, mint leaves and micro greens. Gently, mix everything well and serve immediately.
Important tip : For best taste and freshness, always season the mix fruits with spices just before serving.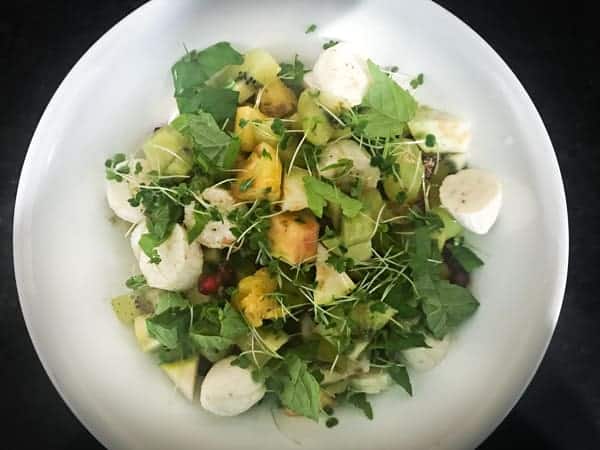 Some chaat recipe you may love to try:
💓 We Love to hear back from you and appreciate your success stories !
Have you tried this "fruit chaat recipe"? Please feed us with your ★ star ratings and comments below.
You can also FOLLOW me on FACEBOOK, INSTAGRAM and PINTEREST for more fabulous recipes and updates.
Mixed Fruit Chaat Recipe Card
📖 Recipe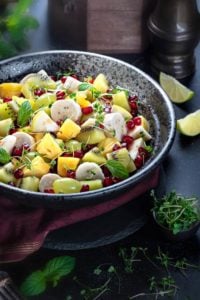 Print
Fruit Chaat
Fresh Fruit Chaat is a sweet and sour Indian style mixed fruit salad bowl with the sprinkle of tangy chaat masala and spices. Simple, easy, healthy, tasty!
Ingredients
1

cup

pineapple

(diced)

¾

cup

kiwi

(diced)

1

cup

guava

(diced)

½

cup

pomegranate

1

cup

grapes

1

cup

banana

(sliced)

Lemon juice as needed

Sugar or honey as needed

Chaat masala as needed

Black salt to taste

Mint leaves as needed

Microgreens as needed

(optional)
Instructions
First, in a bowl, add the washed and cubed fruits of your choice

Then, sprinkle chaat masala, black salt, sugar or honey, lemon juice, mint leaves and mix gently. Top the fruit chat with micro greens(optional step). Serve immediately.
Notes
Clean and wash the fruits very well before cutting them into cubes
You can refrigerate the fresh fruit cubes for couple off hours before adding the spices and seasonings
Lemon juice helps prevent the discolouration of fruits and also balances the taste of the fruit chaat.
you can select the fresh seasonal fruits of your choice
Always add spices and seasonings just before serving
Nutrition
Calories:
157
kcal
|
Carbohydrates:
38
g
|
Protein:
2
g
|
Fat:
1
g
|
Sodium:
4
mg
|
Potassium:
610
mg
|
Fiber:
6
g
|
Sugar:
25
g
|
Vitamin A:
360
IU
|
Vitamin C:
152.7
mg
|
Calcium:
31
mg
|
Iron:
0.7
mg