Biryani, a rich layered delicacy of meat, spices and long fragrant basmati rice from the royal kitchen of Mughals and Nizams. Biryani was actually brought to India by Mughals and now in India it is traditionally associated with Awadhi cuisine of Lucknow, Mughlai cuisine of Delhi and as Hyderabadi cuisine in southern India. There are two types of Biryani one is Kachchi (raw)Biryani in which raw meat is layered with half cooked rice and kept for 'Dum' whereas in Pakki (cooked) Biryani, meat is cooked with yogurt and spices and then layered with (90%) cooked rice and kept on Dum for shorter time.
My today's post, a much awaited 'Hyderabadi Murgh Dum Biryani', is Kachchi style Biryani. When the word Biryani comes in mind, its a general tendency to think that this dish calls for an elaborate making process. Hold on! honestly speaking, I find this one to be the easiest Biryani I have ever made. But, it does require alertness and timing along with gentle handling of rice, exact amount of spices and seasonings to get that Authentic Hyderabadi Dum Biryani.
There are few steps to be kept in mind while making Dum biryani… meat and rice should be of equal quantity, for marination it is best to use oil that we use to fry onions, Cooking time for rice is the most important thing-2 batches of rice is cooked for layering
(a)first batch should be cooked up to just 50% (at this stage, when grain of taken in hand it crumbles a bit)
(b)second should be cooked to 70% that forms top layer
Must use of ghee while layering, adding enough salt while cooking rice as water should be little extra salty, melt ghee using little hot water borrowed from boiling rice that has flavour and aroma of spices
Finally comes the 'DUM' part that requires time precision.
I have not used any food colour, good quality
saffron
when soaked in warm milk for 20 minutes, it gives natural colour to the biryani. If you prefer you may use food colour. Golden fried onions (birista) are always handy for me as I make birista in bulk and freeze it.
Following these steps is key to make best authentic Hyderabadi Dum Biryani at home. You make it again and again, I bet you will master in it.
Once you master it, you wont have to think about traveling to Hyderabad, but instead you will have a royal treat at home. Let's go through process of making Hyderabadi Murgh Dum Biryani..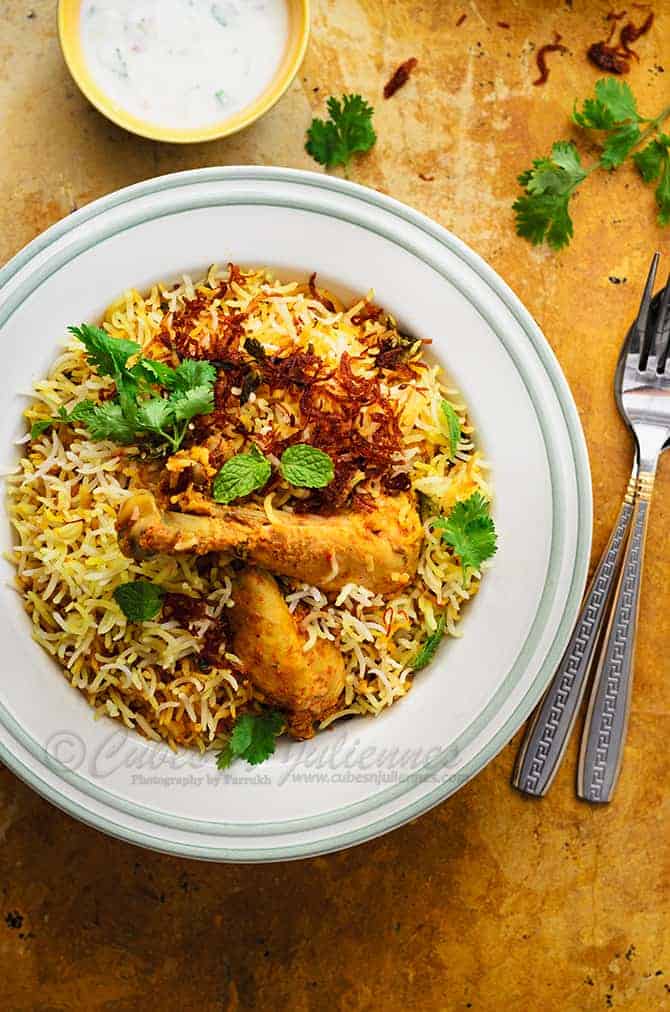 700 gms onion, finely sliced
1&½ cup, oil for frying onions
1 kg, chicken with bone, cut in pieces (do not cut chicken into small pieces)
400 gms, thick yoghurt,whisked well
1 tbsp, Kashmiri red chili powder
¾ tsp, turmeric powder (do not add too much or it will spoil the colour and taste of biryani)
1 ½ tsp, shazeera(caraway seeds)
2 stick cinnamon of 2 inch size
½ tbsp, garam masala powder (I have used my home made masala)
1 tsp, freshly crushed black pepper powder
⅓ cup, coriander leaves, finely chopped
⅓ cup, fresh mint leaves, finely chopped
3-4, green chilies, broken into 2 (you may add more for more spiciness)
Juice of two large lemons
1 part brown onions, crushed
½(120ml) cup oil (reserved from fried onions)
1 kg (5 cups), good quality Basmati biryani rice
2 cinnamon sticks of one inch
½ cup, coriander leaves, chopped
Few drops of Kewra essence
In a pan or kadhai, heat one cup of oil and add sliced onions. Fry until golden brown and crisp, take it our and drain onto absorbent paper, reserve oil for later use. Divide fried onions into 2 equal parts. One part will go in marination and second in layering
In a large bowl, add all the ingredients mentioned under marination, mix well
Cover and keep it aside for an hour.
In heavy bottom deep pan or handi, spread marinated chicken evenly as a bottom layer. keep it aside.
For Cooking Rice and Layering:
Clean, wash and soak rice for 35-40 minutes
Soak saffron in milk and keep it aside.
Lightly pound green cardamom, cloves, cinnamon sticks and bay leaf, Make a bouquet garni(potli) of pounded spices
Heat 16 cups of water in deep bottom pan. Add shazeera, star anise, boquet garni and enough salt. Do not little salt. Water when tasted should be salty enough. Bring it to boil
Add rice cook until rice is done just 50%, take out half of the 50% cooked rice using big colander spoon and immediately spread over the marinated chicken evenly.
Take ½ cup of hot water from the boiling rice, add 5 tbsp ghee into that water and mix until ghee is melted.
Sprinkle half of the coriander leaves, mint leaves, half of the brown onions, ⅓ of saffron milk, ⅓ of melted ghee and cardamom powder
Allow remaining half rice to cook until just 70 %done, it will hardly take 2-3
minutes
As soon as rice is just done 70% immediately strain and add remaining rice making it top layer.
Take out bouquet garni (potli) and squeeze it over the rice to extract the flavours and then discard it
Sprinkle remaining, coriander, leaves, mint leaves, brown onions, saffron milk, kewda essence and melted ghee.
Cover with lid and seal it with the dough. Keep it on a high flame for 15-17 minutes. At this stage, you will notice steam coming out either from vent of the lid or from the side of the dough. This is the point when biryani is ready to be kept on dum.
Place hot tava/griddle below the handi and keep it for "Dum'(simmer) exactly for another 15 to max 18 minutes
After 15 minutes, switch off the heat and leave as it is for 10 minutes.
After 10 minutes, open the lid, dish out yummy hot biryani and serve with raita of your choice.