God's Own Country..Yeah it's Kerala! One of my most favourite holiday spot of India. Lush green beauty, coconut flavoured coastal cuisine, tall coconut trees, elephants, spices and its garden, backwaters…list goes on and on. They all mesmerise me so much that I can visit anytime and anywhere in Kerala. Start of the Year 2015 gave me some very graceful and alluring memories from Kerala..Yes I happened to visit Kumarakom, Thekkady, Cochin, Kovalam,Trivandrum, Alleppey twice. On my visit to Alleppey, best encounter was relishing red spicy tangy Alleppey fish curry with brown rice, pappadam and avial on banana leaf in one of the local Keralite restaurant suggested by our cab chauffeur. Thats when i decided to make it frequently at home as it was loved 
alot
 by my family. 
Alleppey fish curry is also known as Paccha Mange 
keen
 Curry or Thenga Paal Meen Curry It is traditionally cooked in Chatty which is typical Keralite earthen pot. It is simmered in coconut milk along with raw mango, spices that is giving it characteristic flavour and tanginess to the curry. I always prefer to cook  kerala style fish curries in Chatty which was gifted to me 8 years back by my very good friend from Kerala. If chatty is not available, you can cook this curry in normal pot or pan.This fish curry pairs up perfect with brown rice and pappadam and this is how am enjoying  my dinner tonight… Here is how we make it.. 
All you fish lovers there..make it, relish it and keep on licking your fingers…  😉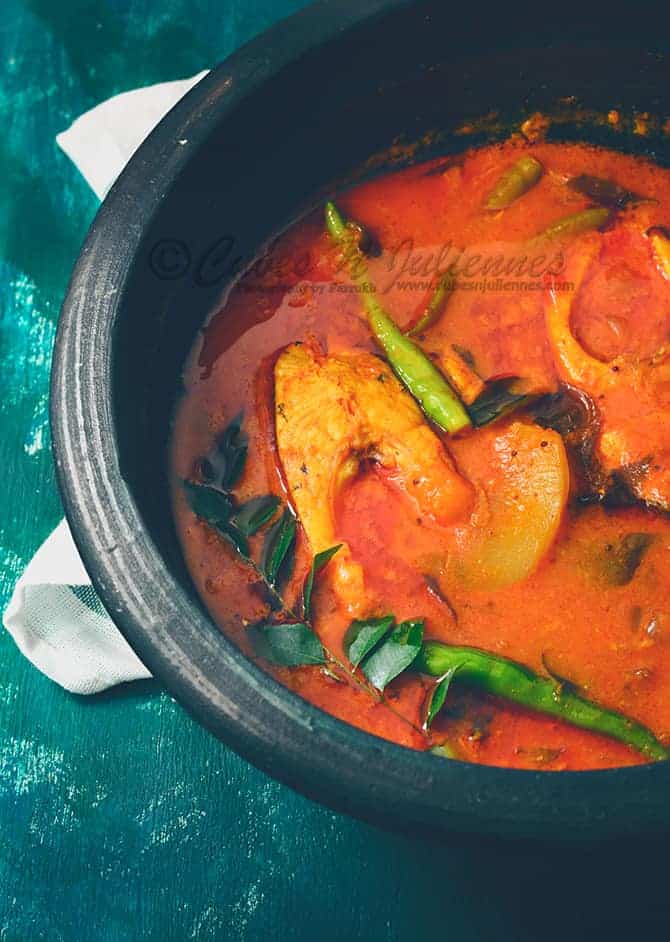 500 gms, Fish slices (king fish or seer or mackeral or any of your choice)
1 nos (approx 150gms), green raw mango, cut in slices or cubed
50 gms, Shallots (Madras onions) roughly sliced (do not chop them)
2 tsp, ginger, grated or chopped
2 tsp, Kashmiri red chili powder (adjust as per preference)
300ml, thick coconut milk
In a pan, add coconut oil and heat it for few seconds. Add mustard seeds and allow it to crackle
Add shallots and curry leaves, sauté until onions are just soft (do not brown them).
Add slit green chilies and ginger and raw mango slices sauté for another minute
Add red chili powder, turmeric and mix well.
Add 3/4 cup of water and cook for another 2 minutes
In Chatty (typical Earthen Pot from Kerala), Place fish slices in even layer and pour the prepared gravy over the fish slices, bring it to boil.
Once gravy start boiling cover and simmer for 4-5 minutes or until fish is just done.
Lower the flame, add coconut milk, mix and simmer for only 2-3 minutes. Do not over cook it or milk may curdle spoiling the gravy.
Serve hot with brown rice, Enjoy!