Kesar Kalakand is a luscious rich saffron flavoured fudge of cottage cheese( Chenna)and milk. Kalakand is not a new sweet to we Indians and most of the people have a great fondness for this soft melt in mouth sweet. Trust me, when I came to Bangalore few years back after my marriage, none of sweets from shop here dazzled my palate as of those mouth watering irresistible sweets that I get in my hometown(North). Now, my daughter has a big sweet tooth, this gave me another reason to try different range of sweets at home. This time it was Kesar Kalakand's turn to impress my littles one's tooth and yeah, it did! She asks me to make this kesar Kalakand, Kesar Kaju Katli and Gulab Jamun, as all three are her favourite sweets. I had kept few of these kalakand (hidden from my daughter 😉 ) for one my very dear friend and her family. I got beautiful compliment from my dear friend and her mother-in-law that this is best Kesar Kalakand they have ever had in their life 🙂
READ ALSO :
As festivals are approaching, this is the best time to make them at home and gift your loved ones with these authentic home made sweets and not from the markets which is largely artificially flavoured. Do try this at home and I am undoubtedly sure, you all will love it ..So here's how I do Kesar Kalakand at home..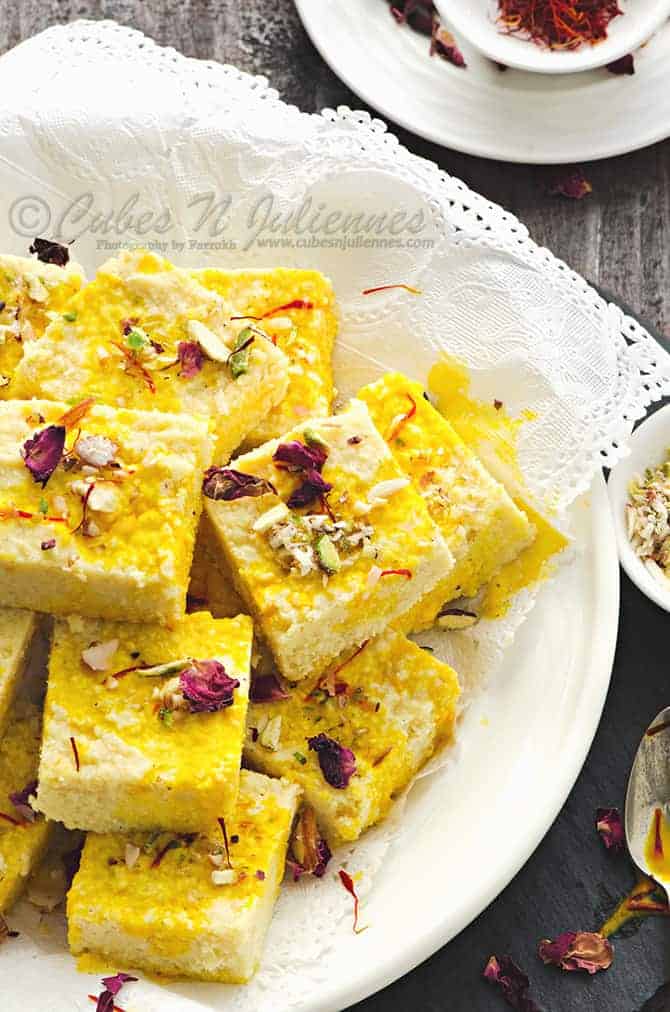 Ingredients:-
3 litres + 2&½ cups of full cream milk
150 gms, khoya/mawa
½ cup, sugar ( you may add more for more sweetness)
A good pinch of saffron soaked in 3-4 tablespoon of milk
1 teaspoon, cardamom powder
2-3 tablespoon, Vinegar
Slivered almonds, pistachios and dried rose petals(optional) for garnish
Method:-
In a heavy bottom pan, bring 3 litres of milk to boil. Once milk starts boiling, simmer the milk for 10 minutes. Put off the heat
Take of the cream ( malai) from the top of the milk and reserve it for later use
Put the milk pan back on low flame and gradually add vinegar stirring it it gently. Simmer for a minute or 2, milk will spit and you will see the clear whey.
Strain and the chenna and wash it once with clean fresh water and squeeze.
Now, transfer the chenna and 500 ml of milk in a pan and bring it to boil
Cook on medium heat until the mixture starts getting thick.
Now, add reserved malai (cream), khova, and sugar, cook until the mixture thickens to form very soft dough and start leaving the pan. Stir intermittently to avoid burning.
Add cardamom powder and mix well
Put the cooked mithai mixture in greased thali or a tray and spread it evenly
Allow it cool and set well
Once set, cut into desired shape pieces, sprinkle the saffron milk and garnish with slivered almonds-pistachios and dried rose petals.
These Kesar Kalakand will easily stay for 3-4 days stored in a clean airtight container under refrigeration.