How to make Short crust/ tart dough and Tart Shells
I am posting this post for all my readers who have requested me to write up the method for the preparation of Tart/Short crust dough and Tart Shells. I got a lot of request in the past few days which has compelled me to write a post on it. The catch here is, the measurements and steps are to be followed exactly to get the perfect Tart dough and shells. I have taken care in covering each and every point in detail to ensure you too get it correct first time itself. The best part of the recipe is that the dough can be prepared in bulk and can be freezed for months. Here is how you can make it..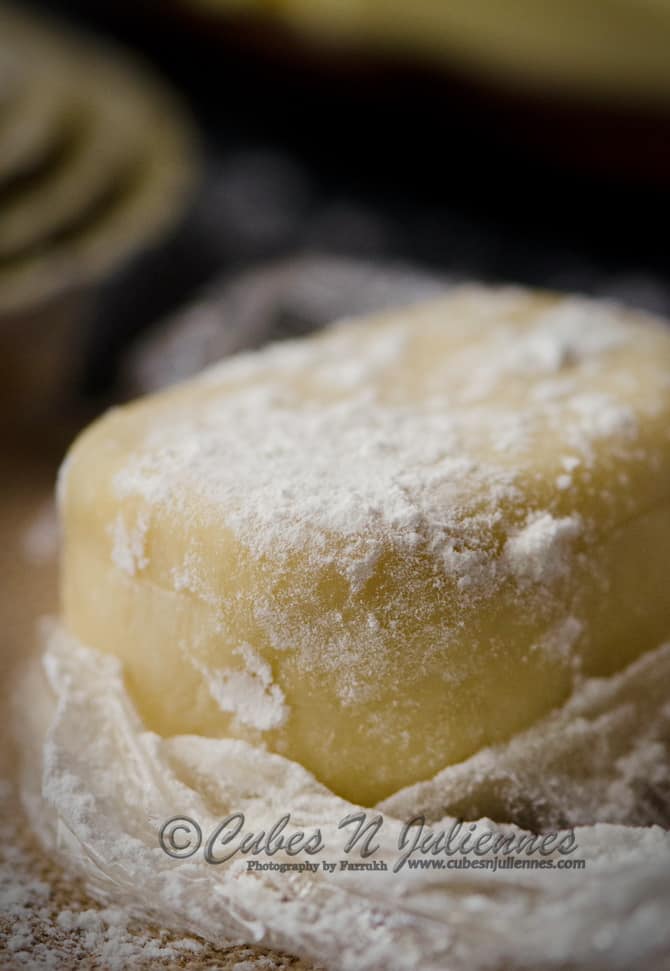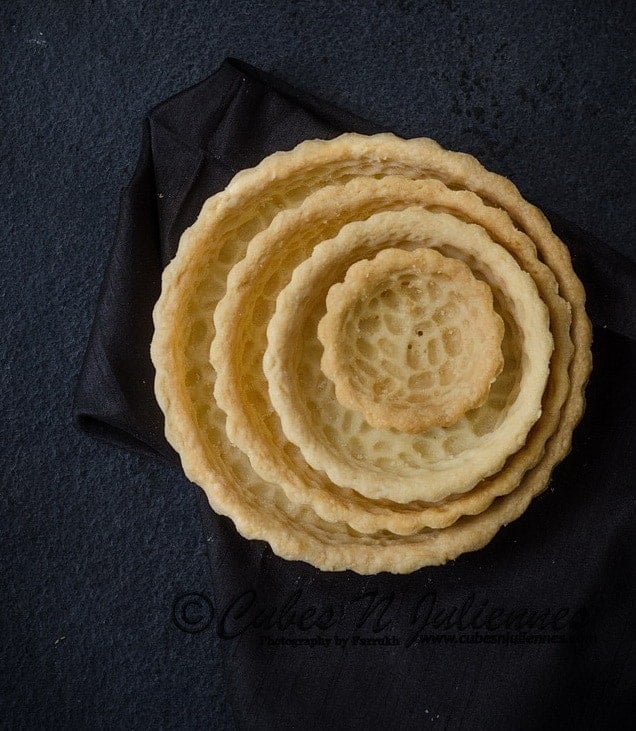 INGREDIENTS:-
500 gms, all-purpose flour
275 gms, unsalted butter, chilled and cut in ½ inch cubes
1 tablespoons, castor sugar
½ teaspoon Salt
4-5 tbsp, ice cold water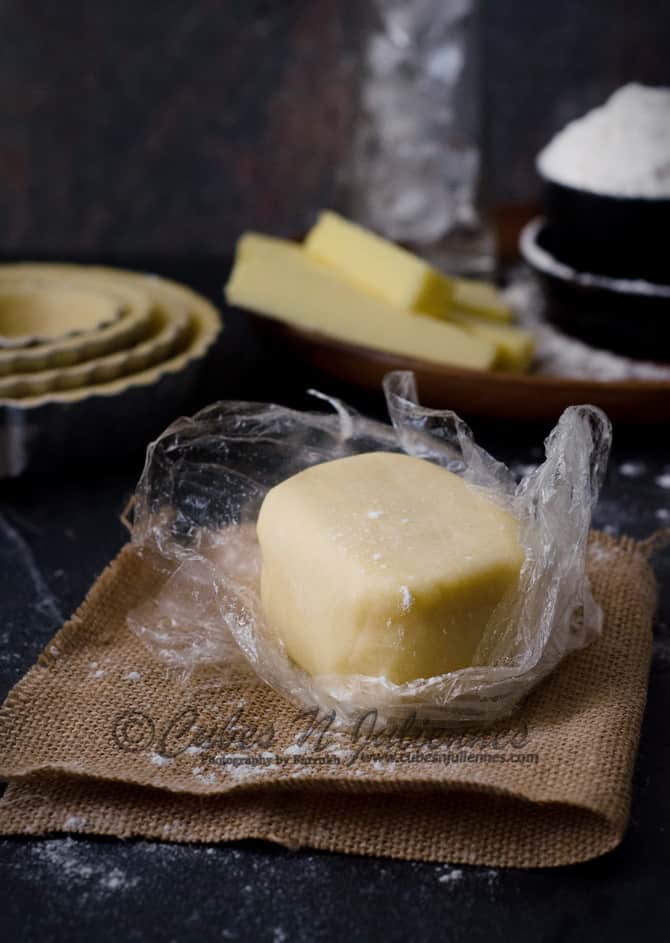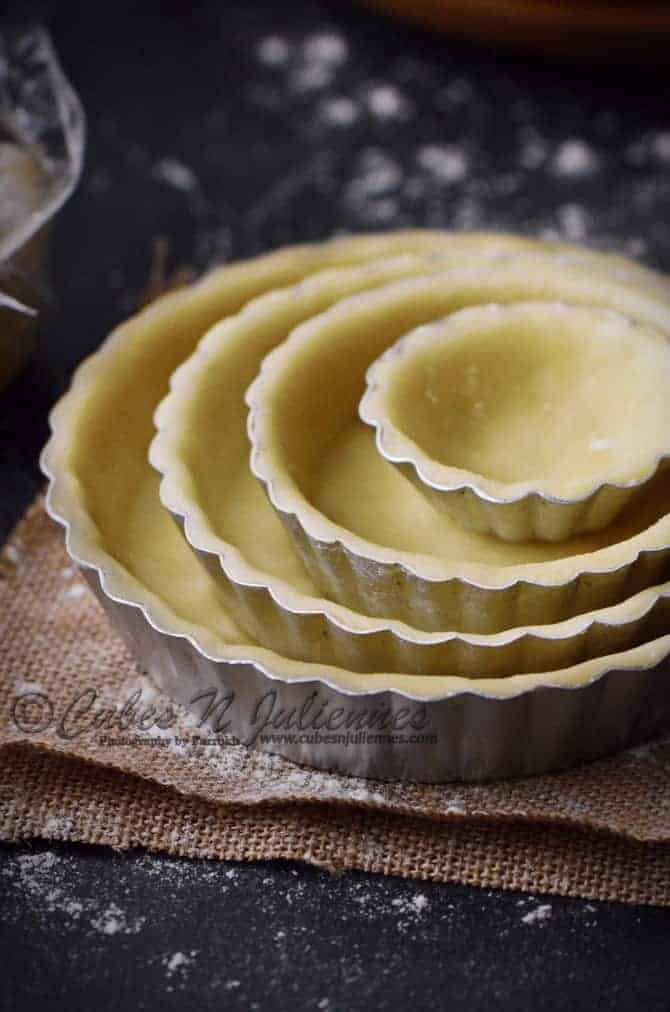 METHOD:-
Rub the cold butter with the flour, salt and sugar till it resembles coarse crumbs (some may also be small pea sized crumbs)
Add ice cold water and using your fingers, mix very gently to bring the flour and butter mixture together to form a dough (do not work too much on a dough). Do not add all the water at a time.
You can also use food processor to prepare the dough. Add flour and butter in food processor attached with plastic blade. Give it a few pulses till mixture resembles bread crumbs. Add water little at a time and pulse till it comes together to form a dough.
Divide the dough in equal size balls. I divided the dough in 4 equal parts. You may divide it according to the size of the tart you wish to make.
Wrap each portion of the dough with cling film very well and freeze.
To blind bake tart shells:-
Take one part of the dough, wrap it in a cling film and refrigerate it for 30 mins.
Grease the tart pan.
Take out the dough, place it between two parchment papers and roll it gently to form a circle with a thickness of about 6mm to 7mm (¼ inch) depending upon the size of the tart shell you require.
Very gently place the rolled crust in the tart pan uniformly and cut out the extra portion
Pre-heat oven at 170 degrees.
Now fill the tart generously with pie weight, kidney beans or raw rice.Bake the tart crust for 20 to 25 minutes
Once done, allow it to cool for few minutes and very carefully remove the pie weight. Proceed with recipe you want to make.
NOTE:-
Tart dough can easily be freezed for 3 months. Thaw it overnight and proceed with the tart shell rolling and baking steps.
Baked tart shells can be stored in a refrigerator for 2 weeks.
You can also add seasonings and little salt if you prefer to make a savory tart.
You can add powdered sugar if you prefer to make a sweet tart.