Country Chicken Curry  (Desi Chicken Curry) is a delectable spicy curry preparation of country chicken aka desi chicken (natti kozhi) in spices and mustard oil. Desi chicken is  first marinated with turmeric and basic seasonings. It is then sautéed in mustard oil to seal the juices. After that, comes the curry preparation with ground paste and powdered spices. While the chicken is simmering in spices, all you need is to wait for it get ready. And, the succulent, spicy  Country chicken is ready to be enjoyed. Serve it with hot steamed rice and salad on the side.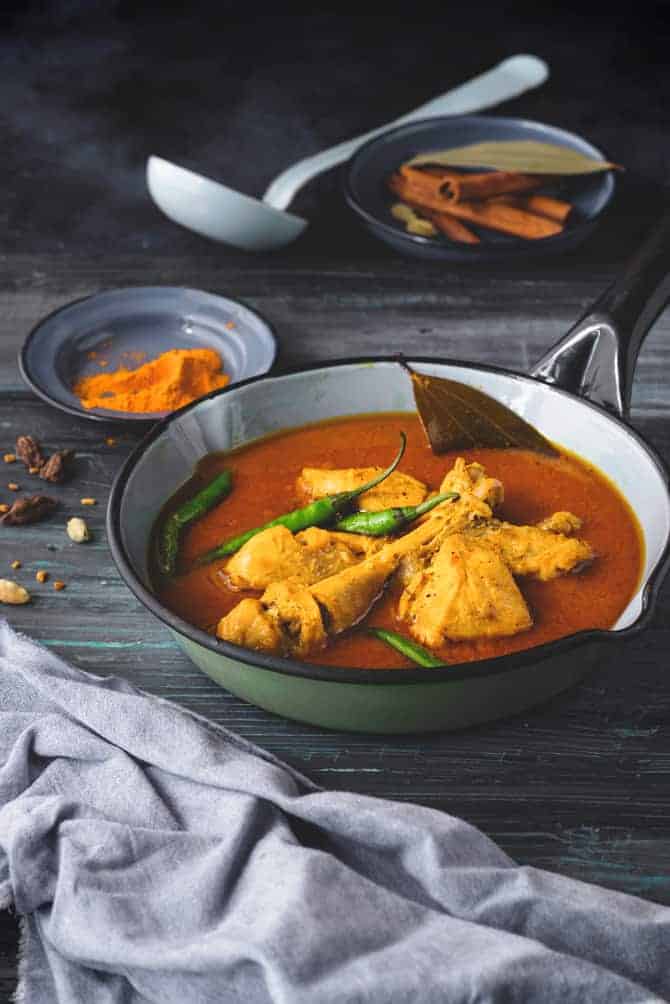 Aahaaaa!! Country Chicken Curry a dish that would make any one want more and more and more and more.
One evening, my family returned home literally licking their fingers. Sometime back, I had returned from a short trip to Delhi and was waiting for my share of dinner. Because, I was extremely tired, and so I was in no mood to see what they had got packed for me. And my husband with a satisfied smile on his face opened the parcel. Also, that aroma which floated from the parcel hit me, and I asked "mmmm, what is it?
And, my dear husband served the chicken dish on a plate accompanied by a small bowl of steaming rice. The fragrance of the chicken curry when mixed with rice was wah! Heaven on earth, nay paradise on earth. The chicken just melted in my mouth and it tasted awesome.
The word I borrowed from my son who frequently expressed his excitement, happiness using this word 'Awesome. My husband nodded "yes I agree with you", he said as though he had understood the ecstatic expression on my face. The amazing dish is a Country Chicken Curry.
"Country Chicken Curry?" I echoed. I remember my nani (grand ma) telling us that country eggs are very good and Country Chicken Curry should have to be tasted to understand what good taste is. Also, the way it is prepared at our home is a beautiful procedure. While, the marination of the chicken pieces in turmeric, salt and pepper is very important. So, that the flavour of these ingredients seep into the pieces giving it a wonderful taste at the same time tenderising it.
Furthermore, after polishing off my plate I got up immensely satisfied. Country Chicken Curry  cooking  started in my mind. After a couple of days my visit to the nearby supermarket proved to be fruitful as I had planned to give a luncheon for my friends. Therefore, I got the Country Chicken and started the process of cleaning,  cutting the chicken into uniform pieces. And so, started the journey of the great Country Chicken Curry!!
My guests for lunch were going to be in for a big surprise. My friends are a big time foodies with a penchant for perfection in anything. Especially, when it comes in realtion to food a finicky lot and good critics.
The table was spread with kesar pulao, fried potatoes etc.etc, but, my dear readers guess who stole the show?  No second guesses…our very own Country Chicken Curry. When I opened the dish, the chicken curry looked succulent and the aroma hit the assembled guests, like it had hit me. They all sat up with a jerk and there was ecstatic silence.
Country Chicken Curry tastes better, the next day. So, I always make it double the quantity, treat for my son, the next day 🙂 .
If you all love the mustard flavour in any non-veg curry preparation, then Country Chicken Curry is the perfect choice to enjoy in winter days, especially! Yes, you can prefer to make it in refined oil if you wish, but mustard oil hits the palette making you ask for it again and again.
While the Country Chicken Curry  requires no special spices, you can make it in jiffy on sudden arrival guests. Besides, the Country Chicken Curry makes an ideal spread for weekday or weekend dinner. Especially, if you are a working, marinate the chicken with basic seasoning and refrigerate it. Then, you can quickly whip the masalas and chicken in a pressure cooker and you are done. However, cooking this curry in a handi or earthen pot gives the best flavour. I usually prefer making it in traditional way in earthen pot.
Oh, you also want to know the recipe, don't you? Well here goes…
Ingredients:
900 Gms Country Chicken (Desi Wala) cut in pieces.
2 medium onions, roughly chopped
8 garlic cloves
1 ½ inch ginger piece
2-3 green chillies
1/2 teaspoon, mustard seeds
1/4 teaspoon methi seeds
1 large tomato, grated/blended
½ teaspoon turmeric + 1 teaspoon for marinating
1 ½ teaspoon coriander powder
Salt and pepper to taste
1 teaspoon red chilli powder
1 bay leaf
Juice of one lemon
5 tablespoons mustard oil
Grind to powder:
6 cloves
5 green cardamoms
2 black cardamoms
1& 1/2 inch cinnamon stick
1 ½ teaspoon black pepper corn.
Method:
First, marinate the chicken with 1 teaspoon turmeric (haldi), salt and pepper.
Cover and allow it to marinate for one hour, refrigerate it.
Now, grind onions, chillies, ginger, garlic and mustard seeds to fine paste.
Heat oil in a pan or kadai until it's hot and smoky.
Add marinated chicken and fry for 3-4 minutes to seal the juices of the chicken.
Take it out on plate and keep aside.
In the same oil, add bay leaf, methi seeds and fry for few seconds.
Add onion masala paste and sauté on high flame for 2-3 minutes.
Add tomato and cook for another 2-3 minutes
Add chicken ,coriander powder, turmeric and red chilli powder. Sauté for 2-3 minutes.
Add ground powder, water as per the required consistency and season with salt. Cover and cook until done. Add lemon juice and mix.
The Country chicken is ready to be served.
Dish out and garnish with coriander leaves. Serve hot with steamed rice and salad on the side