Bhuna Gosht means goat meat/lamb slow pan cooked with spices by simmering it for long hours and reducing the gravy till it reach deep red/brown thick luscious gravy. Meat is cooked in its own juices and blended thoroughly with the spices, gives out and an elegant, aromatic dish. Relish this velvety, rich "Bhuna Gosht" with your favourite hot nan, paratha or pulao to get you the warmth this winter.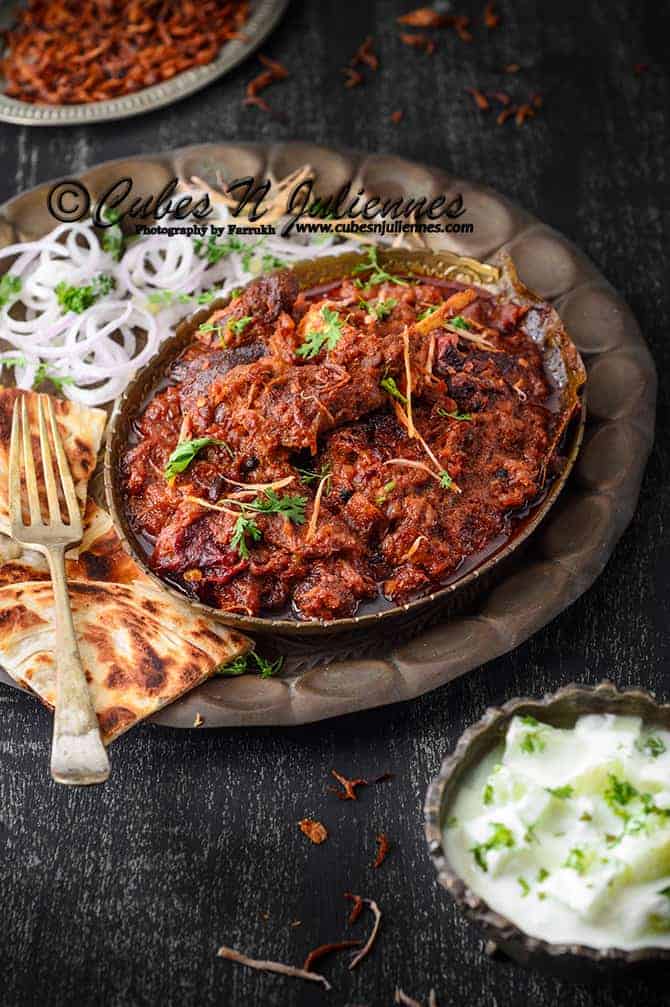 Ingredients:-
1 kg, mutton on bones, cut in pieces
6 nos, large onions, finely sliced
3 nos, large tomatoes, finely chopped
250 gms, yoghurt, whisked well
1 tbsp, garlic paste
1 tbsp, ginger paste
1 tbsp, ginger juliennes
2 tsp, red chili powder
¾ tsp, turmeric powder
2 tsp, coriander powder
4 tbsp, golden fried onions, crushed
Salt as per taste
3 tbsp, oil
3 tbsp, ghee
Whole spices:
8-10 nos, green cardamom
8-10 nos, cloves
½ tsp, black peppercorns
3-4 nos, dried Kashmiri red chilies, each broken into 2
1 cinnamon stick of 2 inch
3 nos, black cardamom
1 tsp, shazeera ( black cumin)
¾ blade mace, crushed
2 nos, bay leaves
For garnish:
Ginger juliennes, coriander leaves and crushed fried onions.
Method:-
In a heavy bottom pan or handi, heat oil and ghee.
Add all the whole spices and allow them to crackle for few seconds. Do not burn.
Add onions and fry till it turns pink.
Add mutton pieces, ginger paste and garlic paste, sauté it on high heat for 3 to 4 minutes.
Add tomatoes, red chili powder, turmeric, coriander powder and salt. Mix well.
Add little water, cover and simmer for an hour. Give it a stir at intervals. Do not add too much
water as meat has to be cooked in its own juices.
After an hour, add whisked yoghurt, crushed fried onions and ginger juliennes. Cover and cook till the mutton gets tender. At this point, you should get nice red thick gravy clinging to mutton pieces and oil should float on top. The mutton pieces should be tender and remain intact. Do not overcook it.
Dish out, garnish with ginger juliennes, coriander leaves and fried onions. Serve hot with nan, phulka or pulao.
NOTE:- Traditionally, this is cooked in handi on a low flame(slow cooking). When time permits, I prefer to make this in the traditionaly way but when in hurry you can go ahead with the pressure cook method.