Rabdi Recipe or Rabri Recipe - Its rich, delicate, creamy and extremely delicious. A classic sweetened thickened milk made carefully by simmering milk for long duration. Flavour the rabri with saffron or rose essence and garnish it with rose petals and nuts of choice. Here is how to make rabdi recipe in halwai style step by step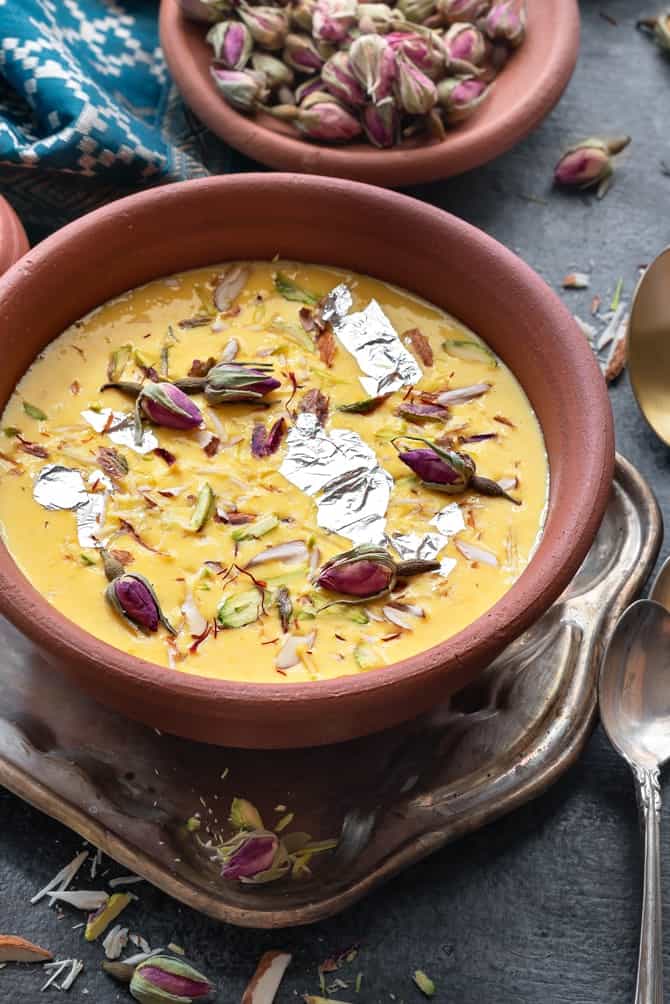 Rabdi is one of the most famous dessert in the list of Indian sweets making its appearance during most festive season. Nowadays, due to fast life and busy routines, people are willing to go instant with everything.
Supermarket aisles are stuffed with most of the instant meals and desserts. It was surprising to see an instant rabdi mix in one of the aisles. This left me wondering that we are in the age now where the traditional method and authentic recipes are gradually fading away.
Truly, personally I would never ever enjoy instant rabdi that is ready in the time of say 15 minutes. The authentic rabdi recipe with a true essence of regal touch is the one where we reduce the milk by simmering it for hours and hours on low heat.
My roots hails from a small town in Uttar Pradesh. Associated with it are loads of childhood memories that make me so nostalgic. And one of them is the combo of Jalebi Rabdi that was my go to nosh everyday without fail whenever I visited my home town. Believe me, that was the best kesar rabdi I have ever tasted in my life. The halwai was situated near to my paternal grand pa's place.
What Is Rabdi?
Rabri is a delightful rich sweet made by reducing full fat milk on low heat for hours. Large quantity of milk simmers so much so that you have creamy pinkish semi thick evaporated milk as rabadi.The perfect consistency to know who the rabdi is ready when milk reduces to ¼ of its original quantity.
It is called as Lachchedar or lachha rabdi for the reason that malai (Cream) layers gets collected at the sides of the pan while milk is heating. The collected cream forms a thick lachcha or strings which is then again put back in milk to give the required thickness to the dish.
Significantly, saffron goes as flavouring agent to give the royal touch to the rabadi malai. Some people also prefer adding rose essence or rose water to flavour it. Garnishing can be the nuts of your choice, but mostly it is almond and pistachios. Most of the halwais (sweet confectioners) or rabdiwalas in North India serve rabari in earthen pots.
The preparation of rabdi recipe is very easy but yes it is time consuming. And let me tell you that there is seriously no short cut to make the recipe. If you really want to savour the authentic traditional rabdi, then you have to invest your time to make it.
Important tips to make best Rabdi Recipe
Always use heavy bottom pot to make the recipe.
Another point to remember here, use wide mouthed pot as this will help the evaporation and thickening of milk faster.
Always use full fat milk to make this recipe.
Keep stirring the milk after every 10 minutes to avoid scorching of the milk at the bottom of the pot.
To make lachha rabdi recipe, keep collecting the cream towards the sides of the pan with the help of spatula.
Do not leave milk unattended on the flame for long time, as it may spill or burn.
To avoid spilling or burning of milk and to keep stirring it regularly, it is suitable to make rabdi while you are busy in your kitchen doing some other work.
Add sugar to the as per the sweetness you prefer.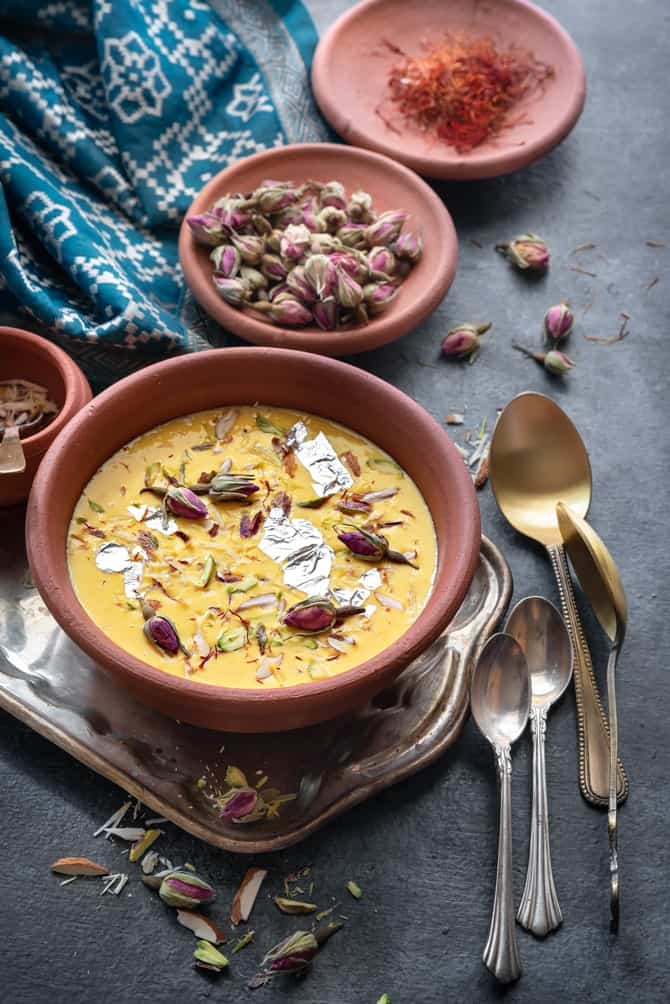 How to make rabdi recipe with khoya (Mawa Rabdi)?
Bring 2 cups of milk to a boil in heavy bottom pot. Simmer for 10 minutes. Then, add saffron and grated khoya and mix. Simmer for another 5-7 minutes or until it thickens. Add sugar as per the sweetness you prefer. Take it off the heat and cool, garnish and serve warm or chilled
Rabri with condensed milk or milkmaid
Honestly, instant rabdi recipes never fascinates me as I purely love the traditional version. But, if you seriously have the crunch of time, then you can go on ahead with this method.
In a heavy bottom pan, bring the full cream milk to a boil. Then reduce the heat to low stirring in between to avoid burning. Once the milk reduces to half , say 25 minutes, then add ½ tin of condensed milk, saffron and mix. Simmer for another 5 minutes and then take it off the heat. Cool, garnish and serve.
To Store Rabdi
This delicious milk sweet stays well in clean airtight box upto 3-4 days under refrigeration. You can easily store it in freezer up to 3 months. Place it in clean freezer safe airtight bowl and freeze. Whenever you want to use it, just thaw it at the counter for few hours or leave it in the refrigerator overnight or until you are ready to use it.
Serve Rabdi with
Garnish with nuts and saffron, serve either warm or chilled. Rabri makes a great base to many Indian sweets recipes. The most popular combos are Jalebi Rabdi, Mawa Malpua Rabdi, Hyderabadi Shahi Tukda, Malai Ghewar, Gulab Jamun with rabri and Falooda.
How to make Rabdi Recipe - Step by Step
In a wide heavy bottom pan or kadhai, bring the milk to a boil. When the milk starts boiling, simmer it on a low flame.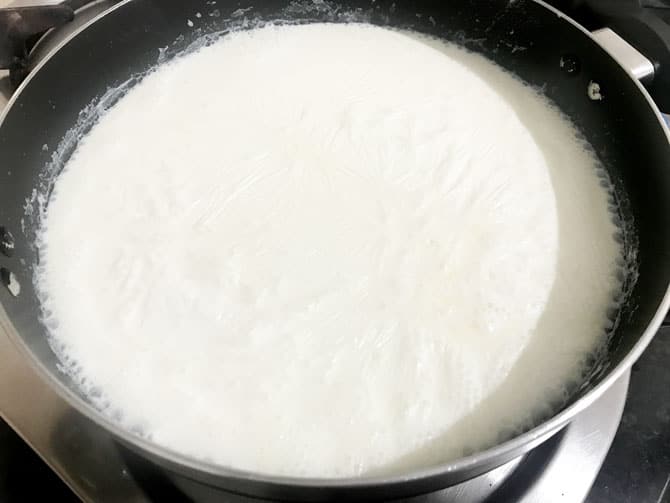 Layer of malai (cream) will form on the top, with the help of the spatula keep collecting the malai on the sides of the pan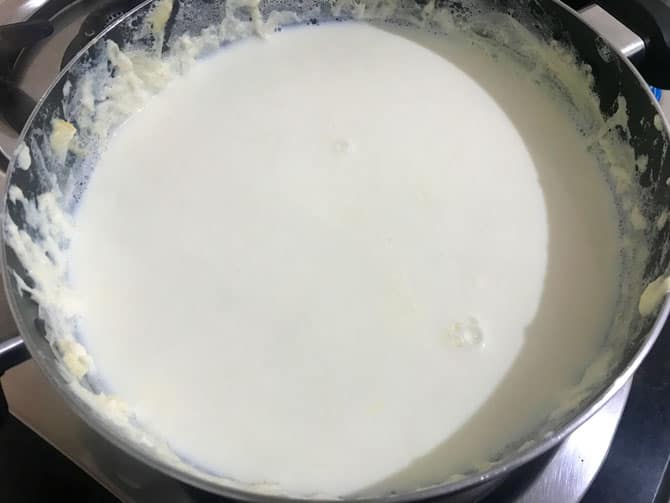 Stir the milk in between to avoid the burning. Keep simmering the milk and collecting the malai on the sides of the pan.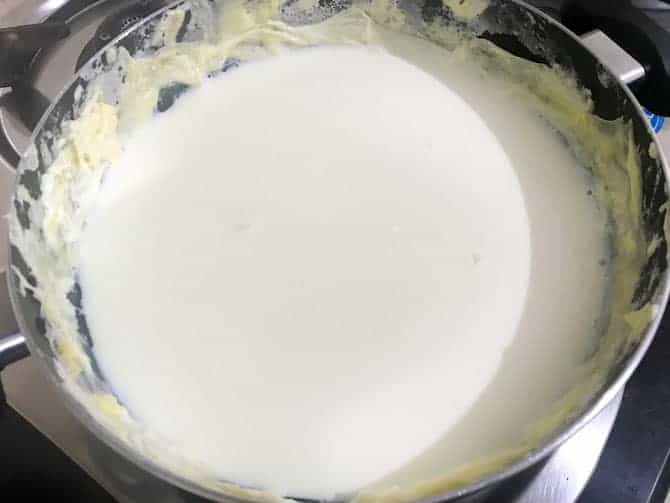 Once the milk reduced to more than half of it original quantity, then add saffron into it. Keep stirring at intervals to avoid scorching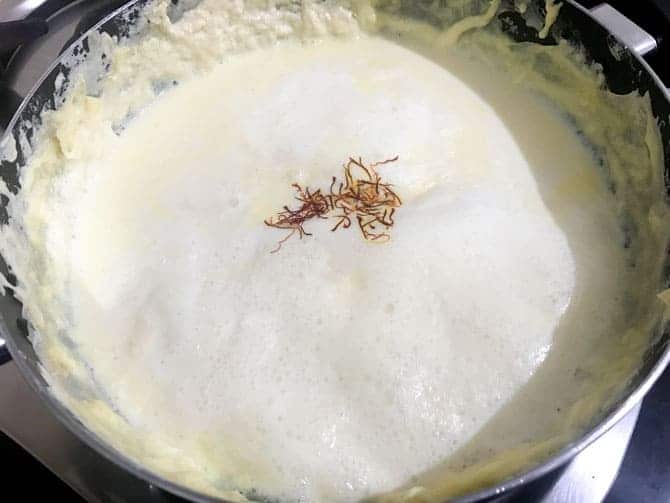 Now the milk has been reduced to ⅓ of its quantity.
Finally, add sugar and scrape all the malai from the sides of the pan and put it back into the rabri. Let it simmer for another 10 minutes on low flame or until its reduced to ¼. Take it off the stove, cool it. Garnish with rose petals, saffron, slivered almonds and pistachios and silver paper. Refrigerate for few hours before serving
NOTE: You can also simmer milk on medium flame to reduce time, but be careful, as it will spill or may get burnt from the bottom
💓 We Love to hear back from you and appreciate your success stories !
Have you tried this "Rabdi Recipe"? Please feed us with your ★ star ratings and comments below.
You can also FOLLOW Me on FACEBOOK, INSTAGRAM and PINTEREST for more fabulous recipes and updates
Rabdi Recipe
📖 Recipe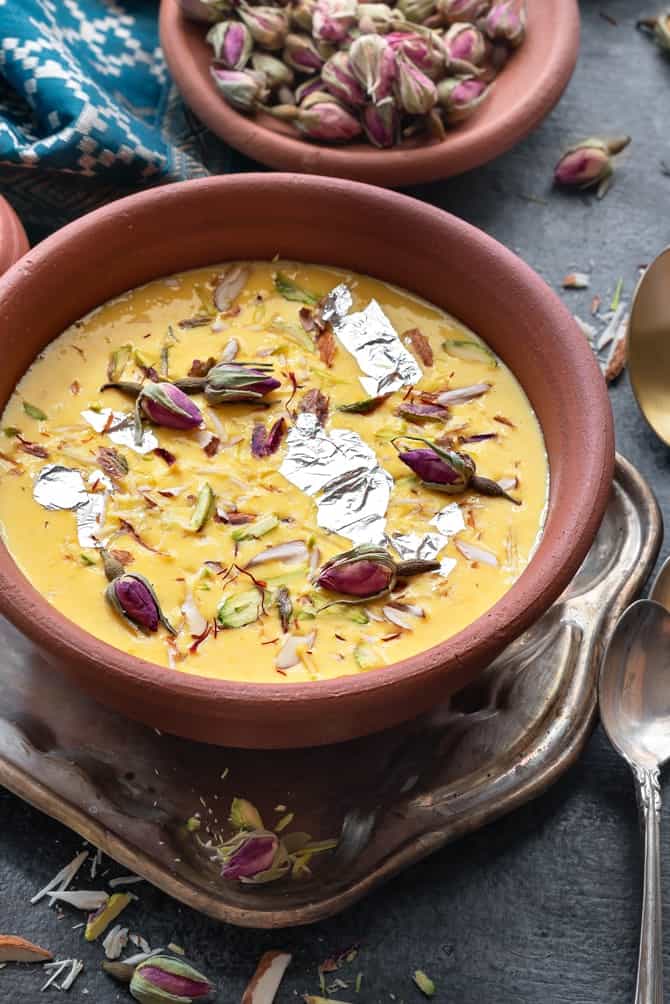 Print
Rabdi
Rabdi Recipe or Rabri Recipe - Its rich, delicate, creamy and extremely delicious. A classic sweetened thickened milk made carefully by simmering milk for long duration. Flavour the rabri with saffron, garnish it with nuts of choice and enjoy chilled
Ingredients
1

litre

Full Fat Milk

2-3

tbsp

Sugar

Few strands of saffron
For Garnish
Slivered almonds and pistachios

Few edible rose petals and saffron strands
Instructions
In a wide heavy bottom pan or kadhai, and bring the milk to a boil




When milk starts boiling, simmer it on low flame.

Layer of malai (cream) will form on the top, with the help of the spatula keep collecting the malai on the sides of the pan

Stir the milk in between to avoid the burning.

Keep simmering the milk and collecting the malai on the sides of the pan.

When the milk reduces to more than half of it original quantity, then add saffron into it.

Keep stirring at intervals to avoid scorching

Now, once the milk reduced to its ⅓ quantity, then add sugar




Scrape all the malai from the sides of the pan and put it back into the rabri.

Let it simmer for another 10 minutes on low flame or until its reduced to ¼ th quantity

Take it off the stove, cool it.

Garnish with rose petals, saffron, slivered almonds and pistachios and silver paper. Refrigerate for few hours before serving
Nutrition
Calories:
172
kcal
|
Carbohydrates:
17
g
|
Protein:
7
g
|
Fat:
7
g
|
Saturated Fat:
4
g
|
Cholesterol:
24
mg
|
Sodium:
104
mg
|
Potassium:
322
mg
|
Sugar:
18
g
|
Vitamin A:
395
IU
|
Calcium:
276
mg
|
Iron:
0.1
mg