Jodhpuri Mirchi Vada aka Rajasthani Mirchi Vada is super yum batter fried spicy green peppers/Mirchi stuffed with spicy potato filling seasoned with tantalising spices. Jodhpuri Mirchi makes an awesome monsoon tea time or breakfast snack bracing up the hot cup of chai/coffee creating an irresistible couple. Stuffing can be made before hand and easily stored under refrigeration for couple of days and assemble whenever you wish to guzzle it :). If amchoor is not available at the kitchen rack, tamarind pulp can be added instead. Kasuri methi is an additional seasoning I have added to get enhanced flavours, you may skip it if you wish. To reduce the hotness of the chilies, you can discard the seeds and the proceed with the rest. Lets go through how I made this super delicious hot and spicy Rajasthani Mirchi vadas…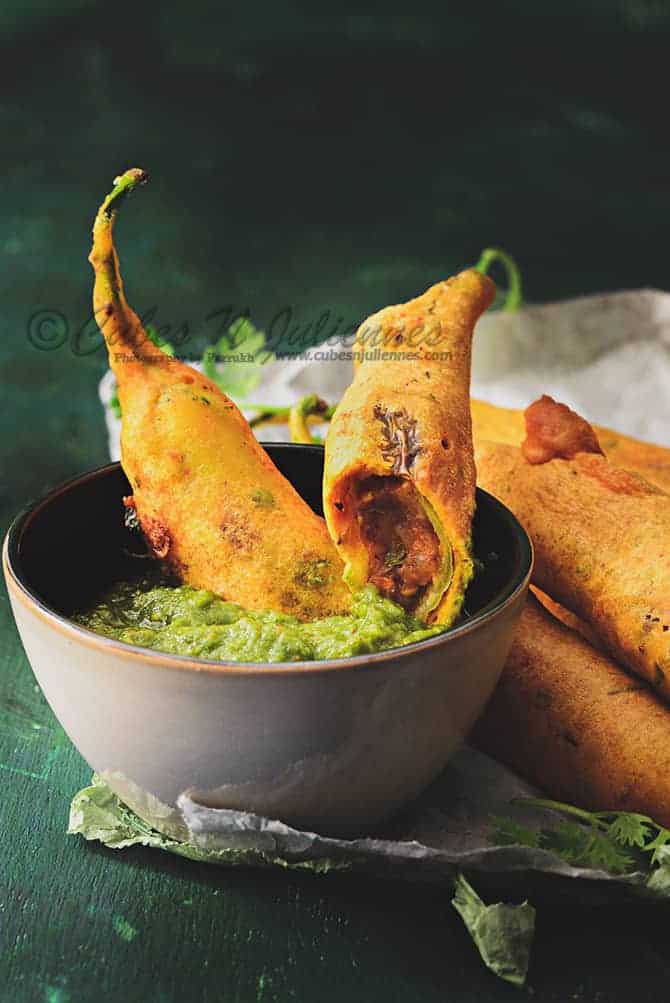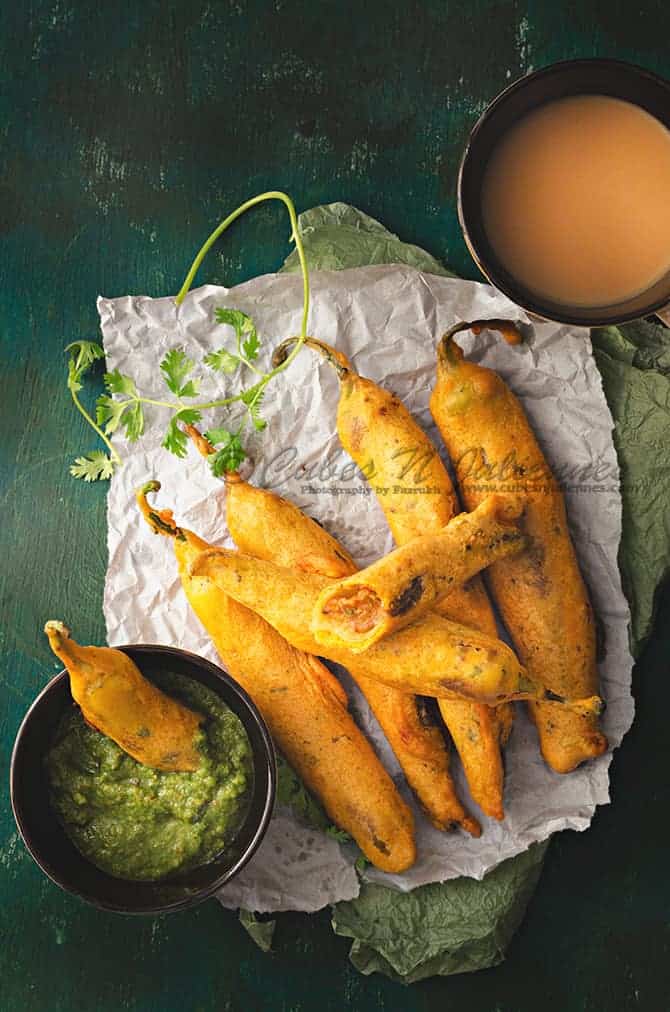 Ingredients:-
10-12, large green pepper/mirch, vertically slit
Oil for deep frying
For Stuffing:-
2 large potatoes, boiled and mashed/grated
1 teaspoon amchoor or 1&½ tablespoon tamarind pulp
a pinch of heeng (Asafoetida)
a generous pinch of kasuri methi (optional)
½ teaspoon, cumin seeds
1 tablespoon, coriander leaves chopped
1 green chili, finely chopped ( you may adjust as per reference)
salt as required
1 tablespoon oil
Dry roast and grind coarsely:
1 teaspoon, cumin seeds
1 teaspoon, fennel seeds
1 tablespoon, coriander seeds
2, dries whole Kashmiri red chilies
For Batter:-
2 cups, chickpea flour ( besan)
½ teaspoon turmeric powder
a pinch of heeng
1 tablespoon coriander leaves, finely chopped ( optional)
Water as required
Salt as per taste
Method:-
Heat 1 tablespoon of oil in a pan. Add ½ teaspoon cumin seeds and allow it to crackle. Add heeng ( asafoetida).
Add mashed potatoes and ground spice powder, mix well.
Add salt and saute on high heat for a minutes
Take it off the heat and allow it to cool.
Add amchoor powder/tamarind pulp, green chill chopped and coriander leaves, mix well.
Stuffing is ready.
Stuff the slit peppers with potato mixture. Keep them aside.
In a large bowl mix all the ingredients mentioned under batter. Add water gradually make the batter of thick cream consistency such that it coats the back of spoon. Do not add too much water at a time
Heat enough oil in deep pan or kadhai.
Once the oil is hot, dip the stuffed pepper( mirch) in a batter and gently slide it into the hot oil. Fry them on medium high flame. DO not fry them on very high flames.
Fry until they are crisp and golden brown
take them out on absorbent paper, repeat the same for all the peppers. DO not over load the pan while frying. Fry them in batches.
Hot and crisp Jodhpuri Mirchi Vada is ready to be served with green chutney or ketchup and a cup of hot tea or coffee.