This delicious glowing Green Detox Smoothie recipe is filled with fresh healthy ingredients like pineapple, kale, spinach, apple, citrus, and more. Super detox smoothies such as this gut detox smoothie are great for weight loss and when you need a boost of iron-rich and plant-based energy! Enjoy this 7-day smoothie detox beverage for breakfast or as a snack.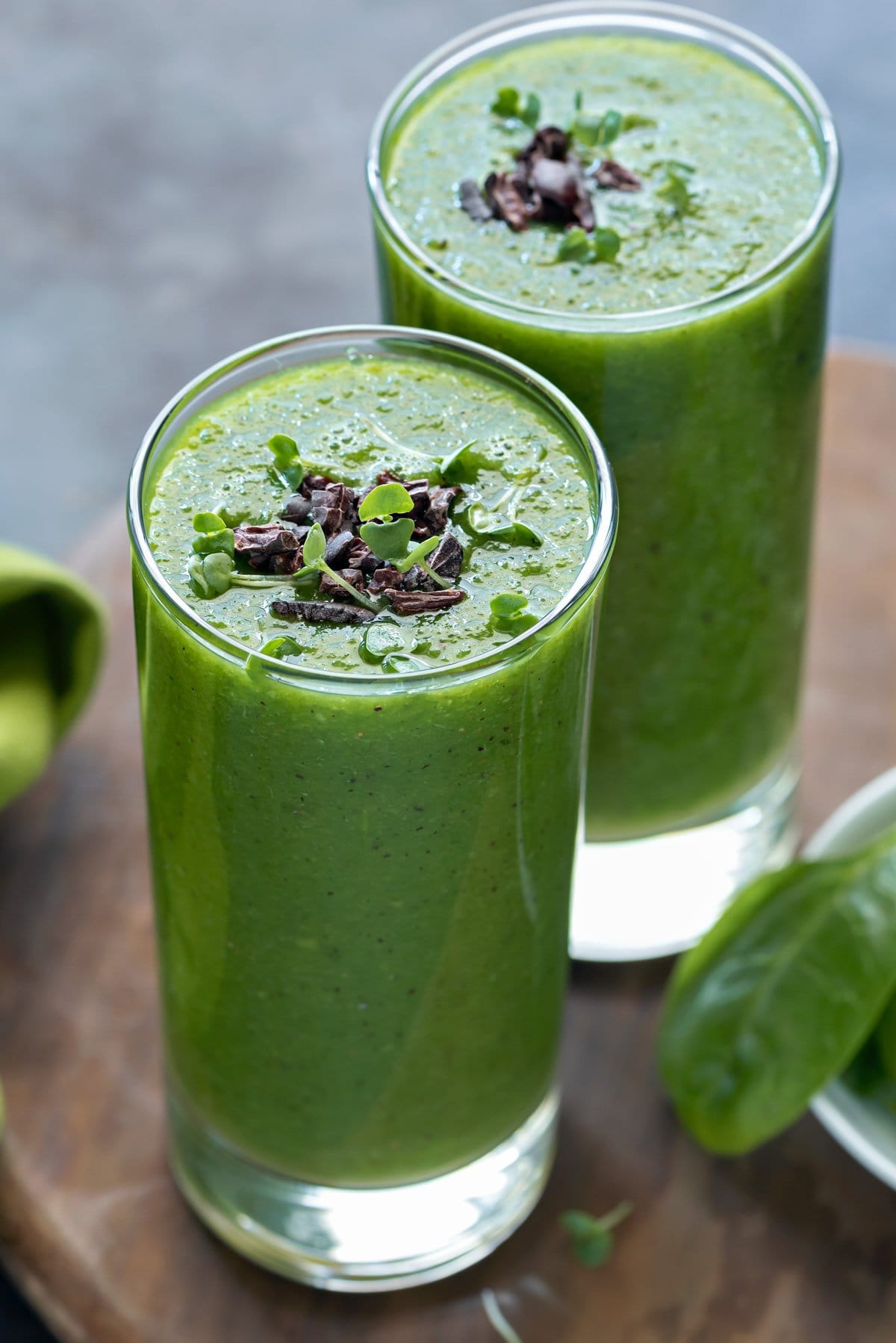 Jump to:
Why You Should Try This Detox Smoothie?
This super green detox smoothie is incredibly delicious and filled with sweet flavors from fresh apples, juicy pineapple, and satisfying green kiwi. This detox smoothie recipe is so simple to make in just a handful of steps and perfect for meal prep!
This glowing green smoothie is versatile and can be made with either fresh or frozen ingredients. The leafy greens and antioxidant ingredients make this gut detox smoothie a fitting option for the servings of fresh veggies and fruit–no matter what day of the week it is.
Green smoothie recipes just like this one (and Spinach Avocado Smoothie) are perfect for post-workout meals, light snacks and meals, and breakfast to keep you charged for the morning. 7-day smoothie detox diet plans are great when you want to enjoy gluten-free, vegan, fiber-rich, and flavorful ingredients- all in one meal!
You can make this glowing smoothie even more flavorful and rich by adding organic crunchy cacao nibs, leafy micro-greens, and more.
Thanks to the fresh fruits, this super smoothie is naturally sweetened and contains the best, fruity tropical flavors! Kiwi, pineapple, and apple create the best combination.
Meal Prep
Just measure the ingredients and place them in ziplock bags or jars to stick in the freezer to save. All you need is to blend them when you want a quick breakfast smoothie or a healthy pick-me-up.
If you know you are not going to get around to using your leafy greens, then you can freeze them for detoxifying cleansing smoothies such as this one.
Ingredients and its Health Benefits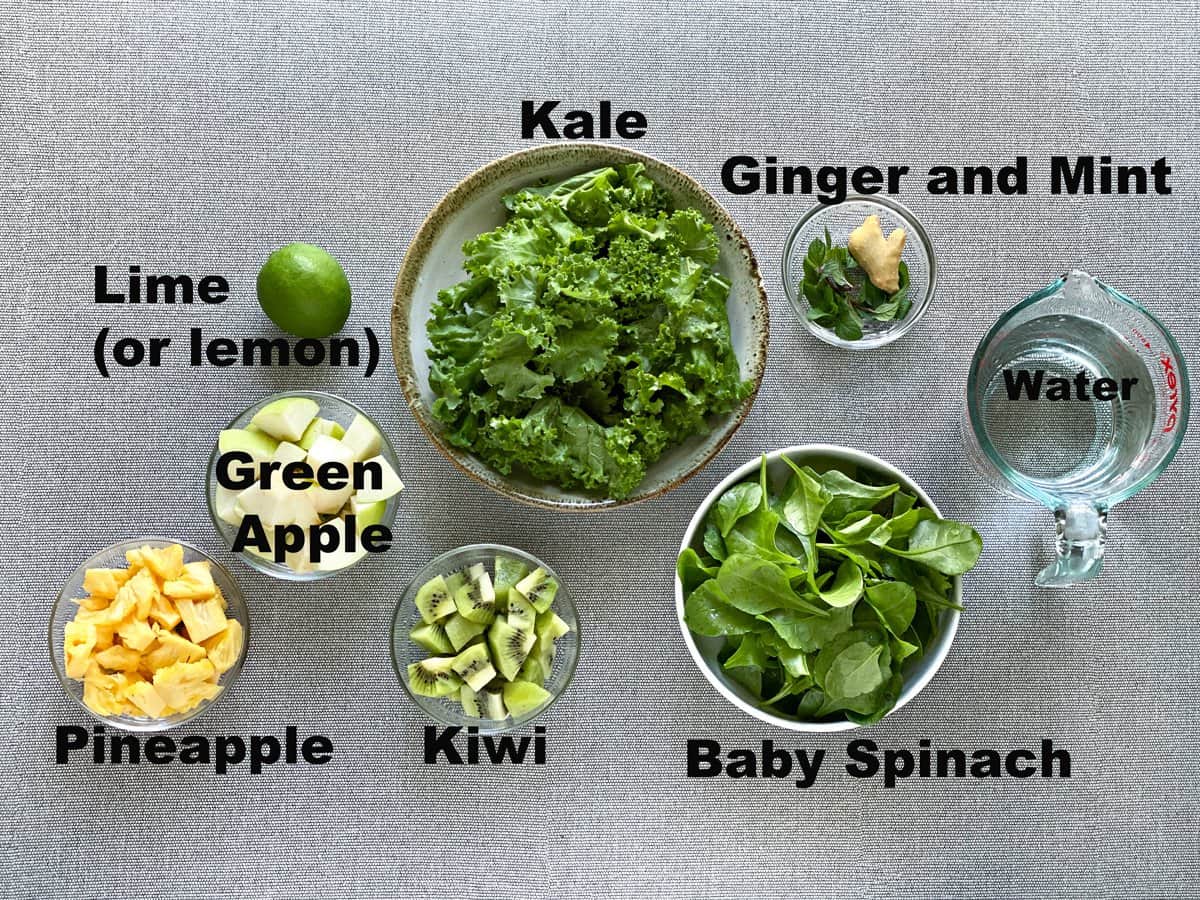 Veggies and Fruits
Kiwi: One cup of peeled and diced kiwi contains 167 grams of Vitamin C. It is a great natural source of potassium and citrus! Green kiwis are detoxifying and naturally rich in fiber.
Pineapple: Freshly diced pineapple is a great natural sweetener that is plentiful in fiber, Vitamin C, and even aids in natural weight loss. Pineapple is rich in antioxidants and can help with digestion.
Green Apple: Crispy, green fresh apples are high in phytonutrients, vitamins A and C, fiber and are great to enjoy daily. One green apple contains close to five grams of fiber.
Spinach: Leafy spinach is naturally high in iron and anxiotidants which makes this a detoxifying ingredient for this smoothie recipe. Organic spinach leaves contains close to five grams of iron in addition to protein, fiber, calcium, and vitamins A and E.
Kale: Another nutrient-dense ingredient, leafy fresh kale is a great source of minerals, vitamins, and iron. Kale is rich in magnesium, calcium, protein and adds extra detoxifying qualities to the smoothie.
Lime Juice: Bold citrus is rich in calcium, vitamins A and C, potassium, and more. Fresh citrus gives this smoothie a hint of bold flavors and brings all the fresh flavors together.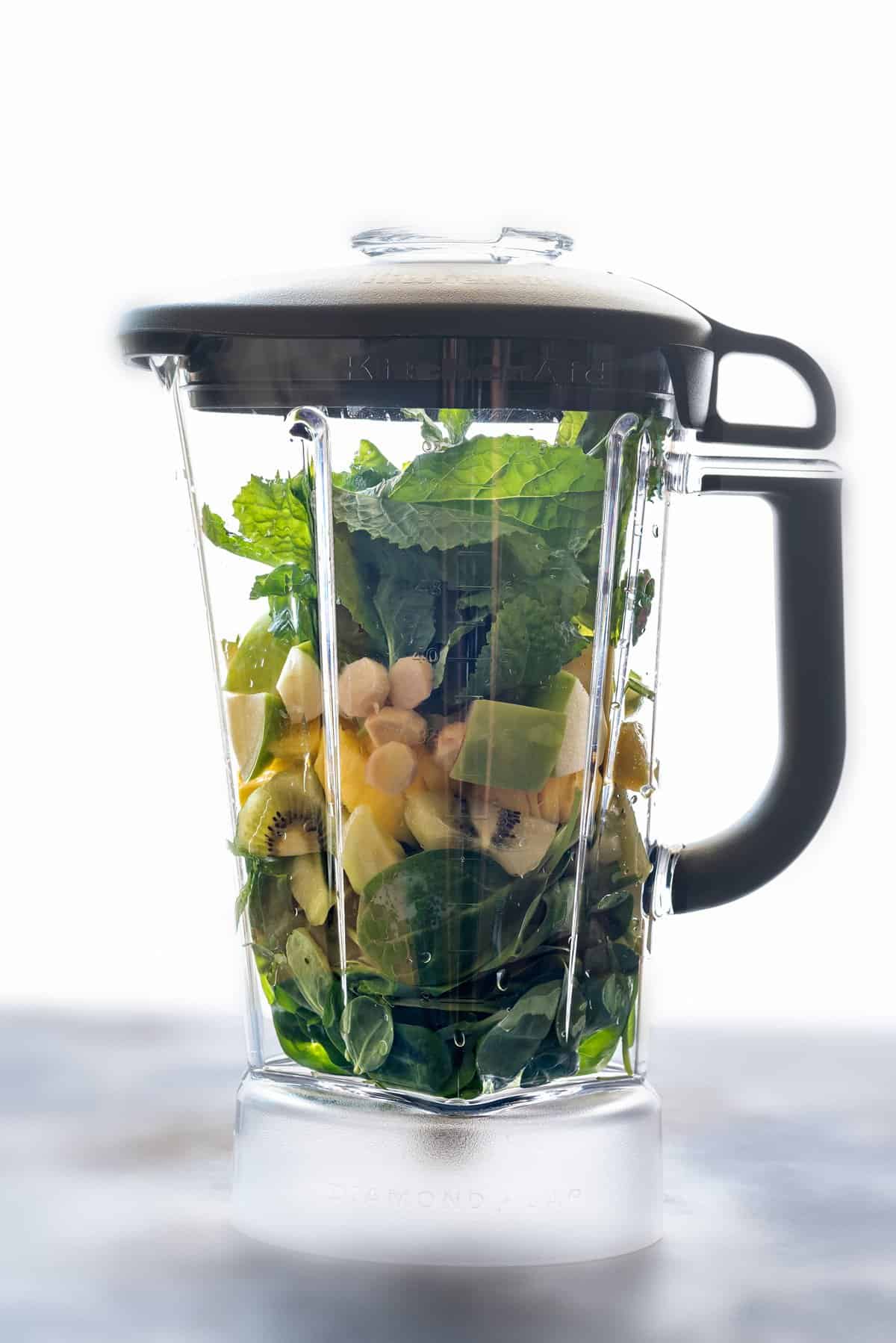 Other Ingredients
Mint: Fresh mint is aromatic and contains calcium, Vitamin A, beta carotenes, iron, and can naturally aid in digestion. Fragrant mint leaves are great for this green smoothie and provide subtle flavors of mint.
Ginger: Anti-inflammatory fresh ginger is pungent and a great source of detoxifying nutrients. Ginger is known as a powerhouse ingredient that contains vitamins B and C, riboflavin, calcium, iron, phosphate, and more. Fresh ginger is used to help with nausea and is a superior antioxidant.
Water: Chilled purified water or coconut water allows this smoothie to not be super thick but smooth instead. Coconut water is rich with electrolytes and is a great source of hydration and potassium.
How To Make Green Detox Smoothie?
First, peel and dice the fruits and vegetables you are using for the smoothie. Measure all of the ingredients including the leafy greens and lime juice.
Add the peeled kiwi, pineapple, diced green apple, leafy greens, chopped ginger root, and fresh lime juice to a blender. Next, add the chilled water or coconut water.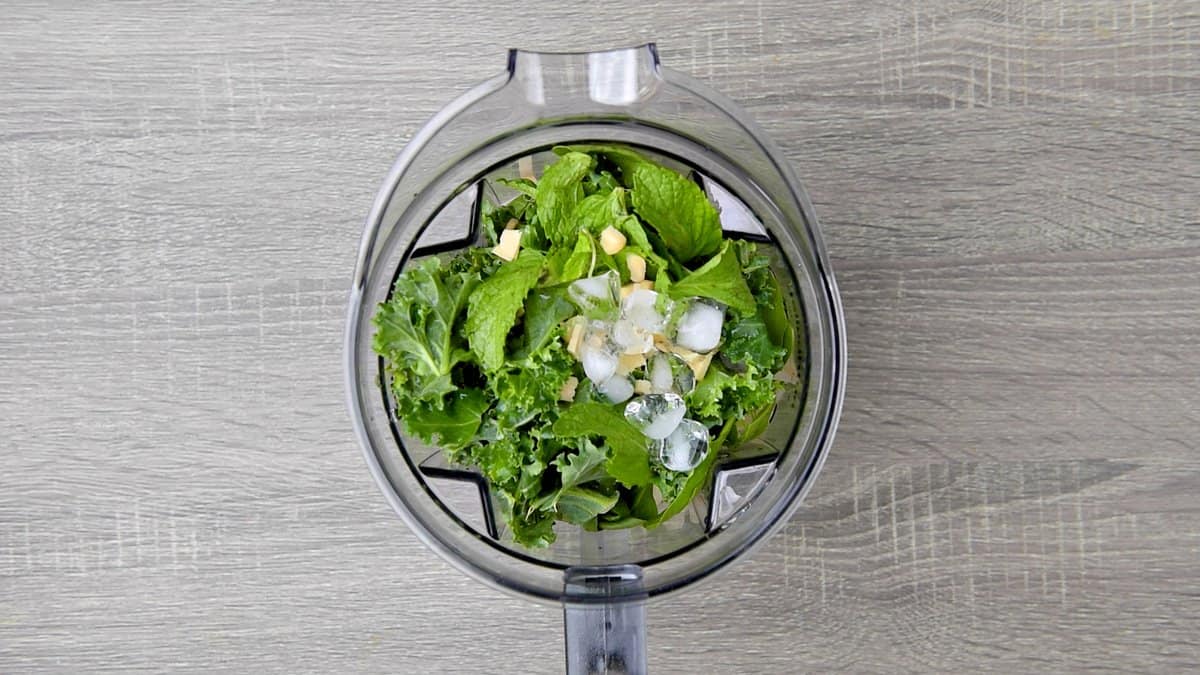 Blend the ingredients in the blender until smooth and puréed. There should not be any chunks in the smoothie.
Pour the smoothie into individual serving glasses and serve immediately. Enjoy!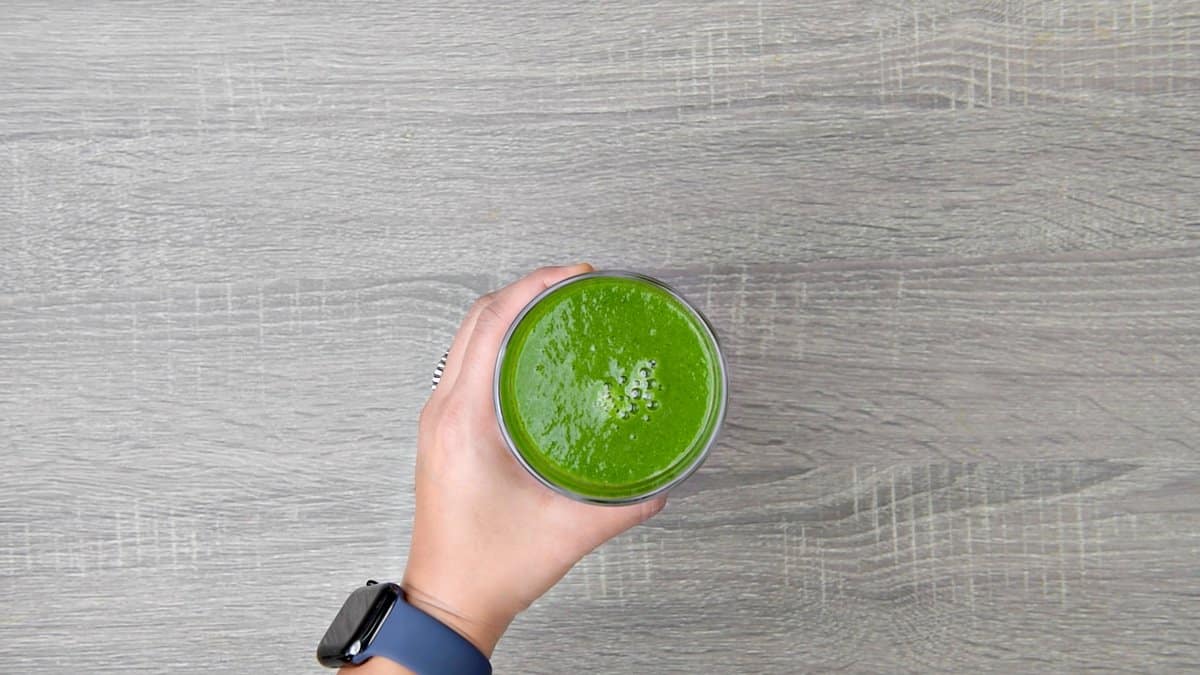 Expert Tips
Feel free to use fresh or frozen ingredients. If you would like a thicker colder smoothie, then use frozen fruits and veggies.
For the best results, be sure to use a good quality, high-speed blender so the smoothie is perfectly blended.
Use four to five small ice cubes for this smoothie if you would like it to be a little cooler. I only add a small number of ice cubes when I am making this smoothie with fresh ingredients(not frozen).
Do not use a lot of ice cubes for this smoothie or they will water the ingredients down.
FAQs
Can I make it ahead?
Fresh is best for this smoothie, but yes, you can make it one to two days ahead and store it in a clean airtight container or jar. You can also freeze the smoothie ingredients in individual packs and blend them just before serving.
Can you drink green detox smoothies every day?
Yes! Drinking a super green detox smoothie is great for weight loss, optimal gut health, and getting the recommended daily servings of fiber.
What other leafy greens can I use to make detox smoothies?
There are a variety of leafy greens you can use for this recipe such as swiss chard, romaine lettuce, beet greens, celery, collard greens, etc.
Other Smoothie Recipes You Will Enjoy
If you made this recipe for Green Gut Detox Smoothie that is honestly so easy to make and the best, then please be sure to rate and review this soup below!
If you'd like more deliciously easy recipe inspirations, follow me on Instagram, Pinterest, Facebook, or YouTube. You can also get all of my newest content delivered straight to your inbox by signing up for my email newsletter.
📖 Recipe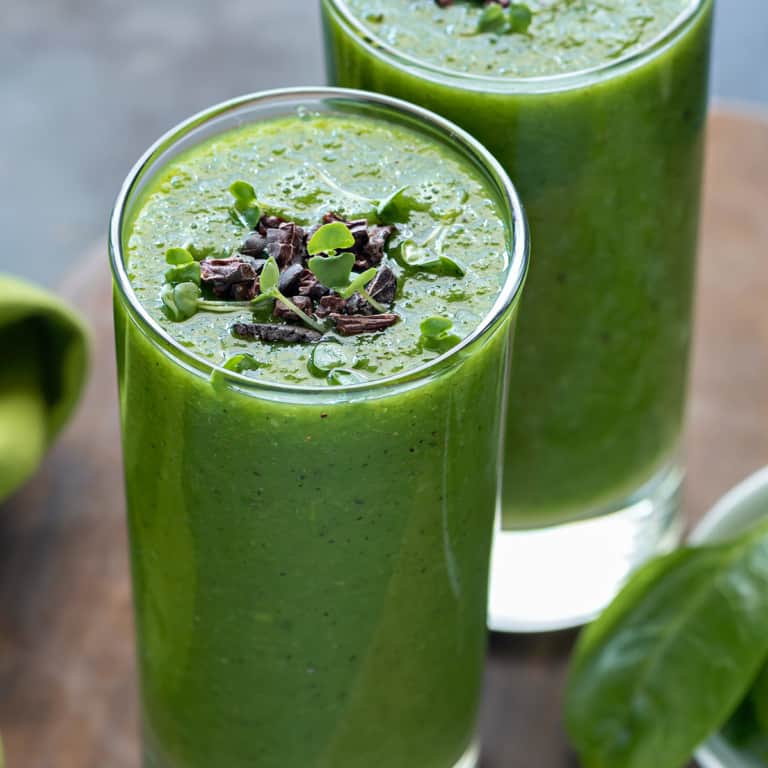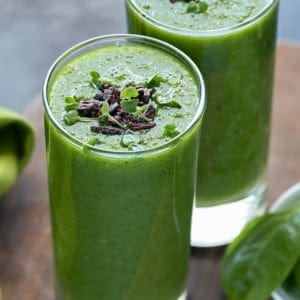 Print
Green Detox Smoothie Recipe
This super, glowing green gut detox smoothie is made with healthy and powerful superfood ingredients like pineapple, apple, spinach, kale, kiwi, and ginger!
Servings
2
Large Smoothies
Ingredients
1

cup

Kiwi

(peeled and diced)

1

cup

Pineapple

(diced)

1

Green Apple

(diced)

2

cups

Baby Spinach

2

cups

Kale

(stems removed)

2

tablespoons

Fresh Mint

½

inch

Ginger

(roughly chopped)

½ to 1

tablespoon

Lime Juice

1½

cup

Water or Coconut Water

(Chilled or with 4-5 small ice cubes when ingredients are fresh and not frozen)
Instructions
Begin with adding kiwi, pineapple, green apple, baby spinach, kale, fresh mint, ginger, lime juice and chilled water (or coconut water) in a blender.

Blend until smooth. Pour in serving glasses and serve immediately.
Notes
I only add a small number of ice cubes when I am making this smoothie with fresh ingredients. Do not use a lot of ice cubes for this smoothie or they will water the ingredients down.
Nutrition
Calories:
189
kcal
|
Carbohydrates:
45
g
|
Protein:
6
g
|
Fat:
2
g
|
Saturated Fat:
1
g
|
Polyunsaturated Fat:
1
g
|
Monounsaturated Fat:
1
g
|
Sodium:
64
mg
|
Potassium:
1004
mg
|
Fiber:
7
g
|
Sugar:
26
g
|
Vitamin A:
9897
IU
|
Vitamin C:
218
mg
|
Calcium:
195
mg
|
Iron:
3
mg