This is a great accompaniment for soups and salads. Well, these can also be enjoyed as snacks. Usually white bread is used for making them, but I preferred to use brown bread. Once done, I just relished them with my 
NECTARINE SOUP WITHCHICKEN AND RED LENTILS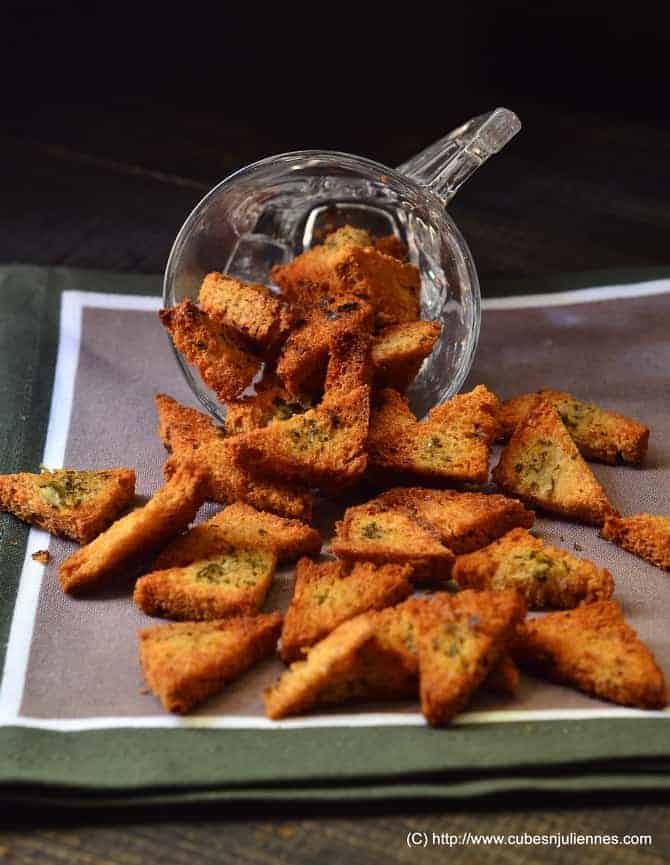 6 slices, brown bread slices (edges removed and cut in small cubes or triangles)
3 tbsp, white butter or olive oil
4 nos, garlic cloves, crushed
2 generous pinch of crushed black pepper 
Pre heat the oven at 170 degrees on toast mode.
Heat the butter in small pan. Reduce the heat and add crushed garlic. Let it cook for a minute
Take it off the stove and add parsley, chives black pepper powder.
Now place the pieces of bread in a baking tray in single layer
Pour the seasoned butter over the pieces evenly.
Toast them in the oven for 6-8 minutes or till brown and crisp.
Enjoy them crisp as an accompaniment with soup or salad of your choice
You can also enjoy them as a snack